This recipe roundup will help you shave some time off dinner, put together healthy, tasty food and make cleanup a breeze! Take advantage of these simple meals, perfect for busy nights. Whether you call them One-Pan Meals, Sheet Pan Recipes or Slab Recipes, you win with a delicious meal that's perfect for dinner with minimal clean up.
One Pan Lemon Garlic Baked Salmon + Asparagus
This is an easy recipe that's prepped and ready for dinner in a very short time. Eating a healthy meal that's so flavorful and easy is a treat though! That beautiful color from such a short time in the oven is perfect! Cafe Delites gives you this wonderful recipe to enjoy.
Sweet and Spicy Roasted Cauliflower
If you are trying to get your veggies in daily and just find them boring, this recipe from The Fitchen will be perfect for adding to your meal. It's sweet and spicy and that's a great combination so you don't get bored with healthy eating.
Beef and Broccoli is a popular take-out but who says you have to go out to enjoy it? Easy Peazy will give you all the tips to make this sheet pan meal so you can throw it all together, in one pan and then dinner will be ready for a date night in or a family meal!
The secret is in the sauce in this dinner recipe put together by Aimee Mars. Load up generous bites of sausage, peppers and sweet pineapple. Having a go-to recipe that'll throw together in such an easy way will make your evenings easy and free to do other things.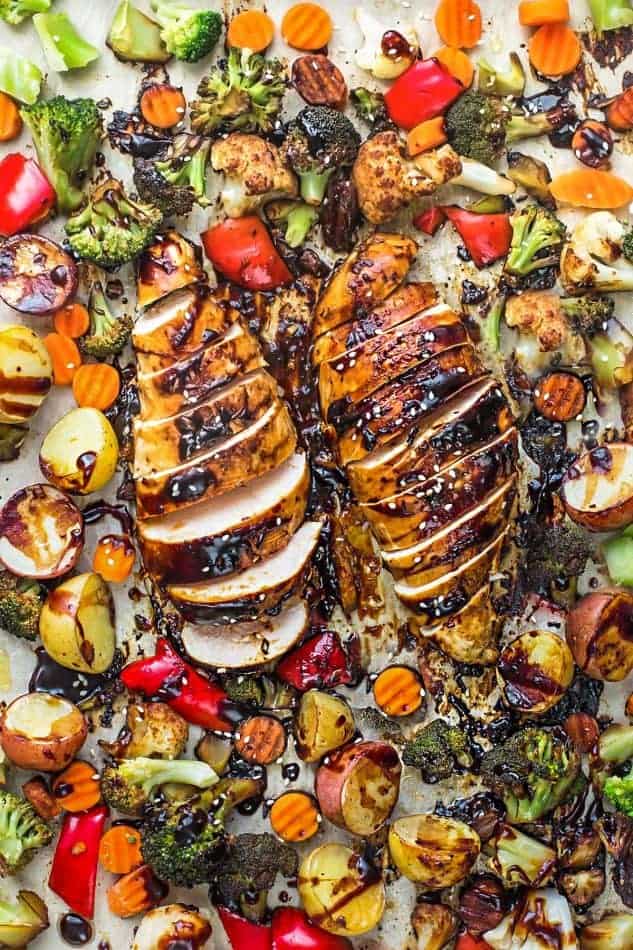 Hoisin sauce is a favorite of mine and I'll be glad to share this little gem with you! Actually Life Made Sweeter will take you through how to prepare what's sure to be a favorite of yours after baking your chicken and vegetables with it.
Let Gnocci change up your potato routine with this sheet pan dinner from Nasha Kitchen. It's a fun vegetarian meal that crisps up nicely in the oven but keeps the ingredients simple, letting the Parmesan cheese top it with the perfect flavor at the end.
Sheet Pan Maple Mustard Roasted Chicken
This recipe puts together ingredients in a fresh twist that I wouldn't have thought to put together myself but now looks absolutely perfect for a dinner. The Chunky Chef gives you the recipe put together on a sheet pan so you have little fuss for clean up after a healthy and delicious meal.
This is the perfect breakfast or dinner recipe. It creates enough for everyone. The blend of cheeses and eggs with a little salty crunchy bacon will be so delicious and not too heavy. Pillsbury will help you put this easy recipe together with ingredients you have in your fridge. Enjoy it like a pie and it'll be perfect for leftovers!
Sheet Pan Thai-Peanut Chili Chicken
This recipe makes a promise and delivers on flavor, providing a one (sheet) pan meal and getting your entire meal done in one cooking session. Host the Toast has made this and promises it'll be a favorite. I love how rich the food looks and you didn't have to go pick up take-out. Plus you are enjoying the veggies!
Sheet Pan Shake and Bake Pork Chops
I love finding recipes that are amazing but also simpler to make yourself at home then buy a boxed version or short cut version at the store. This recipe will be ready for dinner in under 30 minutes along with a healthy side option. Damn Delicious makes dinner a win for you!
This recipe promises to WOW everyone and I believe it! It looks spectacular and I'm ready to enjoy one or three. Dear Crissy gives you the details on how to make this sheet pan of treats and share only if you want to!