11 must-have recipes to guarantee every picnic this summer is a hit! Easy recipes, delicious flavors and wonderful ideas to enhance eating outside with ease.
Summer is upon us and I am loving the warmth of the sunshine, the smells of the fresh cut green grass and the great weather that gets families playing outside and spending time together. We all know that food is a big part of summer, so it is our pleasure to bring you some delicious recipes from friends around the world wide web who have amazing dishes that you can make and serve at a park or backyard picnic with family, friends or a mix of both! I hope you enjoy checking out these well prepared dishes and desserts.
---
S'mores Mason Jar Desserts
These cute little individual S'mores mason jar desserts by Beer Girl Cooks are so enticing and will keep well for a trip to the park for a holiday celebration. No additional plateware needed, perfectly portioned, the only drawback is there may not be seconds available! For the marshmallow topping and dark chocolate pudding recipe click here.
Refreshing Summer Picnic Beverages To Go
Having a variety of beverages for everyone to drink in reusable mason jars is a great way to keep a picnic party hydrated and fun! Check out Chin Deep's fun flavors of drinks that will shake up how you bring beverages to future picnics . These four Refreshing Summer Beverages To-Go will excite your guests as they enjoy the outdoors and delicious spread of food as well.
Melon Salad with Honey Lime Mint
It's time to take advantage of being able to eat as much melon as you are able with the short summer season upon us! Whether you like it plain once it's cut up or with salt and lime sprinkled on top or with this delicious twist from Simply Scratch, the Melon Salad with Honey Lime Mint is here to taste and share!
Strawberry Pretzel Fluff Salad
I'm a huge fan of Strawberries, Pretzels and jello in a dessert form – it is so tasty. But it's also time consuming waiting for the jello to set! The layers take a while to set and its a little bit messy. So this recipe from The First Year is fulfilling those flavors my taste buds crave but in a simple, easy, delicious way. You needed something sweet to offset the savory at the picnic, so click to get the Strawberry Pretzel Fluff Salad recipe!
Easy Mexican Coleslaw Recipe
This mayo-free recipe is perfect for outside or at the lake. It'll complement sandwiches or grilled food with its flavor-packed spices and crunchy coleslaw veggies. You can make this with the added twist of hot sauce or leave it plain. Whether you add it or not, Foodie Crush came up with this delicious East Mexican Coleslaw recipe as a perfect way to sneak in a healthy part of the picnic meal without sacrificing flavor!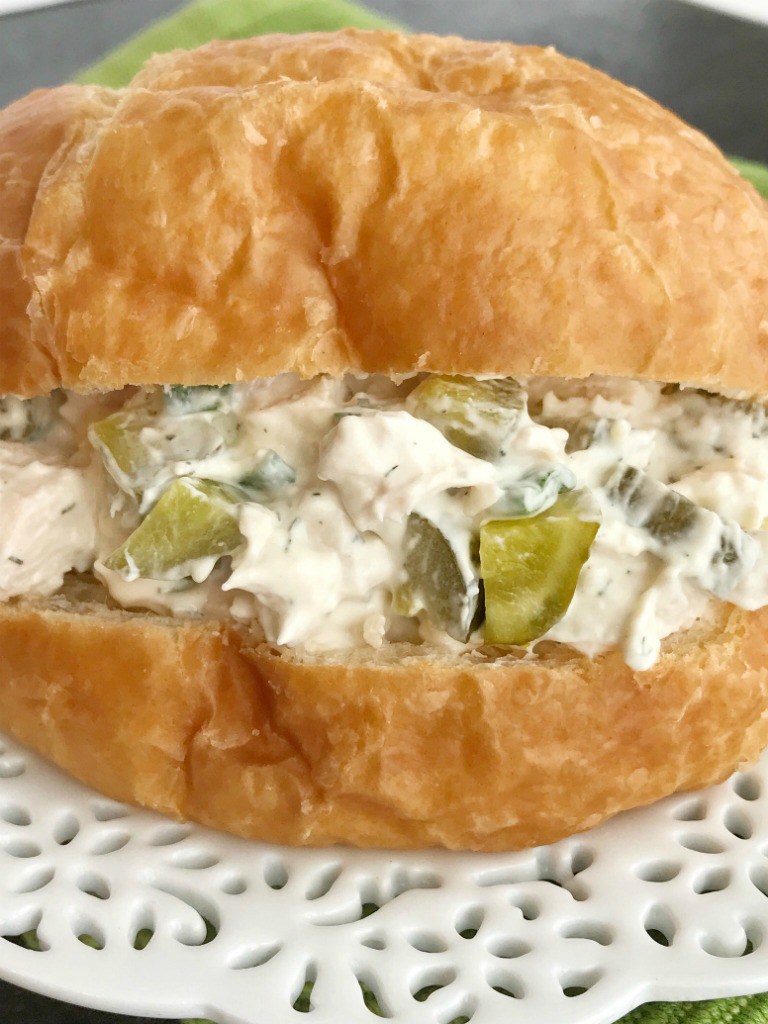 Dill Pickle Chicken Salad
I LOVE pickles in pretty much anything or just by themselves. This recipe from Together As Family is perfect for taking the kids to a park or having girlfriends out on the patio and serving a perfect paloma. Click here to serve up Dill Pickle Chicken Salad!
Loaded Ranch Potato Salad
There are a few staples required at every summer picnic – this potato salad recipe from Spicy Southern Kitchen is bringing you amazing flavors wrapped into a delicious side dish. Because bacon makes any dish just a titch better than it was before. Click here to make sure you can make up Loaded Ranch Potato Salad soon!
Salmon and Cucumber Sandwiches
Ok – I admit that these caught my eye because they are amazing looking, they are something you don't see every day but would satisfy the eater that enjoys a refined palate and desires something more than a hot dog at the picnic. Although you might need to make a bunch of them, because they are cute but little and would easily pop into your mouth! Check out Belly Rumbles fun sandwich idea with the cucumber on the outside of your sandwich – Salmon and Cucumber Sandwiches for the next gathering.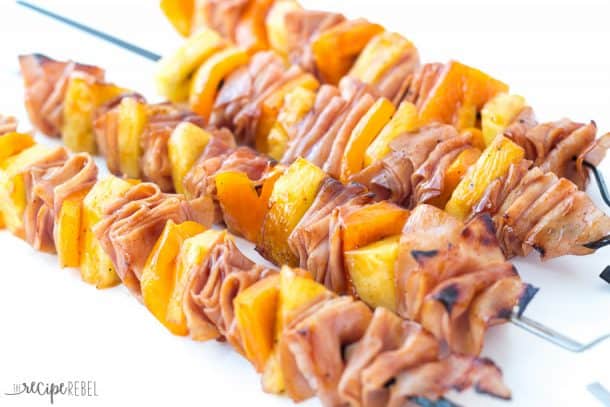 Hawaiian Ham and Pineapple Skewers
I love skewers! They are easy, clean and fast to prepare and cook. They look more delicious served like this. Kids want to try them too! Have fun trying out these Ham and Pineapple Skewers from The Recipe Rebel!
Sweet Tea Fried Chicken
I love watching movies and it always was fun to see families go out for a picnic way back when then watch what they would unveil out of the picnic basket. I would watch with excitement as the towel would be pulled back and I always remember fried chicken being one of those menu items. Here from Growing Up Gabel you will find a fun twist on your regular friend chicken recipe – try Sweet Tea Fried Chicken. Those of us that aren't from the south may not have sweet tea on hand, but it sounds like it's worth the try to prepare some!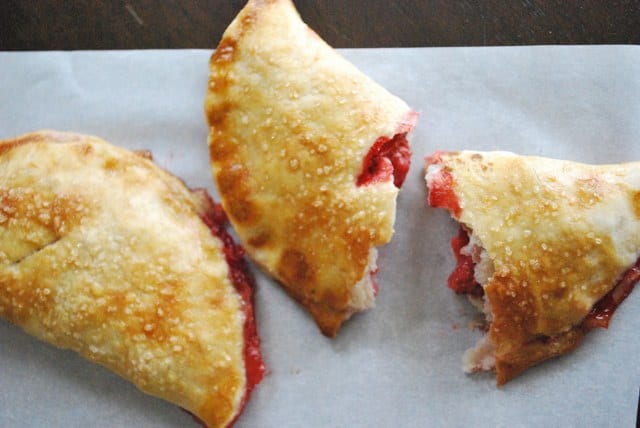 Strawberry Hand Pies
Pie is made more fun by being cute little hand held desserts that you can take without a plate and fork and just enjoy all the flavor packed into the light buttery crust. Just enough of a dessert to give you all the feels of enjoying pie but without being too much work and mess. Betsy Life has a wonderful recipe to try out today. Make some Strawberry Hand Pies this week.
Happy Summer!
---