Below you'll find 13 truly tasty recipes that are created on the grill. You can find everything from meat, veggies and even a sweet treat to satisfy your craving. I know you'll enjoy summer just a little bit more as you expand your menu and taste test these recipes!
Is there a better smell than grilled foods? As you walk outside and the smells waft toward you, you're immediately hungry and your mouth waters. It doesn't matter if you prefer charcoal (because it tastes so good!) or the easier gas grill, your stomach wants you to make your next meal on the grill. My favorite food is "grilled" foods. I realize this encompasses so much but truly, you can enjoy so many foods on the grill and it's a notch above cooking in your kitchen.
The Best Garlic Grilled Flank Steak Recipe
Hands down, this is one of our favorite cuts of meat to make on the grill. So you definitely want to take the time to try out the recipe from Sweet C's. If you don't know a lot about cuts of meat and the difference between flank and skirt steak, she breaks it down nicely for you and you'll be better for knowing as you grow in your grilling expertise. Throw this grilled cut onto a bolillo with some provolone cheese for a wonderful steak sandwich or chop it up onto corn tortillas for yummy street tacos!
---
Grilled Yuca with Garlic Mojo Sauce
I won't lie, the garlic mojo sauce is definitely what drew me to this recipe, more than the yuca root. But hey, if that's how we get ourselves to eat something new, is that so bad? Living Sweet Moments will teach you how to prepare this delicious side dish so that you can focus on preparing all of your meal over the grill and then get to eating! Be warned, once you taste the mojo sauce, you'll find plenty more foods to slather it over.
---
Grilled Portabello Mushrooms with Spinach and Cheese
If you think that grilling only means meat is on the menu, then you need to expand the menu today and try this amazing Portabello Mushrooms recipe from Rachel Cooks. These large mushrooms are easily stuffed with a variety of ingredients but this spinach will give you the vitamins you need and the cheese will give you the flavor you want! Just a couple of these and you'll just have enough room left over for a delicious dessert. You won't be sorry to have these for dinner.
---
You can be assured that when your family asks you, "what's for dinner?" you will hear any grumbling when you say, "grilled pizza". Selecting the toppings and watching them melt into the gooey cheese will be a fun family moment. Over at Cooking Classy with a sprinkle of fancy walks you through how to make pizza and enjoy it fresh off the grill. Whether you make one large pie or a couple of individual pizzas, dinner will be a success.
---
If you have ever eaten at a steakhouse and tried the Blooming Onion, you know they are tasty and now you don't have to wait until you go out to eat to enjoy it again. Diethood has provided you with all the needed steps to create this amazing appetizer or side dish at home. The smell of this delicious onion coming into all its flavor while on the grill will make your taste buds dance!
---
There's a certain restaurant chain that has a Jack Daniel's sauce that I wish they'd bottle and sell because I love it slathered over all kinds of foods. But this recipe from Diethood gives me all the same excitement about grilling my meat because it has delicious flavor that I can enjoy in the comfort of my own home. Once you realize that you can make such a delicious meal with the flavor or Jack Daniel's, you'll try it out on chicken and veggies too.
---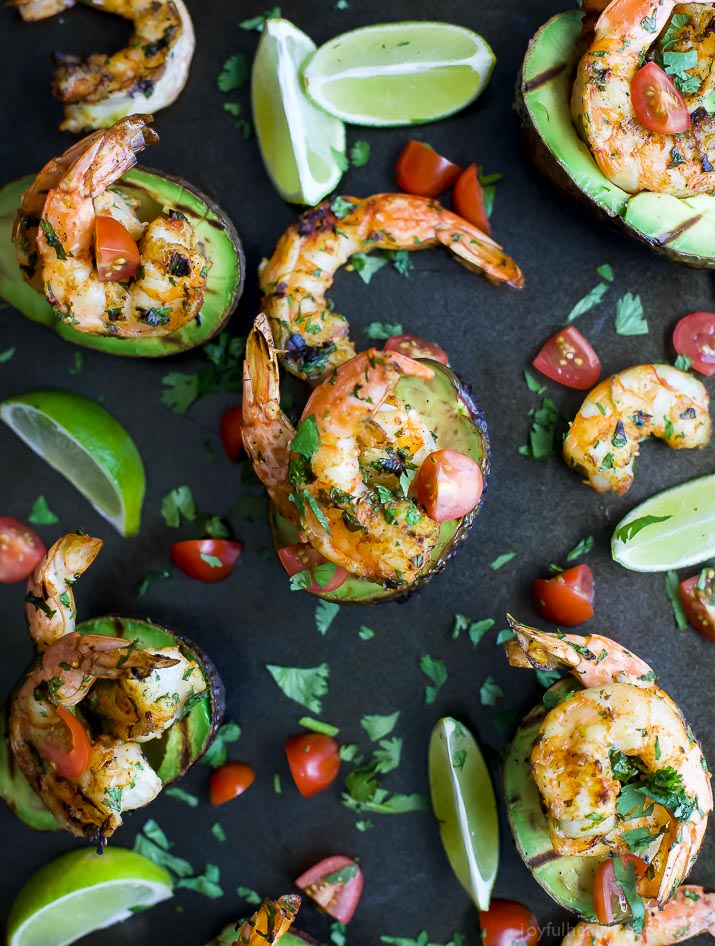 Grilled Cilantro Lime served in an Avocado Boat
This avocado boat recipe with the cilantro lime shrimp is a recipe that is so appealing and wraps up so many delightful flavors that you'll be pumped to share them your friends at a BBQ or family get together. At Joyful Healthy Eats, you will glad you tried this light and easy recipe which is a sure hit with a nice twist to your regular grilling menu.
---
Grilled Chili Cilantro Lime Chicken
If you've noticed that I love recipes with cilantro and lime and a little bit of spice, you are very observant and correct! Chicken is always in stock at our home but chicken itself is a little boring. I'm always looking for great ways to turn out a chicken recipe with flavor and to keep it moist. This recipe from Gimme Delicious will be a hit and you're going to enjoy this with a simple side dish or on top a delicious salad.
---
Well, I've come to learn that you either love balsamic or you don't. I definitely fall into the camp of, yes, please. Add balsamic. So that's why this veggie recipe is included in our grilling recipes round up. You can use any combination of vegetables that you love, but grilling them and splashing in some balsamic will make them taste amazing. Check out The Fit Fork's grilling produce tips and recipe, you'll be glad you did!
---
Doesn't this look mouth-watering good?! This recipe is brought to you by Feasting at Home and it's time to cook up a meal fit for a king. A healthy dinner that tastes this good should be criminal. I have a hunch that this sauce will be a hit and will go on more than just the salmon.
---
It's time to head to the Mediterranean and enjoy some delicious skewers of marinated pork. This incredibly easy recipe sounds delicious and after you grill the pita, it'll be a wonderful meal straight off the grill. Head over to All About Cuisines to learn about how to make this amazing recipe for your home to experience a little Mediterranean cuisine.
---
Easy Make Ahead Marinades for Summer Grilling
Sometimes the planning is all about the marinade and whatever meat you happen to have in the freezer. Over at The Many Little Joys, you will find a listing of 7 delicious marinade recipes that you can use over any of your favorite cuts of meat, then get them on the grill! These are easy, and you can even freeze a bunch of them ahead of time and pull them out as needed. That leaves more time for summer fun!
---
If you grill your dessert as well as your meal, there's just so much less clean up in the kitchen. Plus you get the combined flavors of sweet and savory all in one meal. At Six Sisters Stuff, you can take the delicious peaches and use a little bit of cinnamon and honey to turn those peaches that are finally in season and make up a healthy dessert for the whole family.