Whether you decide to spice it up or not, you will LOVE this sandwich!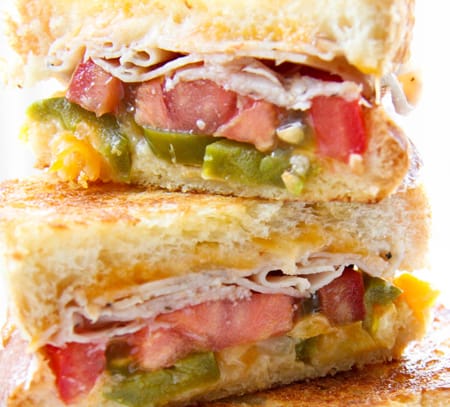 I think I might have a problem. I am a wee bit obsessed with grilled cheese sandwiches. I have a list in my nerdy blog notebook of about a hundred different ingredients that would go well squished between the buttery walls of this scrumptious sandwich. The possibilities are endless! Why am I just discovering this now?
Some of the recipes I post on this blog only get a few taste-testings from me. Just enough that I can be sure I'm sharing a quality recipe. Then I pawn the food off on other people because if I ate everything I made, I would be wearing maternity clothes for the rest of my life. But these grilled cheese sandwiches? Every morsel of food you see in the photos goes into my belly.
For this particular grilled cheese, I used French bread and made two small sandwiches (equalling one big serving!) only because we were out of any other type of bread. I'm glad it worked out that way because I adored it!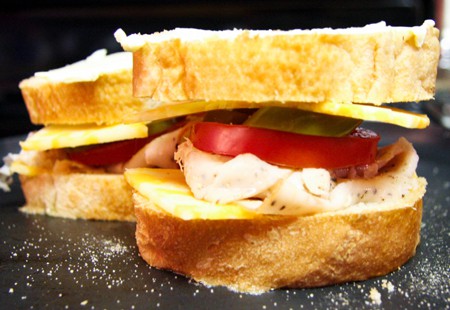 I love you, Grilled Cheese! I have loved experimenting with my list of ingredients and finding the ones that best complement you! Some of my favorites thus far are: Grilled Cheddar and Cherry Preserves, Reuben Grilled Cheese and Guac and Chips Grilled Cheese to name a few!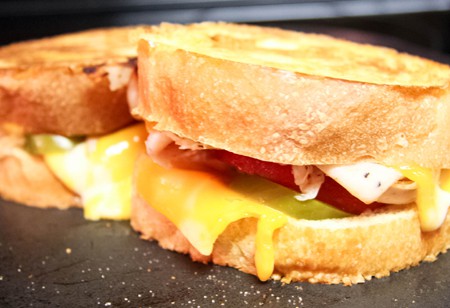 Grilled Cojack and Turkey Grilled Cheese Sandwich
Whether you decide to spice it up or not, you will LOVE this sandwich!
Print
Pin
Rate
Ingredients
2

slices

of French bread

2

tbsp.

butter

at room temperature

1

tbsp.

mustard

seasoning salt

2

slices

cojack cheese

3

slices

turkey

2

fresh tomato slices

5

pickled jalapeno pepper slices

optional
Instructions
Place the bread on a flat work surface. Spread 1 tablespoon of butter evenly over one side of each slice of bread.

Warm a skillet over medium heat for 3 to 5 minutes. Layer the sandwich as follows: slide of bread, butter side down, mustard (spread evenly on top side), sprinkling of seasoning salt, 1 slice cheese, turkey, tomatoes, jalapenos (if using), 1 slice of cheese and slice of bread, butter side up.

Place sandwich onto the hot skillet. Cook on each side for about 3 to 4 minutes, or until the bottom layer of cheese begins to melt around the edges. Cut in half and serve!