Something simple, yet gooey and tasty! Be prepared to say CHEEEEEEEEEESE!!!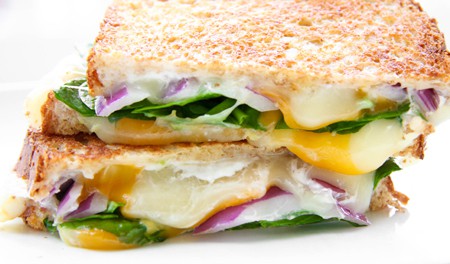 One morning a few weeks ago I was sitting at my desk at work wishing I had something to eat. My stomach was groaning and rumbling, so every couple minutes I would open my drawer in hopes that something edible would magically appear. Magic did not occur that morning, so I began dreaming up a delicious sandwich. I wanted cheese, lots of cheese, and veggies. Something simple, yet gooey and tasty.
This is the sandwich I came up with. I knew we had all of the ingredients at home, so I sped home, made it, photographed it, ate it, and sped back to work, tummy very happy. Be prepared for CHEESE! Yum.
If you love Grilled Cheese Sandwiches as much as I do, I encourage you to check out my Reuben Grilled Cheese. It has changed the grilled cheese sandwich for me forever! MIND BLOWN!

Ingredients
2

slices

white or wheat bread

2

tbsp.

butter

at room temperature

2

slices

provolone cheese

2

slices

cheddar cheese

Small handful

fresh spinach

A few red onion slices
Instructions
Place the bread slices on a flat work surface. Spread 1 Tablespoon of butter evenly over one side of each slice of bread.

Warm a skillet over medium heat for 3 to 5 minutes. Layer the sandwich as follows: slice of bread, butter side down, 1 slice provolone, 1 slice cheddar, spinach, red onion slices, 1 slice provolone, 1 slice cheddar and remaining slice of bread, butter side up.

Place sandwich onto the hot skillet. Cook on each side for about 3 to 4 minutes, or until the bottom layer of cheese begins to melt around the edges. Cut in half and serve!