Olive-y, gooey, fabulously delicious!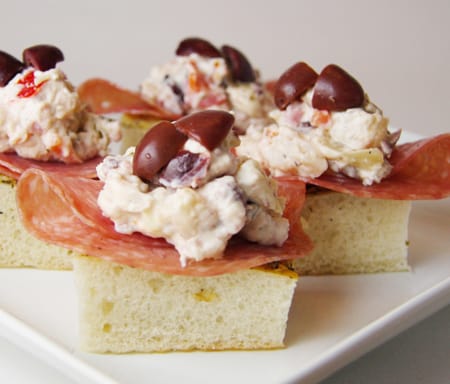 I was unfamiliar with the word "muffaletta" a mere five months ago. I was sitting at a table in Jason's Deli, probably munching on a spinach veggie wrap (my favorite!), when I spotted a photo of a scrumptious-looking sandwich. Layered in between the bread were olives, cheese and layers of sliced meat. Yum!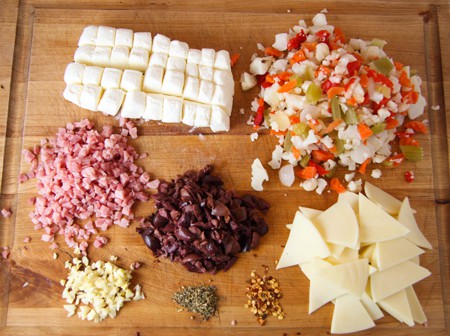 The next time I was there, I ordered one of those delicious sandwiches all for myself. Actually, I ordered a quarter of one because the whole sandwiches are enormous. It was olive-y and gooey and fabulous!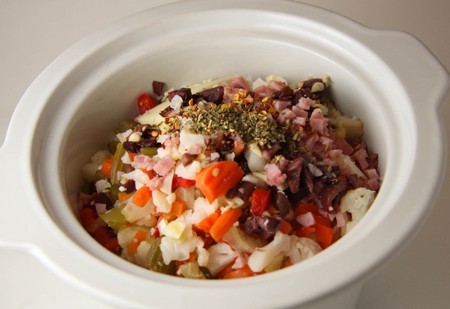 Since then, I have been extra aware of my newly-learned word, muffaletta. I saw a recipe for muffaletta dip as I flipped through a magazine a few weeks ago and knew that it had to be made soon. Like the sandwich, it was olive-y and gooey and fabulous!
Serve over salami, atop a square of toasted Focaccia bread.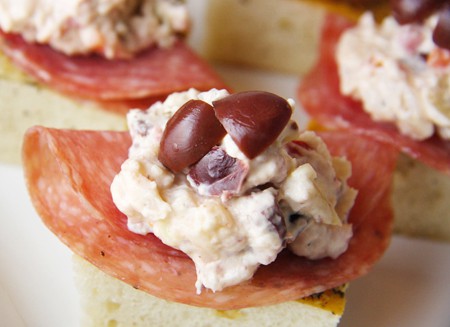 Muffaletta Dip
Olive-y, gooey, fabulously delicious!
Contributed by Megan Porta from pipandebby.com.
Published Jan 14, 2011
Serves: 20
Total time:

2 hr 45 min

Ingredients:
One 16-oz. jar pickled mixed vegetables (giardiniera)
One 8-oz. package cream cheese, cubed
4 oz. provolone cheese slices, cubed
2 oz. cooked ham, finely chopped
½ cup pitted Kalamata olives, rinsed, drained and chopped
2 cloves garlic, minced
1 teaspoon dried Italian seasoning
¼ teaspoon crushed red pepper
Milk
Thinly sliced salami
Focaccia squares, toasted
Instructions:
Rinse and drain pickled vegetables. Remove stems from peppers; chop vegetables. In a slow cooker, combine pickled vegetables, cream cheese, provolone cheese, ham, olives, garlic, Italian seasoning, and, if desired, crushed red pepper.
Cover and cook on low-heat setting for 2 to 3 hours. Stir until cream cheese is smooth. Stir in enough milk (2 to 3 tablespoons) to reach dipping consistency.
Serve immediately or keep warm, covered, on warm setting or low-heat setting for up to 2 hours, stirring occasionally and adding milk as necessary. Serve with salami on toasted bread.