This grilled cheese creation contains two of my favorite ingredients on the planet: sun-dried tomatoes and artichokes. Whenever my friend Laurie and I go out to eat together, we both order the item on the menu that has one or both of these ingredients. They are too mouth-watering to pass up. Sauteed skunk liver with sun-dried tomatoes and artichokes? Yum! Sign me up!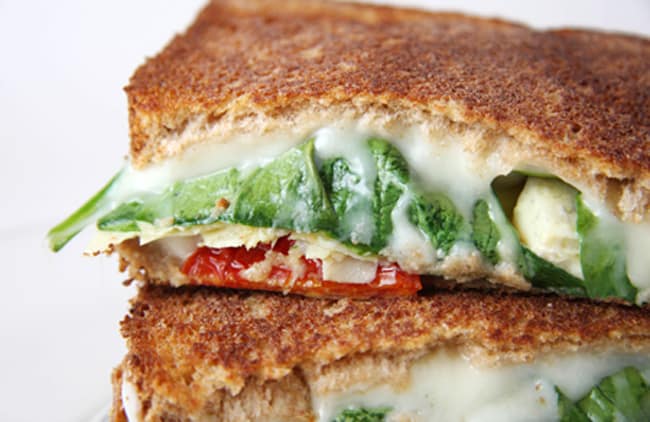 I have a hard time looking at these photos without trying to jump into my monitor and bathe myself in artichoke, sun-dried tomato, cheesy yumminess.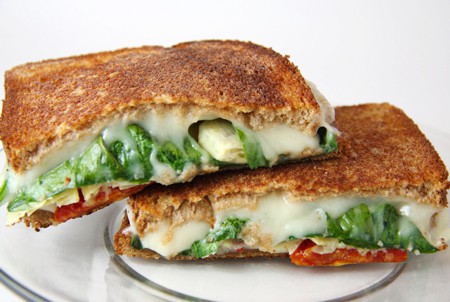 Grilled Artichoke Sun-Dried Tomato Sandwich
Too mouth-watering to pass up!
Contributed by Megan Porta from pipandebby.com.
Published Jan 3, 2011
Serves: 1
Total time:

15 min

Ingredients:
INGREDIENT
2 slices white or wheat bread
2 tablespoons butter, at room tempature
2 slices provolone cheese
small handfull fresh spinach leaves
1/4 cup artichoke hearts, chopped
2 sun-dried tomatoes packed in oil, chopped
Instructions:
Place the bread slices on a flat work surface. Spread 1 tablespoon of butter evenly over one side of each slice of bread.
Warm a skillet over medium heat for 3 to 5 minutes. Layer the sandwich as follows: slice of bread, butter side down, 1 slice cheese, spinach, artichokes, tomatoes, 1 slice cheese and remaining slice of breda, butter side up.
Place sandwich onto the hot skillet. Cook on each side for about 3 to 4 minutes, or until the bottom layer of cheese begins to melt around the edges. Cut in half and serve!