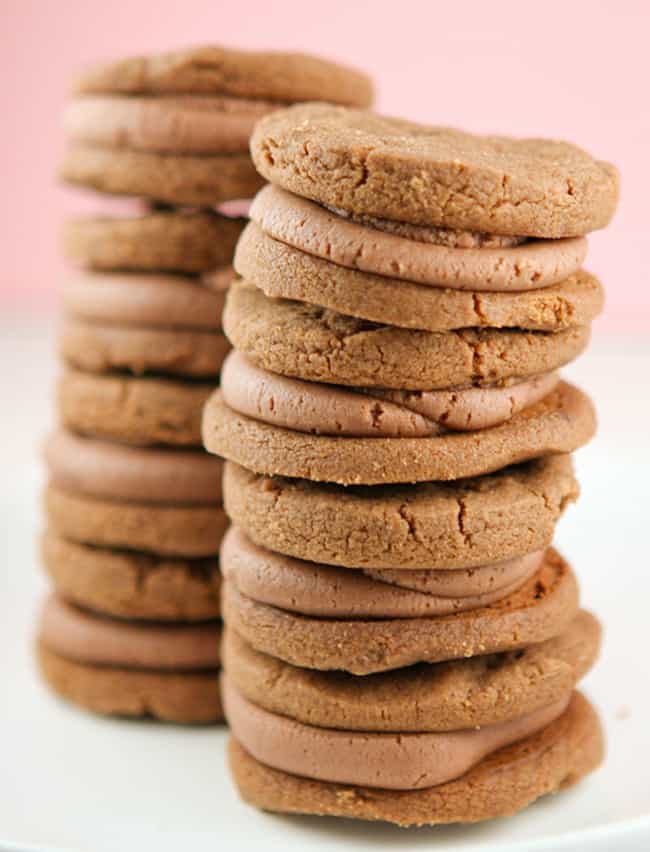 One day I will look back on this post and wonder how in the world I managed to finish these cookies. It has been a struggle for me to stay in one piece for the past week. I keep push-push-pushing my limits, and my body has finally told me plainly (for the third time in the past two months), SLOW DOWN, WOMAN. Ok, ok. I'm realizing that I actually need to heed these warnings, so I am slowing down. This week, my life has been all about: early bedtimes, hydration, knowing that the world won't end if I don't get a certain batch of photos edited, SLEEPING, eating, becoming more aware of what my body needs. Oh yeah, and working full-time and caring for two little munchkins. So. It has been hard to fit in much of anything else.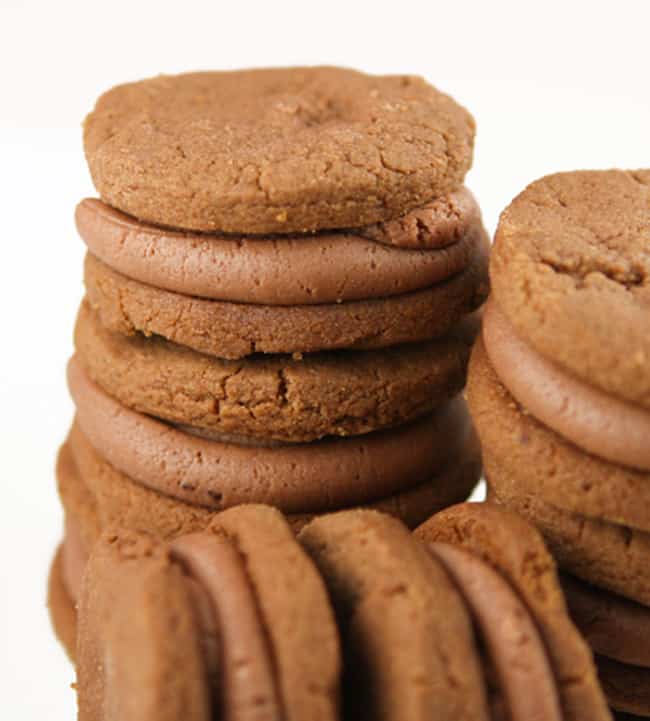 I made the cookies on Sunday night and the malted cream on Monday night. Somehow I got them photographed before falling into my comfortable bed for some much-needed slumber. Thankfully they were quite scrumptious, and the coworkers I shared them with seemed to enjoy them. If you're looking for a delicious option but need it gluten-free are these Flourless Chocolate Cookies! It's a naturally gluten-free cookie but still a fudgy-decadent choice!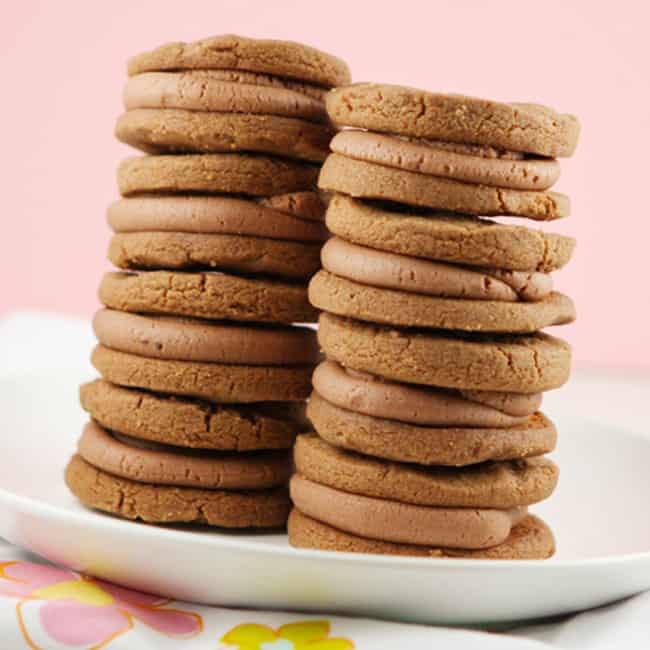 Milk-Chocolate Cookies with Malted Cream
All things comfort and classic in cookie form! (Source: Food & Wine Annual Cookbook 2010)
Contributed by Megan Porta from pipandebby.com.
Published Oct 19, 2011
Serves: 30
Total time:

1 hr, 30 mins

Ingredients:
COOKIES:
1 1/2 sticks unsalted butter, softened
1/2 cup light brown sugar
1/2 cup granulated sugar
6 ounces milk chocolate, melted and cooled slightly
1 tablespoon pure vanilla extract
1 3/4 cups all-purpose flour
2 tablespoons unsweetened cocoa
1 teaspoon baking soda
1/2 teaspoon salt
FILLING:
1 stick unsalted butter, softened
1/2 cup chocolate malt powder, such as Ovaltine
1/2 teaspoon pure vanilla extract
2 cups confectioners' sugar
Instructions:
Preheat the oven to 350 degrees F. Line 2 baking sheets with parchment paper.
MAKE THE COOKIES: In a large bowl, using an electric mixer, beat the butter with the brown sugar and granulated sugar until smooth. Add the melted chocolate and vanilla and beat until smooth. In a small bowl, whisk the flour with the cocoa powder, baking soda and salt. Add the dry ingredients to the bowl and beat at low speed just until incorporated. Roll the dough between 2 sheets of parchment paper to a scant ¼-inch thickness and refrigerate until firm, about 15 minutes.
Using a 2-inch round cookie cutter, stamp out as many rounds as possible and transfer to the baking sheets, 1 inch apart. Gather the scraps and chill, with the cut-out rounds, for 10 minutes. Reroll the scraps and stamp out more rounds.
Bake the cookies in the lower and middle thirds of the oven for about 10 minutes, until dry and set; shift the pans halfway through baking. Transfer the cookies to a rack and let cool completely.
MAKE THE FILLING: In a bowl, using an electric mixer, beat the butter with the malt powder at medium speed until light, 3 minutes. Add the vanilla and confectioners' sugar and beat at low speed just until combined. Transfer the filling to a pastry bag fitted with a ½-inch plain tip. Arrange half of the cookies on a work surface, bottom side up, and pipe a 1-inch mound of filling onto each. Sandwich with the remaining cookies and serve.