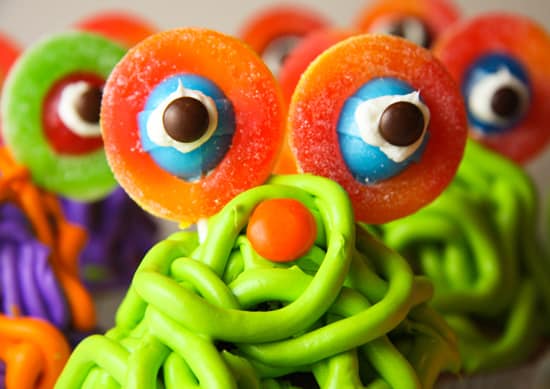 My 4-year-old has a very hard time being patient, as I'm sure most 4-year-olds do. We have learned not to tell him we are going to the park, to Grandma's house, to the zoo, to the mall (all places he loves), until two minutes before we are ready to leave. If we break this rule, the whining for "paa-aa-aaaaa-aaaaark" or "Gwaaa-aaaaa-maaaa's hooo-ooouse" gets ridiculous. I gambled big time by showing him my new cupcake cookbook (What's New, Cupcake?) and telling him to pick out which cupcakes he would like me to make for his birthday….TWO WEEKS in advance. "I want my moooo-oooo-ooooonster cuuu-uuuup-caaa-aaaa-aakes!" Ugh! So, by the time I finally got around to making these, I felt a little bit of tension between myself and these little colorful monsters. Once they were done, though, they were so stinkin' cute! I fell in love. And most importantly, my birthday boy adored them.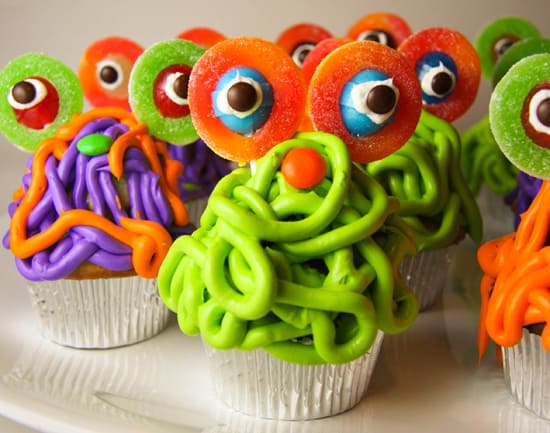 First, bake 12 cupcakes, whatever flavor(s) you desire, according to package directions. Also, bake 12 mini cupcakes according to package directions. Since I was making these for a birthday party, I made three different flavors: yellow, chocolate and confetti. Kids like options.
While the cupcakes are baking and cooling, prepare the monster eyes. Push the stick of a dum-dum lollipop through an apple or peach ring and pull the ring around the lollipop. This is super slick. They wrap right around each other like they were meant to be together.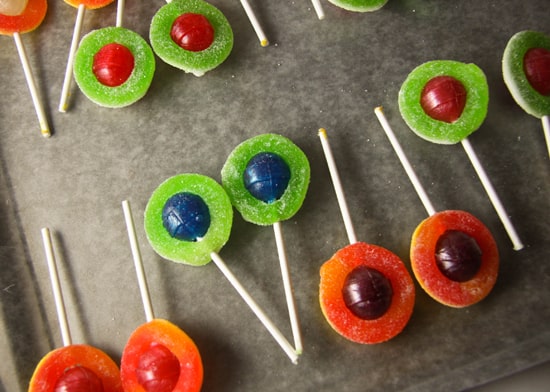 Do this 24 times. It doesn't take long, I promise.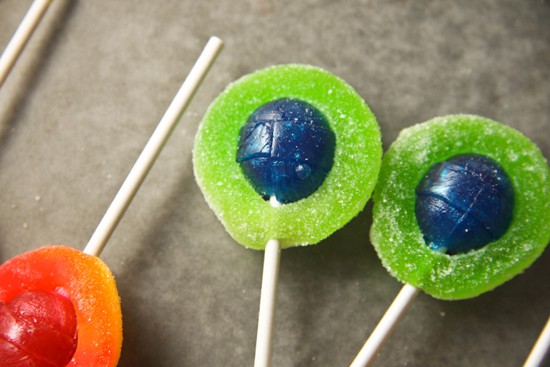 I used canned vanilla frosting, but feel free to make your own. Place a few spoonfuls of vanilla frosting into a large Ziploc bag and cut a teeny hole in the corner. By "teeny," I mean around 1/8 of an inch.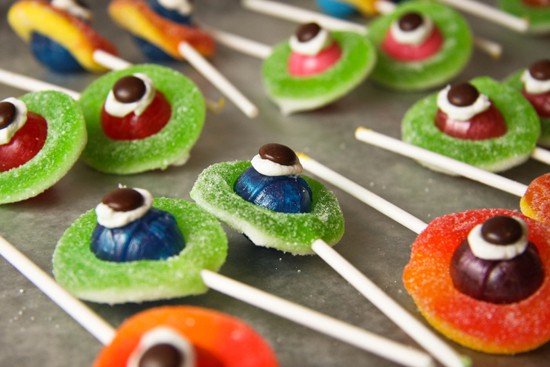 Squeeze the bag so frosting comes out of the tip. Dab a small circle of frosting in the center of each dum-dum. Before the frosting hardens, place a brown mini-M&M directly in the center. Allow the monster eyes to sit for a few minutes in order to fully harden.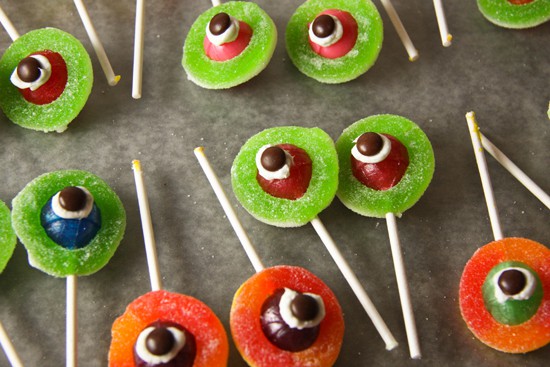 Prepare the frosting that you will be using to cover the cupcakes with. I used a total of 2 jars of store-bought vanilla frosting and divided it between three small bowls. Using neon food coloring, I made one of the bowls bright orange, one bright green and one bright purple.
Grab a cupcake and a like-flavored mini cupcake.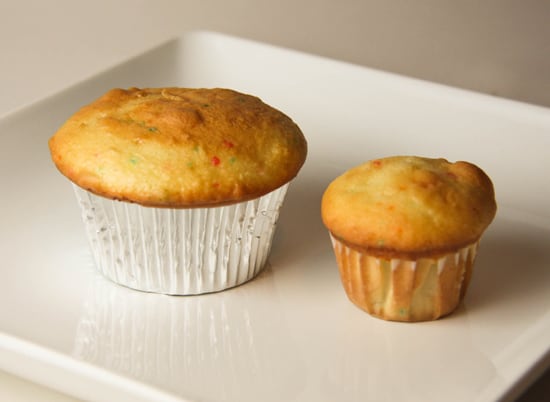 Remove the wrapper from the mini cupcake and turn it upside down. Place it on top of the regular-sized cupcake. If you'd like, squirt some frosting between the two to help keep them in place.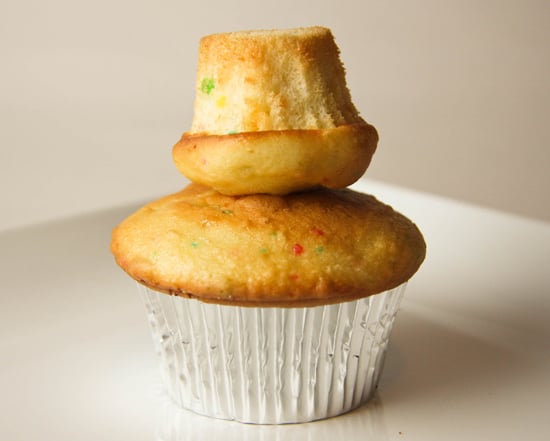 Spoon the colored frostings into three separate large Ziploc bags and cut an 1/8 to 1/4 inch off the corners. Squeeze the frosting over the surface of the cupcake, in "strings," completely covering it. This was my favorite part! Get crazy!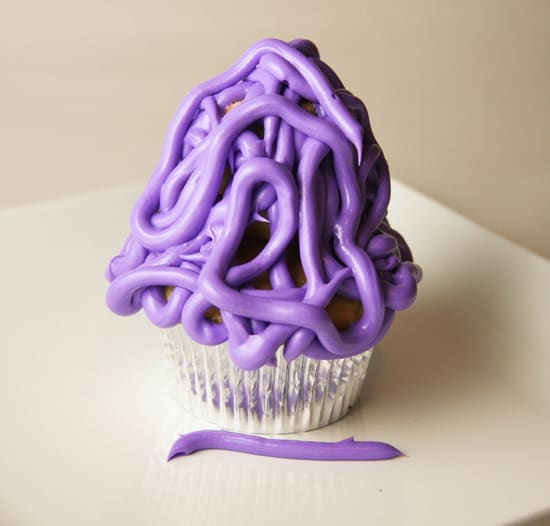 Push the sticks of the dum-dum eyes into the cupcakes. Give the monster a fun M&M nose, if you'd like.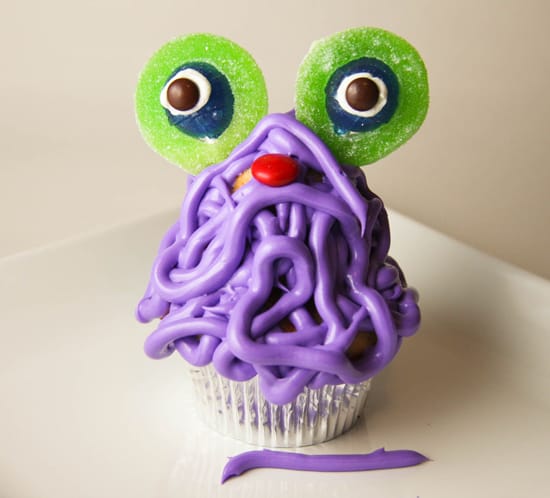 Aren't they adorable? They were an absolute hit for my boy and his cousins.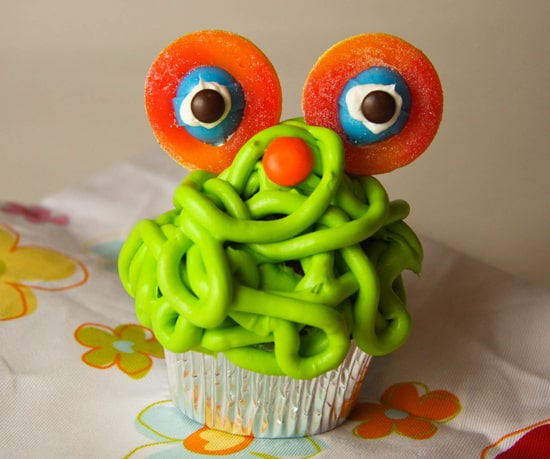 I had leftover cupcakes, so I made a few different kinds of monsters.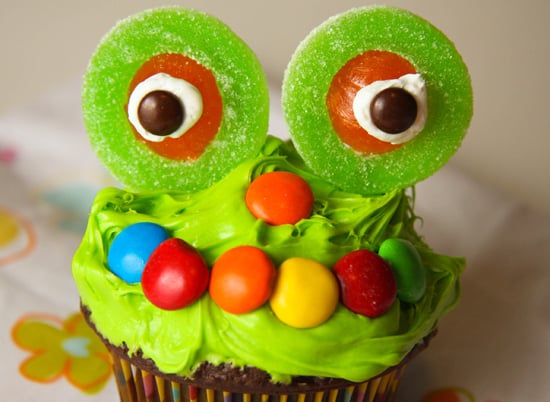 And I made a special plate for the birthday boy.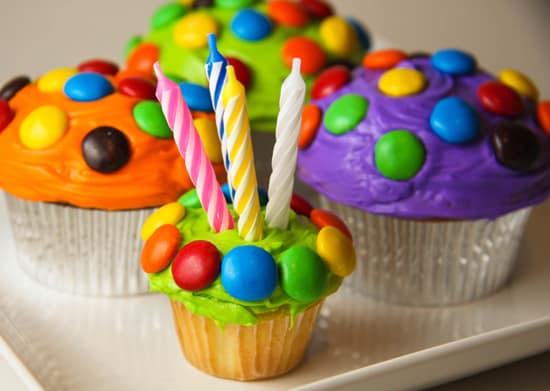 Have you ever seen a happier face?