Fresh, healthy and satisfyingly delicious soup! (Source: Food & Wine Annual Cookbook 2010)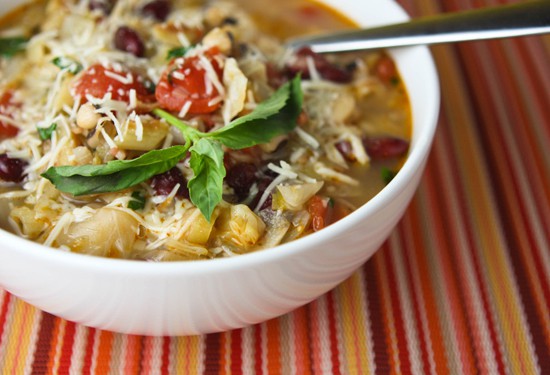 We have settled into a Sunday routine at our house that I love. Church or family-time, depending on the week, followed by lunch and a family nap. After that, I retreat to the kitchen to prepare something for dinner while my boys play or lounge or watch golf or read or play on the computer or the Wii. Sometimes I turn on music while I cook. Other times I tune into the sounds coming from the living room as I thinly slice the white parts of a leek.
This was the scene at one end of the kitchen this past Sunday afternoon.
And this beautiful face was at the other end.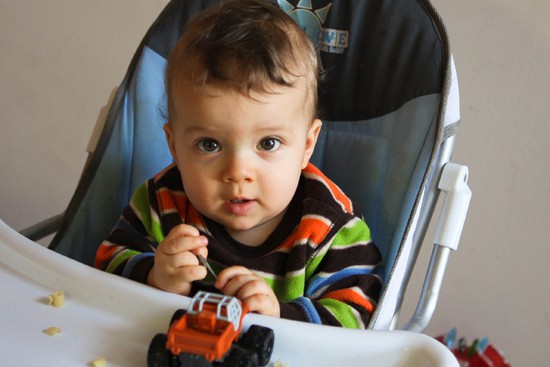 And this was the scene in the living room.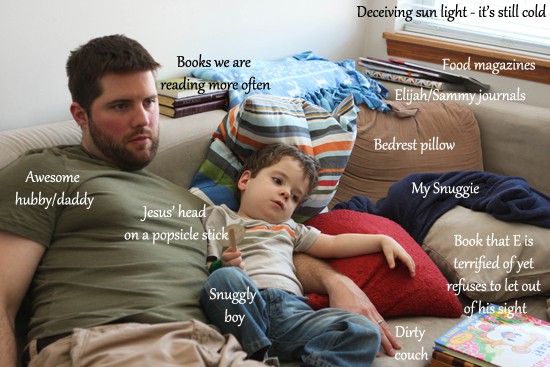 This Sunday routine that I love so much will sadly be ending soon. Starting in mid-April, my husband will be working his cute little butt off on the weekends doing this (photo courtesy Luke Evens) until the end of October.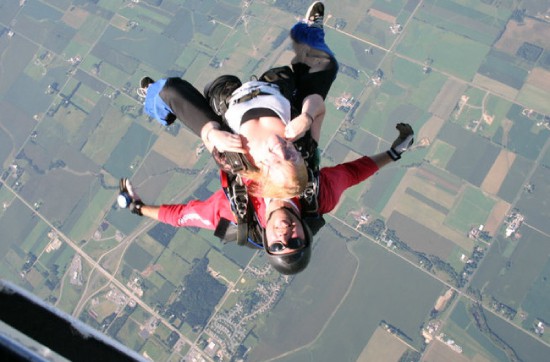 While I take on the scene at home. You know, ignoring the laundry and dirty toilets while caring for my boys and cooking.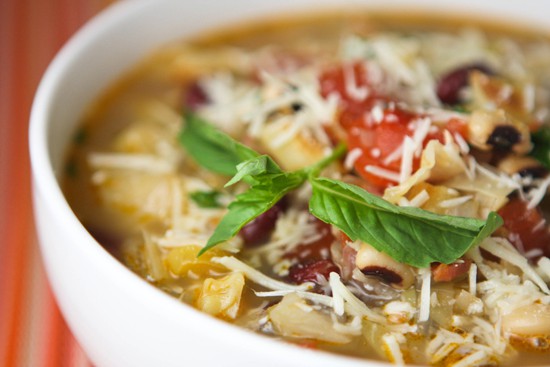 The important and yummy stuff! At least I've got my priorities straight.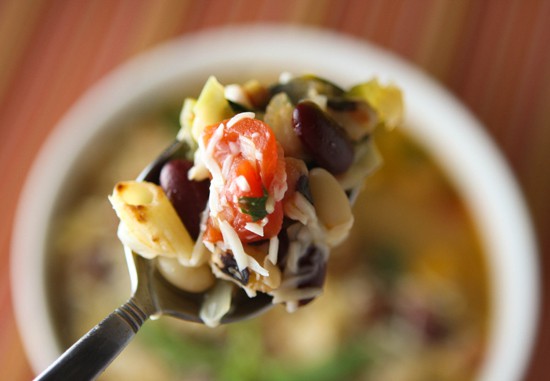 One of my last carefree Sunday cookfests for a while involved lots of vegetables. I had never made Minestrone before, and I was most definitely pleased with the outcome of my first attempt at it. The top keywords that come to mind when describing it are: fresh, healthy, satisfying, delicious!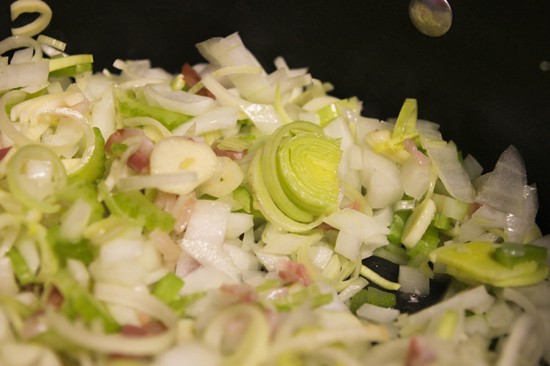 Sometimes I am struck by how artistic food can be. Perhaps that is why I'm so fond of food blogging and food photography.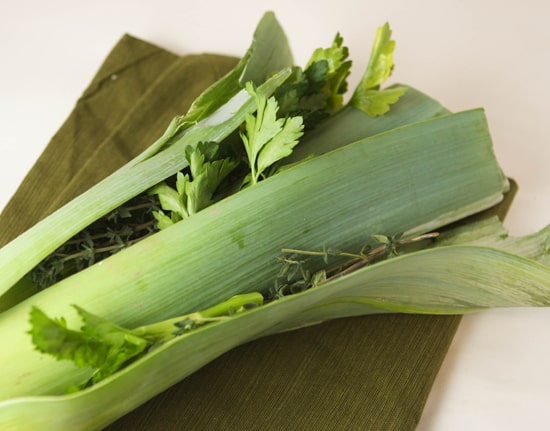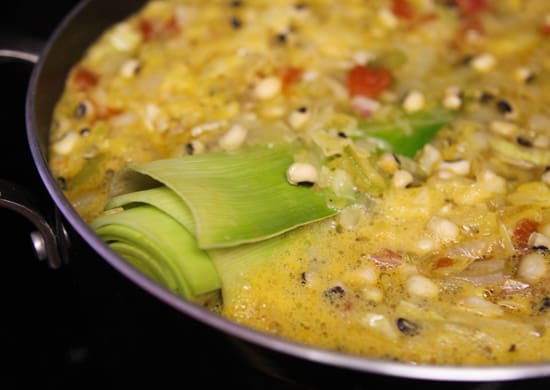 Ladle the soup into bowls and sprinkle with grated Parmesan cheese. Enjoy!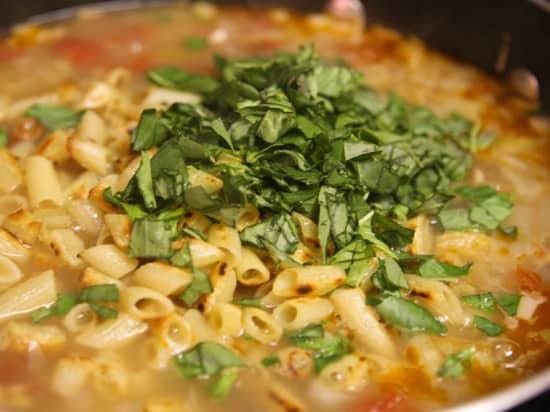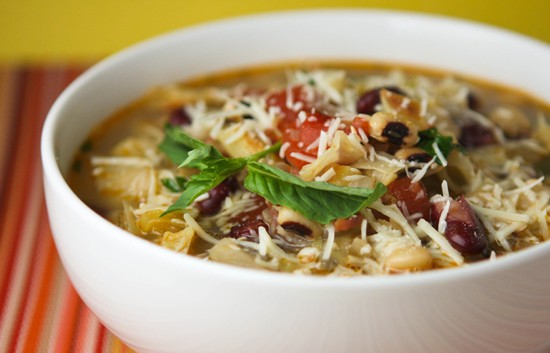 And to think that once upon a time, I, too, spent my weekends jumping out of airplanes. Ahh, those were the days.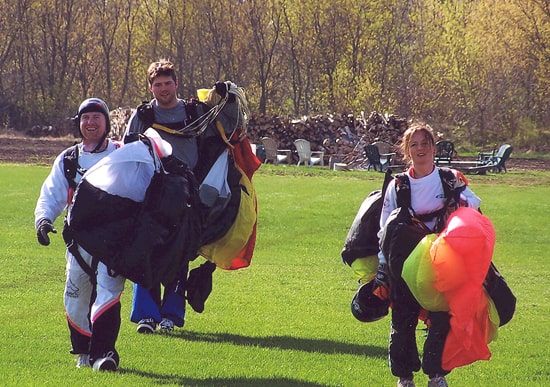 Minestrone with Black-Eyed Peas and Kidney Beans
Fresh, healthy and satisfyingly delicious! (Source: Food & Wine Annual Cookbook 2010)
Contributed by Megan Porta from pipandebby.com.
Published Mar 30, 2011
Serves: 6
Total time:

1 hr 30 min

Ingredients:
3 tablespoons extra-virgin olive oil
2 oz. pancetta, finely diced
1 large onion, finely chopped
2 celery ribs, thinly sliced
4 garlic cloves, thinly sliced
1 leek, white and tender green parts thinly sliced, 1 dark top reserved
Salt and freshly ground pepper
½ pound Savoy or other green cabbage, coarsely shredded
One 14-oz. can diced tomatoes
1 cup dried black-eyed peas
2 quarts water
3 parsley sprigs
1 bay leaf
3 thyme sprigs
One 15-oz. can red kidney beans, drained and rinsed
2 oz. penne
½ cup shredded basil
¼ cup plus 2 tablespoons freshly grated Parmigiano-Reggiano cheese
Instructions:
In a large soup pot, heat 2 tablespoons of the olive oil. Add the pancetta, onion, celery, garlic and sliced leek and season with salt and pepper. Cook over moderate heat until the vegetables are softened, 10 minutes. Add the cabbage and cook until slightly wilted, 1 minute. Add the tomatoes and cook for about 5 minutes. Add the black-eyed peas and water; bring to a boil. Wrap the parsley, bay leaf and thyme in the reserved leek top and secure with kitchen twine. Add to the pot.
Cover the pot and simmer over low heat until the black-eyed peas are tender, 45 minutes. Discard the herbs. Add the kidney beans and simmer for 10 minutes longer.
Meanwhile, in a pot of boiling salted water, cook the penne until al dente. Drain and cool under running water. Slice the penne crosswise into ¼-inch rings.
In a nonstick skillet, heat the remaining 1 tablespoon of oil. Add the penne in a single layer and cook over moderately high heat, turning once, until golden, 5 minutes. Drain the penne rings on paper towels.
Stir the pasta and basil into the soup. Ladle the soup into bowls, sprinkle each with 1 tablespoon of the cheese and serve.