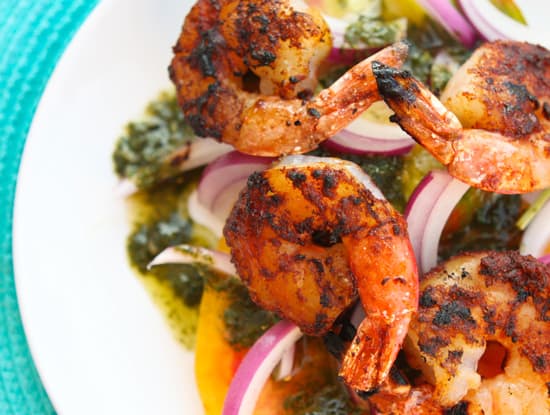 I traveled far and wide to gather the ingredients for this salad. Ok, really it wasn't so far or wide, and this recipe was totally worth going to two stores for. Our local grocery store didn't have heirloom tomatoes or a good jumbo shrimp selection, but Whole Foods pulled through. Back to the totally-worth-it part. If I could be a salad, this very salad is the salad I would be. It has seafood and spice and tomatoes and onions and basil, which apparently when all put together makes The Perfect Salad. That, coming from the queen of salads, is saying a lot.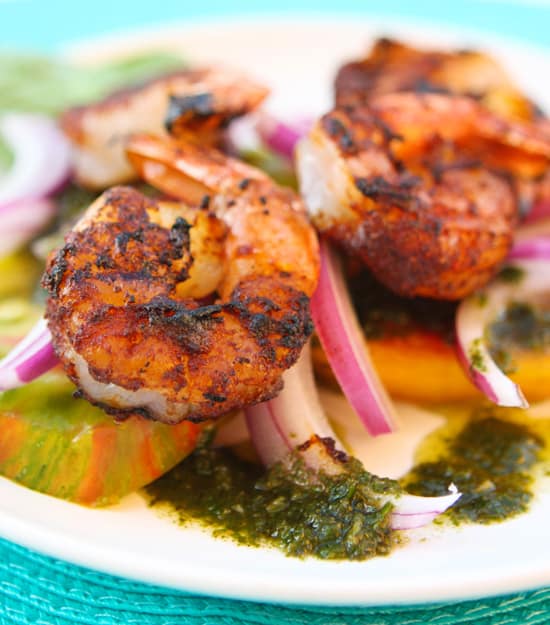 And lucky for me, my husband didn't seem too interested. I played it down. "Eh, it's pretty good." All the more for me! Guess what I'll be eating for lunch and dinner for the next couple days!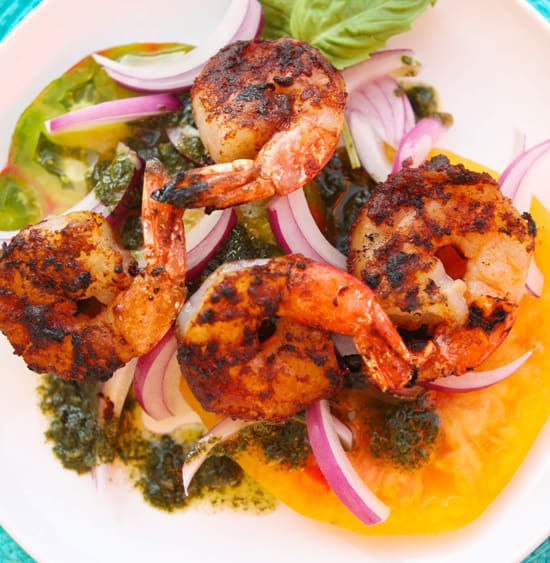 It's also super easy to make (30 minutes or less), which is always a selling point for me.
In a blender, puree the following until smooth:
1/3 cup packed basil leaves
1/3 cup olive oil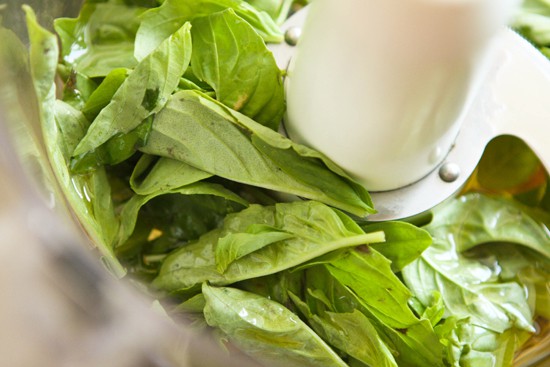 Season with kosher salt and pepper and set aside.
Light a grill.
In a small bowl, combine the following ingredients: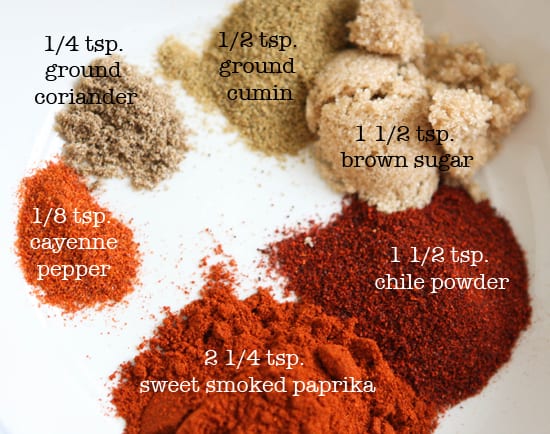 Mix together.
Brush 1 pound of jumbo shrimp with canola oil and coat the shrimp with the spice mixture.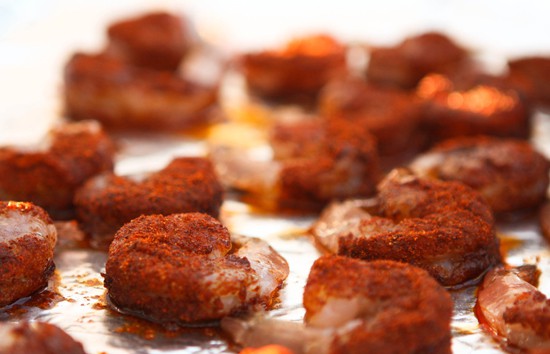 Grill the shrimp over moderately high heat, turning once, until they are lightly charred and cooked through, about 4 minutes total.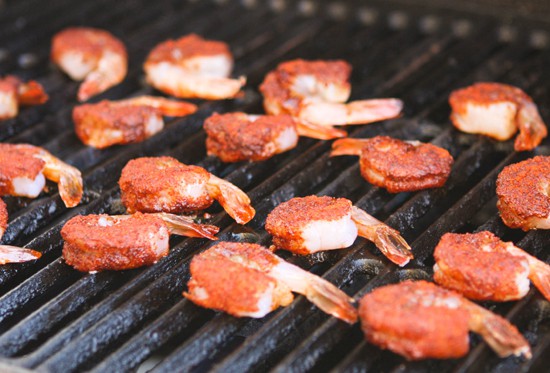 Arrange heirloom tomato slices on a plate (or maybe 2 plates if you are sharing) along with sliced red onions.
Drizzle the basil mixture over the tomatoes and onions. Top with the shrimp.
Garnish with basil leaves, if desired.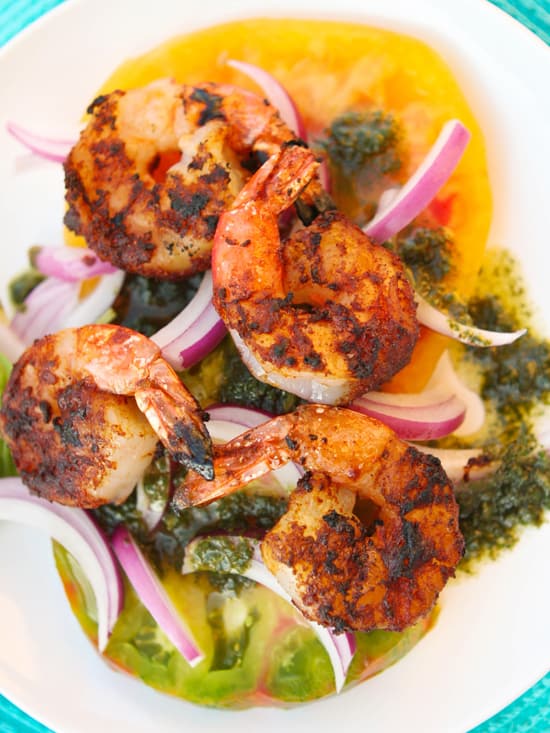 As I finished up photographing this salad, The Perfect Salad, the sun had just gone down which made the outside temperature tolerable. I sat outside by myself, devouring every last morsel on my plate while enjoying the peace that follows a setting sun.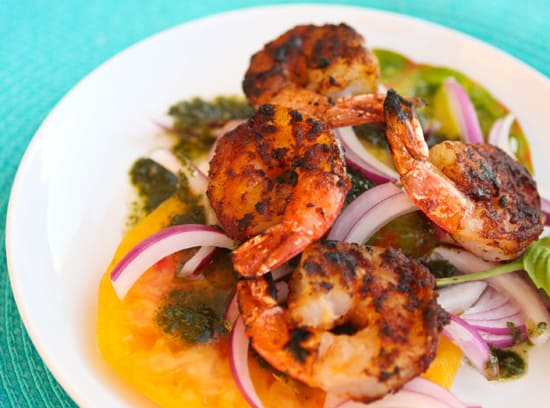 BBQ Spiced Shrimp with Tomato Salad
This salad is INCREDIBLE, with a delicious combination of flavors and array of beautiful colors. (source: Food & Wine Annual Cookbook 2010)
Contributed by Megan Porta from pipandebby.com.
Published Aug 3, 2011
Serves: 8
Total time:

25 min
Ingredients:
1/3 cup packed basil leaves, plus extra leaves for garnish
1/3 cup extra-virgin olive oil
Kosher salt and freshly ground black pepper
2 1/4 teaspoons sweet smoked paprika
1 1/2 teaspoons pure ancho chile powder
1 1/2 teaspoons light brown sugar
1/2 teaspoon ground cumin
1/4 teaspoon ground coriander
1/8 teaspoon cayenne pepper
24 jumbo shrimp, shelled and deveined
2 tablespoons canola oil
3 large yellow heirloom tomatoes (1 1/2 pounds), sliced 1/4 inch thick
1 small red onion, halved and thinly sliced
Instructions:
In a blender, puree the 1/3 cup of basil leaves with the olive oil until smooth. Season the oil with salt and black pepper.
Light a grill or preheat a grill pan. In a small bowl, mix the sweet smoked paprika with the pure ancho chile powder, light brown sugar, cumin, coriander, cayenne pepper, 1/2 teaspoon of salt and ¼ teaspoon of black pepper. Brush the shrimp with the canola oil and season all over with the spice mixture. Grill the shrimp over moderately high heat, turning once, until they are lightly charred and cooked through, about 4 minutes total.