Enjoy one of the most popular food marriages of all time when combined with a delicious, chewy COOKIE! These are to-die-for DELISH!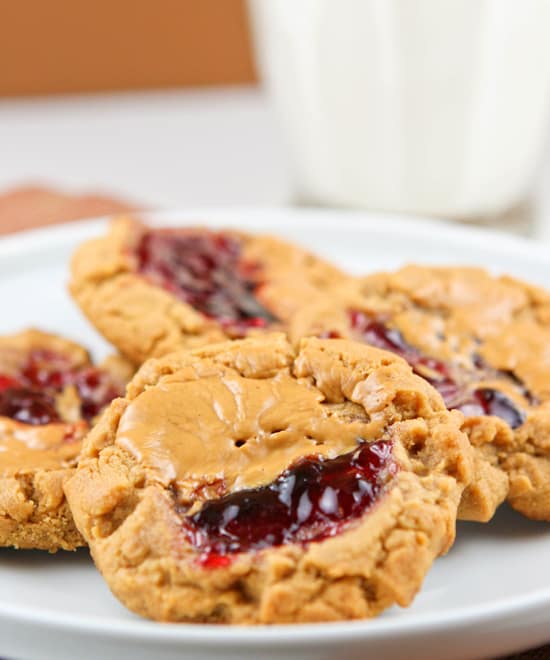 It has been a gloomy week here in Minnesota. Lots of low, thick clouds that cause Elijah to constantly ask me if it is night-time. This winter has been uniquely and awesomely warm, minus a handful of cold and snowy days, so I'm not complaining about the gloom. Last year at this time I had icicles hanging from my frozen body that I thought would never melt. We Minnesotans are tough, but I don't know that we could survive two of those winters in a row. We would be forced to flee, like those being chased by "walkers" on The Walking Dead. Have you seen this show? It is grossly intriguiging and addictive! I highly recommend it.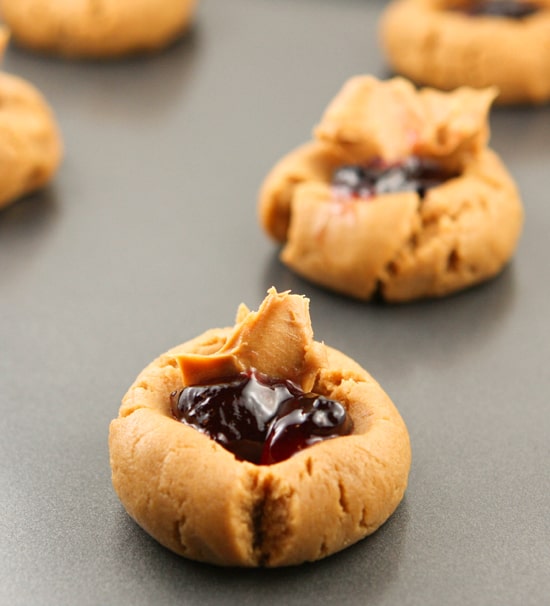 And how does all of this relate to PB&J cookies? I HAVE NO IDEA (insert crazy laughter)! Cookies! Cookies cookies cookies! I have been dreaming up these babies for a good month and a half. Sometimes when I think too long and hard about a recipe the final product dissapoints. This one did not dissapoint. They were every bit as delicious as I dreamed them to be back in that meeting in December.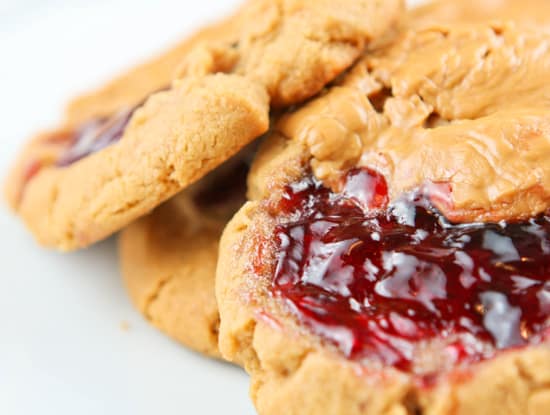 Pour yourself a nice big glass of milk and enjoy!
If you can't get enough peanut butter and jelly, check out my Peanut Butter and Jelly Bars! And kids will totally devour these Peanut Butter Cream Cheese Jelly Rollups!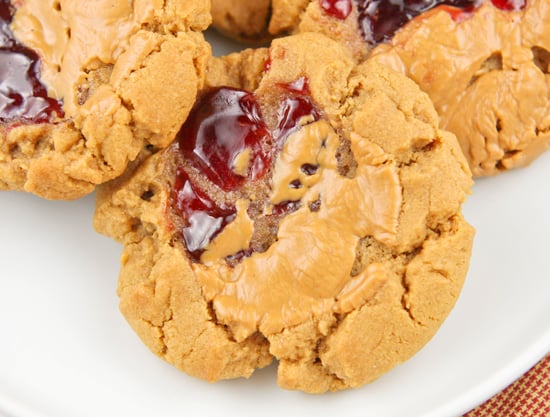 Peanut Butter and Jelly Cookies
A peanut butter and jelly sandwich in a cookie! A dream come true.
Contributed by Megan Porta from pipandebby.com.
Published Feb 3, 2012
Serves: 24
Total time:

45 min

Ingredients:
1 1/2 cups all-purpose flour
1 teaspoon baking soda
1 teaspoon salt
1/2 cup butter-flavored shortening
1 cup creamy peanut butter
1 cup dark brown sugar
1/3 cup granulated sugar
3 tablespoons milk
1 teaspoon vanilla extract
1 large egg
1/2 cup grape jelly
1/2 cup creamy peanut butter
Instructions:
Preheat oven to 375 degrees F. In a medium bowl, combine flour, baking soda and salt; set aside. In a large bowl, combine shortening, peanut butter, both sugars, milk and vanilla. With a hand-held mixer, beat on medium speed until just combined. Add egg and beat until incorporated. Gradually add flour mixture and mix until combined.
Roll heaping tablespoons of dough into balls with hands. Place on ungreased baking sheets and press into the centers with thumbs to form wells. In each well, place 1/2 teaspoon of jelly and 1/2 teaspoon of peanut butter. Bake in the preheated oven for 10-12 minutes. Let cool.