Planning a big day for your son or daughter to celebrate their achievements is done with friends, family, good food and a perfect party! The menu doesn't have to be complicated but it does have to be tasty! Enough to feed a crowd, be easy to prepare and enjoy a good variety of savory and sweet recipes.
No matter how you serve them, tacos are always a well loved meal. The Cookie Rookie created a batch that you throw into a casserole pan, cram a bunch of delicious hard shell tacos stuffed with all kinds of goodness and flavor and pulls out from the oven to help you feed your hungry crowd with the perfect finger food!
I love the suggestion that Always Order Dessert has of using fried plantains to deliver up this sweet and spicy salsa that is so fresh! A good take on a party favorite, the pineapple itself is hallowed out to hold the juicy, flavor filled dip of diced tomatoes, red onions, jalapeno and pineapple and you can just feast on this and forget all the other buffet options!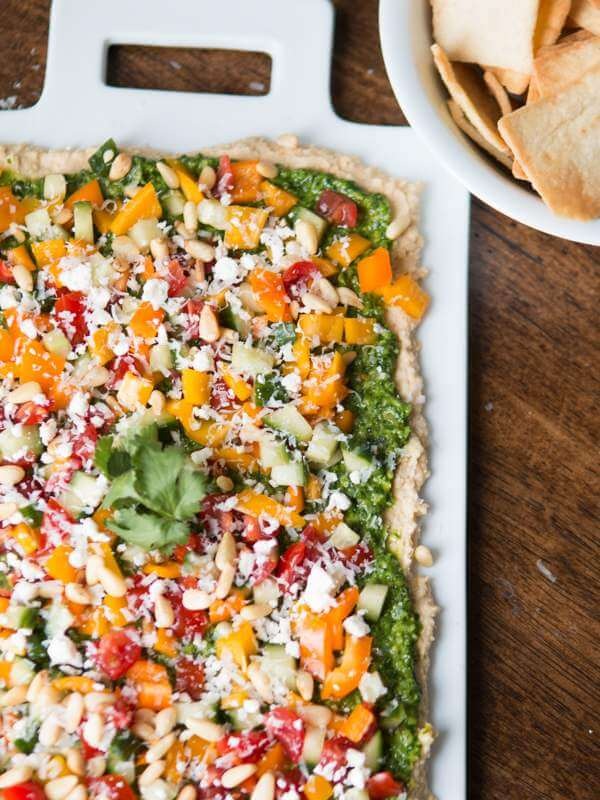 I wasn't always a fan of hummus. I know its good for me and I know that anything to dip crackers, pretzels or carrots in makes it better. BUT when I learned to make hummus and what to put in it, I learned to like hummus. Oh Sweet Basil is really good at delivering a perfect recipe that'll be enjoyed by many and this is not the exception. I love the layers and flavors combining and the complexity bursting in your mouth as you take your bites. Make this for a party, make it for dinner, or a perfect picnic . Yum!
I'm a huge dill pickle fan so I knew right away I'd love this recipe. Little Dairy On The Prairie said this is a good recipe to make ahead of time too, freeing up your time for other preparations. Each bite is filled with a creamy cream cheese mixture and garlic plus dill weed make take this recipe over the edge. Enjoy!
You don't even need a recipe for this but One Little Project does a great job of giving you pictures on how to best make this dessert. Mini brownies, fresh strawberries that make everyone happy and a large marshmallow are really pretty looking and so tasty! Drizzle chocolate over your skewer and it dresses them up beautifully. You can add as many pieces to your skewers as you want. Make your brownies ahead of time and this is a perfect party food!
Even the die hard water drinkers want to enjoy a glass of punch at a fun party so it's important to have a punch that's just like a treat ready to serve. Let the Frugal Girls give you the instructions to this easy 4 ingredient punch and make everyone happy to indulge a little with this fruity drink!
Easy peasy is what we want for feeding a crowd and Moms With Crockpots delivers! This recipe is giving you that flavor or a juicy cheeseburger but in a simple dip form so that you aren't grilling through your whole party and wasting time that could be spent with your guests.
A refreshing couple of bites of a true summery appetizer on a skewer, perfect for just a little or a lot if you like brought to you by Stuck On Sweet. I love fresh basil and the balsamic glaze is almost like frosting on a cake for your vegetables! Your guests will be delighted to have this recipe available for their plate.
Cannoli's sound so rich and beautiful, almost exotic. But they also are a little scary to undertake in making because if you get them wrong, they aren't going to turn out as expected and won't fulfill the craving you have. Things I Can't Say saves the day though and gives you a way to make this into a simple yet still ridiculously delicious treat. Perfect for a party still, each person can sample or eat as much as they want of this not too overly sweet Italian dessert. Using broken up waffle cones is brilliant as the "spoon" and voila! Craving satisfied.
A refreshing glass of lemonade is just the ticket to offer your guests! Hot Beauty Health gives you the directions to make it from scratch with fresh lemons and mint. It's probably been a long time since you had it so fresh but this looks so delicious, you'll be glad you took the time to offer it that way.
Meatballs are often found at parties because they are easy to prepare, not hard to keep warm and satisfy many party goers. But these savory meatballs offer a unique flavor found in Guinness beer and put a BBQ sauce together that is addicting and so delicious. Hop on over to Lemon Tree Dwelling for the complete recipe, your guests will be thankful!
Mozzarella, Pepperoni & Olive Bites
Nums The Word is right – these are such delicious appetizers! I think Easy, tasty and small poppable healthy bites, they're sure to attract your guests. It's a great choice for your party too because you aren't losing time preparing food instead of enjoying your party.
Kids and adults a like get excited about a s'mores bar! The hesitancy in making them is always the time to make a fire, get ooey gooey marshmallow all over. Six Clever Sisters are wonderful for putting together a recipe that saves us from all that work but delivers on an American summertime and fall favorite dessert. Easy to feed a crowd, this is a great dessert option for your graduation party guests!
Frilly, froo froo appetizers or healthy snacks aren't for all the guests at your party. You want to offer a combination of meaty, filling sandwiches like this one from Home.Made.Interest. so that you can give someone a meal to be filled up on. And not just a boring ol' sandwich but a good Philly Cheesesteak, crafted on a slider bun, perfect for just a couple of filling bites before moving onto some other tantalizing treat.
A true punch, sweet and delicious and full bodied, this is a fun punch to break out for special occasions. Fantabulosity gives you the directions to prepare this fun punch for your friends and family and if you want to use a fun container or a white five gallon bucket, you have her permission, it ups the nostalgia factor!
You may have had homemade carnitas before but The Modern Proper gives you the secret to making your carnitas even better, even tastier and even better for stuffing your corn tortillas or adding to a burrito bowl! I love how these turn out and the crispy ends that are worth the day long wait of smelling how delicious the meal is going to be.
The savory snack mix, perfect for snacking and nibbling while enjoying a party, is mandatory for party goers who don't want to commit to a main dish but really want something to fill them up a bit. Swanky Recipes helps you make up a big batch of this and you can save some for another day too!
Chicken Satay Skewers with Peanut Dipping Sauce
I don't know if it's because I'm from the Midwest where we gravitate towards seeing how many foods on a stick we can create at our county and state fairs or because individualized finger foods are so appealing but I'd definitely want this recipe from Well Plated at my child's graduation party! Chicken can be dry and boring but this looks anything but! Well marinated, thin cuts of chicken that are grilled are perfect for any party or gathering. Then there's dipping sauce! I'm a fan of peanut sauce and this creamy flavorful recipe with the right amount of spiciness is going to be a hit! Mabe you'll secretly hope there's leftovers so you can indulge in this dish for yourself.
Southern Banana Pudding for a Crowd
Merry About Town will help you put together a pan full of bananas and creamy pudding topped with everyone's favorite cool whip so you can put together an affordable but DEliCiouS dessert that will satisfy your craving for dessert but not take up all your time in putting it together. It looks amazing and someone might sneak back for a second helping but don't worry, putting together two pans is just as easy as one!
Take your display of vegetables at a gathering to the next level. Don't mess around with dip on the side for people to double dip in, rather stuff each mini pepper with a creamy flavorful dip that will make you thankful to eat your rainbow of colorful vegetables. Listotic helps you put together a beautiful display and shows you how easy it is to set out. What a simple way to spruce up your food display and WOW your guests!
A perfect sweet snack to take in your hands to munch on. Take it with you to look at pictures, talk to people and satisfy the sweet craving without indulging in too much dessert. Easy to make days ahead of time, My Heavenly Recipes offers a video tutorial to help you get these made and available to your guests. She even offers a gift tag to put on any bags you offer for guests to take with them!