Don't let those delicious little pumpkin seeds in your pumpkins you plan to carve, go to waste. Instead put them to use for a healthy snack! Season them, roast them, they're easy to make! They turn into a delicious little fall snack that will get gobbled up by all.
POST UPDATE:Original recipe posted: October 2018 | Recipe updated: September 2020

Why I Love Preparing Pumpkin Seeds To Eat
Roasting pumpkin seeds is not something I do every year, which is ridiculous. Roasted pumpkin seeds are DELICIOUS! They can be addicting too! And salty and yummy and impossible to stop eating.
Every year, about a month before Halloween, my boys eagerly plan which design they want to carve into their pumpkins. It's something we look forward to annually. We love getting creative with our Jack O Lanterns, and its a fun family tradition. I love that they want to carve a pumpkin and get into the spirit of the season and I love that we get to make a salty snack from the guts of our pumpkins. The pumpkin seeds that are inside your pumpkin make a great snack, so you may want to make a couple more jack-o-lantern pumpkins next year!
EASY VIDEO TUTORIAL TO MAKING YOUR OWN PUMPKIN SEEDS SNACK:
Enjoy the step-by-step video tutorial we have created for this recipe! Our goal is to make your time in the kitchen as easy as possible and to ensure that your version of this recipe is a success. See our full collection of cooking and baking videos on YouTube!
HOW TO CLEAN AND ROAST PUMPKIN SEEDS
Preheat the oven to 350.

CLEAN THE PUMPKIN: Use a spoon and scrape the pulp and seeds out of the inside of the pumpkin. You can toss the pulp and seeds into a bowl.

CLEAN THE SEEDS: Separate the pulp from the seeds, placing them in a colander. To rinse the seeds thoroughly, put the seeds in a colander and rinse with cold water.

PREPARE THE SEEDS: Spread the seeds in an even single layer on a baking sheet and dry the seeds by pressing a paper towel over them to dab most of the water off.

SEASON: Add melted butter (or olive oil) and seasoning salt over the seeds and toss the seeds gently so they are all covered. Then be sure the seeds are in a single layer again on your baking pan.

BAKE: Bake in the oven for 25 – 30 minutes, stirring once in the middle until they are golden brown. Remove from the oven and enjoy immediately!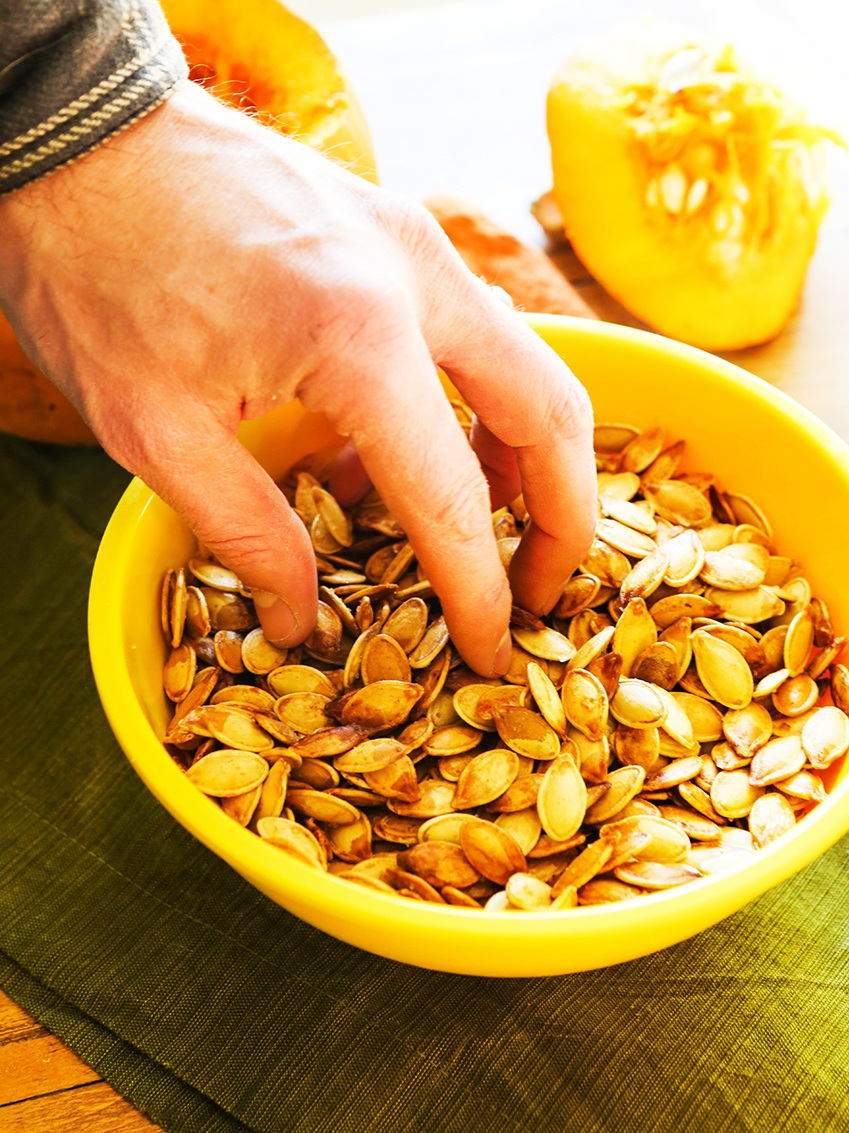 ENJOY A HEALTHY SNACK
Not only are roasted pumpkin seeds totally delicious, they also come with some nutritional benefits! They are a great source of protein, omega-3, fiber, magnesium and zinc. Yay! Eat up!
HOW TO STORE ROASTED PUMPKIN SEEDS
There isn't always time for roasting pumpkin seeds right away and that is just fine because they will wait patiently for you! Store them covered in the fridge for 3-4 weeks or at room temperature for 5-7 days.
PERFECT FALL TREATS
HEALTHY FOODS FOR PICKY KIDS
Knowing you can help your kids get the nutrients they need in more than one form is what we want to help you accomplish! We've put together a list of delicious foods that our kids don't see as healthy but allow them to enjoy eating their fruits and/or vegetables in a snack or breakfast item. You'll be happy they're eating better choices and they are happy to be blissfully unaware.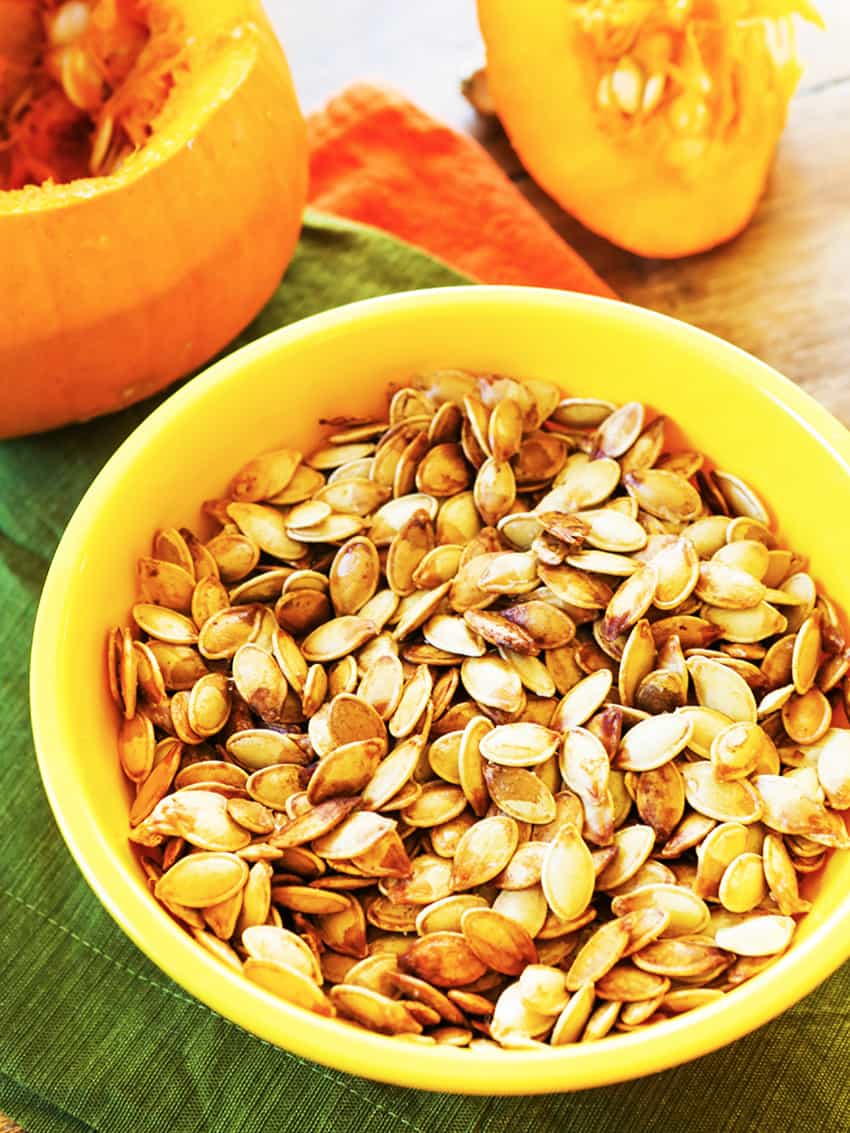 Roasted Pumpkin Seeds
Don't let those delicious little pumpkin seeds go to waste when carving pumpkins! Learn how to prepare those raw pumpkins seeds. Season and roast them, they're easy to make! They turn into a delicious little fall snack that will get gobbled up by all.
Print
Pin
Rate
Ingredients
Guts from 1 large pumpkin

4

tbsp

butter

melted

sea salt
Instructions
Preheat oven to 350 degrees F and line a large rimmed baking sheet with foil or parchment. Separate pulp from seeds and rinse seeds under cold water. Place them in a single layer onto the prepared baking sheet.

Pour the melted butter evenly over the tops of the seeds and toss to coat. Sprinkle salt generously over the top and bake in the preheated oven for 25 minutes, stirring once halfway through. Pour into a bowl and serve!
Nutrition
Calories:
38.01
kcal
|
Carbohydrates:
1
g
|
Protein:
0.19
g
|
Fat:
3.85
g
|
Saturated Fat:
2.44
g
|
Cholesterol:
10.17
mg
|
Sodium:
79.07
mg
|
Fiber:
0.23
g
|
Sugar:
0.43
g
Did you make this recipe?
If you loved this recipe, please rate the recipe and leave a comment below!