Pour only FOUR ingredients into a pitcher and a batch of refreshing margaritas is ready for guests! Making drinks could not be easier! All you'll need is Squirt, tequila, a can of beer and limeade. Easy and delicious!
I've talked about this before, but one of the things that Dan and I bonded over at the very beginning of our relationship was our mutual love for margaritas. I remember the exact moment when he said to me, "I LOVE MARGARITAS!" So on our first date we enjoyed our favorite drink together at a favorite local Mexican restaurant while we nibbled on chips and salsa.
Over the years Dan has perfected his personal recipe for margs which is the bestest EVER. Recently he tapped into a different version that made us both why we'd never made it before but I have yet to share that one (coming soon). This 4-can margarita recipe does not quite reach the quality of these other recipes, but it makes a great big batch for parties and it is EASY. How easy?
Pour a can each of Squirt, tequila, beer and frozen limeade into a pitcher and stir! That's it! No sweet and sour mix needed!
WATCH THIS QUICK VIDEO TO SEE HOW TO MAKE EASY MARGARITAS!
HOW TO MAKE 4 CAN MARGARITAS
STEP 1
Pour the following ingredients into a large bowl, pitcher or blender:
12-oz. can frozen limeade concentrate

12 oz. Squirt

12 oz. light beer

12 oz. tequila
Stir ingredients together and divide between glasses containing ice cubes. Top each glass with a splash of Grand Marnier if you want to get fancy. Garnish with lime wedges.
RECIPE TIPS: HOW TO MAKE A MARGARITA THE EASIEST WAY POSSIBLE!
If you add the ingredients to a blender, do not use the puree button to mix the ingredients or the carbonation from the beer and Squirt will explode (learn from my mistake). Instead use the STIR button! This works great!

Pour just a splash of orange liqueur over the top of each glass for an extra touch of delicious. This step is not necessary, but adds a little something.

Use fresh lime wedges to squirt a bit of freshly squeezed lime juice into the drink just before drinking.

I love margaritas on the rocks, but this recipe can easily transform into frozen margaritas, as well. Stir the ingredients together in a bowl or pitcher first and let it sit for 20 minutes in the frige. Place a handful of ice cubes in a blender and add the margarita mixture. Blend until smooth and serve immediately.

Salt rimmed glasses make this drink extra delish!

Replace limes with lemons in a pinch and squirt a bit of lemon juice into your drink just before enjoying it.

After mixing everything together, pour the contents into a large pitcher and pull it out when you are ready to serve guests.

The tastiest orange liqueur to top this drink with is Grand Marnier, but Triple Sec and Cointreau work well, too.
WHAT IS THE BEST TEQUILA FOR MARGARITAS?
Choosing the best tequila for your margarita is super important. There are plenty of types of tequila that are top shelf and tasty on their own (or good in other drinks) but that do not taste the best in margaritas.
We recommend using a silver, blanco or white variety of tequila for optimal flavor. These types of tequila are transparent much like vodka and are bottled directly after being distilled, so they are either aged for a short period or not aged at all. Here is a list of our favorite tequilas, in order from most to least favorite (all of these work great!):
1800 silver

Sauza silver

Sauza hornitos plata

Don Julio blanco

Jose Cuervo silver
WHEN IS NATIONAL MARGARITA DAY
National Margarita Day is celebrated on February 22nd every year! YUM!
HOW MANY CALORIES IN A MARGARITA
An 8-ounce glass of this drink contains 206 calories.
HOW MANY CARBS IN A MARGARITA
An 8-ounce glass of this drink contains 17 grams of carbohydrates.
WHAT IS IN A MARGARITA
Classic margaritas contain tequila, lime juice, a sweetener and typically also an orange liqueur.
HOW TO MAKE A SKINNY MARGARITA
To make a skinnier version of this beverage, use light beer and Diet Squirt.
HOW TO SELECT A PERFECTLY RIPE LIME
I have limes on hand all the time because their delicious juice goes great with so many different foods. Fresh lime juic spruces up salad, chicken, all different types of beverages and so many other things. When selecting limes at the grocery store, look for these attritbutes to make sure you are getting the juiciest, ripest ones:
First, smell the lime. Go ahead, put it right up to your nose and smell for a strong limey scent. The stronger the scent of lime, the riper the fruit will be.

The darker green limes are typically riper and juicier, as well. The exception to this is if you are purchasing key limes. Key limes are smaller in size and have a more concentrated flavor and are typically used to make key lime pie or key lime cookies. With key limes, a yellow color indicates ripeness instead of a green color.

The heavier the lime feels in your hands, the more juice is hiding inside!

Gently squeeze the lime in your hands. The more give a lime has, the juicier it'll be. If it is too squishy it may be past its prime, so be sure it doesn't give too much with a gentle squeeze.
BEST CINCO DE MAYO RECIPES
These margaritas are the perfect thing to make for Cinco de Mayo, but here are a few other delicious options!
PARTY FOOD IDEAS
I LOVE party fare, so you have come to the right place if you are looking for recipes to make for your next gathering. Here are some options for you that will be easy, delicious and crowd-pleasing!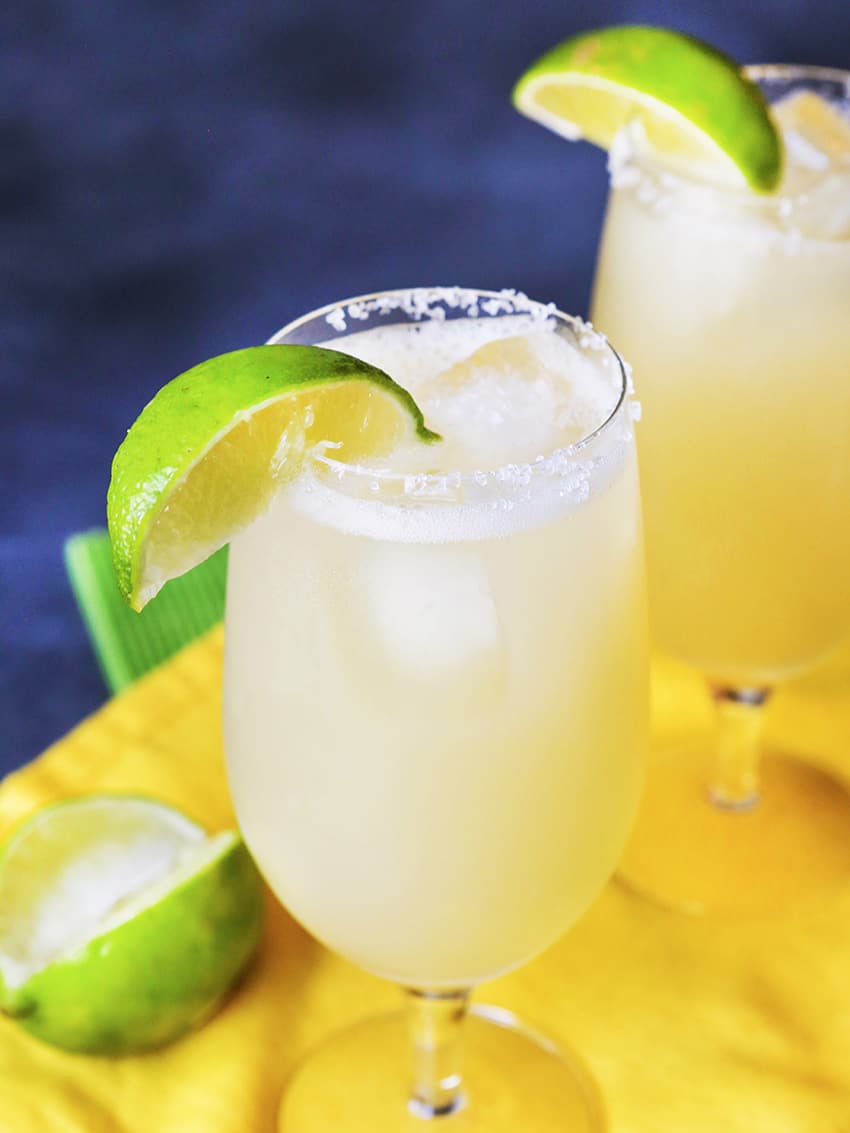 4 Can Maragaritas
Pour only FOUR ingredients into a pitcher and a batch of refreshing margaritas is ready for guests! Making drinks could not be easier! All you'll need is Squirt, tequila, a can of beer and limeade. Easy and delicious!
Print
Pin
Rate
Ingredients
12

oz.

can frozen limeade concentrate

12

oz.

Squirt

12

oz.

light beer

12

oz.

Tequila

Grand Marnier

for splashing, optional

Lime wedges

for garnish
Instructions
Pour limeade into large bowl. Fill limeade can with Squirt, followed by light beer and then tequila. Pour all into bowl with the limeade and mix together.

Serve over rocks or blended with ice. Top with Grand Marnier and juice from one lime wedge.
Nutrition
Calories:
206.29
kcal
|
Carbohydrates:
17.09
g
|
Fat:
0.02
g
|
Fiber:
0.31
g
|
Sugar:
14.84
g