These Chocolate M&M Cookies are THE BEST! They are easy to make, they're irresistible and they are FUN! Throw in extra M&M's, just 'cause.
I'm one of those moms who enjoys spending time with her boys to an almost annoying degree. With that in mind… it has been one week since the school year ended and I'M GOING CRAZY! My peaceful work-days at home have been abducted by brotherly fighting, pizza sauce being sprayed all over the carpet and a constant stream of friends parading through our home. It's all good. I love my boys dearly and stained carpet will never change that, but it has been an enormous adjustment. One of my tactics for finding peace this week was baking. Of course. Baking always helps.
My boys pretty much jumped over my body like crazed zombies to get to these delicious Chocolate M&M Cookies. The danger level for having these within my grasp was far too high, so I got rid of most of this batch within 20 minutes of them being taken out of the oven.
This is one of those cookie recipes that is impossible to mess up. The batter is forgiving, the recipe is solid and every person you know who is not allergic to chocolate or gluten will swoon. I took the liberty of adding extra (gasp!) M&M's even after I had plopped the dough onto the cookie sheets. One cannot ever have too many M&M's. That's a quote from one of the great philosophers (I can't remember his name).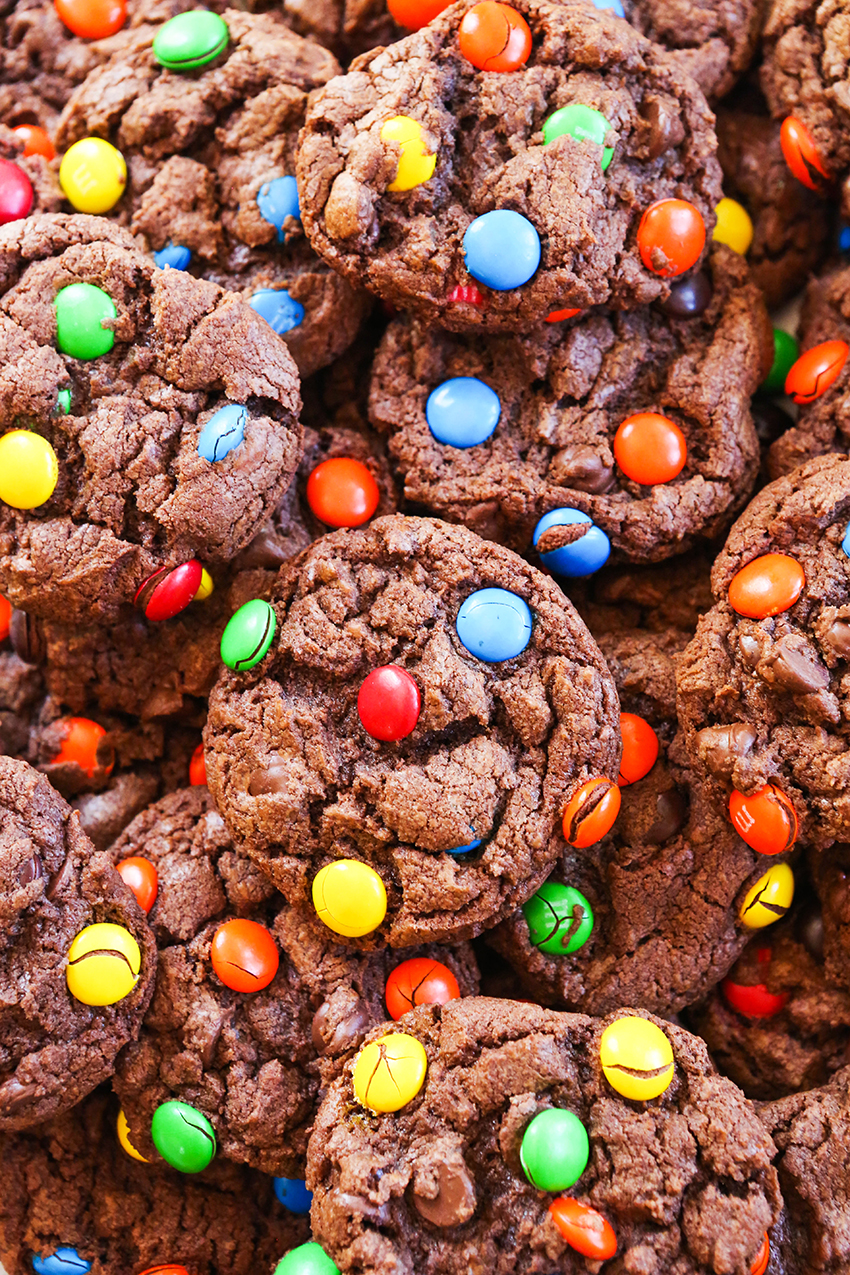 Another thing I love about these cookies? They are appropriate any time of the year! Summer gatherings, Christmas parties, after school snacks.. yes yes and yes.
One year ago: BBQ Chicken Grilled Cheese Sandwich
Two years ago: Vegetable Rice Summer Salad
FIVE years ago: Frozen Swiss Roll Ice Cream Sandwich Cake
Have a great weekend, friends! Enjoy the cookies!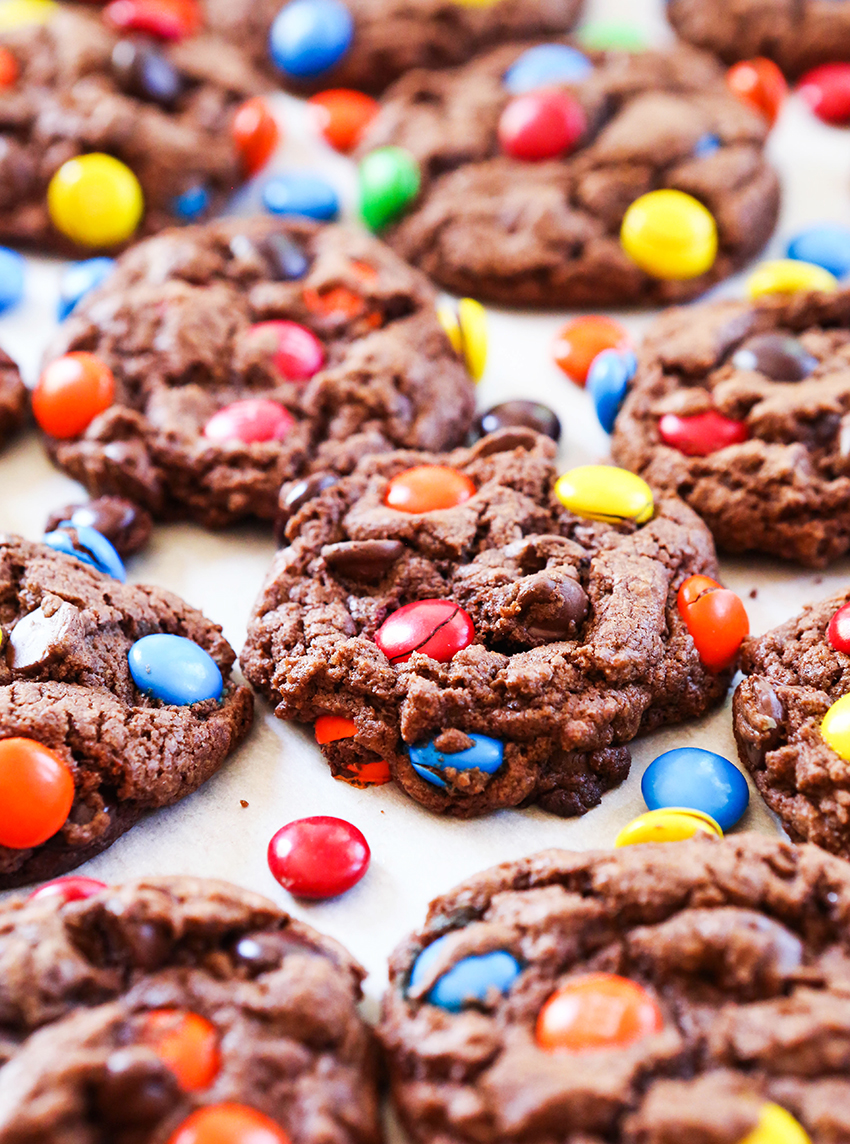 Chocolate, M&M's, Sweet
Dessert
American
Yield: 55

BEST CHOCOLATE M&M COOKIES
prep time: 15 mins
cook time: 1 hour
total time: 1 hours and 15 mins
These are the best chocolate cookies, made even better with chocolatey M&M's candies!
ingredients:
1 cup (2 sticks) butter, softened

1/2 cup granulated sugar

1 cup light brown sugar

2 eggs

2 teaspoons vanilla extract

2/3 cup Nutella

2 1/4 cups all-purpose flour

1/2 cup cocoa powder

1/2 teaspoon baking powder

1 teaspoon baking soda

1 teaspoon fine sea salt

1 cup semi-sweet chocolate chips

1 cup M&M's chocolate candies
instructions:
Preheat oven to 350 degrees F. Line baking sheets with parchment paper and set aside. Using a stand mixer fitted with the paddle attachment (or a large mixing bowl with a hand mixer), combine the butter, granulated and brown sugars, eggs and vanilla and beat on medium speed until creamy and free of lumps. Add the Nutella and mix until just combined.

In a separate bowl, combine the flour, cocoa powder, baking powder, baking soda and salt. Mix well. Gradually add to the butter mixture and beat on medium speed until just combined. Fold in the chocolate chips and M&M's.

Using a medium cookie scoop, place 1.5-tablespoon-size chunks of batter 2 inches apart on the prepared baking sheets. Bake in the preheated oven for 9-11 minutes, or until cookies are uniformly puffy and centers are cooked through.