This crunchy, veggie-packed Bok Choy Salad is a great dish to bring to parties. Prepare this one just before serving. It will quickly become a salad favorite!
A few years ago I did something that would be any child's worst nightmare: I hosted a salad party. Now that is my idea of a good time, people. I mean, salads are just so versatile and delicious. They can be sweet, savory, crunchy, exotic, fruity, leafy and sooo much more. One of the most memorable salads I made at that salad party (why don't I host these weekly?!) was one very similar to this Bok Choy Salad. For some reason I never wrote the recipe down, but feel like this was a good re-creation of it. This Bok Choy Salad is crunchy, savory, flavorful and ridiculously addicting. My boys are anti-veggie (I'll convert them) and my husband is staying away from gluten, so it was mine, aaallllll miiiiine.
A few notes about the recipe:
– Do not walk away from the ramen-almond-sesame-seed mixture while it is on the stove top. It will burn very quickly and easily when not watched.
– Throw this salad together right before serving it. The ramen will get soft if it sits for too long, which is just fine for leftovers but you'll want to preserve the crunch in order to WOW guests.
– Omit the kale completely if you'd like to simplify the recipe. I have an enormous bag of kale in my fridge and I've been trying to add it to as many recipes as possible lately, but this salad will still be AMAZING without it.
I do have a promise for you: You will let out a Mmmm after trying your first bite. It's unique and super satisfying, whether you make it as a side dish, appetizer or lunch.
Other yummy salad options with a bit of crunch: Crispy Kale and Garbanzo Bean Salad, Cherry Gazpacho Salad and Taco Ranch Pasta Salad!
Enjoy your week! Make it a good one!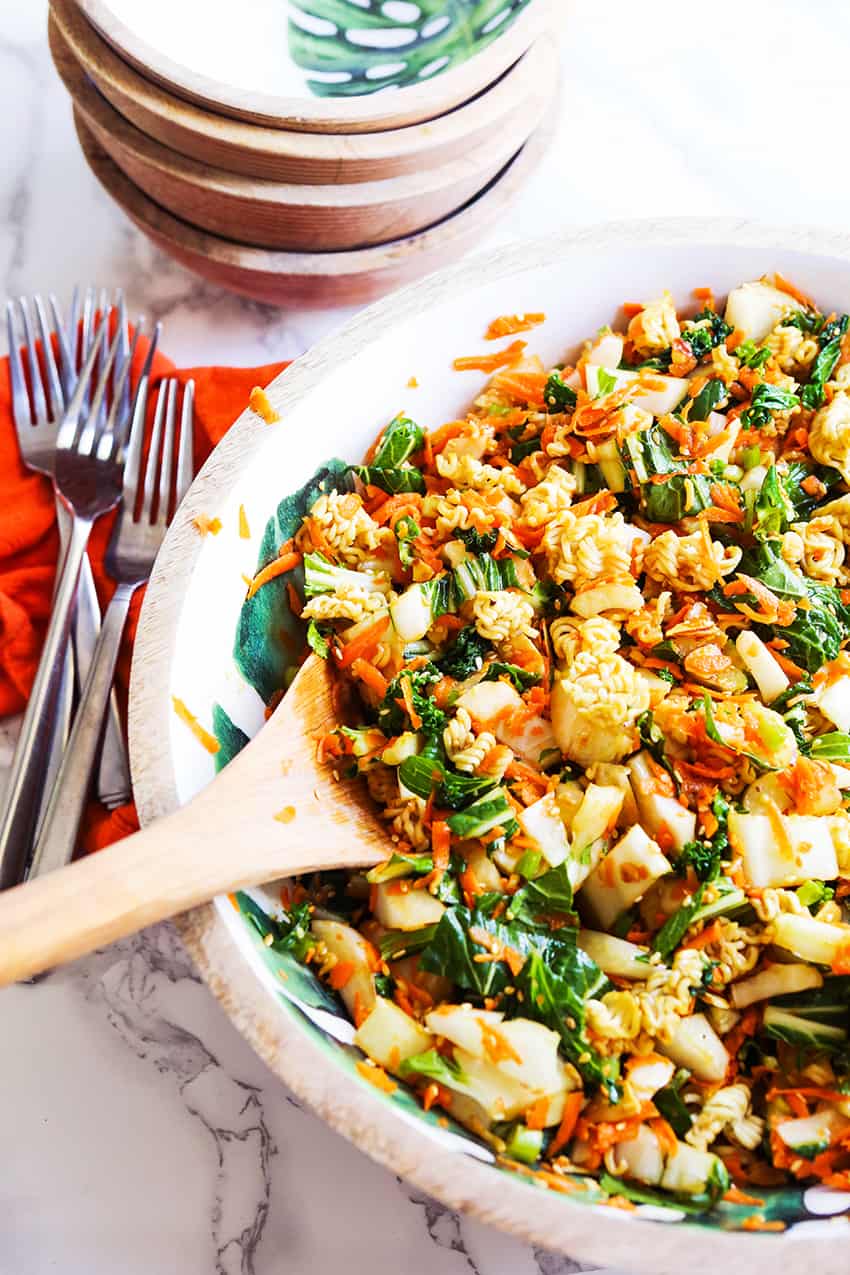 Crunchy Bok Choy Salad
This crunchy, veggie-packed salad is a great dish to bring to parties! Prepare this one just before serving!
Print
Pin
Rate
Ingredients
1/4

cup

butter

2

packages

ramen noodles

broken into small pieces (remove seasoning packets)

1/4

cup

sliced almonds

1/4

cup

sesame seeds

2

tbsp.

olive oil

3

large handfuls

kale

broken into small pieces and stems removed

1

bunch

bok choy

chopped

1

bunch

green onions

sliced

3

medium

carrots

shredded

1/4

cup

olive oil

1/4

cup

red wine vinegar

2

tbsp.

soy sauce

2

tbsp.

sugar

Salt and pepper

to taste
Instructions
Melt the butter in a skillet over medium heat. Add the ramen pieces, almonds and sesame seeds and cook for 3-5 minutes (stir constantly to avoid scorching), or until golden-brown in color. Pour into a heatproof bowl and let cool. Wipe out the skillet, add the 2 Tbsp olive oil and place skillet back over the heat. Add the kale pieces and cook until soft, around 3-4 minutes. Remove from heat and let cool.

In a large bowl, combine the cooled ramen mixture, the kale, bok choy, green onion and carrots. Mix well. In a small bowl, combine the 1/4 cup olive oil, red wine vinegar, soy sauce, sugar, salt and pepper. Mix well and pour over the salad; toss and serve.
Nutrition
Calories:
324
kcal
|
Carbohydrates:
24
g
|
Protein:
6
g
|
Fat:
24
g
|
Saturated Fat:
7
g
|
Cholesterol:
15
mg
|
Sodium:
776
mg
|
Potassium:
438
mg
|
Fiber:
3
g
|
Sugar:
7
g
|
Vitamin A:
8758
IU
|
Vitamin C:
50
mg
|
Calcium:
182
mg
|
Iron:
3
mg