Make your own Vanilla Extract at home! This recipe requires only TWO ingredients and you will be so happy with the way homemade vanilla flavors your baked goods. Great for gift-giving!
One of my December resolutions is to minimize holiday stress. Why wait until the new year to make things better, right? Every single year I kill myself trying to get it all done and by January 1st I feel ready to die. This year I hope to evade the feels of death. The crash I experienced last year was jolting enough to stir up real change. So far so good. We are three whole days into December and I'm not yet dreaming of stepping into a space shuttle that is setting out for the Andromeda Galaxy.
A few weeks ago I decided on a handful of DIY projects that could act as gifts this month. Homemade Vanilla was the project I've been most excited about, probably because I'm so obsessed with cookies and baking of any sort. I have ten cute little bottles brewing on a table in my kitchen and every time I walk past them I send a few smiles their way. Soon, my pretties, you will be delicious.
Vanilla beans, vodka and a bit of patience are the only things required to make extract come alive. It is super easy to find vanilla beans for purchase online. Use Grade B Bourbon or Madagascar beans for a classic vanilla extract flavor. If you're looking for a spicier flavor, use Mexican vanilla beans. No need to go top-shelf with the vodka, either. Buy bottom-shelf 80 proof vodka and you'll be set.
Be sure to cut the vanilla beans lengthwise before adding them to bottles and between 4-5 beans seems to be the perfect amount per 8 ounces of vodka. Once sealed up in bottles, shake those babies once daily for eight weeks. When the eight weeks is up, strain the contents through a coffee filter, pour the extract back into the bottle and start baking!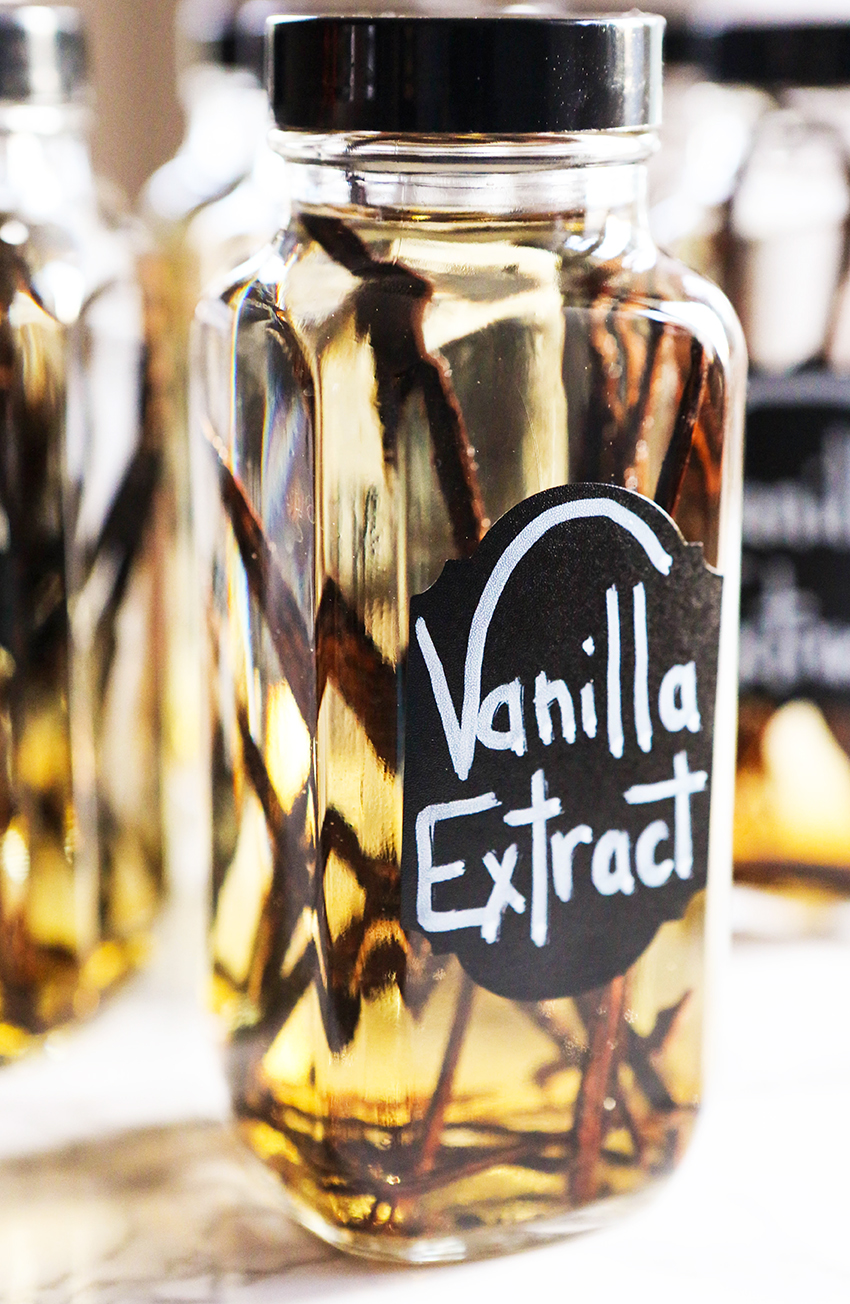 Anyone who enjoys baking will swoon over a bottle of homemade vanilla extract. This acts as an incredible gift, maybe along with a cookie cookbook and some fun cookie cutters. Wink!
I have a few other DIY projects to share soon, like the new and improved version of the facial scrub I wrote about last year. Stay tuned and stay SANE! Happy December, folks!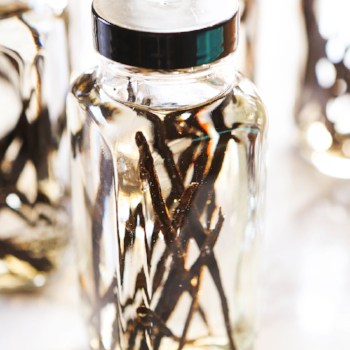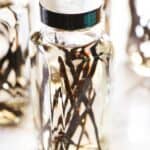 Print
Homemade Vanilla Extract Recipe
Make your own Vanilla Extract at home with only TWO ingredients!
Yield:
1
8 oz. jar/bottle
Materials
4

vanilla beans

each split lengthwise (use Grade B Bourbon or Madagascar beans for a classic flavor; use Mexican beans for a spicier flavor)

8

oz.

jar or bottle with screw-on lid, washed

8

oz.

vodka

80 proof, NOT premium quality
Instructions
Place the vanilla beans into the washed jar/bottle. Add 8 oz. of vodka and seal tightly with lid.

Let sit for eight weeks, shaking contents once/day. After eight weeks, strain through a coffee filter and pour the extract back into the jar/bottle. Use in baked goods, as directed!