This easy, delicious marinade transforms grilled steak and mushrooms into the most delicious dinner. Steak and Mushroom Kabobs are easy, fun and yummy!
We have been on the road for almost a week and we are enjoying beautiful Montana. The mountains speak to me, but not in a crazy kinda way. I love them. They love me. We're a good pair. Mushrooms and steak are also a good pair and I could eat them every single day of my life. There is something about the steak-mushroom combo that is just so yummy, am I right? My husband (very strangely) does not honor the delicious mushroom as I do, so I always get ALL of the 'shrooms. Lucky me!
This marinade is a new one that I threw together and OH-MY-GOSH it is so insanely delicious. I will make this again and again and let aaaaall kinds of meat and veggies sit in its delicious juices. The thing I love about marinades is that they are EASY to throw together, but the amount of flavor they add is off the charts. A little investment of time results in big reward. And you probably have all of the ingredients sitting right there in your kitchen.
The longer you marinate the meat and 'shrooms, the yummier the end result will be. Twelve hours (or overnight) is my standard for marinating because I always shoot for optimal flavor. If you're short on time, four hours works great, too!
If I'm being honest, I don't like eating anything else with these kabobs because they are just perfect. However, if I were to make something to go with them I'd probably do either Slow Cooker Baked Beans, Crispy Kale and Garbanzo Bean Salad or Edamame Tomato Corn Salad.
I'm off to enjoy the gorgeous mountains. Have a great weekend!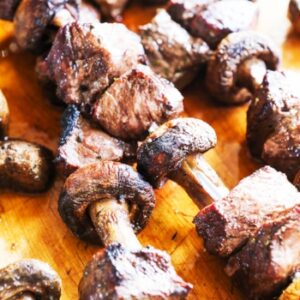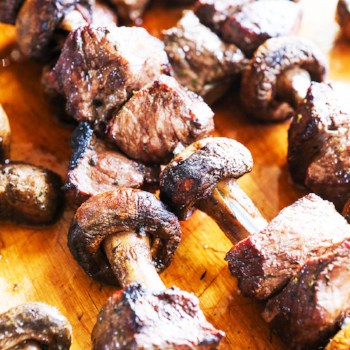 Grilled Steak and Mushroom Kabobs
Steak and mushroom kabobs are easy and fun! This marinade is so ridiculously delicious.
Print
Pin
Rate
Ingredients
Instructions
In a medium bowl, combine the red wine, olive oil, vinegar, soy sauce, worcestershire sauce, oregano, parsley, garlic powder, salt and pepper. Mix well.

Add the steak chunks and mushrooms and coat completely with the marinade. Cover and refrigerate for a minimum of 4 hours and up to 12 hours. Stir a handful of times throughout the marinating process.

After marinating, light a grill over medium heat. Skewer the steak and mushrooms and cook for 5 minutes on each side, or until meat is cooked to desired doneness. Serve immediately!
Notes
Marinate the kabobs and refrigerate for 4-12 hrs.
Nutrition
Calories:
170
kcal
|
Carbohydrates:
7
g
|
Protein:
2
g
|
Fat:
14
g
|
Saturated Fat:
2
g
|
Cholesterol:
1
mg
|
Sodium:
1130
mg
|
Potassium:
143
mg
|
Fiber:
1
g
|
Sugar:
4
g
|
Vitamin C:
2
mg
|
Calcium:
35
mg
|
Iron:
1
mg
Did you make this recipe?
If you loved this recipe, please rate the recipe and leave a comment below!