Transform rock and roll into a spunky, zingy, beautiful grilled cheese sandwich!
This grilled cheese sums up my week quite well, so I present to you my new favorite sandwich creation: The Rock and Roll Grilled Cheese! OHMYGOSH it is so over-the-top delicious I could barely contain myself while inhaling it. The spicy slaw and gooey cheese and double meat create such a delectable combination of flavors. I consider myself to be a grilled cheese connoisseur, so the fact that this ranks in my top 3 speaks many delicious volumes.
In case you're wondering, a few of my other grilled cheese favorites include: Raspberry Nutella Grilled Cheese, Provolone and Veggie Basil Grilled Cheese and Zingy Berry Basil Grilled Cheese.
I love the endless possibilities that grilled cheese sandwiches bring. What is your favorite cheesy creation?
Have a GREAT weekend, my friends! Thank you so much for peeking in!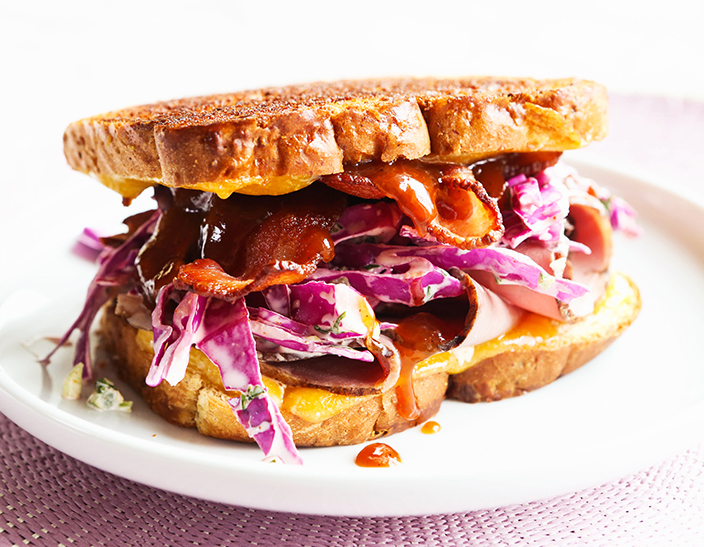 Sandwich, Spicy, Slaw
Sandwich
American
Yield: 1

ROCK AND ROLL GRILLED CHEESE SANDWICHES
prep time: 9 mins
cook time: 11 mins
total time: 20 mins
Transform rock and roll into a spunky, zingy, beautiful grilled cheese!<
ingredients:
1 cup shredded red cabbage

2 tablespoons mayonnaise

1 tablespoon minced jalapeño peppers, seeded first

1 tablespoon finely chopped fresh cilantro

Juice of half a lime

1 teaspoon sugar

1/4 teaspoon cayenne pepper

1/4 teaspoon salt

2 slices wheat bread

2 tablespoons salted butter, at room temperature

1 cup shredded Wisconsin cheddar cheese

4 slices deli-style roast beef

3 slices bacon, cooked

3 tablespoons barbecue sauce
instructions:
In a medium bowl, combine cabbage, mayo, jalapeño peppers, cilantro, lime juice, sugar, cayenne pepper and salt. Mix well and set aside.

Warm a skillet over medium heat for 3 to 5 minutes. Place the bread slices on a flat work surface. Spread 1 tablespoon of butter evenly over one side of each slice of bread.

Place two of the bread slices onto the hot skillet, butter side down. Top each with 1/2 cup shredded Wisconsin cheddar cheese. Cook for 3 to 4 minutes, or until the cheese begins to melt around the edges.

Using a spatula, move the bread from the skillet back to the work surface. Top one of the slices with the roast beef, spicy slaw, bacon, barbecue sauce and the other cheesy slice of bread, cheese side down. Serve immediately and serve any extra slaw as a side!