The marriage between Baked Potatoes and Mashed Potatoes: SMASHED Potatoes! These baby potatoes are petite and cook up easily, then combine with olive oil, garlic, salt, pepper and jalapeno to bake to a crispy finish. Deliciously different and the perfect side dish for any meal!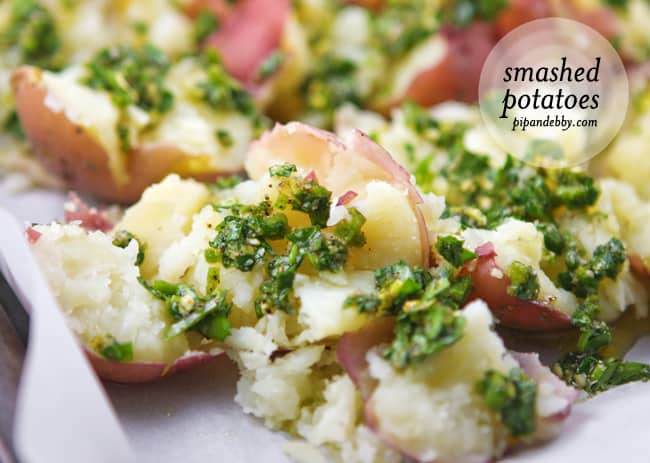 Original recipe posted: March 2014 | Recipe update: October 2019
I wonder how many Minnesotans were prescribed antidepressants this winter. Not one typically prone to depression, I feel myself sinking into the bowels of seasonal sadness. This winter has been rough! Snow, COLD, grey days, being cooped up indoors, repeat, repeat, repeat. There are, however, good sides to this time of year. I get to spend all kinds of time with my lovies. I get to focus more on my website and other projects. I have ample opportunity to make food, eat and eat some more. And then some more. My thighs are slowly growing, despite my diligence at the gym. Come on, spring! My soul needs some warm weather. So do my thighs.
If you enjoy potato in the many delicious forms it can be prepared, you are going to enjoy these. When it's time to serve something other than the french fries we're all familiar with, you can quickly put together this recip. We ate these scrumptious little potatoes and I LOVED THEM. I really really loved them. I can't believe I've lived my life without them thus far. I sneaked in a jalapeño pepper, but feel free to omit that. Enjoy! And if you live somewhere warm, would you please invite me to your house?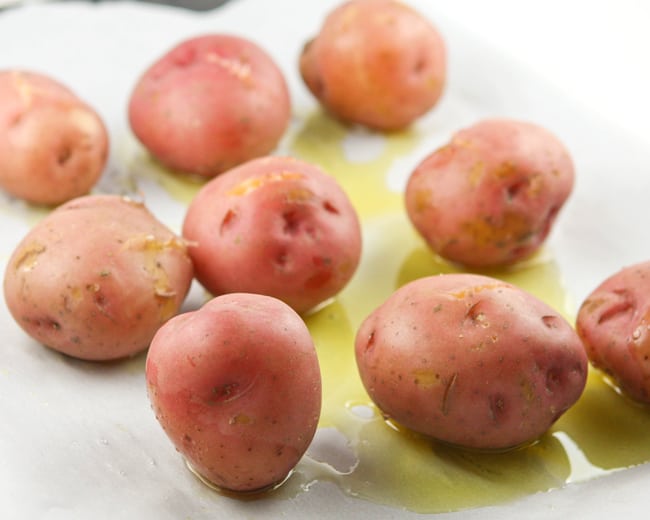 HOW TO PREPARE CRISPY SMASHED POTATOES WITH A SPICY SAUCE
You'll love this recipe that's a little bit boiled, a little bit roasted potatoes.
STEP 1
You'll need to start with boiling the potatoes. About 20 minutes will do, or until a fork can be easily inserted into the centers. Place the cute little potatoes on a rimmed parchment-lined, olive oil-drizzled baking sheet.
STEP 2
Using a fork, go ahead and smash those little reds. Be gentle. But be firm. Kind of like the way I have to be with my boys. Gentle but not too gentle. Firm but not too firm.
STEP 3
Combine the following in a medium bowl: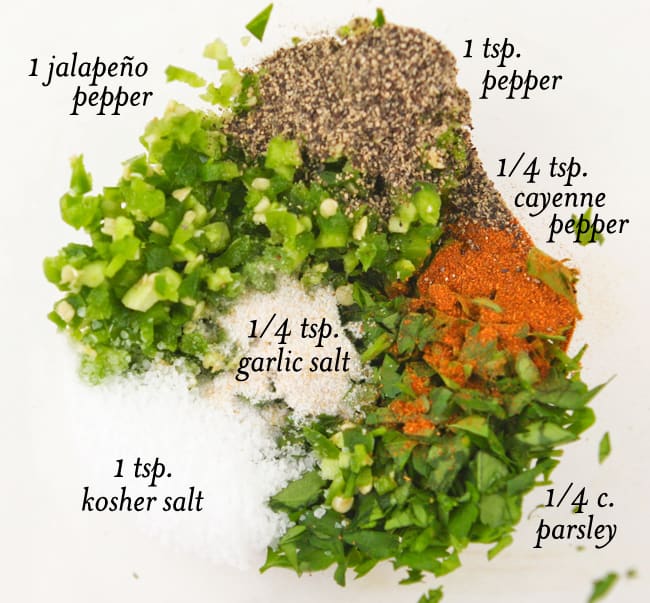 Drizzle some olive oil into the bowl.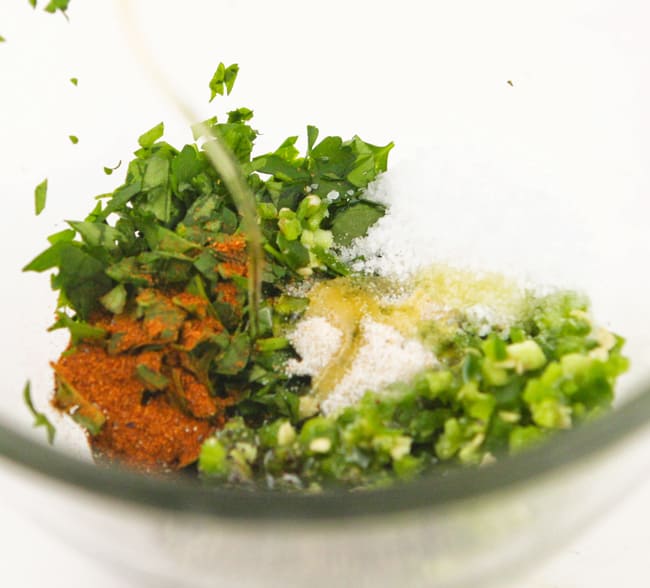 It should look something like this after stirring.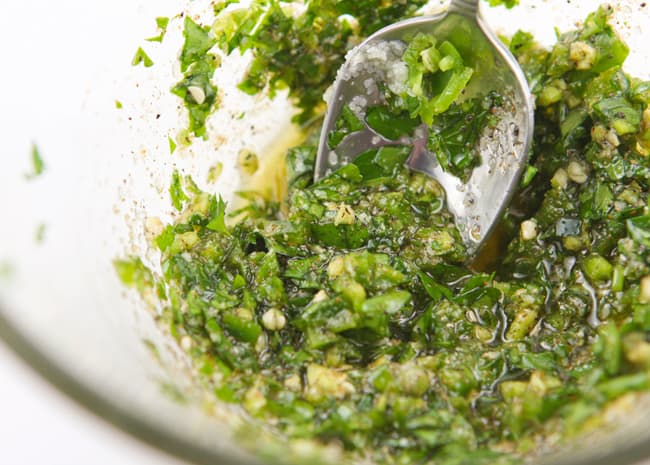 Spoon that delicious mixture over the tops of the gently-yet-firmly-smashed potatoes.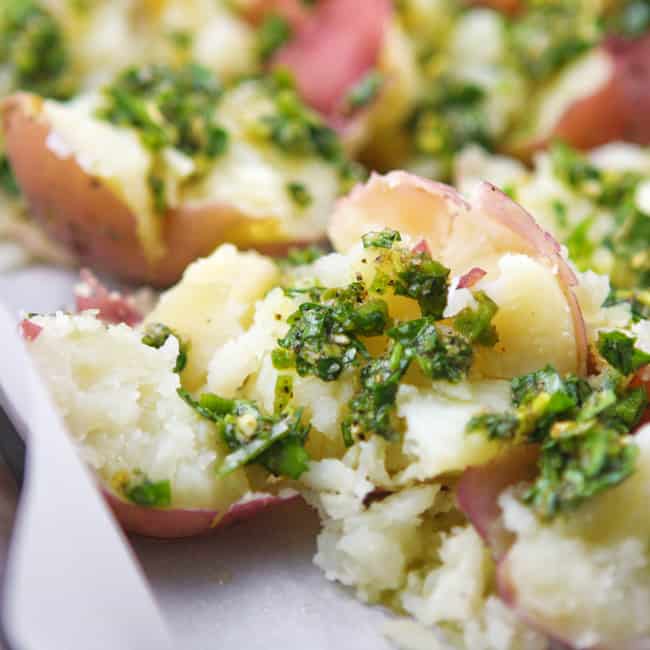 STEP 4
Bake at 350 degrees for 30 minutes and serve!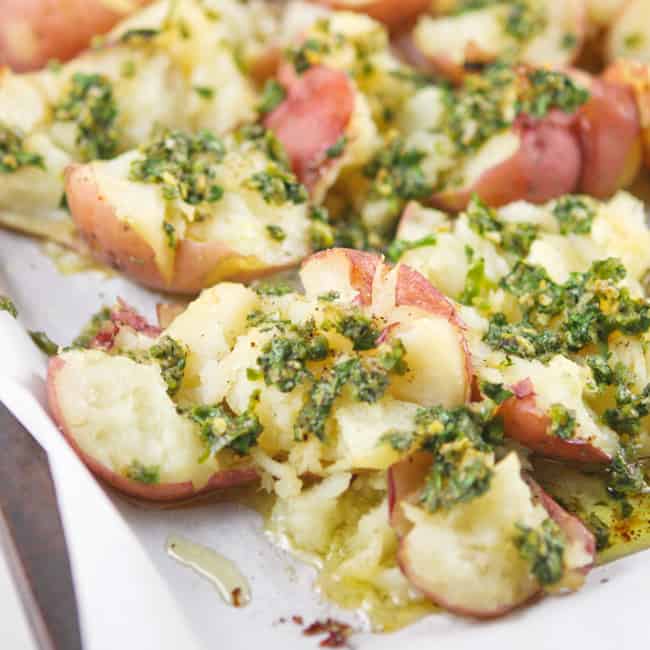 RECIPE TIPS
This recipe is appealing and works best when you choose small potatoes – think golf ball size. They are available in red, my preferred potato choice. But you can go with gold, baby yukon or russets too.

Use a large sheet pan to give the potatoes room to bake and crispen up. You want to avoid over-crowding so each potato has room to bake well.

We use garlic salt in this recipe, but if you love garlicy potatoes, sprinkle an extra teaspoon of garlic powder into the mix.

Use your potato masher to help smash the potatoes

For extra crispy potatoes, turn on the broiler to HI for the last 5 extra minutes
HOW TO SERVE SMASHED POTATOES
Top with some sour cream!
Sprinkle some Parmesan cheese over the finished potatoes
WHAT TO SERVE WITH POTATOES
Serve with meatloaf and a veggie!

A delicious super tender instant pot ribs recipe will compliment these potatoes deliciously!

Fried walleye is great served with a potato recipe!
HOW TO REHEAT LEFTOVERS
This recipe is amazing right out of the oven. Even though these will reheat in the oven easily, you should plan on serving them immediately. But if you do have leftovers, put them in an airtight container for 4-5 days and they can be safely reheated until warmed through.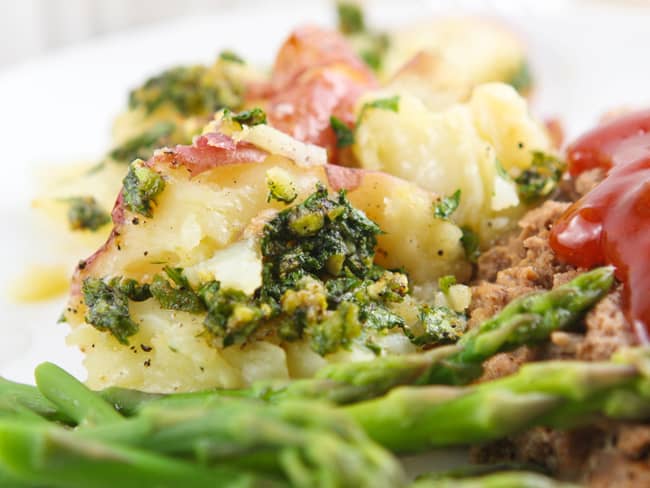 THE BEST COMFORTING SIDE DISH RECIPES
Here are a few more potatoes to satisfy that craving and a couple of my other favorite comforting side dish recipes that you need to add to your rotation ASAP!
If you make this recipe, be sure to snap a photo and tag it @pipandebby + hashtag it #PIPANDEBBY I'd love to see what you create!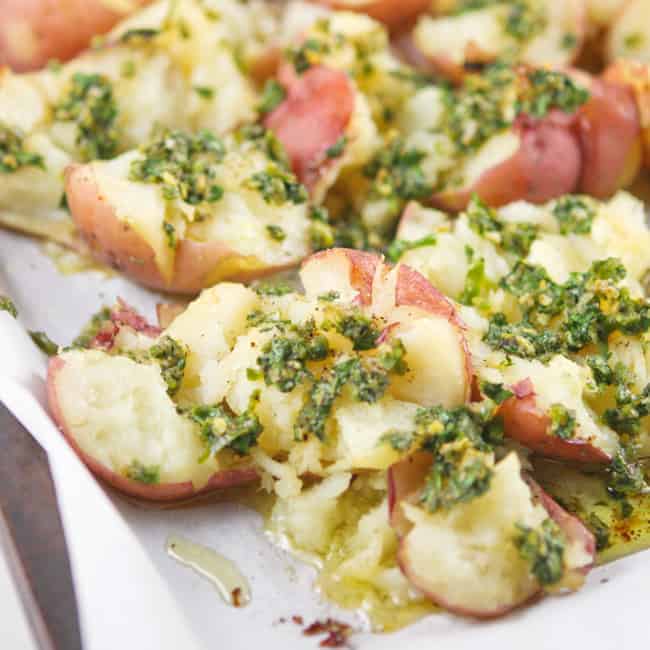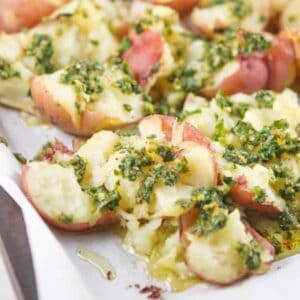 Smashed Potatoes
A deliciously different way to prepare potatoes.
Print
Pin
Rate
Ingredients
9

baby red potatoes

olive oil

for drizzling

1/4

cup

flat-leaf parsley

finely chopped

1

jalapeno pepper

finely chopped (optional)

1

tsp.

kosher salt

1/4

tsp.

garlic salt

1/2

tsp.

ground pepper

1/4

tsp.

cayenne pepper

1/4

cup

extra-virgin olive oil
Instructions
Place potatoes in a large saucepan filled three quarters with water. Bring to a boil over high heat. Boil for 20 minutes, or until a fork can be easily inserted into the centers.

Preheat oven to 350 degrees F. Place parchment paper on a rimmed baking sheet and drizzle with olive oil. Remove the potatoes from the pan of water and place on parchment paper. Smash each potato with a fork a couple times.

In a small bowl, combine the parsley, peppers (if using), kosher salt, garlic salt, black pepper, cayenne pepper and olive oil. Mix well and spoon over potatoes. Bake in the preheated oven for 30 minutes. Serve warm!
Nutrition
Calories:
204
kcal
|
Carbohydrates:
34
g
|
Protein:
4
g
|
Fat:
6
g
|
Saturated Fat:
1
g
|
Sodium:
305
mg
|
Potassium:
978
mg
|
Fiber:
4
g
|
Sugar:
3
g
|
Vitamin A:
229
IU
|
Vitamin C:
22
mg
|
Calcium:
25
mg
|
Iron:
2
mg