How long are leftover meatballs good for? If you have leftovers staring at you from inside your refrigerator and you don't know whether to toss or eat.. read on!
How Long Are Leftover Meatballs Good For
When properly stored in an airtight container in the fridge, cooked meatballs last for up to four days.
When stored in heavy-duty freezer bags or shallow airtight containers in the freezer, meatballs should be used within 3-4 months for best results.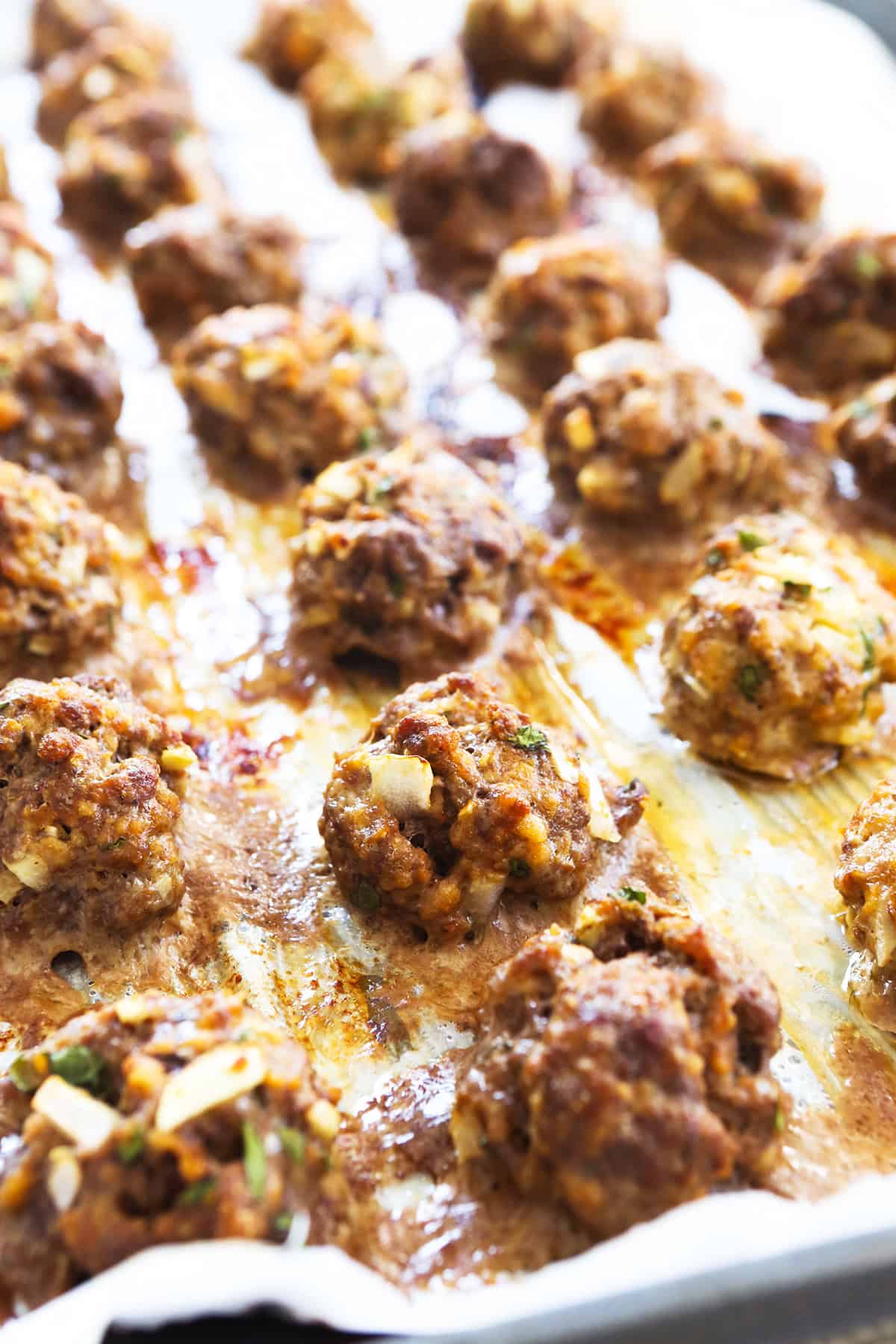 Extend The Shelf Life Of Meatballs
Follow the guidelines below to make meatballs last longer!
Refrigerate them – How long meatballs last depends largely on food storage and refrigeration. Secure the lid tightly on the airtight container and store cooked meatballs in the fridge at all times.
Keep them out of the door – Food items stored in the refrigerator door are subjected to warmer temps, especially with frequent openings. This can decrease the shelf life. Instead, store on a shelf and push it toward the back of the fridge so it stays fresh a little longer.
Keep at the same temp – Moisture can collect inside the container when temperature change occurs. Keep the temp of the entire container as consistent as possible to keep meatballs safe from spoilage.
Go glass – Use a glass container for the best quality and to add a little bit of time to its life.
Avoid cross contamination – Always be sure to use clean utensils when transferring meatballs into other containers in order to avoid cross-contamination.
How To Tell If Meatballs Are Bad
If you find yourself inspecting your meatballs, unsure about whether or not they are safe to eat, there are a few ways to determine whether you should eat or toss!
Smell – The first thing you should do is stick your nose in the container and give the meat balls a good smell. Fresh cooked meat has a fatty, juicy scent. A sour smell is a great way to determine if it has gone bad.
Appearance – If the color of the meat seems too light or dark, or if there is a slimy texture or if fuzzy mold is present, these can be signs of spoilage. Consuming bacteria can cause food poisoning, so toss immediately.
Taste – If steps one and two have passed the test, give it a quick taste test. You probably know its familiar taste, so use common sense to determine if the taste is off. If you detect a sour taste or unusual flavor, throw the whole batch!
Best Meatball Recipes
These baked homemade meatballs are super easy to make and extremely delicious. Made by rolling ground meat with parmesan cheese, bread crumbs and other seasonings. Serve them as a main dish or set them atop a heaping plate of spaghetti!
Instant Pot meatballs are the easiest, quickest, most delicious way to enjoy juicy meatballs! Done in 30 minutes, your pasta will be happy to have this delicious perfection sitting atop it. Dinner made easy for you and your family!
Crockpot meatballs require only a few ingredients with only a few minutes of prep. They are so easy to make, totally packed with delicious flavor and great for game-day parties or holidays. Let your slow cooker do all of the work for you!
What To Serve With Meatballs at a Party
Meatballs are super easy to make and they have a huge return on flavor, making them the perfect party food. Check out this post for ideas about what to serve with meatballs at a party, including but not limited to:
How To Cook Frozen Meatballs
The best way to cook frozen meatballs is to add them in a single layer to a large rimmed baking sheet. Bake pre-cooked meatballs at 350 degrees F for 20 minutes, or until heated through.
Bake uncooked raw meatballs at 350 degrees F for 30 minutes or until internal temperature has reached 160 degrees fahrenheit.
What To Do With Leftover Meatballs
If you have leftovers on your hands and you need inspiration about how to use them, here are a few leftover meatball recipes:
Create a meatball sub sandwich out of them. Add some flavorful tomato sauce to make it extra delicious.
Sandwich them between small buns to create meatball sliders.
Chop them up and add to your next pasta dish.
Throw them onto your next pizza, along with your favorite pizza sauce or pasta sauce.
Toss them together with bbq sauce and eat cooked meatballs as a main meal.
How To Freeze Meatballs
Allow meatballs to come to room temperature after cooking. Arrange in a single layer on a baking sheet and flash freeze for a minimum of 30 minutes. Transfer them to a freezer bag or freezer-safe container and freeze for 3-4 months to prevent freezer burn.
How To Reheat Meatballs
Before you reheat your batch of meatballs, allow them to sit in the refrigerator overnight (if pulling from freezer). There are a variety of reheating methods you can use:
Oven – Add thawed meatballs to a parchment lined baking sheet in a single layer. Bake meatballs at 350 degrees F for 15 minutes, or until heated through.
Microwave – The quick method for reheating ground pork meatballs is to place them on a microwave-safe plate in a single layer and cover. Microwave on high heat for 1-2 minutes, or until heated through.
Stove top – Heat a skillet over medium heat. Add the meatballs in a single layer, along with up to 1/2 cup of water, broth or sauce. Cover and simmer 10 minutes, or until heated through.
Crockpot – Transfer the meatballs to a slow cooker along with up to 1 cup of water, broth or sauce. Cover and cook on low heat for 3 hours, or until heated through.
Instant Pot – Place a trivet in the bottom of the Instant Pot, then add the recommended amount of liquid to the pot (typically 1 1/2 cups). Add the meatballs to a heatproof dish, cover with aluminum foil and place it directly onto the trivet. Cook using the pressure cook setting for 2 minutes with a quick release.
Air fryer – Place cooked meatballs in the basket of your air fryer and reheat for about 5 minutes at 250 degrees F, or until heated through.
Internal Temp of Meatballs
No matter the method in which meatballs are cooked or reheated, they should reach an internal temperature of 160 degrees F.