INSTANT POT ARTICHOKES: Fresh artichokes might look intimidating, but don't be shy! With little effort you'll get to the heart of the delicious vegetable.
Original recipe posted November 2018 | Updating recipe October 2019
When I was a kid my mom made steamed artichokes all the time for us to snack on. I thought every mom prepared artichokes as snacks, but as I got older I learned that most people are deathly afraid of them.
Or at least deathly afraid of cooking and preparing them. I mean, they look a little bit scary!
When you purchase artichokes at the store, you are almost guaranteed to get a comment from the folks at checkout. I've heard so many funny comments from people over the years.
Here are some favorites: "What ARE these?!" "What do you DO with these?" "Are these any good?" "Is this cilantro?" "They're so painful!" "I always wondered if anyone bought these things."
HOW TO MAKE INSTANT POT ARTICHOKES – A VIDEO!
If you have never prepared an artichoke, let me convince you to try! With a few helpful little tricks, they are easy to prep and the small amount of effort that goes into making them suddenly disappears when you reach the gold.
If you have ever eaten an artichoke, you know the "gold" I refer to.
The delectable, savory, totally scrumptious artichoke heart that is buried beneath the grumpy-looking leaves and intimidating fuzzy center. You'll be glad you have a simple instant pot recipe to make these delectable veggie treats.
HOW TO COOK ARTICHOKES – INSTANT POT AND STOVETOP
Love artichokes? Instant Pot Artichokes are easy but you can steam them on the stove for a tender vegetable too with your favorite dips.
INSTANT POT METHOD
The Instant Pot is my personal favorite way to cook an artichoke because it is FAST and it steams the artichokes perfectly every time.
STEP 1
Cut off the top of each artichoke and trim the leaves a bit. Place your large artichokes into a steaming basket inside your pressure cooker with a few inches of water on the bottom. Add the bay leaf, garlic , salt and pepper and lemon slices.
Place the cover on the Instant Pot and press the STEAM button for a cook time of 10 minutes. Do a quick release when cook time is up.
STOVE TOP METHOD
STEP 1
Trim the tops of the artichokes and trim the leaves a bit. Add about 3 inches of water to a large pot, then add lemon juice, garlic, salt and pepper and a bay leaf. Bring the water to a boil.
STEP 2
Cover the pot and reduce heat to medium-low. Simmer for 30 minutes or until the artichokes are dark green in color and the outer leaves are easily removed.
HOW DO YOU PICK A GOOD ARTICHOKE?
Look for artichokes that have intact leaves, tightly packed and not loose and falling off. Also, they should be green in color and healthy looking. If the leaves are falling off the vegetable or if they are blotchy, it is likely not fresh.
Another way to tell if they are fresh is if they are dense. A heavier artichoke indicates it is primed for picking. Optimal artichoke season is from March through May.
HOW DO YOU EAT ARTICHOKES?
STEP 1
Begin pulling the leaves off the cooked artichoke starting at the base. Dip the base of the leaves into the melted butter. Insert each leaf into your mouth and scrape teeth against it in order to pull the "meat" from it. Discard what is left of the leaf.
Continue doing this until you reach the center of the artichoke. You will see thin, small leaves and underneath them a layer of white fuzz – this is the artichoke heart.
STEP 2
Gently twist and pull to reveal the "choke" which resembles fuzz or small hairs. Scrape the choke out entirely using the edge of a spoon. Cut the artichoke heart into pieces, dip into the melted butter and enjoy!
Cut it in half lengthwise and then cut out the fuzzy portion with a knife. Dip in butter and eat down to the stem.
STEP 3
Especially when serving artichokes to guests, serve with a small bowl of melted butter as a dipping sauce.
DELICIOUS HEALTHY SIDE DISH OPTIONS
Don't stop with one great tasty dish. Check out a few of my other favorite easy, healthy sides!
Roasted Green Beans with Parmesan – This is my favorite way to prepare and enjoy fresh green beans! Just 4 ingredients required to make this perfect, healthy side dish.
Vegetable Rice Summer Salad is absolutely perfect for small or large gatherings. Great as lunch, a party food or a side to dinner. It is colorful and packed with delicious flavor and textures and perfect for any occasion!
Roasted Sweet Potatoes are an easy and delicious side for any meal! They taste better than regular French fries and are a great healthy lunch, snack or side dish. Whole30 compliant, too.
Roasted Butternut Squash and Apples – The best way to prepare these two foods together is in the oven! The apples and cinnamon add a touch of sweetness. This delicious side dish goes great with any meal!
Replace rice with this veggie-packed Cauliflower Mushroom Rice side dish. It's easy to make and prepared in 15 minutes. Packed with flavor and texture plus this recipe also complies with the Whole30 program!
ENJOY THESE OTHER ARTICHOKE RECIPES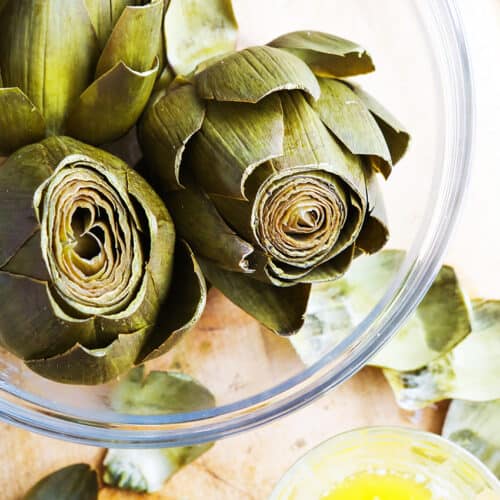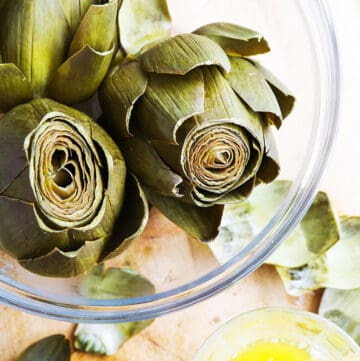 Instant Pot Artichokes
Fresh artichokes might look intimidating, but don't be shy! With little effort you'll get to the heart of the delicious vegetable.
Print
Pin
Rate
Ingredients
2

cups

water

4

cloves

garlic

quartered

2

bay leaves

2

tbsp

lemon juice

1

tsp

salt

4

artichokes

tops removed, leaves trimmed and all but 1 inch trimmed from stem

4

tbsp

butter

melted, for dipping
Text Ingredients
Instructions
MAKE THE ARTICHOKES
Place trivet inside Instant Pot and add water, garlic, bay leaves, lemon juice and salt. Add artichokes, cut-sides up.

Secure lid and set on high pressure. Press STEAM setting and set timer for 10 minutes. When cook time is up, do a quick release and wait for the float valve to drop.

Immediately remove lid and transfer artichokes to a separate bowl using tongs.
EAT THE ARTICHOKES
Pull the leaves off of the artichoke starting at the base. Dip the base of the leaf into the melted butter and using your teeth pull the "meat" from each leaf. Discard the remainder of the leaf.

Continue doing this until the leaves are very soft and thin. Gently twist and pull the leaves off, revealing the "choke" or fuzz. Scrape out the fuzz using the edge of a spoon, revealing the artichoke heart. Cut into bite-size pieces and dip in melted butter! ENJOY!
Notes
To steam without an Instant Pot: Place all ingredients in a steamer basket. Bring to a boil over medium heat, then reduce to a simmer over medium-low heat. Cover and steam for 30 minutes, or until the leaves are dark green and soft and can be easily removed.
Nutrition
Calories:
168
kcal
|
Carbohydrates:
15
g
|
Protein:
5
g
|
Fat:
12
g
|
Saturated Fat:
7
g
|
Cholesterol:
31
mg
|
Sodium:
810
mg
|
Potassium:
486
mg
|
Fiber:
7
g
|
Sugar:
1
g
|
Vitamin A:
371
IU
|
Vitamin C:
19
mg
|
Calcium:
69
mg
|
Iron:
2
mg
Did you make this recipe?
If you loved this recipe, please rate the recipe and leave a comment below!