Artichokes have such a delicious and unique flavor, but if you are looking for a substitute for artichoke hearts we have some yummy options!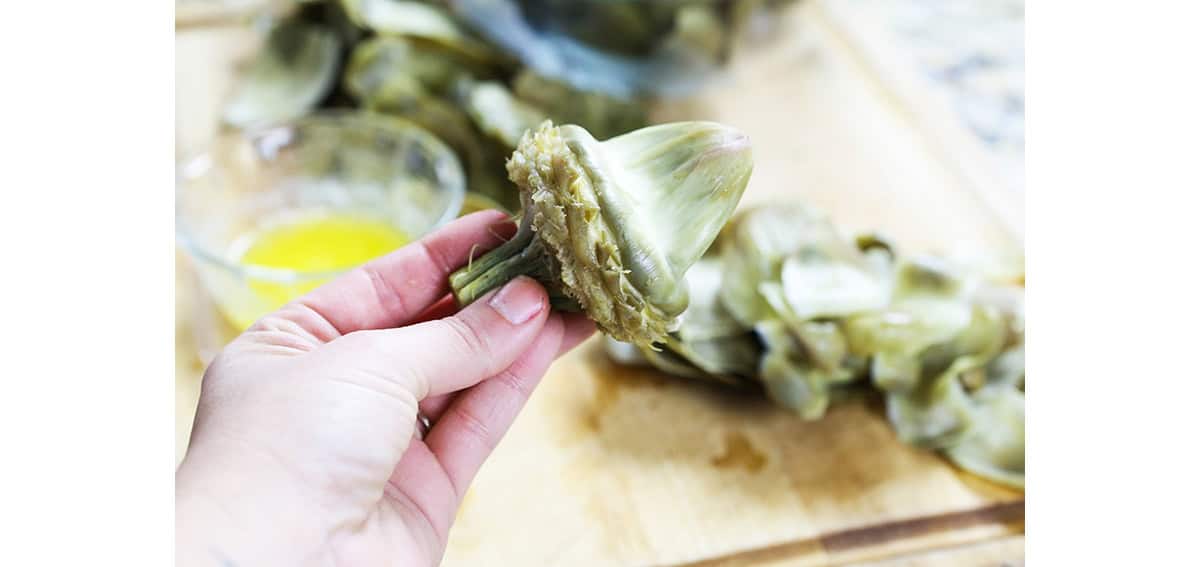 Substitute For Artichoke Hearts
Whether you are unable to eat fresh artichokes or you simply cannot find them at the grocery store, here are some great alternatives for this healthy vegetable:
Preserved Artichokes
If you are unable to find fresh artichokes, the best alternative for fresh is the canned artichoke hearts! These are typically packed in water and may or may not be marinated.
This is a great way to use this ingredient without putting in the work cooking and getting to the heart yourself.
Bamboo Shoots
One of the best substitutes for artichokes when trying to simulate that familiar nutty taste is bamboo shoots. Grill or saute them before adding them to any dish calling for artichokes.
Mushrooms
Mushrooms provide a very similar, meaty texture and act as a good substitute for artichoke hearts in recipes.
Hearts of Palm
A heart of palm also has a similar texture as well as a mild flavor that can simulate that of fresh artichoke hearts.
This ingredient is a great substitute when making dips.
Broccoli Stems
The flavor of broccoli is very different from the flavor of artichokes, which have a more nutty flavor. The texture of the stems when cooked is similar to the hearts, making it a perfect substitute in pasta dishes or as a topping on pizza.
Asparagus
The flavor of asparagus is definitely sharper with a crunchier texture, but can be used in place of artichokes when looking for a similar texture and color.
Brussels Sprouts
Brussel sprouts have a distinct and very sharp flavor, but can act as an ideal substitute for artichoke hearts in pasta dishes.
Cabbage
Any variety of cabbage such as napa cabbage can act as a replacement for this veggie once it has been cooked. It has a slightly softer texture and a similar mild taste.
Bell Peppers
Cooked red peppers or green bell peppers have a mildly sweet flavor and comparable texture, making it one of the most delicious substitutes for a variety of dishes that use this ingredient.
Squash
Use different varieties of squash as an alternative to artichoke hearts. Zucchini, chayote squash and butternut squash are great options and all have a slightly sweet flavor and similar taste.
Sun-dried Tomatoes
Similar to artichokes, sun-dried tomatoes have a rich, delicious flavor that can make a dish unique. They can be an excellent substitute for artichoke hearts in salads, dips, pasta dishes or on pizza.
Olives
Olives contain a similar briny flavor and can be used as an artichoke substitute in dips, salads, pizzas and pasta dishes.
Kohlrabi
Raw kohlrabi has a little bit of a crunch texture, but once cooked it can act as an artichoke substitute in any dish.
Note: You may substitute artichoke hearts with sauteed vegetables of any kind.
How Long Do Artichokes Last
Read this article for more information about how to keep your fresh artichokes as fresh as possible.
How To Prepare Artichokes
Artichokes are one of those green vegetables that might appear intimidating. Do not worry, they are easier to prepare (and eat!) than you might think!
Read this post about cooking and eating artichokes for detailed step-by-step photos and instructions about how to get to the edible parts.
Cut off the tips of all of the outer green leaves using kitchen shears. There is no other reason for doing this than avoiding getting poked when handling them. They can be sharp.
Cut off about an inch from the top of the raw artichokes using a sharp knife.
There are a couple ways to cook an artichoke. Steamer baskets work well when inserted into a pan with a couple inches of water on the bottom. If you don't have a steamer basket to steam the artichokes, a saucepan will work just fine.
Fill a large pot with 3-4 inches of water and add the artichokes (they won't be fully immersed – this is ok) along with one Bay Leaf and four cloves of garlic. I occasionally throw in a couple lemon slices, as well.
Cover the pot and bring water to a boil. Reduce to medium-low heat and let cook, still covered, for 30-40 minutes, or until artichoke leaves can be easily removed.
Note: Regular artichokes, Jerusalem artichokes and baby artichokes will have the same cook time.
How To Cook Artichokes In A Pressure Cooker
Come out with perfectly cooked artichokes using an Instant Pot!
Recipes With Artichokes
Artichokes can easily be added to a variety of recipes. Here are a few ideas to get you started:
Check out this comprehensive list of recipes that use artichoke hearts as a main ingredient.
Once cooked, the whole artichoke heart can be served with melted butter as a super simple side dish for any meal.
Make an ooey-gooey and creamy spinach artichoke dip for a great addition at your next gathering. This is one of my favorite recipes of all time.
Create chicken bacon artichoke dip for game day or as a delicious appetizer.
Make savory baked brie with sun-dried tomatoes and artichokes and serve with tortilla chips.
Once you've steamed them, removed the leaves and the fuzzy choke and uncovered the best part of the artichoke (the hearts!), serve as a side dish with melted butter.
Create antipasto skewers using artichoke hearts, salami, mushrooms and mozzarella.
Turn them into marinated artichoke hearts by mixing them together with zesty salad dressing or olive oil and herbs for up to 24 hours in the fridge in a covered glass container.
Toss them together with pasta, cheese and salami to create the most delicious batch of pasta salad.
What To Eat With Artichokes
Below are a handful of suggestions about what to eat with artichokes:
Dipping sauces – Freshly cooked artichokes are typically served alongside a dipping sauce such as melted butter, mayonnaise, olive oil or aioli.
Salad – Chop up some hearts and add them to your next salad for extra texture and flavor.
Vegetables – The delicious hearts pair well with asparagus, green beans tomatoes, zucchini, eggplant, bell peppers and any other veggies you have on hand.
Pasta – Artichoke hearts can be such a delicious addition to any type of pasta dish, such as spaghetti, linguine or even lasagna.
Pizza – Top your next pizza with chopped artichoke hearts for the perfect delicious dinner!
Meat or fish – When steamed and served as a side dish, they accompany any main meat or fish protein perfectly.