Deviled eggs are the perfect classic appetizer, party food or snack. What foods taste delicious when paired with this easy finger food? Read on for 33 delicious ideas about what to eat with deviled eggs!
What To Eat With Deviled Eggs
Deviled eggs are a versatile and delicious food that will make an everyday gathering or any special occasion more unique! Whether served as a side dish or as an appetizer for your next party, they will be a big hit and an excellent addition to any spread.
See the list below for ideas about what to eat with deviled eggs:
Meat – This yummy finger food tastes so good when eaten with ham, pork chops or steak!
Salad – Serve deviled eggs alongside any variety of salad. A leafy green salad with dressing pairs well, as do pasta salads and potato salad.
Vegetables – Roasted or grilled vegetables such as broccoli, bell peppers, asparagus, mushrooms, carrots or green beans are great pairings.
Sandwiches – You can either chop up deviled eggs and create an egg salad sandwich out of them or serve them assembled alongside a classic sandwich such as a BLT or grilled cheese.
Bread – Warm dinner rolls or a warm biscuit just out of the oven are a delicious match.
Soup – Soups such as roasted tomato soup, mushroom soup or chicken noodle soup with egg noodles taste delicious when paired with deviled eggs.
Appetizers – Anything that falls into the category of "finger foods" will work alongside deviled eggs, as well. Smokies, cheese and crackers, olives, pickles and potato chips are all perfect pairings.
See the roundup below for recipes that pair well with deviled eggs that you can make in your own kitchen!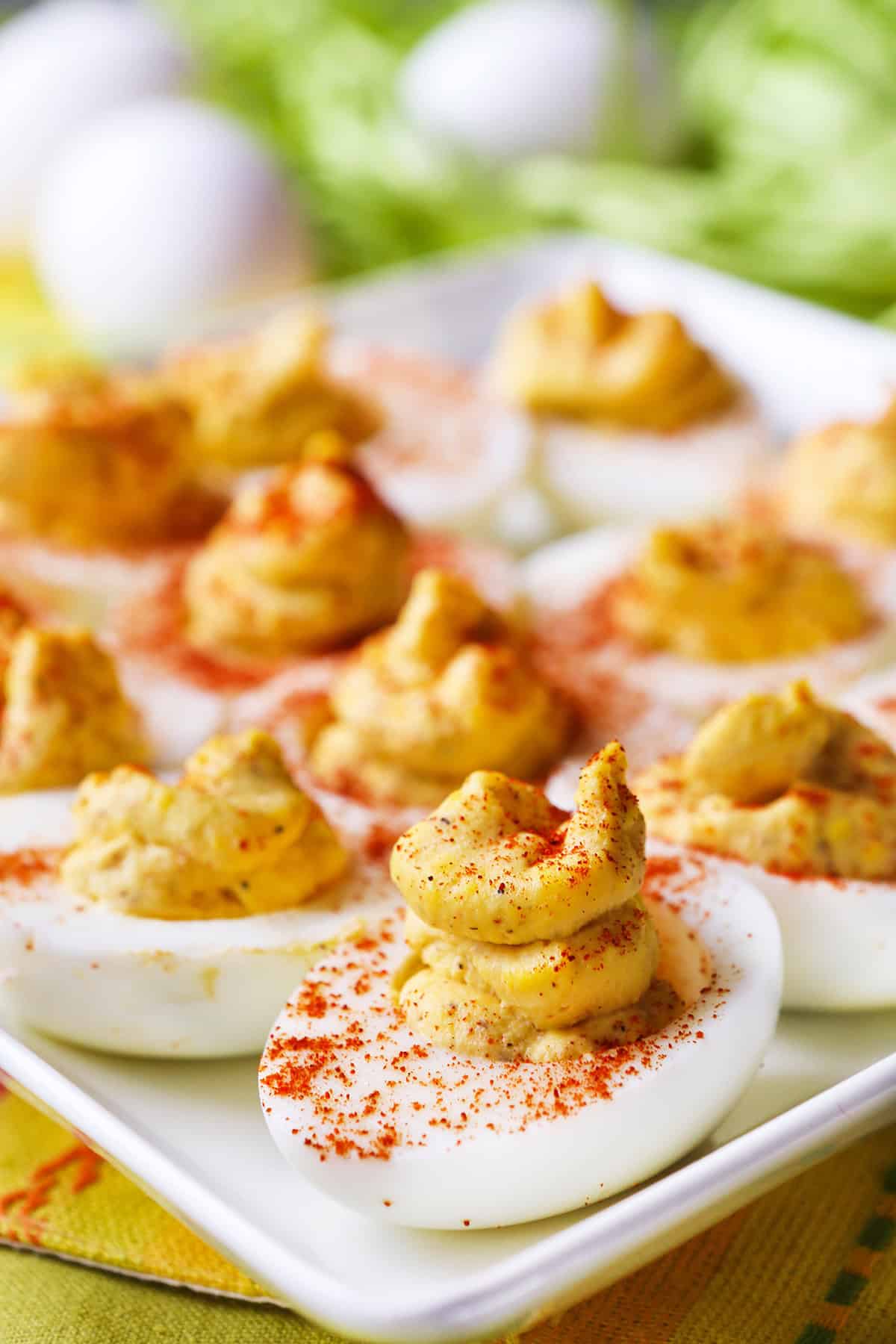 How To Make Hard Boiled Eggs
Best Deviled Eggs Recipe
This recipe details the best deviled eggs ever. An American classic known for their appearances at summer potlucks and Easter dinner!
Deviled Egg Variations
Think of the classic deviled egg recipe as a template. The best part of this dish is the filling because there are so many to customize it.
Here are a few ideas to get your wheels turning:
Everything Bagel Seasoning – Replace all seasonings in the recipe with 1-2 teaspoons of Trader Joe's Everything But the Bagel Seasoning.
Healthy – Replace mayonnaise with Greek yogurt for a healthy twist on this classic recipe.
Hummus –

 Add a few tablespoons of hummus to the yolk mixture in place of mustard, as well as a few splashes of fresh lemon juice.

Spicy – Add spicy ingredients to the filling mixture, such as a few splashes of Tabasco sauce (or your favorite hot sauce) as well as some diced jalapenos.
Guacamole – Replace the mayo and mustard with 1/2 of an avocado, 3 tablespoons sour cream and a few squirts of fresh lime juice. Replace the paprika with cayenne pepper.
Buffalo – Replace the mustard with an equal amount of buffalo sauce. Finely diced celery (about 1/4 cup) can be thrown in, too! Sprinkle with blue cheese before serving deviled eggs.
Meat Lovers – Add up to 1/2 cup chopped meat such as bacon, turkey, chicken, ground beef or ground sausage.
Fish Lovers – Add 1 small can of drained tuna fish or 1/2 cup cooked, flaked salmon.
Herbed – Load the mixture up with chopped fresh herbs such as chives, parsley, cilantro, basil or thyme.
Seasoned – Sprinkle in seasonings of your choice, such as curry powder, paprika or seasoning salt.
Dijon – Replace regular mustard with Dijon mustard to give the final flavor a bit of a twist. Top with sweet pickle relish or chopped green olives for a game changer.
Angel Eggs vs Deviled Eggs
Angel eggs and deviled eggs are the same exact food. These terms refer to hard-cooked eggs that are cut in half lengthwise. The hard-cooked egg yolks are removed and mashed together, along with other ingredients, leaving a hollowed-out egg white. The egg yolk mixture is then spooned into the egg whites.
"Deviled eggs" is most commonly used in the United States.
How To Transport Deviled Eggs
Transporting deviled eggs can be a tricky ordeal, as the egg filling can get messy or fall apart during transport.
Keep in mind that they should be consumed within 2 hours of being removed from the refrigerator.
Below are a few tips that will make the transportation process less messy and cumbersome:
Deviled Egg Carrier – Yes, there is a contraption made just for this pain point! If you transport deviled eggs frequently, it might be worthwhile to invest in this small piece of kitchen equipment.
Egg Carton – A cardboard or styrofoam egg carton will work great! Carefully place each prepared egg into one of the carton holes. Secure the lid with tape to ensure things don't wobble around too much.
Refrigerate – Chill the prepared eggs in the refrigerator for a minimum of 1 hour. This will ensure the filling is firmly set, making it less likely to shift around.
Assemble Later – If time allows, prepare the filling and eggs white halves and transport in separate covered containers. Once you've arrived at your destination, assemble the deviled eggs. Fill a piping bag with the filling and squeeze out of the corner of the bag. This is a great way to make this process easy!
What To Do With Leftover Deviled Eggs
If you have leftover deviled eggs on hand, do not toss them! Here are a few delicious ideas for ways to use them:
Snack – Enjoy leftovers for a quick and healthy snack.
Eggs – Chop up leftover deviled eggs and add them to scrambled eggs or an omelette for a protein-packed breakfast.
Sandwiches – Use them to make egg salad sandwiches for a quick and easy lunch.
Salad – Chop them up and add them to a green salad or a potato salad.
Baked Potato Topping – Add to the top of baked potatoes for a delicious topping!
How Long Do Deviled Eggs Last In The Fridge
Deviled eggs will last in the refrigerator for up to 4 days when stored properly in an airtight container.
If they show signs of spoilage such as an off odor or color, discard them immediately.
Ham and Cheese Sliders on Hawaiian Rolls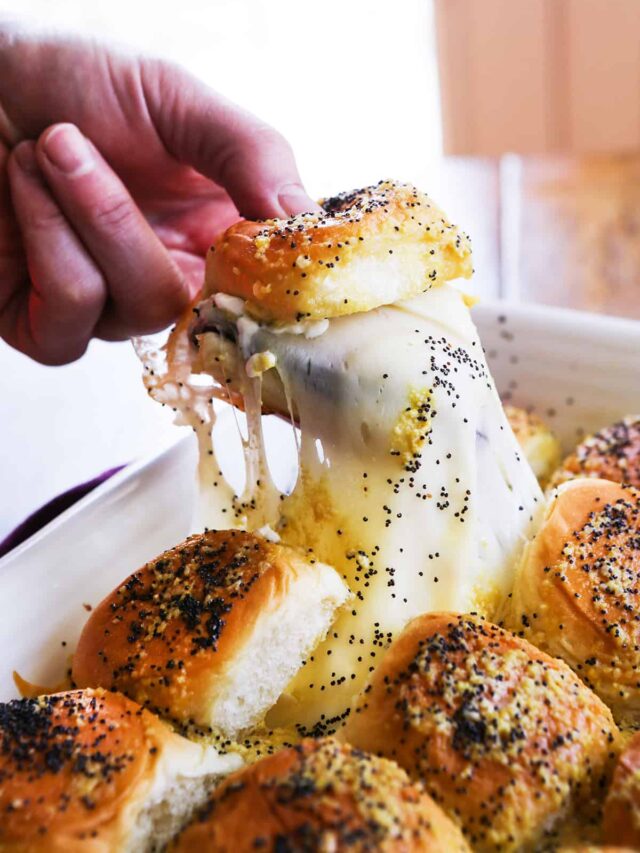 These delicious, baked Hot Ham and Cheese Sliders on Hawaiian Rolls are also known as Tailgate Sandwiches because they are the perfect game-day party fare. They are bursting with flavor and gooey cheese!
Sauteed Asparagus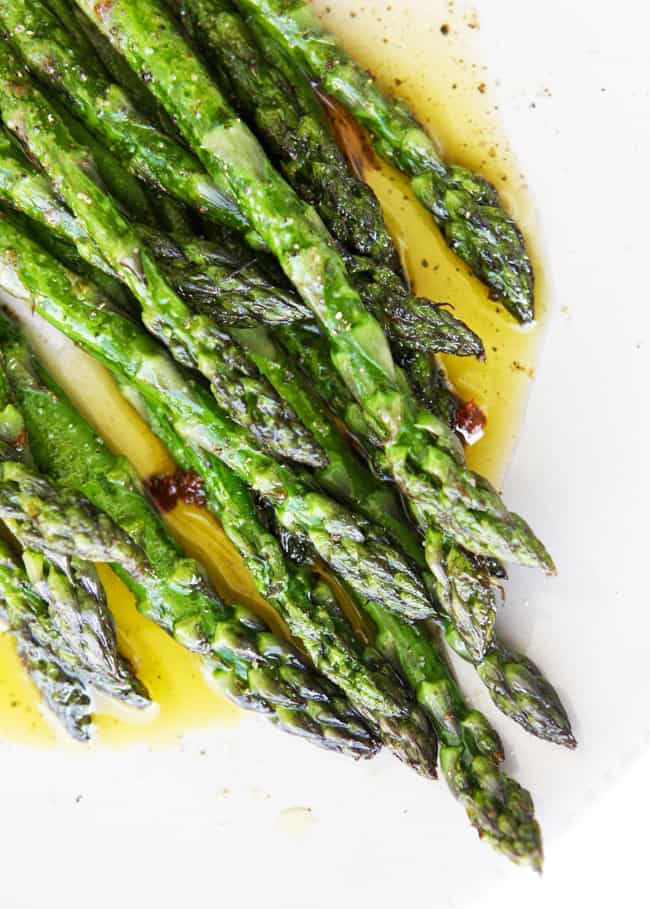 Asparagus is a super simple veggie to prepare and one of my favorite easy dishes. Make this delicious side dish to go along with any meal. You'll enjoy every bite of this sauteed asparagus!
Crockpot Corned Beef and Cabbage Soup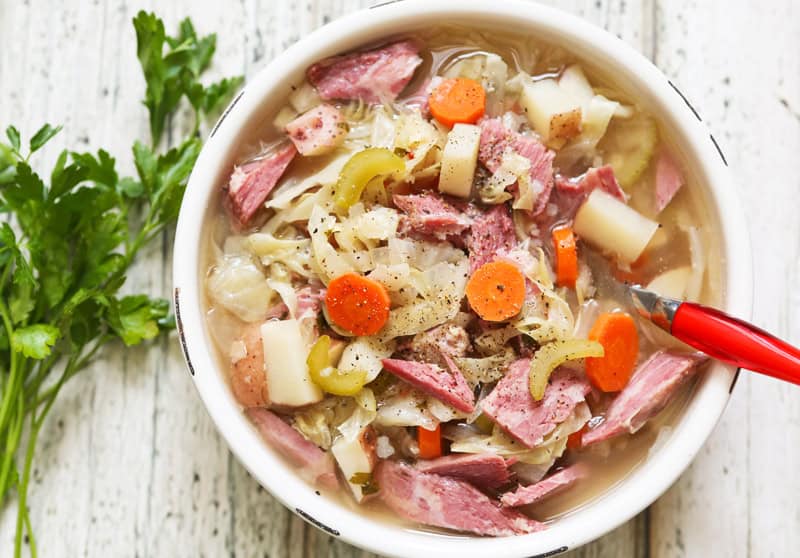 This Corned Beef and Cabbage Soup is super easy and comforting and it can be tossed right into your slow cooker!
Marinated Steak Bites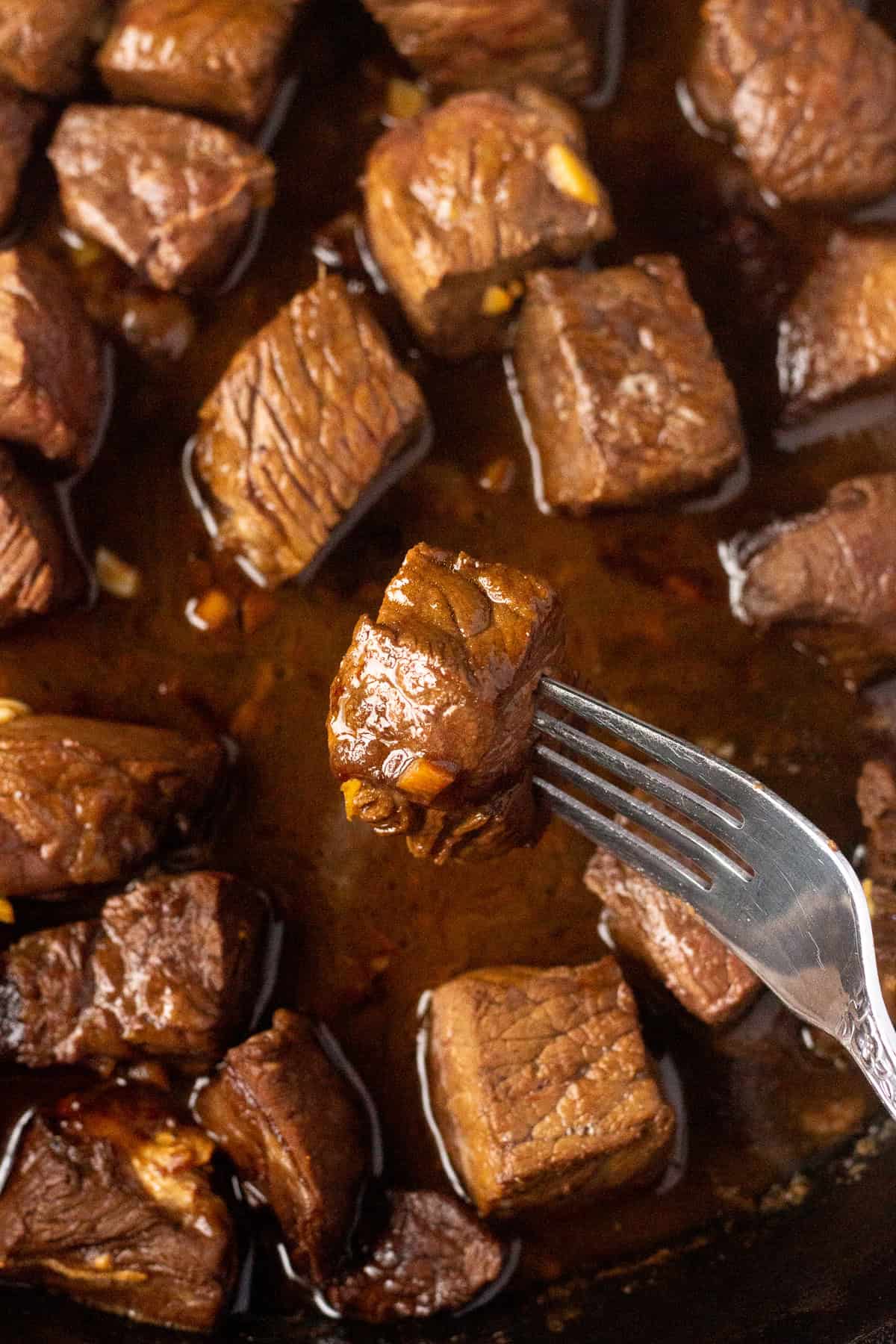 Marinated steak bites are the perfect party food, main meal or appetizer. They are beyond easy to make and turn out tender and delicious every single time. Cook them on the grill or stovetop!
Instant Pot Potato Salad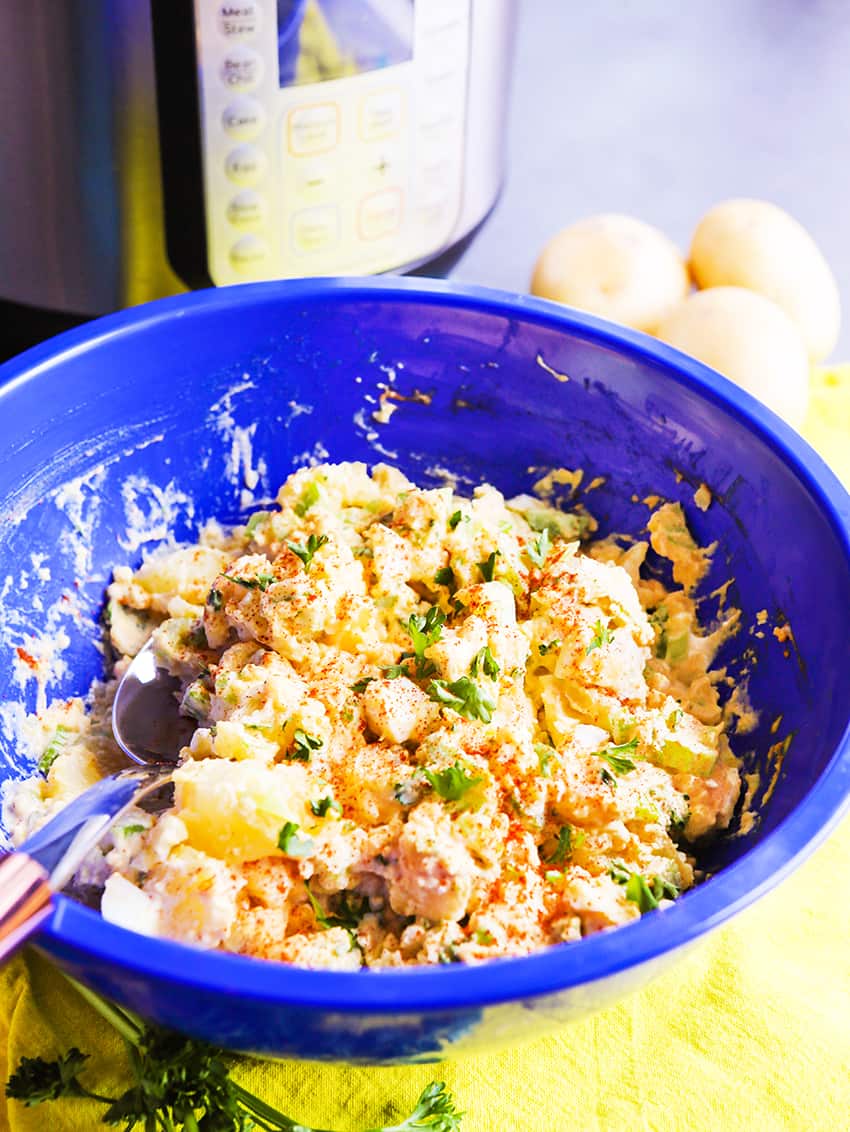 Cook potatoes and eggs together in a single pot to make Instant Pot Potato Salad with Eggs. Done in less than 30 minutes and requires minimal clean-up. This is the perfect party food or summer side dish!
Classic Pigs in a Blanket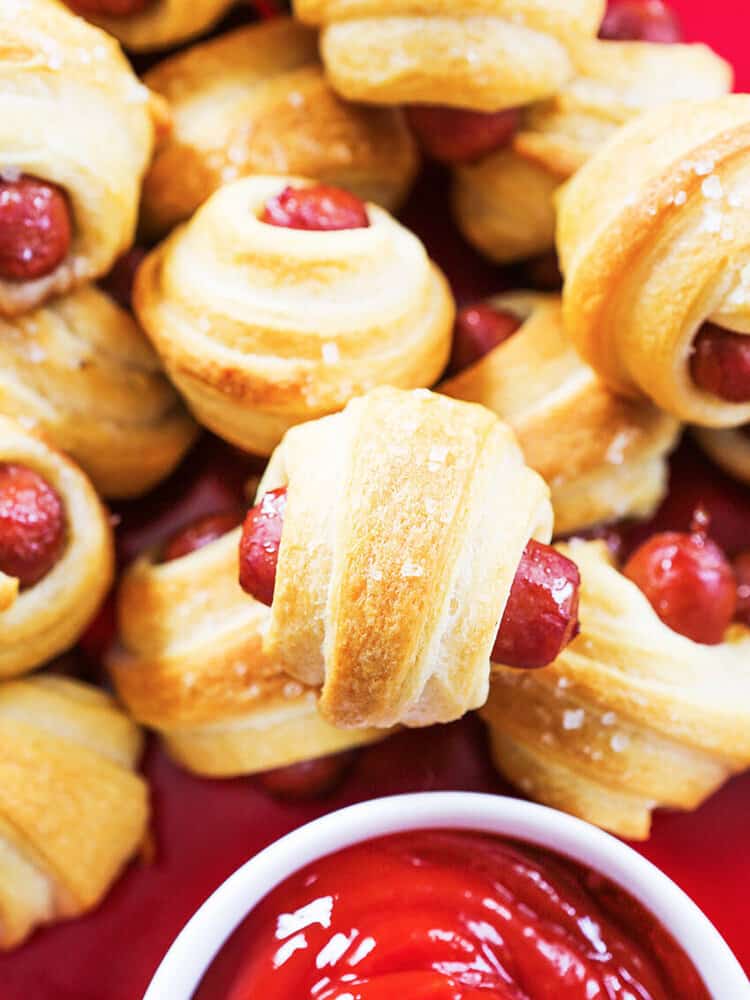 Pigs in a blanket are a party favorite for kids and adults alike! They can be thrown together in minutes and require only a handful of ingredients. Great recipe to make for any type of party, whether for game days or as an appetizer at a holiday meal. They'll go fast!
Air Fryer Chicken Tenders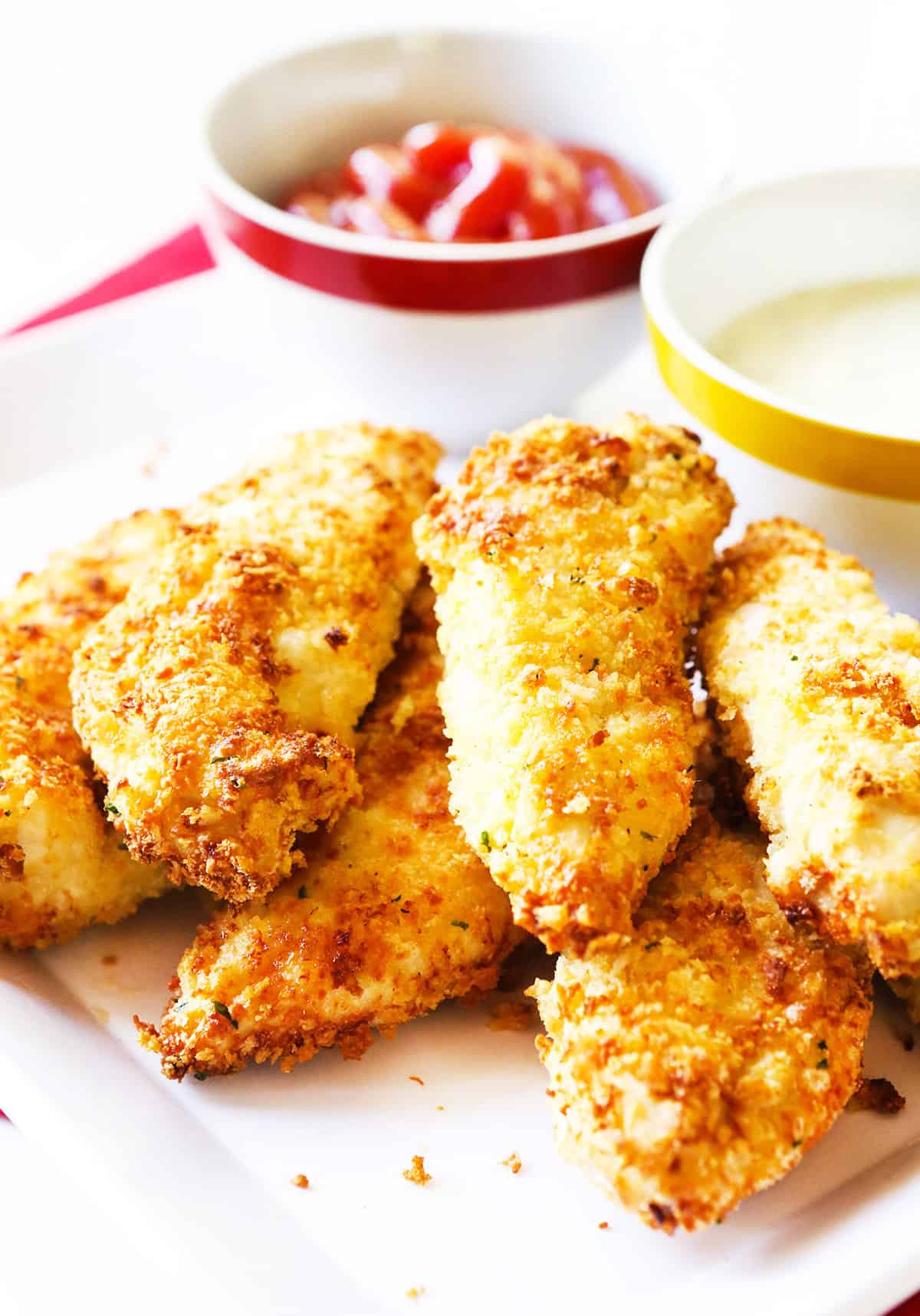 Air Fryer Chicken Tenders are healthier and more delicious than anything you find in the frozen aisle, made with just a few simple ingredients. Great as a kid meal, quick dinner or adult appetizer!
Bruschetta with Balsamic Glaze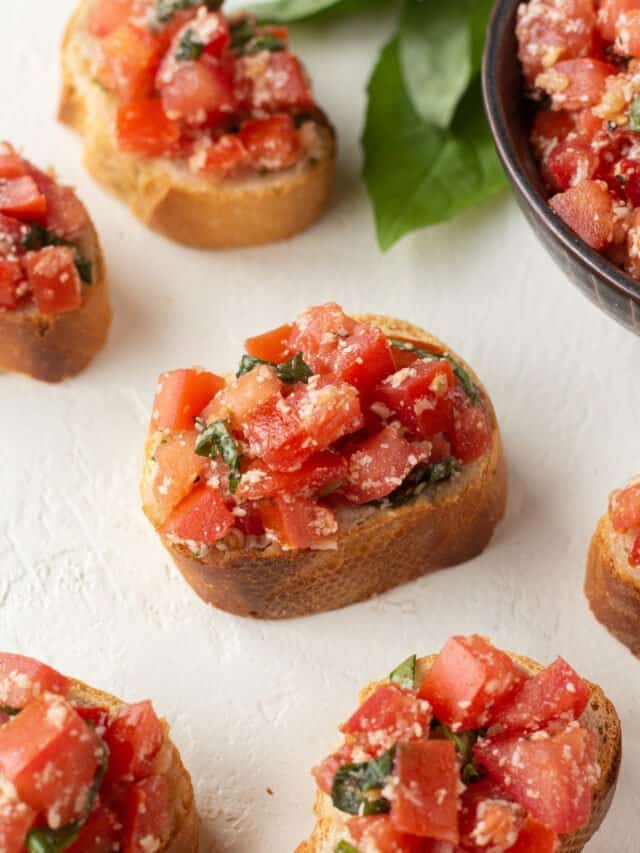 Tomatoes marinated in basil, oil, balsamic vinegar and garlic is the perfect topping for this bruschetta with balsamic glaze recipe. It is the perfect little finger food for any gathering. Get ready to knock people's socks off!
Instant Pot Ham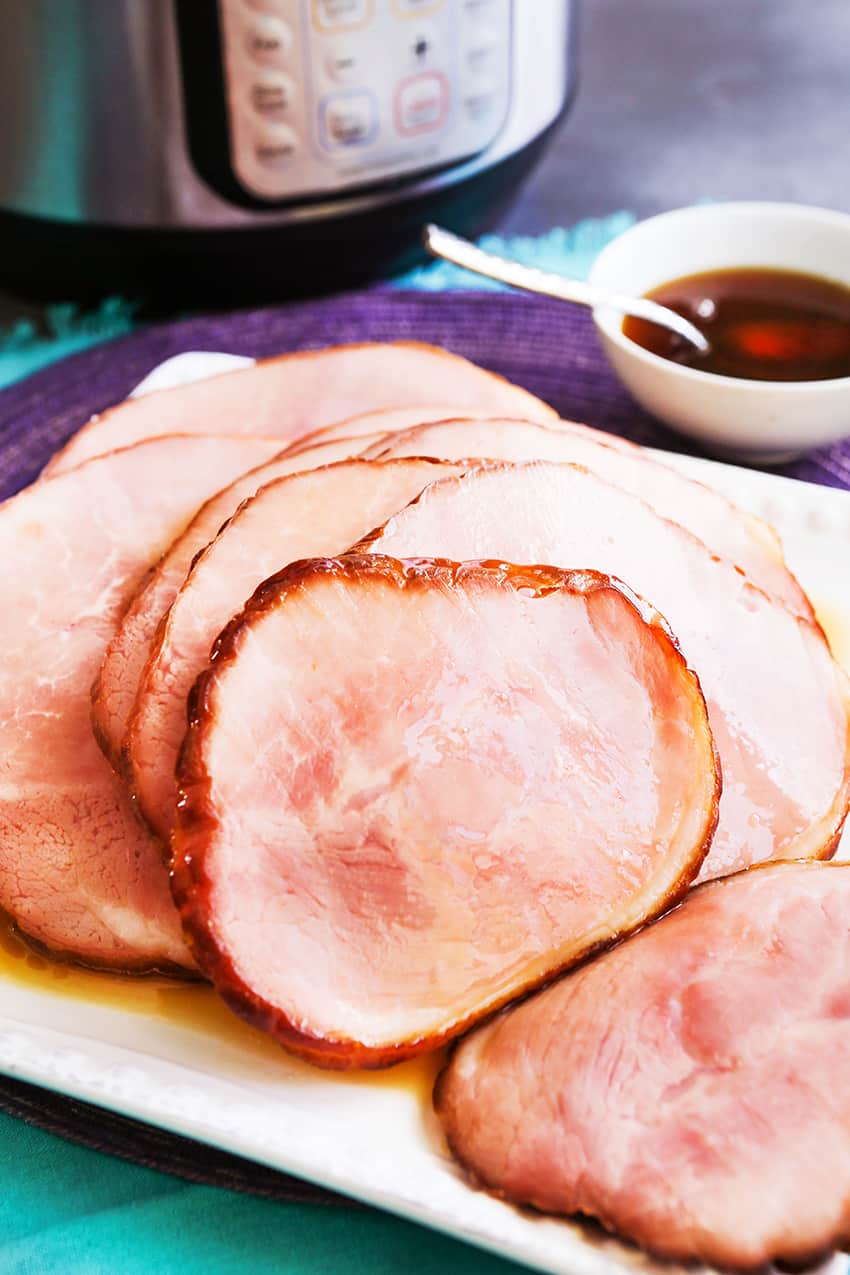 Done in just 30 minutes with a delicious glaze that everyone will love, Instant Pot ham recipe makes dinner or your next holiday meal easy!
Caprese Pasta Salad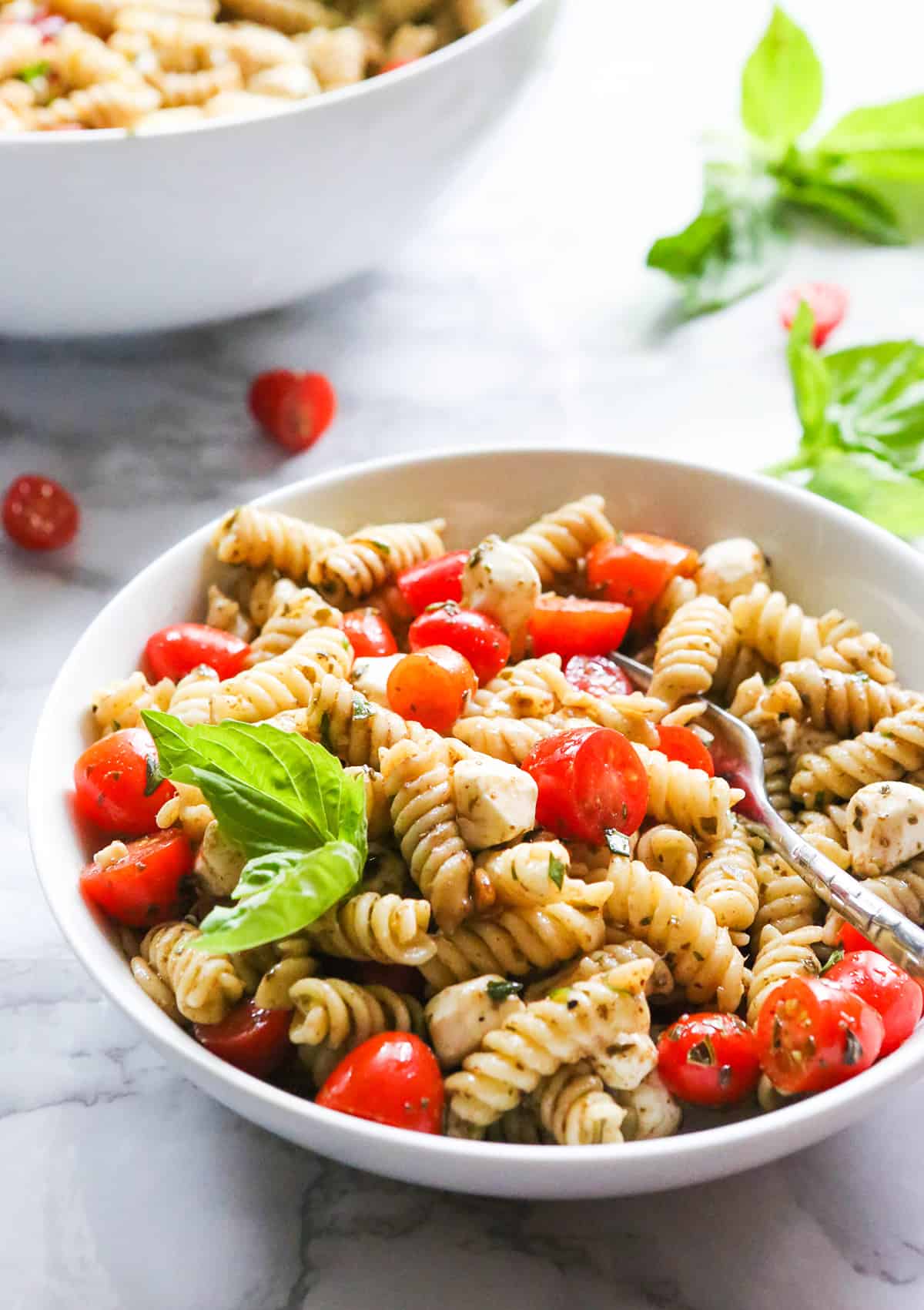 This Caprese Pasta Salad recipe is a huge hit at parties! Serve this delicious dish as a side, salad or appetizer. The combination of Mozzarella cheese, tomatoes and basil is absolute perfection!
Hot Cheese Dip with Ham and Bacon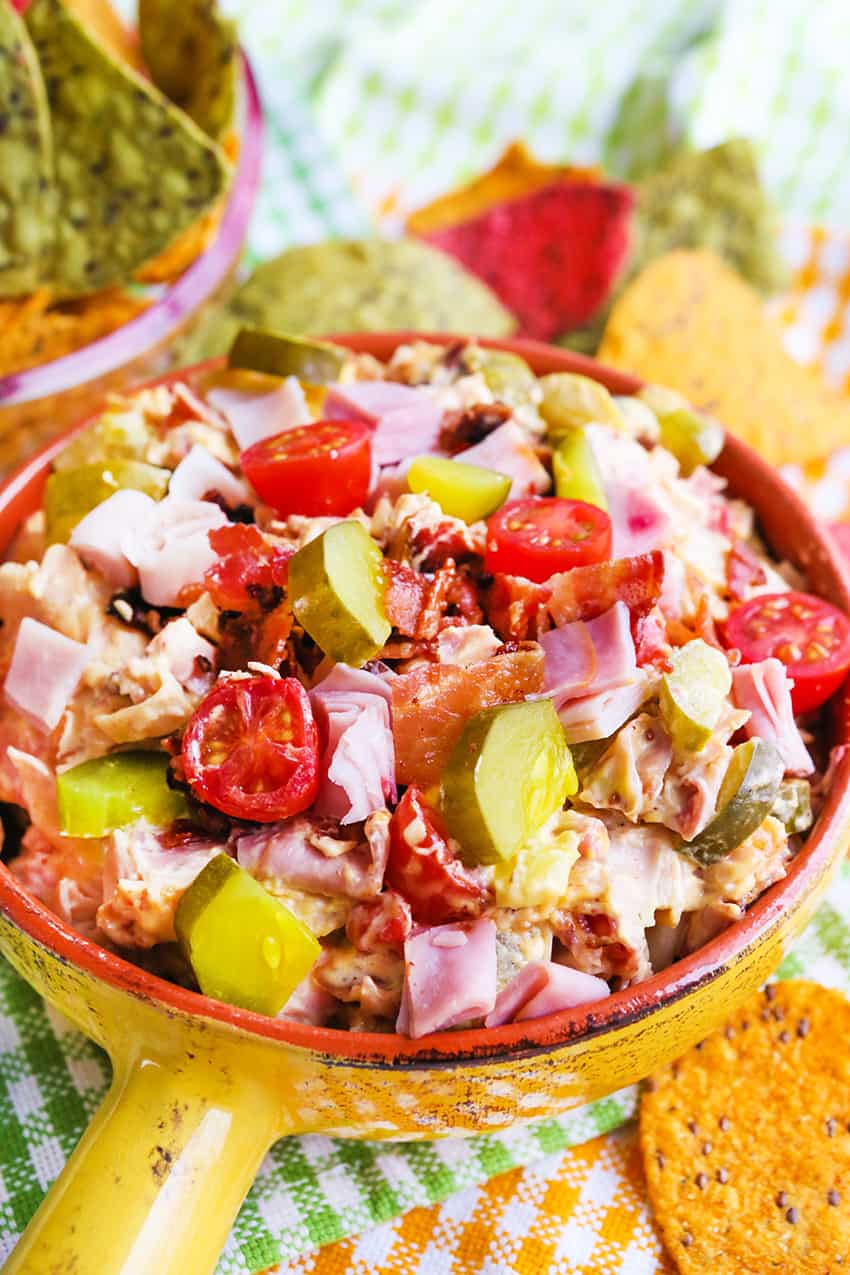 This irresistible hot cheese dip is a great party food or weekend appetizer/snack. Let your slow cooker make this delicious recipe for you!
Easy Antipasto Skewers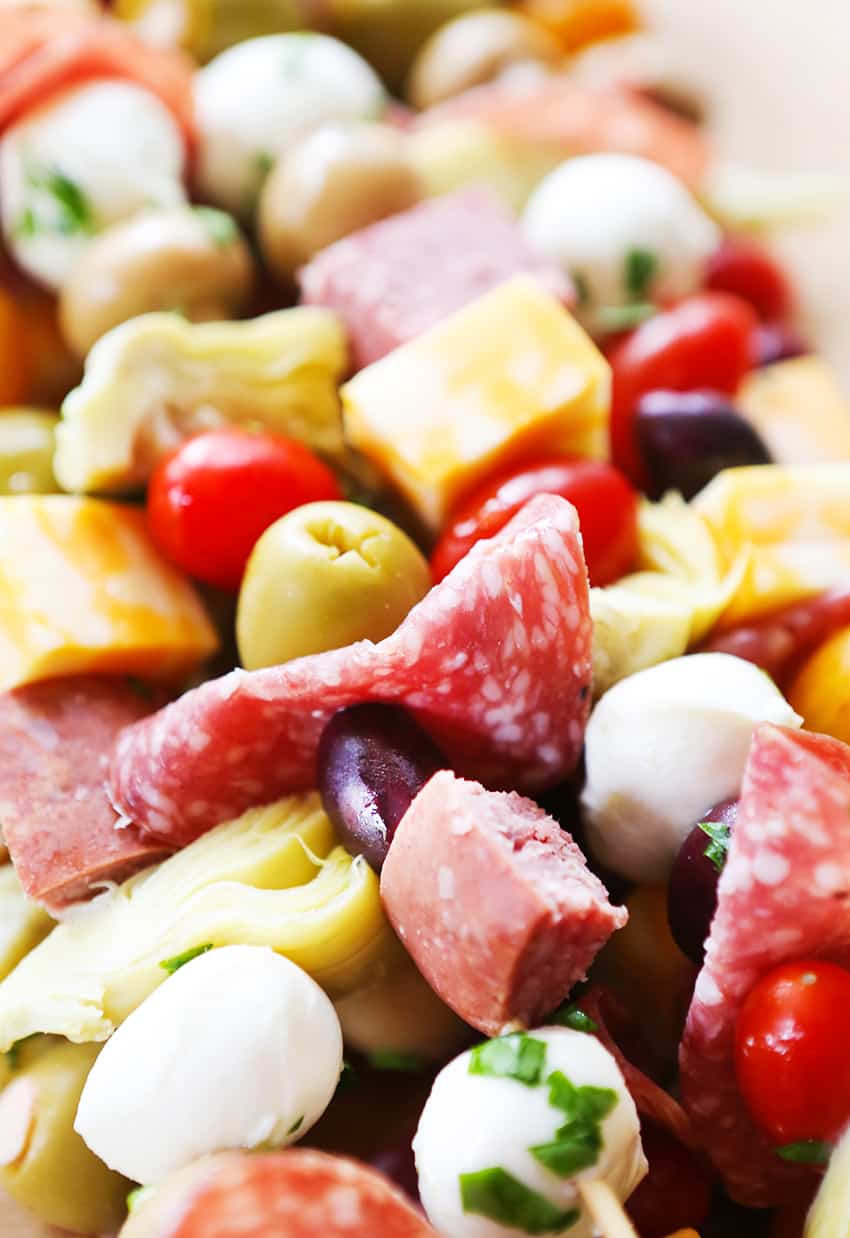 Turn Antipasto Salad into a delicious finger food! Add pieces of Italian meat or cheese can be threaded onto the skewers for a tasty snack. These Antipasto Skewers are easy to prepare and they're great as an appetizer or party food.
Homemade Pretzel Bites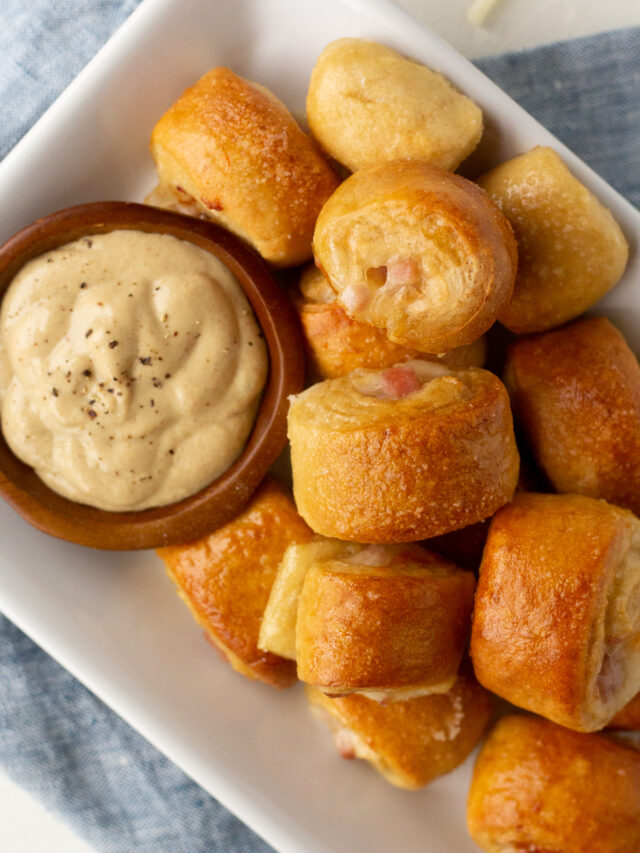 This delicious homemade pretzel bites recipe is the PERFECT party or game day food! Don't be intimidated by the cooking process. It's way easier than it looks! You will not be disappointed.
Loaded Baked Potato Rounds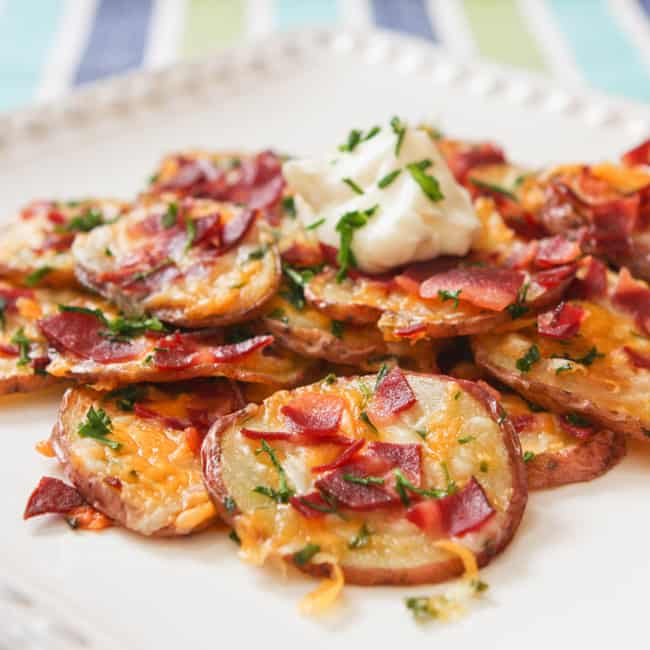 It's a dream come true! A mini baked potato in your fingertips! Loaded Baked Potato Rounds are perfect for dinner or served as a party food.
Creamy Vegetable Dip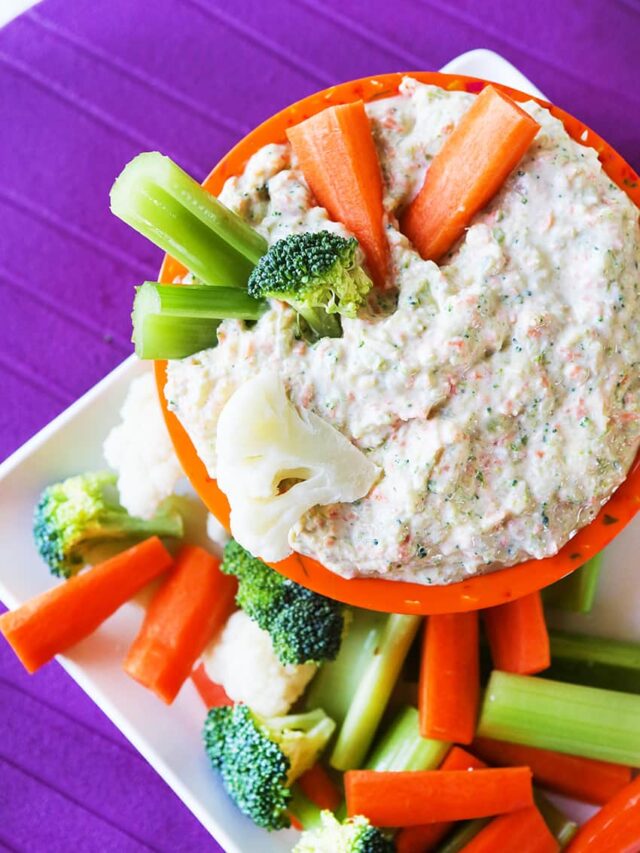 This Creamy Vegetable Dip is a great appetizer to share at any gathering, big or small. Pack as many veggies as you can inside and serve with crackers or more vegetables!
The Perfect Charcuterie Board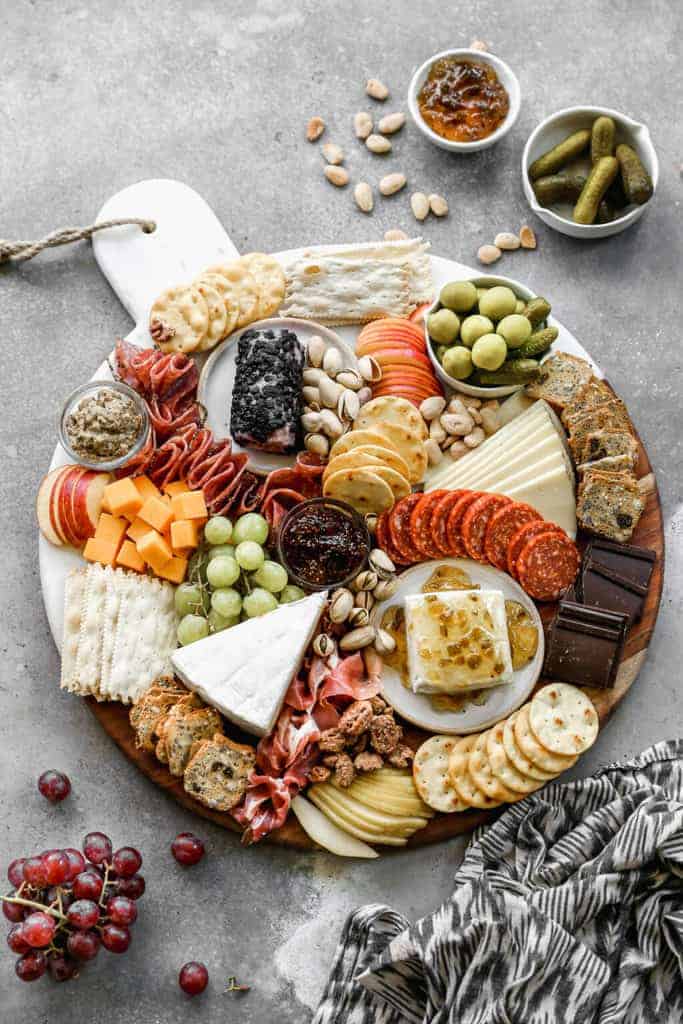 Everything you need to know to make the perfect Charcuterie Board (from Tastes Better From Scratch) including food ideas, recipes, and pro tips for assembling and displaying your charcuterie board for any season or occasion. This is the easiest way to serve snacks or appetizers in a fun and festive way!
Greek Cucumber Salad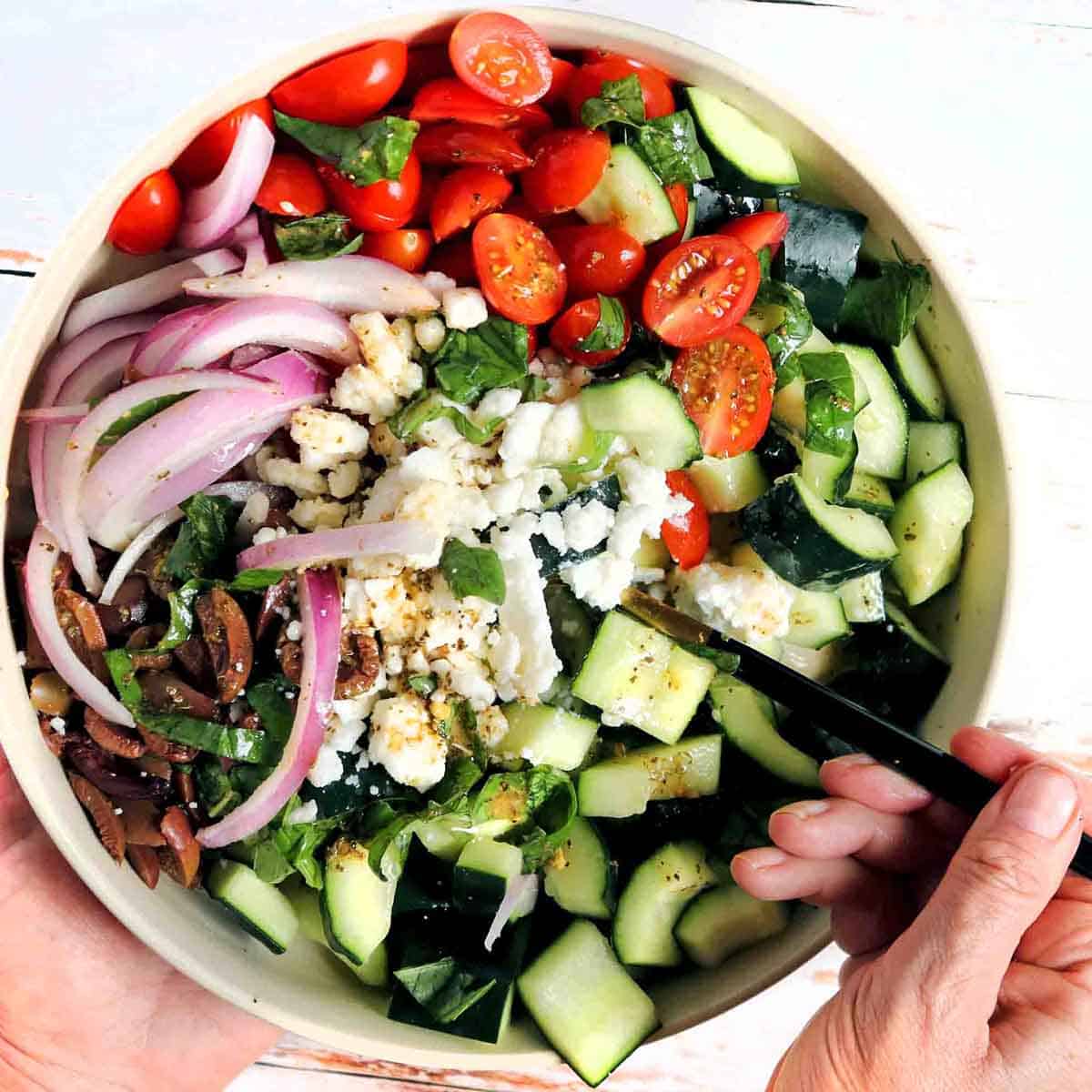 Packed with Mediterranean flavor, this easy ten-minute Greek Cucumber Salad is the perfect dish to freshen up your day! Made with simple ingredients, fresh produce, kalamata olives, and traditional or vegan feta cheese; this easy salad will be a family favorite.
Homemade Vegetable Soup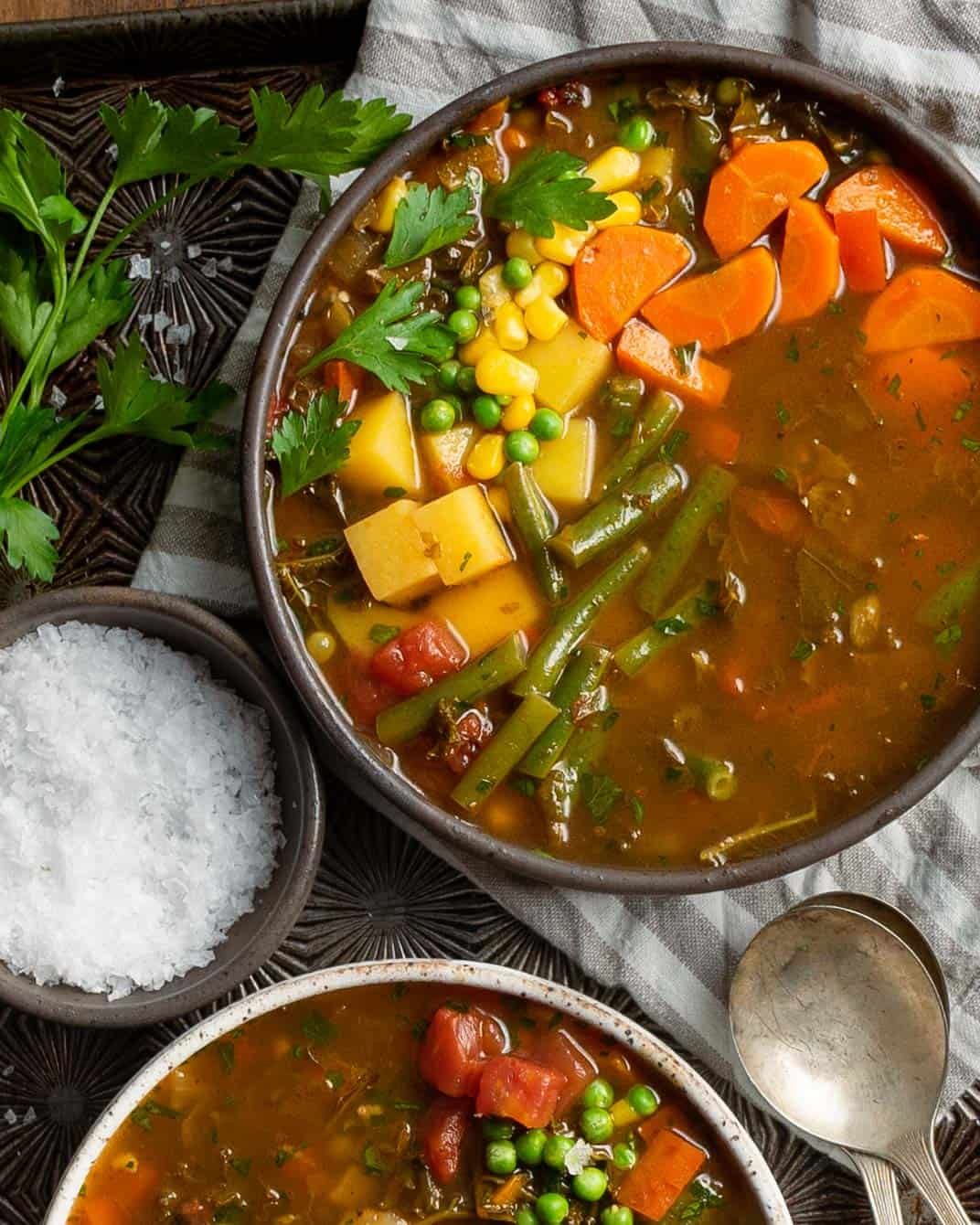 This chunky homemade vegetable soup recipe is the heartiest and most savory veggie soup you will ever make! Filled with tons of fresh vegetables and lots of flavor. Serve it up with some croutons or crusty bread and you have a perfect warm soup for cold nights. It is the best ever vegetable soup!
Perfect Sunday Dinner Rolls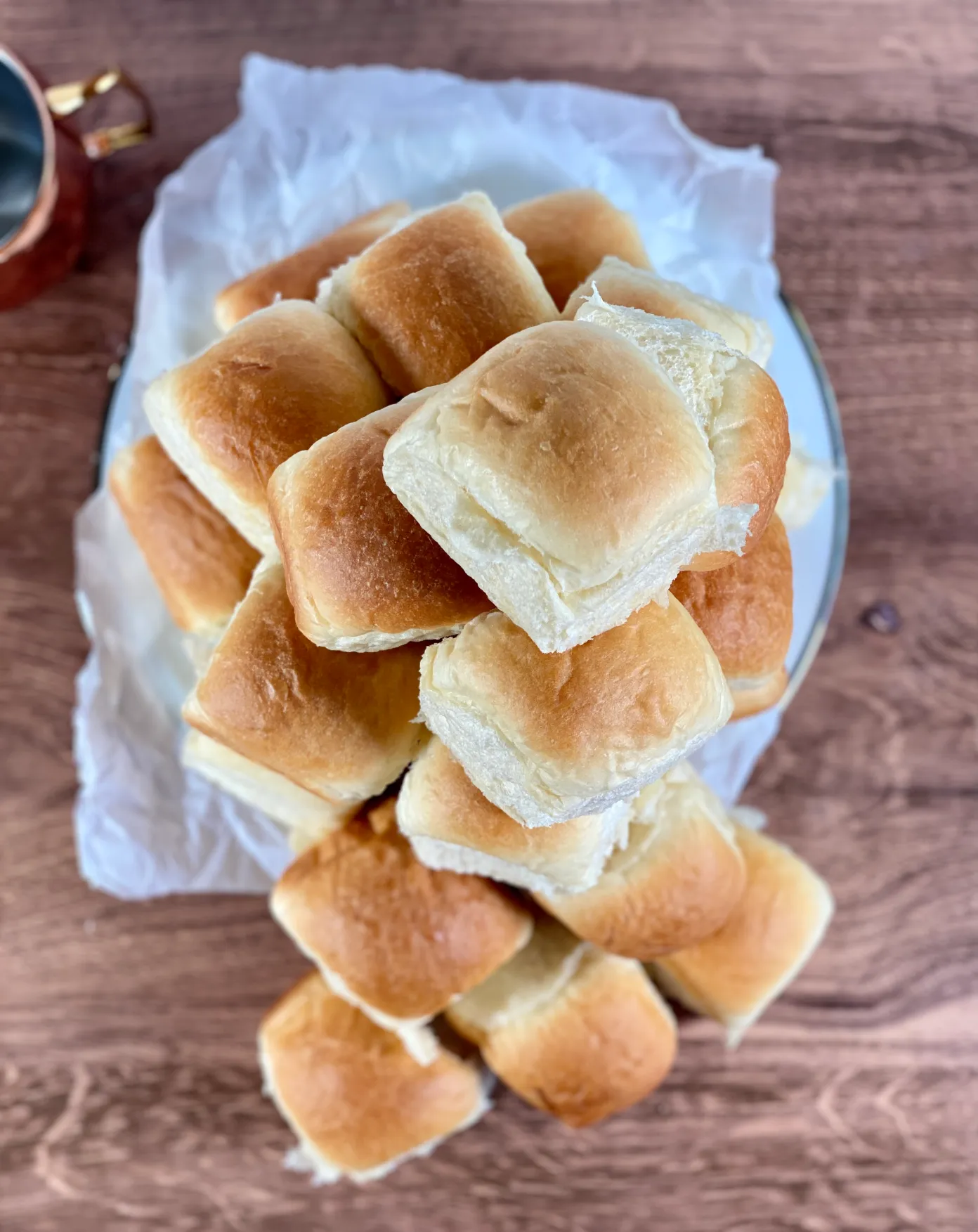 Today is the day that you become a holiday hero. Because, Family, these dinner rolls are IT. They are impressively sized, equally delicious, and well worth the effort for Sunday dinners or holiday dinners alike.
Whipped Goat Cheese with Honey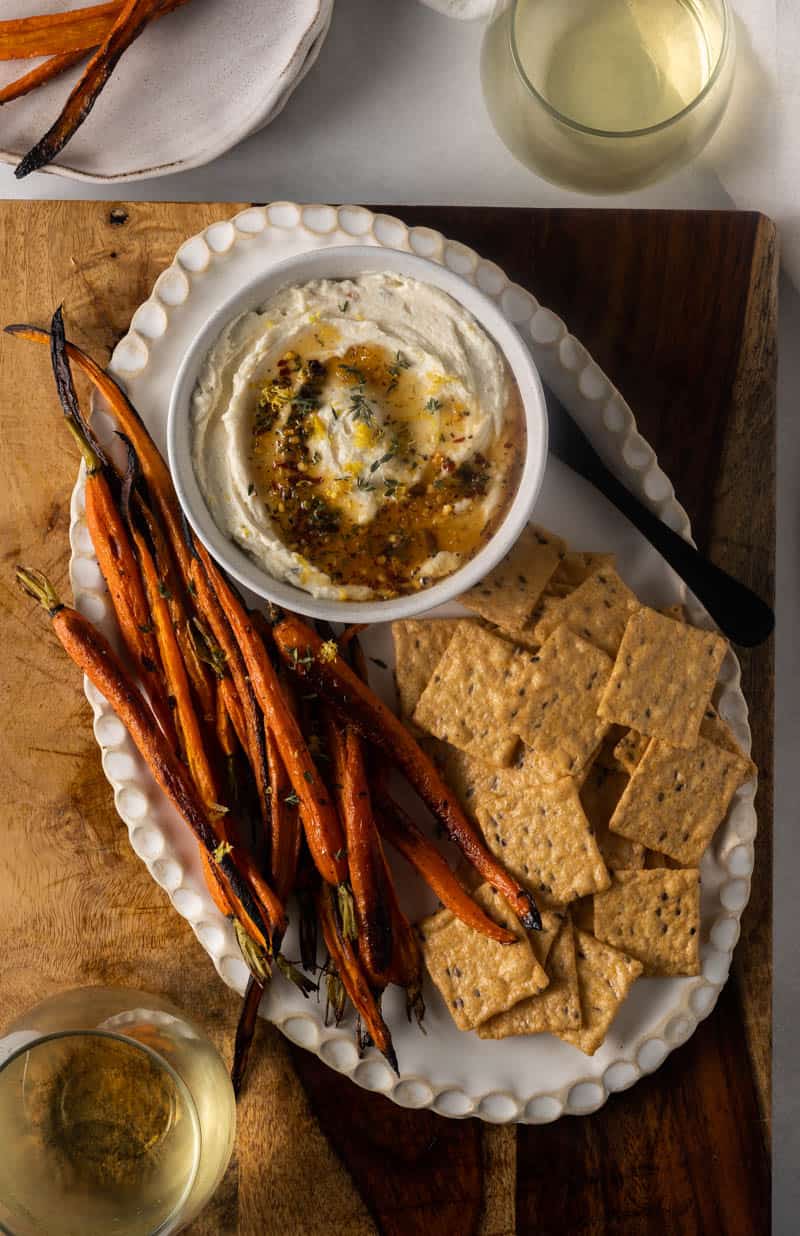 This Whipped Goat Cheese with Honey is one of those party appetizers people will request over and over. Tangy goat cheese whipped together with hot honey, herbs, and red pepper flakes until light, creamy, and irresistible! All you need is 20 minutes and 8 ingredients.
Italian Tortellini Soup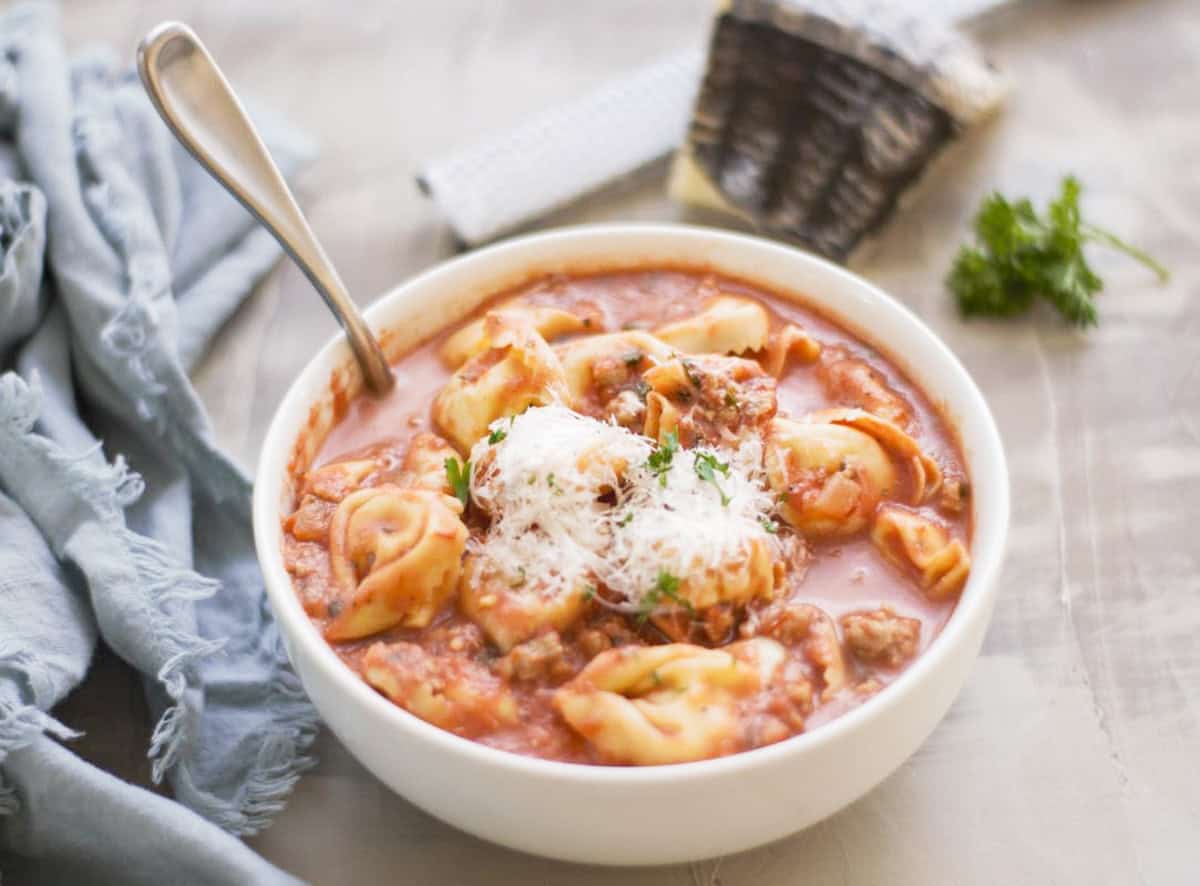 A creamy tomato based soup with cheesy tortellini pasta is an easy Italian inspired dinner the entire family will love. Italian Tortellini Soup is perfect for cold winter nights when you need a little comfort in a bowl.
Cauliflower Pizza Crust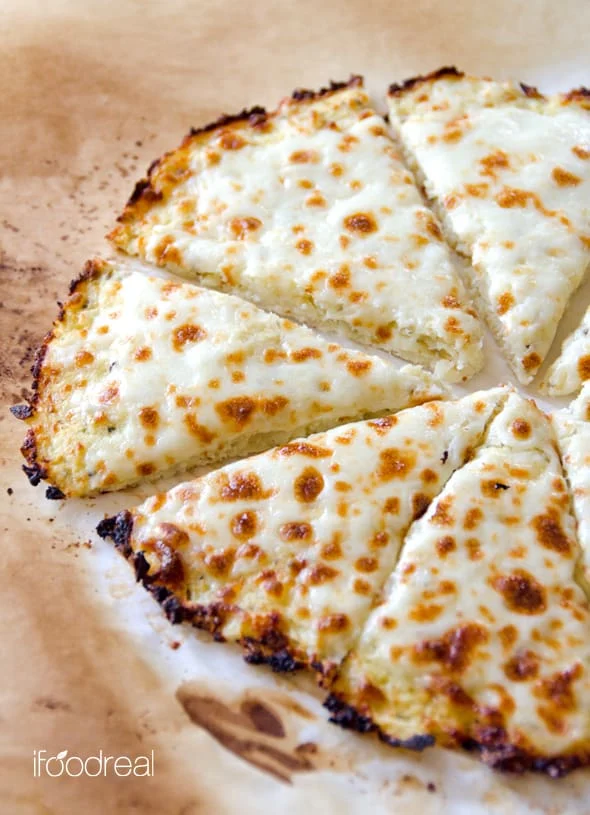 Cauliflower Pizza Crust recipe comes out crispy, you can hold the slice and use fresh cauliflower or frozen cauliflower, or cauliflower rice to make it. Tasty, low carb and the best recipe on the web with foolproof step by step video.
Gochujang Butter Sauce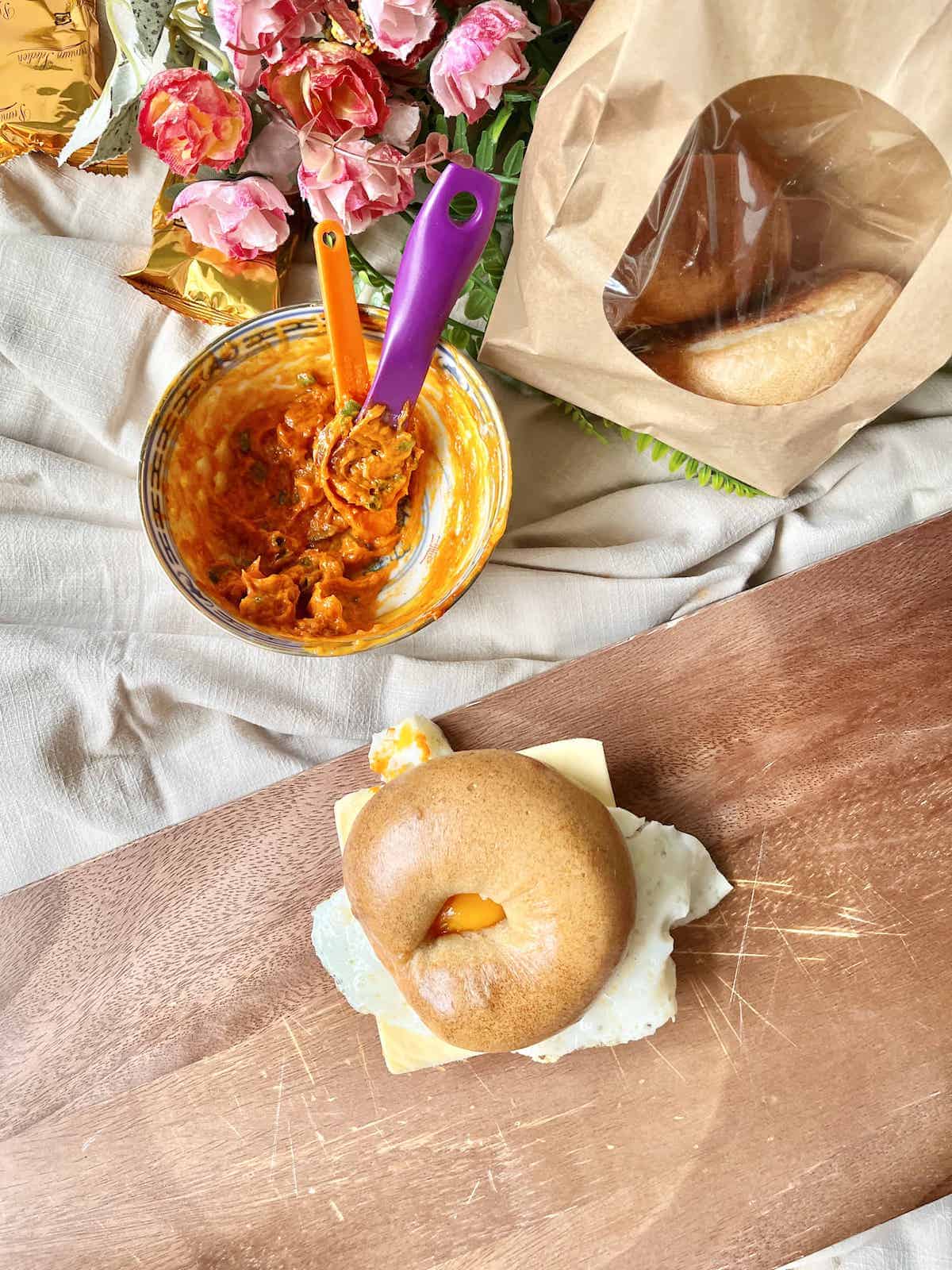 Upgrade your butter game with this creamy, irresistible gochujang butter recipe! This easy, made in 5-minutes savory spread packs a punch of Korean flavor- perfect for slathering on everything from bagels and crusty bread to roasted veg and meat.
Tostones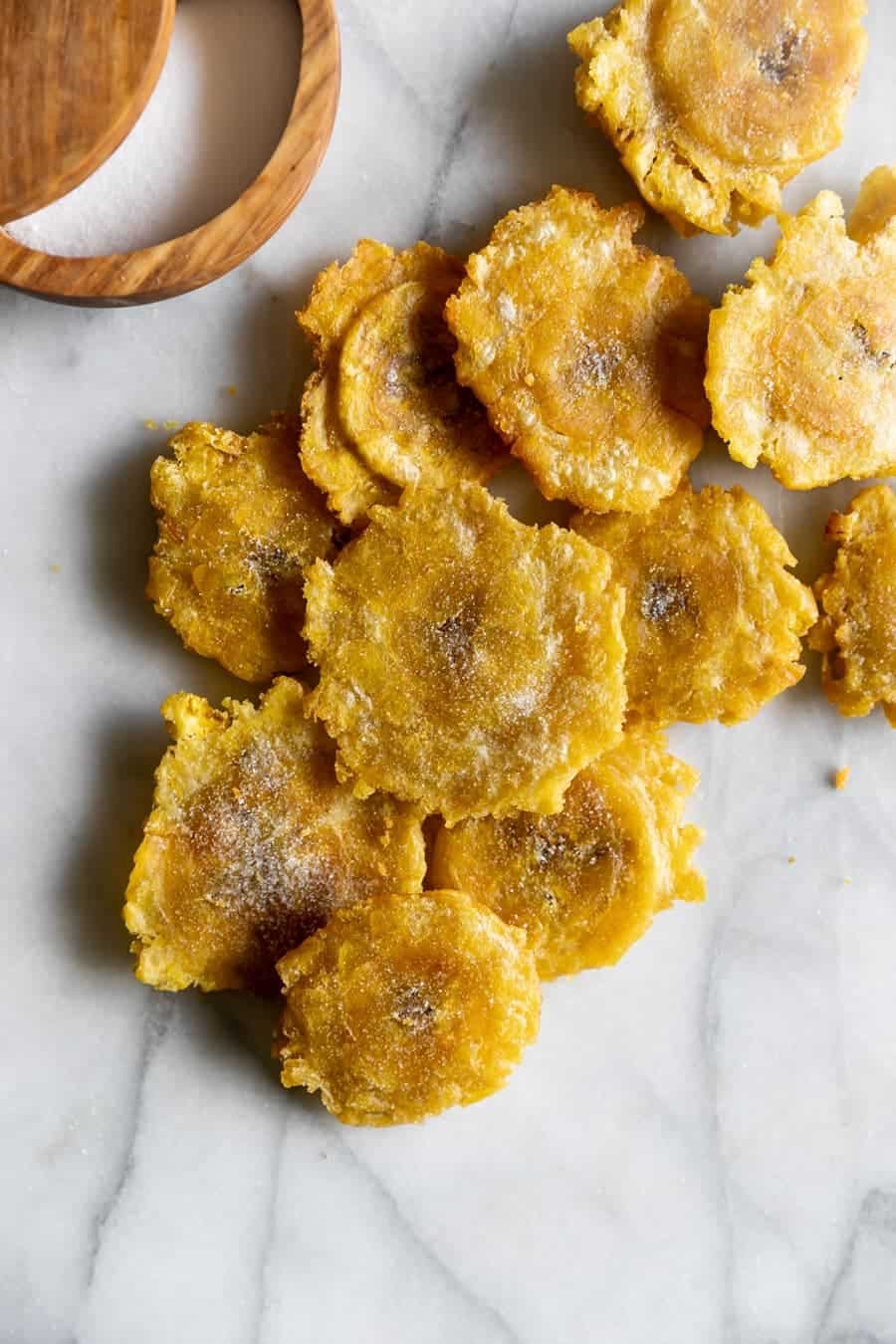 Tostones are twice-fried plantains made with green plantains that are peeled, sliced, fried, smashed, and then fried again.
This is a classic Latin staple but if you want to give them a Cuban twist, serve tostones with a Cuban garlic mojo dipping sauce! Enjoy tostones on their own, as an appetizer, or as a side dish for picadillo, arroz con pollo, sopa de pollo, and more!
Yuca Fries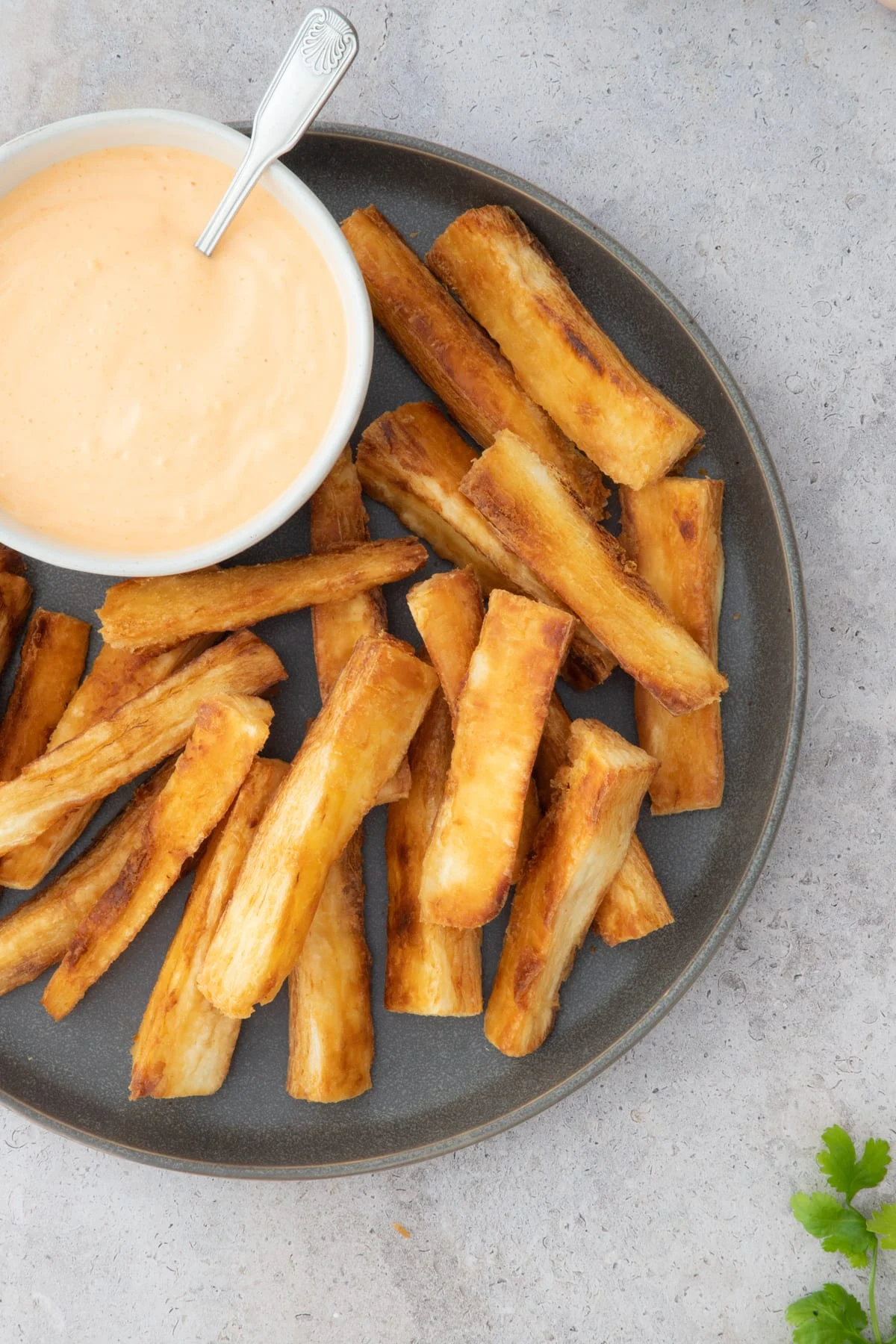 Yuca fries are an easy and delicious side dish that you can serve with almost any meal. Learn how to make them here.
Garlic Parmesan Boneless Wings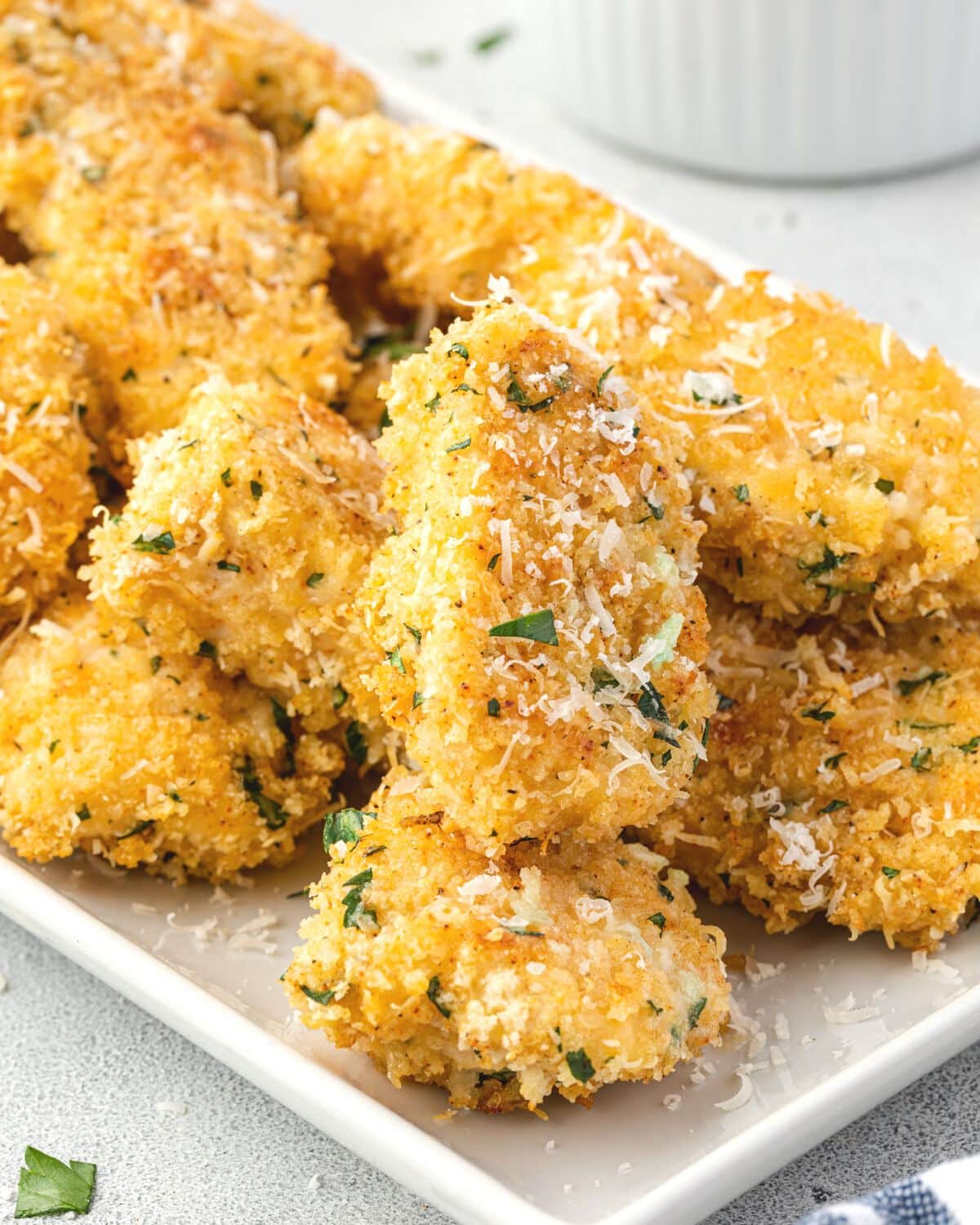 These Oven-Baked Garlic Parmesan Boneless Wings are crispy bites of Parmesan chicken coated in an amazing garlic butter sauce!
Cheese Quesadilla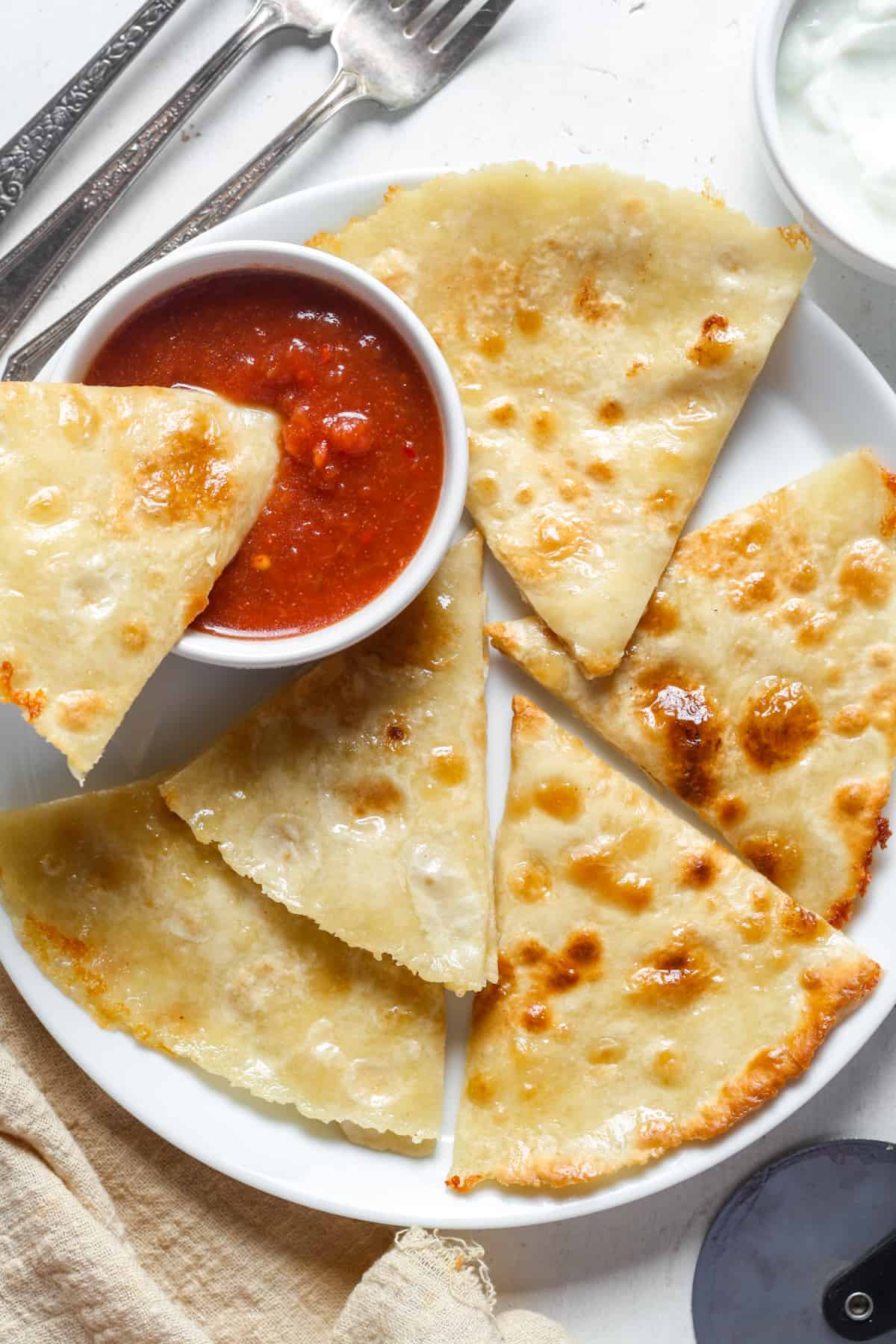 This is the best cheese quesadilla recipe ever! They are crispy, cheesy and so delicious. This quick and easy recipe takes only 8 minutes total. They are great for both kids and adults. Add your favorite protein, veggies, fillings or toppings. Everyone loves them!
Gluten Free Orzo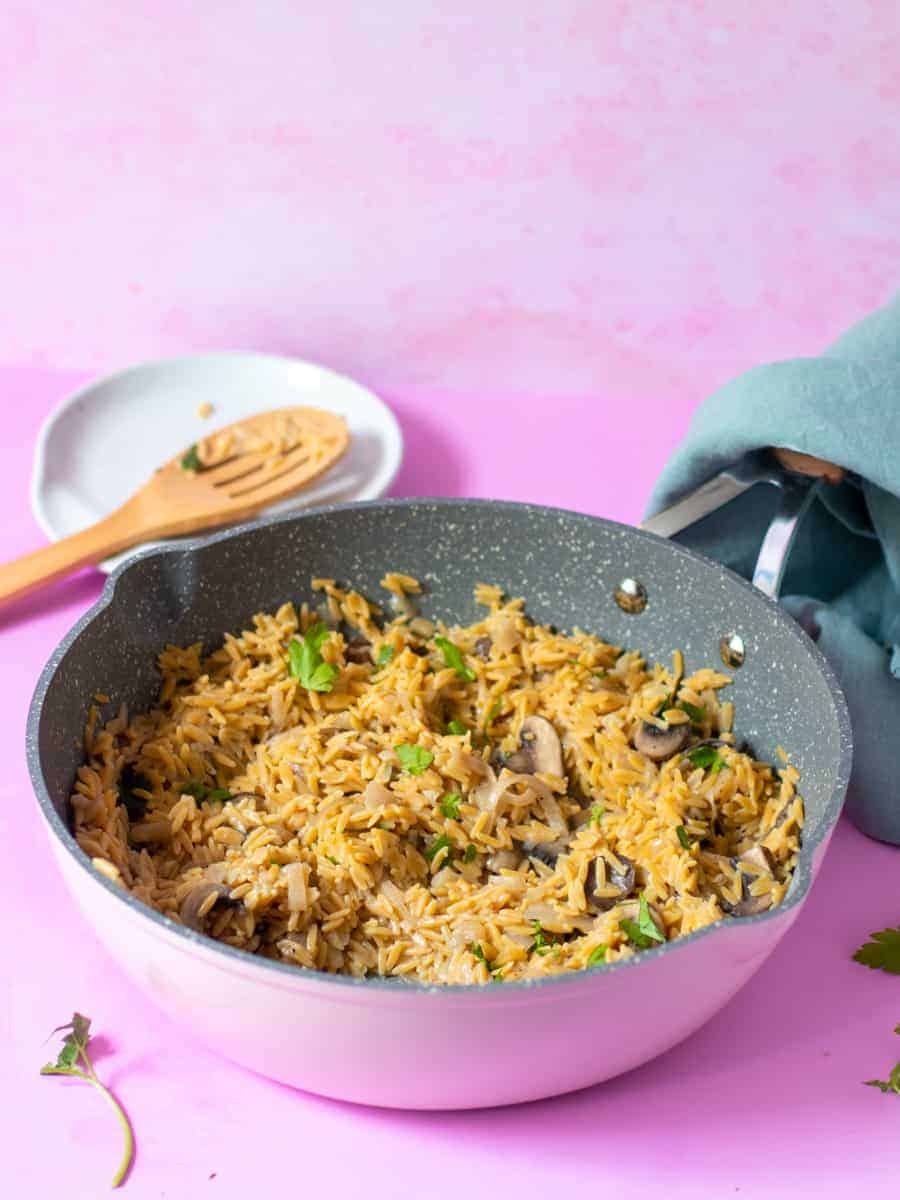 Although not traditionally gluten free, this Orzo recipe uses a delicious gluten free orzo option that pairs perfectly with sautéed onions & mushrooms for the perfect side dish!
Greek Chicken Meatballs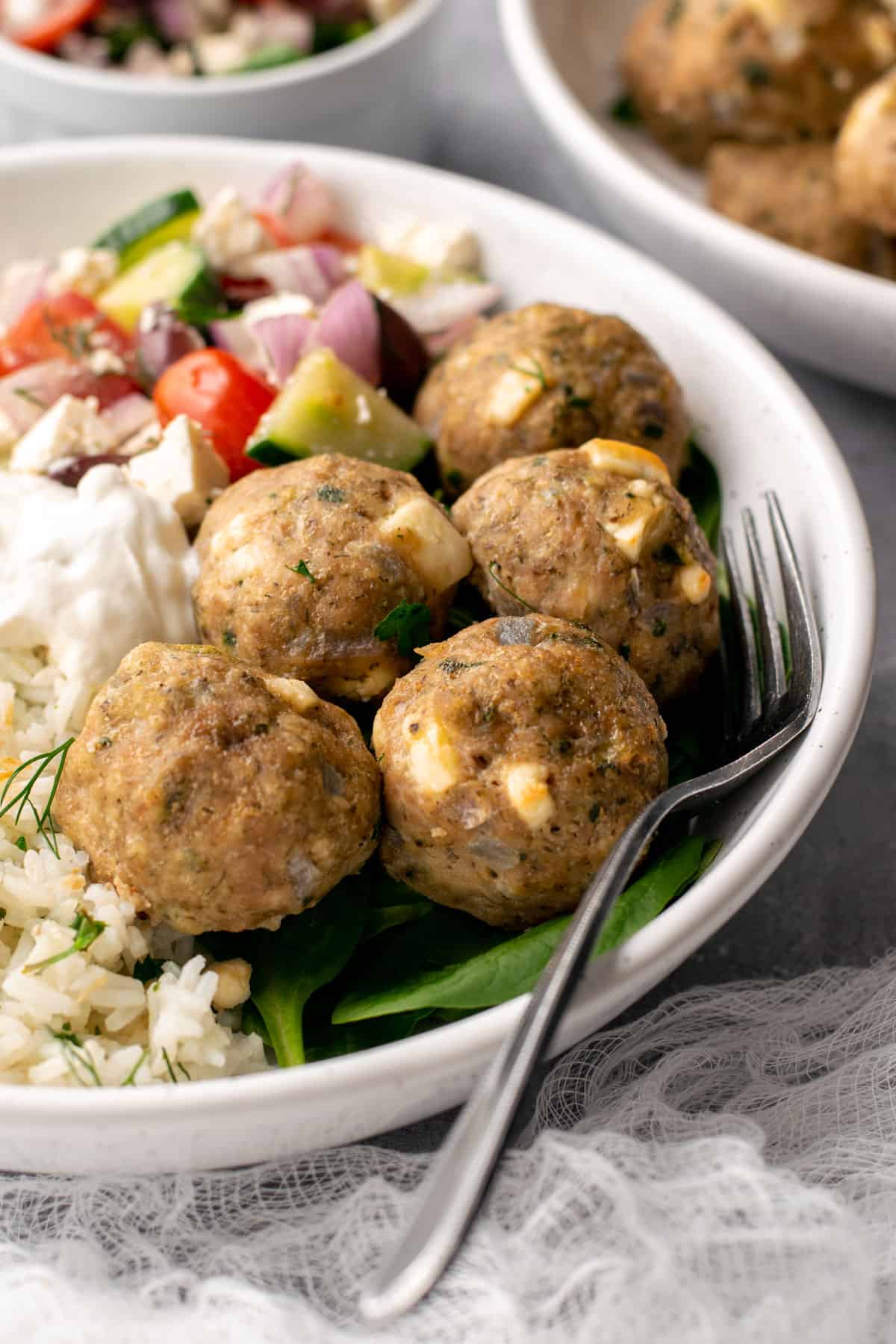 These healthy oven-baked Greek chicken meatballs are packed with flavour and take just 15 minutes to throw together. They are made with whole ingredients and are gluten-free. The perfect protein for a homemade Greek meal!
Dutch Oven Red Wine Braised Pot Roast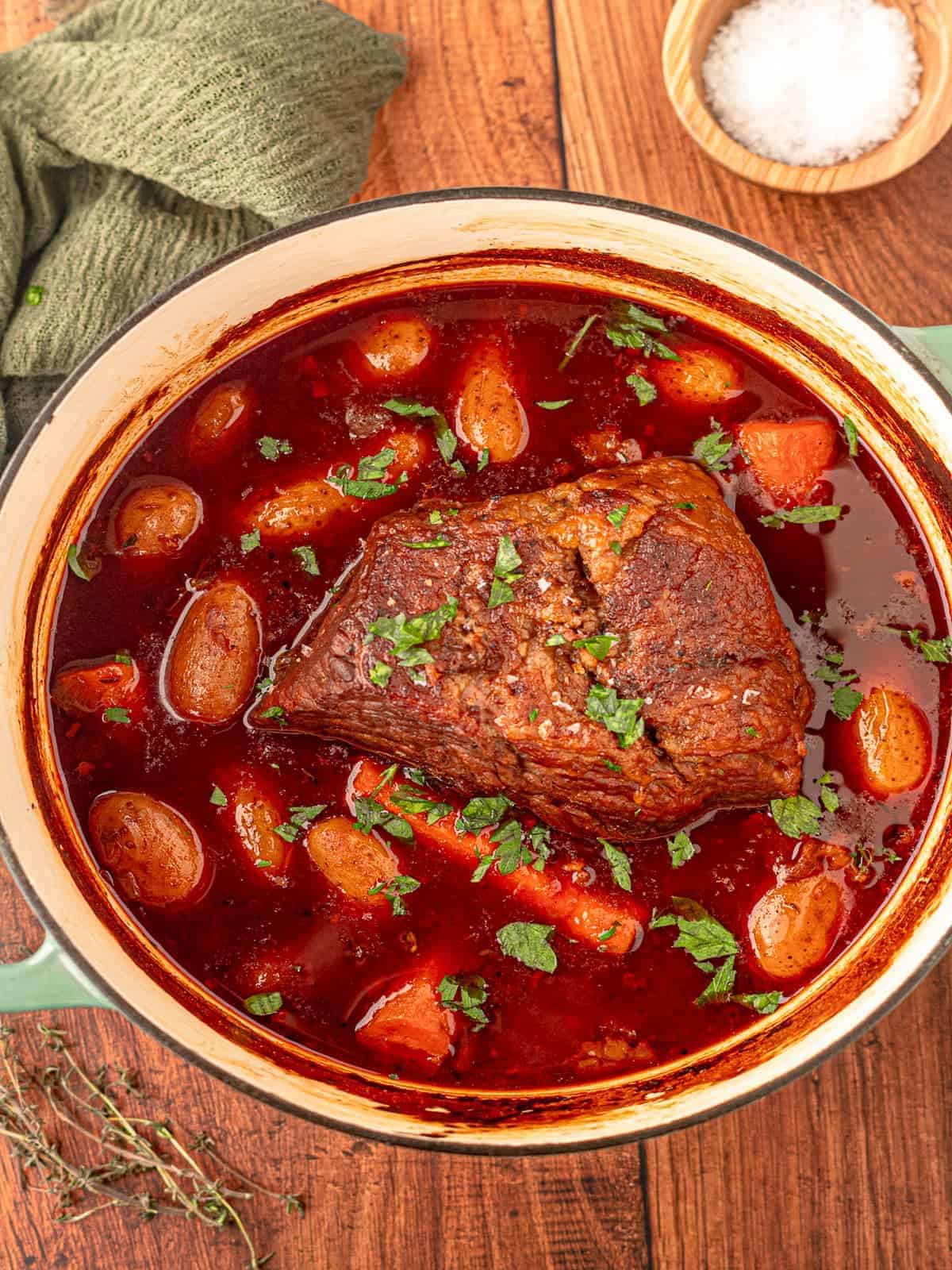 This Pot Roast recipe is braised in a delicious red wine sauce with potatoes and carrots. Seared on the stove then slow-roasted in the oven and simple to make, it's the perfect comfort food recipe for the whole family.
Ham and Cheese Frittata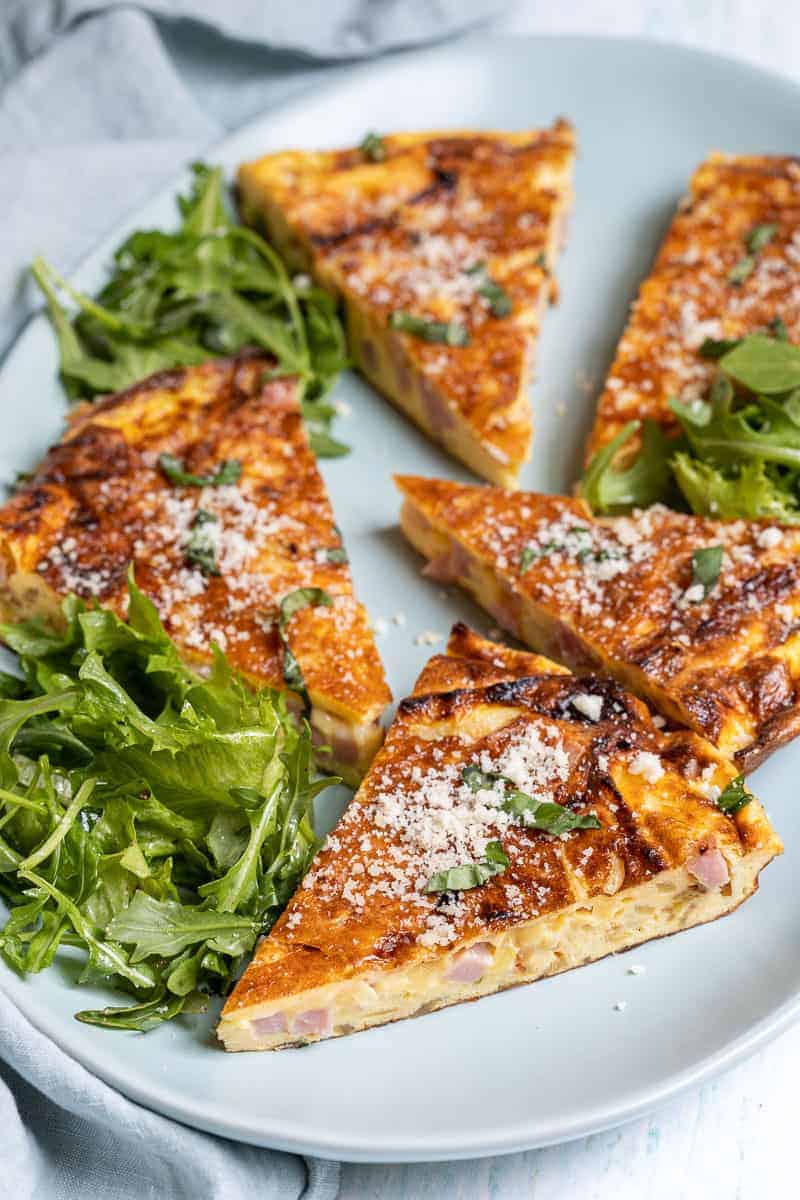 This Ham and Cheese Frittata features caramelized onions and melty gruyère cheese. Simple but delicious, and perfect for breakfast, brunch, or lunch.
French Onion and Beef Soup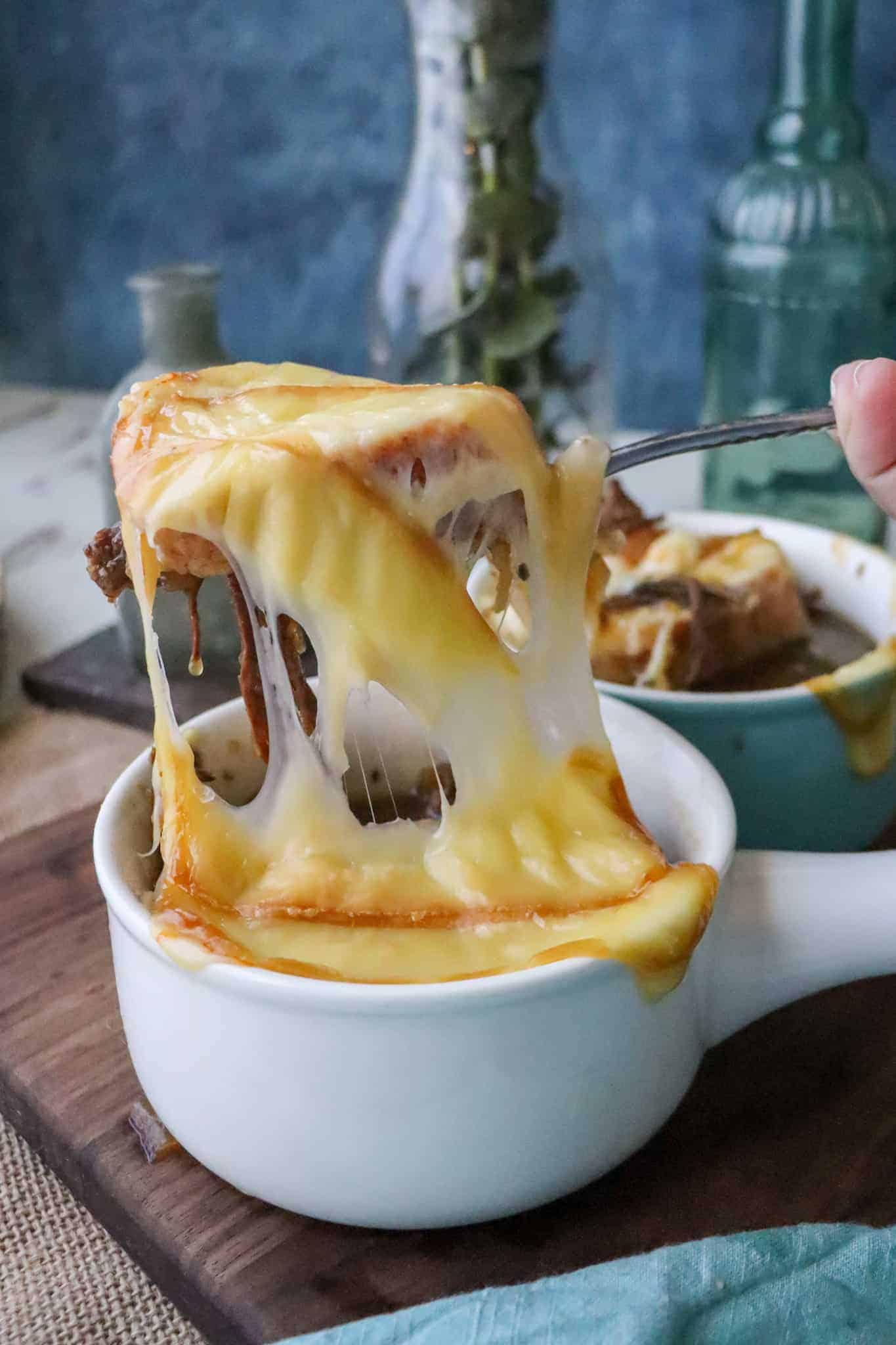 It's no secret that I love French onion soup and this beefy French onion soup is a step above the original. Adding tons of beef takes this appetizer into a full blown meal that is perfect for any chilly day.
Seekh Kebab Recipe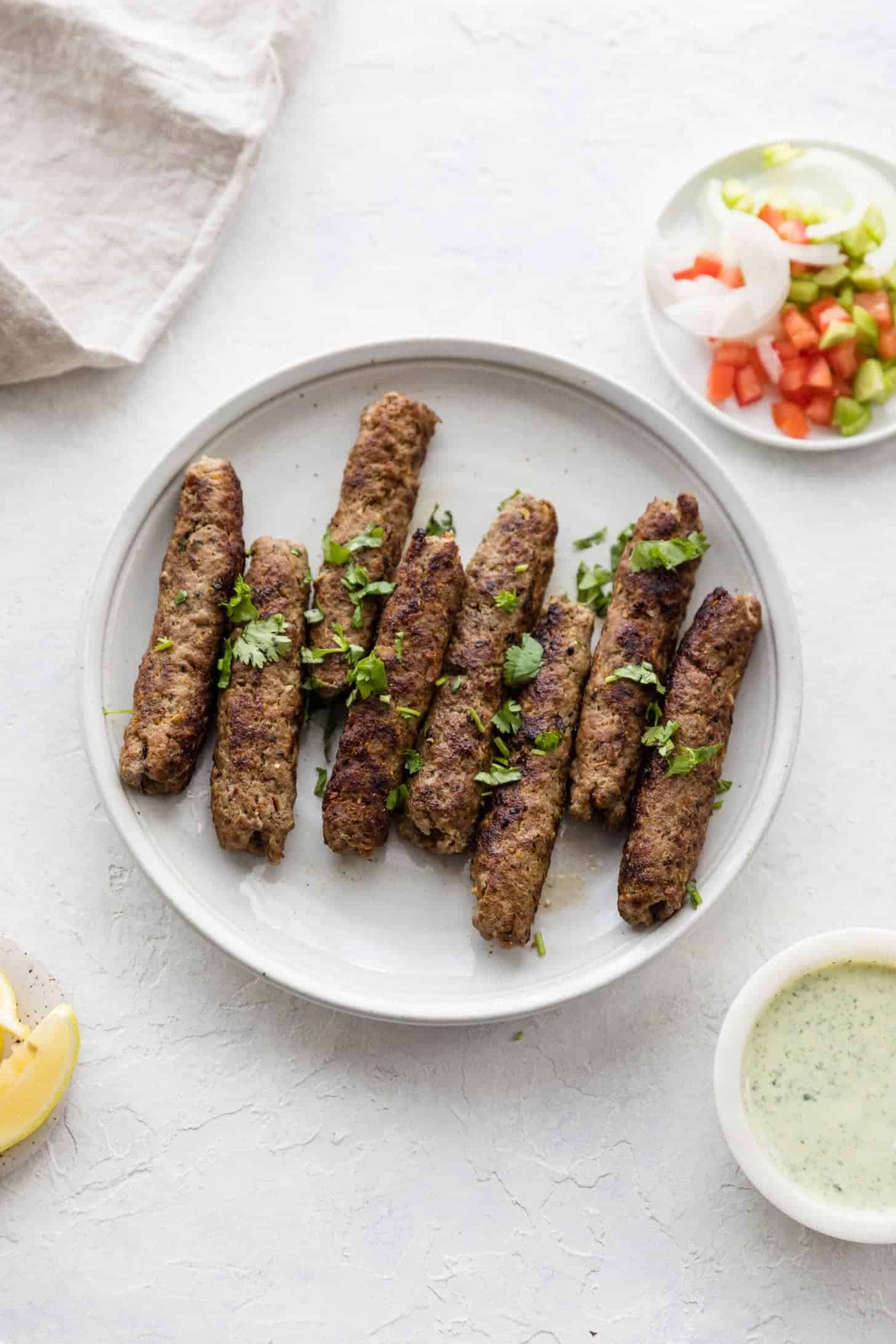 A simple, uncomplicated Seekh Kebab recipe made with ingredients you likely have on hand. This recipe includes tips on how to make flavorful, tender kebabs that don't break or fall off the skewers. Includes pan-frying, baking, and air-frying instructions.