How long does an artichoke last in the fridge? If you are unsure about how to store fresh artichokes or whether your veggie is still edible, read on!
How Long Does Artichoke Last In The Fridge
When properly stored, whole fresh artichokes last in the fridge for up to seven days. Cooked artichokes last five days in the fridge with proper storage.
Whether cooked or uncooked, storing artichokes in an airtight container or in a tightly sealed storage bag will retain the best quality. Keep the container in the coldest part of the refrigerator, preferably pressed toward the very back.
Canned artichokes from the grocery store that have been opened should also be transferred to airtight containers. When you refrigerate canned artichoke hearts in the fridge, they will stay fresh for up to four days.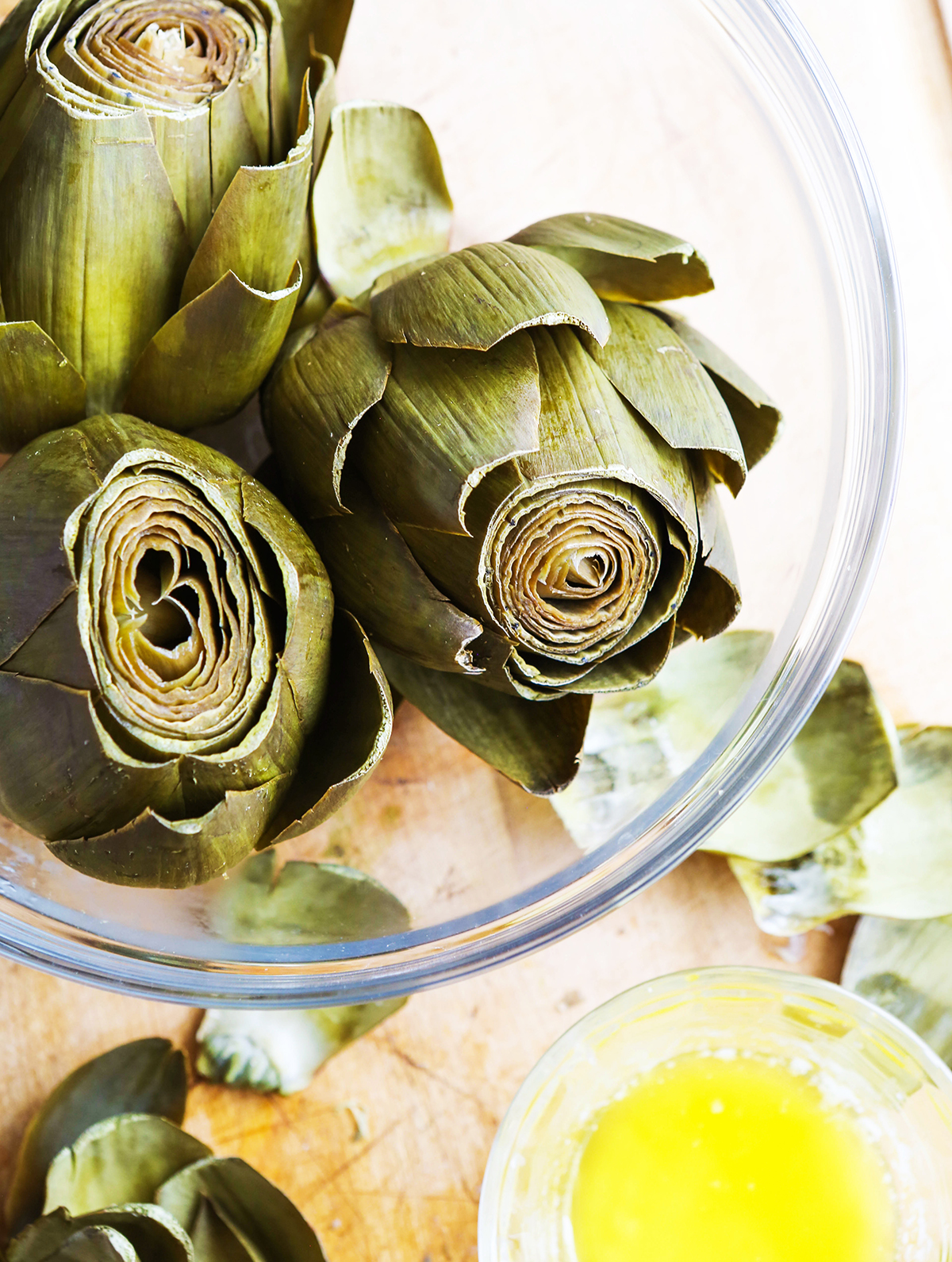 What To Do With Artichokes
First, learn how to cook and eat artichokes! In this tutorial you will learn how to cook them to perfection, use kitchen shears to remove the inedible part and get to those delicious hearts.
Steam them on the stove top by simmering in water over low heat for 30-40 minutes, or make steamed Instant Pot artichokes.
Throw them onto the grill for the perfect summer side dish.
Make an ooey-gooey and creamy spinach artichoke dip to bring to your next gathering.
Create chicken bacon artichoke dip for game day or as a delicious appetizer.
Make savory baked brie with sun-dried tomatoes and artichokes and serve with tortilla chips.
Once you've steamed them, removed the leaves and the fuzzy choke and uncovered the best part of the artichoke (the hearts!), serve as a side dish with melted butter.
Create antipasto skewers using artichoke hearts, salami, mushrooms and mozzarella.
Turn them into marinated artichoke hearts by mixing them together with zesty salad dressing or olive oil and herbs for up to 24 hours in the fridge in a covered glass container.
Toss them together with pasta, cheese and salmi to create the most delicious batch of pasta salad.
How To Tell If An Artichoke Is Ripe
There are a few things to keep an out for when determining whether or not an artichoke is ripe and ready to eat:
Color. A ripe artichoke has a rich and vibrant green color.
Sound. When lightly squeezed, a fresh artichoke sounds squeaky.
Size and heft. A ripe artichoke is typically large and plump, about the size of a grapefruit. It should also feel heavy in your hands, which is a sign that it is packed with moisture and a healthy heart.
Firmness. The outer leaves of a ripe artichoke will feel firm and tightly packed together.
How To Store Fresh Artichokes
There are a few things that can extend the shelf life of fresh artichokes. Here are a few of my best storage tips so yours will last as long as possible:
Trimming. Trim the artichoke stems down to about 1 inch in length. You will also want to remove any of the leaves that are discolored or tough.
Storage container. Place fresh artichokes in a sealed plastic bag and place in either a crisper drawer or push toward the back of the fridge, as it is the coldest part.
Refrigerate. Keep them refrigerated whenever possible, as this will extend the shelf life of artichokes.
Eat quickly. Prepare and enjoy artichokes as soon after they are harvested as possible for the best quality and flavor experience.
How To Tell If An Artichoke Is Bad
If you find yourself inspecting an artichoke while trying to decide whether or not it has been sitting in the refrigerator for too long, there are a few ways to tell if it is still edible!
Smell test. Give the artichoke a good sniff. Fresh artichokes have a strong bitter yet fresh scent. If you detect an off odor or a rotten smell, discard it immediately.
Note appearance. Artichokes that have leaves that have started to open or that have a brown or yellowish color are overripe. Another sign that it is past its prime is a rough texture or dull color. If you see signs of spoilage such as discoloration or visible mold, discard the green veggie immediately to avoid getting food poisoning.
Taste test. If steps one and two have passed the test, cook it using the method of your choice and taste test the deliciousness for yourself.
How To Freeze Artichokes
Raw artichokes should not be frozen. The texture of uncooked artichokes can become mushy once they have been thawed. When used as an ingredient in other recipes, artichokes can be frozen after cooking:
Cook artichokes using your preferred method. Once cooked, allow them cool to room temperature.
Either leave the whole artichoke intact with leaves or remove the leaves and slice the heart into smaller portions (or leave whole).
Arrange artichoke pieces on a baking sheet in a single layer. Flash freeze for 30 minutes, or until partially frozen.
Transfer to a sealed container or heavy-duty freezer bags and freeze for up to 6 months for best results.
When you're ready to use them up, transfer the container to the fridge and allow to thaw overnight.
How To Reheat Artichokes
There are a variety of ways to reheat artichokes that have been in the fridge. Here are a few of the easiest ways:
Steam. Drop the artichokes into a pot of boiling water or a steamer basket along with a bay leaf and a small amount of lemon juice. Turn heat to medium-low, cover and steam for 5 minutes, or until heated through.
Microwave. An easy way to reheat them is to place artichokes on a microwave-safe dish and cover with a damp paper towel or lid. Microwave on high for 2 minutes, or until heated through.
Oven. Place in an oven-safe baking dish along with a little water and a bit of olive oil. Bake at 350 degrees F for 15 minutes, or until heated through.
Substitute for Artichoke Hearts
Artichokes have such a delicious and unique flavor, but if you are looking for a substitute for artichoke hearts we have some yummy options!
Can Dogs Eat Artichoke Hearts
Although artichokes are not toxic for dogs, they are not recommended for their consumption since they may cause gastrointestinal issues. The prickly outer edges of the leaves can also be a potential choking hazard.