Artichokes are such a mysterious yet delicious food. If you are looking for ideas about what to do with the succulent hearts, read on for 27 delicious recipes with artichokes as a main ingredient!
Recipes With Artichokes as a Main Ingredient
Hot dips – Toss those succulent hearts into a hot, cheesy dip such as this creamy artichoke dip. This green vegetable is delicious when swimming alongside a creamy cheese such as cream cheese, feta cheese, goat cheese and Parmesan cheese.
Salad – Combine artichoke hearts with spinach or other mixed greens and cooked shredded chicken for a perfect hearty salad.
Solo side dish – Steam, bake or grill whole artichokes or baby artichokes to create the perfect side dish. Serve with melted butter as a dipping sauce for both the tender inner leaves and hearts, and sprinkle with lemon juice for a burst of freshness. Stuffed artichokes are delicious, as well, either served as a side or an appetizer.
Vegetables – Some veggies pair well with other veggies and artichokes are no exception to this rule! Create a nutrient-dense vegetable side including red peppers, roasted garlic, avocados, green beans, tomatoes, fresh herbs and a pinch of salt.
Pasta – Any variety of cooked pasta tastes wonderful when artichoke hearts are included. Don't forget the pesto, cheese, extra virgin olive oil and fresh basil. Deliciously add them as an ingredient to create artichoke pasta salad for a flavor boost, as well.
Pizza – Top your favorite pizza crust with a white sauce, artichoke hearts and mozzarella cheese.
Bruschetta – Combine the hearts with oil, pesto and cheeses and spread over bread slices to create a simple yet super yummy finger food for parties.
Charcuterie board – Set out marinated artichoke hearts, various meats including salami and fresh cheeses for a delicious and convenient charcuterie board for your next dinner party.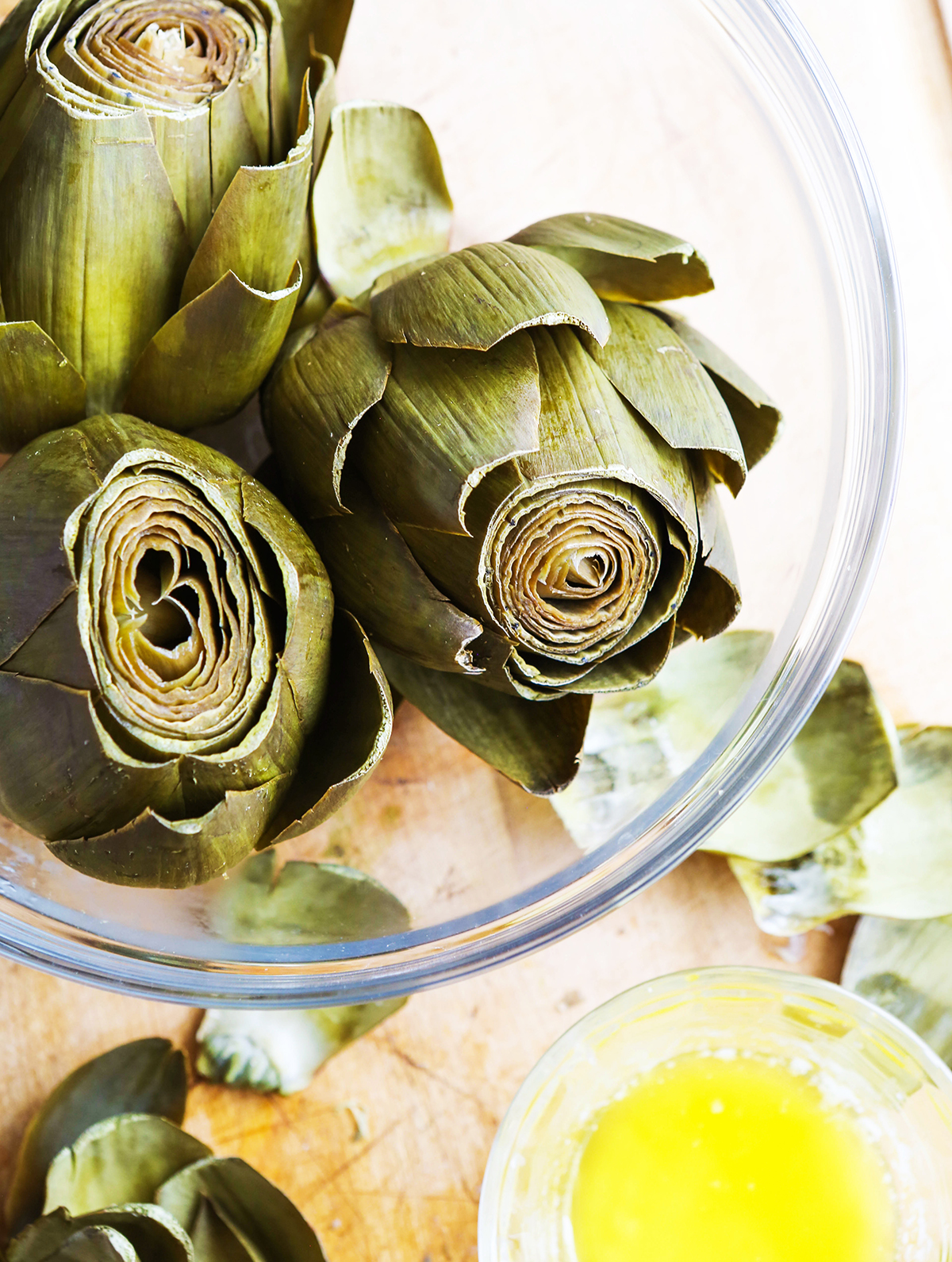 How Long Does An Artichoke Last In The Fridge
If you are unsure about how to store fresh artichokes or whether your veggie is still edible, read on!
Substitute for Artichoke Hearts
Artichokes have such a delicious and unique flavor, but if you are looking for a substitute for artichoke hearts we have some yummy options!
How To Store Fresh Artichokes
There are a few things that can extend the shelf life of fresh artichokes. Here are a few of my best storage tips so yours will last as long as possible:
Trimming. Trim the stem of the artichoke down to about 1 inch in length using kitchen scissors. You will also want to remove any of the leaves that are discolored or tough.
Storage container. Place fresh artichokes in a sealed plastic bag and place in either a crisper drawer or push toward the back of the fridge, as it is the coldest part.
Refrigerate. Keep them refrigerated whenever possible, as this will extend the shelf life of artichokes.
Timeframe. Prepare and enjoy artichokes as soon after they are purchased or harvested as possible for the best quality and flavor experience.
How To Eat Artichokes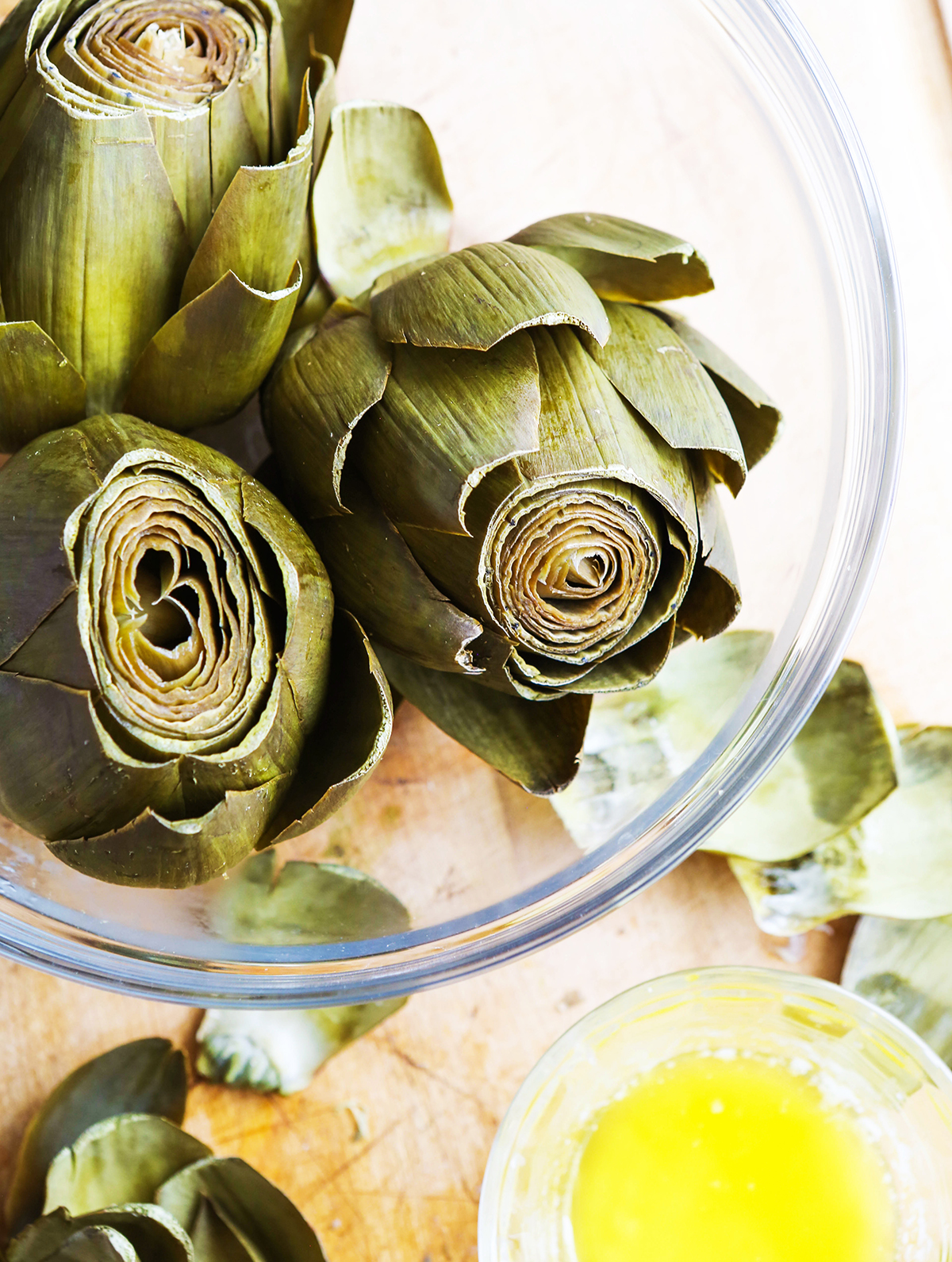 Learn the easiest way to cook artichokes (and eat them, too!). Learn a few simple tips about how to get past the intimidating outer leaves and fuzzy choke and get to the inside of the artichoke. Don't let this green veggie intimidate you! Artichokes are easy to prepare and beyond delicious.
How To Cook Artichokes in a Pressure Cooker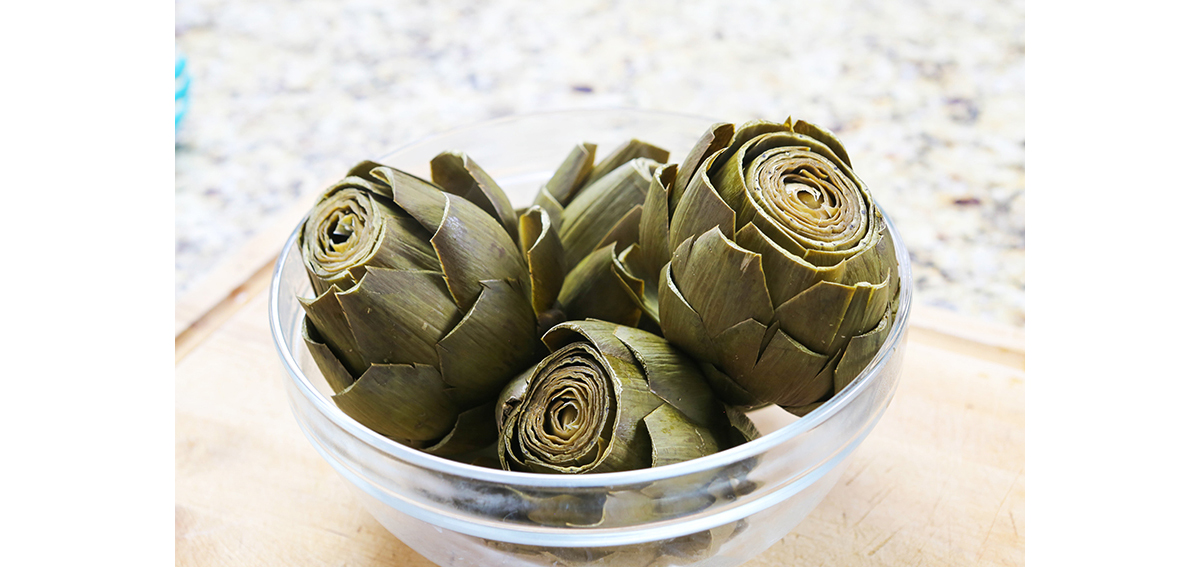 Fresh artichokes might look intimidating, but don't be shy! With little effort you'll get to the heart of the delicious vegetable.
White Lasagna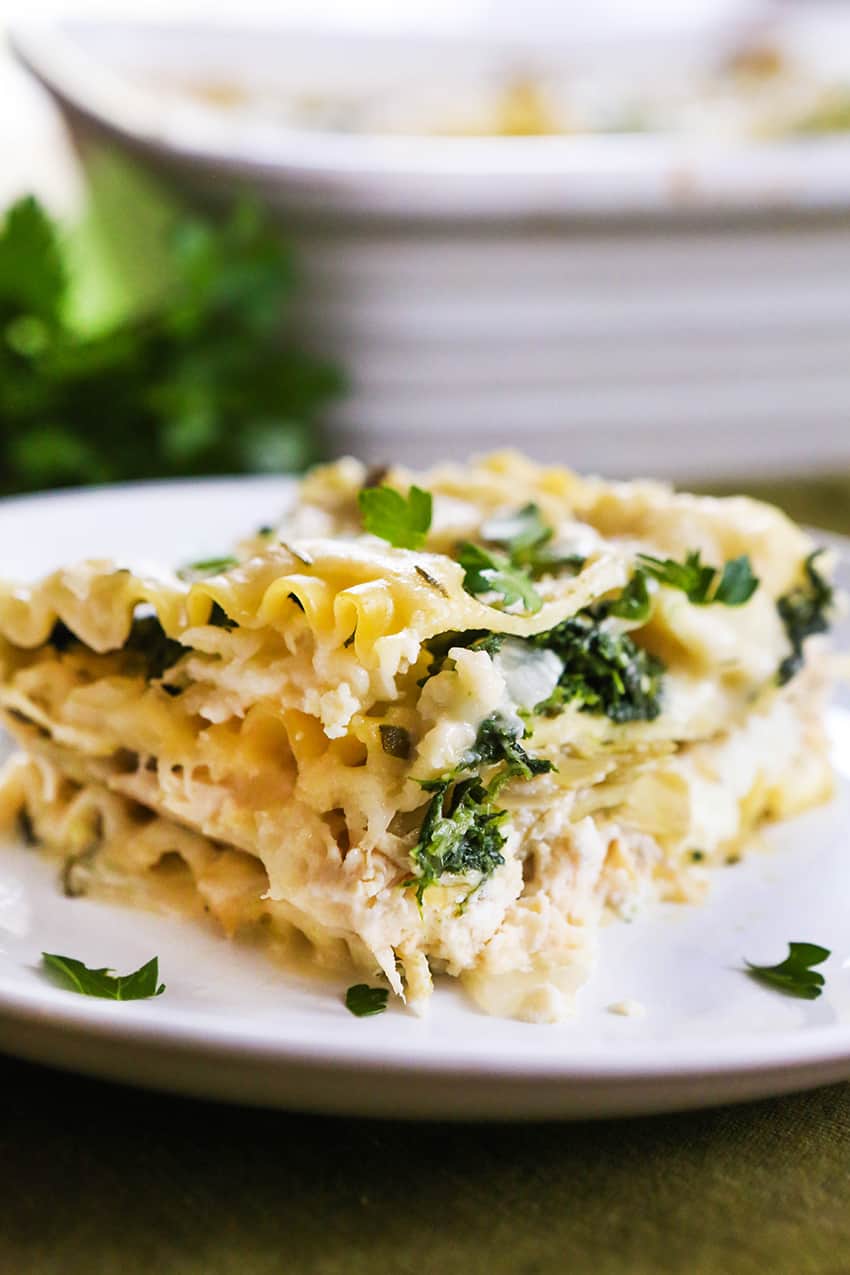 This white lasagna recipe contains layers of chicken, pasta, cheese and artichokes. A classic dish is transformed into a comforting and easy dinner!
Crockpot Spinach Artichoke Dip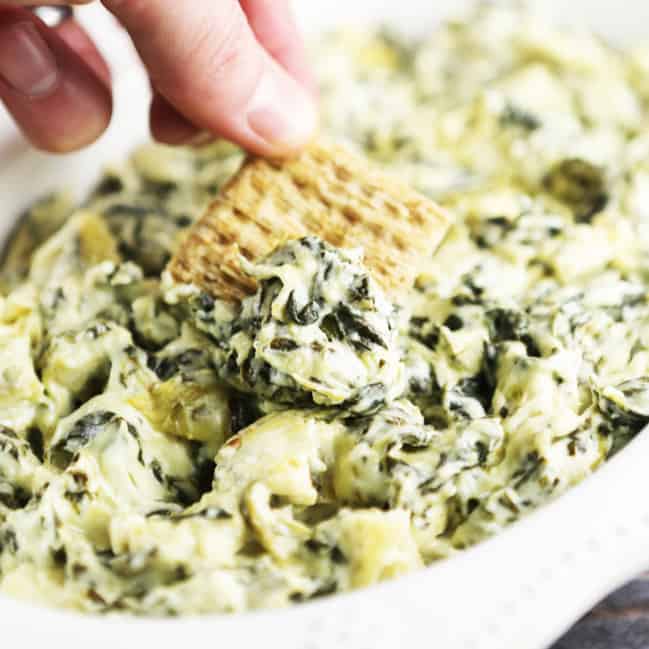 This crockpot spinach artichoke dip recipe is a party staple! Artichokes, spinach and cheese make the perfect appetizer. Let your slow cooker do the work for you!
Chicken Bacon Artichoke Dip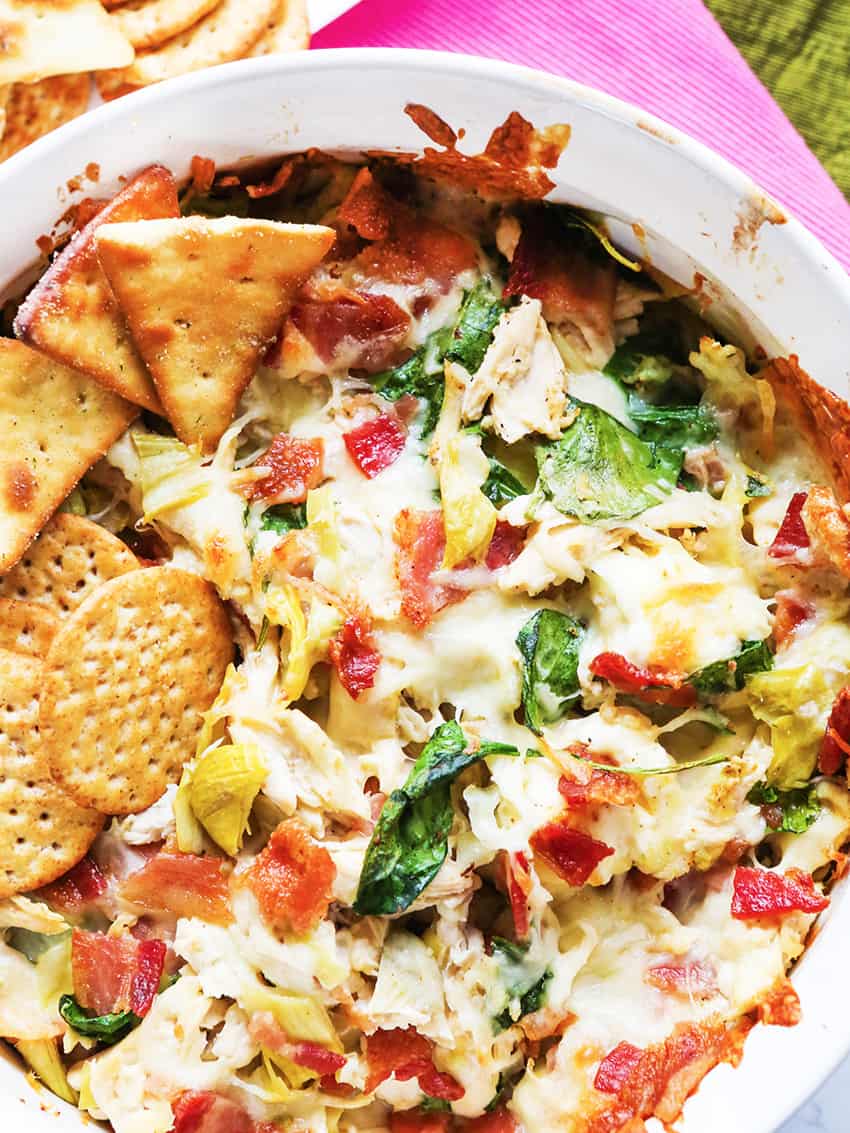 Loaded with bacon, chicken, artichokes and three types of cheese, you just cannot go wrong with an easy hot dip recipe like this one! This is such a good artichoke dip and it's such a great way to please guests for your next tailgate party.
Savory Baked Brie Recipe with Pesto, Artichokes and Sun-Dried Tomatoes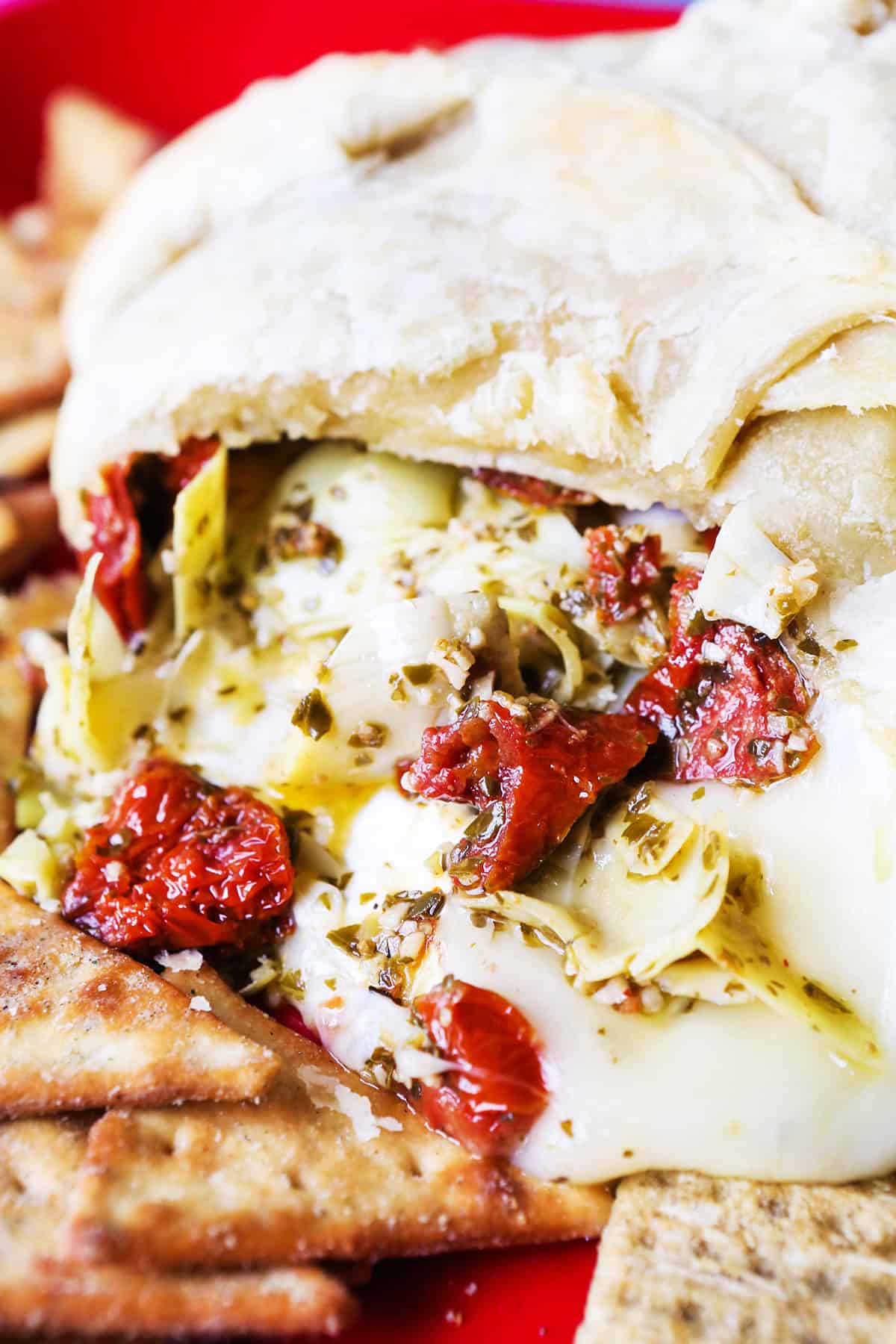 Savory Baked Brie is an ooey-gooey, savory and irresistible dip topped with a pesto-artichoke-tomato mixture and enclosed in a puff pastry sheet.
Antipasto Skewers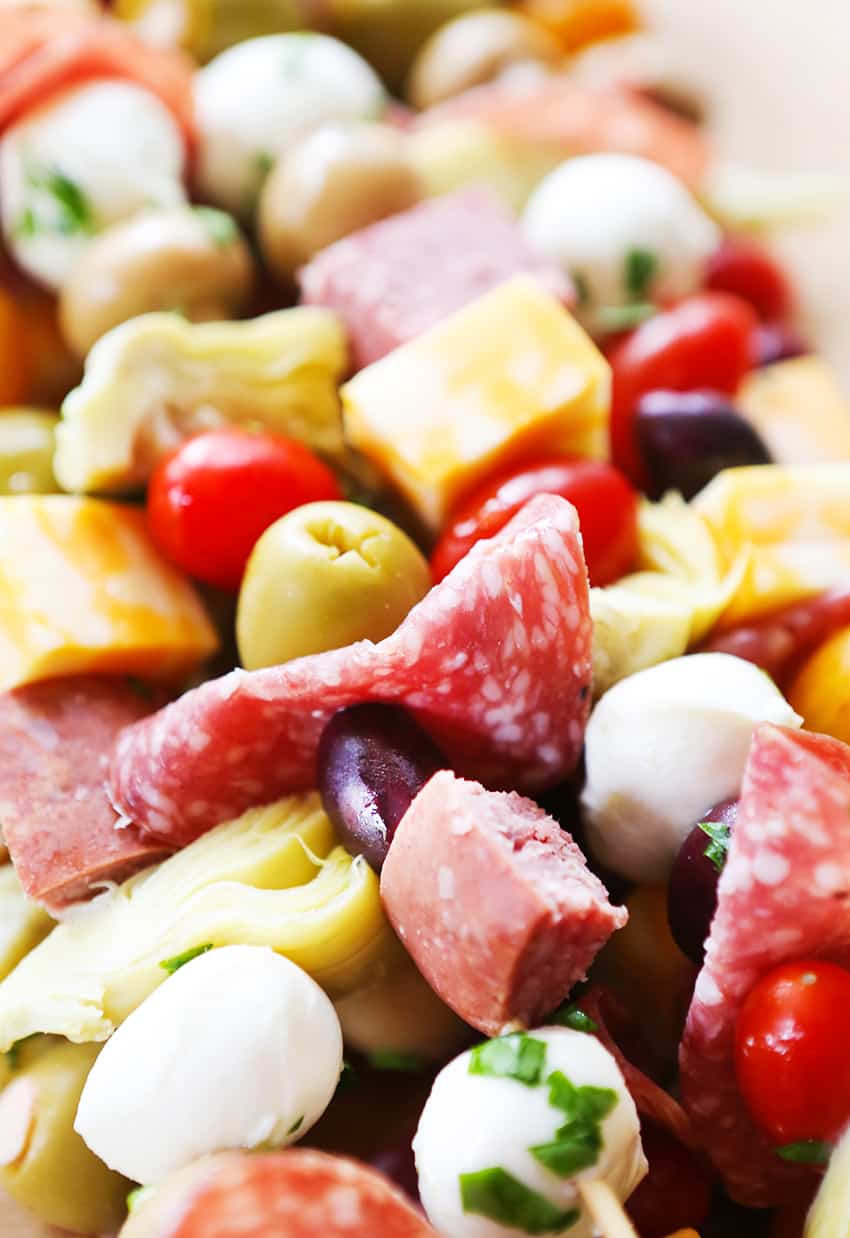 Turn Antipasto Salad into a delicious finger food! Add pieces of Italian meat or cheese can be threaded onto the skewers for a tasty snack. These Antipasto Skewers are easy to prepare and they're great as an appetizer or party food.
Baked Artichoke Hearts with Seasoned Breadcrumbs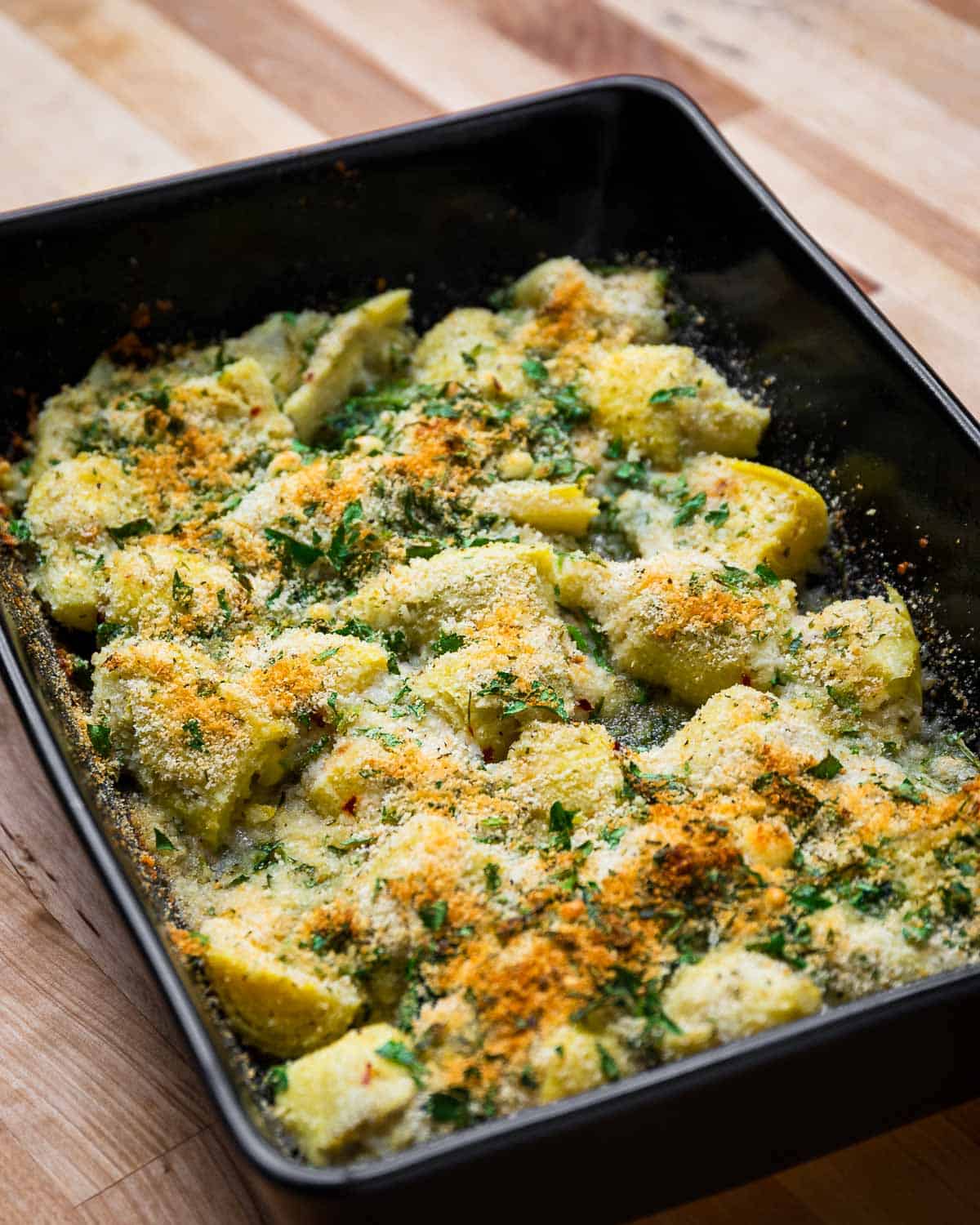 Baked artichoke hearts with seasoned breadcrumbs (with Sip and Feast) is the easy side dish I make when I'm craving stuffed artichokes but don't have the time to make them.
Canned artichoke hearts are topped with a mixture of white wine, garlic, lemon, parsley, and breadcrumbs and baked until golden. Best served alongside chicken, or pork, baked artichoke hearts also make a fantastic Thanksgiving side that everyone loves!
Grilled Pita Sandwich with Chicken, Cheese, Spinach and Artichoke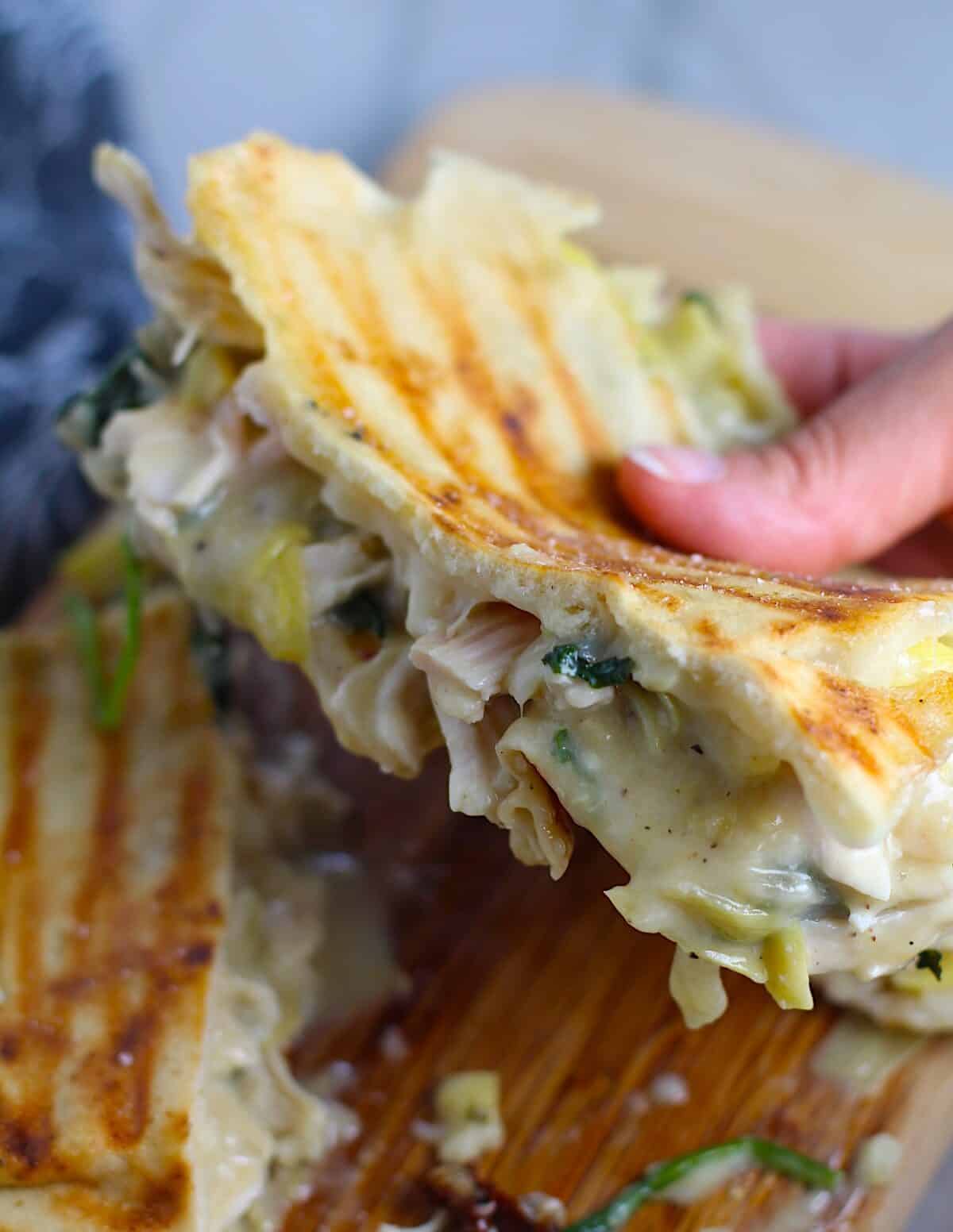 This crazy-Delicious Grilled Pita Sandwich Recipe with Chicken, Cheese, Spinach, and Artichoke (from Talking Meals) is a healthy, ooey-gooey-good, easy weeknight dinner!
Roasted Artichoke Recipe Stuffed with Garlic and Sage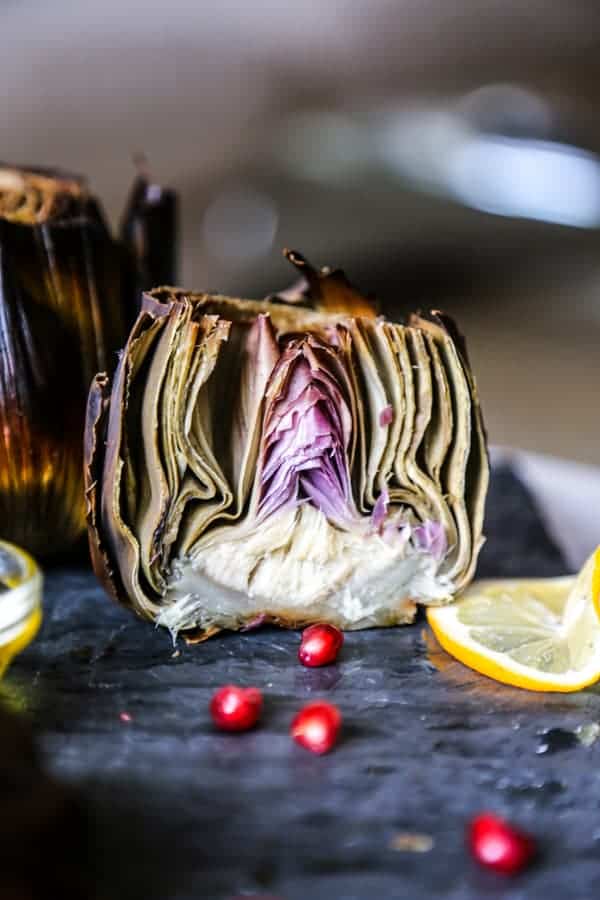 These Roasted Artichoke Recipe (from Eating Works) is just as addictive as it's easy to make. They only take five minutes to prep and are full of tangy and bright flavors. They're bound to become a family favorite.
Instant Pot Greek Chicken Thighs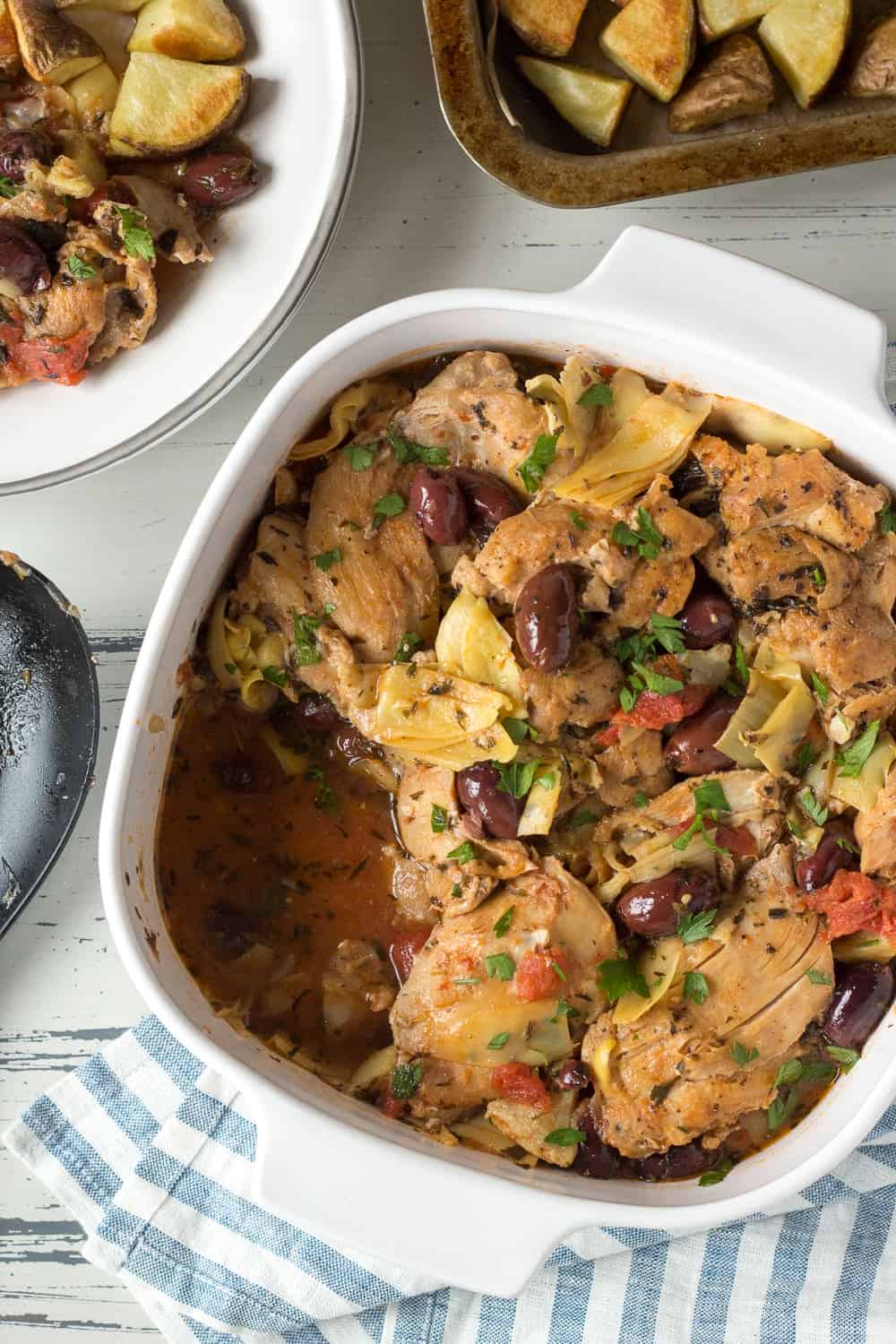 This Instant Pot Greek Chicken Thigh recipe (from Hot Pan Kitchen) is an easy and healthy dinner for a busy weeknight. Serve it with rice or potatoes, or keep it low carb and eat it on its own.
With flavorful seasoning and chicken that's cooked to perfection, it's a fantastic one pot meal! Gluten-free, paleo, and Whole30 compatible.
Easy Roasted Artichoke Hearts with Lemon-Garlic Aioli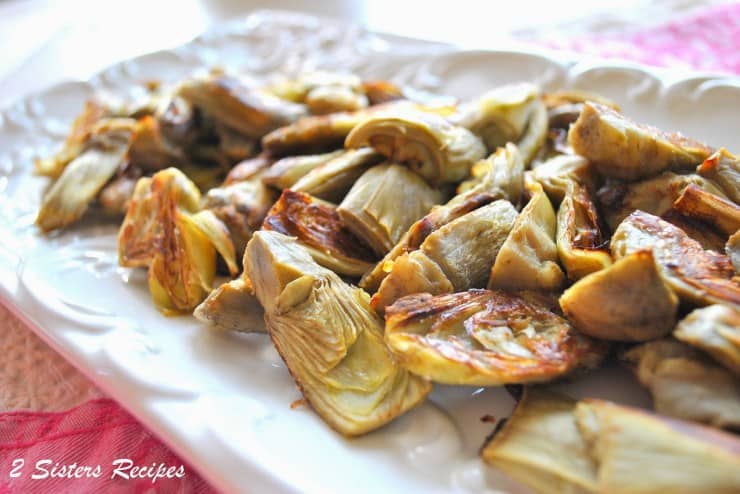 Frozen artichoke hearts are defrosted and roasted with 2 simple ingredients. Then they are served with an easy lemon-garlic aioli that is flavorful and fun for dipping!
These artichoke hearts (from 2 Sisters Recipes) make the perfect snack or appetizer while dinner is getting ready! Healthy, delicious, and require no prep work at all!
Braised Lamb-Stuffed Artichoke Hearts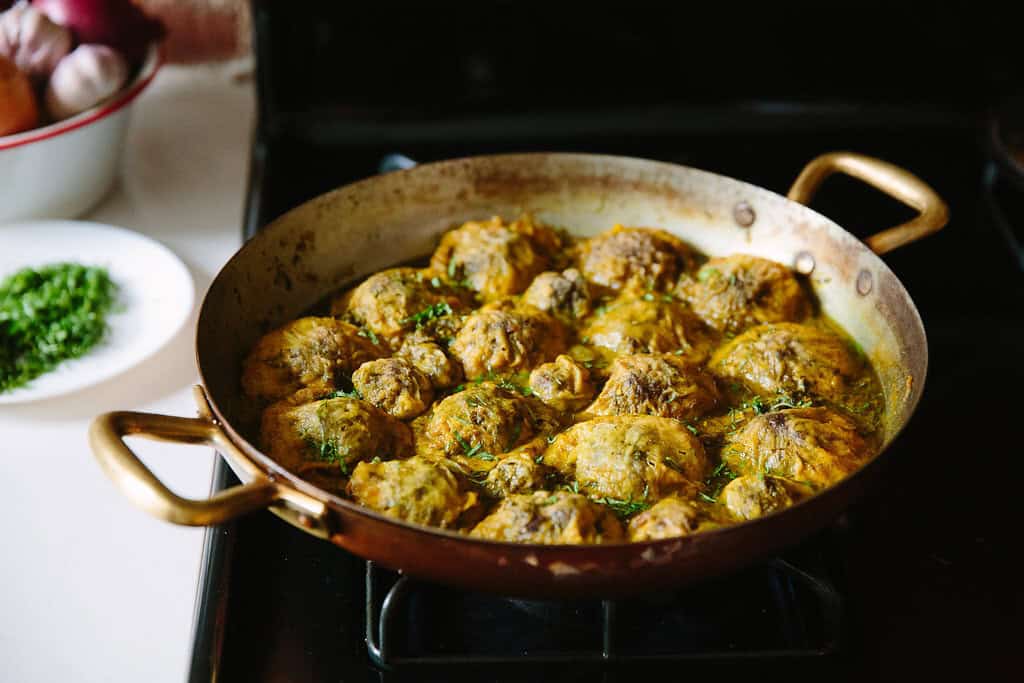 Use fresh artichokes or frozen artichokes, which are readily available at Middle Eastern markets; in either case, the reward is worth the effort with this unique, show-stopping dish blessed with exquisite flavor from the lamb, artichoke, baharat and slowly reduced braising liquid (from New York Shuk).
One Pan Spinach and Artichoke Orzo Bake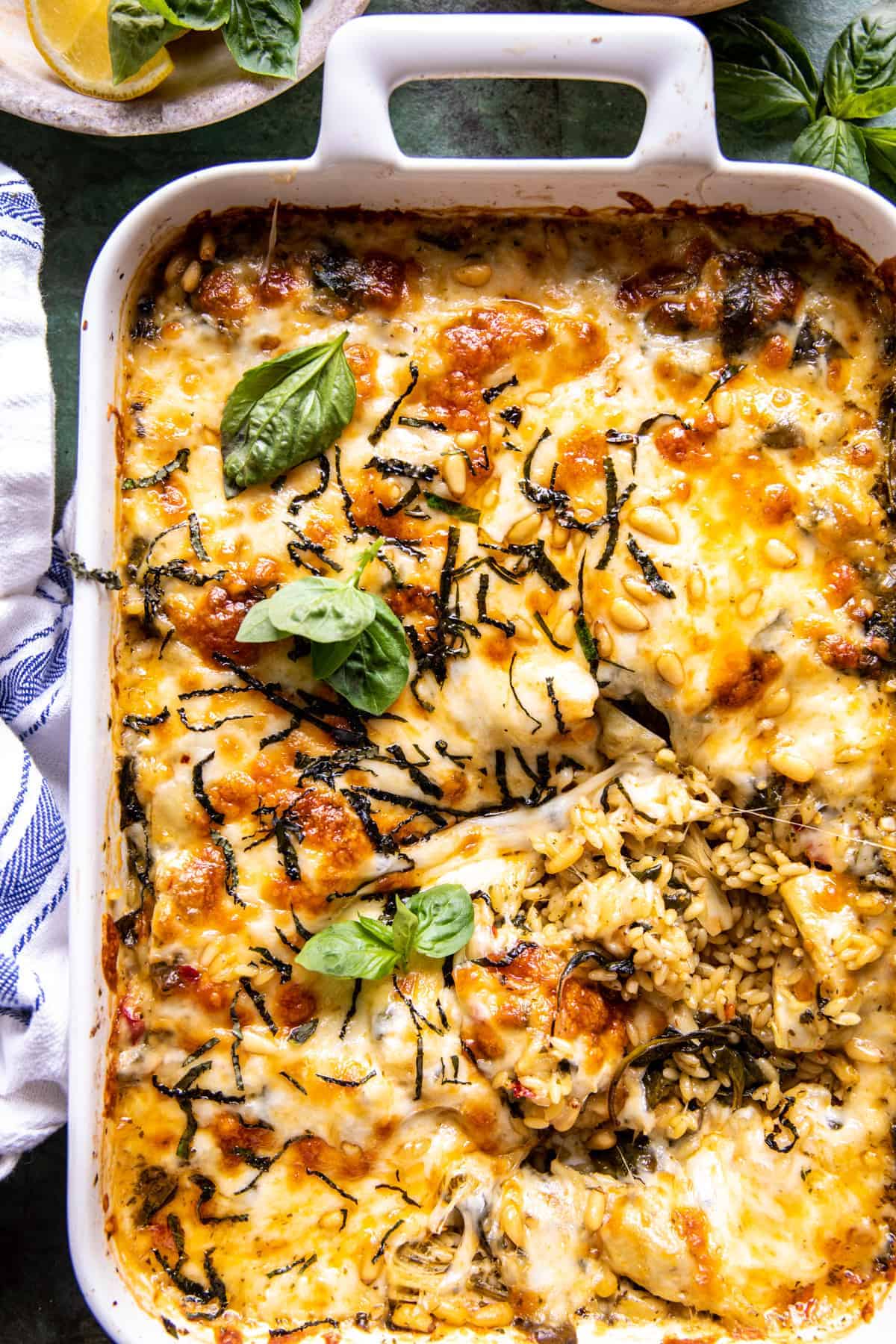 The Easiest One Pan Spinach and Artichoke Orzo Bake (from Half-Baked Harvest). Trust me, this is going to become your new go-to for busy nights. Marinated artichokes with fresh spinach, garlic, and olive oil, all tossed together with dry orzo pasta, basil pesto, and then finished with melty fontina cheese.
This tasty dish is all made in one pan without even having to boil any water. Simply mix, bake, eat, and enjoy!
Italian Stuffed Artichokes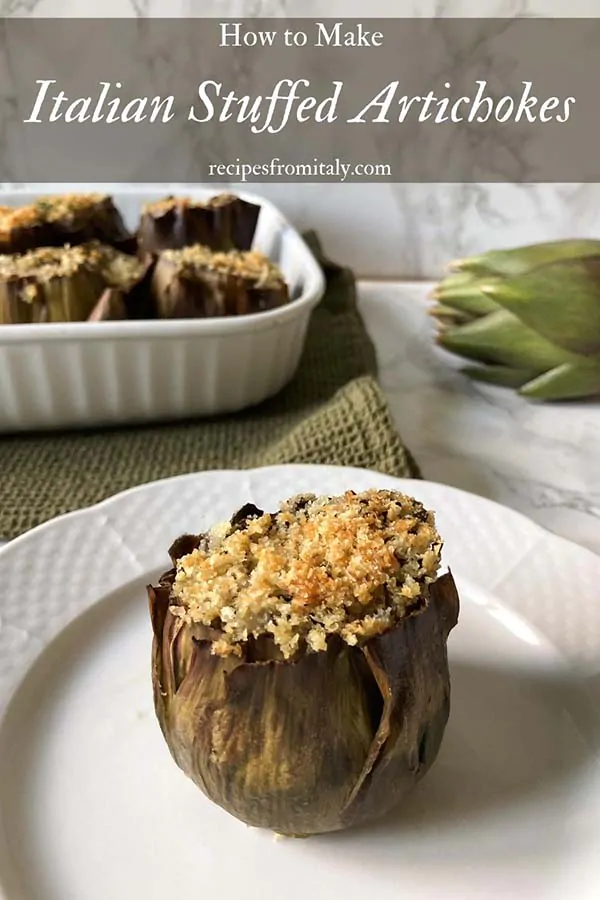 Italian Stuffed Artichokes (from Recipes from Italy is one of those easy artichoke recipes that is made with super simple ingredients. They are perfect as an appetizer or as a side dish.
Artichoke Hearts and Mushrooms over Rice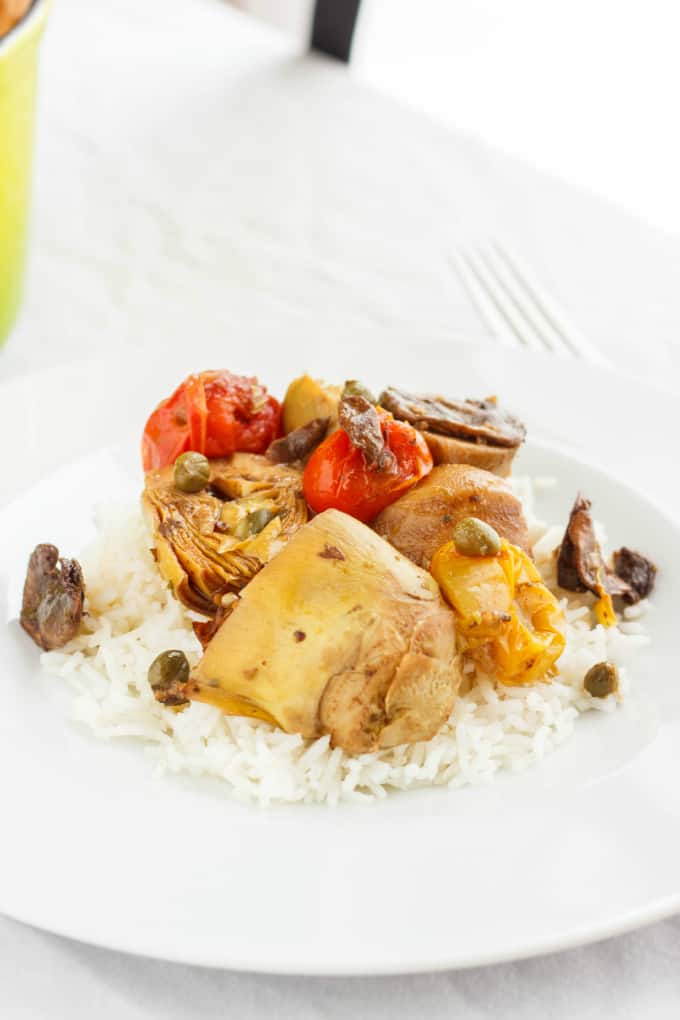 Technically this meal began as artichoke heart chicken (from The Cookie Writer), but seeing as I do not eat meat, I have had to get creative. My husband is the one who introduced this meal to me.
He would create the dish exactly, leaving out the chicken. I loved it! Heck, I think I was eating it once a week! But I felt it needed more filler. Then Mr. TCW brought up the idea of mushrooms and I have not gone back since!
Lemon Garlic Roasted Artichokes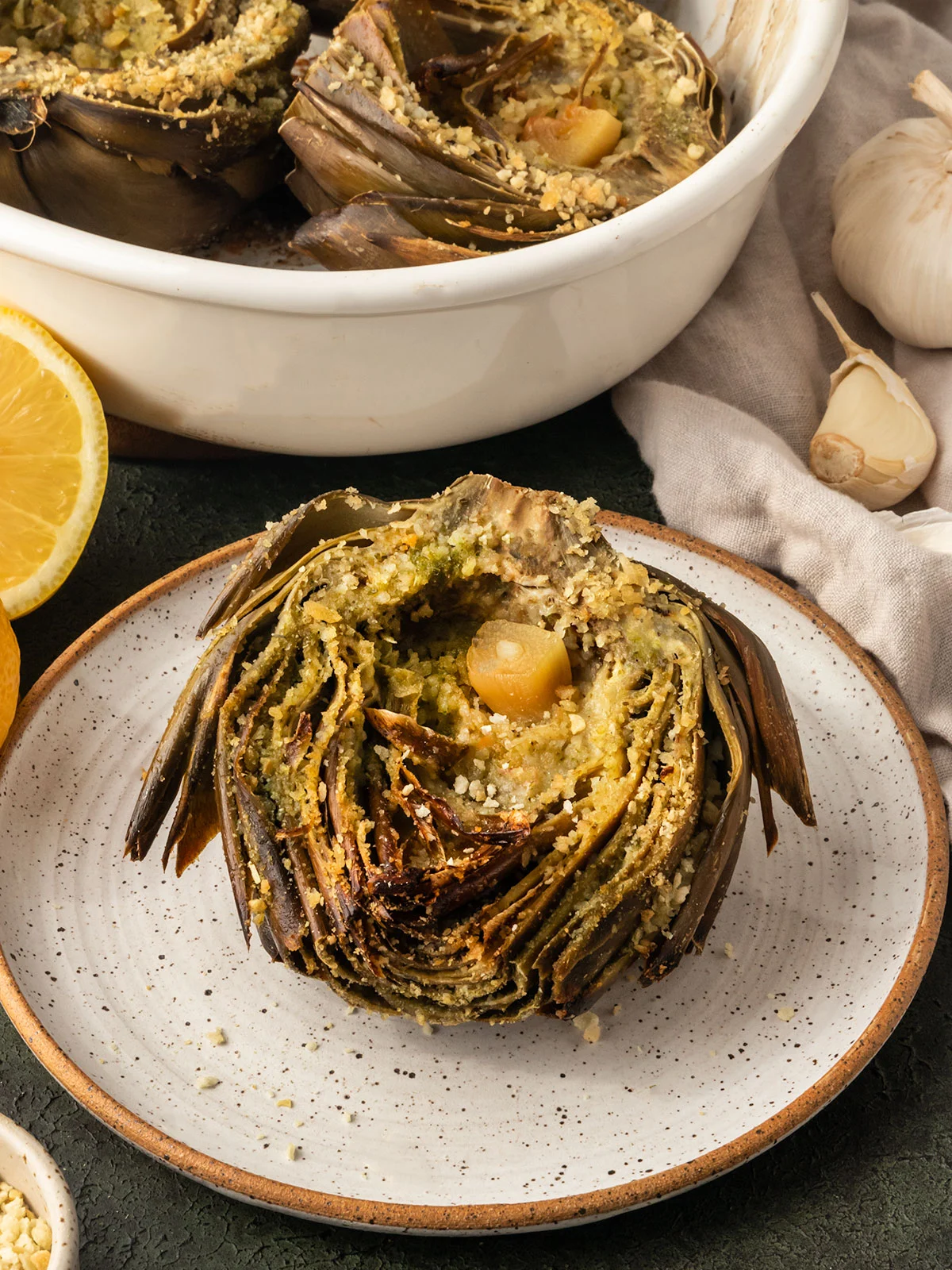 If you've ever wondered how to cook an artichoke, then you must make these Lemon Garlic Roasted Artichokes (from Short Girl Tall Order)! With only 6 ingredients, these oven-roasted artichokes are truly the most flavorful way to cook artichokes!
Artichoke Hearts in White Wine Garlic and Lemon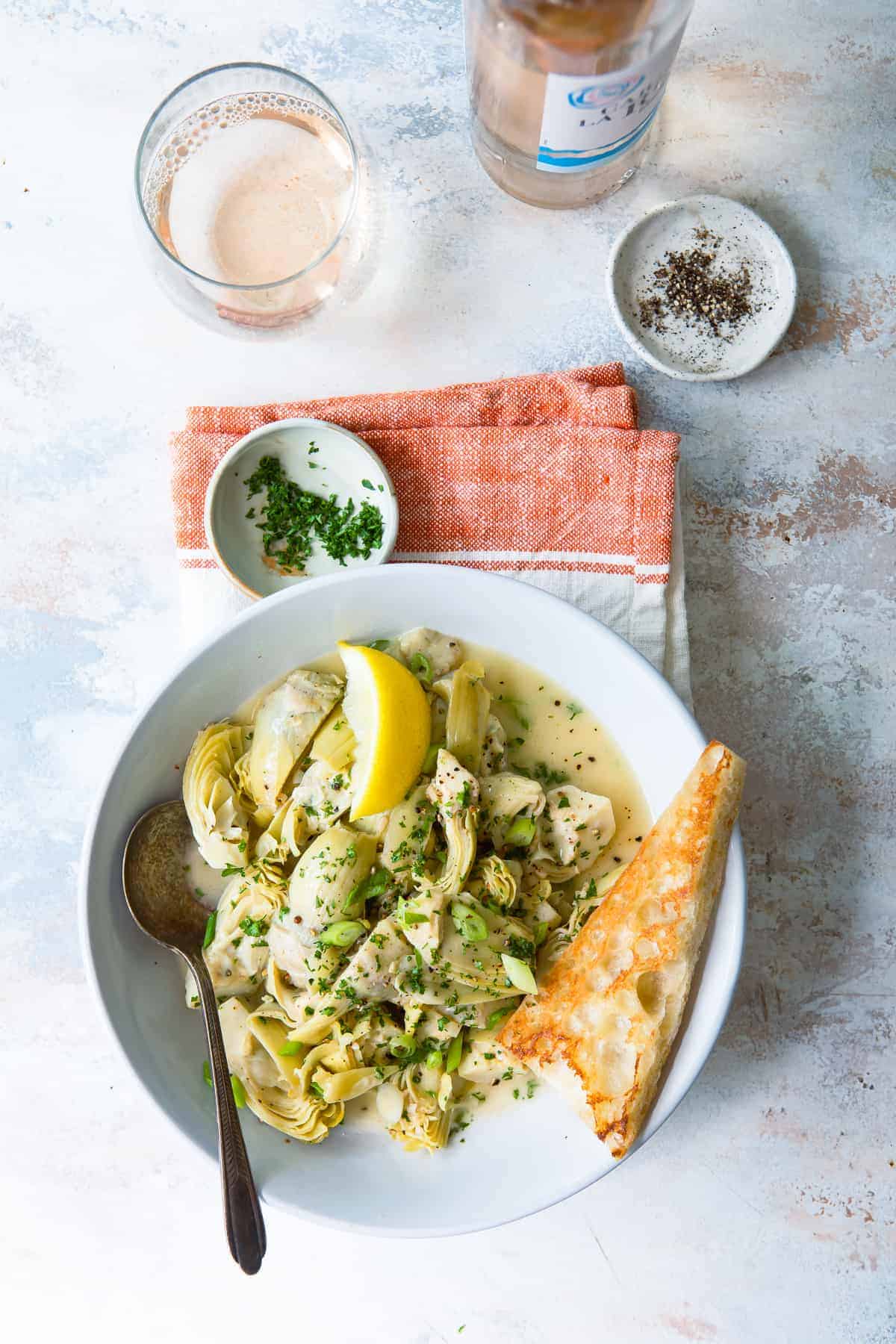 These artichoke hearts are crazy good cooked in a lemon and white wine butter sauce with tons of garlic (from Foodness Gracious)! This recipe makes a fantastic party appetizer or elegant side dish.
The Best Artichoke Casserole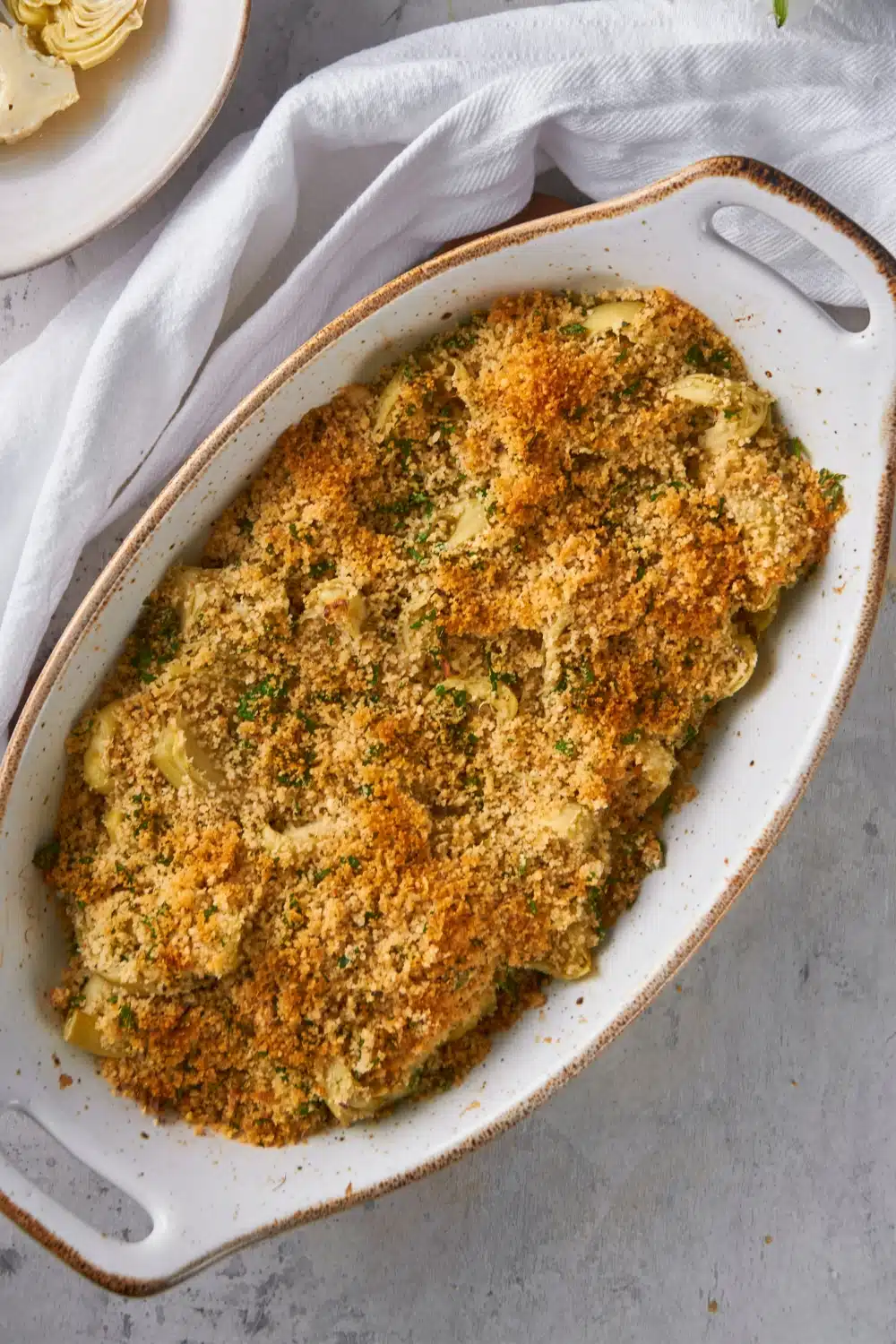 This artichoke casserole (from I'm Hungry For That) is absolutely delicious! It combines tender, flavorful artichokes with a cheesy parmesan breadcrumb mixture on top for a little crunch and a whole lot of flavor. It's just so delicious, but the best part about this casserole is that it takes just 5 minutes to prepare!
Oven Baked Paella with Artichoke Hearts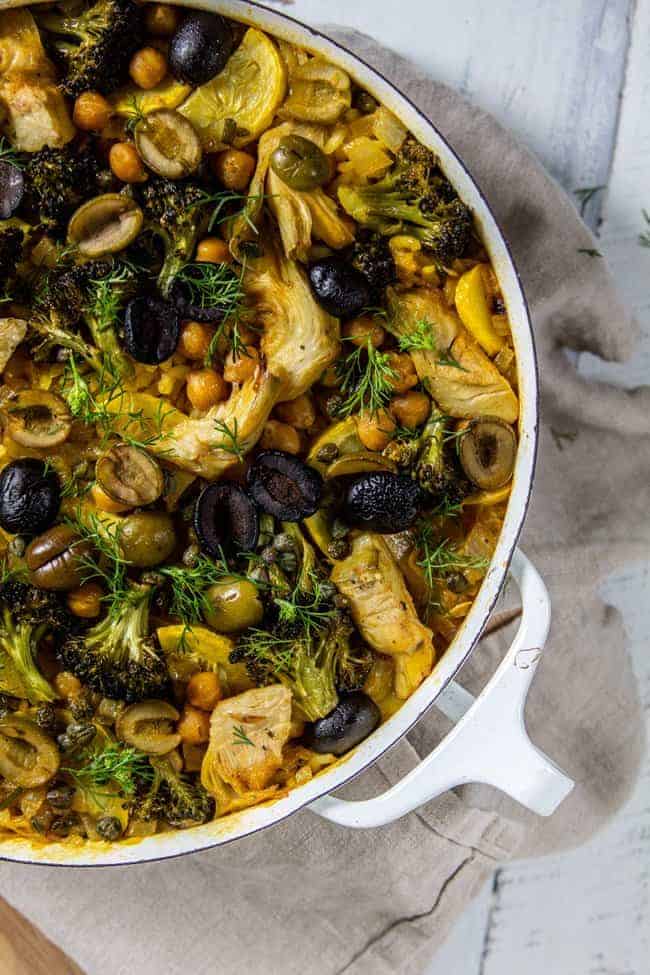 This simple Paella recipe (from This Mess Is Ours) comes together quick and easy! It's super customizable too meaning you can repurpose the bits and bobs in your crisper drawer and still be met with rave reviews at the same time.
Spinach Artichoke Crustless Quiche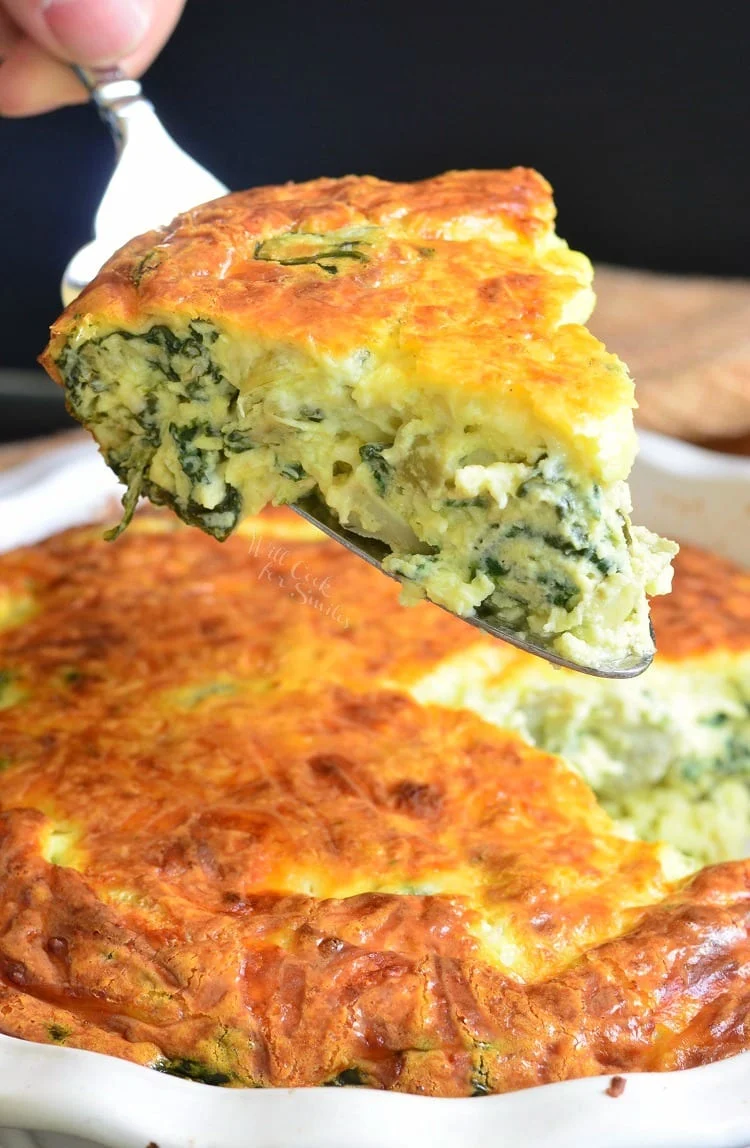 Soft and silky classic quiche made without a crust (from Will Cook for Smiles) and full of delicious flavors. This crustless quiche is made with fresh spinach, artichoke hearts and lots of cheese.
Artichoke Salad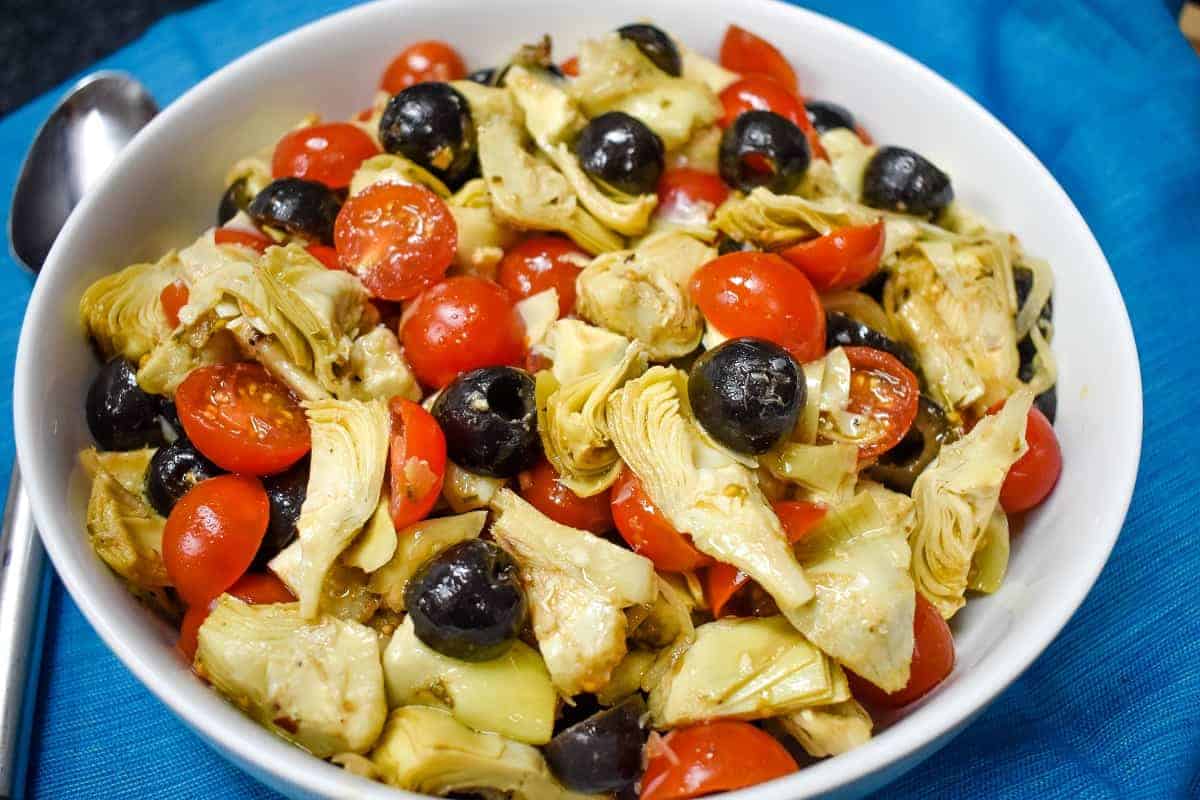 This artichoke salad (from Cook 2 Eat Well) is a simple and tasty side dish that's great for picnics, barbecues and potlucks. In this recipe, canned artichoke hearts are combined with black olives, grape tomatoes and sliced onions.
Then the salad is dressed with an easy-to-make dressing, made with olive oil, balsamic vinegar, garlic and spices. This is a beautiful, refreshing salad that's sure to be a hit at your next party.
Chickpea Brown Rice Spinach Artichoke Casserole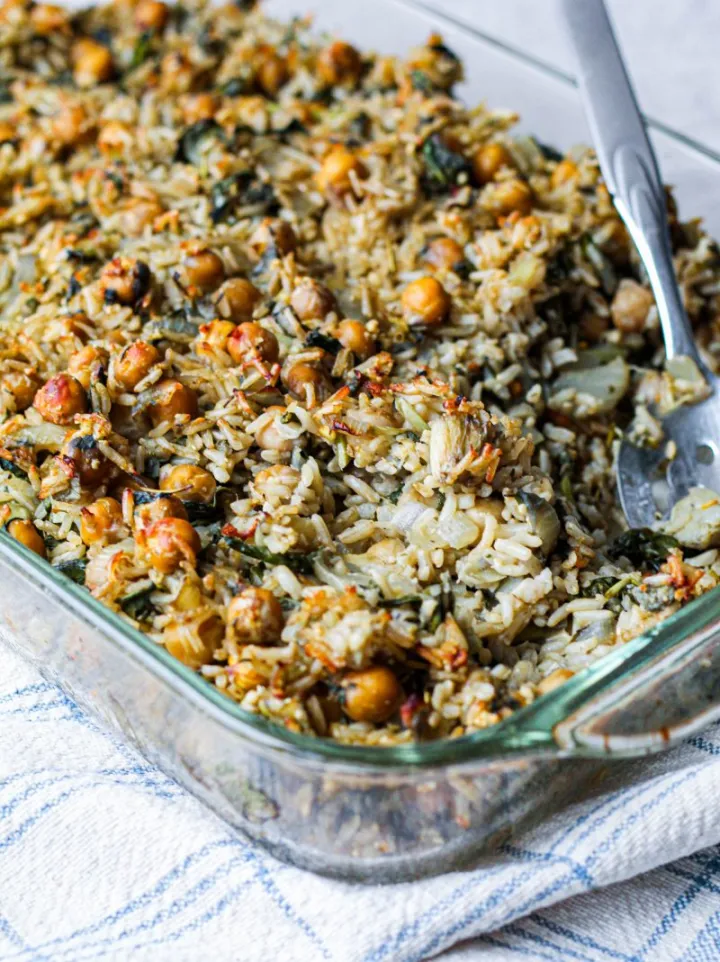 This vegan, gluten-free chickpea brown rice spinach artichoke casserole (from Up Beet Kitchen) incorporates the beloved spinach-artichoke combination into a grounding, nourishing vegan casserole that sticks to your ribs and is guaranteed to warm you right up.
Artichoke, Pesto and Brie Tarts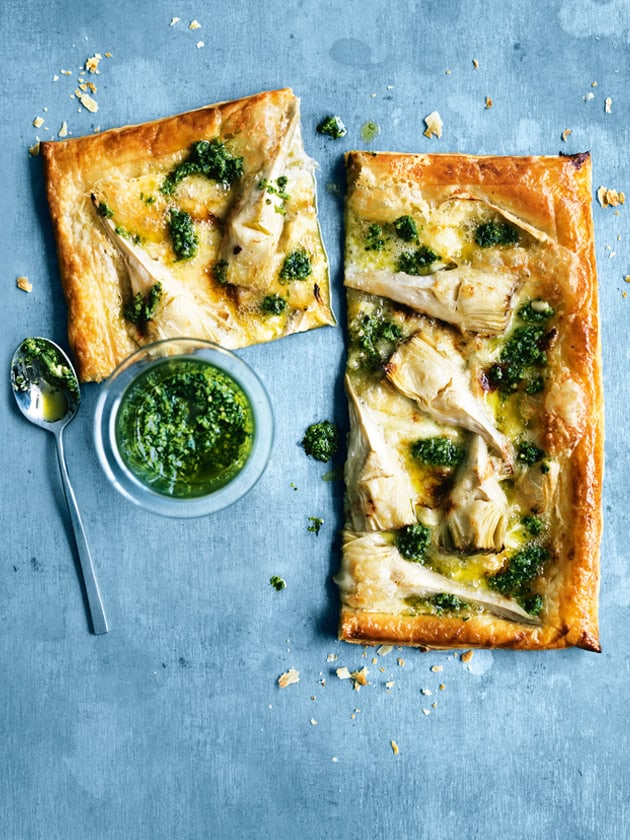 Artichokes, pesto and brie cheese baked on a puff pastry sheet to total perfection (from Donna Hay).
Lemon Artichoke Soup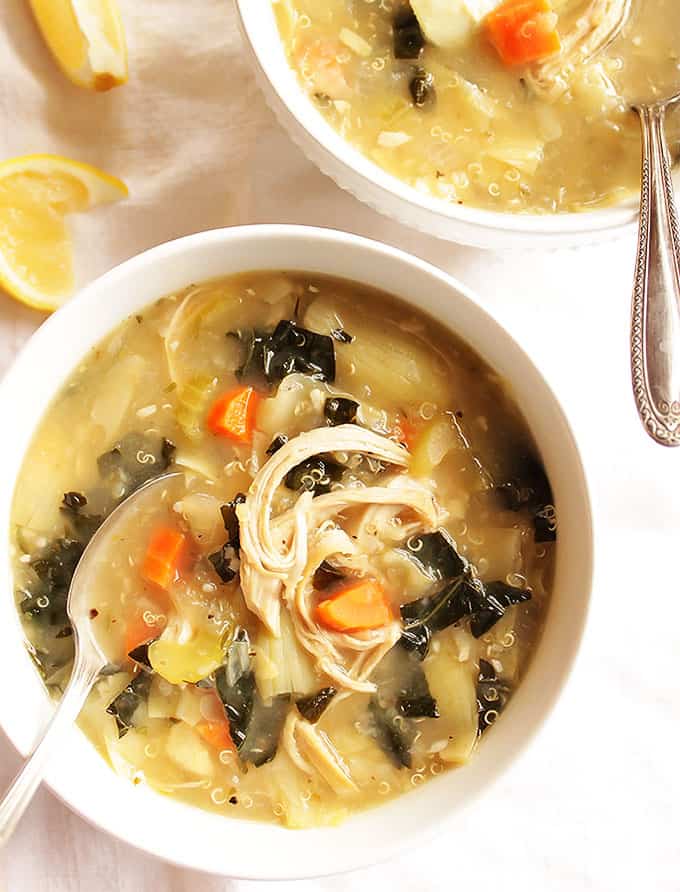 This Lemon Artichoke soup (from Robust Recipes) is easy to make, comes together in 35 minutes. It's light yet filling and packed with veggies. Great for cold rainy or snowy days.
Artichoke Bruscetta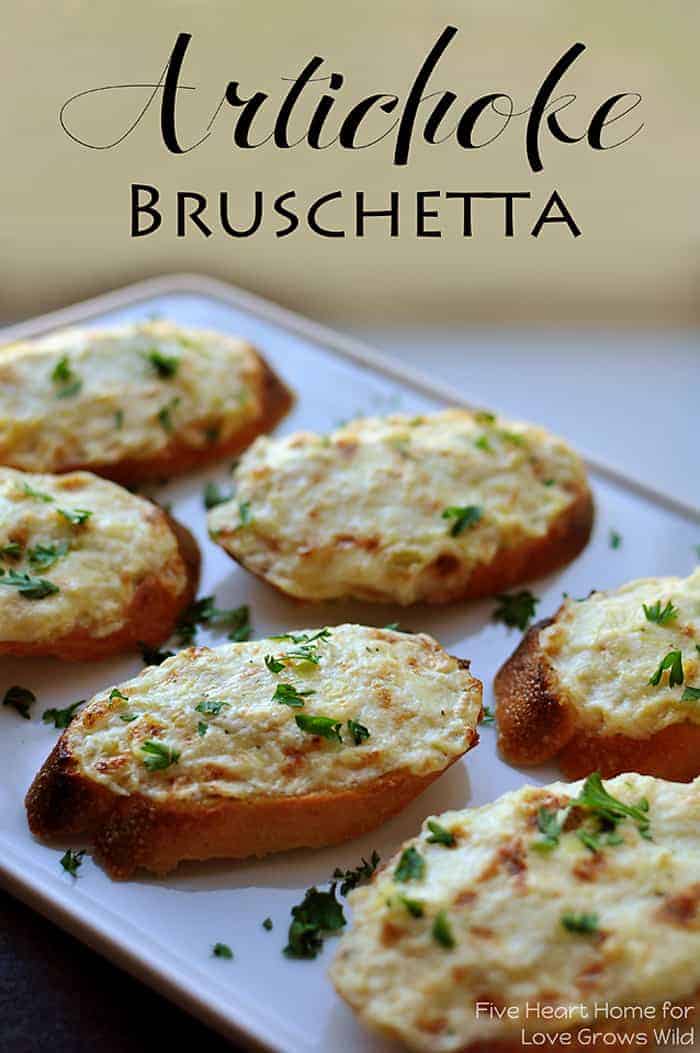 If you're looking for something to balance out the bubbly tonight, this Artichoke Bruschetta (from Love Grows Wild) would make a perfect last-minute addition to your New Year's Eve spread.
Or the recipe can be adapted as a dip and served as an upcoming Super Bowl snack! After all, who doesn't love a recipe that's both versatile and delicious?
Vegan Lemon Artichoke Pasta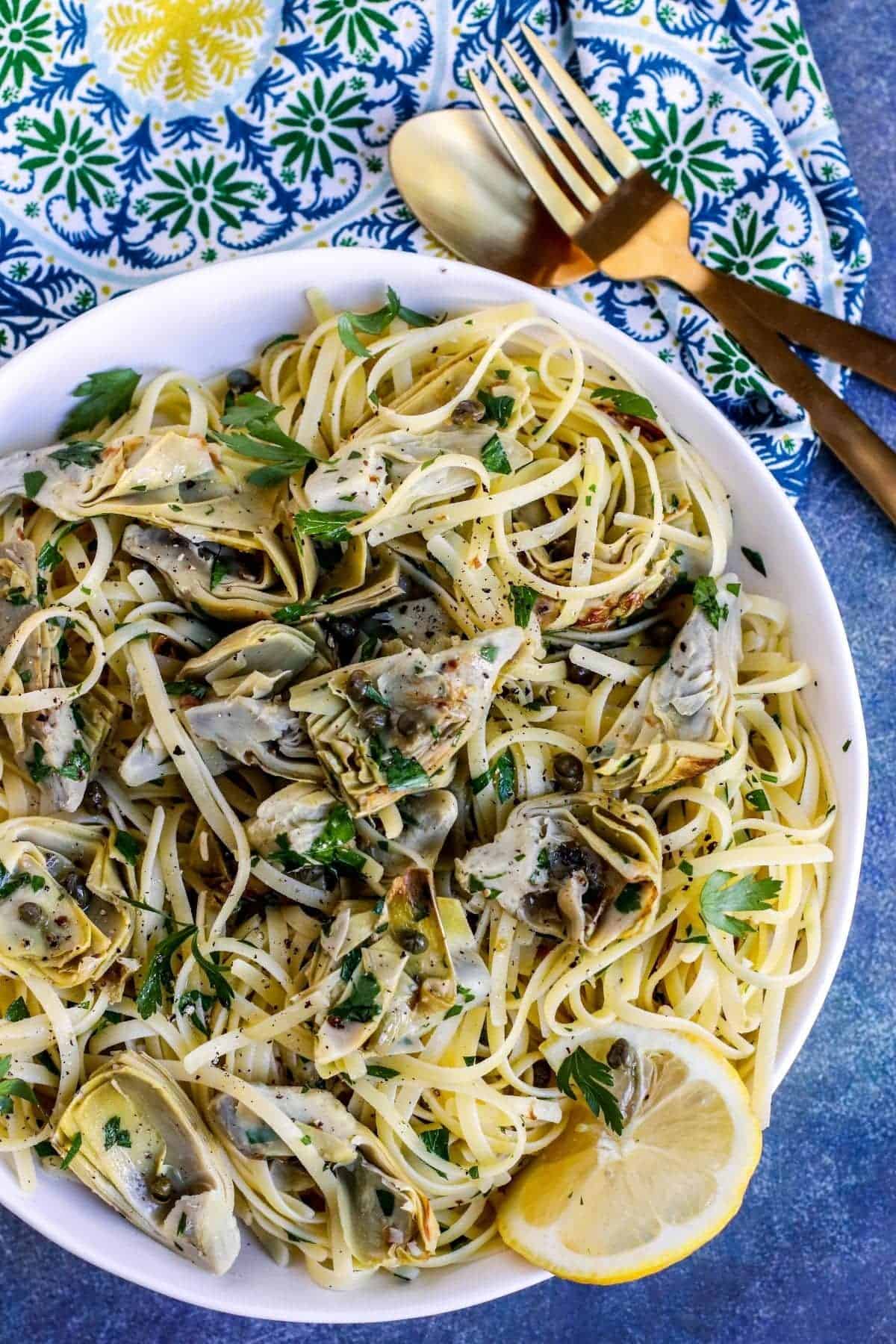 Vegan Lemon Artichoke Pasta (from Veggies Save The Day) is easy to make thanks to frozen artichoke hearts. This flavorful Italian-inspired dish is ready in 30 minutes using only 7 ingredients.