I'm bursting with excitement about the things I have to share! A $100 Visa gift card is up for grabs (read on!), there is a fresh, exciting way to view my favorite childhood show (Sesame Street!) and in honor of the good ol' Cookie Monster, I will share a cookie recipe that is TOTALLY IRRESISTIBLE!
Did you know that Sesame Street is coming to HBO in January? It's true! I'm super excited about this. I absolutely adored Sesame Street as a kid. I vividly remember asking my dad, "WHERE is Sesame Street?!" He would answer, "One day you'll know where it is…one day." Another memory involves my older sisters. I loved Sesame Street so much that if they flipped by it on their way to another channel I totally knew. I could hear a half-second snippet of music or voices and know that they had PASSED BY SESAME STREET! They would usually relent and let me watch. I was obsessed with Snuffleupagus, Grover and Cookie Monster. My mom bought me a Sesame Street bedspread that I loved dearly and used until I was way too old.
Once my boys were able to see further than three feet in front of them, I had Sesame Street playing on the tv. Having such a deep love for the show, I was happy to see how happy it has always made them, too. I was so excited to learn that HBO will now be entertaining and teaching our children in a fresh and updated way! I can't wait to see it in January. Tune in with me!
Because I love that adorable Cookie Monster so much, I concocted a recipe that I know he would love and devour with his whole cookie-munching heart. I know this because I loved and devoured these cookies with MY whole heart. I am not even kidding, you guys. These are the BEST dang cookies I have ever eaten. I've had pretty darn good willpower recently in an attempt to lose a few pounds, but these cookies dominated me. Cookie Monster, if you're reading, YOU'RE WELCOME.
These cookies are BIG. I actually got out my ruler because I was curious and cookie diameter averaged 4 1/2 inches.
Now, please go mark January 16th, 2016, on your calendar and tune into HBO to watch Sesame Street along with me!
One commenter on this post will be the lucky winner of a $100 Visa gift card! To enter to win, leave a comment answering one (or all!) of the following: What is your favorite Sesame Street-related memory from your childhood? Who is your (or your child's) favorite SS character and why? What do your children love about SS? Good luck! Happy cookie eating and Sesame Street watching!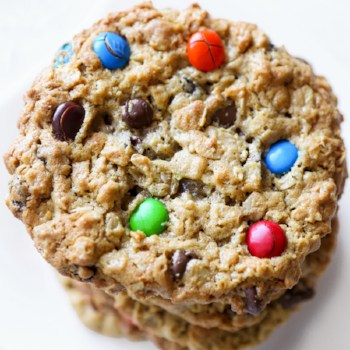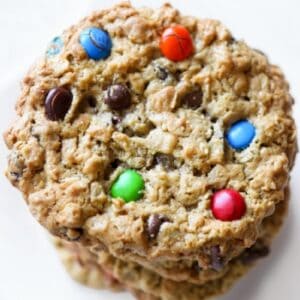 Monster Cookies
Hands down, the best cookie you, I or Cookie Monster will EVER eat!
Print
Pin
Rate
Servings:
15
Large cookies
Ingredients
1/2

cup

butter

softened (1 stick)

1

cup

sugar

1

cup

brown sugar

3

eggs

2

cups

creamy peanut butter

1

tsp.

vanilla

2

tsp.

baking soda

4

cups

old-fashioned oats

3/4

cup

semi-sweet chocolate chips

3/4

cup

M&M's chocolate candies

3/4

cup

raisins
Instructions
Preheat oven to 350 degrees F. Line a large baking sheet with parchment paper and set aside.

In a large bowl, mix together the butter and sugars until creamy. Add the eggs, peanut butter and vanilla and mix well. Stir in the baking soda and oats. Stir in the chocolate chips, M&M candies and raisins. Mix well.

Using a 1/4 cup measuring cup, drop batter onto prepared baking sheet. Slightly flatten each round of batter with your fingers, creating a circle with a 3-inch diameter. Top with extra M&Ms, if desired.

Bake in the preheated oven for 15-19 minutes, or until edges are golden brown and centers are no longer doughy. Let cool and store in a sealed container.
Nutrition
Calories:
516.05
kcal
|
Carbohydrates:
67.68
g
|
Protein:
12.75
g
|
Fat:
24.39
g
|
Saturated Fat:
6.83
g
|
Cholesterol:
38.76
mg
|
Sodium:
359.14
mg
|
Fiber:
5.26
g
|
Sugar:
43.84
g