If you find yourself with leftovers, you might be wondering, "Can you freeze enchilada sauce?" Read on for all the information you'll need about freezing this delicious savory sauce!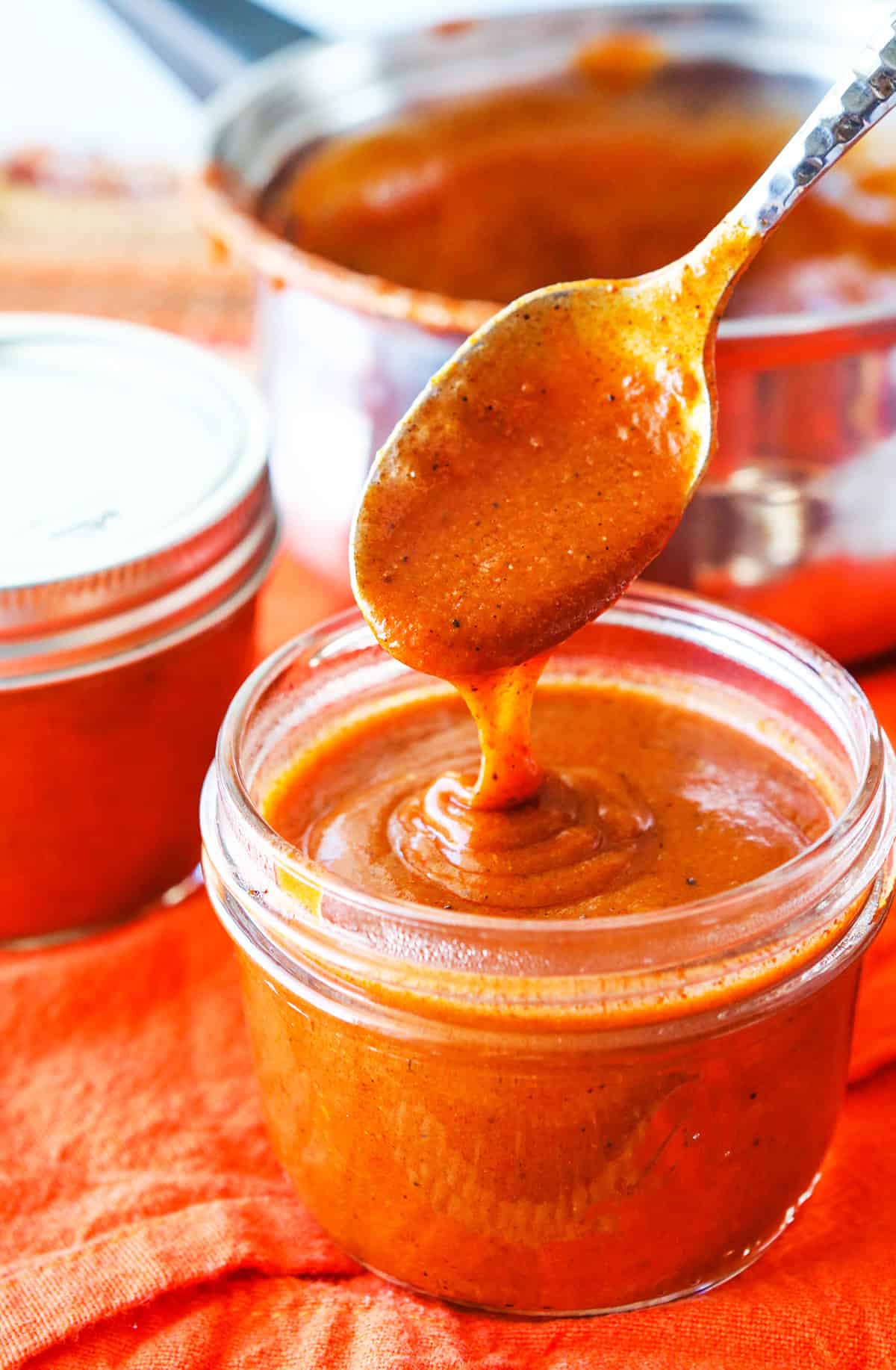 When I have leftover sauce after making a recipe, I'm never quite sure what to do with it. Should I store it in the fridge? Freeze it? Eat it with a spoon?
If you love Mexican food as much as I do and find yourself in this predicament with the oh so delicious red enchilada sauce, whether canned or homemade, you have options!
How To Make Homemade Enchilada Sauce
Sauce made from scratch is always more delicious than anything found in the grocery store and this easy enchilada sauce recipe is super simple. It only requires a handful of ingredients and is done in 15 minutes, with perfect homemade tastes and consistency.
How To Store Leftover Enchilada Sauce
If you have enchilada sauce leftovers, you can reuse them! Pour cooled sauce into mason jars or a freezer safe container.
How Long Does Enchilada Sauce Last in the Fridge
This savory sauce can be stored in the fridge for up to 7 days.
Can You Freeze Enchilada Sauce
Enchilada sauce can definitely be frozen, but it is a good idea to freeze for no longer than 3 months. Freezing for a longer period than this can result in a decline in quality and flavor.
How To Freeze Enchilada Sauce
Allow the sauce to cool to room temperature.
Transfer to an airtight container or a freezer bag. If using a plastic bag, be sure to double the freezer bag in order to avoid leakage. Consider freezing individual portions in small mason jars or an ice cube tray so you can thaw a little bit at a time, if desired.
Place in the freezer for up to 3 months for best results and to avoid freezer burn.
How To Thaw and Reheat Frozen Sauce
Remove container from from the freezer and place in the fridge overnight. For a quicker defrost, place the sealed container inside a large bowl filled with hot water.
Transfer the sauce to a small saucepan and cook over medium heat until warmed through, stirring often. Alternatively, you can transfer the mixture to a glass bowl and heat in 1-minute intervals in the microwave.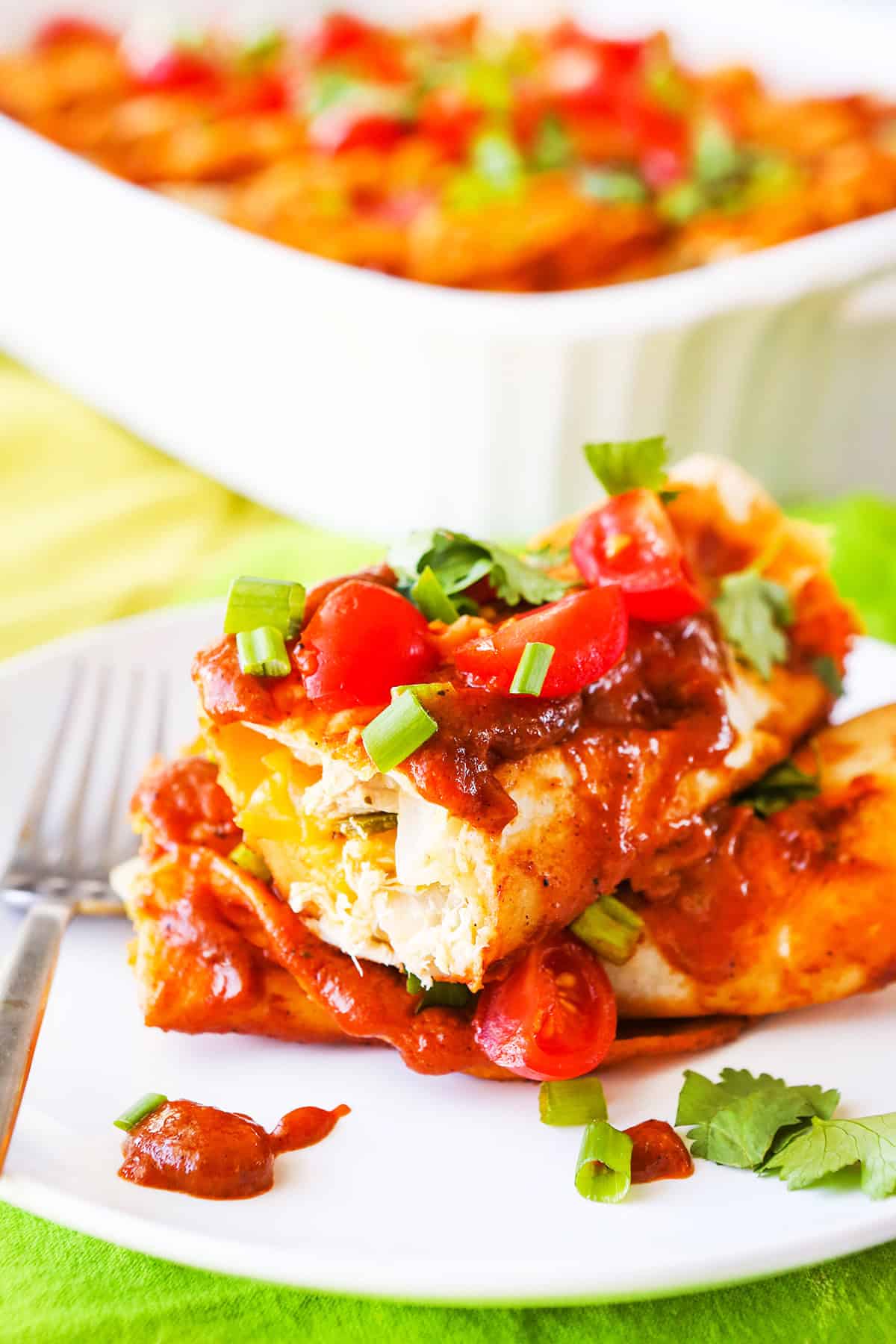 What To Do With Leftover Enchilada Sauce
One of the best things about this ingredient is that it's not just for chicken enchiladas! Here are a few other good recipes for using up the delicious red or green enchilada sauce:
The best way to use it is to make this delicious chicken enchilada recipe. It is a super quick recipe and always receives rave reviews! Tip: Bake in disposable pans so you can cover the baking dish with aluminum foil and freeze the entire batch with minimal effort.
Add it to a batch of pork carnitas.
Drizzle extras over leftover enchiladas before reheating in the microwave.
For a super simple meal or snack, drizzle it over shredded chicken, black beans and cheese wrapped in corn tortillas or flour tortillas.
One of my favorite ways to use it is in place of taco sauce for tacos, burritos, taquitos, taco salad, nachos or tostadas.
Add it to a batch of mac and cheese for an added kick.
It is a great addition to taco soup or chicken tortilla soup.
Use it to spice up your next casserole.
How To Make Canned Enchilada Sauce Better
Here are a few different ways to spruce up canned sauce:
To add a touch of sweetness to the mix, add sugar 1 teaspoon at a time.
Toss in some savory spices such as cumin, oregano and chili powder for a flavor boost.
A few tablespoons of tomato paste or tomato sauce will create a deliciously robust flavor.
Create a spicy sauce by adding a pinch of cayenne pepper, 1/2 teaspoon red pepper flakes, diced green chilies or a few splashes of your favorite hot sauce.
Adding up to 1/4 cup chicken broth or vegetable broth will enhance the flavor, but will also thin out the mixture.
Don't discount the simple yet powerful result of adding salt and black pepper! Add no more than 1/2 teaspoon of each at a time.
Minced, sauteed garlic or 1/2 teaspoon of garlic powder will add a nice punch to the end result.
For a creamier result, add a couple tablespoons of sour cream or heavy cream in a saucepan over medium heat until combined.