Crock Pot Mac and Cheese is creamy and cheesy and just plain DELICIOUS. This comfort food comes together quickly and easily. It is a great dish for a holiday meal or for a busy week night. It'll get devoured by adults and kids alike!
Original post: 2014. Updated: 2018.
The original recipe at the VERY BOTTOM OF THIS POST IN THE PHOTO (right above the recipe card).
You know those meals that can be made for nearly every holiday meal, no matter what time of the year it is? This Slow Cooker Mac and Cheese is that recipe for me. I make this for Thanksgiving, Christmas, Easter, Fourth of July and so many other occasions that fall in between. Why? Because I can dump everything into my slow cooker while saving oven and stove-top space for other recipes. I give the mac and cheese a few stirs throughout and before I know it, it's ready to eat!
This recipe gets devoured every single time without fail, no matter the season. It requires such little attention, it is an easy recipe and it always turns out perfectly. Don't limit making this recipe on just holidays. This is a great kid meal option any night of the week and also the perfect party food for a larger gathering.
WATCH THIS QUICK VIDEO TO SEE HOW TO MAKE SLOW COOKER MAC AND CHEESE!
WHY MAKE MAC AND CHEESE IN A SLOW COOKER?
Ahh great question and I'm so glad you asked! Any time your oven is being used (think busy holidays!) or when you don't have an oven to use (think potlucks!) is a great opportunity to make a creamy dish in your crockpot.
HOW TO MAKE CROCK POT MAC AND CHEESE
Follow these super simple instructions to make the most delicious crock pot mac and cheese your lips will ever taste!
STEP 1
Throw only 5 ingredients (yep, five!) into your crock pot: elbow macaroni noodles (cooked the pasta 3 minutes shy of al dente, so approximately 5 minutes total), milk, Velveeta cheese, butter and Parmesan grated cheese.
STEP 2
Set the crock pot on Low heat and the cook time will be somewhere between 2-3 hours. Give it a stir a couple times throughout, if possible, and start checking on the pasta at the 2-hour mark. Depending on the crock pot, this dish will be done anywhere between 2 and 3 hours. My crock pot produces PERFECT results after 2.5 hours.
RECIPE TIPS
CAN I MAKE MACARONI AND CHEESE IN MY INSTANT POT?
You can absolutely make mac and cheese in your Instant Pot! And it is the BEST! I've made the Instant Pot version a handful of times and I could rave about it forever. Head over to my Instant Pot Mac and Cheese recipe for the details!
WHAT GOES WITH MAC AND CHEESE?
Everything! My personal favorites are steamed veggies such as broccoli or cauliflower. Chopped, spinach or Ceasar salads, too. Or how about roasted tomatoes or sauteed mushrooms?! YUM!
HOW MANY CALORIES IN MAC AND CHEESE?
There are approximately 350 calories in 3/4 cup of mac and cheese.
CAN YOU FREEZE MAC AND CHEESE?
You can definitely freeze mac and cheese! Place in a freezer resealable bag or air-tight container and store in the freezer for 3 to 4 months. When defrosting it, let it thaw in the refrigerator for 12 to 24 hours before heating.
HOW TO REHEAT MAC AND CHEESE
To reheat mac and cheese, pour it into a saucepan or microwave-safe bowl. Add 1 to 2 tablespoons of milk and stir. Place the saucepan on a stove top over medium-low heat and stir until consistency is smooth and noodles are warmed through. If microwaving, heat in 1-minute bursts, stirring after each, until cheese has melted and the noodles are heated through.
MORE DELICIOUS MACARONI AND CHEESE RECIPES
If you are on a roll with mac and cheese, you have to check out these variations, as well!
EASY SIDE DISH RECIPES TO MAKE FOR YOUR NEXT PARTY
Here are some other easy sides to serve at your next gathering!
EASY COMFORT FOODS TO WARM YOU UP AND FILL YOU UP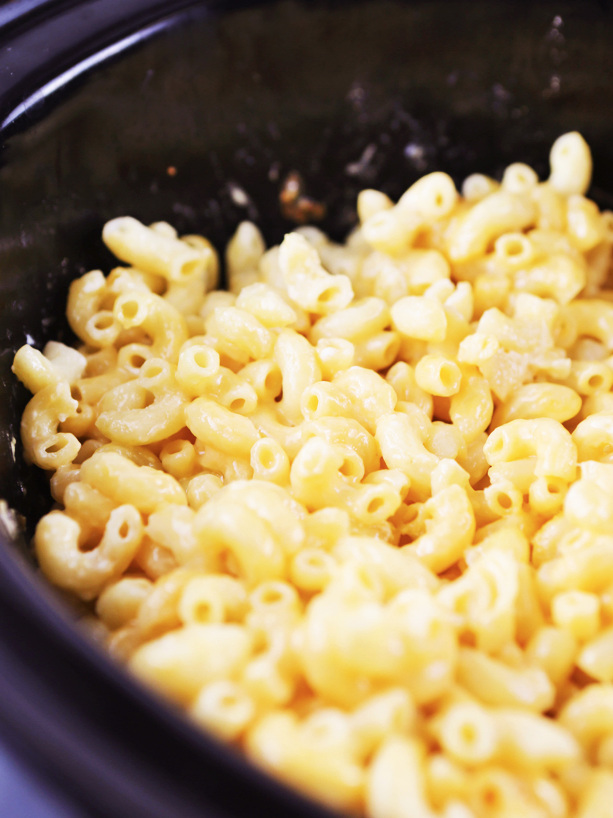 WHAT PEOPLE ARE SAYING ABOUT CROCK POT MAC AND CHEESE
"Made this tonight for new years! This is definitely gonna be my go to mac and cheese recipe from now on! Soooooo good!!" ~Leah
"Hi, I made this Mac and cheese. My family loved it !! I cooked my noodles let them cool. Then I followed the old recipe with 4 cups of milk and cream cheese. I used American cheese instead of Velveeta. Next time I want to try pepper jack cheese. I put every thing in my crockpot and mixed it. I covered it and cooked for 30 minutes on high. Then turned down to low for 1 1/2 hours stirring in between. All times vary according to your crockpot. " ~Connie
"I made the original recipe, doubled the recipe and put in one big crock pot. It was filled to the brim but it did fit. Everyone who ate it LOVED it. Now I get asked to make it for every upcoming occasion. Thanks for sharing this simple, quick and tasty recipe. " ~Sally
"I made this for a potluck at work and everyone absolutely LOVED it. I never even got to have any because they ate it all. At the second potluck we had, everyone begged me to make it again. I'm not the biggest fan of velveeta so I did switch that out for mozzarella but it's still a fantastic recipe and it is my go-to Mac n cheese recipe now. " ~Katie
Your comments are cracking me up! We hate it, we love it, get rid of the recipe….wait, we want it back! Hopefully this will make everyone happy. Here to please, friends, here to please..
Here was my original recipe. Throw the following ingredients into your crockpot on Low. Start checking for doneness at 1.5 hours. (side note: boil the macaroni for a few minutes first for optimal results)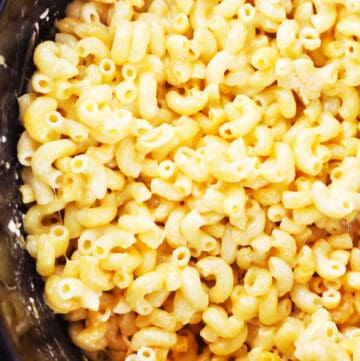 Crockpot Mac and Cheese
Crock Pot Mac and Cheese is cheesy, creamy and DELICIOUS. This comfort food goes together quickly and easily. It is a great dish for a holiday meal or for a busy week night. It'll get devoured by adults and kids alike!
Print
Pin
Rate
Cook Time:
2
hours
45
minutes
Ingredients
16

oz.

elbow macaroni

3

cups

milk

8

oz.

velveeta

cut into chunks

1/4

cup

salted butter

cut into chunks

3

cups

cheddar cheese

shredded

1/4

cup

Parmesan cheese

grated
Instructions
Cook pasta in boiling water 3 minutes short of being al dente.

Place the cooked macaroni, milk, Velveeta, butter and cheddar cheese into a crockpot. Stir and top with Parmesan cheese. Set heat to Low and cook for 2 to 3 hours. Stir occasionally and check for doneness starting at the 2-hour mark.
Notes
This recipe started out as a much different recipe (scroll way down to the bottom, below the recipe card), so try the original version if you'd like which involves evaporated milk and cream cheese.
If you choose to use uncooked pasta, please be sure to watch it carefully while it cooks. Nobody likes mushy noodles! When removing the lid to stir the noodles, do so quickly!
Cheddar, Parmesan and Velveeta are my absolute favorite combination of cheeses to use for Crock Pot Mac and Cheese. Feel free to replace them with equal amounts of American, mozzarella and/or sharp cheddar cheese.
This makes a large batch of mac and cheese! It will easily feed 8 hungry people as a main dish or 12 people as a side dish or party food. This is a great dish for pot lucks!
Add cooked ham or bacon pieces to add flavor and when serving as a main dish.
Sprinkle with salt and pepper just before serving!
1 teaspoon of garlic powder would be a great addition to the cheese sauce!
Nutrition
Calories:
450
kcal
|
Carbohydrates:
41
g
|
Protein:
22
g
|
Fat:
22
g
|
Saturated Fat:
14
g
|
Cholesterol:
66
mg
|
Sodium:
685
mg
|
Potassium:
309
mg
|
Fiber:
1
g
|
Sugar:
7
g
|
Vitamin A:
842
IU
|
Calcium:
498
mg
|
Iron:
1
mg