Delivering you a massive list of 41 ideas and recipes for leftover mac and cheese! Whether you have an abundance of leftovers or just want new things to do with this classic comfort food, you'll find all you need here.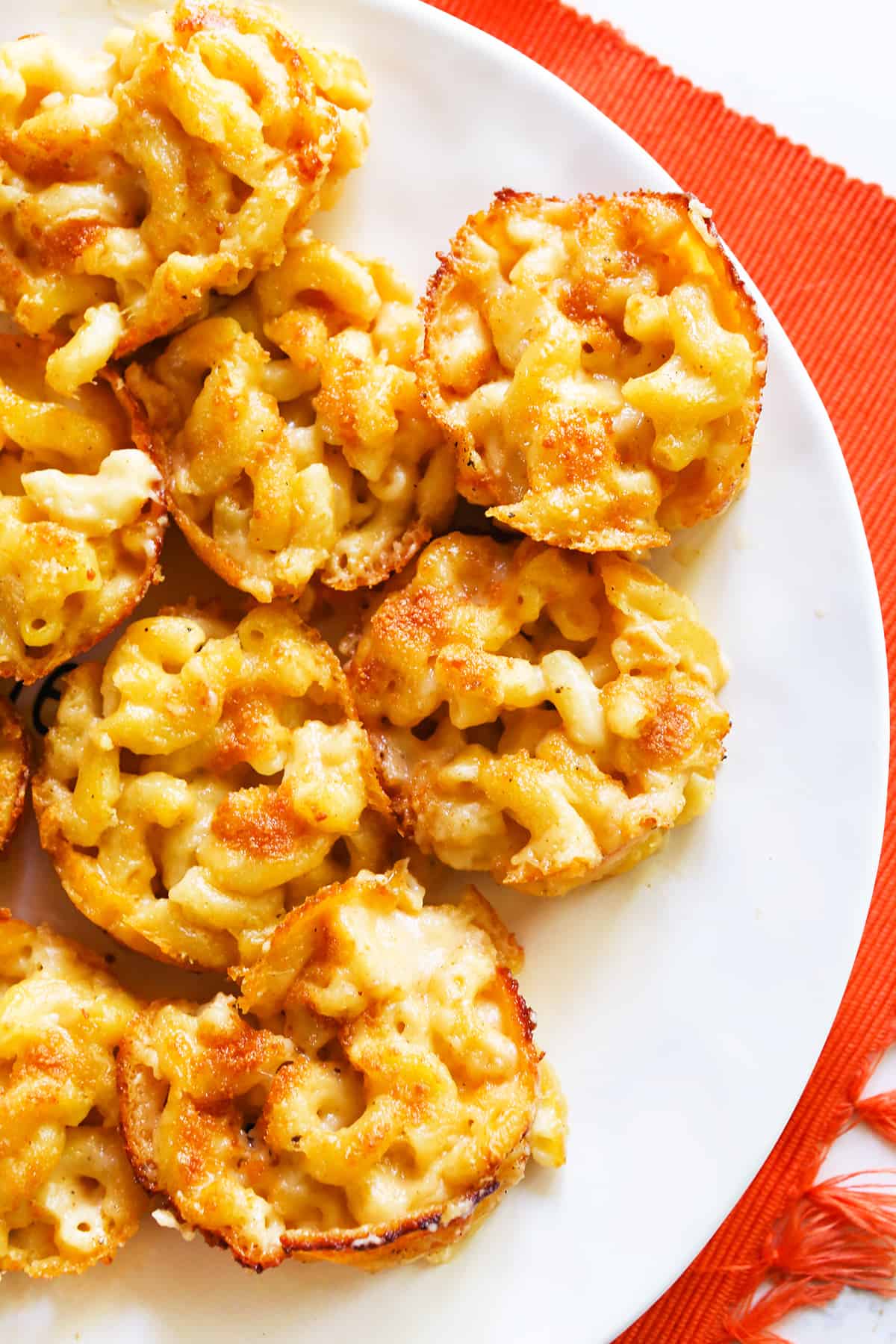 Mac & cheese is my love language, in addition to grilled cheese sandwiches and pizza. Not only are all of these comfort foods totally delicious, but they lend for so many options to enjoy them. They are canvases of yummy possibility!
If you are anything like me, you want new ideas about ways to enjoy mac and cheese. Maybe you made a huge batch at home and have a ton of leftovers or perhaps you're just massively in love with this cheesy pasta dish (like I am!).
Either way, let's dig into some creative new ideas and recipes for leftover mac and cheese!
Best Mac and Cheese Recipes
Ideas and Recipes For Leftover Mac and Cheese
Marry it with chili to create Chili Mac.
Layer in a baking dish and top with your favorite pizza toppings. Bake at 350 degrees F until melted and warmed through!
Turn leftover macaroni into Baked Mac n Cheese Bites.
Throw a few cups into your next bowl of Broccoli Cheese Soup.
Add up to 1 cup to your next batch of cornbread before baking!
Pile it onto your next pizza. Top with fresh parsley and garlic!
If you have Thanksgiving leftovers, pile the pasta onto a sandwich along with leftover turkey meat, gravy mashed potatoes and cranberry sauce.
Stuff into the insides of burgers for a cheesy surprise.
Combine leftover mac n cheese with chopped cooked meat (bacon, ham, turkey or chicken) and bake until cheese melts.
Combine with seasoned ground beef to create a Hamburger Helper copycat dinner.
Use in place of plain pasta noodles inside a batch of Goulash.
Sandwich a heaping spoonful between two tortillas to create the most comforting cheese quesadilla of your life.
Fried Mac n Cheese Balls are super fun and delicious.
Make mac and cheese tacos!
Add as a layer in Thanksgiving Leftovers Stromboli.
Use as a base layer for Chicken Fried Steak or Salisbury Steak (in place of mashed potatoes).
Transform them into mini puffs.
Replace for the penne pasta in minestrone soup.
Throw it over the top of your next baked potato. Don't forget the leftover chili!
Top fries with a few spoonfuls!
Place the mixture between layers of dough in your next pull-apart bread loaf.
Two words: Nacho topping!
Throw into a baking dish, top with a thick layer of bread crumbs and a few pats of butter (Panko breadcrumbs will work great!). Bake for 20-30 minutes or until crispy, melty and hot!
Fry into patties on the stove top for a twist on hash browns.
This is the perfect added topping for Chili Dogs.
Stuff spaghetti squash or acorn squash with it!
This is the perfect filling for a grilled cheese sandwich.
Transform it into a fancy dish! Add lobster, sun-dried tomatoes, artichokes or any other savory ingredient.
Add veggies of your choice (mushrooms, bell peppers, onions, broccoli or tomatoes) and either bake or heat in a skillet.
Use instead of spaghetti noodles in your next Spaghetti Bake.
Adding a few spoonfuls to waffle batter? Heck yes!
Toss into an egg bake.
Just a small spoonful added to Baked Potato Rounds? Perfect finger food.
Add Alfredo Sauce to create a delish macaroni alfredo marriage.
Shepherd's Pie could only dream of having a cheesy pasta layer hidden deep down.
Combine comfort foods by throwing them into a batch of artichoke dip.
Create irresistible sliders by adding a layer of cheesy mac to the top of your ground beef or sliced ham.
Make a messy panini by pressing on a grill pan between two slices of focaccia bread along with lunch meat.
Combine with pulled pork and heap onto a bun or over potatoes. Top with slaw!
Turn it into the dreamiest bowl of macaroni salad your guests will ever taste.
Stuff inside dinner rolls for a mini mac sandwich.
Give Your Pasta Dish New Life
Consider adding 1/2 cup sour cream to add even more creaminess to the dish.
Add cooked ham or bacon pieces to add flavor and when serving as a main dish.
Sprinkle with salt and black pepper just before serving!
Spice up your batch by adding any of the following ingredients: chili powder, hot sauce, cayenne pepper, red pepper flakes or diced jalapenos!
1 teaspoon of garlic powder would be a great addition to the cheese sauce for extra flavor.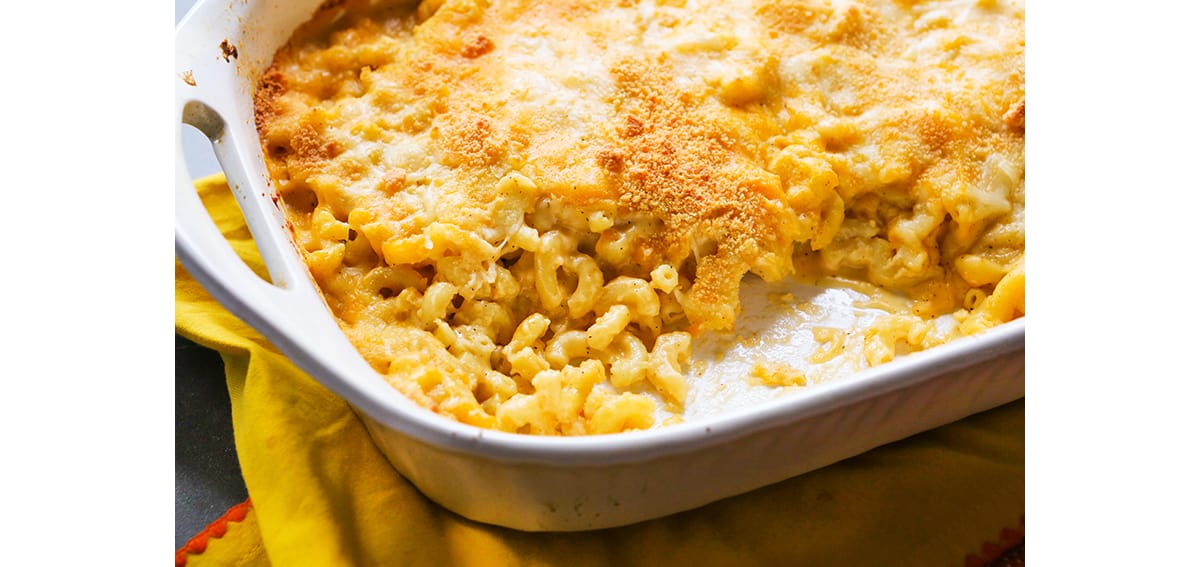 How Long Does Mac and Cheese Last In The Fridge
If you are wondering whether or not you should save or toss your leftovers, here are tips about how long this food lasts and everything else you need to know!
How To Reheat Mac and Cheese
Leftover pasta is inevitable since most recipes make huge batches. Learn how to reheat mac and cheese in the microwave, in the oven, in an air fryer, on the stove top and more!
What To Serve With Macaroni and Cheese
This is a favorite comfort food favorite for a reason! But what goes with this irresistible dish?! This roundup provides 16 delicious ideas about what to serve with macaroni and cheese to create a complete, satisfying meal!
What is a Good Substitute For Milk in Mac and Cheese
Whether you are looking for a different flavor in your next creamy pasta dish or you just don't have milk on hand, learn what to substitute for milk in macaroni and cheese!
Can Mac and Cheese Be Frozen
You can definitely freeze this dish! After it has cooled to room temperature, place in a freezer resealable bag or airtight container and store in the freezer for 3 to 4 months. When defrosting it, let it thaw in the refrigerator for 12 to 24 hours before heating and serving.