Chili Dogs are not just ballgame fare. Use leftover Chili to easily make your very own hearty Chili Dog! This is a simple recipe, you just throw them in your oven! Top the chili with cheesy goodness for a super comforting and delicious meal. Great for parties or family dinner!
Why This Recipe Works
I don't know that I've ever in my life eaten a Chili Dog before yesterday. WHAT. How can this be?? So I really have nothing to compare these Chili Dogs to, but! …don't click away yet…
BUT! I know good Chili and I know good 'dogs and I know good dinners and I know good comfort food and this dish fits in all of the above categories. I was alone in the house when they came out of the oven and guess how many I devoured. THREE. No shame because I literally could not help myself.
Also, THANK YOU for leaving the sweet comments on my Apple Pie post. Even if commenting isn't your thing, please know that I appreciate knowing you're here. I won't beg or anything, but I'd love to hear from you guys more often.
I'm not sure if you know this, but my Best Chili on Earth recipe lives up to its name. It is in the Top 3 Most Popular recipes on this entire website. It. Is. DELICIOUS. So if you've never made it, please add it to your to-do list. You will not be disappointed. If you don't have the time to make it, please consider making this Easy 5-Ingredient Chili!
My Chili makes an enormous batch, so unless you freeze part of it (it does freeze very well!), set some aside for this Best Ever Chili Dogs Recipe. It would be a great party food and dinner alike, just be sure to serve as soon as possible after pulling them out of the oven to avoid soggy hot dog buns. No one likes a soggy bun.
How To Make Hot Dog Chili Sauce
Don't use any old chili recipe to pile on top of hot dogs. This delicious recipe details how to make hot dog chili sauce so the consistency is just right!
Chili Dinner Ideas – Recipes and Sides!
Click over for chili dinner ideas with a variety of recipes and side dish recommendations, as well.
What To Do With Chili Leftovers
If you have leftovers (and it's very possible that you will because this makes a large batch), please check out these delicious recipes to help use them up: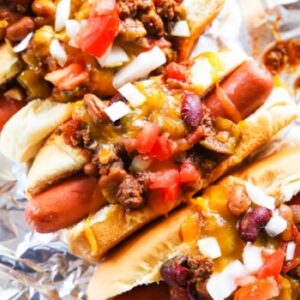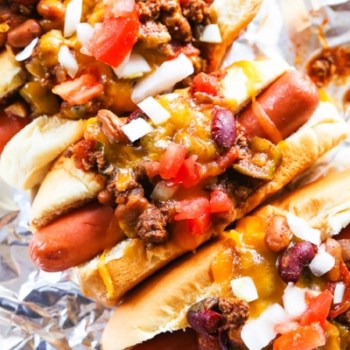 Best Ever Leftover Chili Dogs Recipe
This is my favorite thing to do with leftover chili! Throw it onto some hot dogs to make the most fun dinner ever!
Print
Pin
Rate
Instructions
Preheat oven to 350 degrees F. Line a 9×13 baking dish with foil and coat with cooking spray. Heat the chili till warm in microwave or on stovetop. Cook hot dogs over medium heat on a grill until warmed through (alternatively, cook for 1 to 2 minutes in microwave).

Place the hot dogs in the buns and place in a single layer in the prepared baking dish. Top with chili and cheese and bake in the preheated oven for 25 minutes, or until cheese is melted.

Top with chopped tomatoes and onions and serve immediately!
Nutrition
Calories:
492
kcal
|
Carbohydrates:
46
g
|
Protein:
24
g
|
Fat:
25
g
|
Saturated Fat:
12
g
|
Cholesterol:
72
mg
|
Sodium:
1365
mg
|
Potassium:
661
mg
|
Fiber:
7
g
|
Sugar:
5
g
|
Vitamin A:
842
IU
|
Vitamin C:
5
mg
|
Calcium:
351
mg
|
Iron:
7
mg
Did you make this recipe?
If you loved this recipe, please rate the recipe and leave a comment below!