Most chili recipes make large batches, which means.. LEFTOVERS! Use this post as your guide for dinner ideas with leftover chili so nothing goes to waste.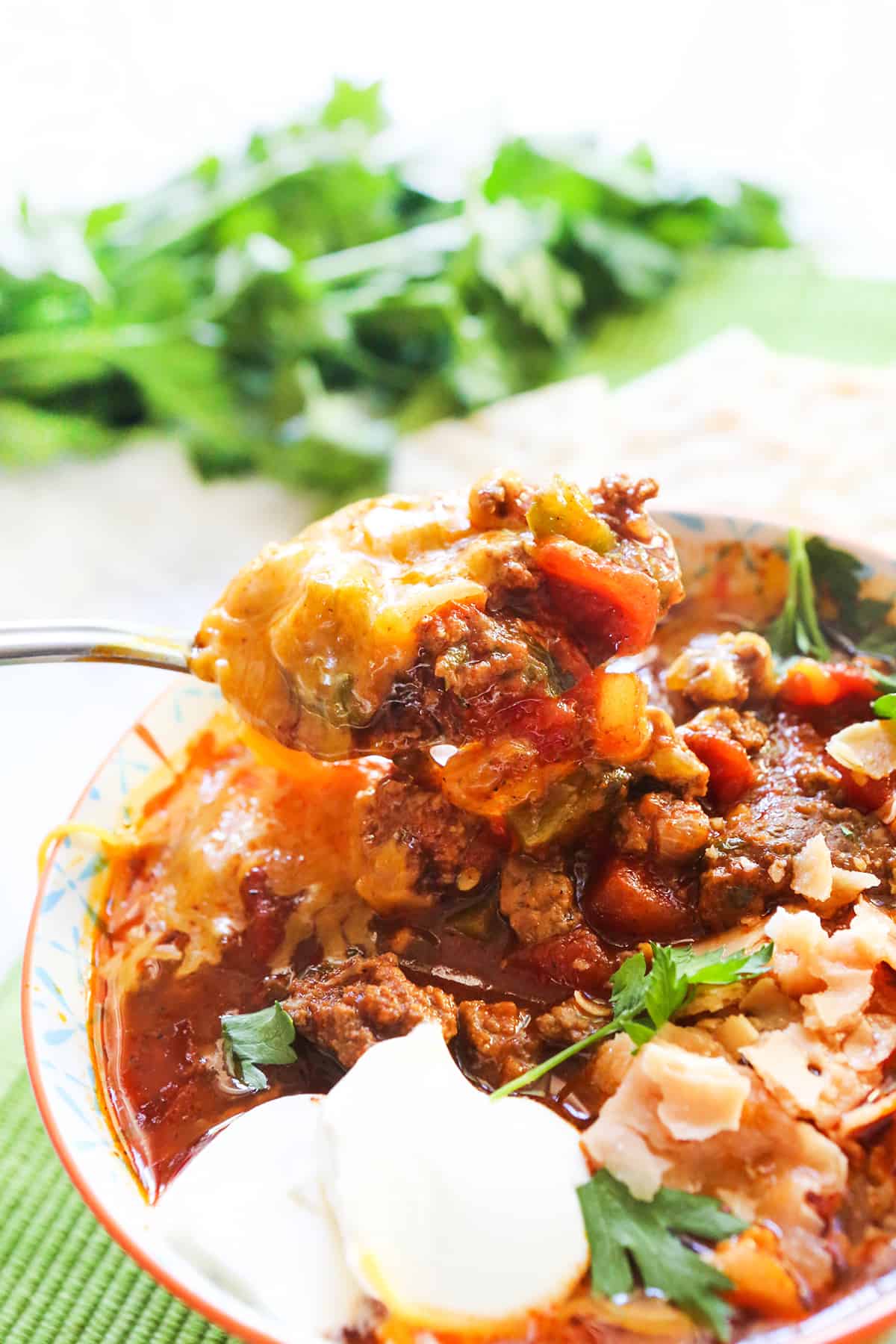 You all know how obsessed I am with this delicious bowl of comfort. My favorite recipe for chili is at the top of the popularity list here on Pip and Ebby. A lot of love and testing went into this recipe and people from all around the world love it, too.
That particular recipe makes a huge batch of chili, as do most others of its kind. I like to freeze extras when I know we won't be able to eat everything before it goes bad. Freezing isn't the only option, though! There are many dinner ideas with leftover chili so nothing has to go to waste. It's like the most delicious kind of repurposing!
This post details everything you need to know about creating dinners using your leftovers, including favorite recipes and sides. Enjoy!
FAQ About Chili
How to thicken chili?
If you prefer thick chili, it is easy enough to transform any version to fit your liking. Decrease the amount of tomatoes (juice and diced) used by half (or more) and simmer for 30 additional minutes.
Why chili is hot?
The ingredients in chili that typically make it spicy are chili powder, peppers and pepper (or cayenne pepper). To decrease the amount of heat in the recipe, reduce the amount of chili powder used and omit peppers (aside from bell peppers, which are very mild) and cayenne or black pepper.
What to top chili with?
A bowl of chili is the perfect template for delicious toppings! Consider any or all of the following: shredded cheddar cheese, sour cream, sliced green onions or oyster or saltine crackers.
What to serve with chili?
Serve chili warm with a bit of shredded cheddar cheese and a dollop of sour cream. A few good options to serve alongside it include chopped salad, dinner rolls and cornbread.
Can chili be frozen?
Chili lasts up to 5 days in the fridge after it has been cooked and cooled. Beyond this timeframe, chili will keep in the freezer for up to 6 months. Store in an airtight container or double-bagged freezer bags.
Ground Beef Dinner Recipes
Make dinner EASY with these delicious recipes that use ground beef as a main ingredient. Ground beef does not need to be boring!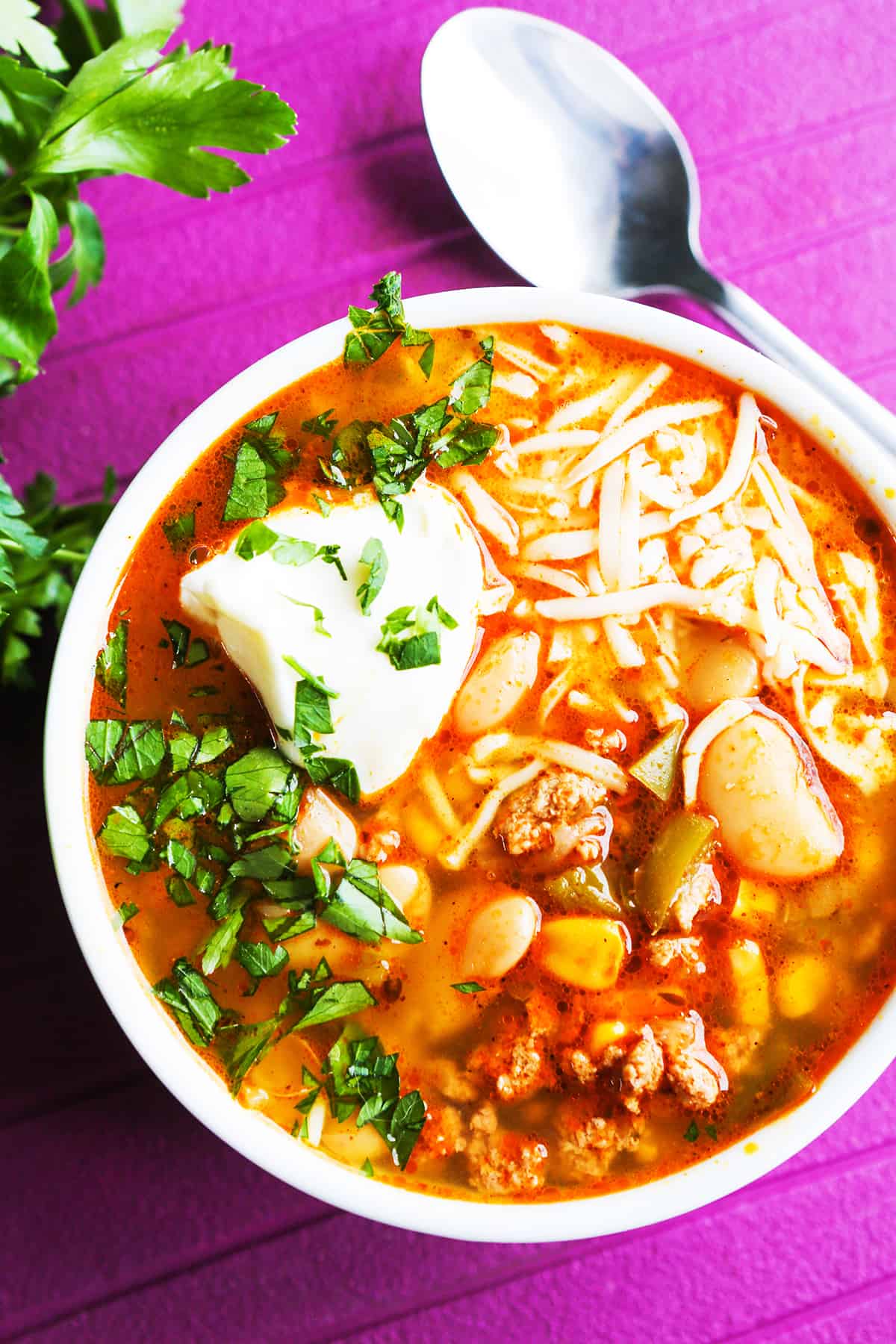 Flavor Boosters and Recipe Hacks
Favorite toppings: sour cream, sliced green onions, saltine crackers, crispy bacon pieces or pickled jalapeno peppers.
Cheese toppings: monterey jack cheese, feta cheese, shredded cheddar, mozzarella or provolone.
For a spicy chili, add extra jalapenos, diced green chilis, cayenne pepper, red pepper flakes or black pepper.
To thicken, replace the diced tomatoes with crushed tomatoes and reduce any tomato juice called for by half. Another option is to add a can of tomato paste to the pot.
For a different flavor, replace some or all of the pinto or kidney beans with black beans.
Flavor boosters: garlic powder, onion powder, extra chili powder
Use ground pork or ground beef (or a combination of the two) for a flavor boost. Even lean ground beef provides more flavor than other ground meat such as chicken or turkey.
When hosting a large gathering or putting together a game day spread, create a chili bar with toppings in separate bowls for a serve-yourself, customizable meal.
Appetizers For Chili
Chili dinners are the best in those cold winter months! If you are looking to round out your meal, peruse this roundup for ideas about what to serve as appetizers for chili dinner.
How To Thicken Chili
If you make a delicious batch and find that it is not thick enough for your liking, we have some simple methods that will fix it! Read on for tips about how to thicken chili.
Substitute For Beans In Chili
Whether you can't eat beans or you just don't have any on hand, learn what to substitute for beans in chili!
How Long Does Chili Last In The Fridge
If you are wondering how long this soup lasts in the fridge or if your batch is still fresh, click over for all the info!
Dinner Ideas With Leftover Chili
Below you will find a ton of ideas about how to put an entirely new meal together using chili leftovers.
Recipes and Sides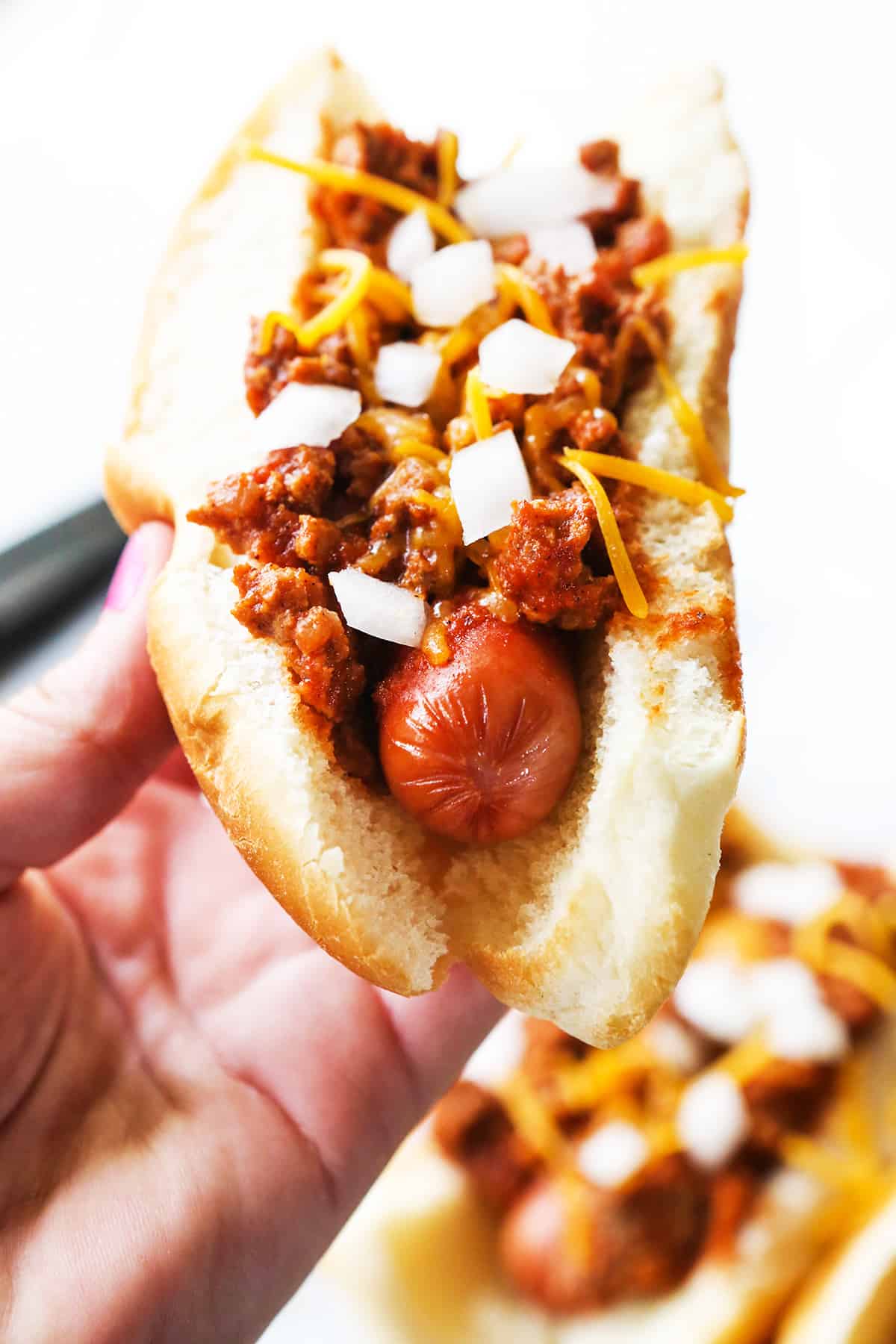 What To Do With Chili Leftovers
Use as a baked potato or sweet potato topping.
Throw a few heaping spoonfuls over hot dogs in buns.
Combine it with mac and cheese to make chili macaroni.
Replace a portion of the sauce with it in lasagna to create a hearty chili lasagna.
Add it to your morning eggs.
Replace it with the beef mixture in shepherd's pie.
Use as an enchilada, taco or burrito filling/topping.
Add as a filling for stuffed peppers.
Serve over corn chips to create a tasty batch of nachos.
Spoon over a batch of French fries and top with shredded cheese to create chili cheese fries.
Serve with tater tots for a super hearty side or snack.
Throw on top of cooked spaghetti squash.
Combine with sloppy joe mixture for a yummy sandwich spin.
Roll up in flour tortillas with refried beans and shredded cheese.
Chili Mac Recipe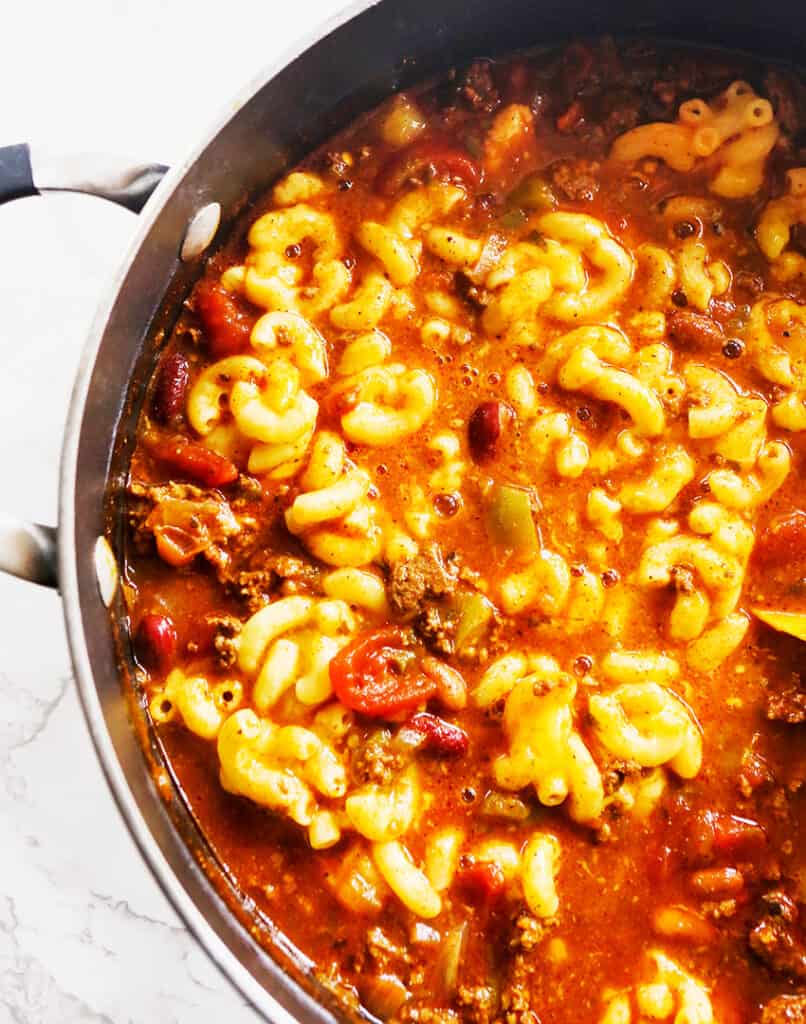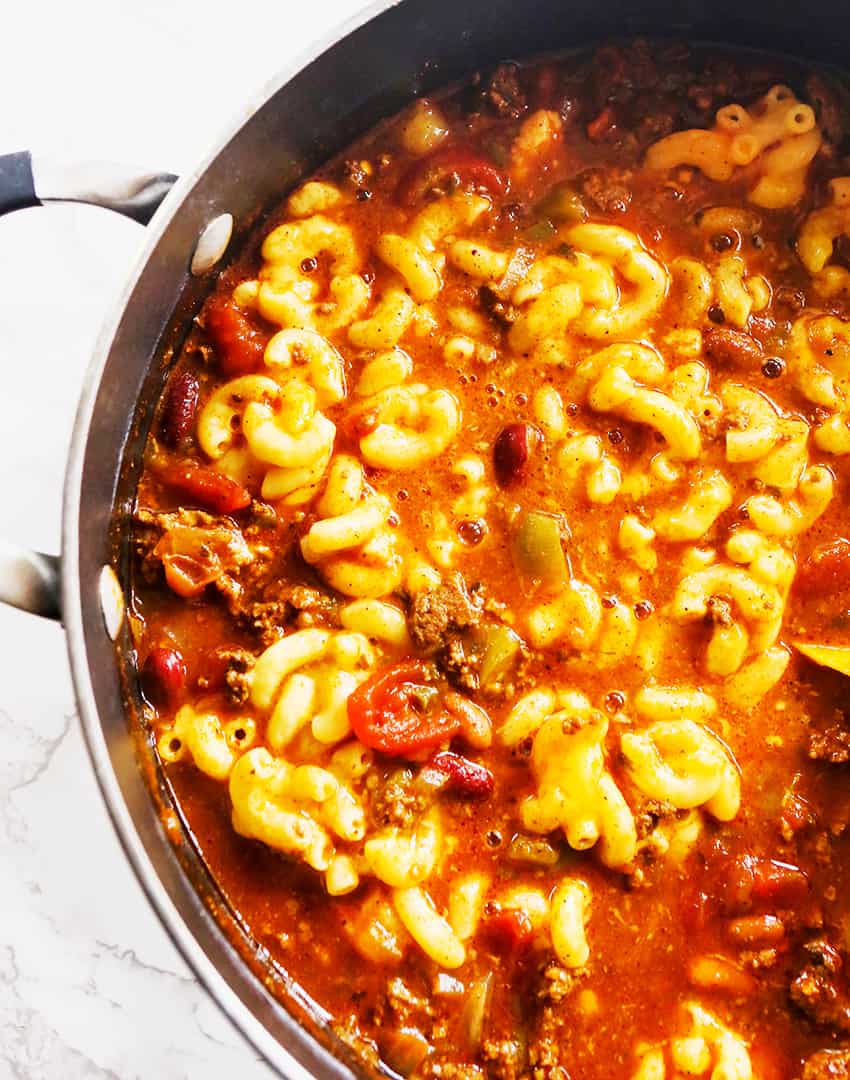 This chili mac recipe is the perfect marriage of two of the most comforting comfort foods of all time. Delicious way to use up leftovers!
Leftover Chili Nachos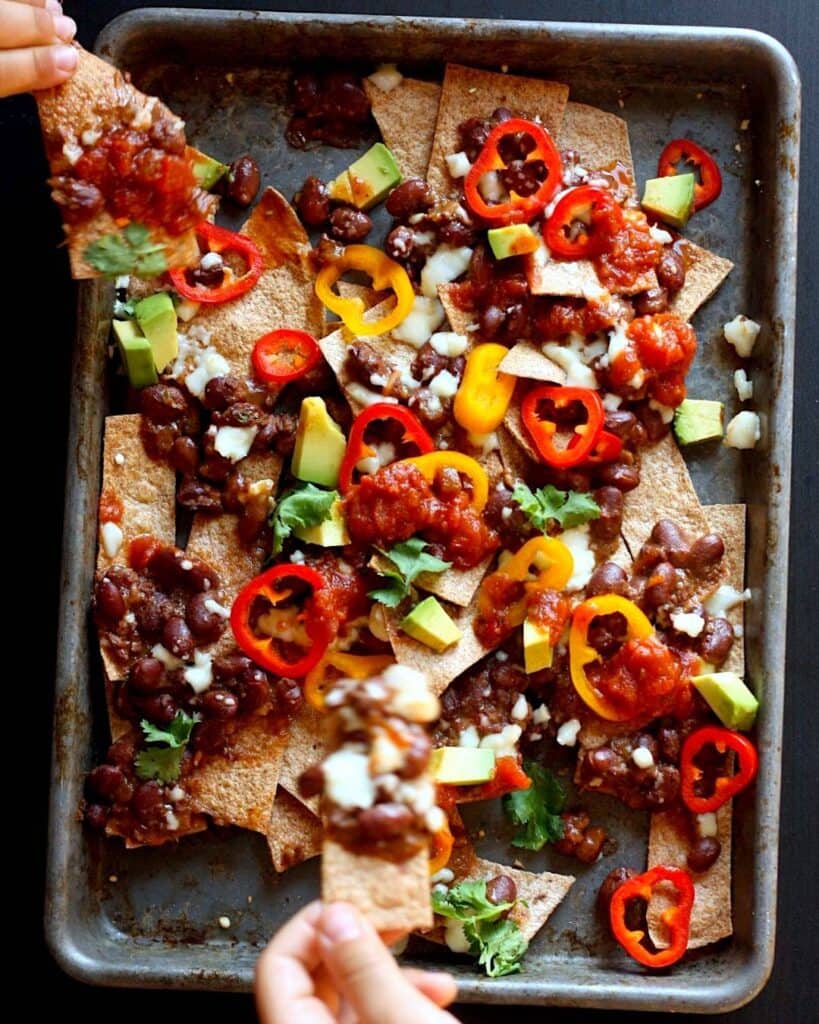 Unless I'm stuffing it into sweet potatoes or using it as a love nest for eggs, the last bits of a pot of chili often make their way onto tortilla chips. Baked with cheese and topped with fresh salsa, canned beans, and avocado, nachos (from The Dinner Shift) for dinner is often my kids' vote when it comes to using up the leftover chili.
Chili-Topped Baked Potatoes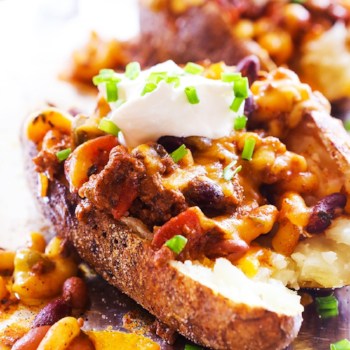 Chili-Topped Baked Potatoes are a great way to use up Chili or Chili Mac leftovers! Smother the potato with the delicious flavors of your chili and sour cream and cheese! It's piling comfort food on top of comfort food for a warm, delicious meal.
Cheesy Leftover Chili Burritos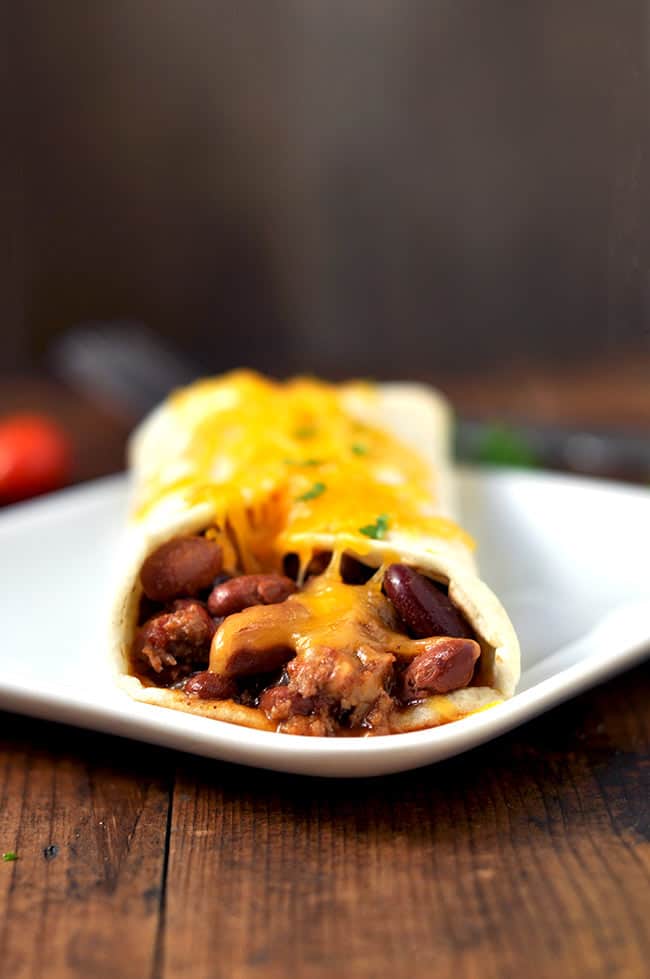 Leftover chili? Turn it into something fresh by stuffing it inside burritos (from Mighty Mrs)!
Leftover Chili Dogs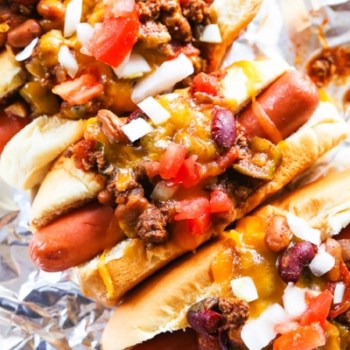 Chili Dogs are not just ballgame fare. Use leftover Chili to easily make your very own hearty Chili Dog! This is a simple recipe, you just throw them in your oven! Top the chili with cheesy goodness for a super comforting and delicious meal. Great for parties or family dinner!
Leftover Chili Pot Pie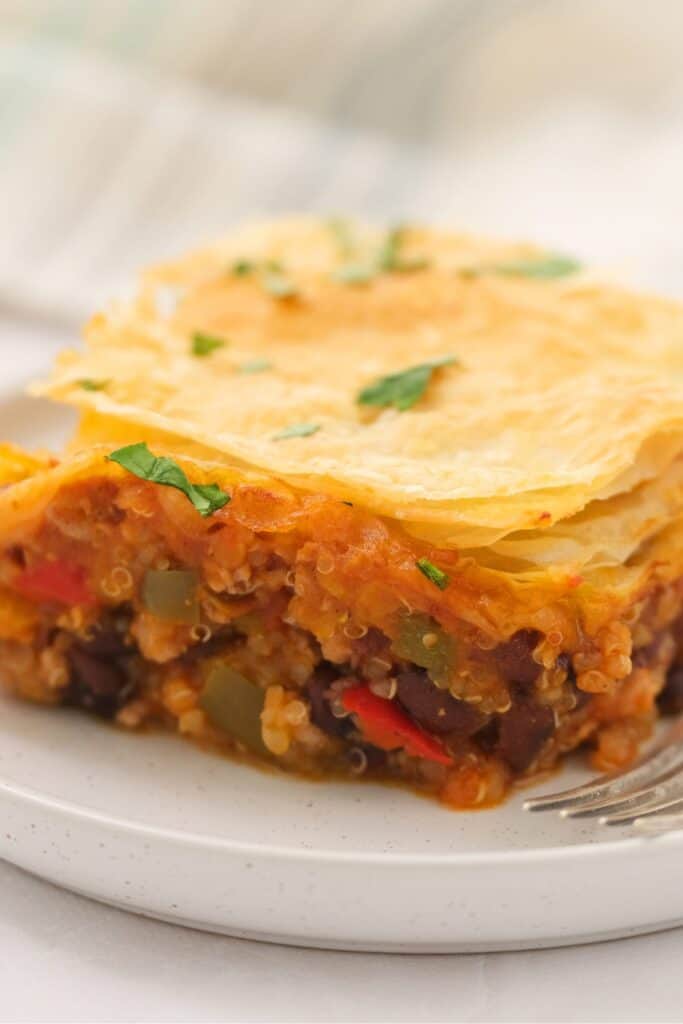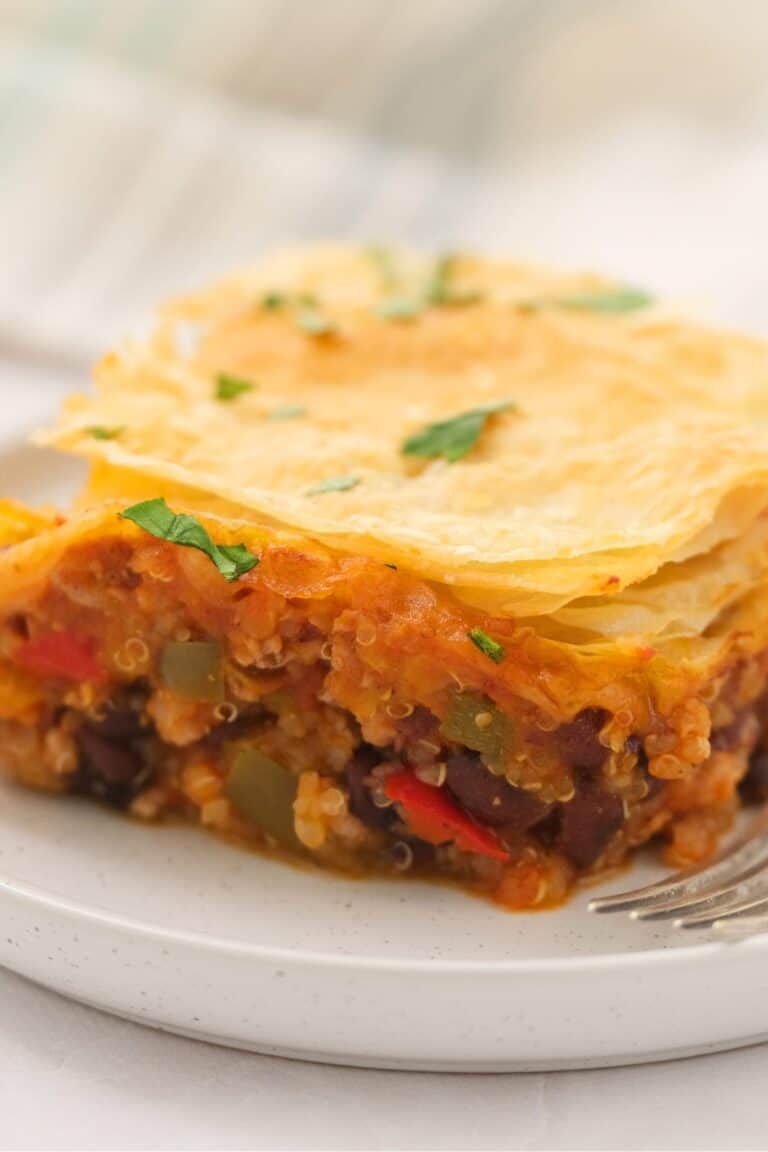 Holiday Leftover Chili Pot Pie (from Reluctant Entertainer) is an easy and delicious dinner idea using leftover chili (or your favorite chili recipe) for a quick meal!
Leftover Chili Tortilla Stack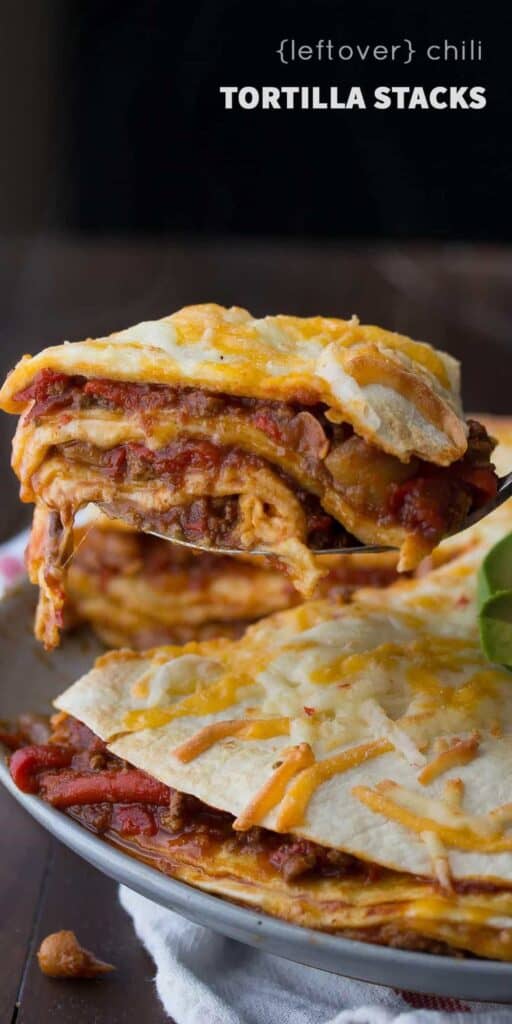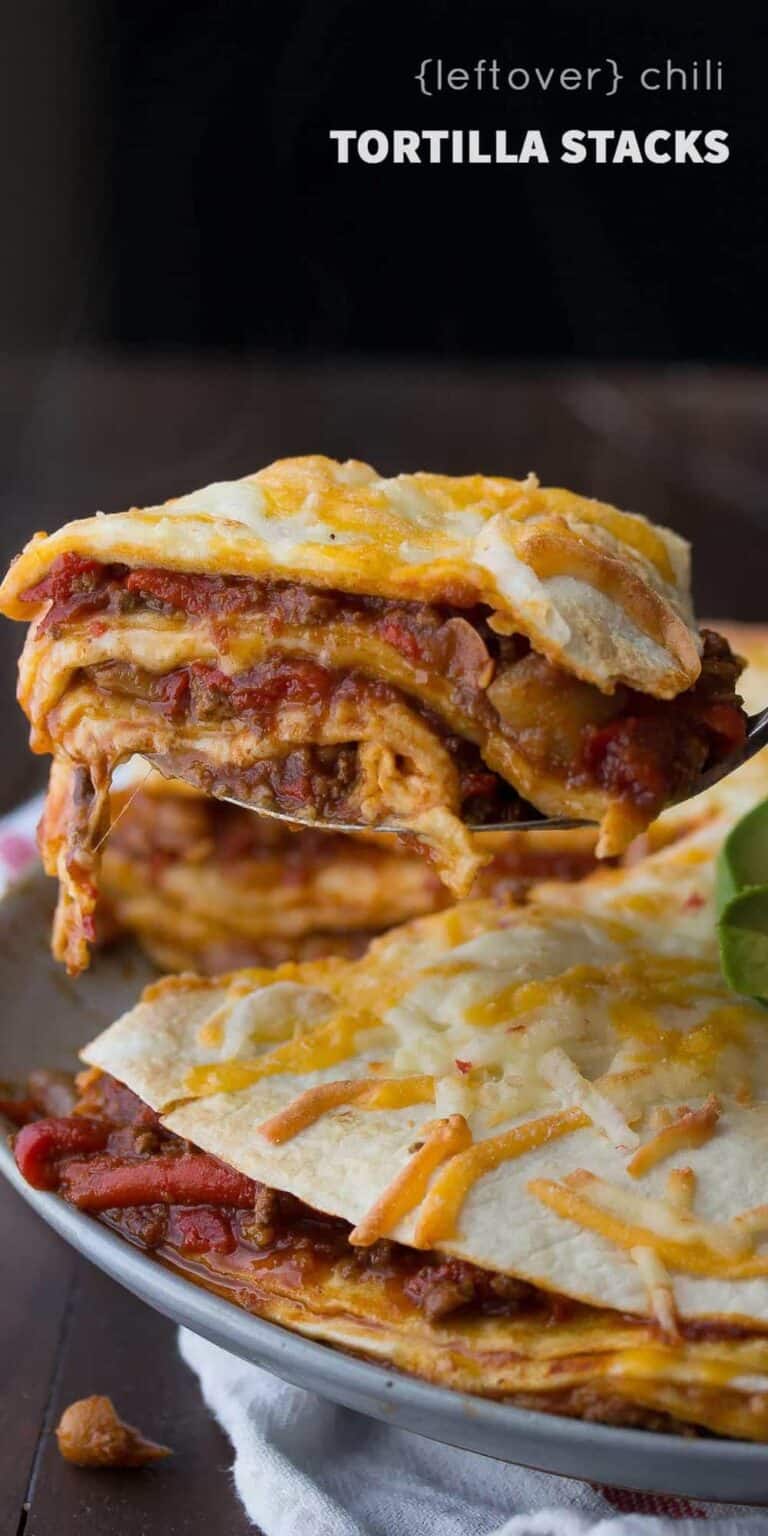 Use up your chili leftovers in this fun and EASY tortilla stack (from Sweet Peas and Saffron). These are ready in under 25 minutes, and make for an awesome work lunch!
Leftover Chili Stuffed Peppers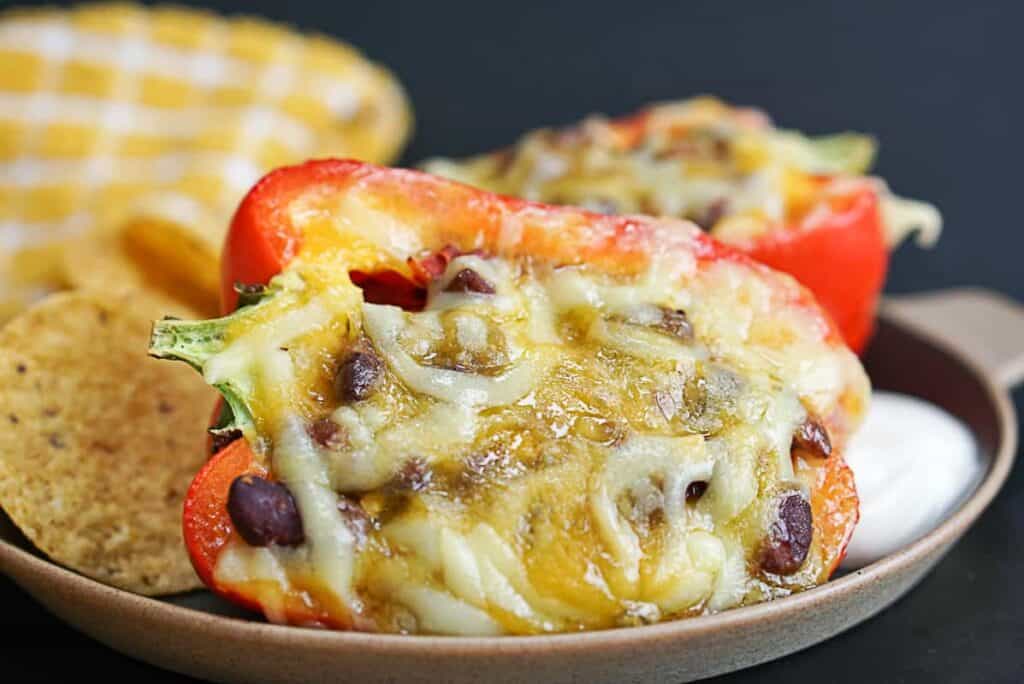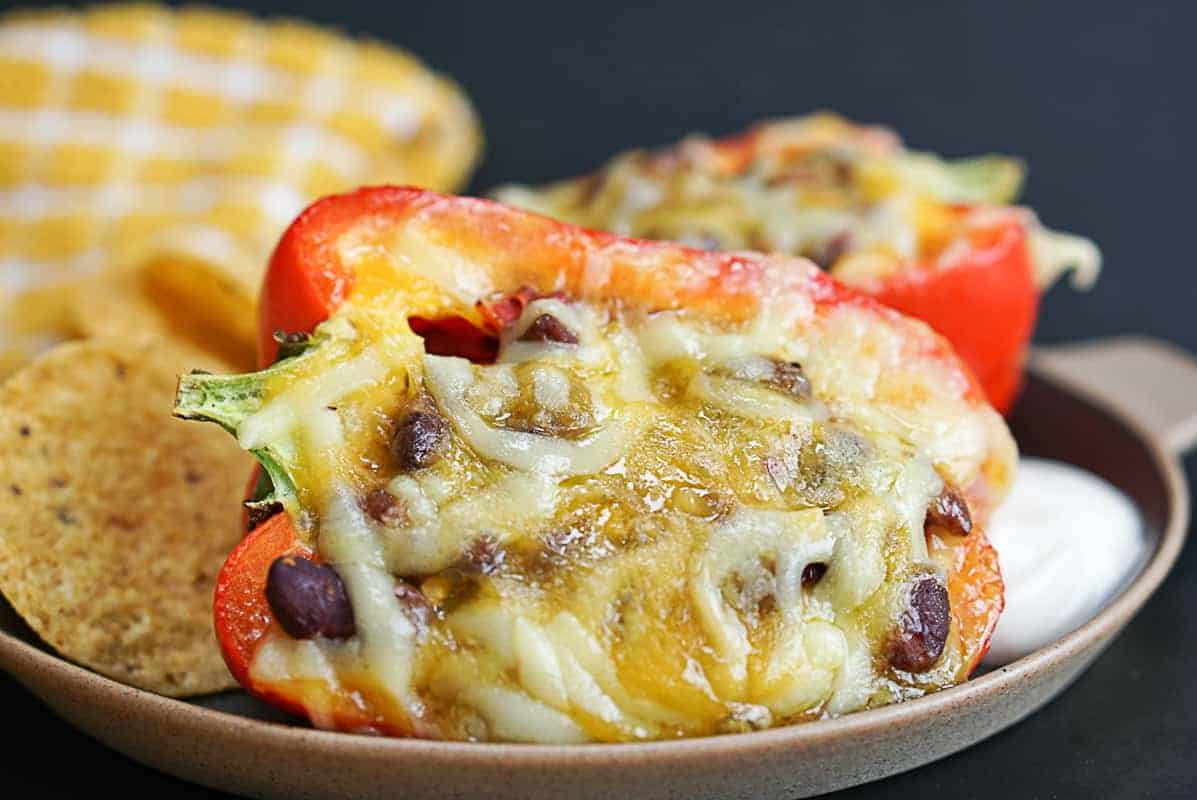 This chili stuffed peppers recipe (from Bean Bites) makes stuffed peppers easy and repurposes leftover chili from the fridge or the freezer. It's a no-nonsense super easy midweek meal or weekend lunch.
Leftover Chili Cornbread Bake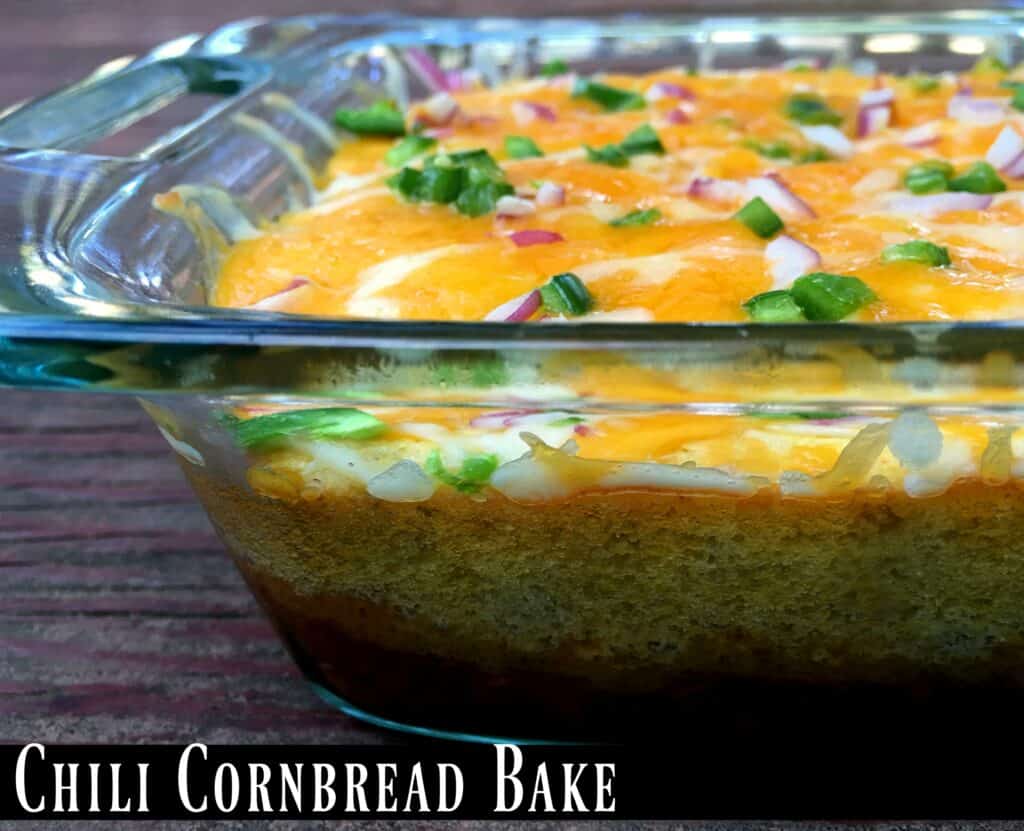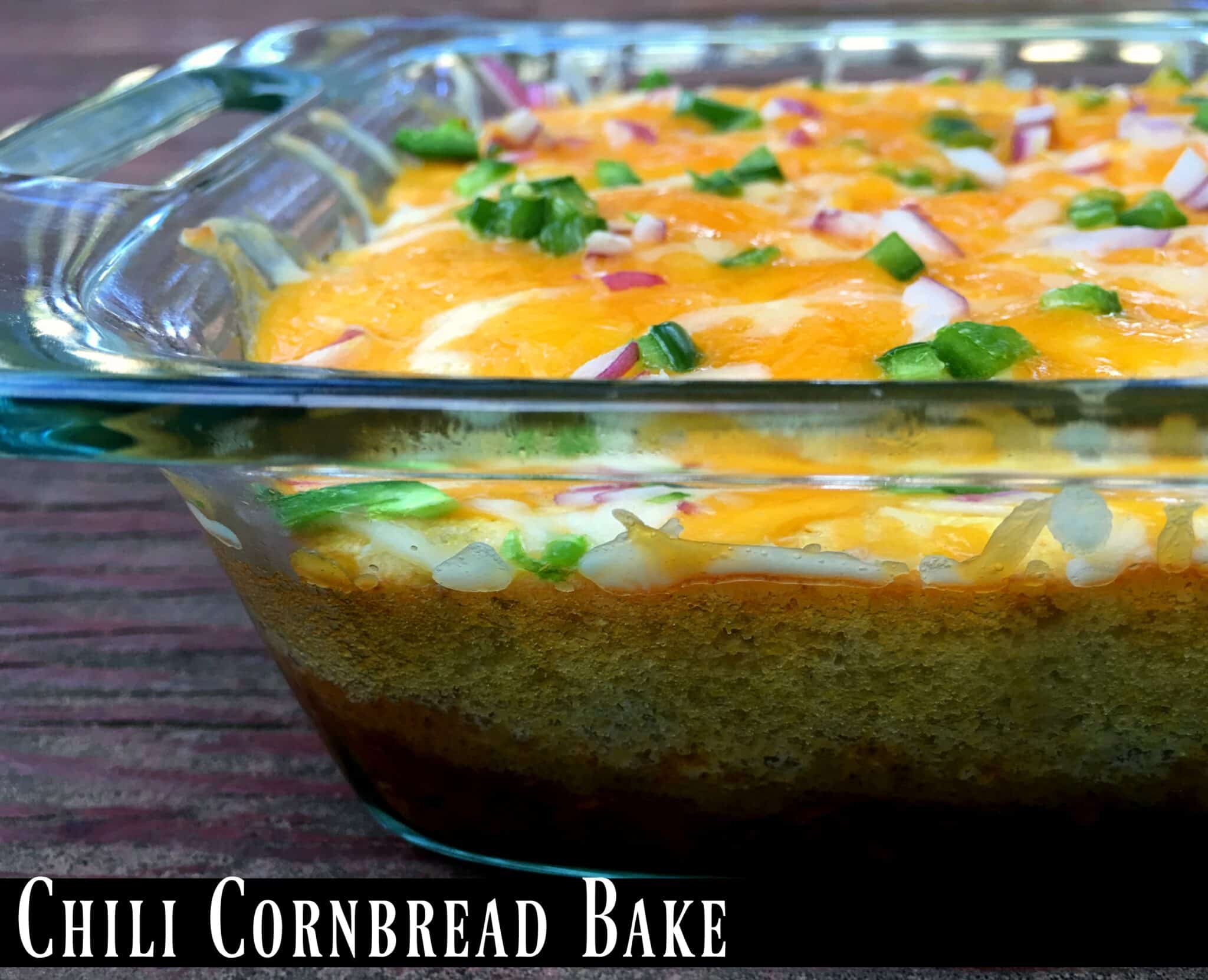 The only thing better than chili is 2 or 3rd day chili. I ALWAYS make a huge pot because we absolutely love having chili cheese dogs or chili cheese nachos with the leftovers. But this right here is our ALL time FAVORITE way to use leftover chili. This casserole (from Aunt Bee's) is absolutely DELICIOUS! Give it a try and see what'cha think!