This classic comfort food is one of the most delicious recipes to enjoy when it is chilly outside! Read on for chili dinner ideas with a variety of recipes and side dish recommendations, as well.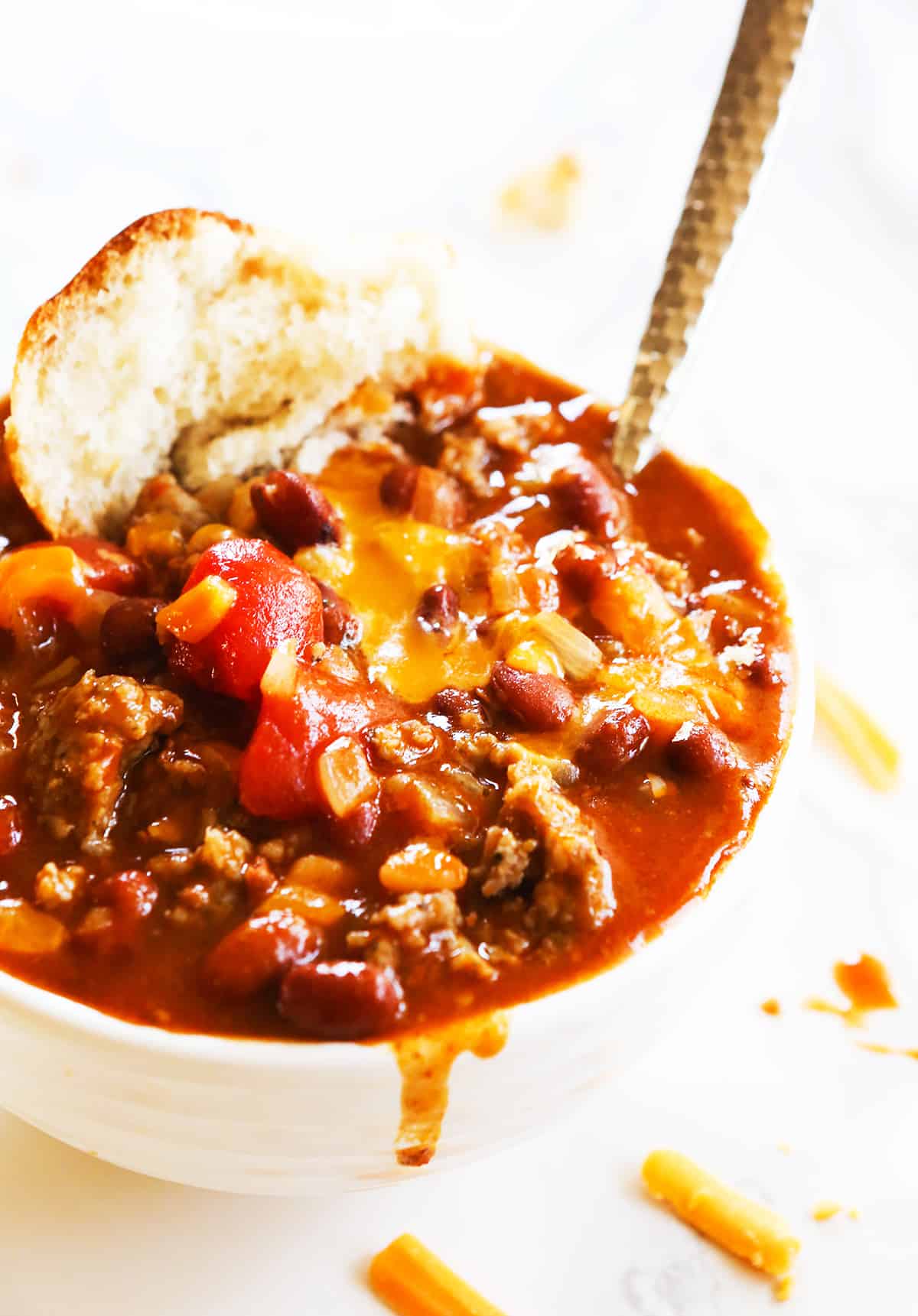 Chili is one of my all-time favorite meals because it has ALL the perfect qualities. It is comforting, filling, delicious, hearty and can be made in a variety of ways. Also, there are a variety of side dishes that complement it well!
Read on for my best chili dinner ideas and recommendations about which type of chili to make, as well as what to serve with it. This is all coming from a true chili expert, having made and tested hundreds (thousands?) of versions of this perfect dish.
FAQ About Chili
Why chili is hot?
The ingredients in chili that typically make it spicy are chili powder, peppers and pepper (or cayenne pepper). To decrease the amount of heat in the recipe, reduce the amount of chili powder used and omit peppers (aside from bell peppers, which are very mild) and cayenne or black pepper.
What to top chili with?
A bowl of chili is the perfect template for delicious toppings! Consider any or all of the following: shredded cheddar cheese, sour cream, sliced green onions or oyster or saltine crackers.
What to serve with chili?
Serve chili warm with a bit of shredded cheddar cheese and a dollop of sour cream. A few good options to serve alongside it include chopped salad, dinner rolls and cornbread.
How to thicken chili?
If you prefer thick chili, it is easy enough to transform any version to fit your liking. Decrease the amount of tomatoes (juice and diced) used by half (or more) and simmer for 30 additional minutes.
Can chili be frozen?
Chili lasts up to 5 days in the fridge after it has been cooked and cooled. Beyond this timeframe, chili will keep in the freezer for up to 6 months. Store in an airtight container or double-bagged freezer bags.
Chili Dinner Ideas
Inside this post you will find everything you need to know about hosting a chili dinner, including a variety of ways to make the main dish, what to serve alongside it and even what to do with the leftovers!
Appetizer Ideas
Chili dinners are the best in those cold winter months! If you are looking to round out your meal, peruse this roundup for ideas about what to serve as appetizers for chili dinner.
How To Thicken Chili
If you make a delicious batch and find that it is not thick enough for your liking, we have some simple methods that will fix it! Read on for tips about how to thicken chili.
Substitute For Beans In Chili
Whether you can't eat beans or you just don't have any on hand, learn what to substitute for beans in chili!
Flavor Boosters and Recipe Hacks
Favorite toppings: shredded cheddar cheese, sour cream, sliced green onions, saltine crackers, crispy bacon pieces or pickled jalapeno peppers.
For a spicy chili, add extra jalapenos, diced green chilis, cayenne pepper, red pepper flakes or black pepper.
To thicken, replace the diced tomatoes with crushed tomatoes and reduce any tomato juice called for by half. Another option is to add a can of tomato paste to the pot.
For a different flavor, replace some or all of the pinto or kidney beans with black beans.
Flavor boosters: garlic powder, onion powder, extra chili powder
Use ground pork or ground beef (or a combination of the two) for a flavor boost. Even lean ground beef provides more flavor than other ground meat such as chicken or turkey.
When hosting a large gathering or putting together a game day spread, create a chili bar with toppings in separate bowls for a serve-yourself, customizable meal.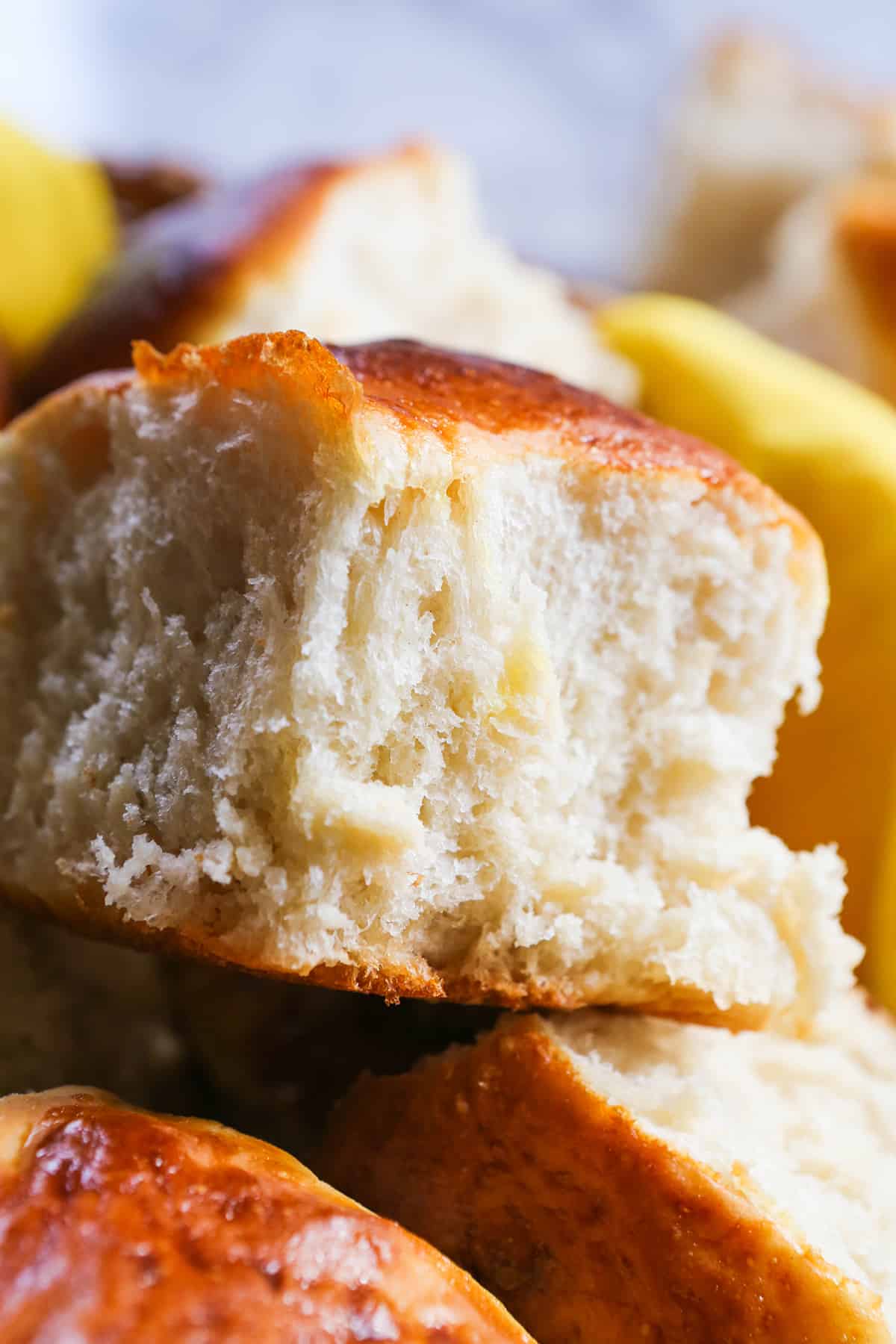 What To Serve With Chili
Baked potatoes (sweet or regular)
Roasted sweet potatoes
Sweet potato fries
Regular or cheesy breadsticks
Nachos
Cheese quesadillas
White, brown or Spanish rice
Leafy green salad
Potato chips, tortilla chips or French fries
Grilled cheese sandwiches
What To Drink With Chili
Beer
White or red wine
Whiskey- or gin-based cocktails
Sparkling water filled with fruit cubes
What To Do With Leftovers
If you have leftovers (and it's very possible that you will because this makes a large batch), please check out these delicious ways to use them up:
Favorite Chili Recipes
Best Slow Cooker Chili
This is the best chili recipe! It is a contest winner, total crowd pleaser and the best version you'll find. It is packed with flavor, texture and color. Make it for your next gathering, large or small, and you will get rave reviews. Add jalapenos for extra spice or go mild!
Wendy's Chili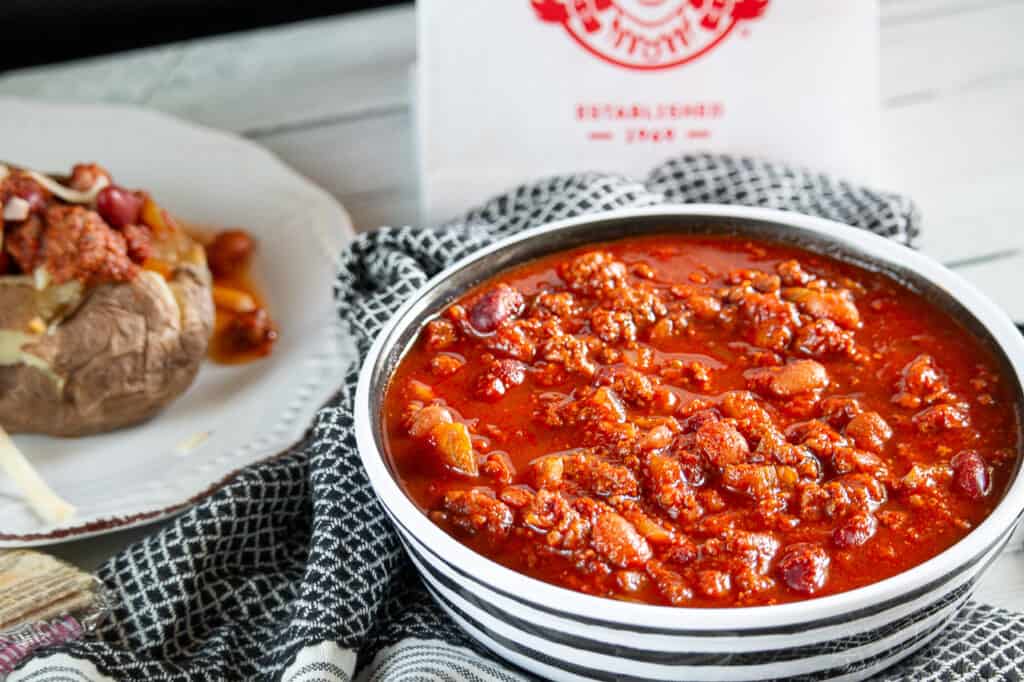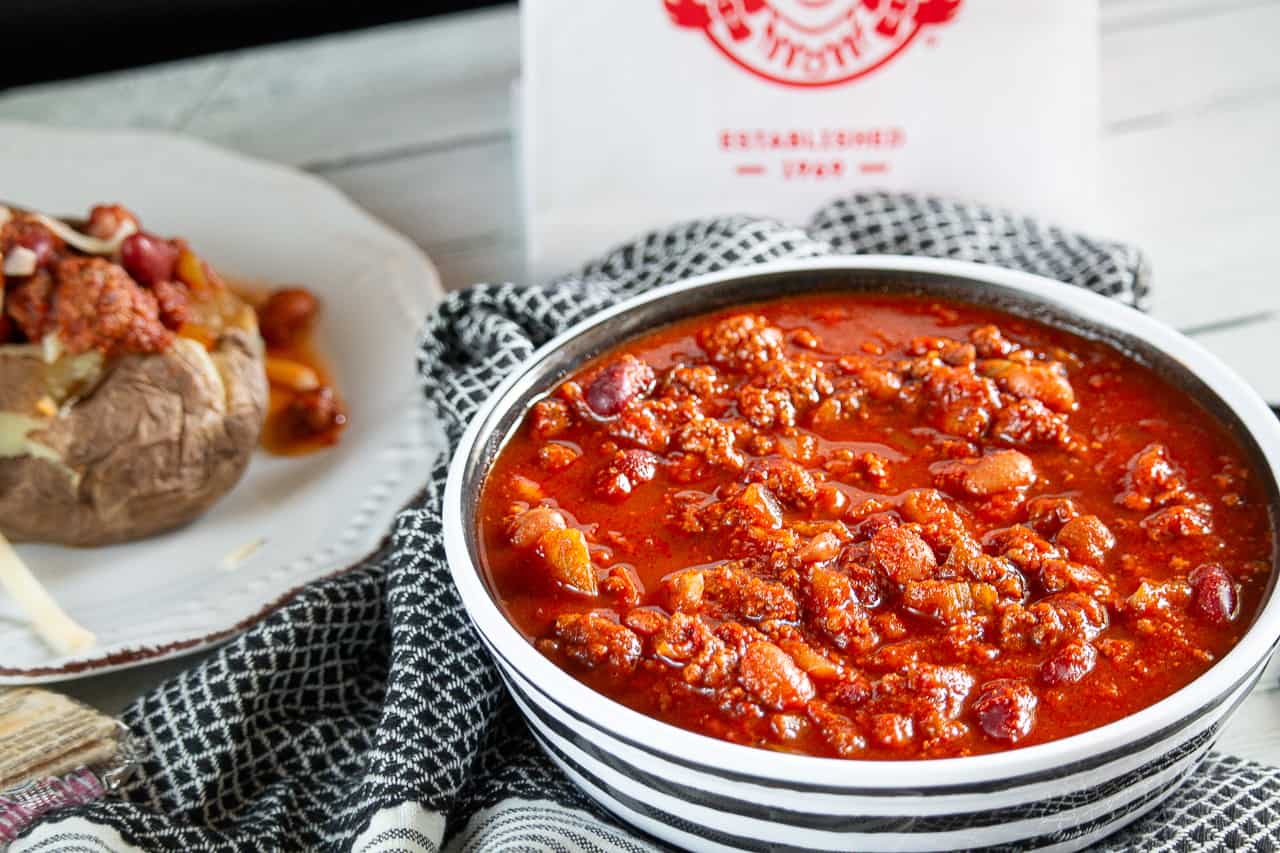 This copycat Wendy's chili (from The Bearded Hiker) is actually better than Wendy's – and I'm not just saying that. Better, but at the same time, it's remarkably like Wendy's chili. Visually, viscosity, the beans, the meat chunks.
Instant Pot Turkey Chili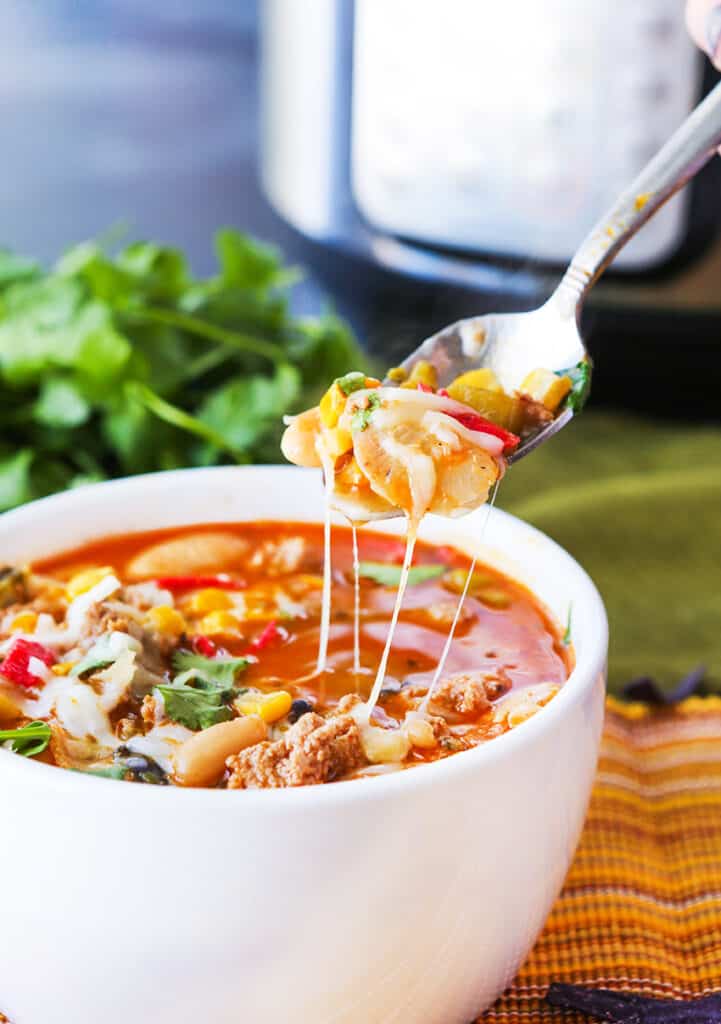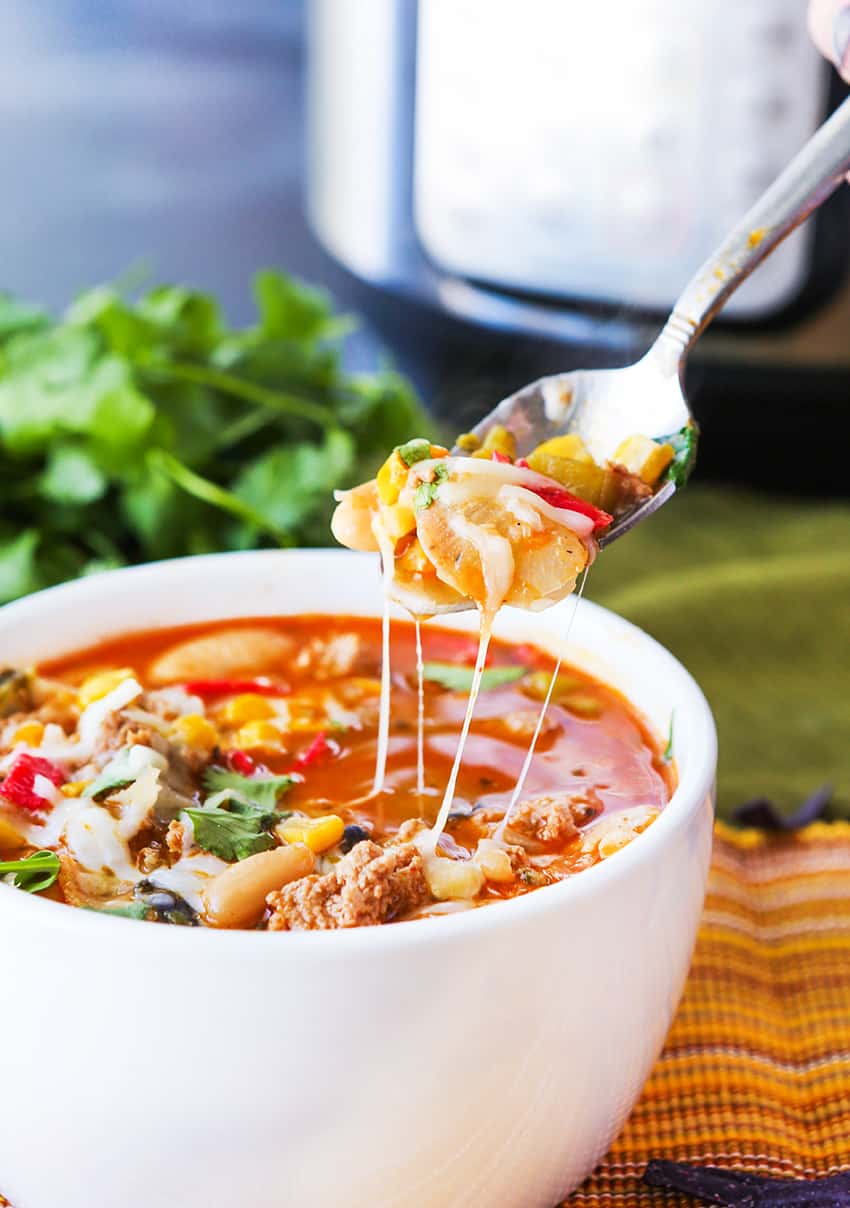 Instant Pot Turkey Chili is packed with ground turkey, white beans and veggies. This flavorful meal will quickly become a dinner favorite!
Easy White Chicken Chili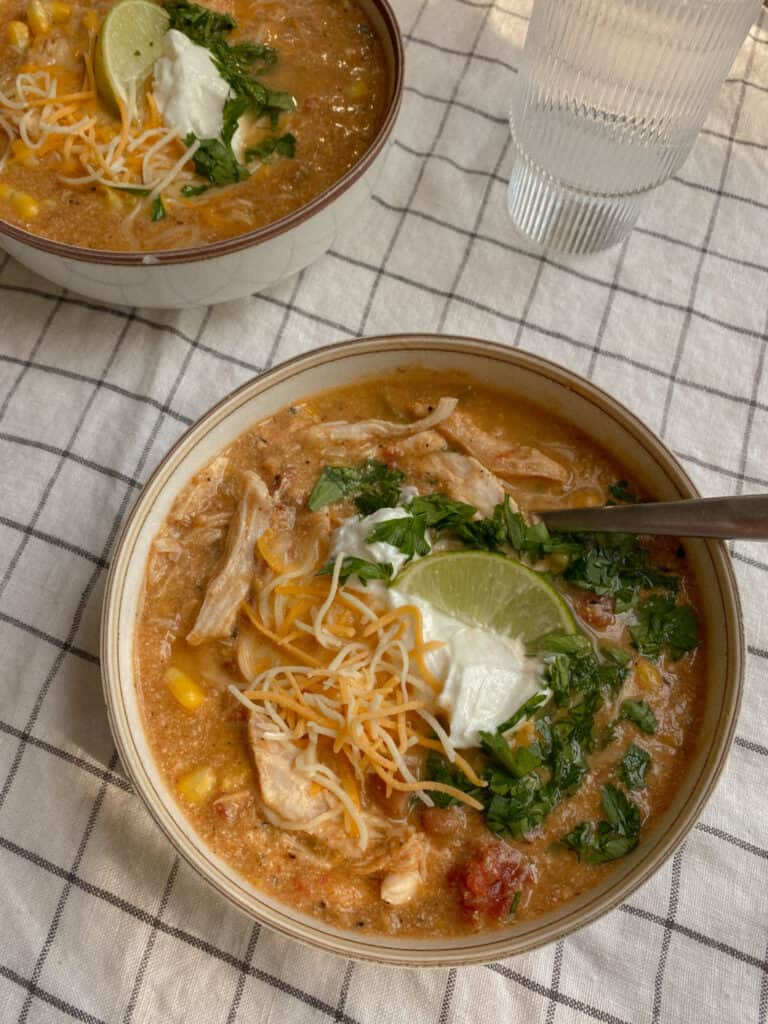 Super simple Instant Pot Healthy White Chicken Chili (from Gathered Nutrition)! Cozy, nutrient-dense, SO easy to make, and full of flavor. The best warming bowl for a meal-prepped lunch, or a throw-together dinner!
Easy 3 Can Chili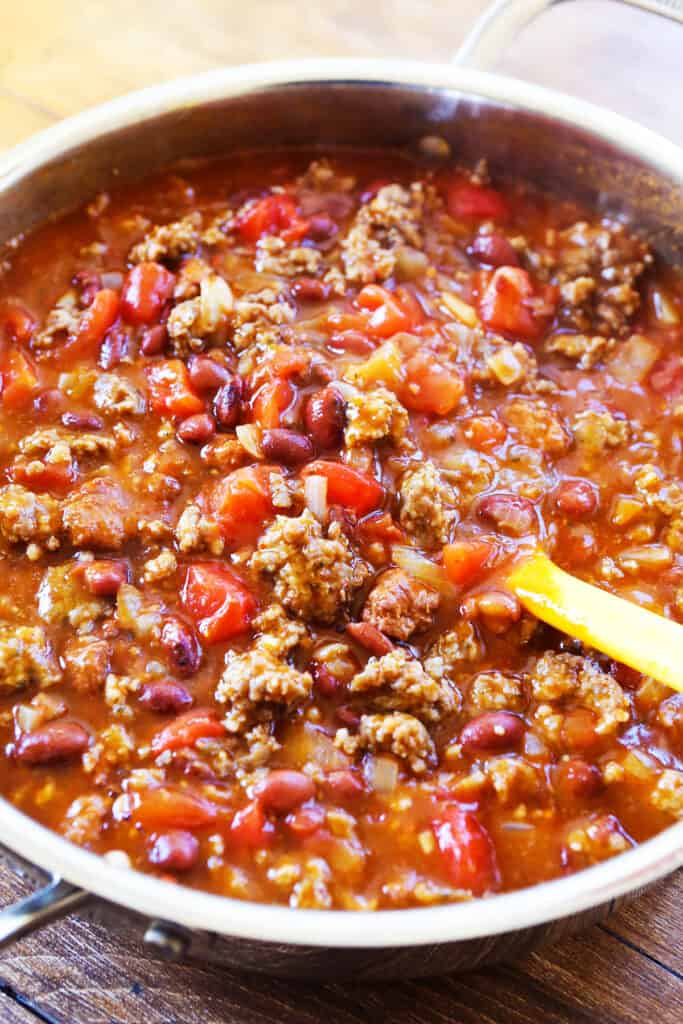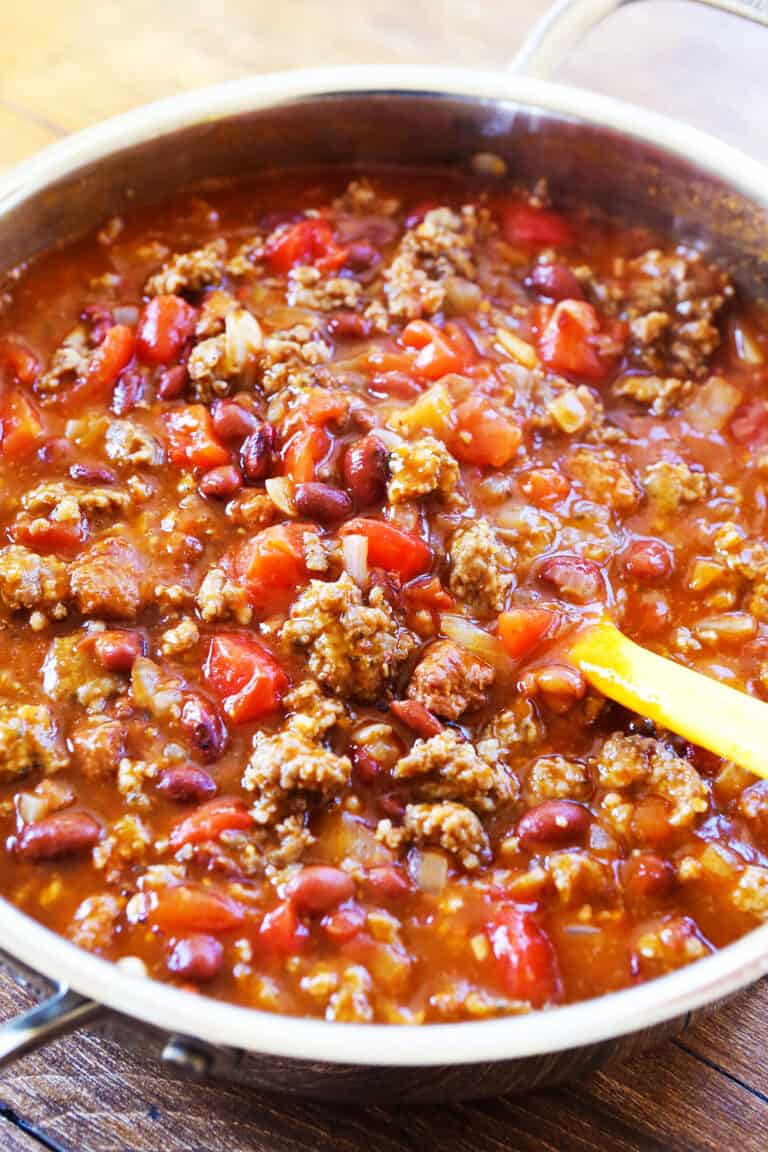 This EASY chili recipe requires is a super comforting dish that is packed with flavor and requires only 30 minutes of your time.
Black Bean Easy Vegetarian Chili Recipe with Spiced Yogurt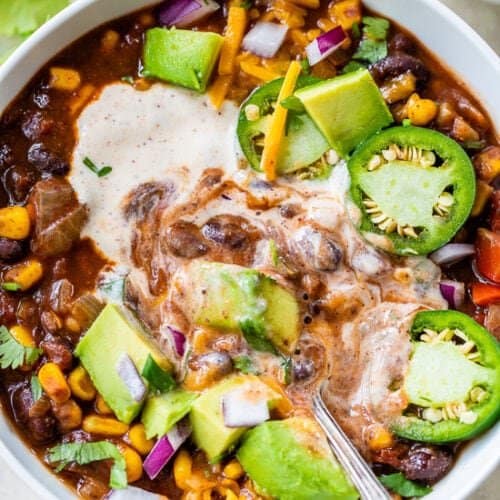 This Easy Black Bean Vegetarian Chili topped with Spiced Yogurt (from Skinny Taste) takes about 20 minutes to cook but tastes like it simmered for hours.
Instant Pot Chili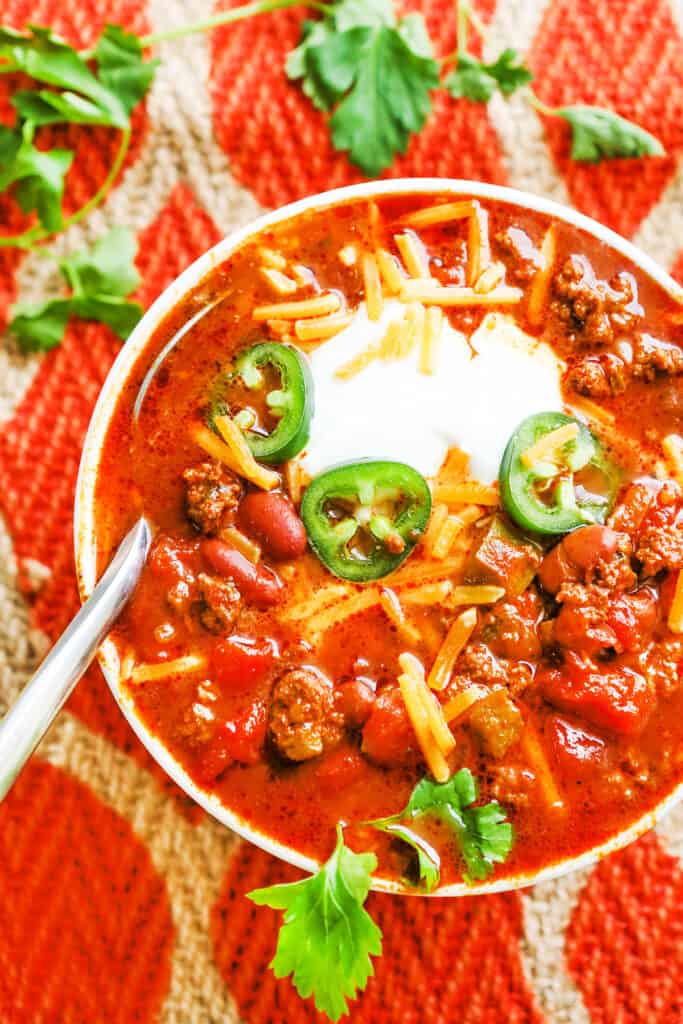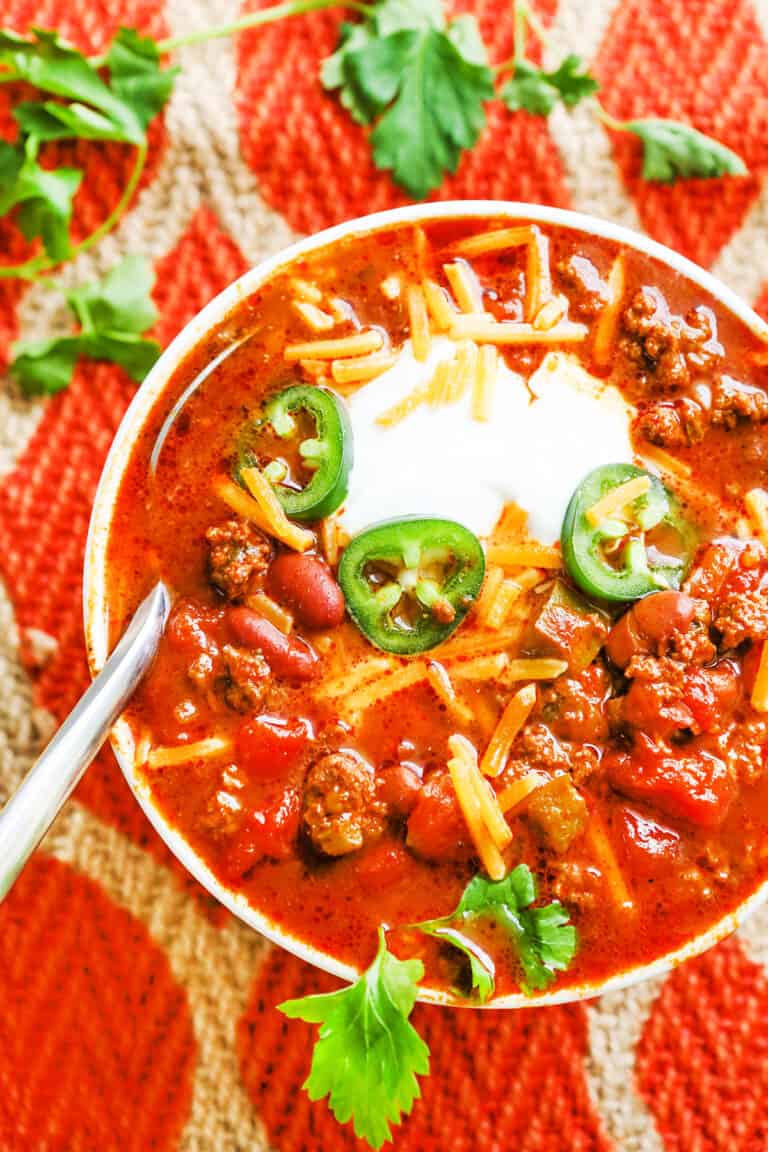 When made in your pressure cooker, it is THE BEST! This recipe is the absolute perfect comfort food, packed with flavor, texture, color and a tiny bit of spice. Perfect dinner or party food!
No Bean 30 Minute Chili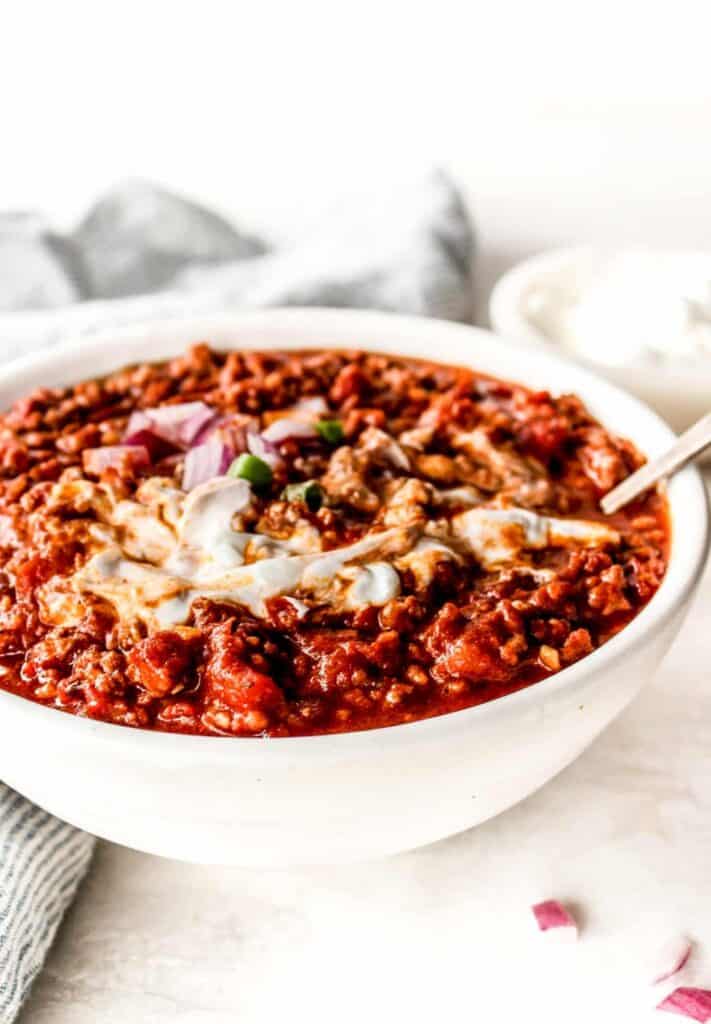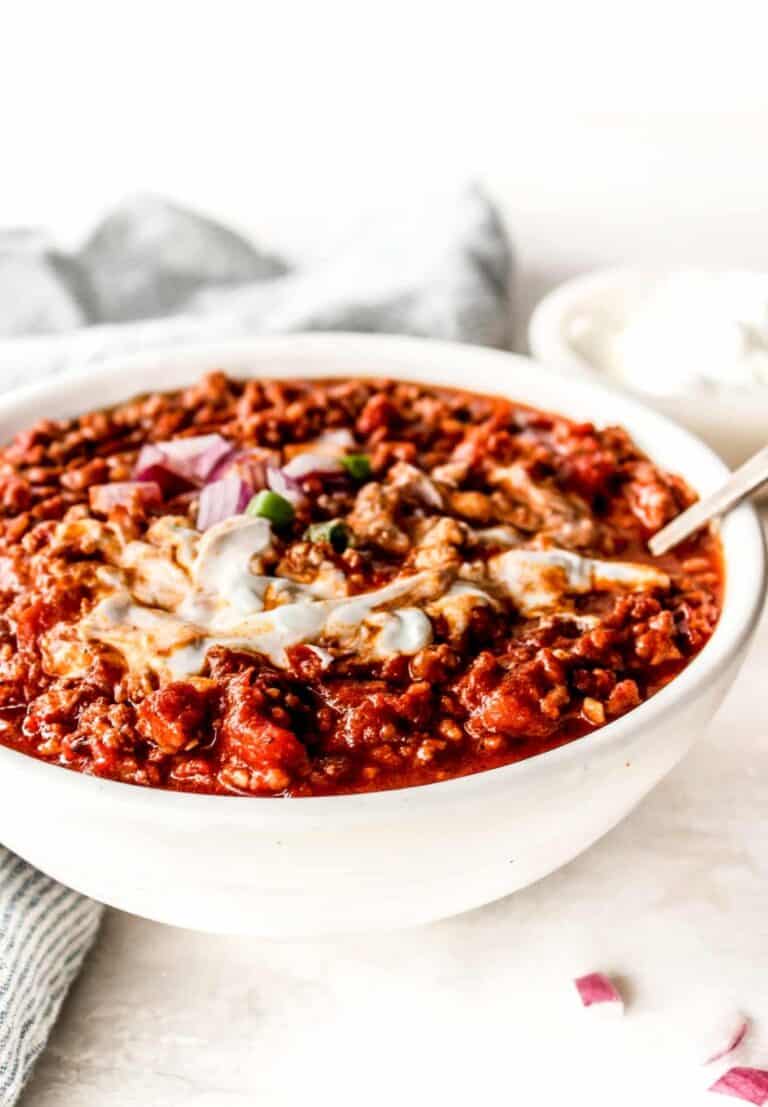 This chili (from The Whole Cook) is thick, rich, and has a flavorful kick that earns rave reviews! It's also free of beans!
Chili Mac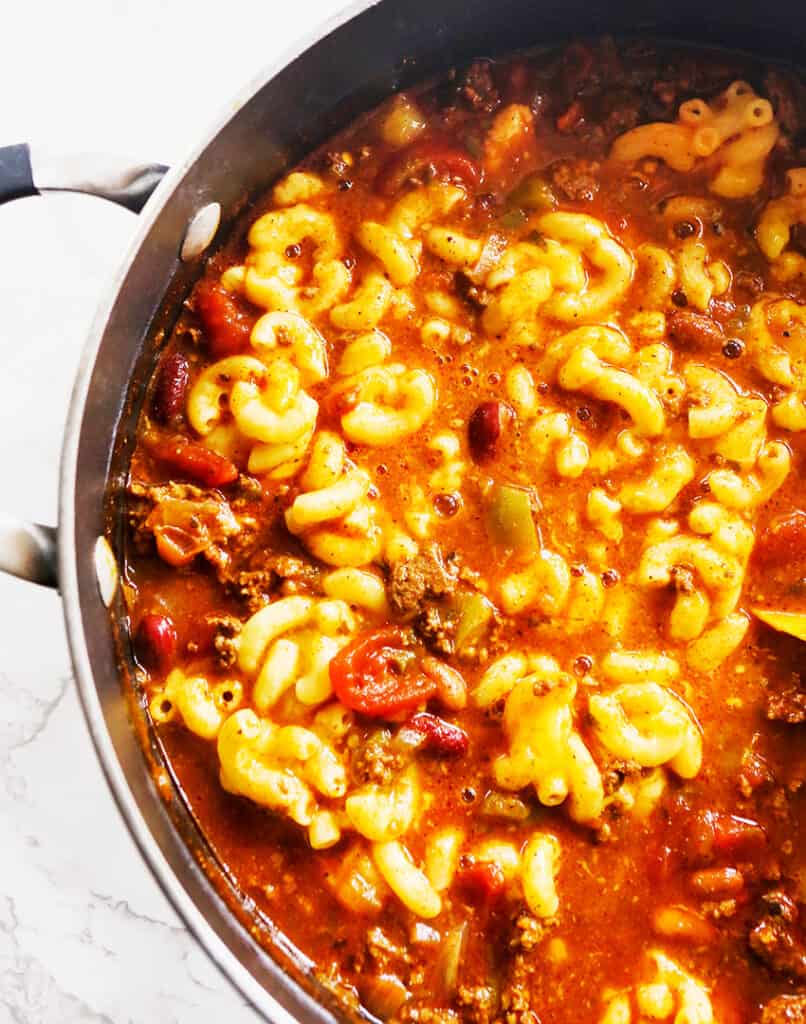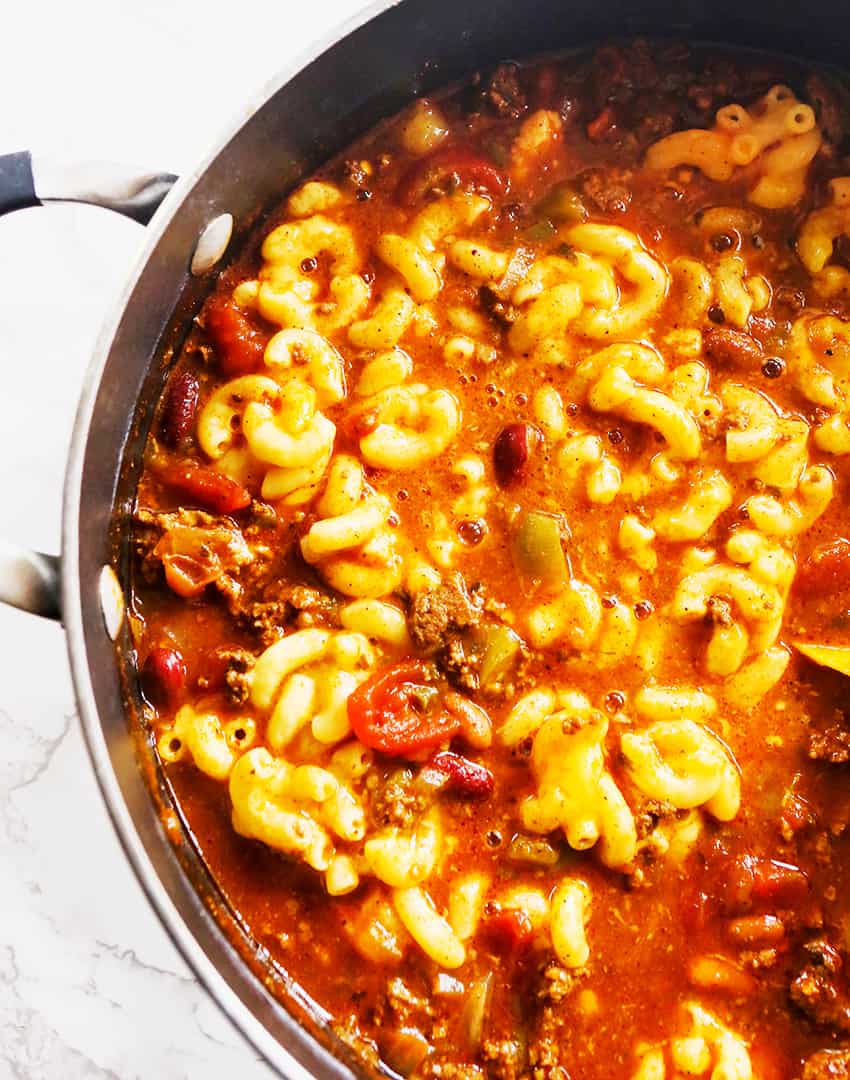 This chili mac recipe is the perfect marriage of two of the most comforting comfort foods of all time. Delicious way to use up leftover chili!
Green Chicken Chili Soup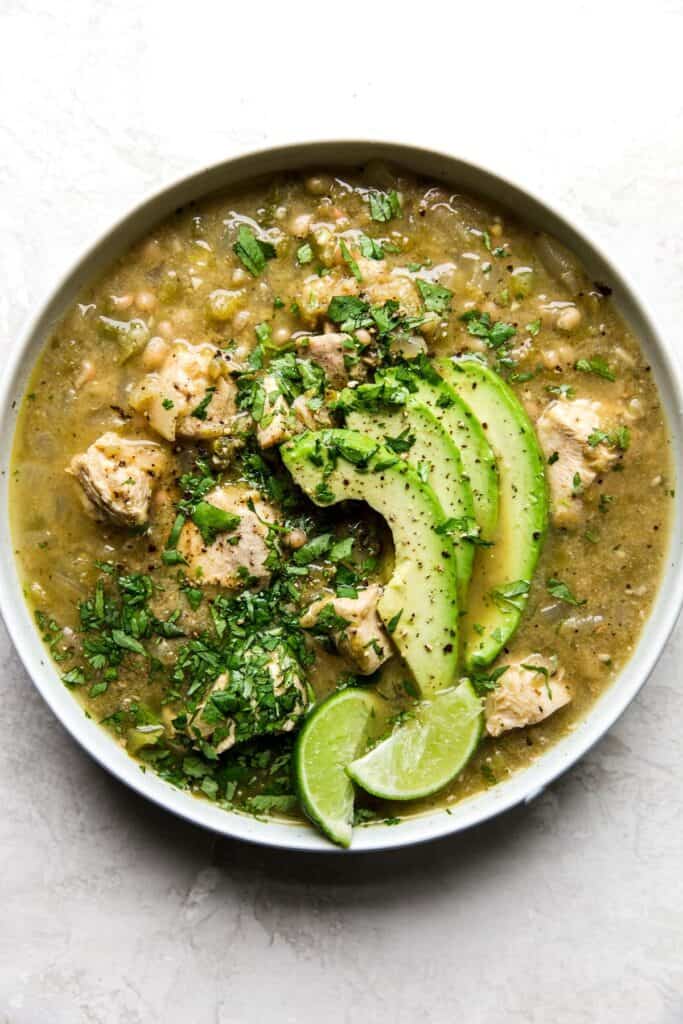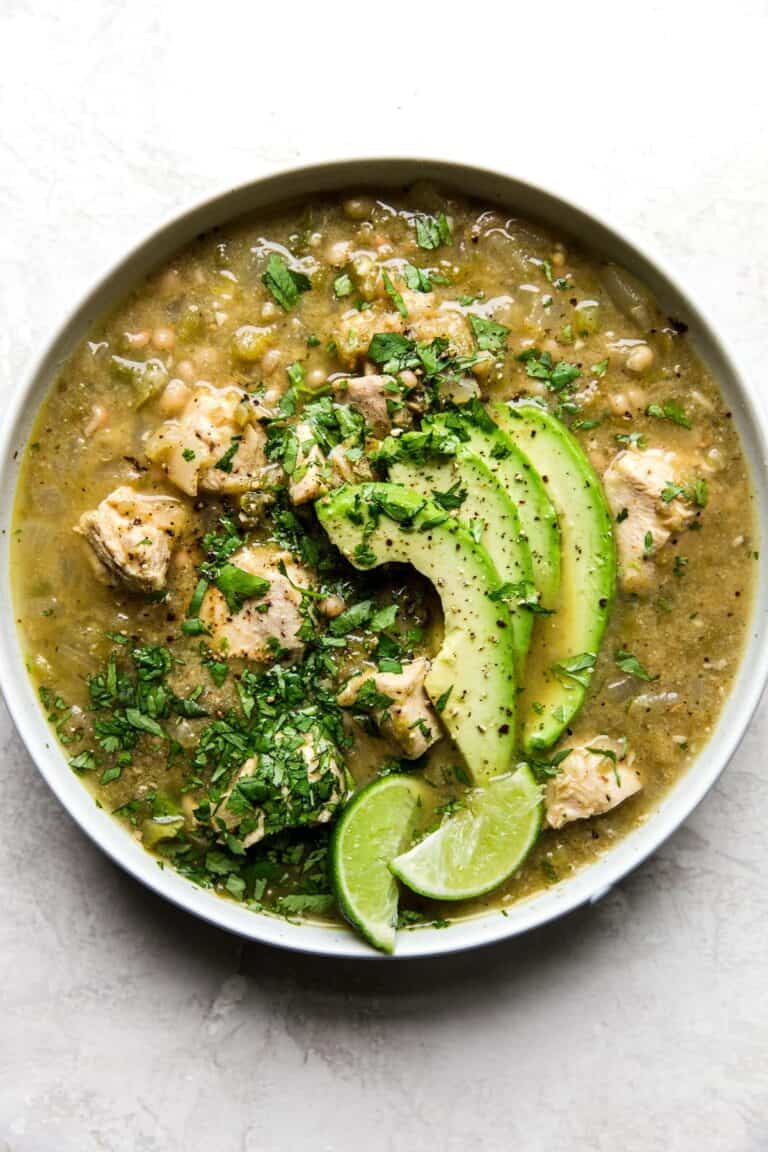 This versatile green chicken chili soup recipe (from The Modern Proper) can be made ahead as a freezer meal, made just a few hours ahead in a slow-cooker, or even cooked right away on the stock top.
White Chili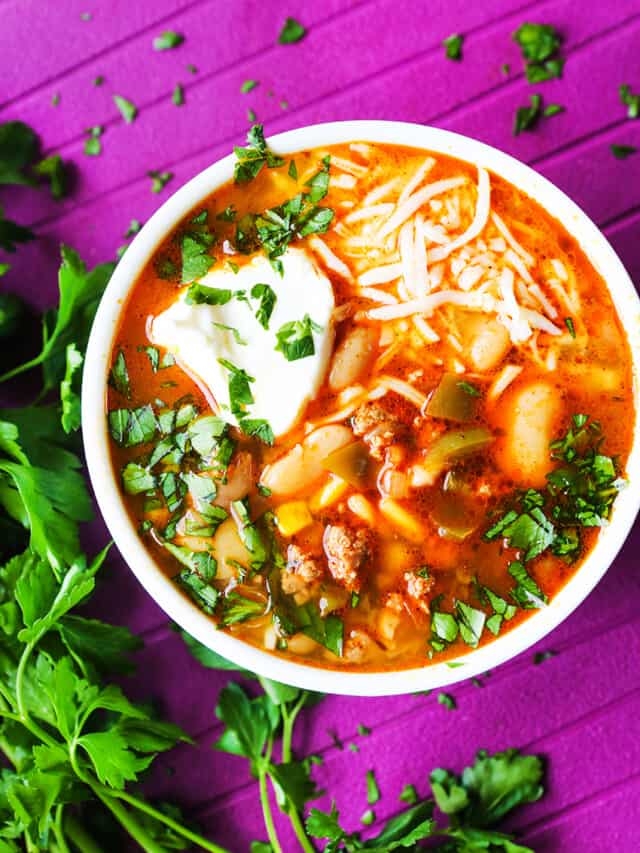 Change up your regular chili this week by making this delicious White Chili with turkey, corn and white beans! Go spicy or make it mild. Either way, you will fall in love!
Beef Chili For Two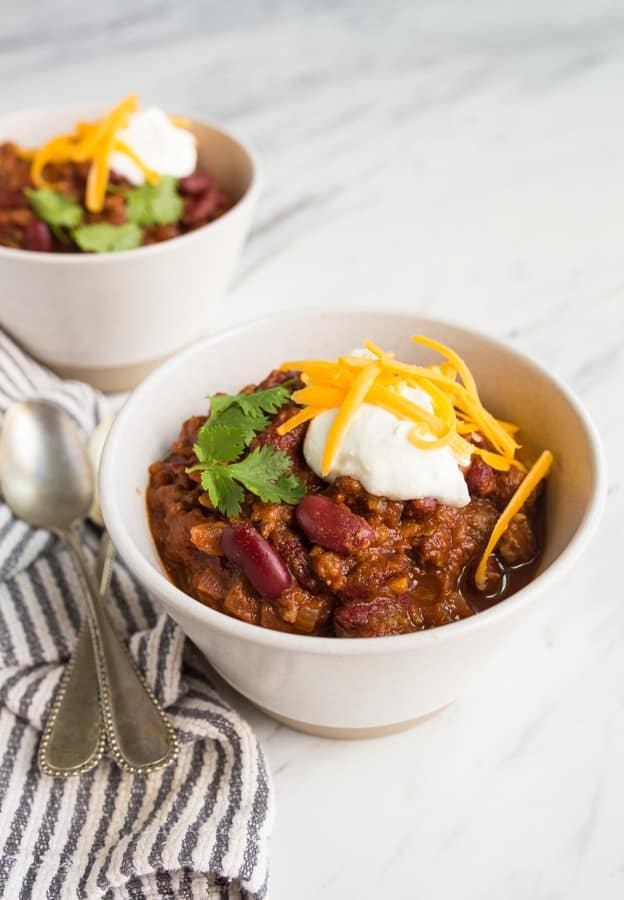 This meaty chili (from Dessert For Two) for two is made in less than 30 minutes!