Whether you can't eat beans, don't like the taste of them or you just don't have any on hand, learn what to substitute for beans in chili!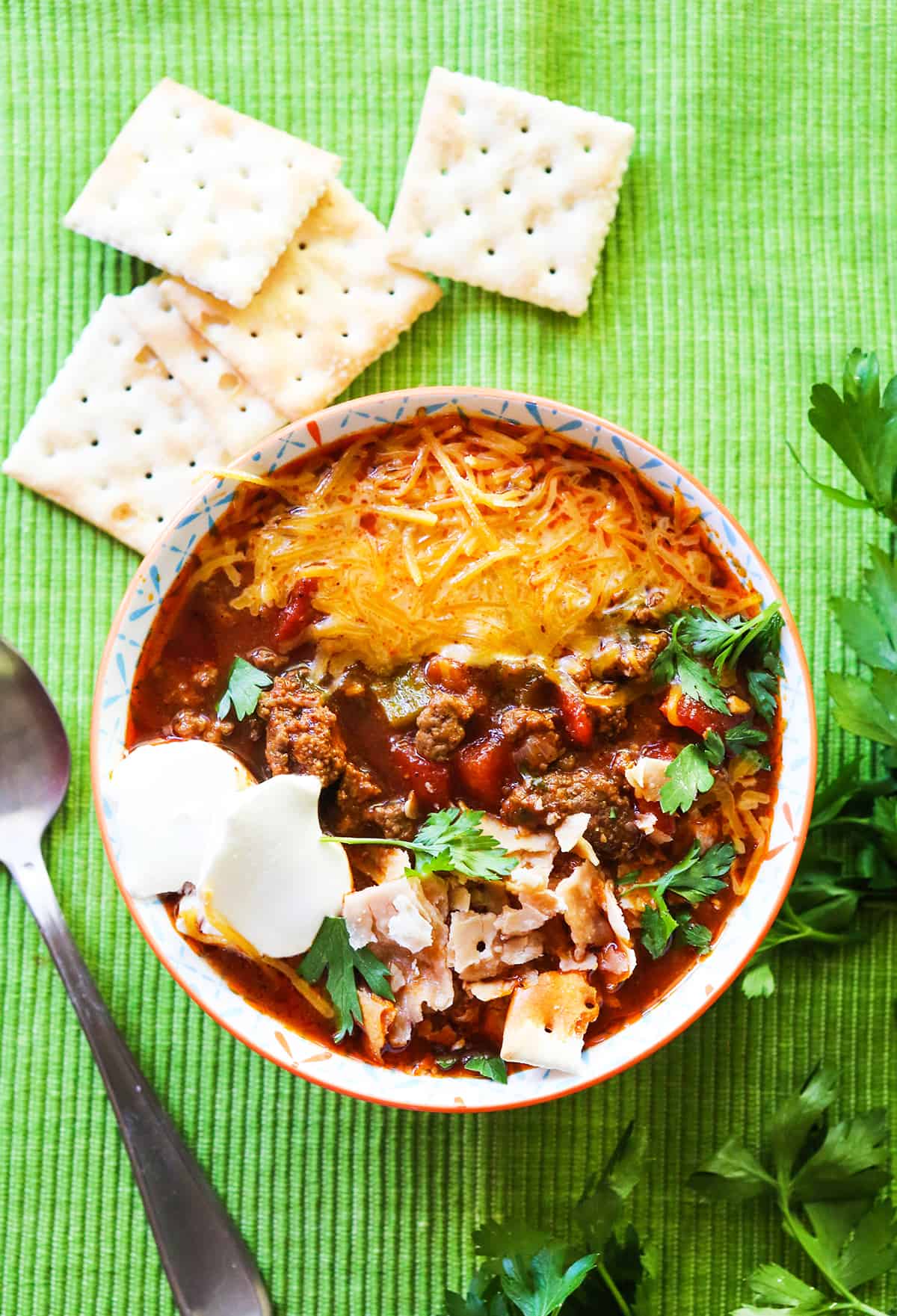 There is no recipe more comforting than chili, am I right? And here is a fun fact. My famous traditional chili recipe was the first one to really take off on my blog. There is a good reason for that, too. It is a really good soup recipe that people adore.
Here are a few things I adore about chili:
It is appropriate for any season.
So many toppings can be thrown into the mix.
It's the most comforting dish of all time.
Whether you cannot eat beans or they are missing from your pantry, you can still make and enjoy a batch of chili. Ditch the chili beans and replace them with one of many food substitutes.
Read on for some great suggestions. First, though, let's hook you up with the perfect recipe. Browse through the following options!
Best Beans For Chili
Below are types of chili beans that can be swapped out for other ingredients. Although they are a great source of protein, you may be searching for bean substitutes.
Pinto beans
Red kidney beans
White kidney beans
Black beans
Cannellini beans
Great northern beans
Navy beans
Fava beans
Chili Recipes
Substitute For Beans In Chili
Any of the below are great substitute options for beans. Peruse the list below to select a good alternative that work for you and the people you are cooking for!
Note: Altering ingredients in any recipe may require you to adjust the cooking time and may alter the overall flavors of the dish.
Add up to 1 extra pound of ground meat for an excellent substitute with fewer carbs – Ground beef, ground turkey, chicken, venison or pork sausage.
Replacing up to 2 cups chopped vegetables is a great choice and one of the best substitutes – Cauliflower florets, broccoli florets, bell pepper, white or portobello mushrooms, sweet peas or split peas, carrots, zucchini or butternut squash.
Include up to 2 cups chopped potatoes for a great alternative high in fiber – Cut russet potatoes, red potatoes or Yukon gold potatoes into small pieces or use sweet potatoes for a sweet flavor.
Adding up to 2 cups of soy is an excellent alternative and great low carb option – Tofu, edamame, whole soybeans or texturized vegetable protein.
Replace beans with up to 1 cup cooked grains for a really good substitute – Quinoa, white rice, brown rice, barley or farro.
Substitute beans with up to 1 cup cooked gluten-free grains – Grits, polenta or corn.
Including up to 1 cup cooked legumes is a great gluten free option – Chickpeas (aka, garbanzo beans), lima beans or black-eyed peas.
Add up to 1 cup cooked lentils to add a nice texture – Brown, green or red lentils.
Add a can of tomato paste to add a rich flavor and for a thicker consistency without adding chunky ingredients.
How Long Does Chili Last In The Fridge
If you are unsure about how to store leftover chili or whether your batch is still fresh, click over for all the info!
What To Serve With Chili
Dinner rolls are a great option to serve with this bowl of comfort. Chopped salad and garlic bread are delicious options, too!
Chili Dinner Ideas
Chili dinners are so comforting! If you're looking to round out your meal, look through this roundup about what to serve as appetizers for chili dinner.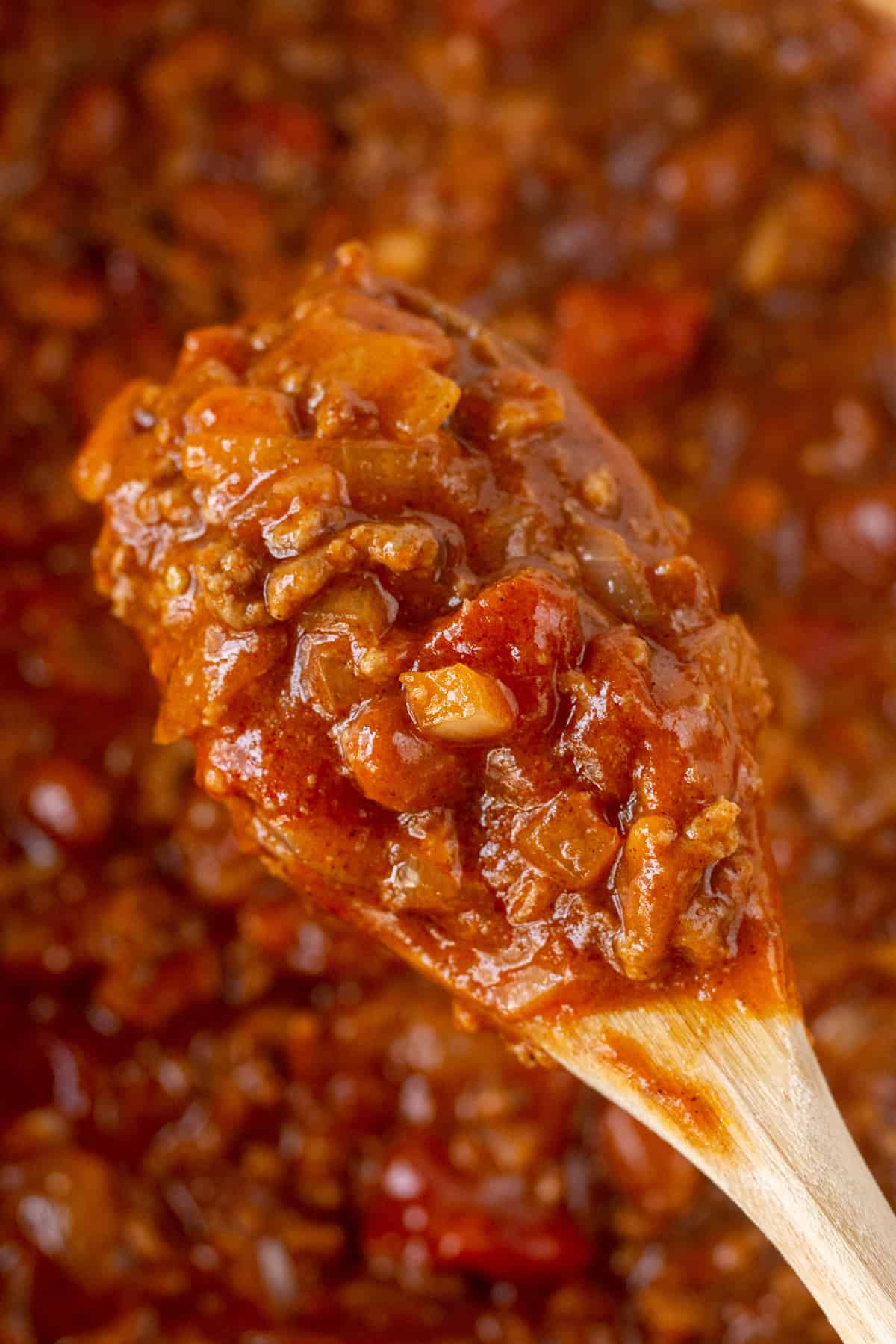 How To Thicken Chili
If you've made a batch of chili and want it to be thicker, here are a few tips that will help you fix it! Read on for tips about how to thicken chili.
What To Do With Chili Leftovers
If you have leftovers, check out these delicious recipes to help use them up:
FAQ About Chili
How to thicken chili?
If you prefer thick chili, it is easy enough to transform any version to fit your liking. Decrease the amount of tomatoes (juice and diced) used by half (or more) and simmer for 30 additional minutes.
Why chili is hot?
The ingredients in chili that typically make it spicy are chili powder, peppers and pepper (or cayenne pepper). To decrease the amount of heat in the recipe, reduce the amount of chili powder used and omit peppers (aside from bell peppers, which are very mild) and cayenne or black pepper.
What to top chili with?
A bowl of chili is the perfect template for delicious toppings! Consider any or all of the following: shredded cheddar cheese, sour cream, sliced green onions or oyster or saltine crackers.
What to serve with chili?
Serve chili warm with a bit of shredded cheddar cheese and a dollop of sour cream. A few good options to serve alongside it include chopped salad, dinner rolls and cornbread.
Can chili be frozen?
Chili lasts up to 5 days in the fridge after it has been cooked and cooled. Beyond this timeframe, chili will keep in the freezer for up to 6 months. Store in an airtight container or double-bagged freezer bags.