How long does potato soup last in the fridge? If you have leftovers to store and you're not sure whether to refrigerate, toss or freeze, read on!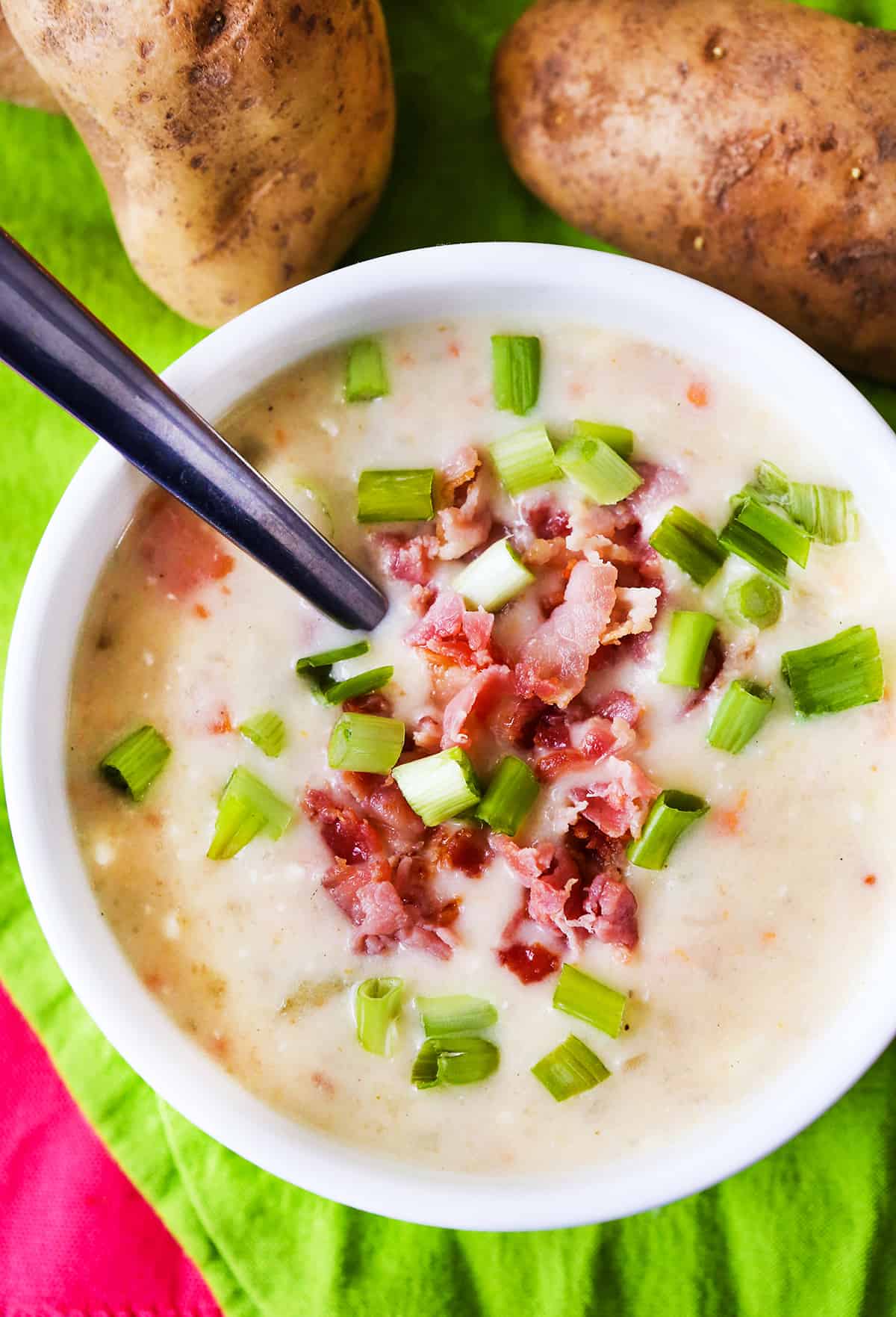 Fall is officially here and winter is around the corner, which means.. soup season! I love soup season. I could blather on and on about my many favorite types of soup, but I'll save that for another time.
For now, let's discuss potato soup, what you should do with leftovers and how long this comforting and creamy dish will last in the fridge. Every once in a while I find myself examining the contents of my leftovers containers for an expiration date, hoping one will magically appear.
Read on for my best tips about how long to store leftover soup in the fridge, how to determine whether or not your batch is still fresh and when it should be tossed.
Potato Soup Recipes
A loaded baked potato is transformed into a warm, delicious, hearty bowl of potato soup! Made with all the favorite ingredients, bacon, potatoes and cheese, you'll be glad to ladle up a hearty bowl full! This stovetop potato soup recipe is the perfect fall or winter meal.
This creamy Instant Pot potato soup is made even more delicious when made in a pressure cooker. Russet potatoes, carrots, celery and cream cheese transform this into a comforting and easy soup recipe to enjoy on a cold day!
Turn either of the above recipes into a sweet potato soup by swapping Russets for sweet potatoes!
How To Add Flavor To Soup
Check out these tips to learn how to add flavor to your next batch of delicious soup, stew or chili! Adding salt, chicken broth, rice, pasta, garlic, beans, spices or proteins such as seafood or ham are just a sampling of the tips included in this post.
What To Serve With Potato Soup
Soup is an easy, comforting meal to prepare for dinner any time of the year. But what do you serve alongside it? Click over for 15 ideas about what to eat with potato soup.
How Long Does Potato Soup Last In The Fridge
When properly stored in airtight containers, homemade potato soup will last for up to five days in the fridge. Start checking for signs of spoilage at three or four days.
Extend the Shelf Life
Refrigerate it! It is a good idea to secure the lid on the airtight container and store potato soup in the fridge at all times for best quality.
Keep at the same temp! Moisture can collect inside the container when temperature change occurs. Keep the temp of the entire container as consistent as possible to avoid early spoilage and always keep out of direct sunlight.
Go glass! Use a covered glass storage container instead of a plastic container for best results.
Avoid cross contamination! Always be sure to use clean utensils when scooping this soup into bowls in order to avoid cross-contamination. A clean spoon should be used every time you dip inside.
How To Tell If Potato Soup Is Bad
If you find yourself inspecting a container of leftover potato soup while trying to decide whether or not it has been sitting in the refrigerator for too long, there are a number of ways to tell whether you should eat it or throw it!
Smell test. Remove the lid and give it a good smell. Fresh potato soup has a fresh, starchy aroma. An unpleasant aroma or off odor is the best option for determining its freshness. If you scrunch up your nose after performing this test, it is probably a sign that it has reached the end of its life.
Note appearance. If the color of the mixture seems unusual or if the soup develops discolored clumps, these are signs that it should be tossed. If there are obvious signs of spoilage such as mold, it can cause food poisoning so toss immediately.
Taste test. If steps one and two have passed the test, grab a spoonful and give it a taste. You already know its familiar taste, so use common sense to determine if the taste is off. If you detect a sour taste or unusual flavor, you'll know it's time to toss!
Best Potato Recipes
FAQ About Potato Soup
How to freeze potato soup?
Potato soup freezes well! Allow it to cool to room temperature before you freeze potato soup. Transfer to freezer-safe container or doubled freezer bags to avoid freezer burn. Divide up individual portions (optional) and store in the freezer for up to six months. When you are ready to enjoy, allow the frozen soup to defrost overnight in the fridge. Reheat thawed soup on the stove top.
How to thicken potato soup?
The best way to thicken potato soup is to add a cornstarch slurry. Whisk 2 tablespoons of corn starch with 2 tablespoons of cold water. When the mixture is smooth, stir it into the soup and heat for 5 minutes. Repeat this process for an even thicker mixture. Other methods for thickening are adding heavy cream, whole milk, cheese or any variety of cream soup (such as cream of potato soup or cream of mushroom) to the mixture.
Which type of potato is best for soups?
Russet potatoes are starchy and absorb liquids well, making them the ideal option for adding to any type of soup including potato soup. Other varieties to consider would be Yukon gold potatoes or red potatoes.
How do I spice up bland potato soup?
Spice up your bland bowl of potato soup by adding red pepper flakes or a splash of hot sauce. To add flavor without adding spice, top the soup with sour cream, chives, bacon crumbles, black pepper or cheddar cheese.
Is potato soup healthy?
Although potatoes are high in fiber, potassium and vitamin C, the other ingredients in potato soup make it a fairly unhealthy dish. It is a dairy-based soup loaded with carbohydrates, sodium, fat and calories.