Sweet potatoes can be enjoyed as a sweet side, but let's dive into some savory ways to enjoy these root vegetables! These savory baked sweet potato recipes are sure to be a win at your next dinner table.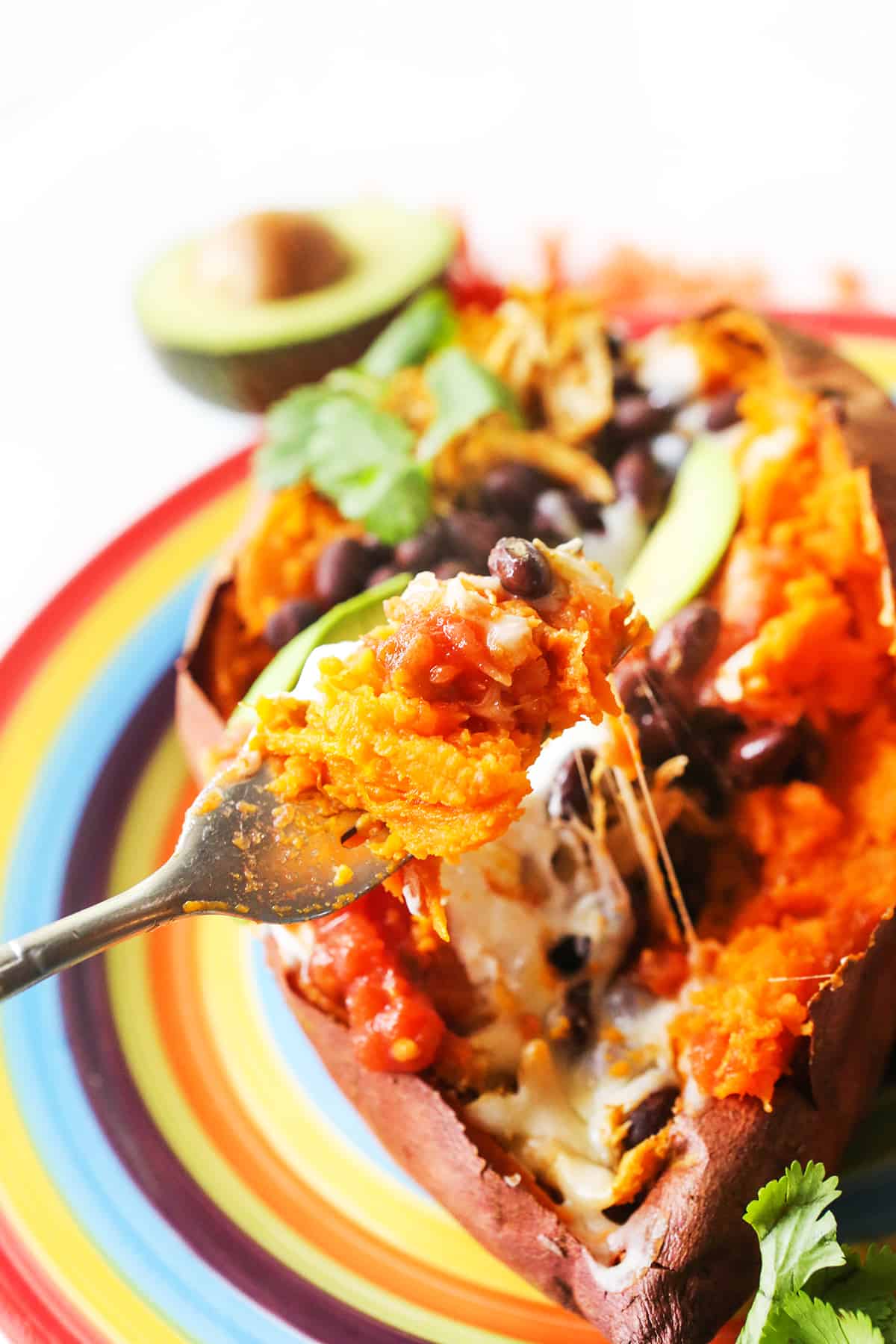 If you are a frequent reader of this blog, you know that I have a handful of food loves. Chili, mac and cheese and summer salads, to name a few. Also, SWEET POTATOES! I love this orange root vegetable. It is good for my body, affordable, versatile and delicious, too.
One of the truly amazing things about this yummy side (or main meal!) is that it can be combined with such an array of ingredients, all of them bringing out the best flavors. Inside this roundup we will dig into my favorite savory baked sweet potato recipes that you can make for your next gathering or simple dinner.
FAQ About Sweet Potatoes
Can raw sweet potatoes be eaten?
Sweet potatoes can be eaten raw, but digestive issues may occur so consume with caution.
Are sweet potatoes carbs?
Sweet potatoes are considered to be a high-carb food.
Are sweet potatoes keto?
Sweet potatoes are naturally high in carbs, so they are excluded from keto diet plans.
Are sweet potatoes healthy?
Sweet potatoes contain many health benefits. They have a high amount of dietary fiber, aiding in digestion and weight loss. They are also rich in vitamins and minerals. Especially the orange and purple varieties are rich in antioxidants.
Are sweet potatoes fattening?
Sweet potatoes are not fattening. They are considered a healthy alternative to normal potatoes and can help in achieving weight loss.
Can sweet potatoes go bad?
Sweet potatoes last 4 weeks sitting in the pantry and approximately 12 weeks when stored in the fridge.
How Long Do Cooked Sweet Potatoes Last
If you have leftovers and you are wondering whether to toss or eat.. read this article for information about how long cooked sweet potatoes last, and so much more!
Are Sweet Potato Skins Edible
As long as the skin of the potato is washed thoroughly before consuming, it is 100% edible. In fact, sweet potato peels are nutritious, containing fiber, vitamin C, antioxidants and potassium.
What To Serve With Sweet Potatoes
In need of ideas about what to serve alongside this tasty orange food? Check out this roundup of 20 delicious ideas: what to serve with sweet potatoes.
How To Make Baked Sweet Potatoes in the Microwave
The only downfall to making potatoes is the wait! Don't let this stop you from enjoying this perfect side dish. You can quickly and easily prepare a baked sweet potato recipe in the microwave.
Stuffing/Topping Options
Basic – Go basic by loading up with standard ingredients such as a huge helping of cheese, along with sour cream and chives. Or simply add a pat of butter or a little olive oil, along with favorite herbs or spices such as cayenne pepper, Italian seasoning, paprika, chili powder, garlic powder, fresh parsley or chives or black pepper and a sprinkling of salt.
Barbecue chicken – Make it a super simple bbq chicken mixture topped with pickles or tomatoes.
Buffalo chicken – Add buffalo sauce to cooked chicken and top with mozzarella cheese.
Mexican – Black beans, taco meat (any variety), cheese, sour cream and green onions make a super yummy Mexican-themed meal.
Chili – If you have leftover chili on your hands, add a few large spoonfuls as a stuffing. Top with cheddar cheese and sour cream.
BBQ pork – Shredded bbq pork topped with extra bbq sauce and mozzarella cheese is a delicious stuffing.
Veggie – Load up on the veggies! Roasted broccoli, carrots, Brussels sprouts and cauliflower are great options. After baking, top with fresh vegetables such as chopped or sliced onions, chopped tomatoes and avocados.
Sloppy Joes – Sloppy Joe filling is a great topping option, along with chopped pickles or green bell pepper and sprinkled with Parmesan cheese.
Breakfast – Enjoy breakfast for dinner by adding eggs, bacon, ham or breakfast sausage to your next stuffed potato! Top with fresh herbs from the garden.
Savory Baked Sweet Potato Recipes
"Baked" does not just refer to a solo potato that sits in the oven for an hour. There are tons of different ways to enjoy potatoes that have been baked.
Baked Sweet Potatoes in the Microwave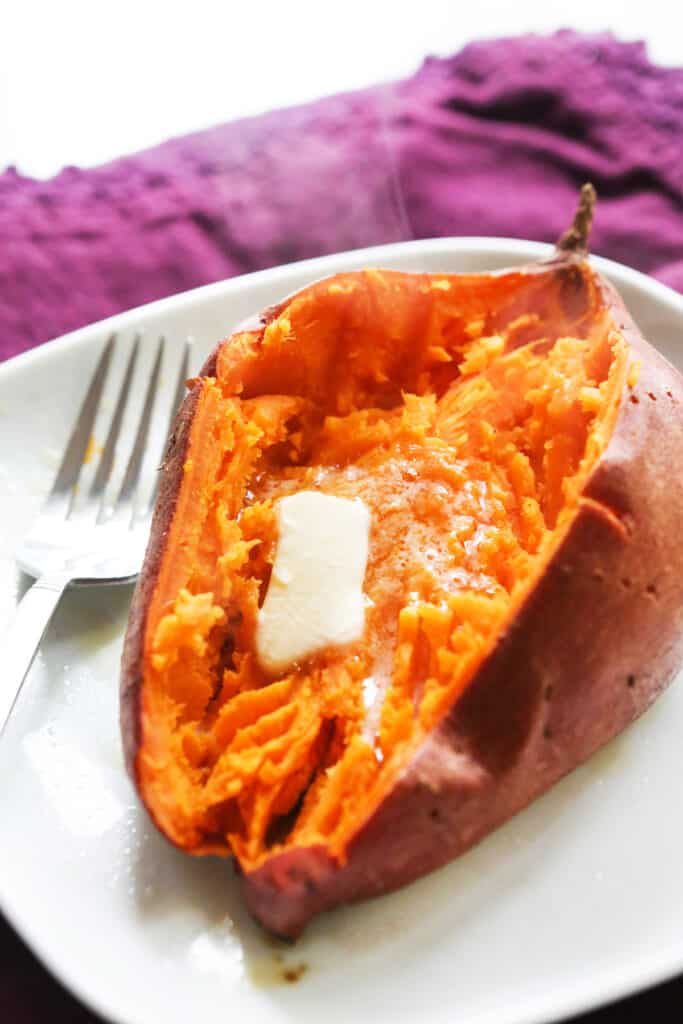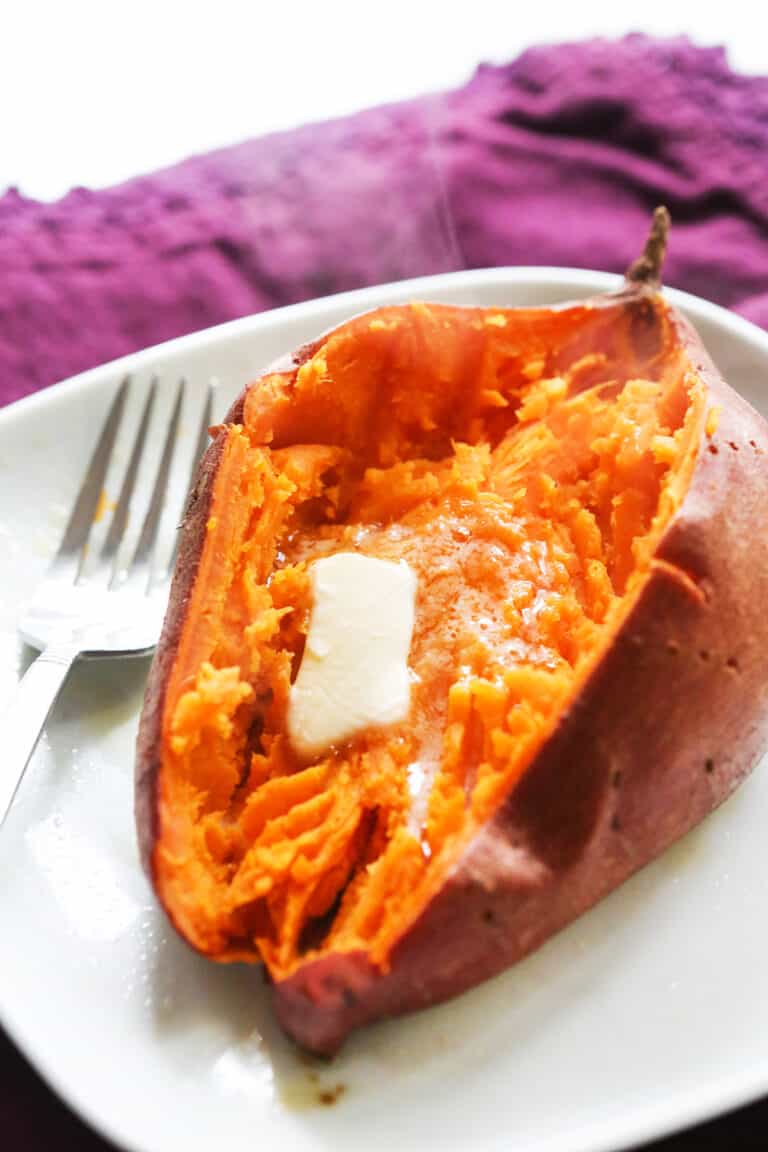 The only downfall to making potatoes is the wait! Don't let this stop you from enjoying this perfect side dish! You can quickly and easily prepare a baked sweet potato recipe in the microwave that still has that creamy center.
Baked Stuffed Sweet Potatoes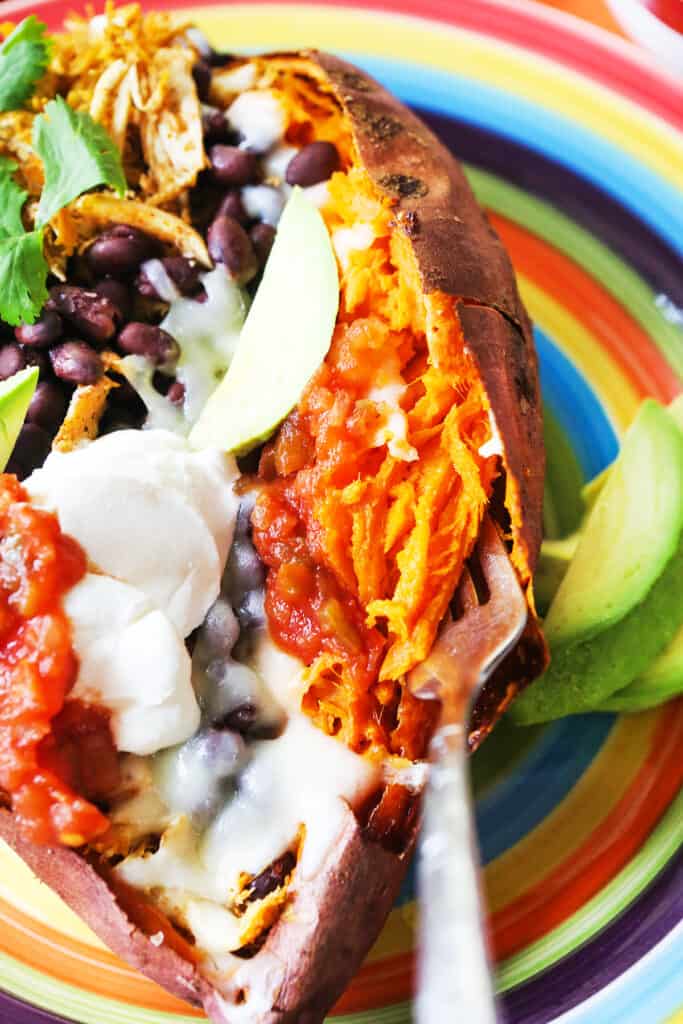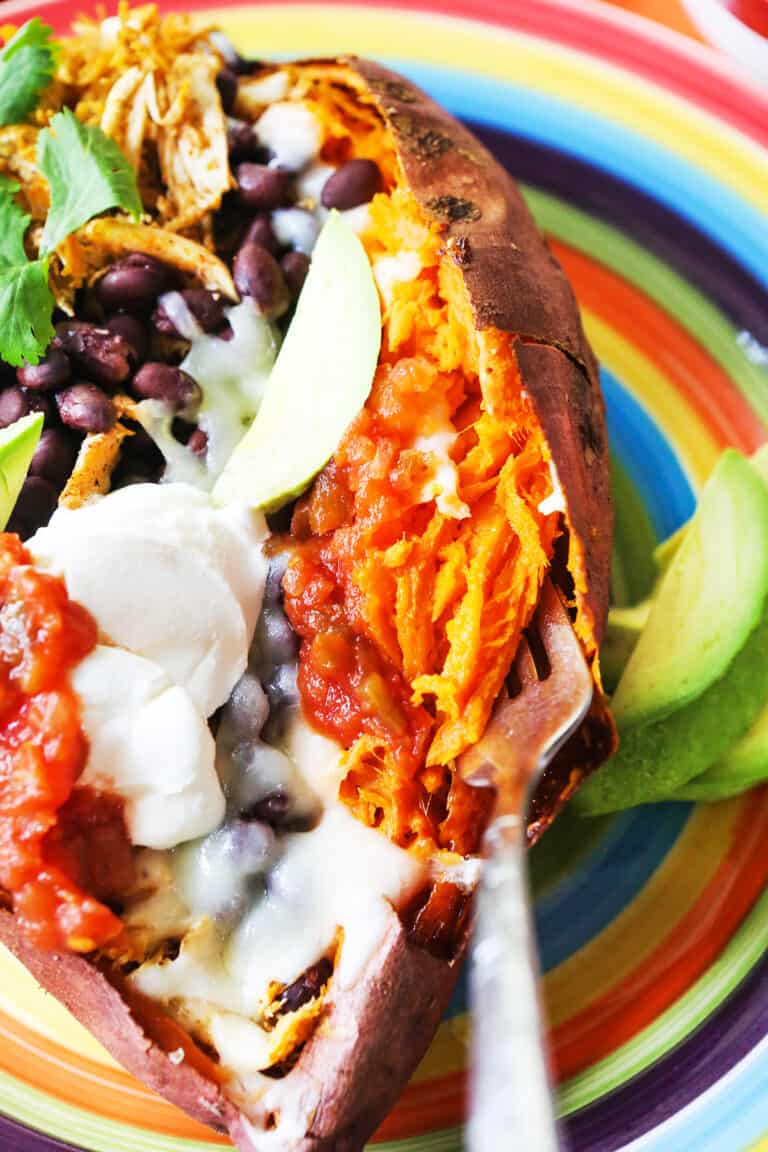 This baked stuffed sweet potatoes recipe takes dinner to the next level! Load up a perfectly baked potato with your favorite ingredients for a hearty side or a complete meal. This is a super easy recipe that is also extremely versatile.
Oven Roasted Sweet Potatoes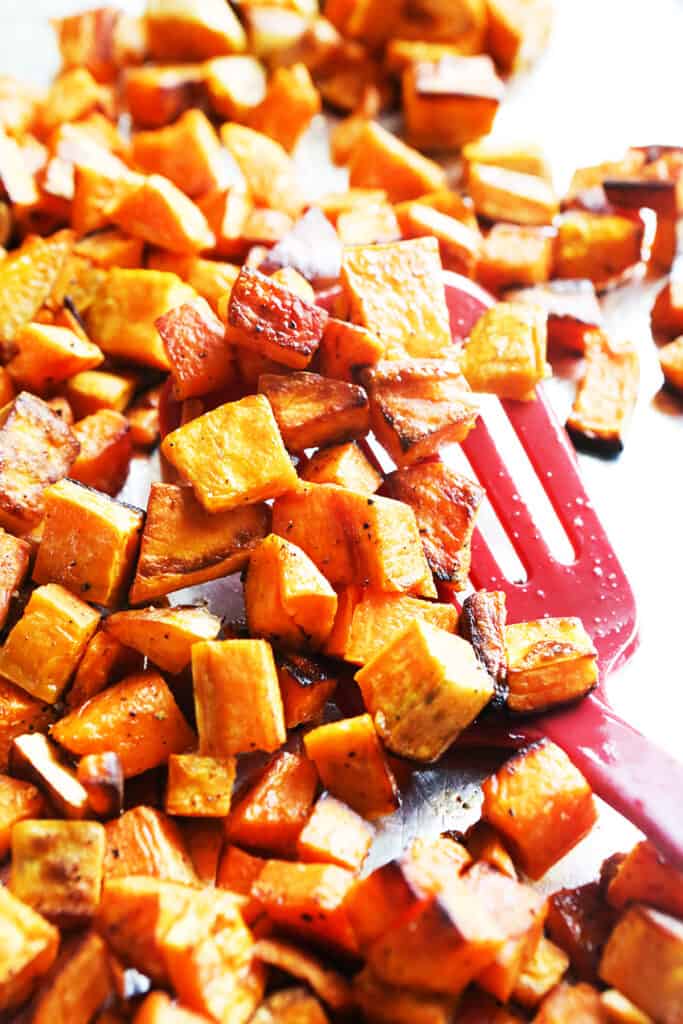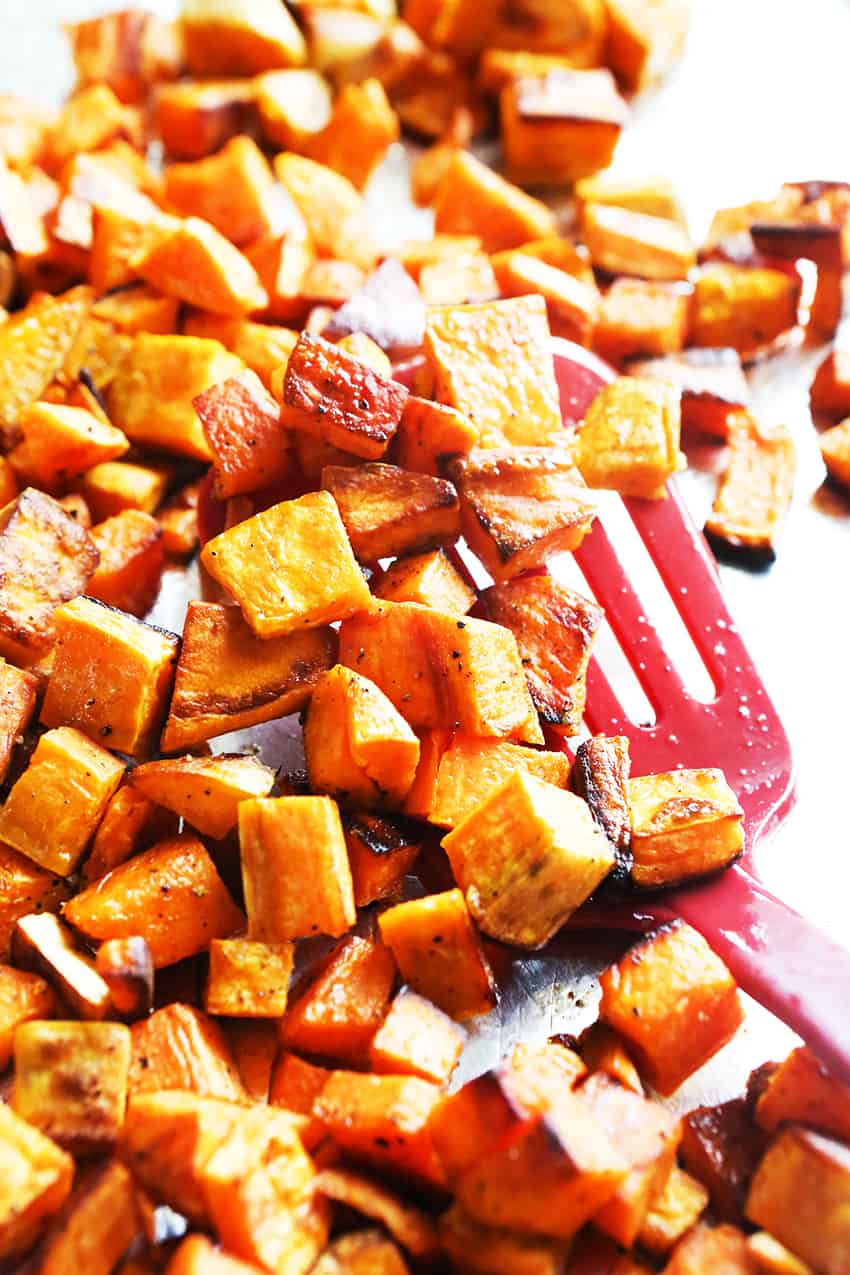 Roast them in the oven for a savory sweet potato recipe you're sure to enjoy for any meal! More delicious than regular French fries and are a great healthy lunch, snack or side.
Sweet Potato Casserole with Pecan Topping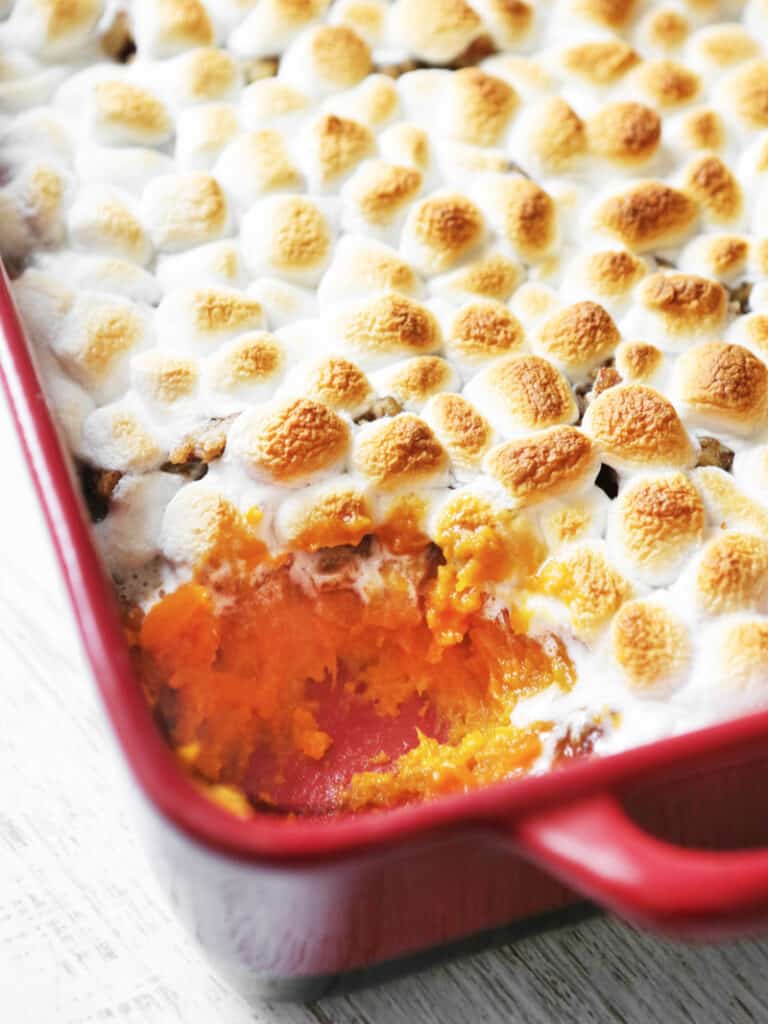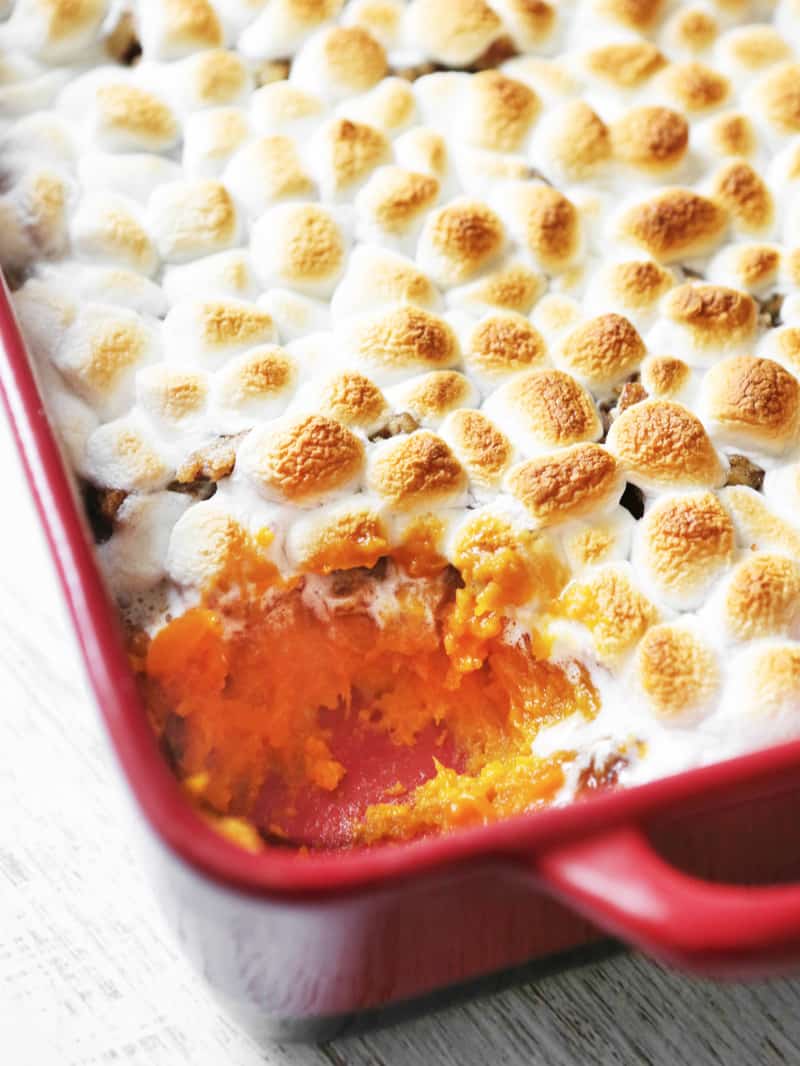 This casserole will be a great addition to your Thanksgiving table! It is also the perfect side dish to any meal, any time of the year. Transform it into a savory sweet potato casserole by decreasing the amount of sugar used and omitting the marshmallows altogether.
Healthy Turkey Chili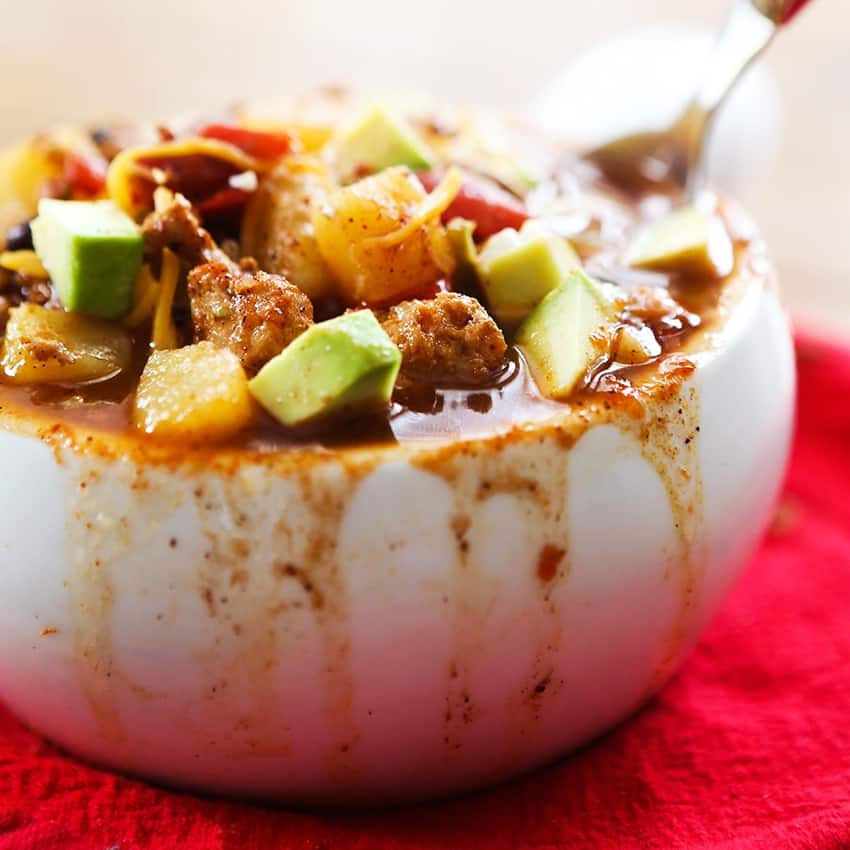 Make a big batch of this best Healthy Chili recipe because it's delicious and totally comforting! Whether you spice it up or keep it mild, it is a recipe you will keep coming back to, warming you on cool nights. The addition of sweet potatoes gives it a unique twist on traditional chili. Set your crock pot up in the morning and by evening dinner is served.
Air Fryer Sweet Potato Fries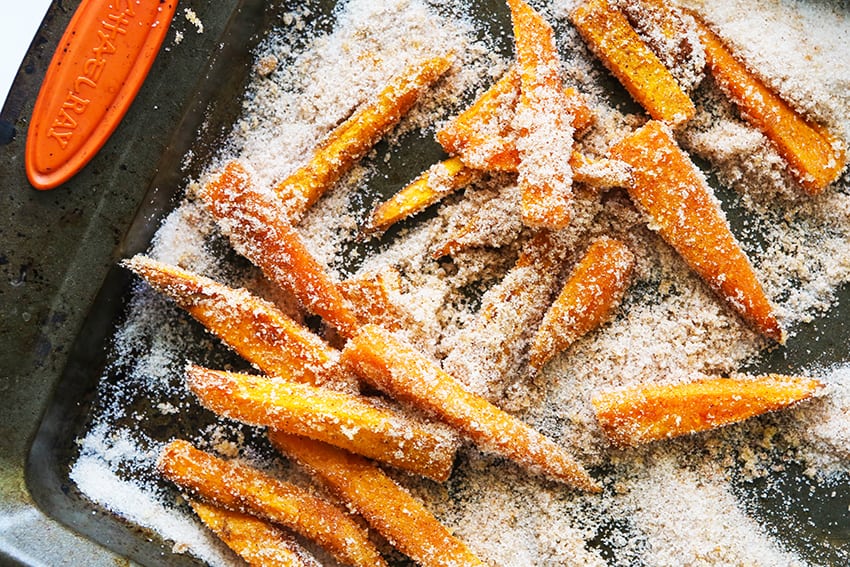 Air Fryer Sweet Potato Fries is a delicious way to enjoy sweet potatoes! The air fryer works its magic and transforms them into a sweet or savory treat or side that will not last long.
Perfect Instant Pot Sweet Potatoes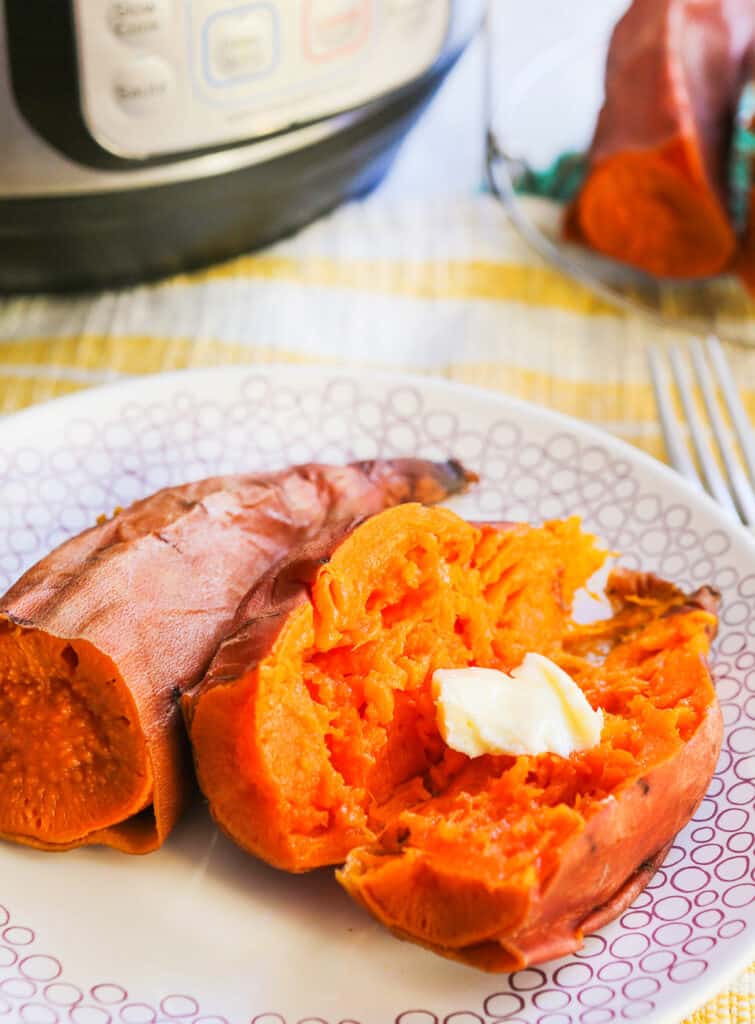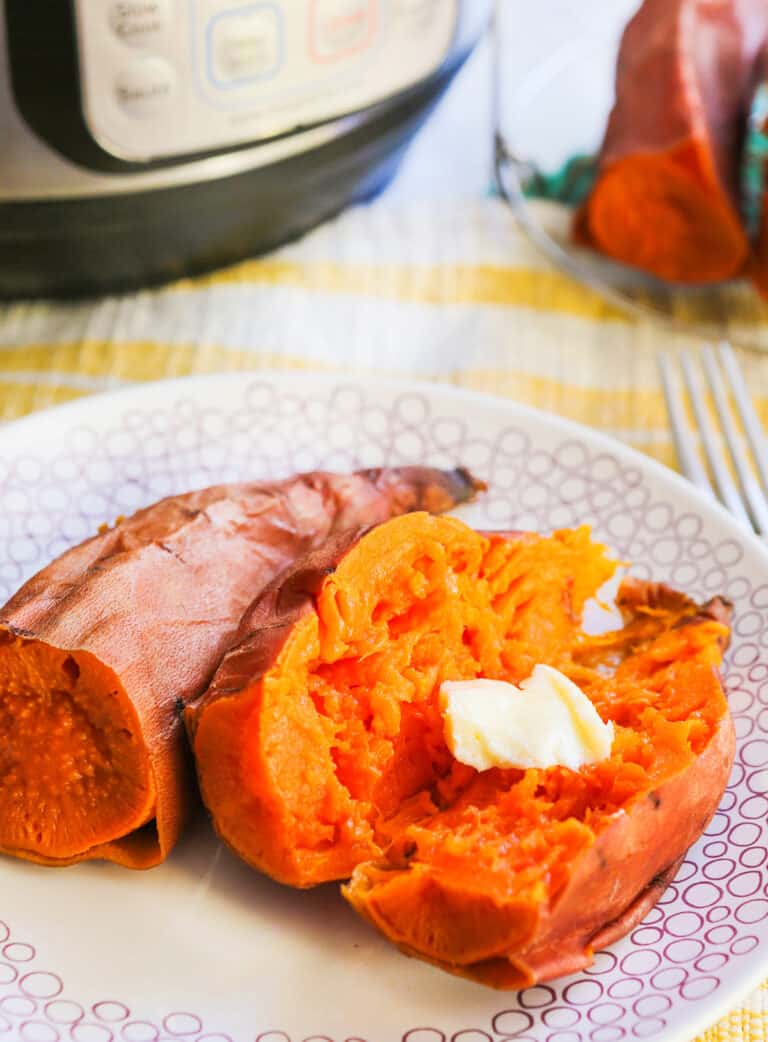 Instant Pot Sweet Potatoes are an easy healthy side dish! Reduce cook time in half compared to baking and they turn out perfectly every time with little effort.
Healthy Burgers with Sweet Potato Buns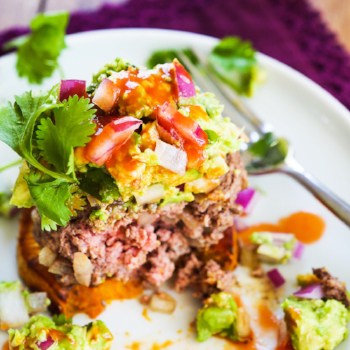 These delicious burgers are made healthy by using sweet potatoes instead of buns! They are Whole30 compliant and will satisfy your every dinner-table desire.