Chicken and potatoes make a hearty, affordable team! Read on for 7 delicious baked chicken and sweet potatoes recipes for your next perfect meal.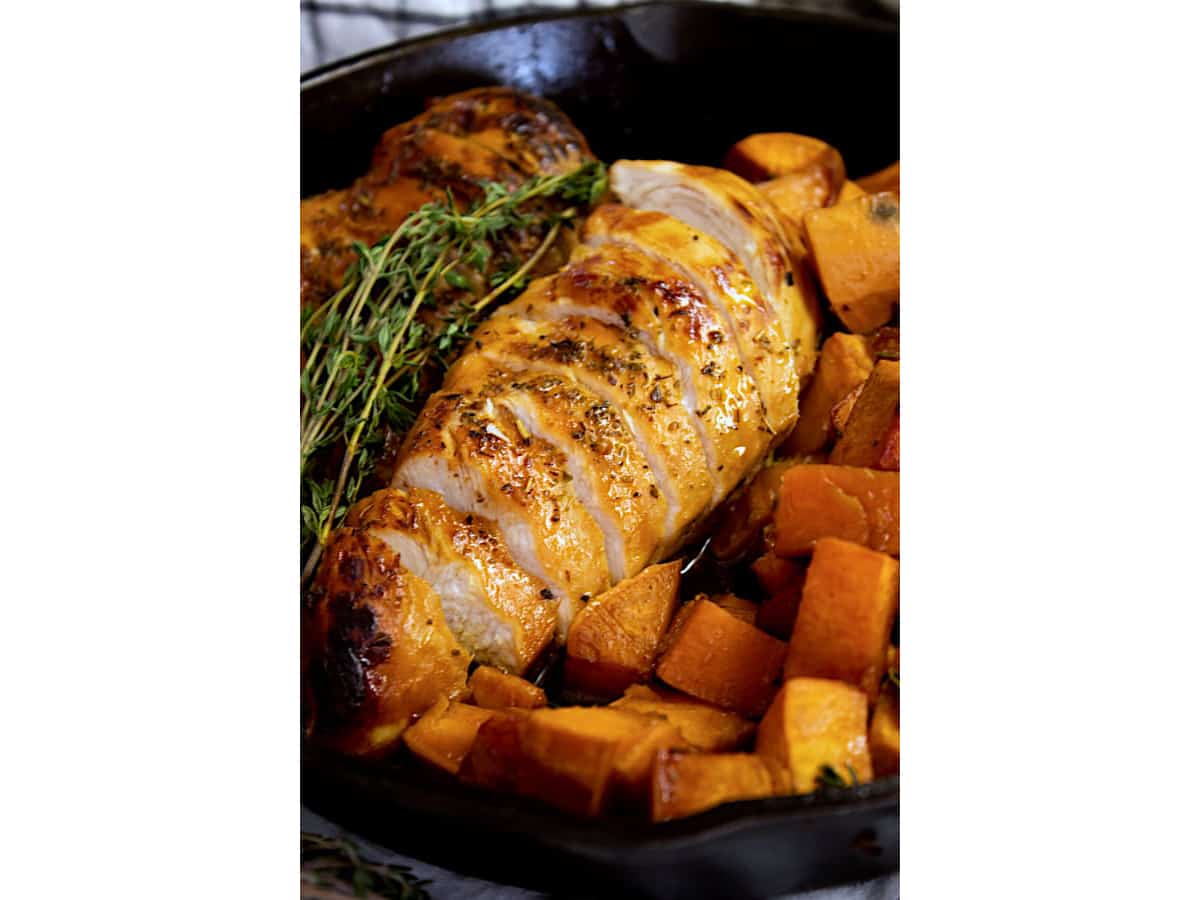 I don't know about you, but one of my favorite things about fall and winter is all of the hearty comfort food. I feel like I score extra when I can make a meal that is super affordable, as well.
Enter chicken and sweet potatoes! You can load up on these ingredients in such an affordable fashion and there are a TON of different ways to prepare them and fill up a hungry bunch. Read on for some delicious inspiration!
FAQ About Sweet Potatoes
Are sweet potatoes healthy?
Sweet potatoes contain a high amount of dietary fiber, aiding in digestion and weight loss. They are also rich in vitamins and minerals. Especially the orange and purple varieties are rich in antioxidants.
Are sweet potatoes carbs?
Sweet potatoes are considered to be a high-carb food.
Are sweet potatoes keto?
Sweet potatoes are naturally high in carbs, so they are excluded from keto diet plans.
Are sweet potatoes fattening?
Sweet potatoes are not fattening. They are considered a healthy alternative to normal potatoes and can help in achieving weight loss.
Can sweet potatoes go bad?
Sweet potatoes last 4 weeks sitting in the pantry and approximately 12 weeks when stored in the fridge.
Can sweet potatoes be eaten raw?
Sweet potatoes can be eaten raw, but digestive issues may occur so consume with caution.
Best Ways To Serve Chicken
Baked, Roasted or Grilled – Throw chicken breasts or chicken thighs in a hot oven or on a grill with marinade, olive oil, lemon juice, bbq sauce, seasonings or rub of choice for the perfect simple star of the meal. Serve solo with a side of mashed potatoes, rice or veggies.
Sheet pan dinner – Toss chicken pieces with red potatoes and chopped veggies. Spread in an even layer on a large rimmed baking sheet covered with parchment paper. Sprinkle salt, black pepper and fresh herbs over the top and roast everything together for one of the easiest complete meals you can make.
Rotisserie – Throw a whole chicken into your Instant Pot to create a savory rotisserie chicken. The chicken cooks quickly and evenly every time.
Soup – Turn it into chicken broth as a base for any soup. Chicken vegetable soup is easy and delicious!
Sandwiches – Spoon hot, shredded chicken into hamburger buns or slices of bread to create the perfect sandwich. Don't forget the barbecue sauce, pickles or relish! Consider a cold chicken salad sandwich for lunch or a lighter dinner.
Tacos – Pull out flour or corn tortillas and pile cooked shredded chicken inside, creating the perfect taco. Top with sour cream, red onion, bell pepper, cilantro, lime juice, hot sauce and mozzarella cheese.
Nachos – Place tortilla chips in a single layer, followed by a layer of shredded chicken and topped with toppings of your choice such as sharp cheddar cheese, jalapeno slices, guacamole and taco sauce.
How Long Do Cooked Sweet Potatoes Last
If you have leftovers and you are wondering whether to toss or eat.. read this article for information about how long cooked sweet potatoes last, and so much more!
Best Ways To Serve Sweet Potatoes
How To Make Baked Sweet Potatoes in the Microwave
The only downfall to making potatoes is the wait! Don't let this stop you from enjoying this perfect side dish. You can quickly and easily prepare a baked sweet potato recipe in the microwave.
What To Serve With Sweet Potatoes
The great thing about this type of potato is that it contains a natural sweetness that tastes great with just about any other type of food. There are lots of options for pairing this side with other types of food. See this comprehensive list of recipes to serve with sweet potatoes for even more ideas!
Meat – Pork, chicken and beef all taste great alongside sweet potatoes.
Fish – Salmon, walleye, halibut, cod and mahi mahi pair well with sweet potatoes.
Vegetables – Just about any veggie on the planet accompanies sweet potatoes perfectly. Broccoli, Brussels sprouts, mushrooms, zucchini, collard greens, carrots, cauliflower, green beans and bell peppers are great choices.
Salad – A fresh, leafy green salad tastes great after a bite of sweet potatoes. A fall salad that contains fall veggies pairs perfectly, as well!
Beans – Baked beans and black beans pair well with potatoes.
Soup – Any variety of soup accompanies this tasty side perfectly.
Baked Chicken and Sweet Potatoes Recipes
Instant Pot Grilled Chicken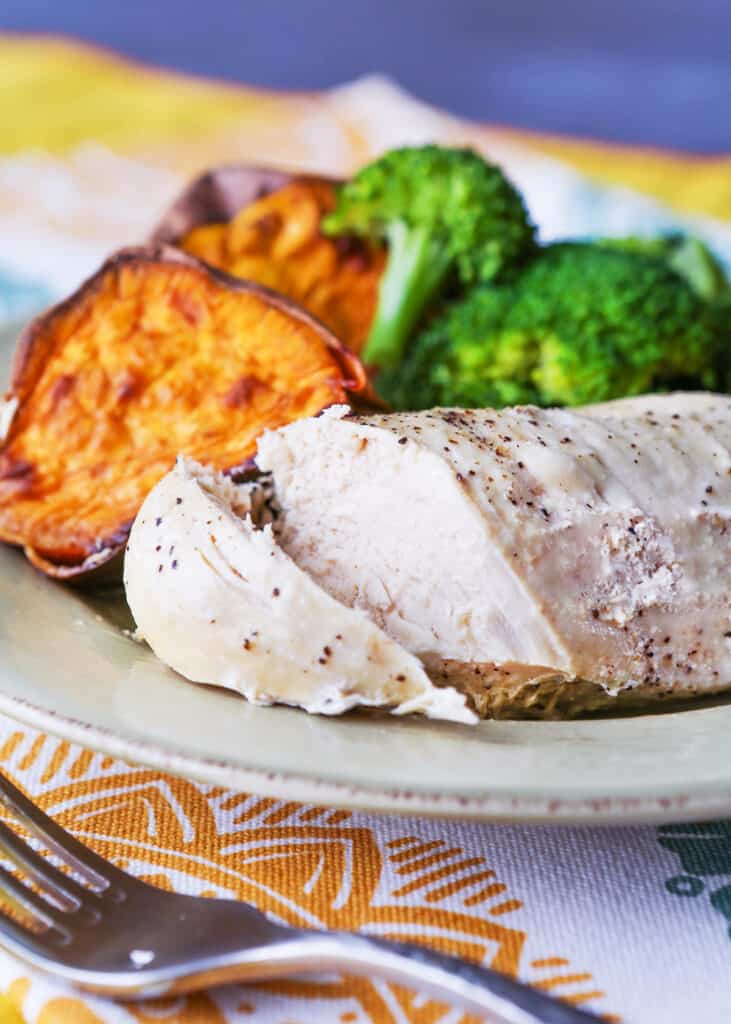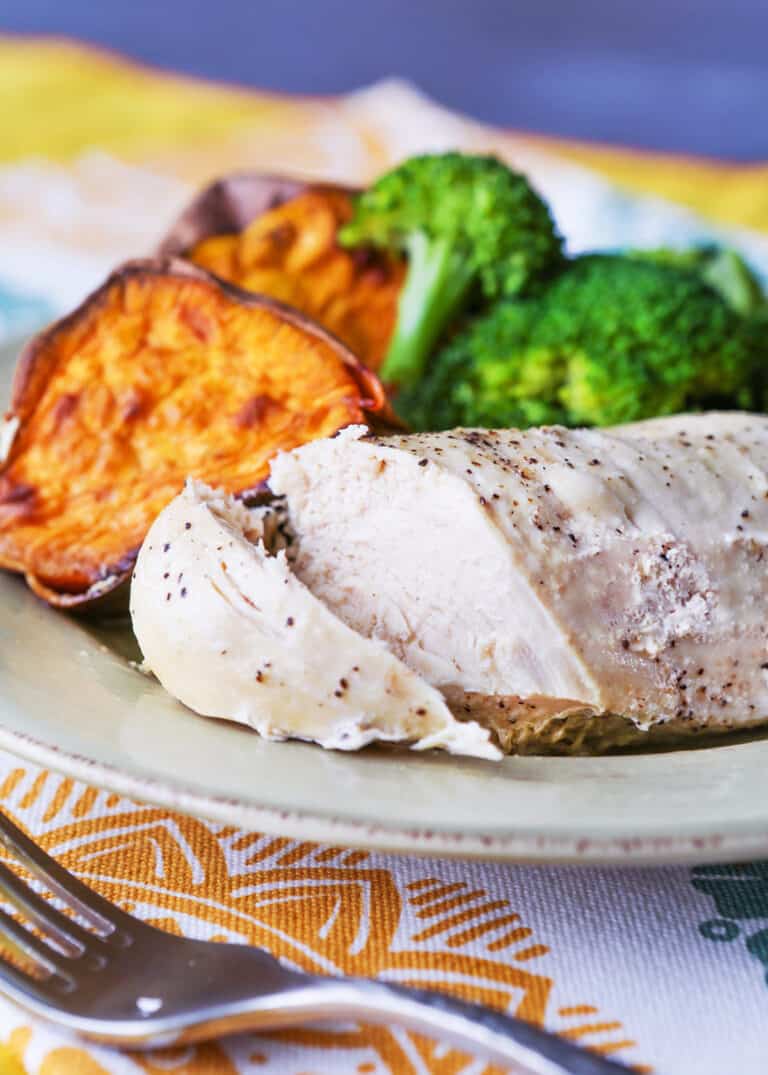 You can cook Instant Pot grilled chicken to simulate the tender, perfect chicken that comes from the grill. Start with thawed or frozen to create the most delicious chicken you will ever make.
Perfect Instant Pot Sweet Potatoes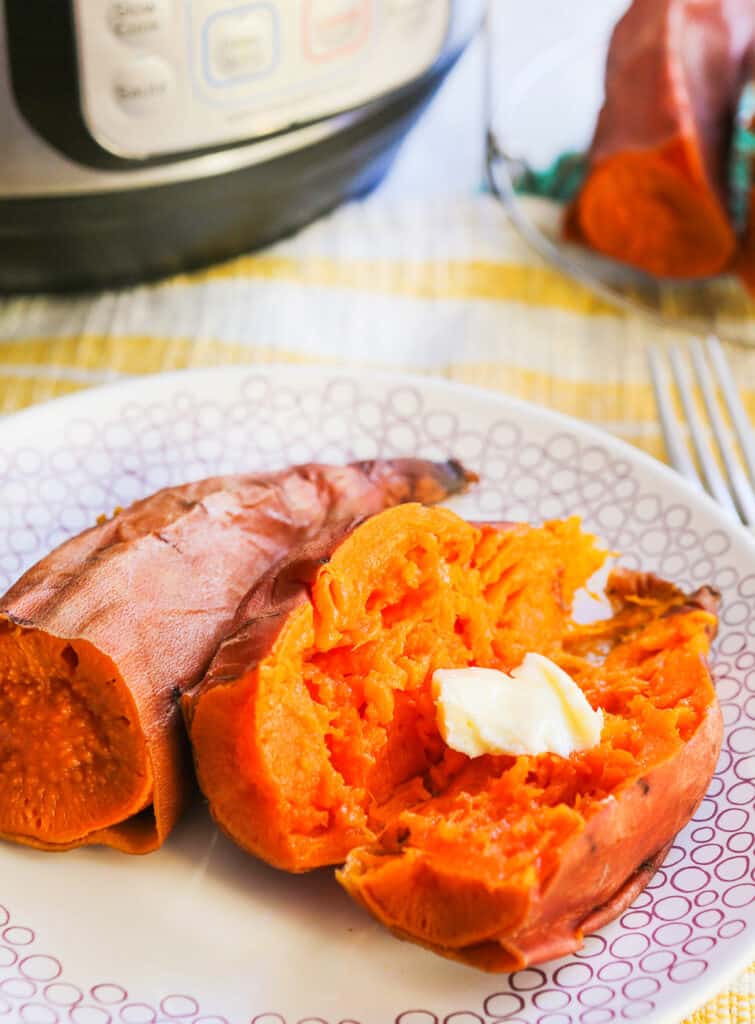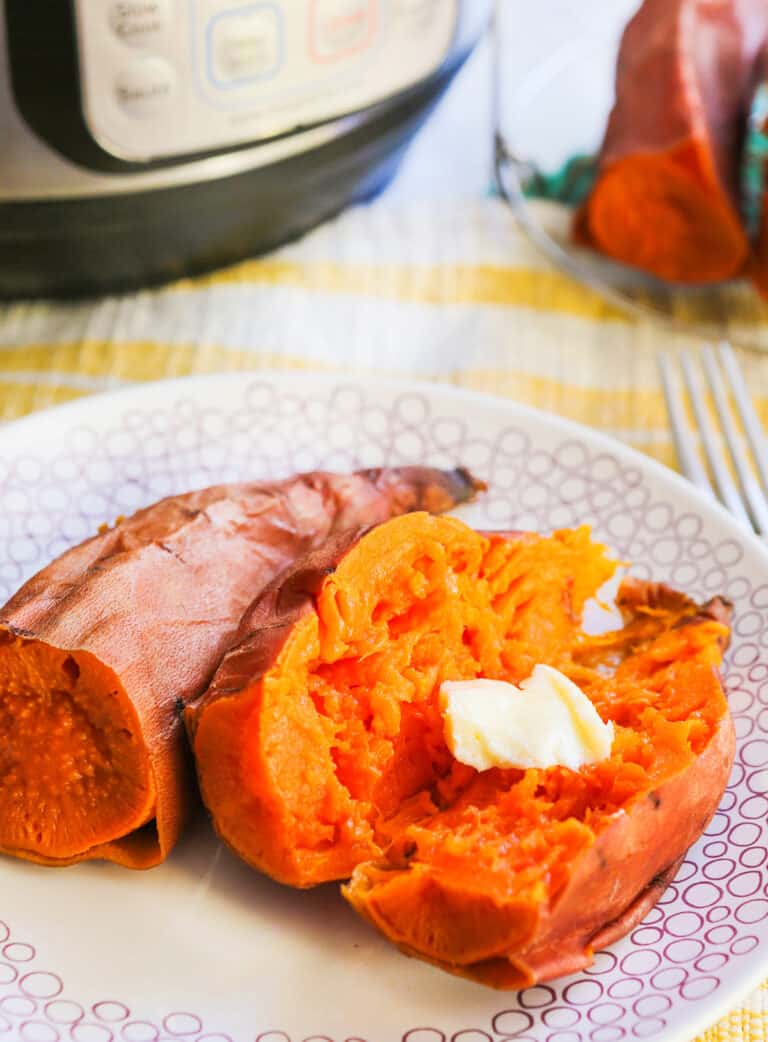 Instant Pot Sweet Potatoes are easy and delish! Reduce cook time in half compared to baking and they turn out perfectly every time with little effort.
Baked Chicken and Sweet Potatoes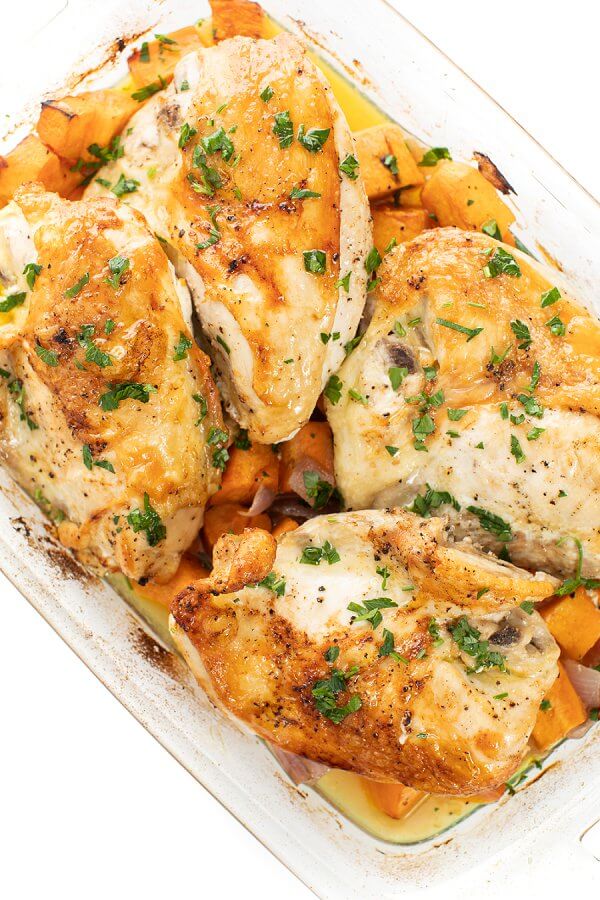 This easy baked chicken recipe (from The Lemon Bowl) is made with sweet potatoes, garlic, onions and white wine. Simple, comforting and delicious!
Sheet Pan Roasted Sweet Potatoes and Chicken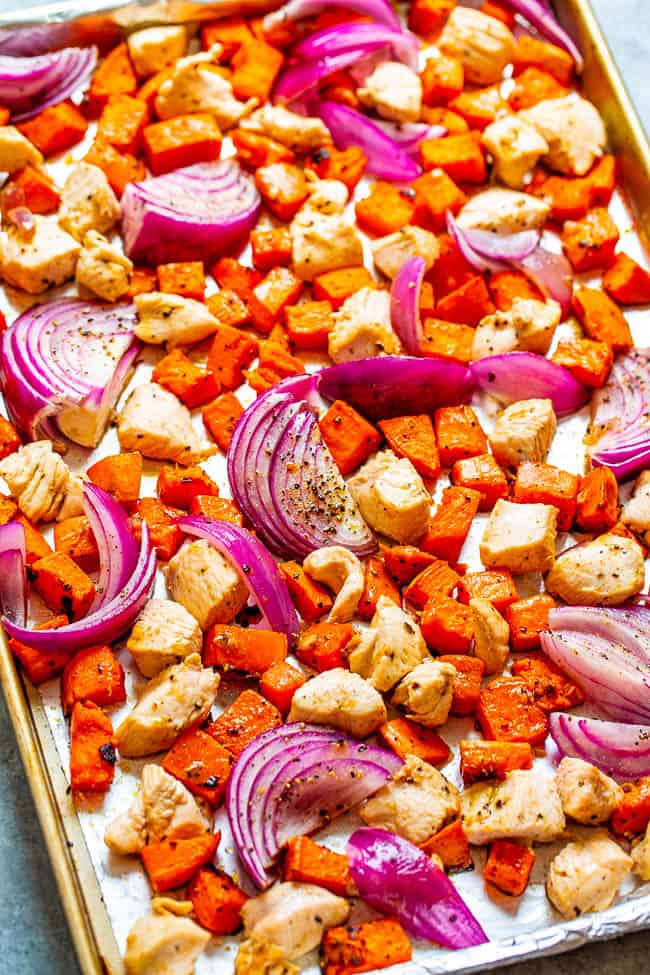 Sheet Pan Chicken and Sweet Potatoes (from Averie Cooks) — EASY, HEALTHY, and a great way to enjoy roasted sweet potatoes in less time! A DELISH one-pan juicy chicken dinner that's ready in 30 minutes with zero cleanup.
5 Ingredient Baked Chicken and Sweet Potatoes for Two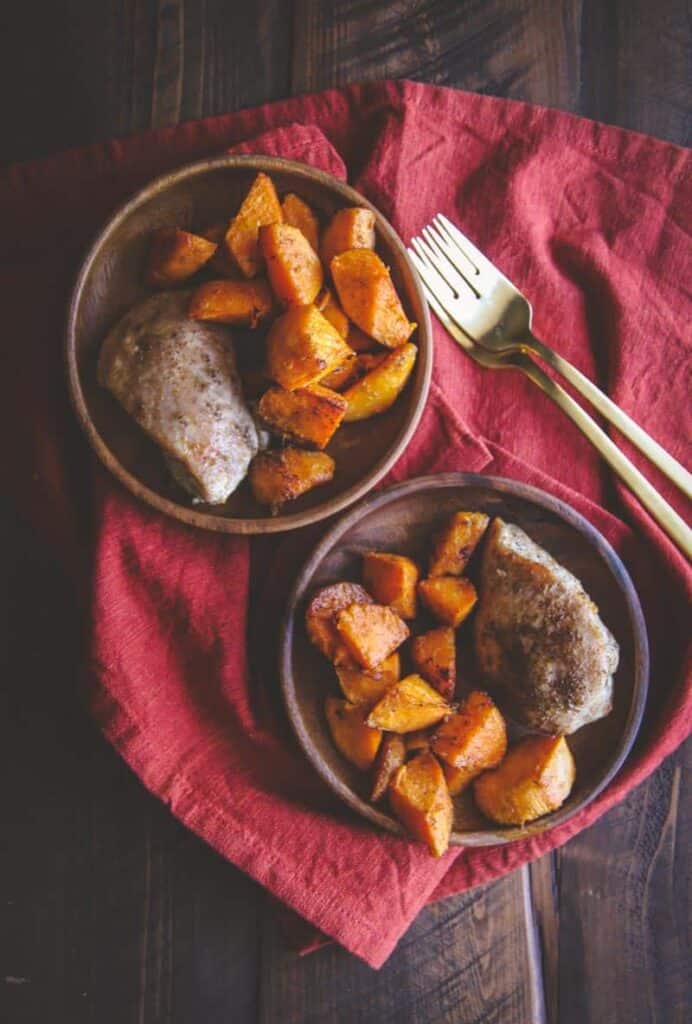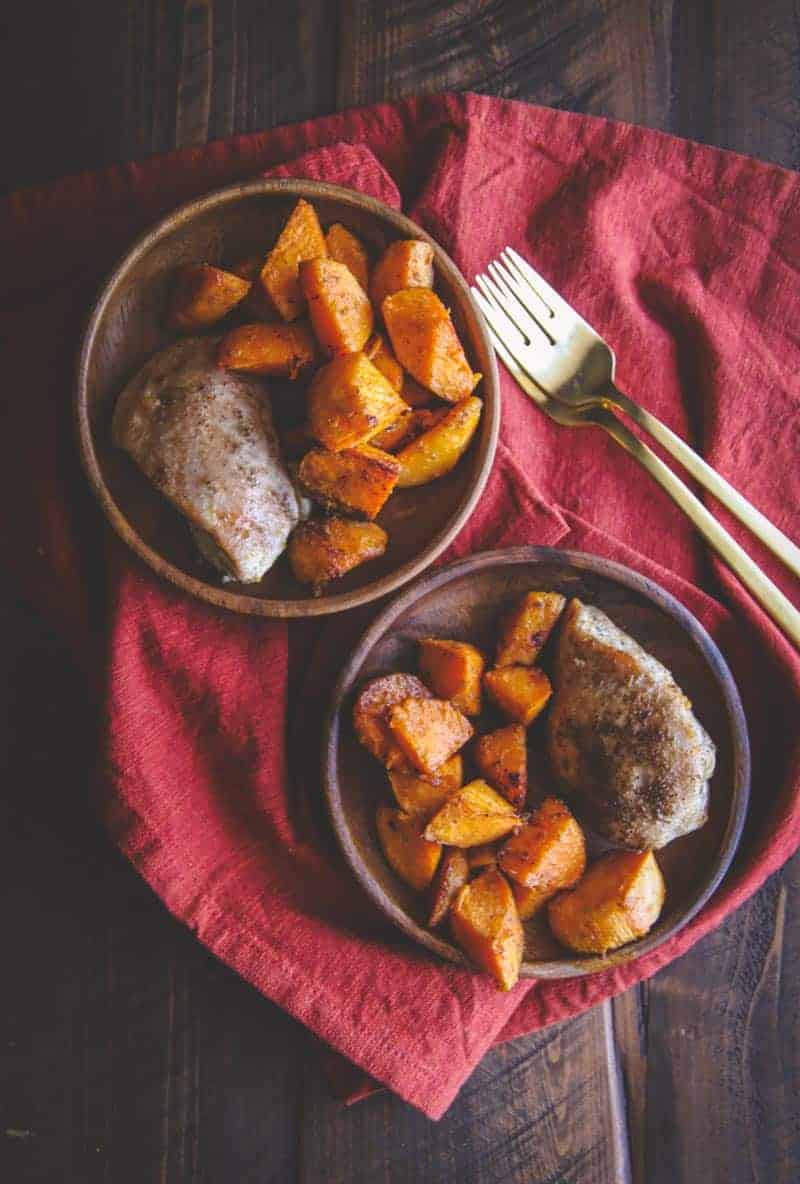 A super easy healthy meal to make is this 5 ingredient baked chicken and sweet potatoes (from Sweet Phi) for two – perfectly portioned so that there are no leftovers.
Honey Glazed Chicken with Sweet Potatoes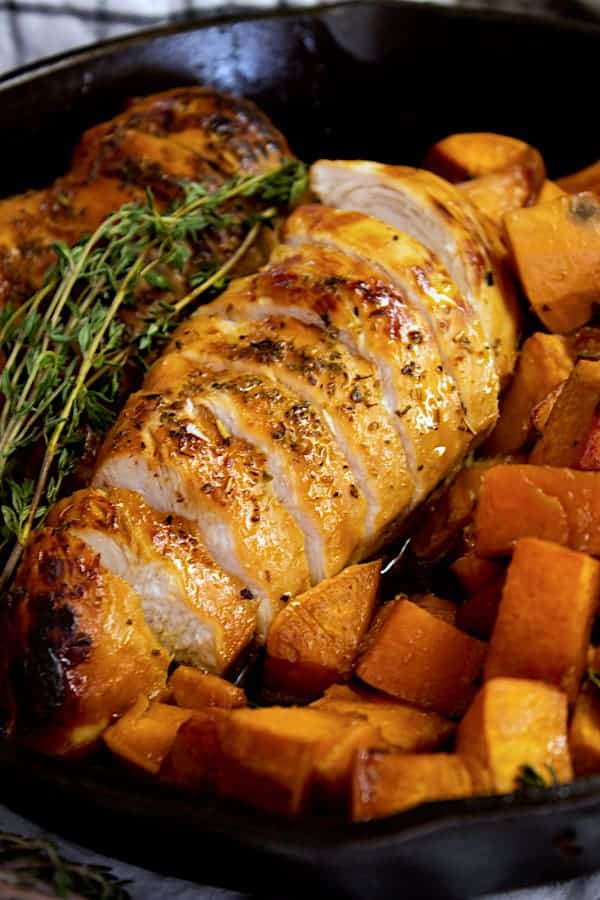 Seared in honey, butter and fresh thyme- this delicious one pan meal is a family favorite. Honey Glazed Chicken and Sweet Potatoes (from Laughing Spatula) is made all in one pan, finished off in the oven, and the perfect weeknight meal or a date night in.
Buffalo Chicken Sweet Potato Casserole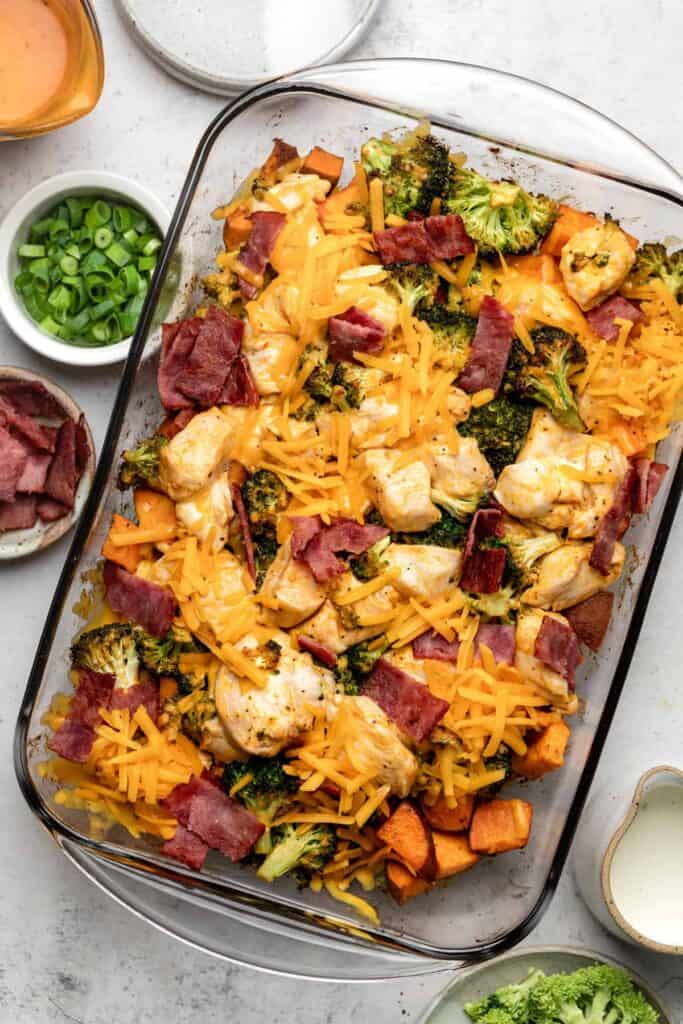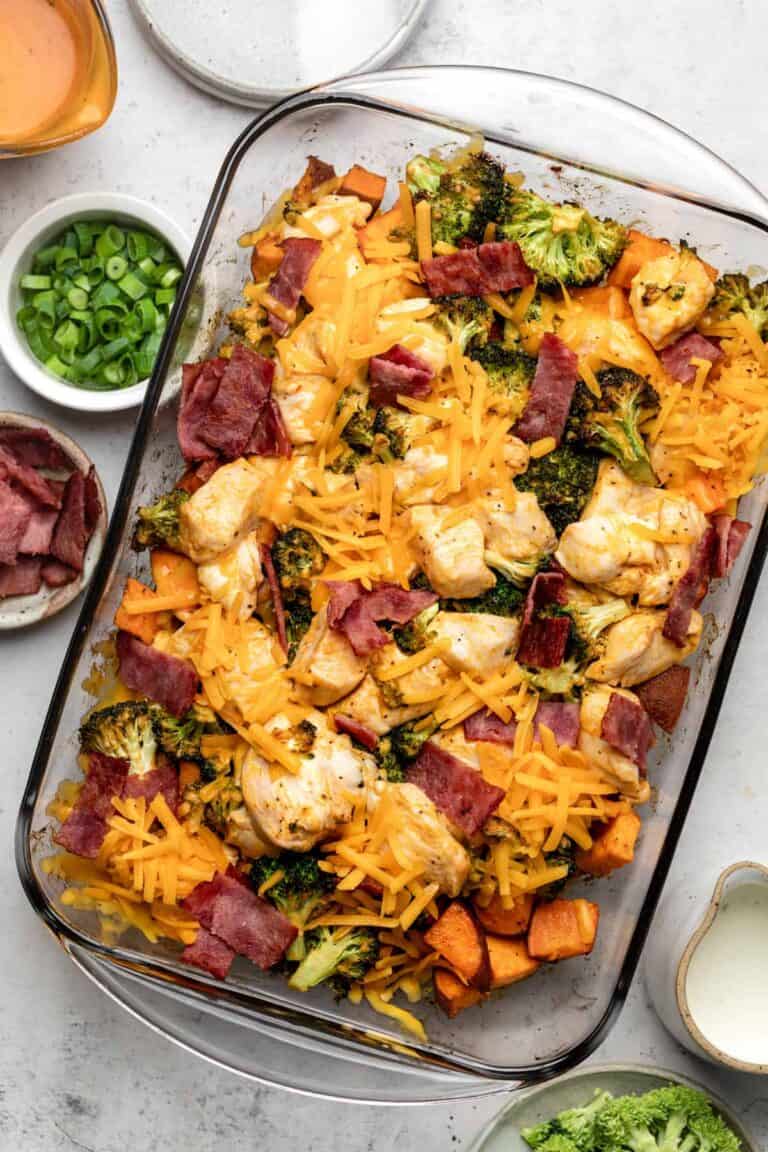 Buffalo Chicken Sweet Potato Casserole (from Erin Lives Whole) is a healthy and flavorful dish that's made using broccoli, onions, bacon, and more. This delicious recipe requires just 10 minutes of prep time!