If you have fallen in love with the delicious Harry Potter Butterbeer Recipe from the Wizarding World of Harry Potter theme park, you are in luck! This drink tastes just like the original beverage that is so loved by adults and kids alike.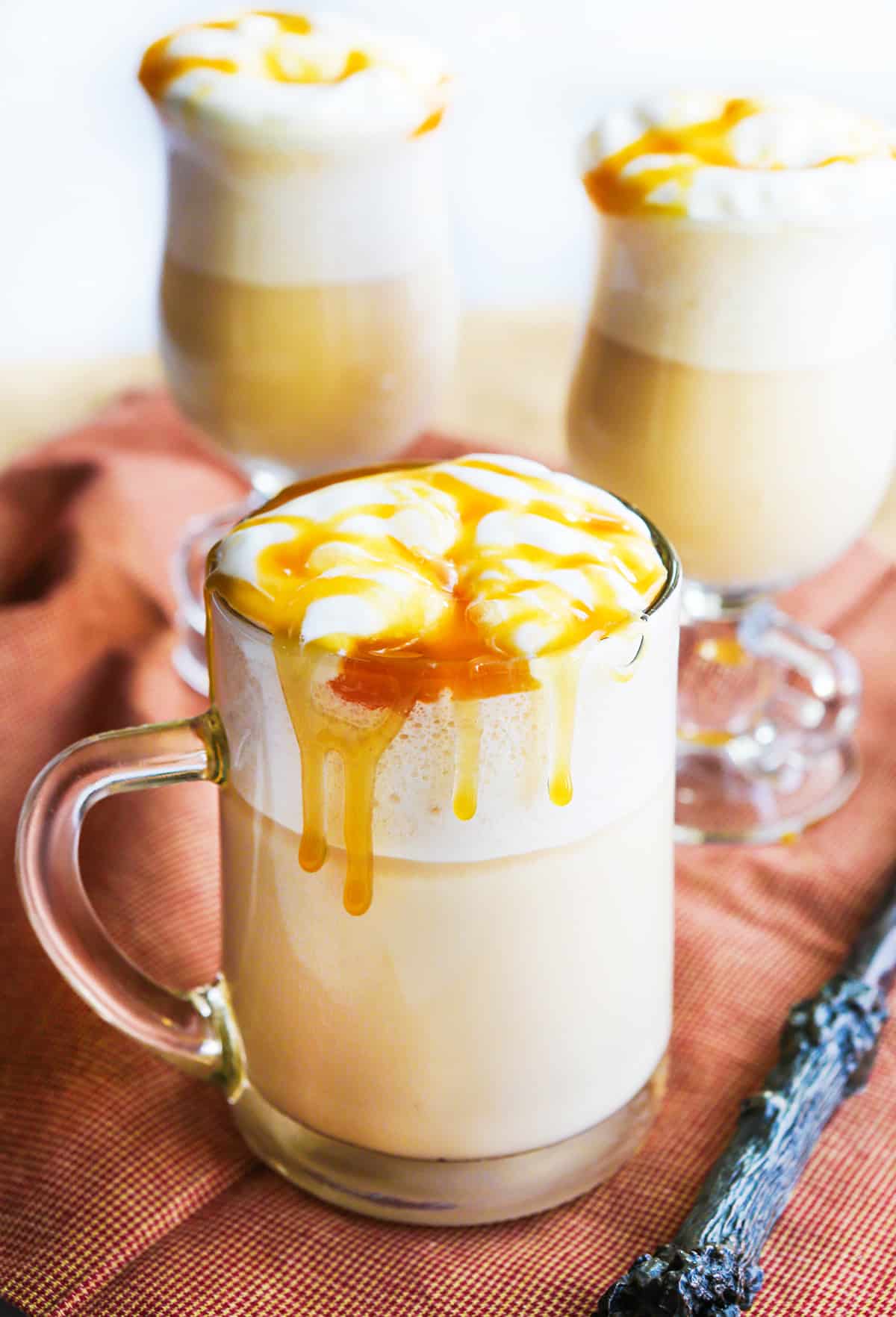 Why This Recipe Works
If you have not made this butter beer recipe yet, you must! It is great for birthday parties (with a Harry Potter theme or not!), desserts and hot summer weekends.
I read through the entire Harry Potter books twice before tasting an actual sip of Butterbeer with my own lips. Reading through the books, I drooled every time the delicious drink was described. Butterbeer! what a dreamy sounding drink!
The name sounds slightly naughty like maybe kids shouldn't indulge. But they can! Because there is nothing but glorious sugar hidden inside.
My boys and I went to The Wizarding World of Harry Potter in November and one of the first things we did was order a couple cups of the sweet nectar, along with a few chocolate frogs, pumpkin juice and a bag of Bertie Bott's Every Flavor Beans.
Since our return home, my boys have been asking for me to make our own homemade butterbeer recipe and we finally got it done over winter break.
I have since made it for TWO different birthday parties and I've run out of ingredients very quickly both times. Our tried and true version tastes very much like the original. It is sugary, cold, dreamy and buttery all at once.
Harry Potter Butterbeer Ingredients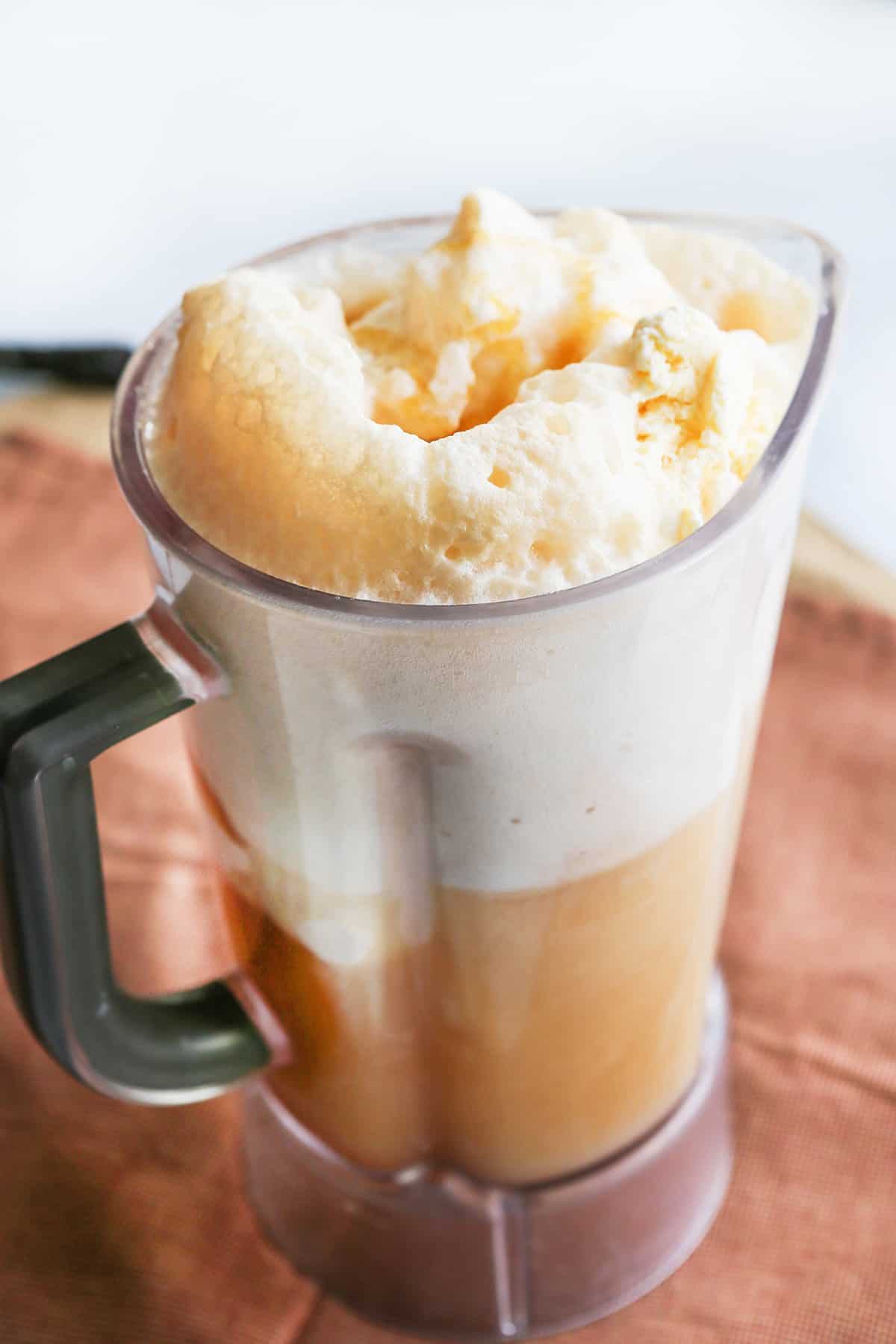 Vanilla ice cream – If you stray from vanilla-flavored ice cream, you will alter the taste of the final product. Stick with vanilla if at all possible.
Cream soda – Sparkling water mixed with vanilla syrup can replace cream soda, if needed.
Butterscotch topping – While the butterscotch flavor is an essential part of this drink, caramel topping can be used in a pinch.
Whipped cream – Make your own whipped cream for an even tastier sweet ingredient. Simply beat 1 cup heavy cream with 2 tablespoons powdered sugar and a splash of vanilla extract with an electric mixer!
Watch This Quick Web Story
Enjoy making kids and adults alike this sweet butterbeer Harry Potter recipe in just minutes.
How To Make Butterbeer
Step 1
Place the following in a blender:
8 ice cubes
Half of a 1.75-quart container of vanilla ice cream
3 cups of cream soda (24 oz.)
6 oz. butterscotch topping (found in the ice cream topping section)
Puree until smooth.
Step 2
Pour into glasses, top with whipped cream and a drizzle of butterscotch syrup and serve immediately!
Is Butterbeer Alcoholic At Universal Studios
The fictitious sweet treat from the Harry Potter movie and books is an actual drink at Universal Orlando in Florida. IS butterbeer alcoholic at Universal Studios? Read on to get the details about this popular drink, Harry Potter fans!
Alcoholic Butterbeer Recipe
If you would like to create an alcoholic beverage from this yummy drink, simply add 1/2 cup of vodka or rum to the blender after all of the other ingredients have been pureed. Mix and serve!
To give the drink a rum flavoring without adding alcohol, add 1 teaspoon of rum extract to the blender along with the remaining ingredients.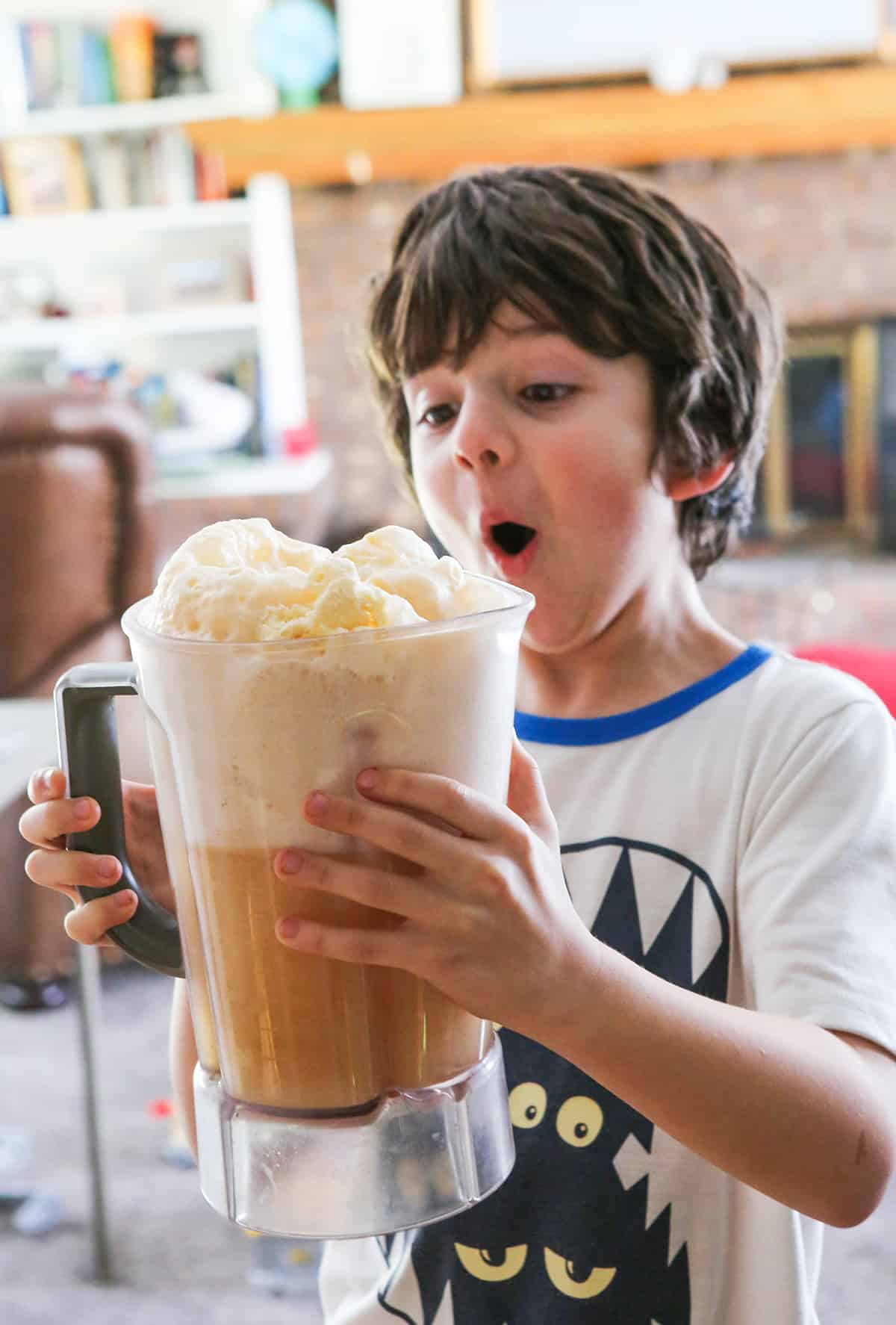 Recipe Notes
A heaping scoop of whipped cream on top can't hurt! Grab a pint of heavy whipping cream if you plan to make your own.
Make this delicious dessert as close to serving time as possible.
Here are some party ideas! This is a great recipe for a Harry Potter birthday party or any gathering where kids will be present. Think Halloween, Thanksgiving, Christmas or Fourth of July, and they don't have to be Harry Potter themed! You can also enjoy a mug during your next Harry Potter movie marathon.
After prepping, throw into the freezer for 30-60 minutes to experience what frozen butterbeer tastes like.
FAQ About Butterbeer
What is butterbeer?
If you are not a Harry Potter fan, you might be wondering what the fuss is about this drink! Harry Potter's Butterbeer is a cold, frothy, sweet drink that tastes like a buttery version of cream soda that has been made famous by the Harry Potter series.
When the Wizarding World of Harry Potter opened at Universal in Orlando, they created a version of the drink based on the description from the book series.
In the books, Harry and his friends get the privilege of going to a place near their wizarding school called Hogsmeade. In Hogsmeade, their favorite place to grab a treat is called The Three Broomsticks, where they enjoy a cold, delicious Butterbeer every time.
What is butterbeer made of?
The ingredient list to make this yummy drink is a short and easy one! The only ingredients you'll need to make Butterbeer in your very own kitchen are vanilla ice cream, cream soda, butterscotch ice cream topping and whipped cream as a topping. Easy peasy!
Where to buy butterbeer?
Universal in Orlando is the only place that sells authentic butter beer, but there is a product called butterscotch beer that sounds very similar. I have not tried this version myself, so can't vouch for it. It sounds delicious, though!
What does butterbeer taste like?
The deliciously amazing thing about this famous drink is that it contains such an array of flavors! As you sip on it, different flavors are picked up. Here are a few descriptors to best give you an idea about what to expect: buttery, butterscotch, brown sugar, caramel, cream soda and vanilla all wrapped into a single sip!
Is butterbeer gluten free?
Both the version you'll find at the park and the version in this recipe are indeed gluten free. Great news for people who can't consume gluten!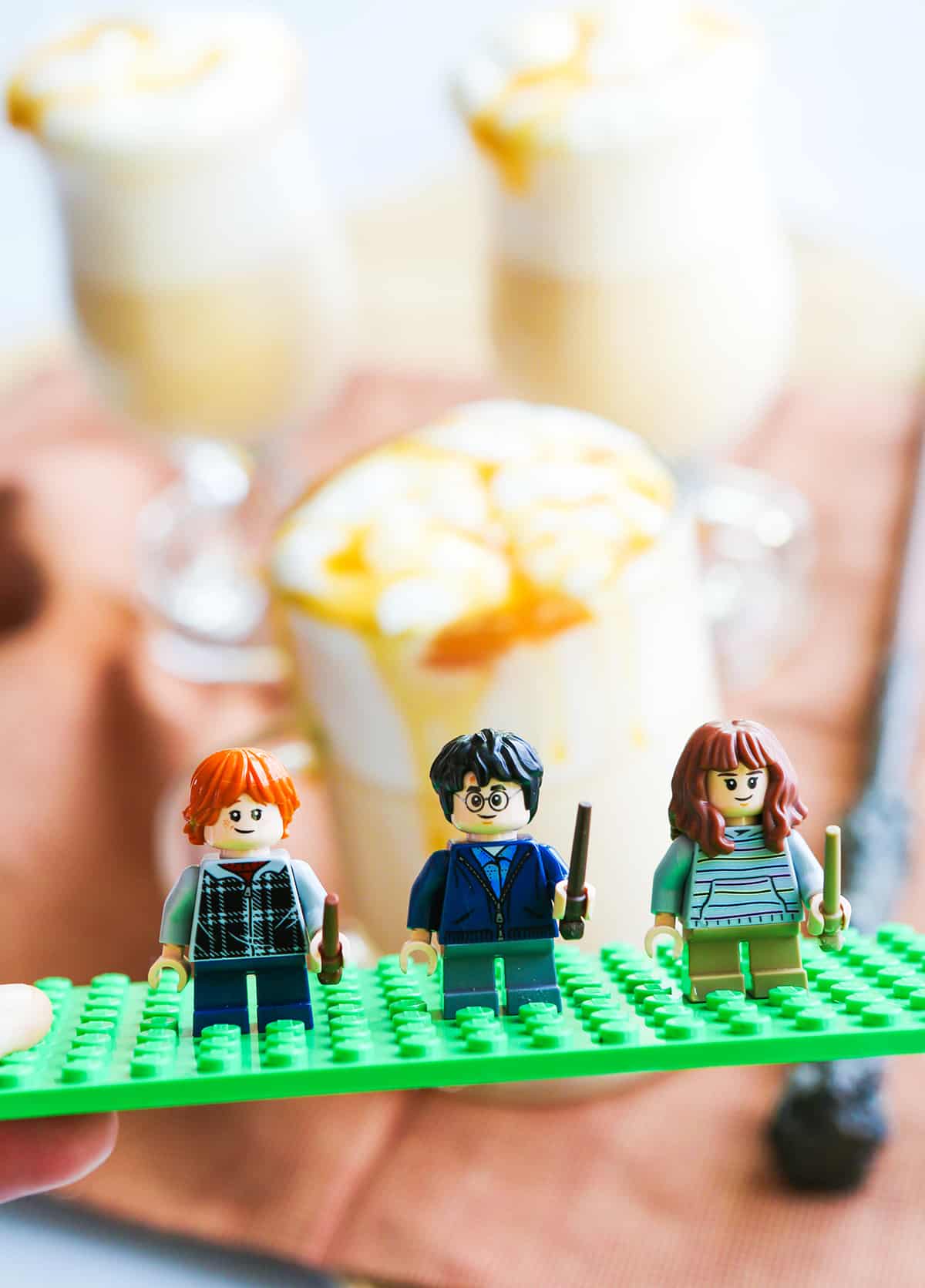 Other Kid-Friendly Copycat Drinks
Check out some of our other kid-friendly copycat recipes:
More Indulgent Favorites
Will you help add value to Pip and Ebby?
If you make this recipe and love it, stop back and give it a 5-star rating ⭐️⭐️⭐️⭐️⭐️ and leave a comment. THANK YOU!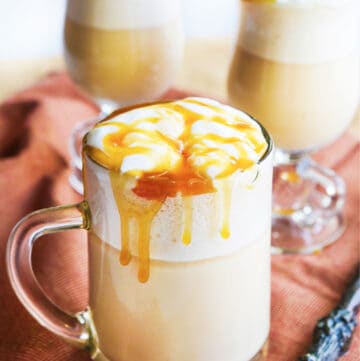 Harry Potter Butterbeer Recipe
If you love the delicious Harry Potter Butterbeer Recipe from the Wizarding World of Harry Potter, you are in luck with this copycat drink!
Print
Pin
Rate
Ingredients
8

ice cubes

1/2

quart

vanilla ice cream

24

oz

cream soda

6

oz

butterscotch topping

plus extra for drizzling on top

whipped cream

topping for butterbeer
Instructions
Place the ice cubes, ice cream, cream soda and 6 oz. of butterscotch topping in a blender. Puree until smooth. Pour into glasses, top with whipped cream and a drizzle of butterscotch topping and serve immediately!

Notes
A scoop of whipped cream on top can't hurt!
Make this delicious dessert as close to serving time as possible
Nutrition
Calories:
374
kcal
|
Carbohydrates:
53
g
|
Protein:
3
g
|
Fat:
17
g
|
Saturated Fat:
12
g
|
Cholesterol:
35
mg
|
Sodium:
103
mg
|
Potassium:
175
mg
|
Fiber:
1
g
|
Sugar:
51
g
|
Vitamin A:
332
IU
|
Vitamin C:
1
mg
|
Calcium:
116
mg
|
Iron:
1
mg
Did you make this recipe?
If you loved this recipe, please rate the recipe and leave a comment below!