The fictitious butterbeer sweet treat from the Harry Potter books is an actual drink at Universal Orlando. IS butterbeer alcoholic at Universal Studios? Read on to get the details about this popular drink, Harry Potter fans!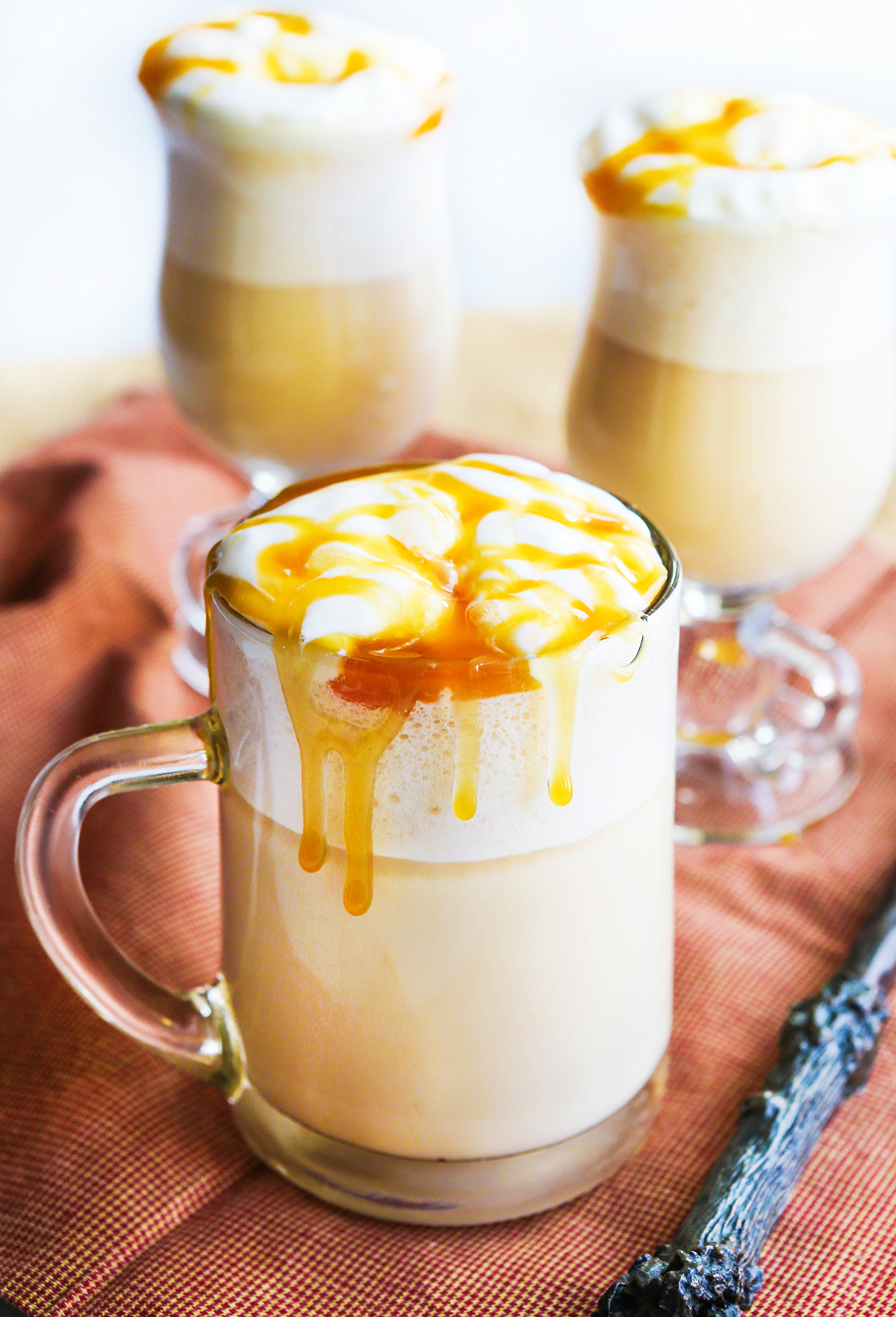 Maybe you have just read the Harry Potter series or seen the Harry Potter movies and you're wondering what the heck is this butterbeer thing all about. Or perhaps you have found yourself at Universal Studios in Orlando and you want to dig into a sugary glass of the tasty drink.
Either way, is butterbeer alcoholic at Universal Studios?! It is a common question being asked all around the globe.
Is Butterbeer Alcoholic at Universal Studios
The name of the fictional drink implies that there is beer (or some sort of alcohol hiding inside) that kids shouldn't indulge in. Good news, though! There is no alcohol inside butterbeer. It is packed with sugar instead!
In the books, the famous butterbeer is described as giving people a slight "buzz" but the version made at Universal theme park and the homemade version does not contain alcohol, although you may get a sugar high if you drink a couple glasses. If you're wondering, "Can kids can drink butter beer?" The answer is yes!
My family and I visit Harry Potter World (found inside Universal Studios Orlando) almost every November and one of the first things we do is head to Diagon Alley to order a few cups of the delicious beverage.
There are now a variety of options to choose from including regular, frozen and hot, as well as butterbeer ice cream. The frozen version is my new favorite, but my boys still love the regular butterbeer best. The soft serve ice cream is my husband's favorite.
When you purchase this beverage at Universal Studios Florida, you also have the option of grabbing a souvenir glass that you can bring back home with you.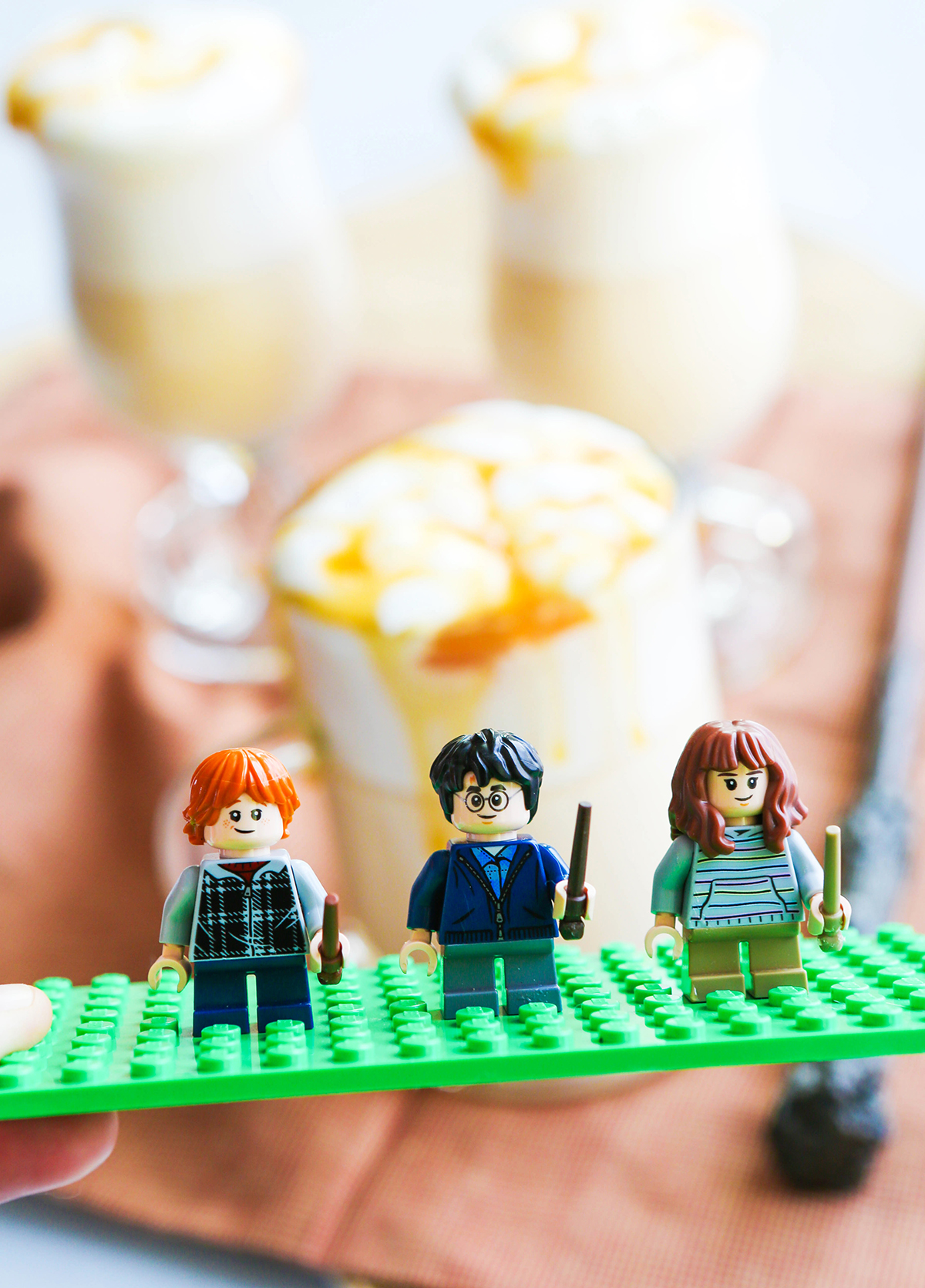 How To Make Universal Studios Butterbeer – The Secret Recipe
Once back home, you may have fond memories of sipping the sweet sweet nectar purchased in the Leaky Cauldron. There is no need to fret! You do not have to wait for a return visit to Universal Orlando Resort to enjoy the real deal again.
Make a version of Butterbeer easily at home using a few simple ingredients! You'll need vanilla ice cream, cream sods, butterscotch topping and whipped cream. That's it!
Step 1
Place the following in a blender:
8 ice cubes
Half of a 1.75-quart container of vanilla ice cream
3 cups of sweet cream soda soft drink (24 oz.)
6 oz. butterscotch topping (found in the ice cream toppings section)
Puree until smooth.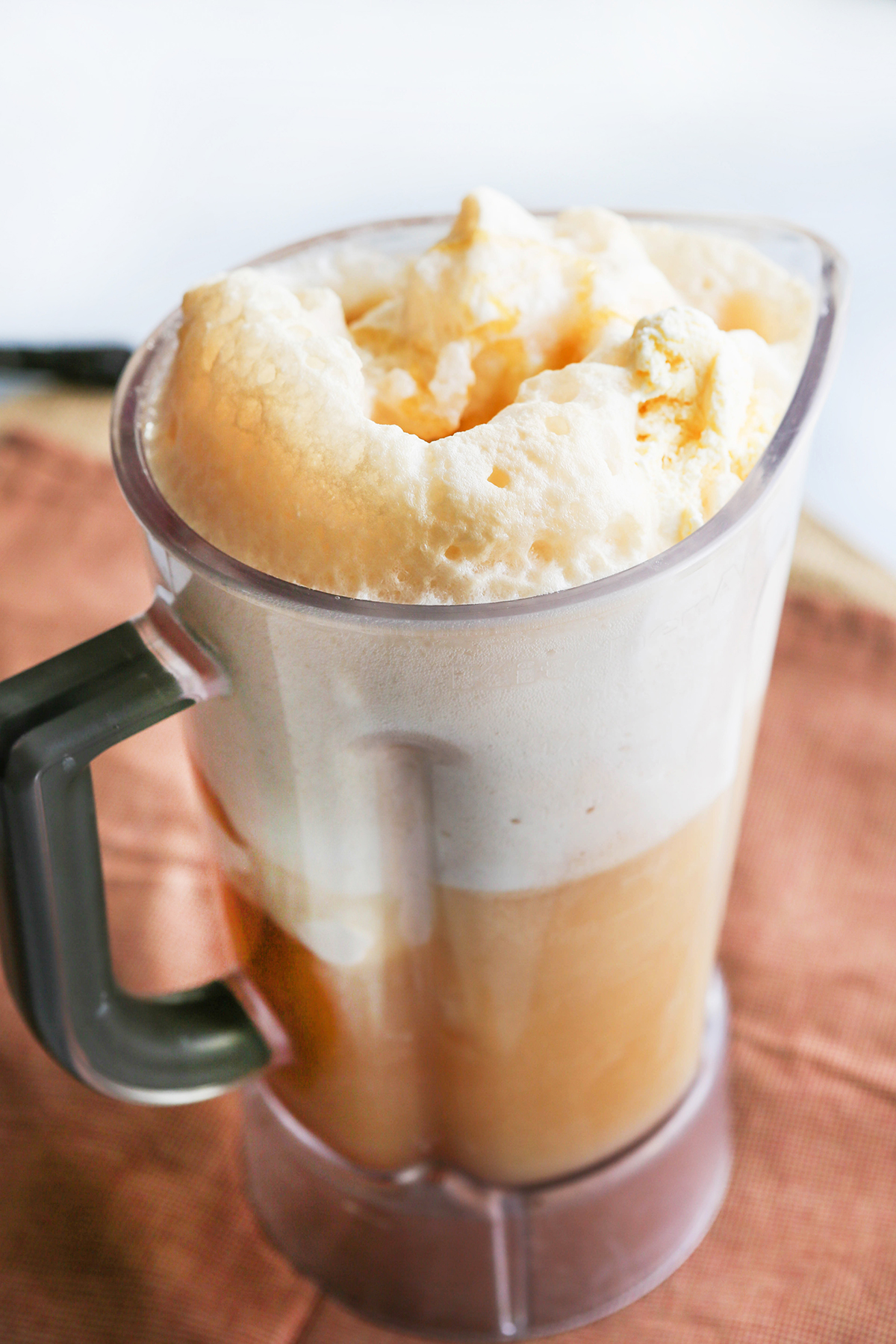 Step 2
Pour into glasses, top with whipped cream and a drizzle a little bit of butterscotch syrup over the top for good measure. Serve immediately!
Alcoholic Homemade Butterbeer Recipe
If you are wanting to create a boozy butterbeer, simply add 1/2 cup of vodka or rum to the blender after all of the other ingredients have been pureed. Mix until just incorporated, top with a splash of butterscotch schnapps and serve! The added butterscotch flavor will knock your socks off!
To give the drink a rum flavoring without adding alcohol, add 1 teaspoon of rum extract to the blender along with the remaining ingredients.
FAQ About Butterbeer
What is butterbeer at Universal?
If you are not a Harry Potter fan, you might be wondering what the fuss is about this drink! Harry Potter's Butterbeer is a cold, frothy, sweet drink that tastes like a buttery version of cream soda that has been made famous by the Harry Potter series.
When the Wizarding World of Harry Potter opened at Universal in Orlando, they created a version of the drink based on the description from the book series.
In the books, Harry and his friends get the privilege of going to a place near their wizarding school called Hogsmeade. In Hogsmeade, their favorite place to grab a treat is called The Three Broomsticks, where they enjoy a cold, delicious Butterbeer every time.
What is butterbeer made of?
The ingredient list to make this yummy drink is a short and easy one! The only ingredients you'll need to make Butterbeer in your very own kitchen are vanilla ice cream, cream soda, butterscotch ice cream topping and whipped cream as a topping. Easy peasy!
Where to buy butterbeer?
Universal in Orlando is the only place that sells authentic butter beer, but there is a product called butterscotch beer that sounds very similar. I have not tried this version myself, so can't vouch for it. It sounds delicious, though!
What does butterbeer taste like?
The deliciously amazing thing about this famous drink is that it contains such an array of flavors! As you sip on it, different flavors are picked up. Here are a few descriptors to best give you an idea about what to expect: buttery, butterscotch, brown sugar, caramel, cream soda and vanilla all wrapped into a single sip!
Is butterbeer gluten free?
Both the version you'll find at the park and the homemade version are indeed gluten free. Great news for people who can't consume gluten!
More Non-Alcoholic Beverages