Make dinner EASY with this delicious list of 30+ recipes that use ground beef as a main ingredient. Ground beef does not need to be boring!
Ground beef as a standalone ingredient might seem boring, but with a little help from other food items it can easily be transformed into a delicious meal. I have always been a huge fan of this unassuming variety of meat and it has been fun getting creative with it.
Enjoy this collection of easy, beefy meals that is sure to satisfy the bellies around your table tonight!
---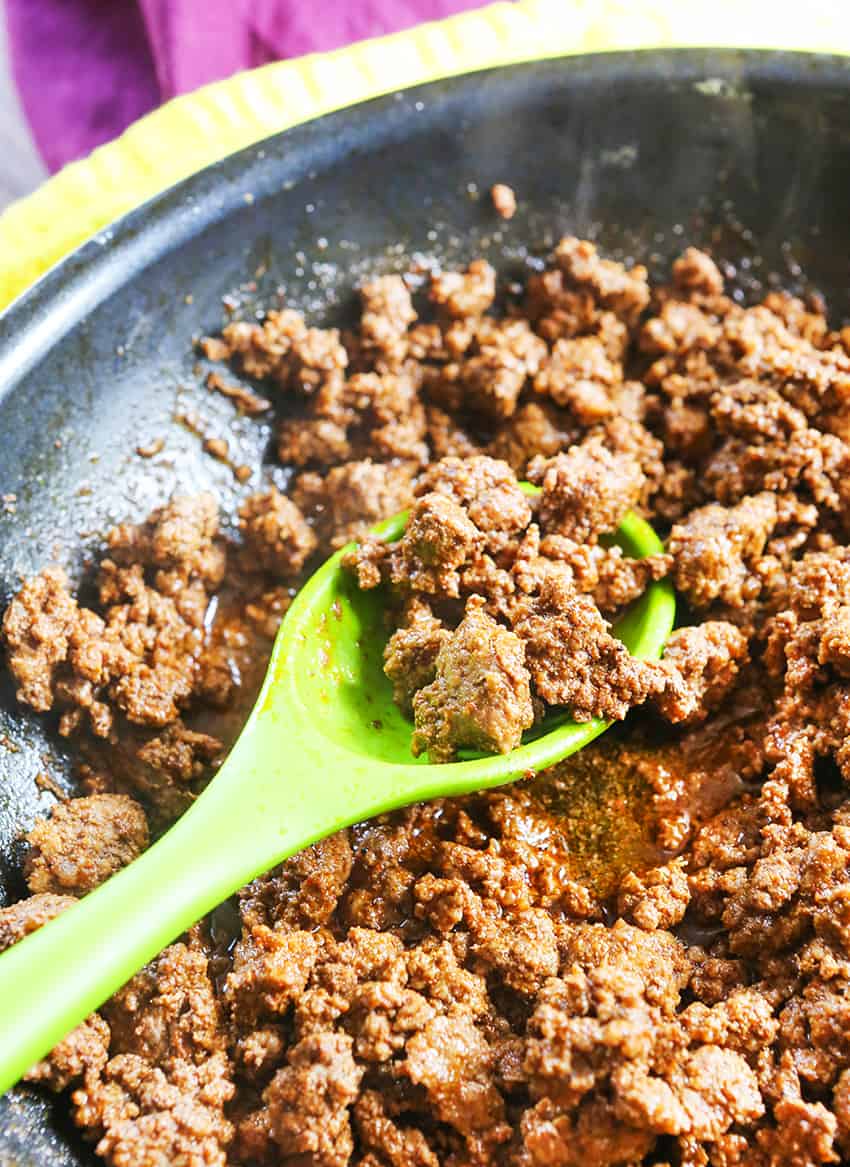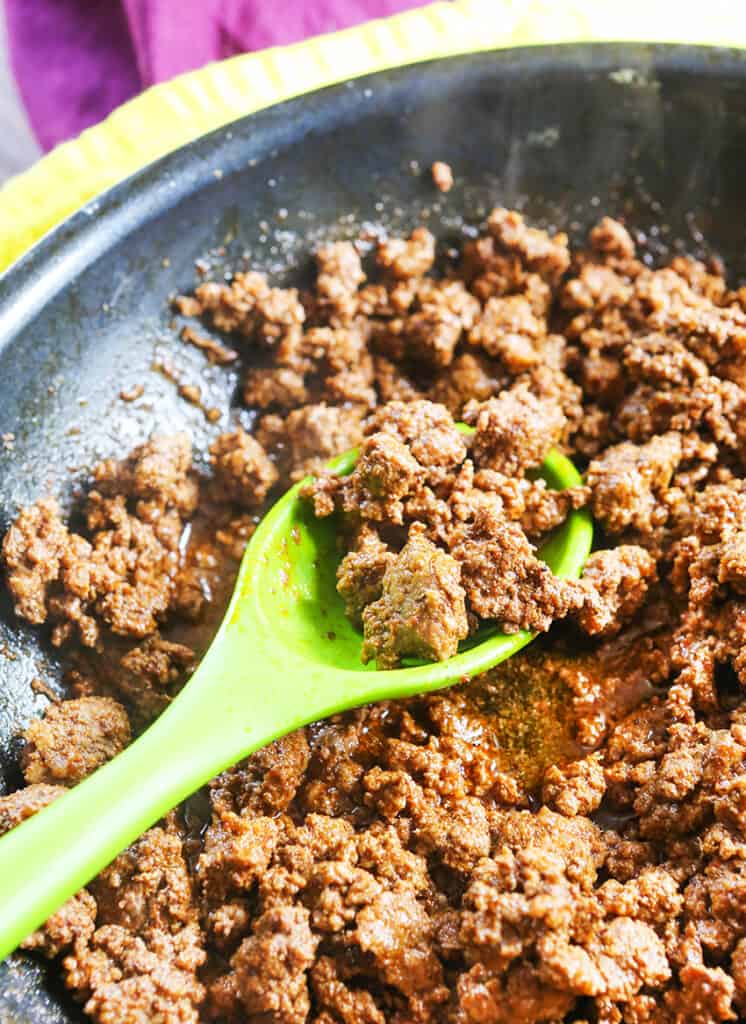 Homemade Ground Beef Taco Meat – Taco meat is super easy to make at home using ground beef and just a few other ingredients. Make your own taco seasoning, too, in just a few minutes! Add the savory meat to tacos, burritos, casseroles or even a simple salad!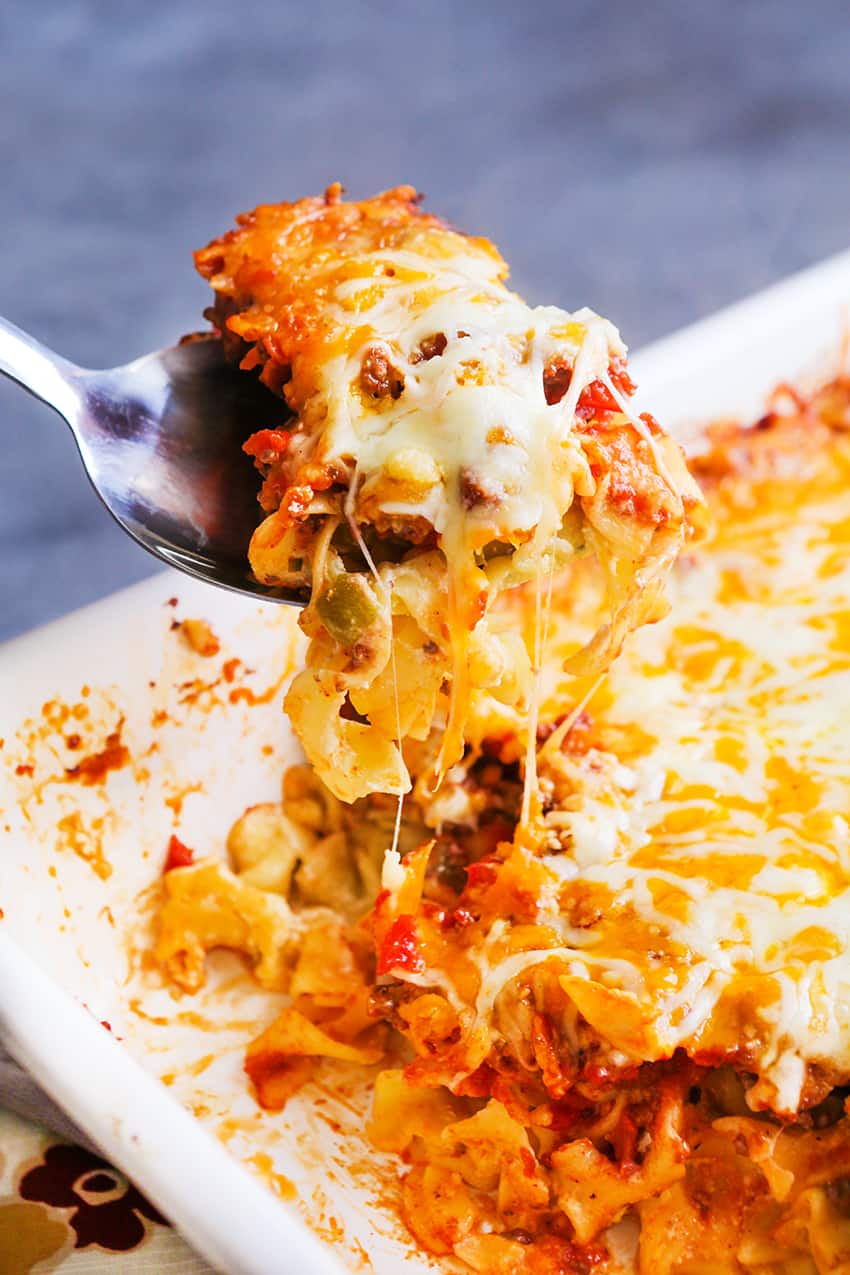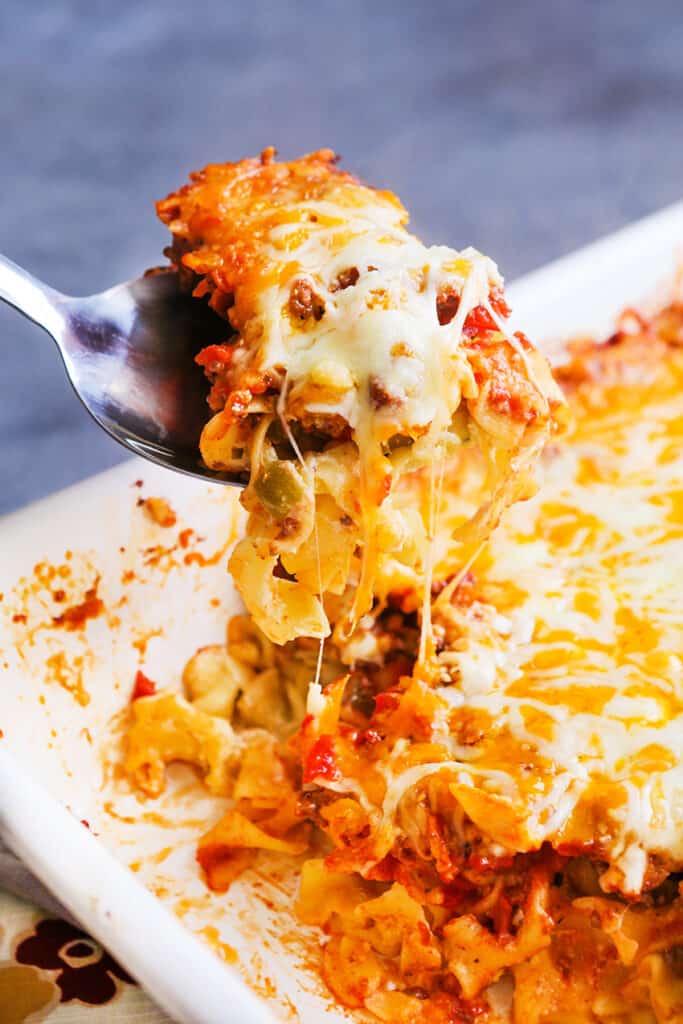 Homestyle Ground Beef Casserole – Just like your mom's recipe but so much more! This is a perfect hearty weeknight meal to put on the table. Guaranteed to fill you up with each comforting bite, this dinner boasts flavor and creaminess over a bed of steaming egg noodles. This casserole will quickly become a family favorite!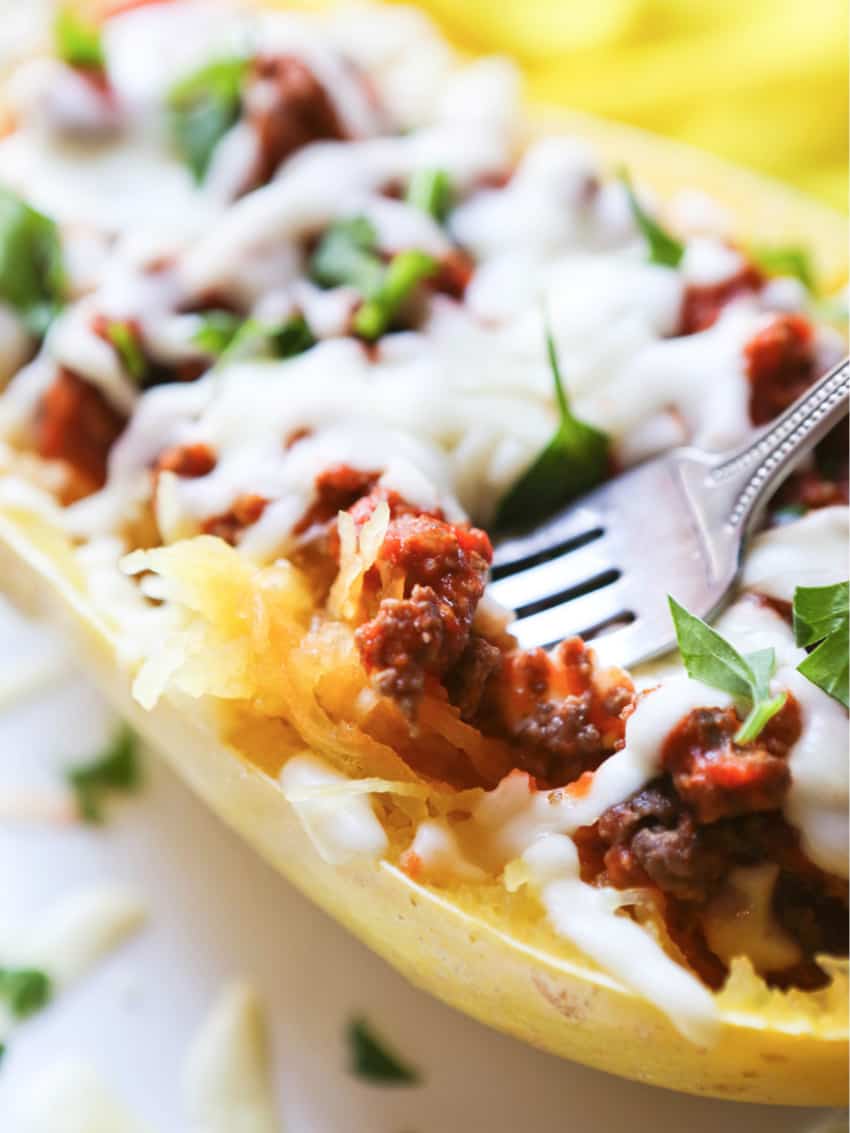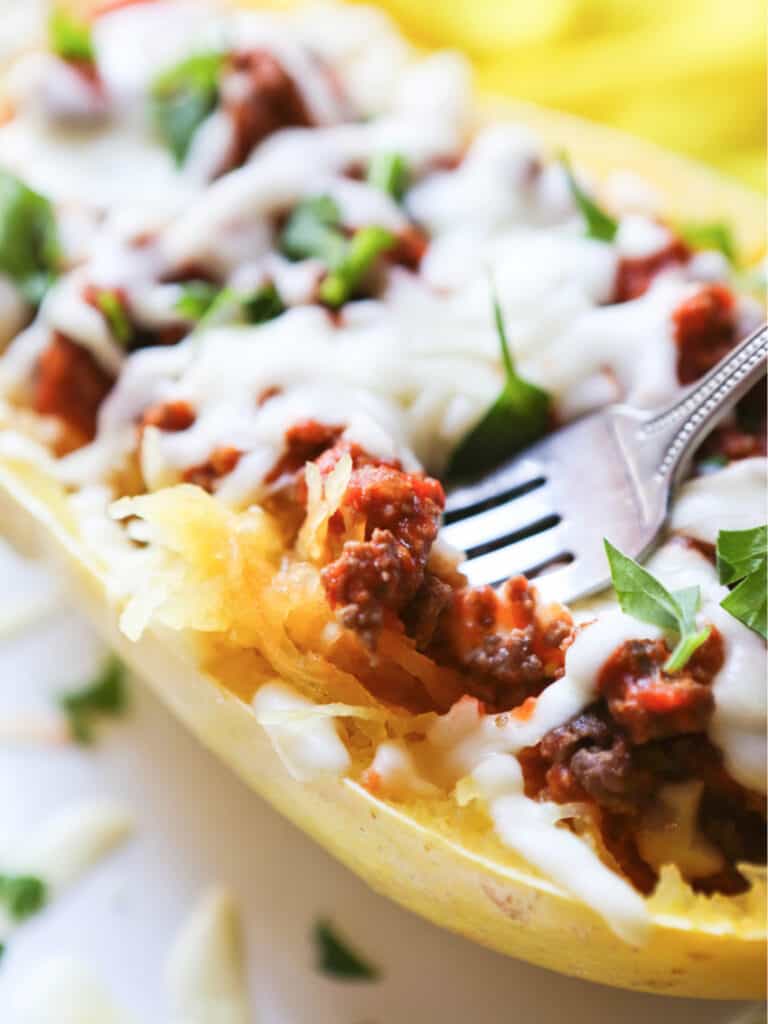 Stuffed Spaghetti Squash Ground Beef and Cheese – These Spaghetti Squash Beef and Cheese Bowls are the healthy version of spaghetti! They are SUPER easy to prepare, and are ready in less than 30 minutes. Add all the meat, cheese and spices you love to cater this recipe to your liking.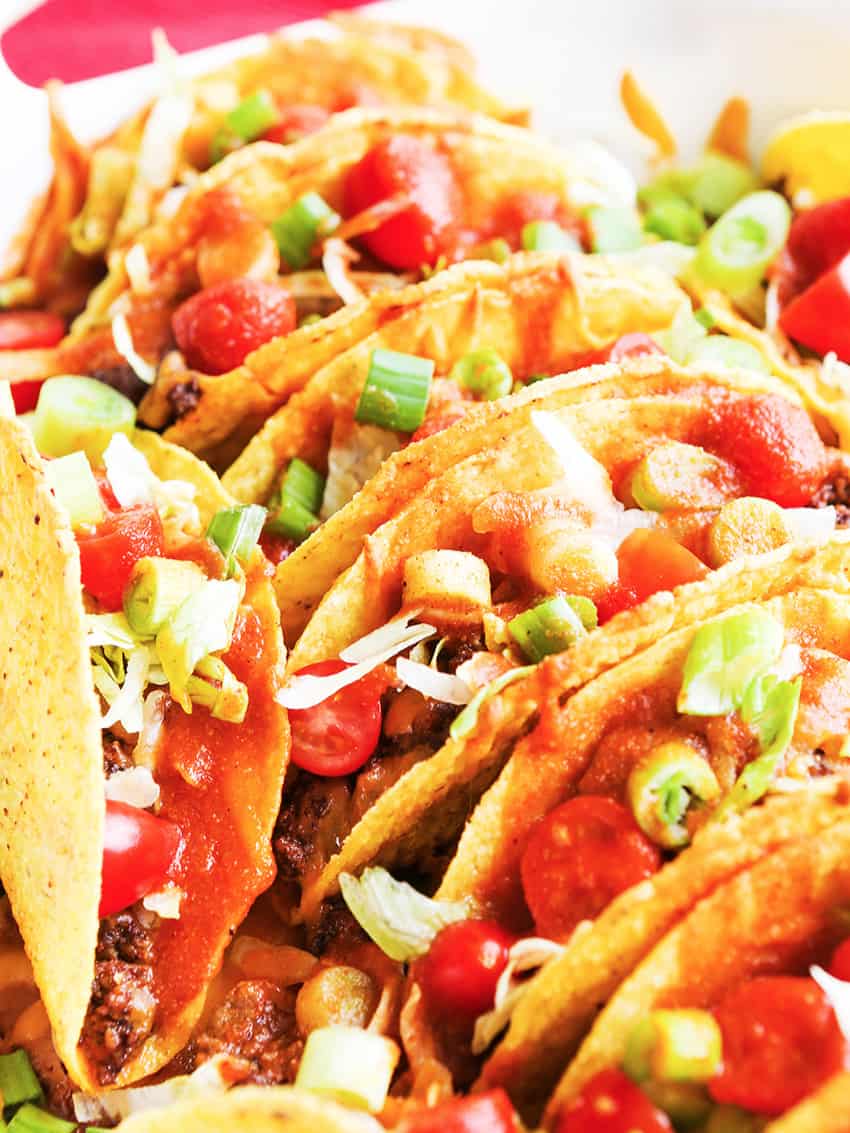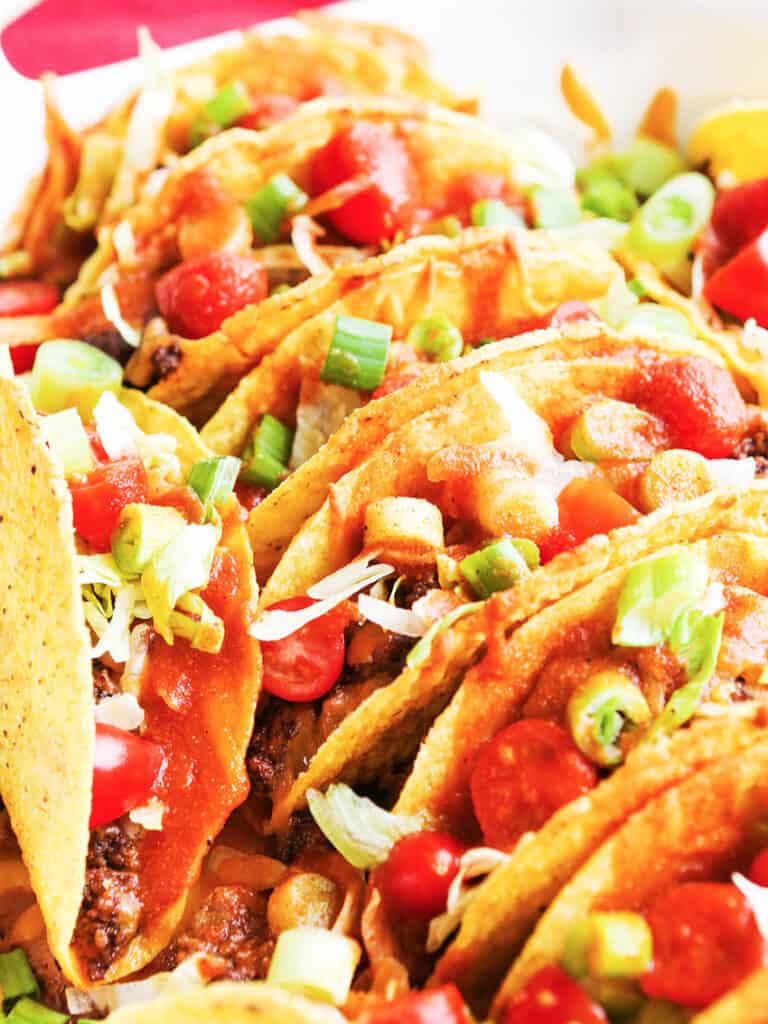 Oven Baked Beef Tacos – Make an entire batch of delicious beef tacos in under 20 minutes! A refried bean and cheese mixture are secretly hiding underneath a layer of tacos to make a complete meal in a single pan. Super easy meal for taco night!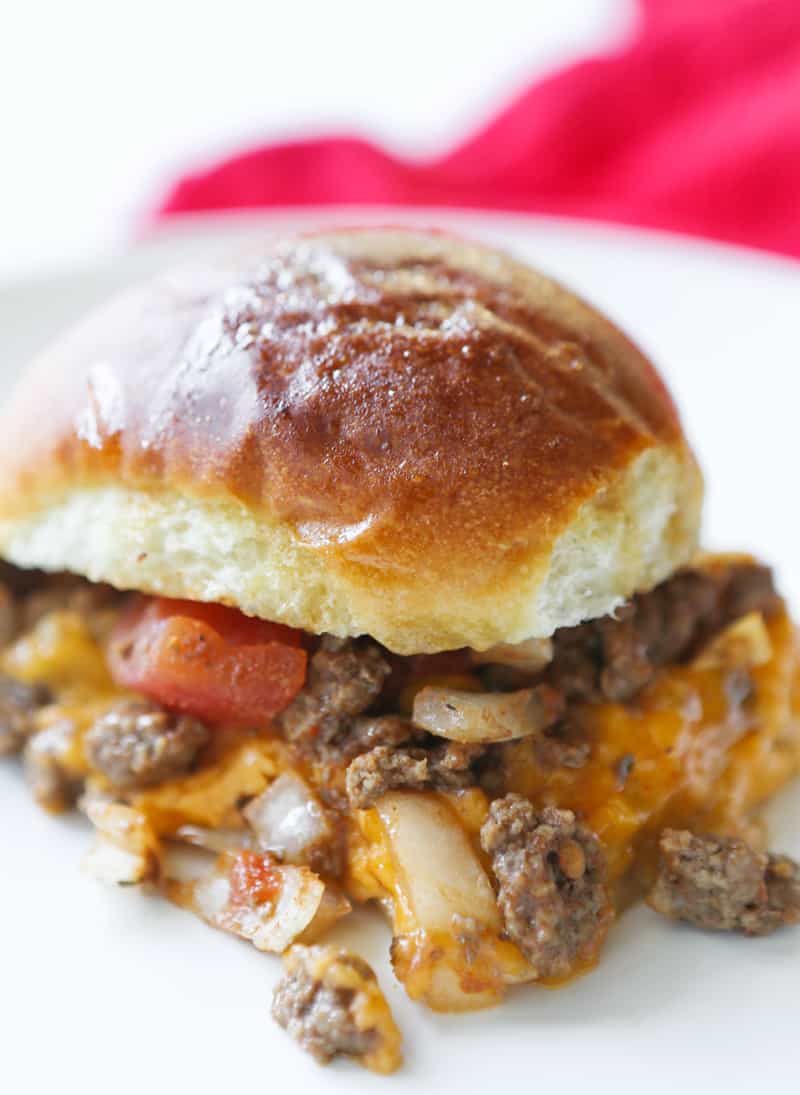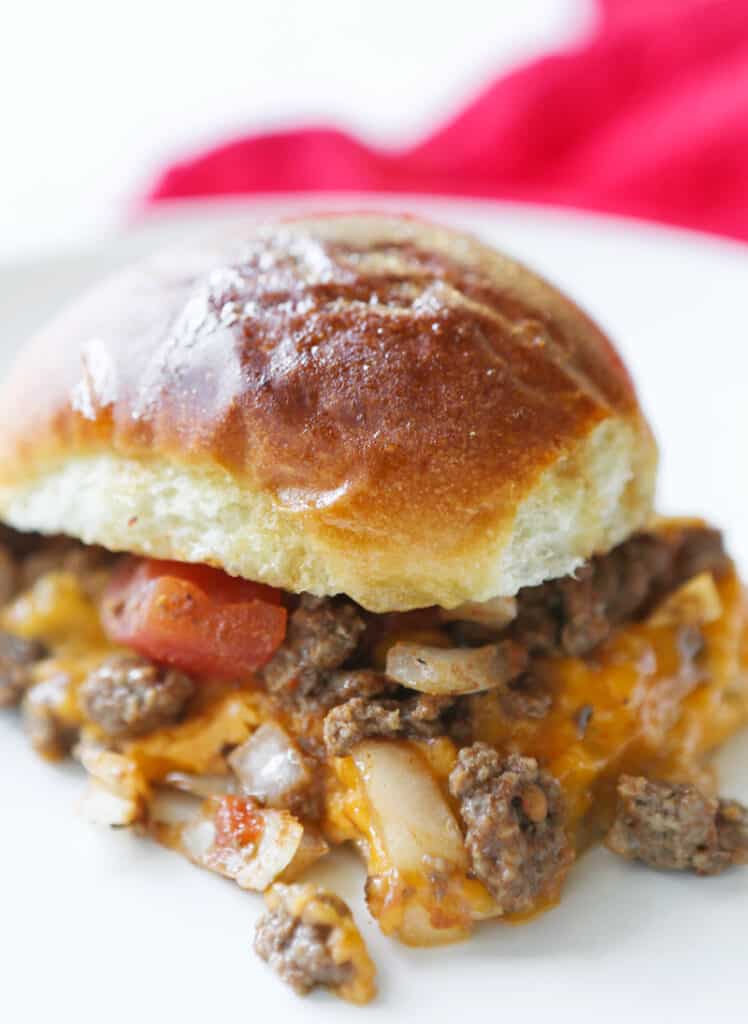 Baked Cheesy Beef Sandwiches – These hot sandwiches make the PERFECT easy dinner. They are always a hit!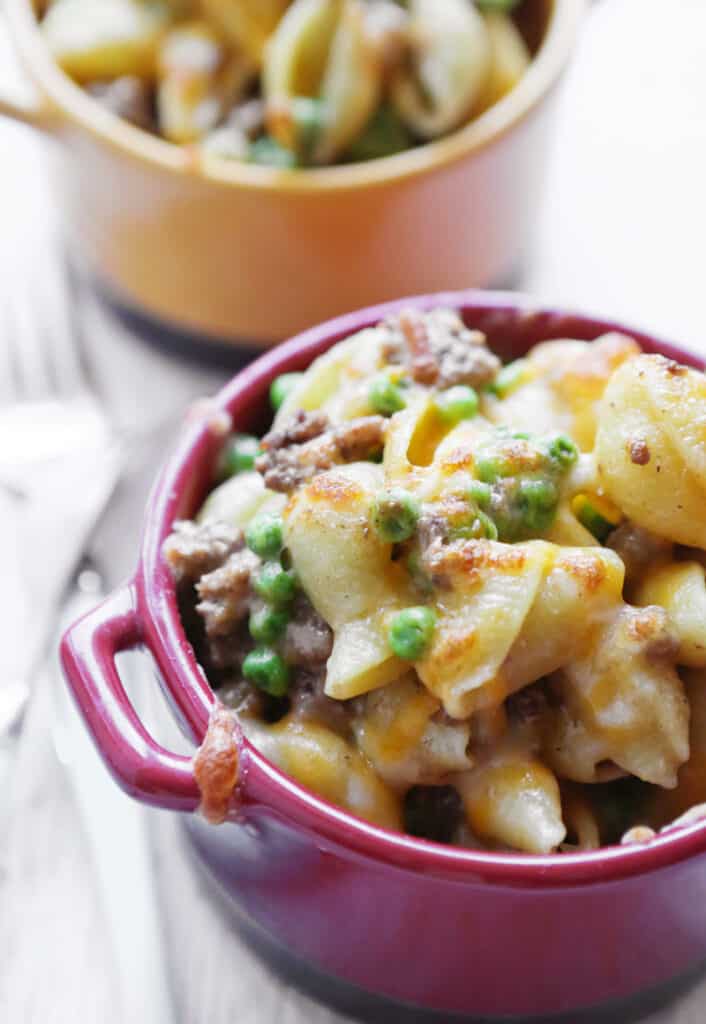 Delicious Beefy Shells and Cheese with Ranch – I love this yummy twist on Shells and Cheese! This Beefy Shells and Cheese with Ranch meal is pure comfort food. Throw in some veggies for fun! With just the addition of Ranch dressing to the skillet, it took this simple recipe to the next level. It's a delicious dinner any time of the year!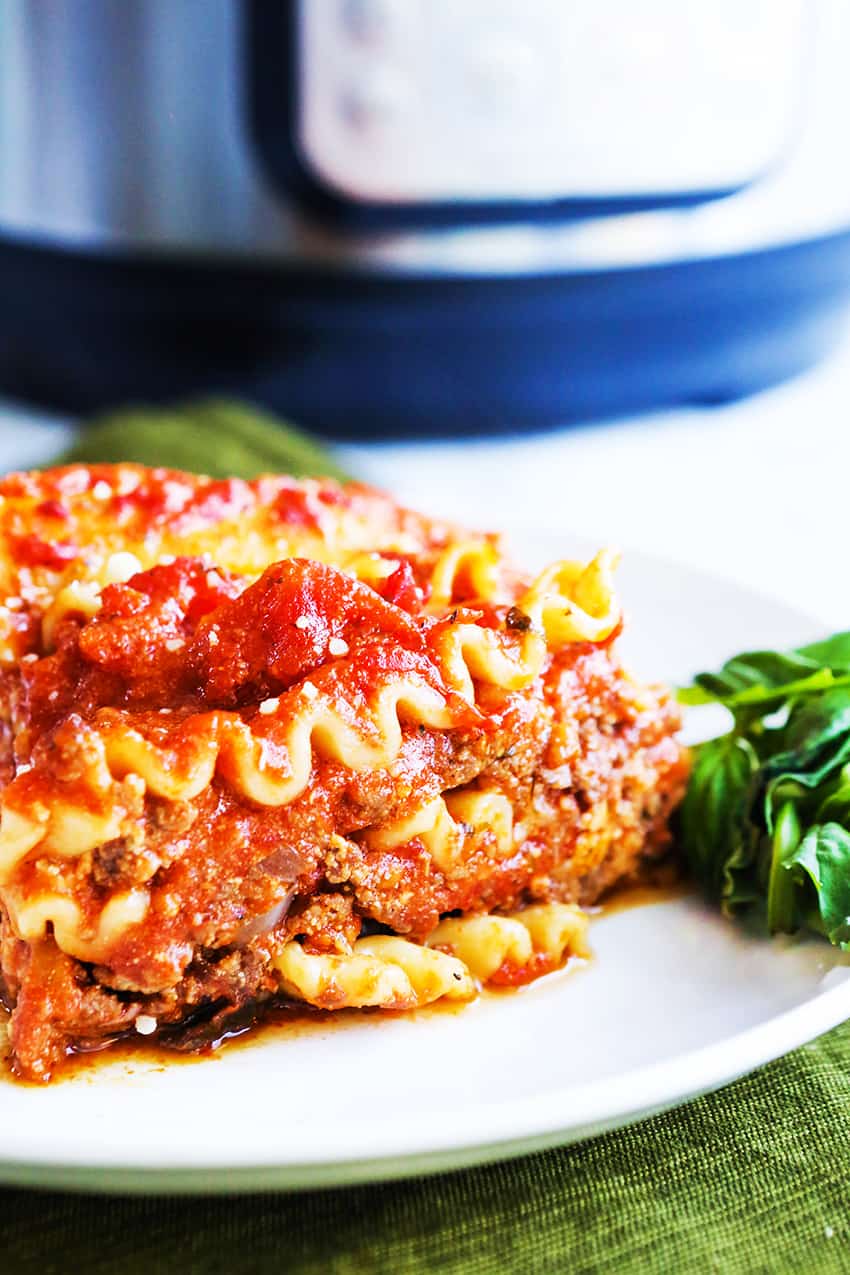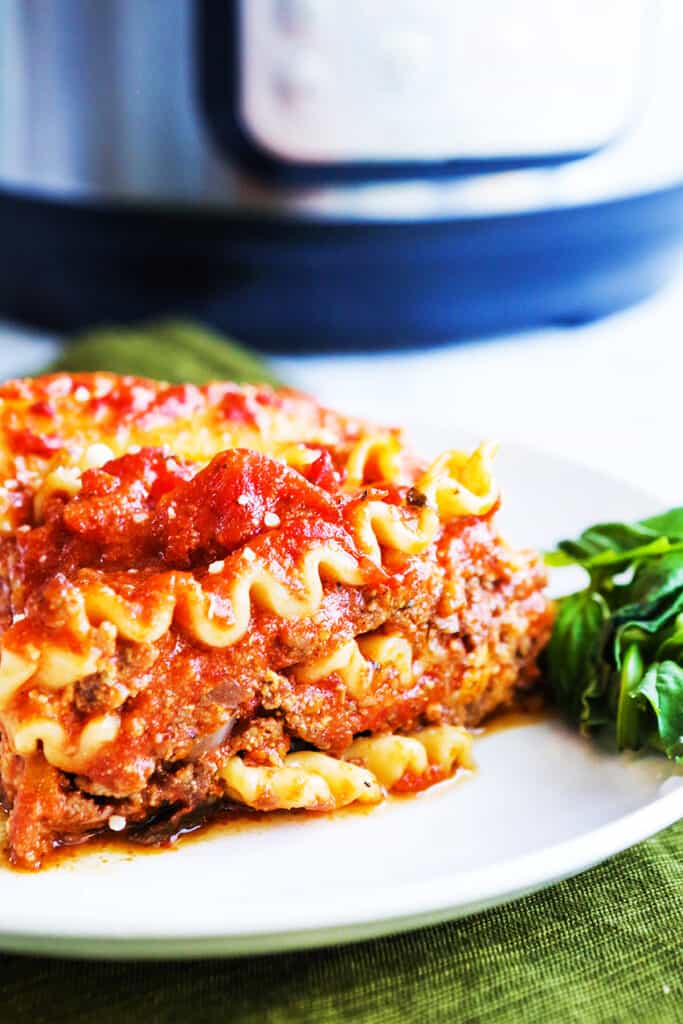 Instant Pot Lasagna Recipe (no inner pot needed!) – Lasagna has never been so easy! No need to pre-cook noodles OR squeeze everything into a springform pan! Layer traditional lasagna ingredients right in the inner pot and dinner is ready in 30 minutes. A filling and comforting pasta dish could not be easier or more delicious.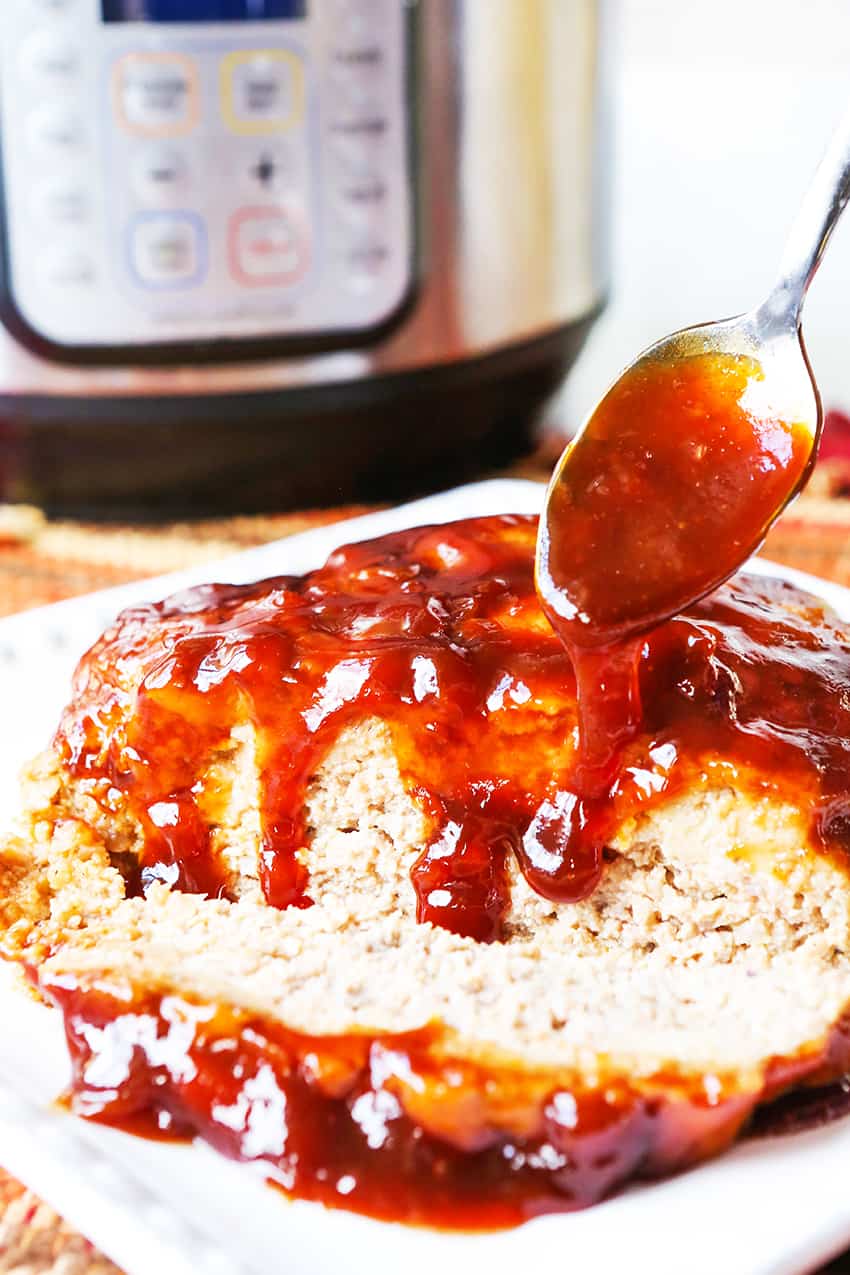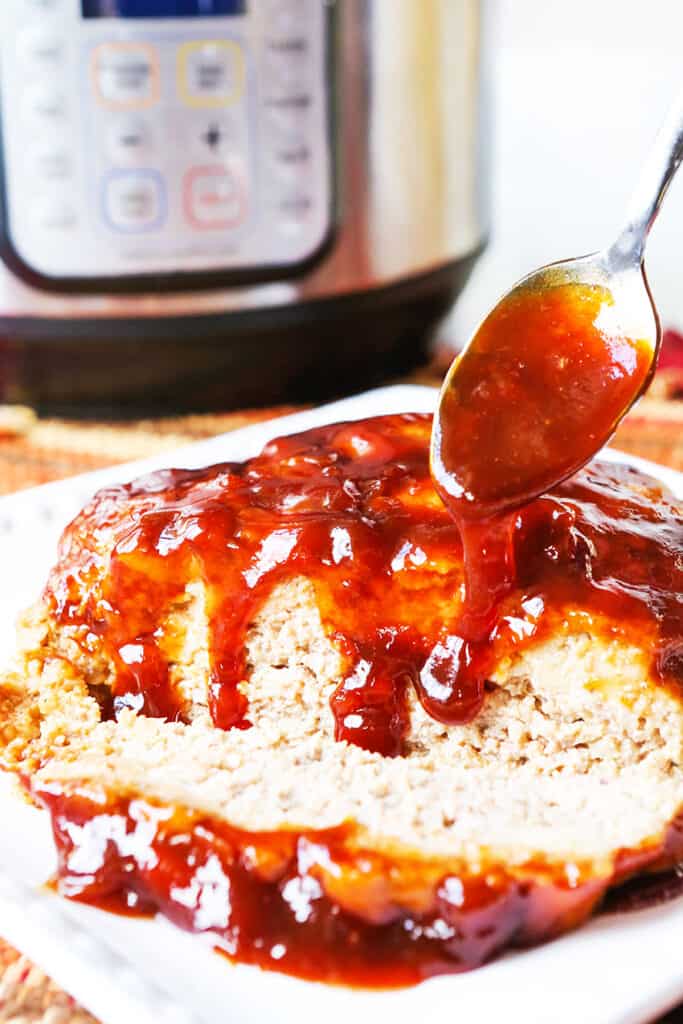 Best Instant Pot Meatloaf – Instant Pot Meatloaf is super quick and easy to make and it is SO delicious. It cooks so much more quickly than an oven-baked meatloaf. There is a secret ingredient hiding inside and the sauce that gets smothered over the top? OUT OF THIS WORLD DELICIOUS.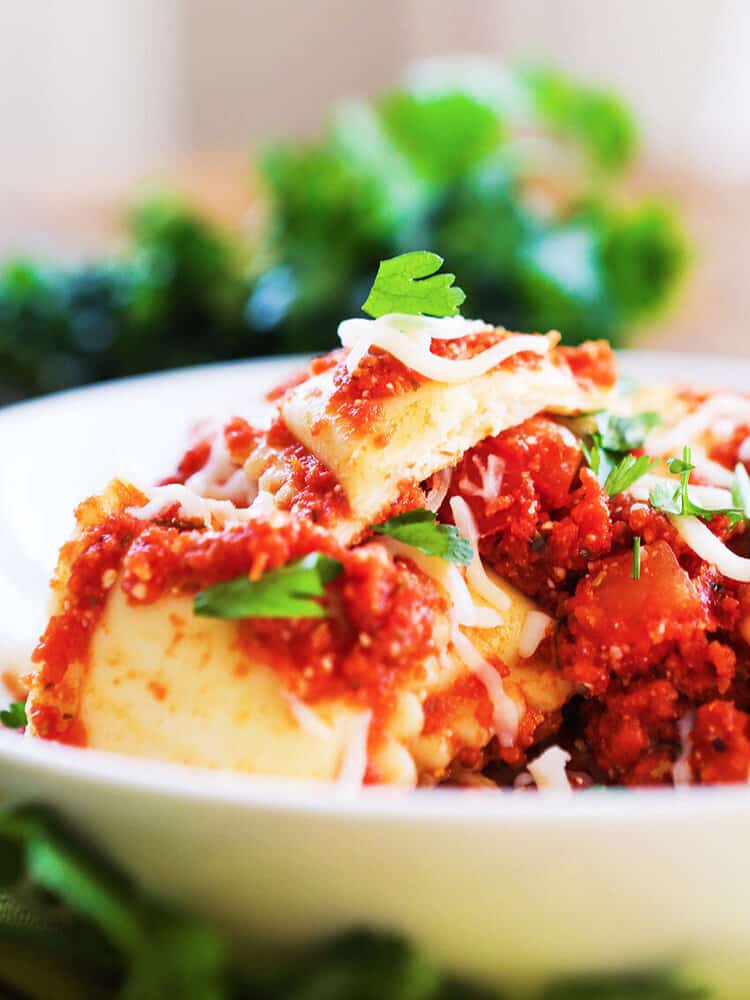 Easy Crock Pot Ravioli – Crockpot Ravioli requires only 6 ingredients, 1 slow cooker and 3 hours of your time. Enjoy a yummy plate of cheesy pasta covered in tasty Italian sauce! Dinner is on the table with virtually no effort on your end.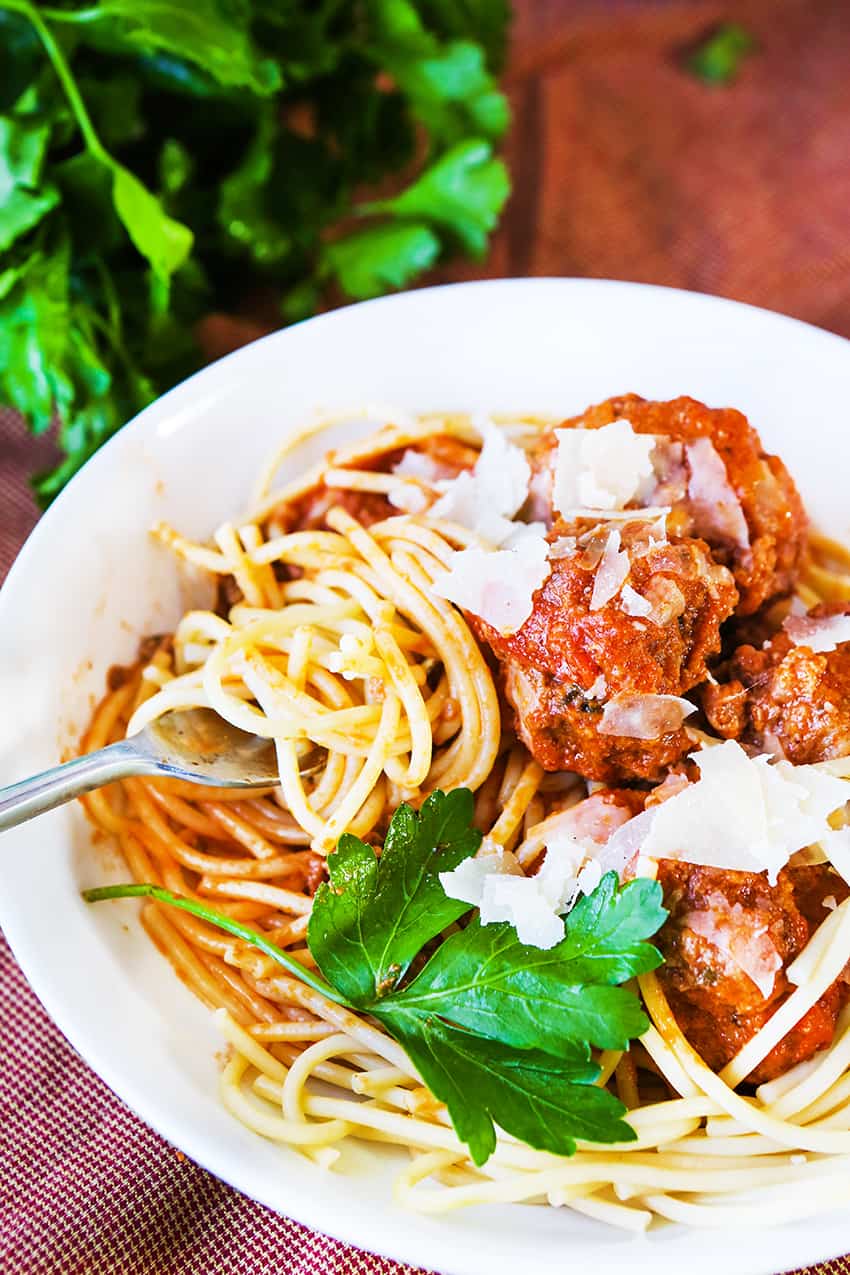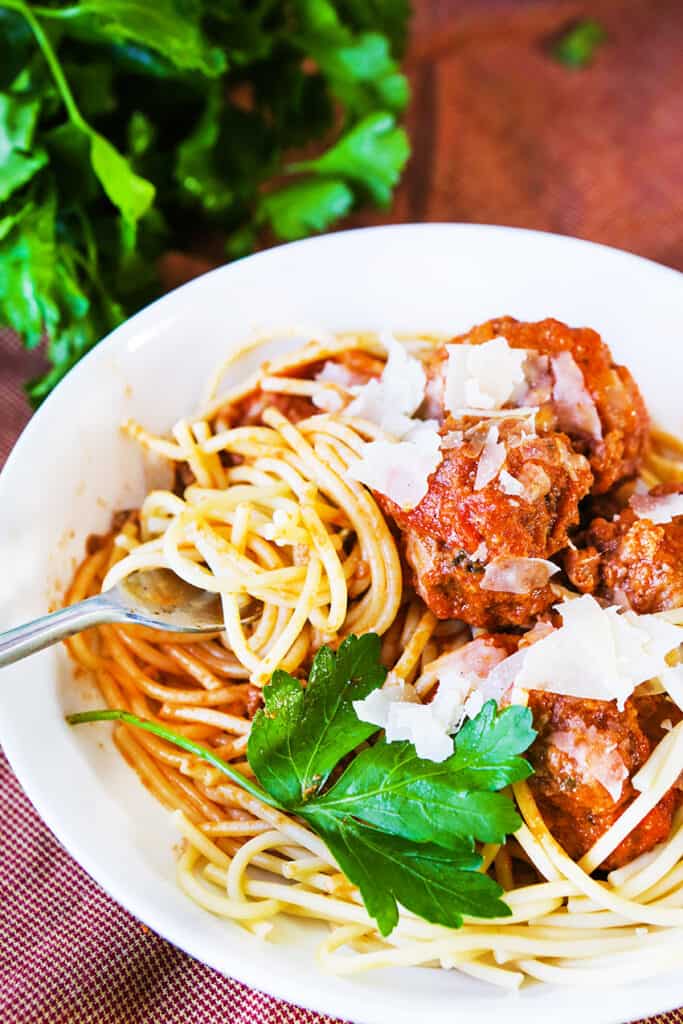 Best Ever Instant Pot Meatballs – This is the easiest, quickest, most delicious way to cook meatballs and sauce to top pasta with! Done in 30 minutes, your pasta will be happy to have this delicious perfection sitting atop it. Dinner made easy for you and your family!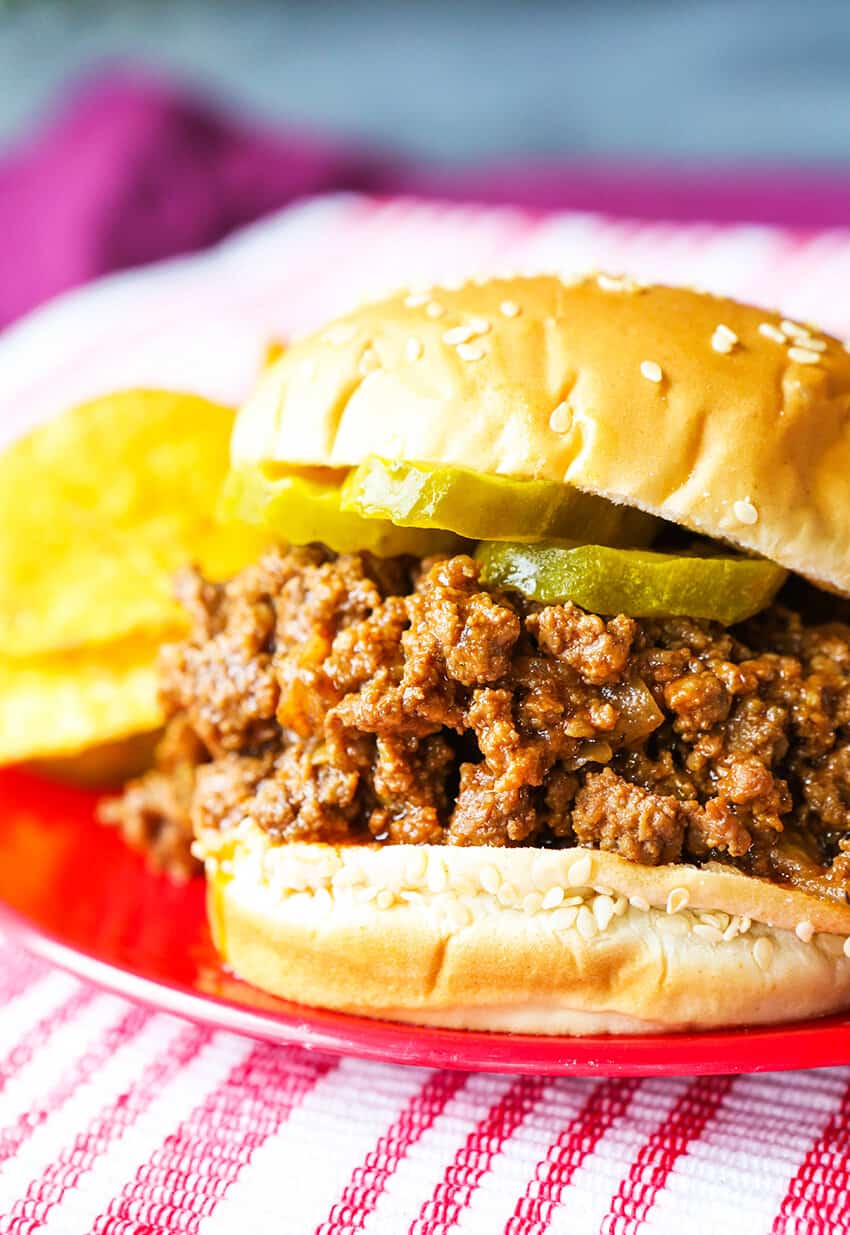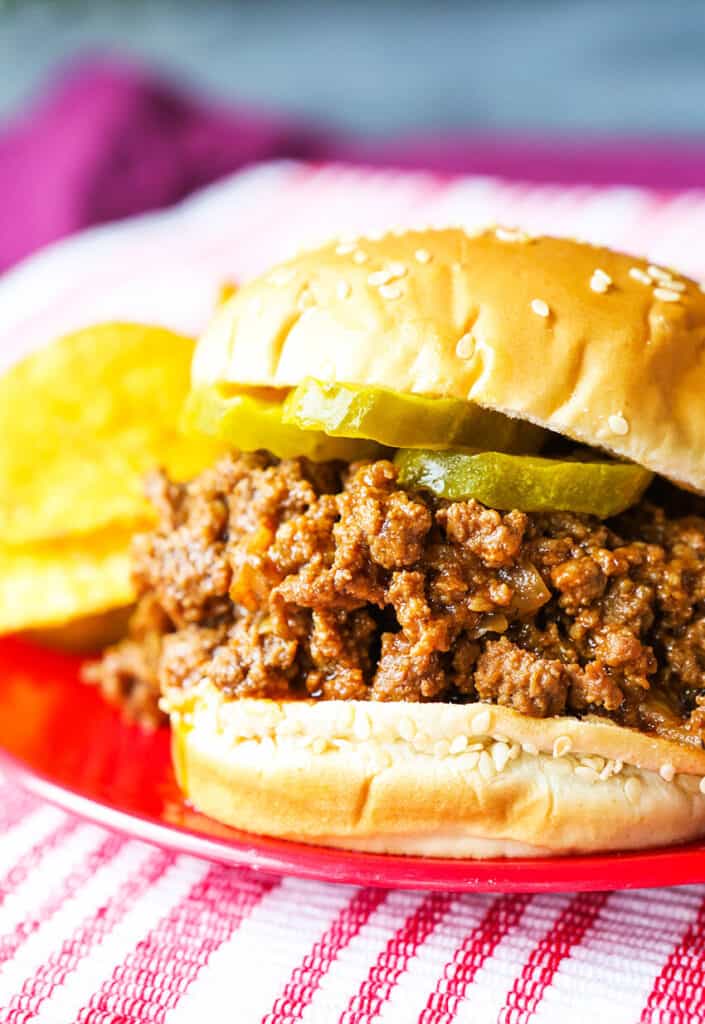 Instant Pot Sloppy Joes – A childhood staple, Sloppy Joes are hearty and delicious! Make them in your Instant Pot for a super quick and easy dinner that has a sweet and savory sauce. This is the perfect recipe for family dinner.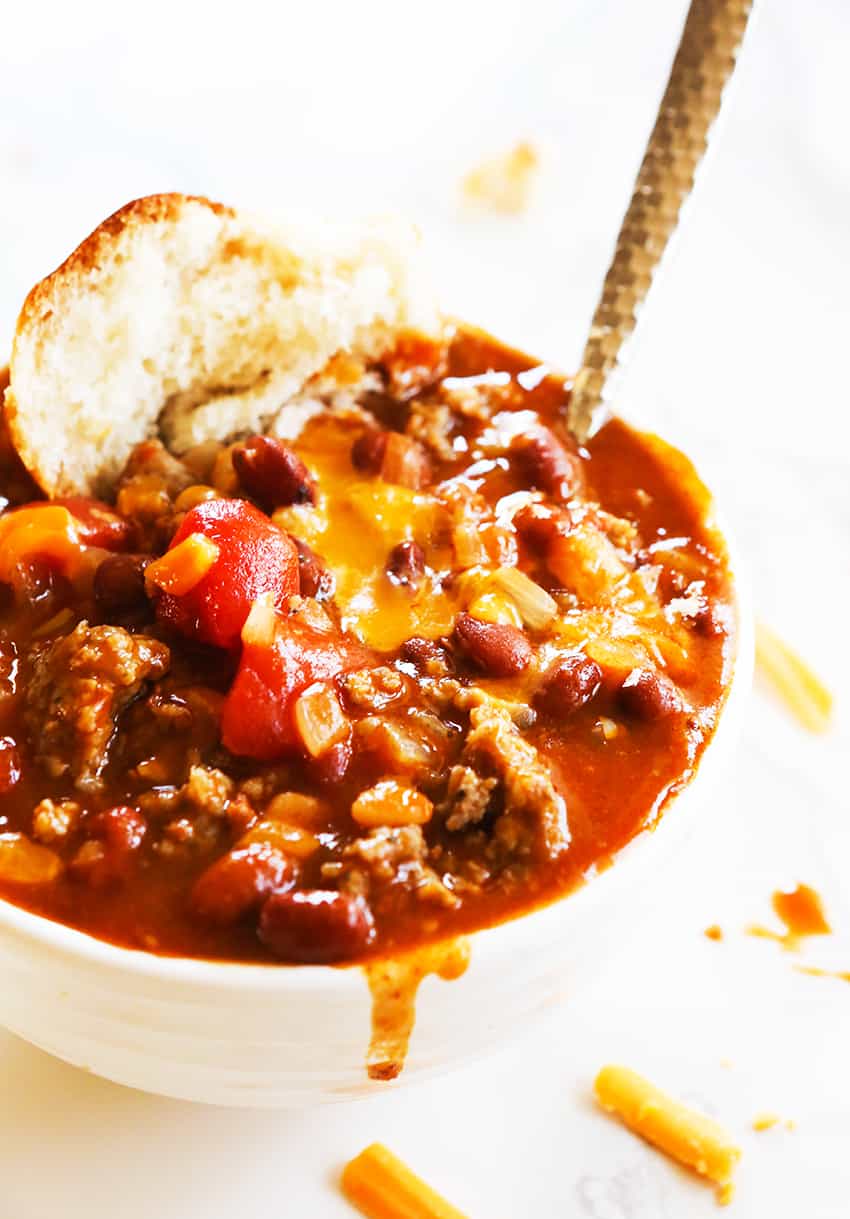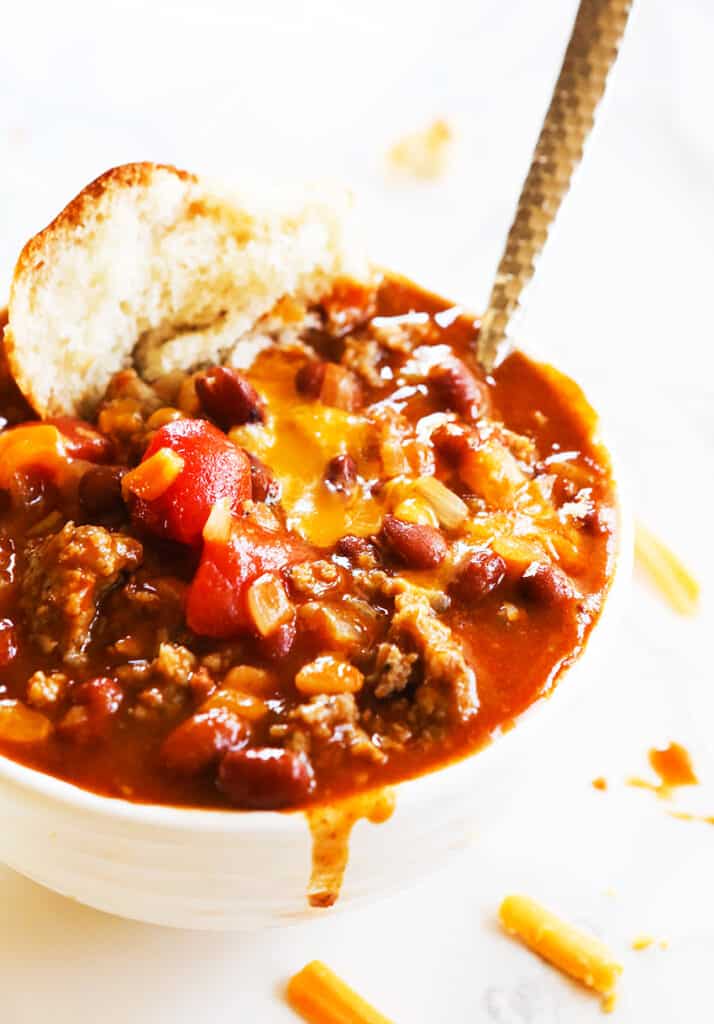 5 Ingredient Easy Chili – This Easy Canned Chili recipe requires only 5 ingredients! Packed with flavor, this comforting recipe takes only 30 minutes to make. You don't miss out on anything with this dish perfect for feeding a large group. Perfect as a solo meal or as a topping for baked potatoes or chili dogs!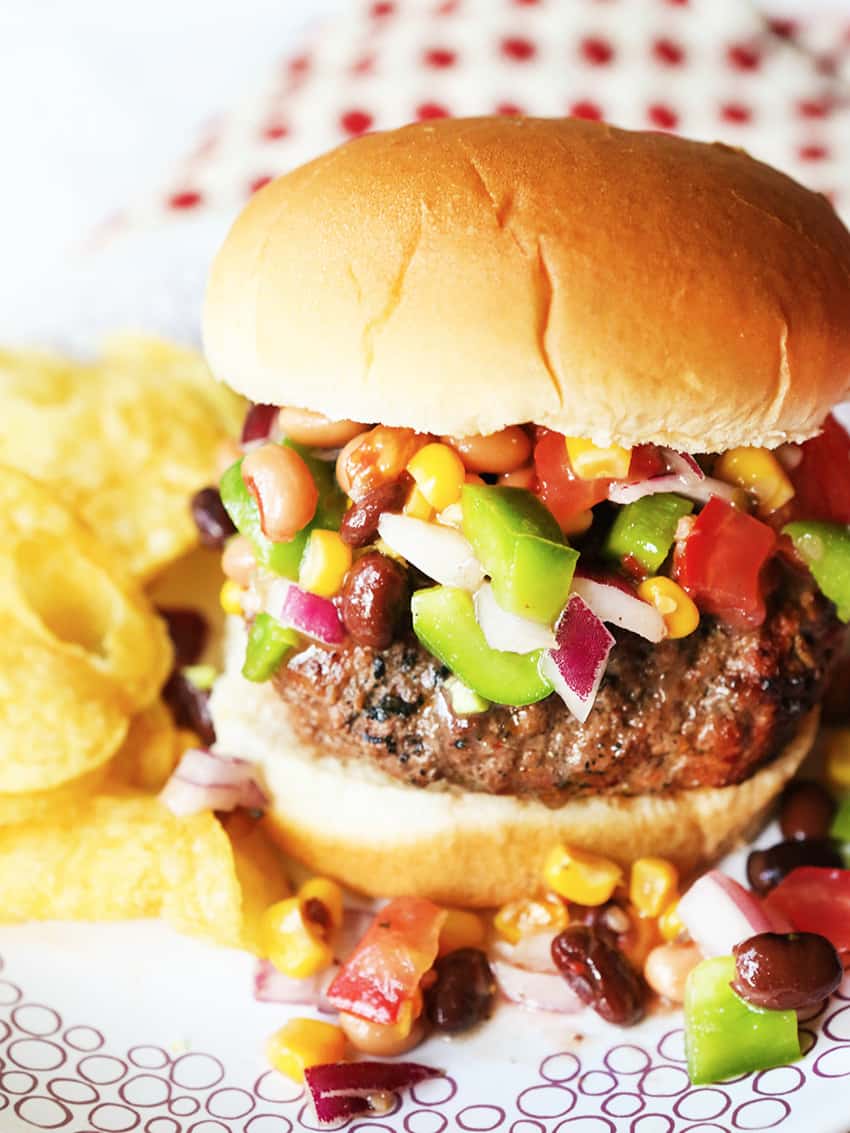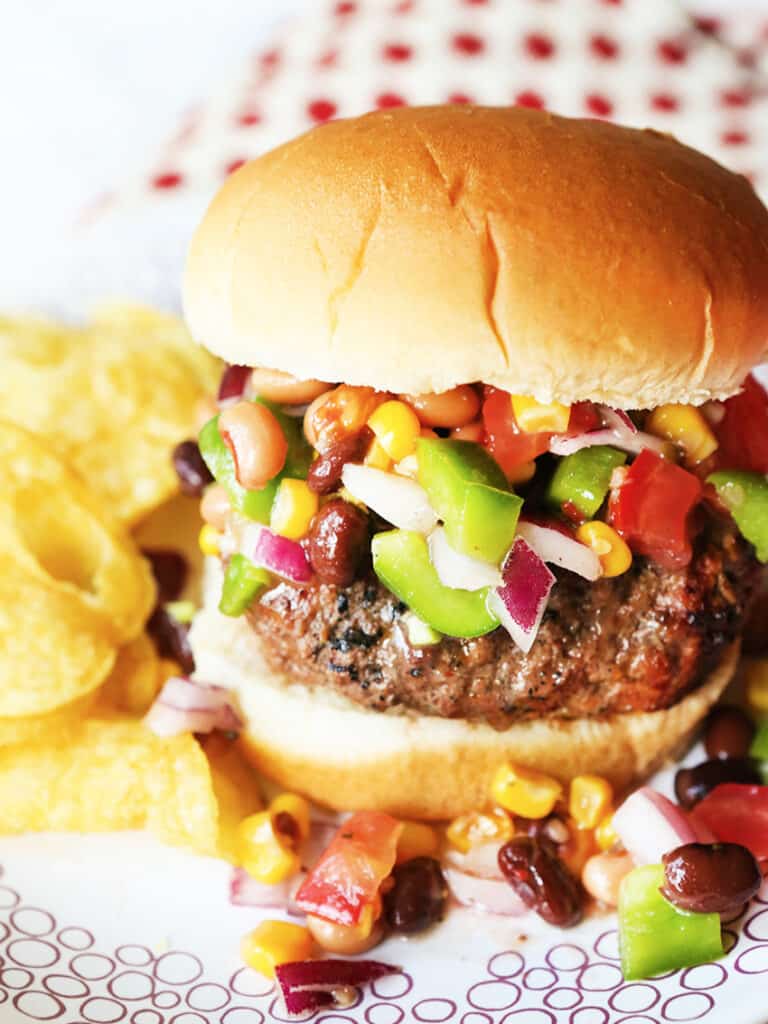 Best Juicy Salsa Burgers – Incorporate salsa into the meat of your burger for a zesty, super juicy burger that everyone will fall in love with. Use spicy salsa for burgers with a kick or go mild for a less spicy option. Either way, every person at your dinner table will be happy!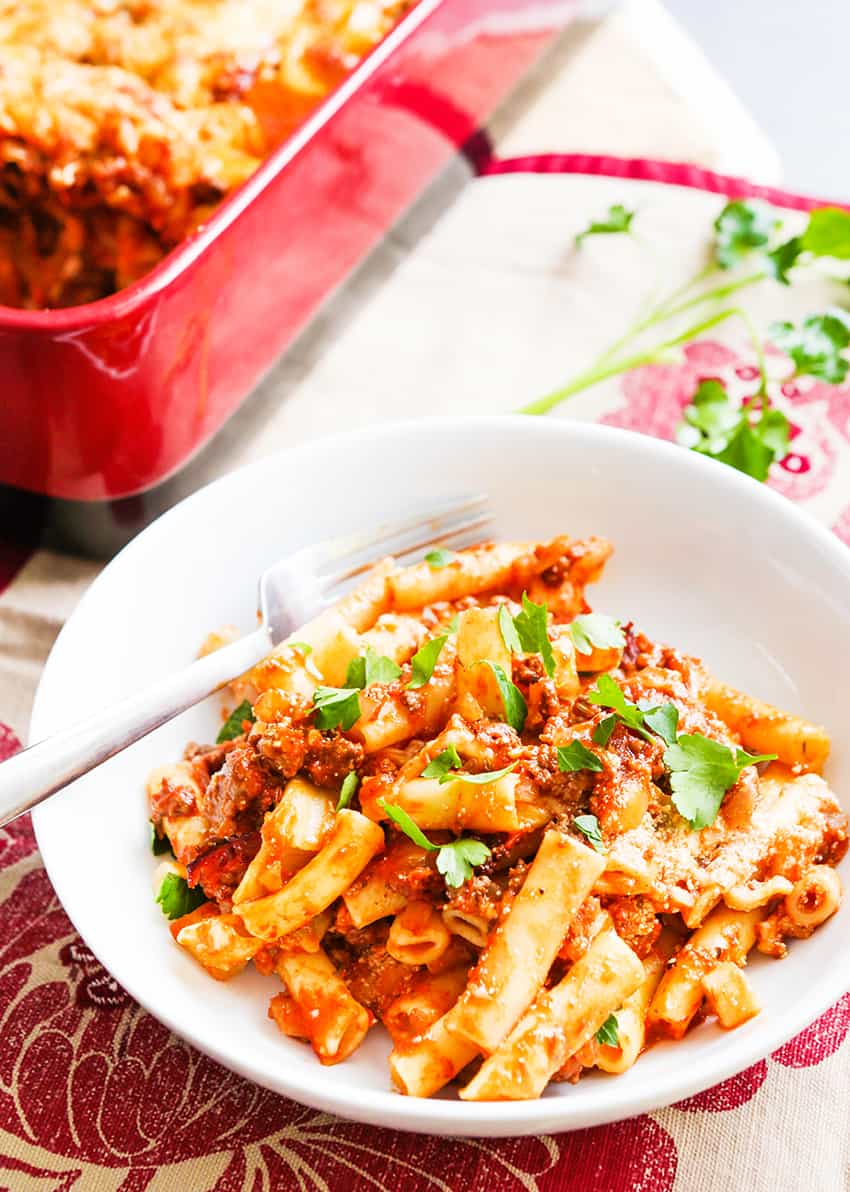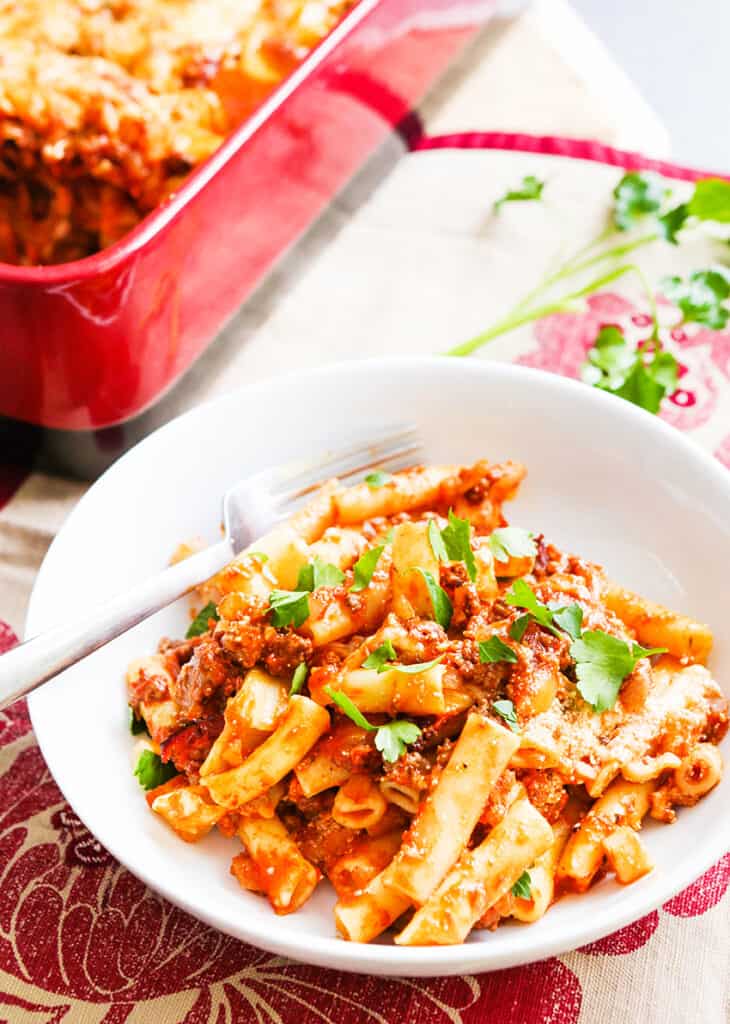 Best Baked Ziti – This is one of my favorite comforting pasta dishes of ALL TIME! Packed with flavorful meat sauce and layers of cheesy goodness, you will enjoy each flavorful bite. This delicious dinner feeds a lot of people and is super filling and hearty. It is a great meal to freeze and bake at a later time, too!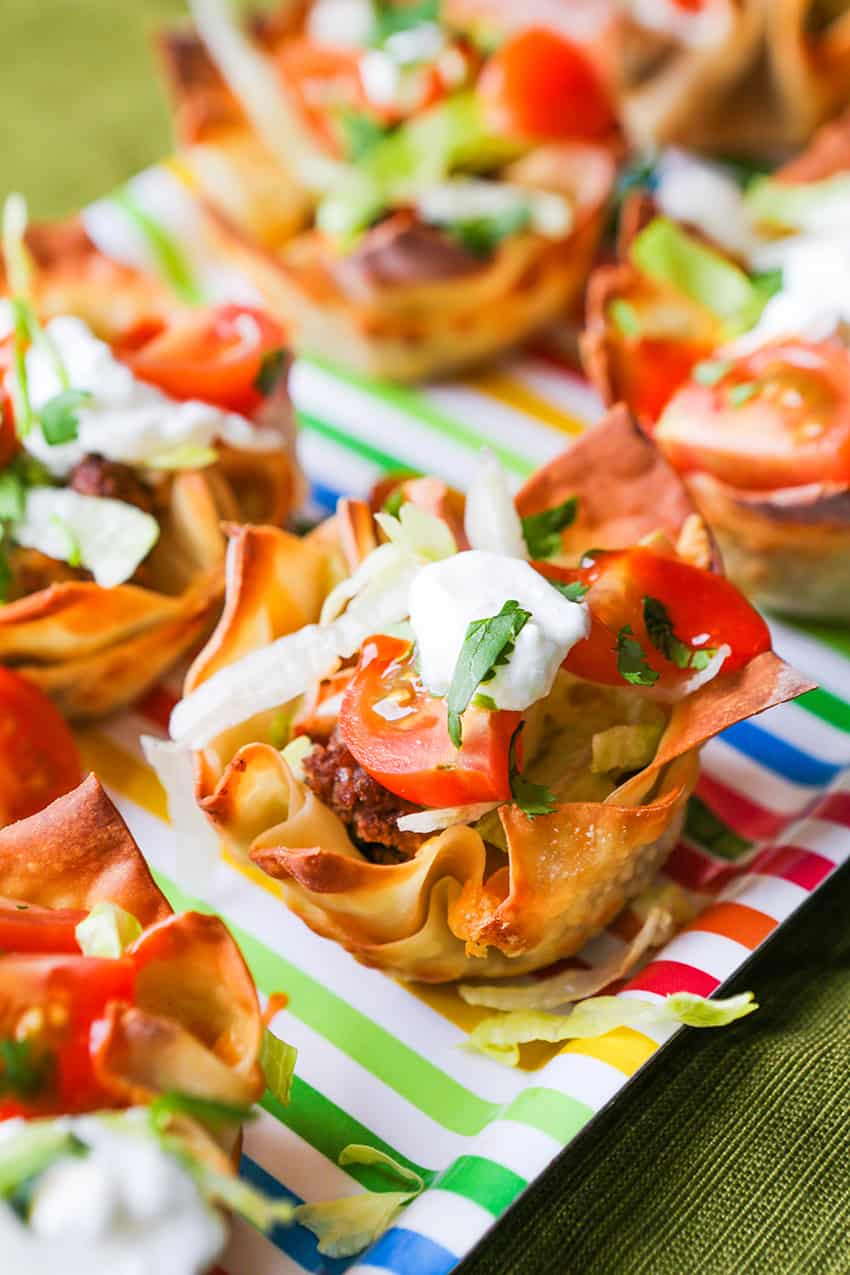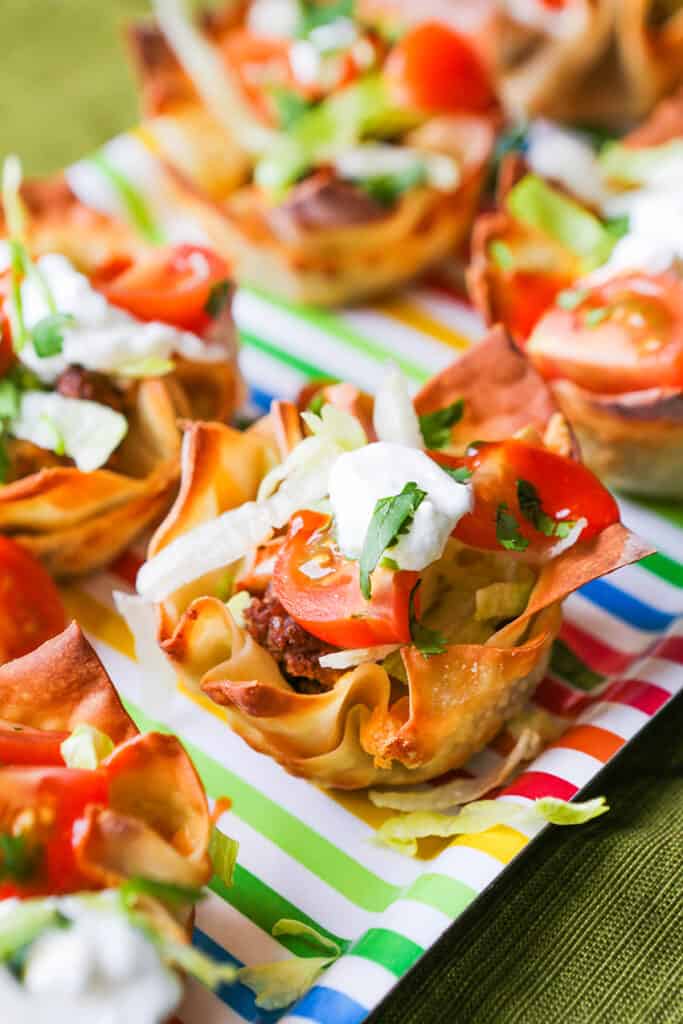 Easy Taco Cups – Introducing a different way to enjoy taco night! Done in under 30 minutes, this finger food is savory and delicious. Load taco cups up with picante flavored meat, beans and cheese, then toppings of your choice, such as lettuce tomatoes, sour cream and cilantro!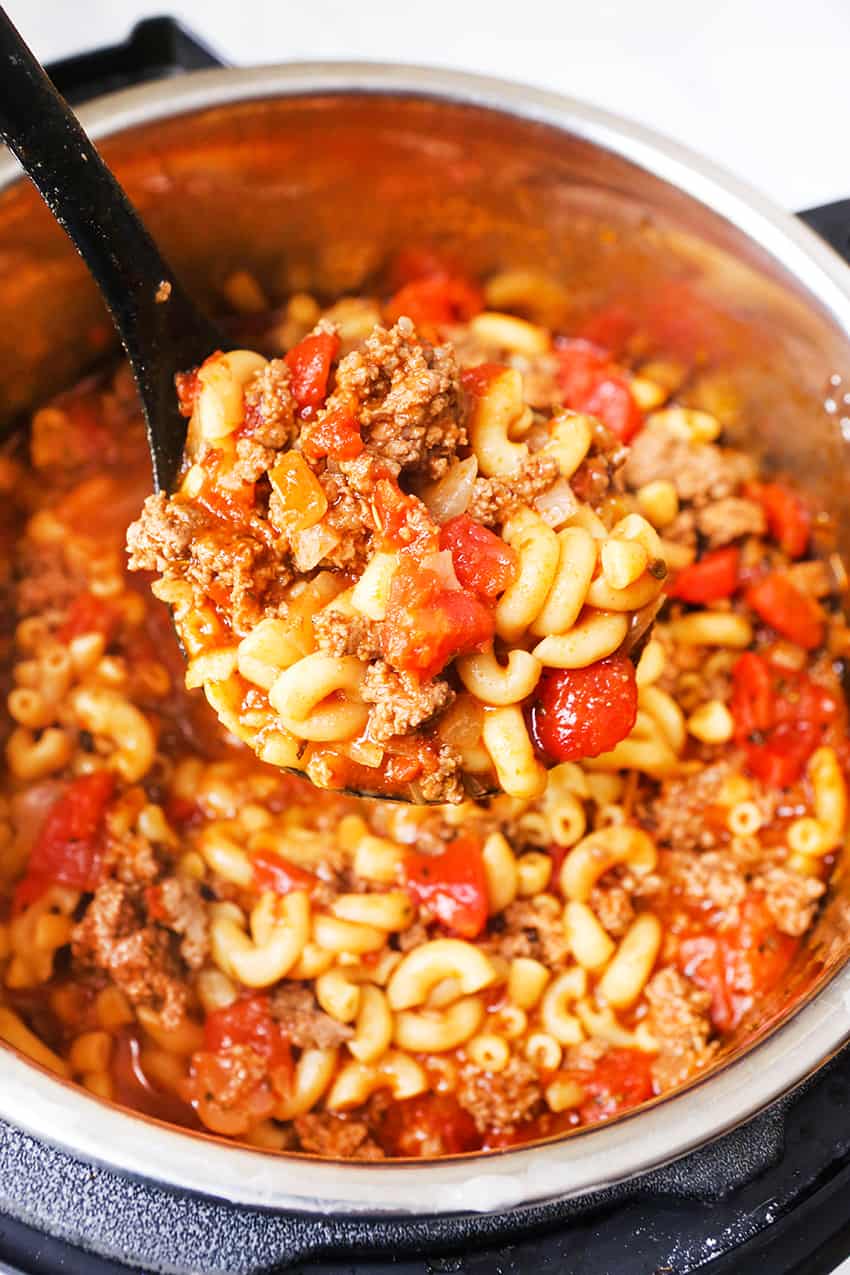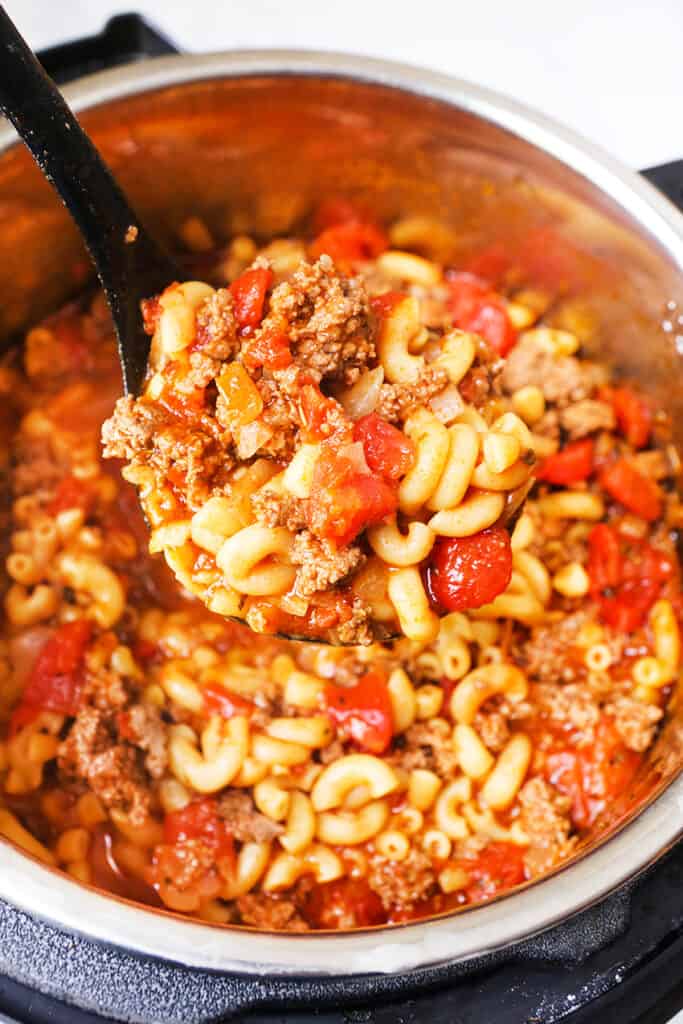 Instant Pot Goulash – Make comforting, hearty Goulash in your Instant Pot! This American version of Goulash could not be easier or more delicious. It cooks perfectly every time and is done in only 30 minutes. Perfect easy dinner any night of the week!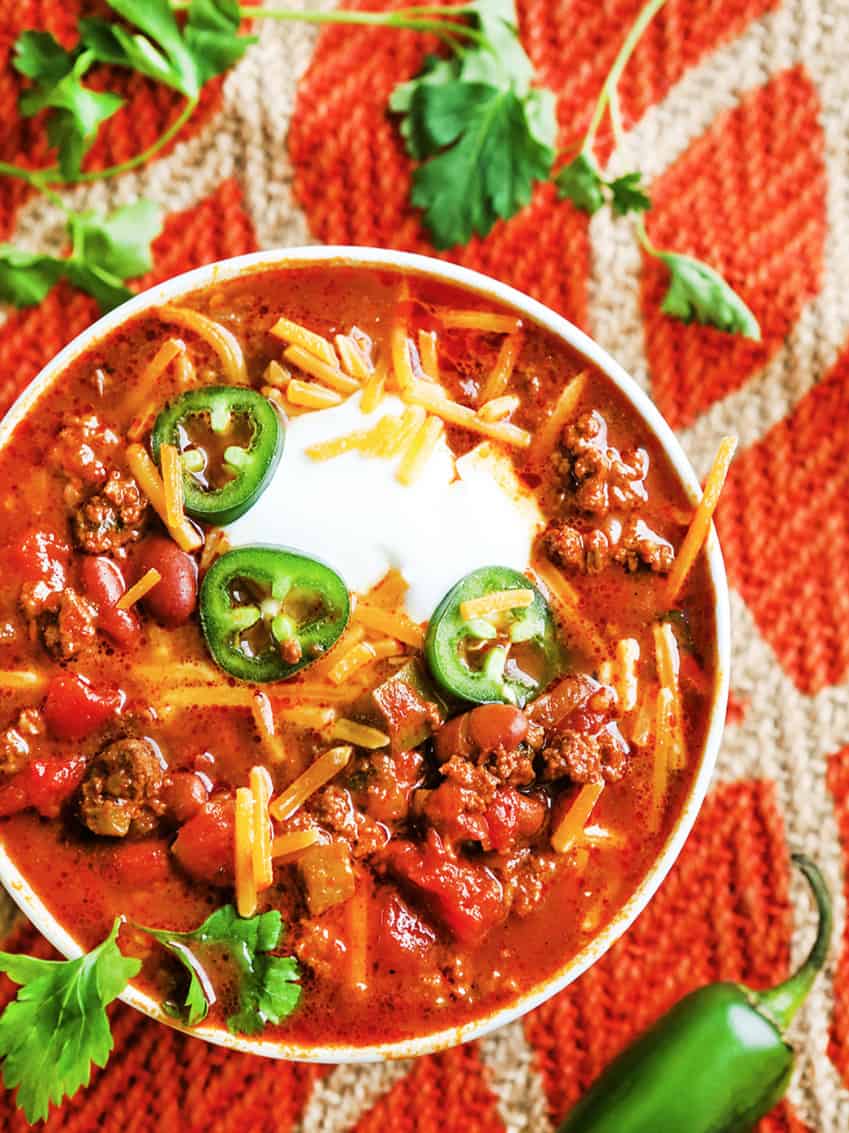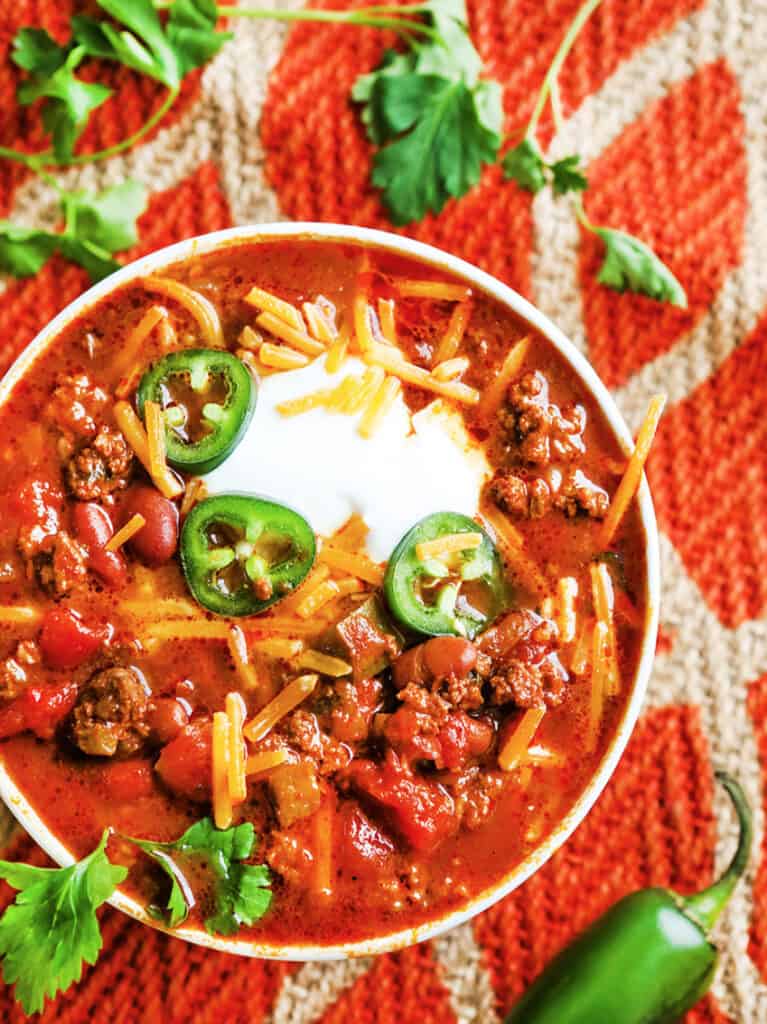 Best Instant Pot Chili – Chili made easy in your pressure cooker is THE BEST! This recipe is the absolute perfect comfort food, packed with flavor, texture, color and a tiny bit of spice. Perfect dinner or party food!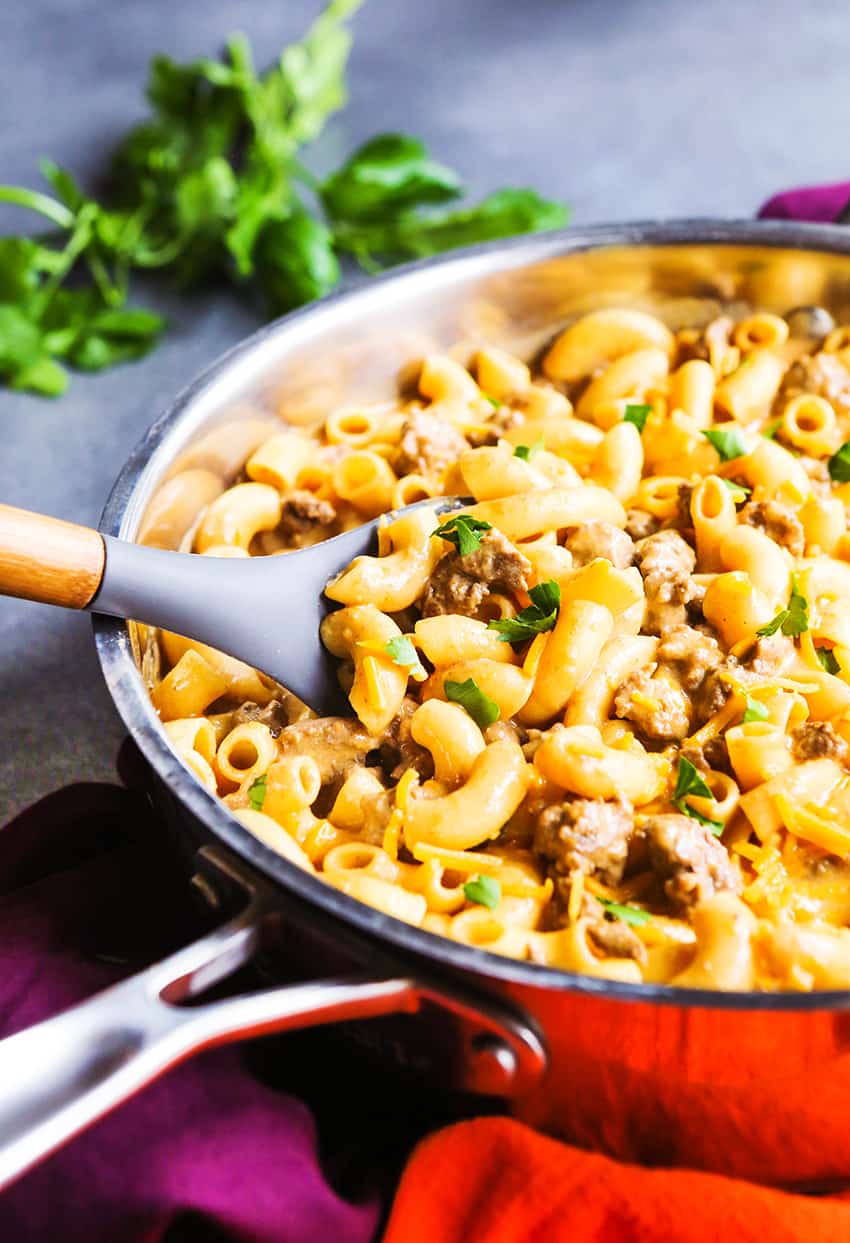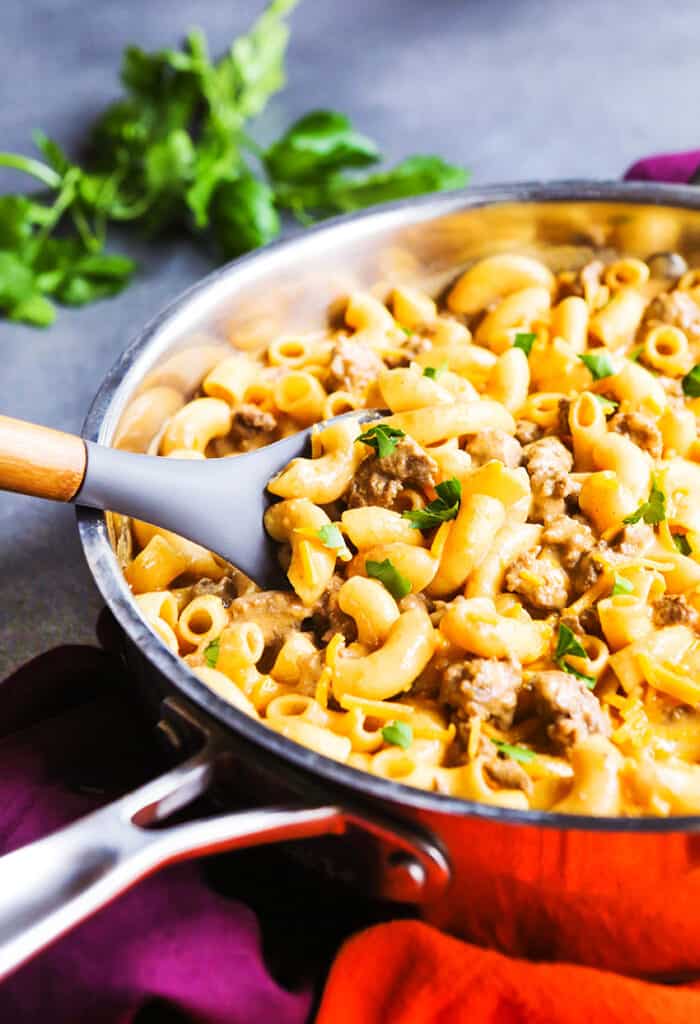 Best Homemade Hamburger Helper – Make your own version of the comforting childhood meal that we all know and love. This easy dinner will be on the table in less than 30 minutes and it is more affordable than the boxed variety!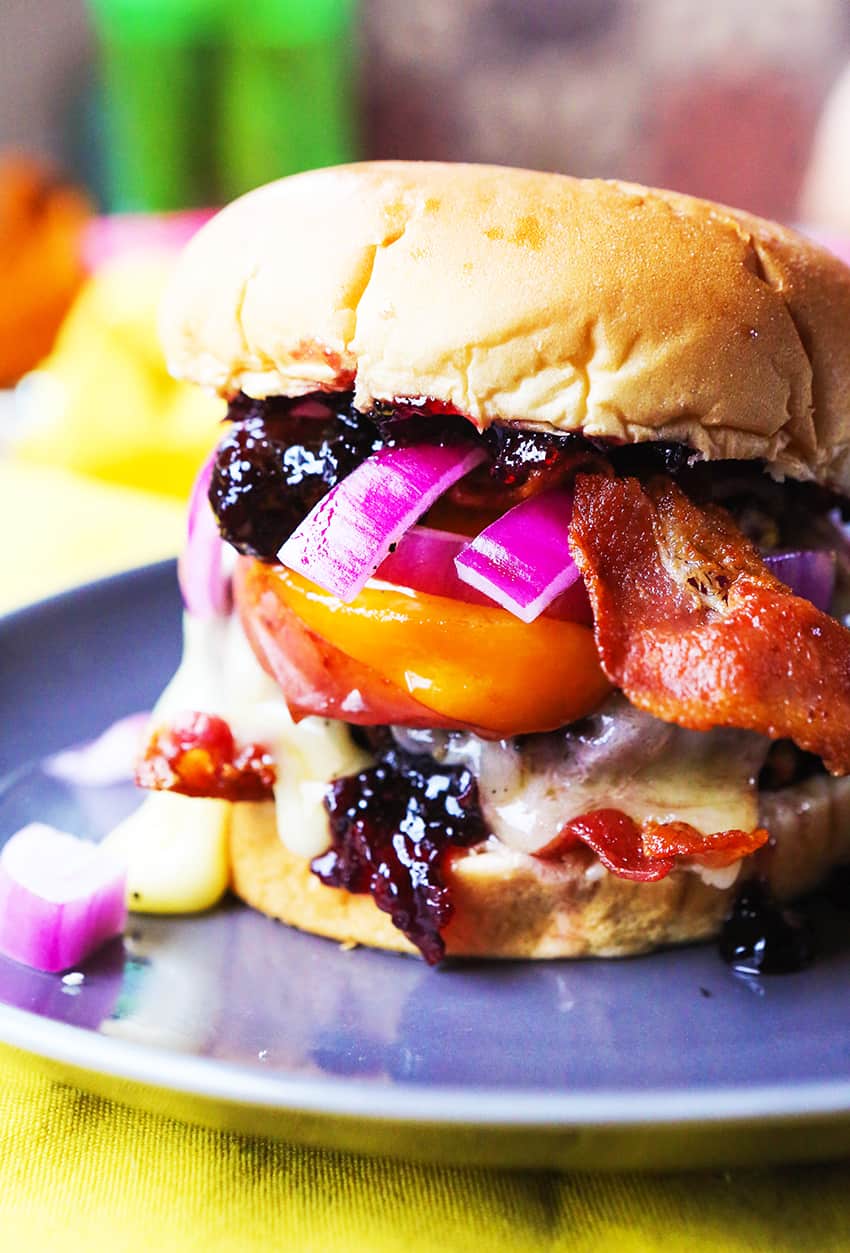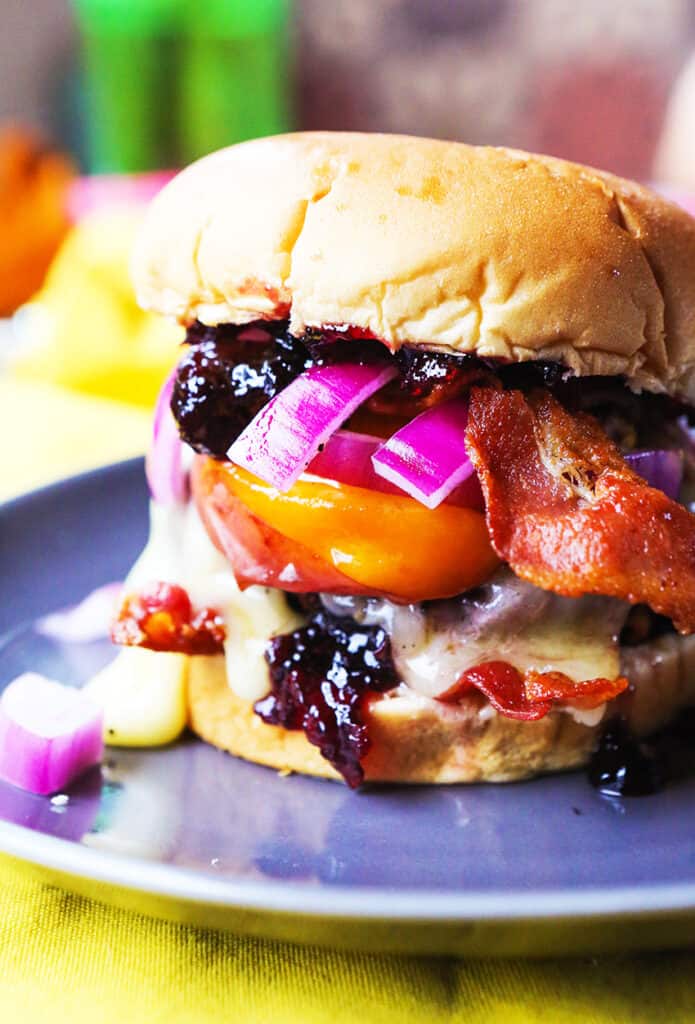 Burgers with Grilled Peaches, Brie and Cherry Jam – Spruce up your burger with a touch of sweetness! Brie cheese, cherry jam, grilled peaches and bacon will transform dinner into a sweet and savory treat!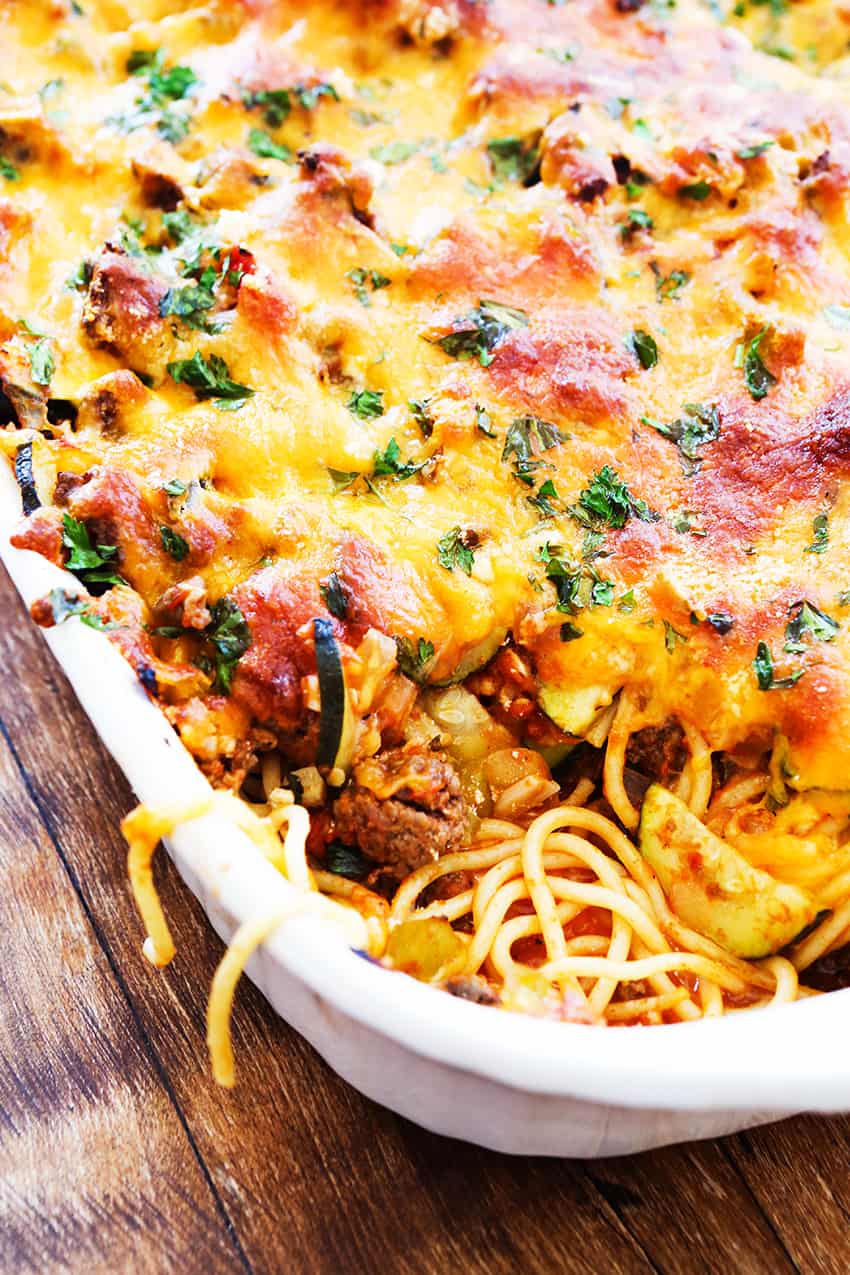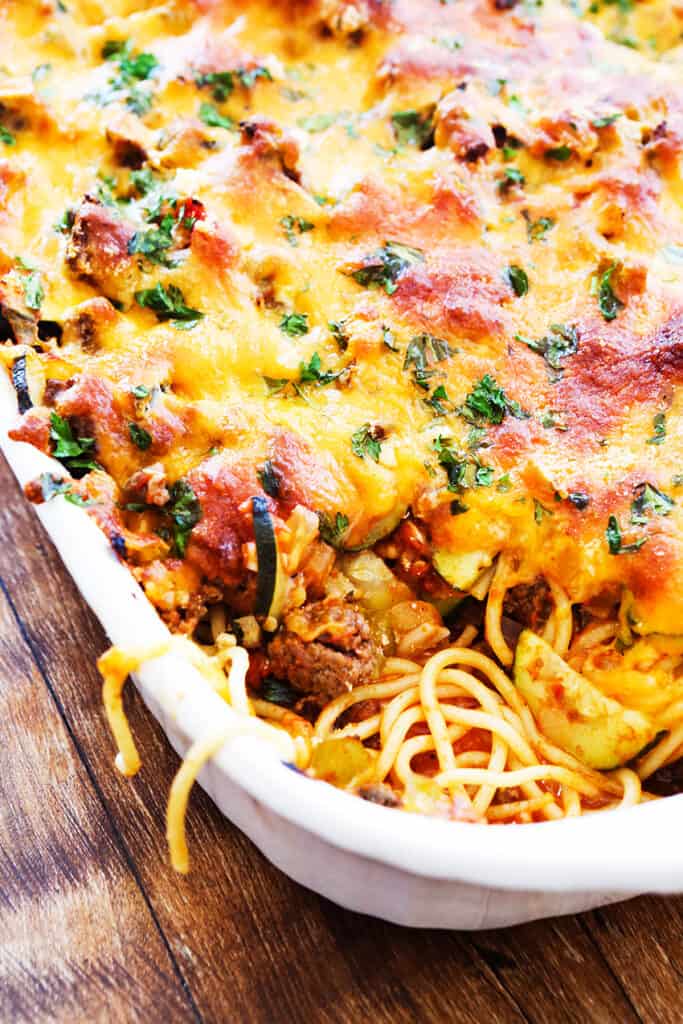 Easy Baked Spaghetti – Turn Spaghetti into a baked dish! This Spaghetti Bake is easy to make and packed with crunchy peppers and mushrooms plus all the cheesy goodness. This classic dish is transformed into a delicious and comforting casserole perfect for any weeknight meal!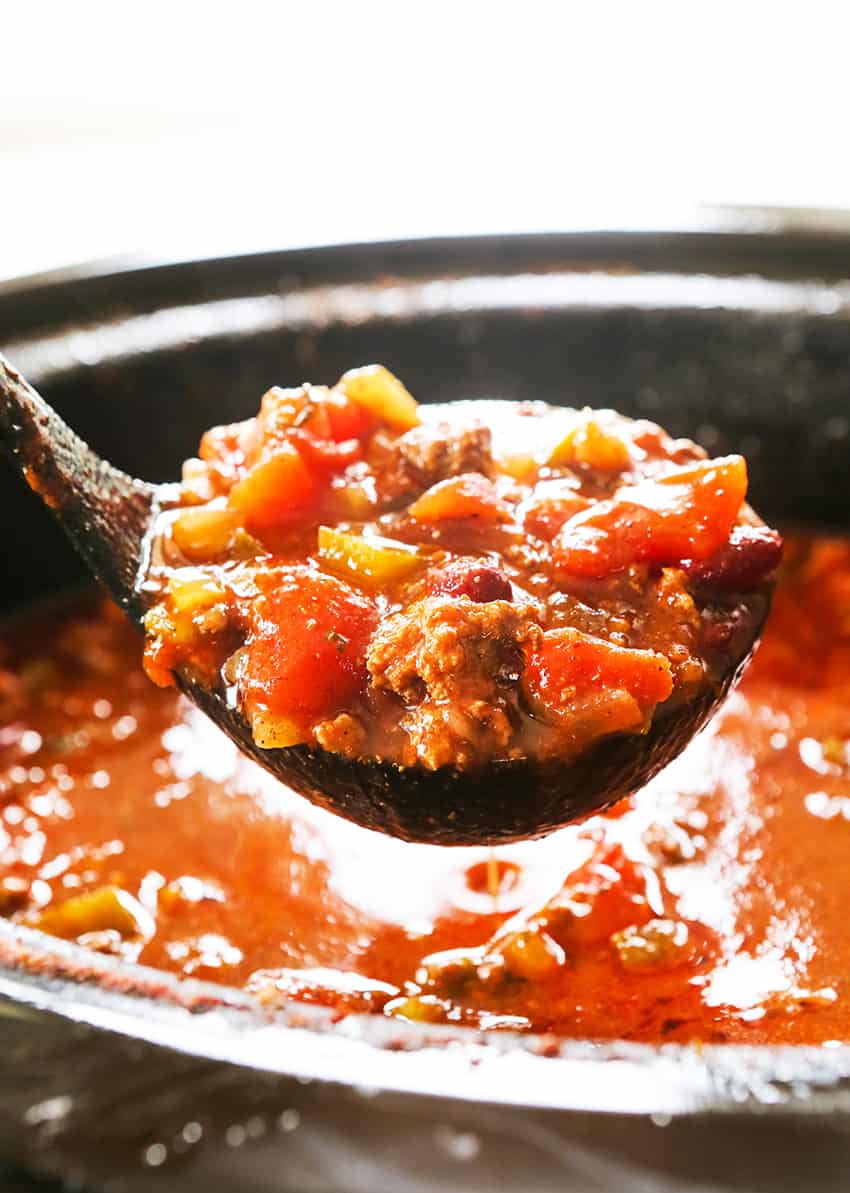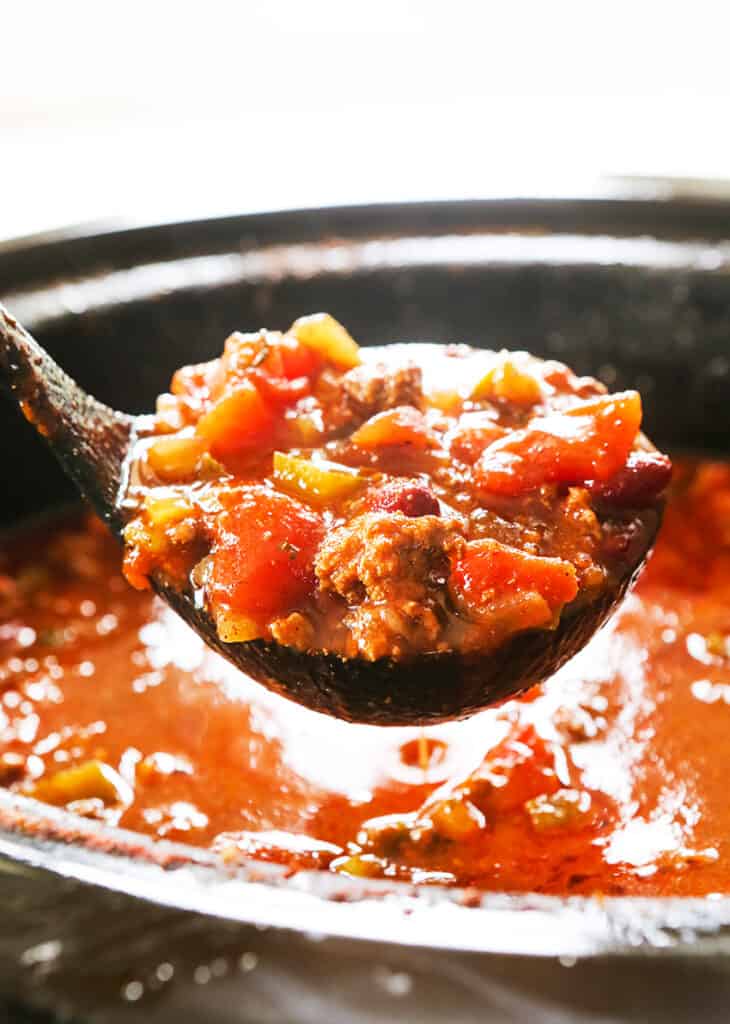 Best Chili Recipe Ever – This homemade chili recipe is a contest winner, total crowd pleaser and the best chili you'll find. It is packed with flavor, texture and color. Make it for your next gathering, large or small, and you will get rave reviews. Add jalapenos for extra spice or go mild!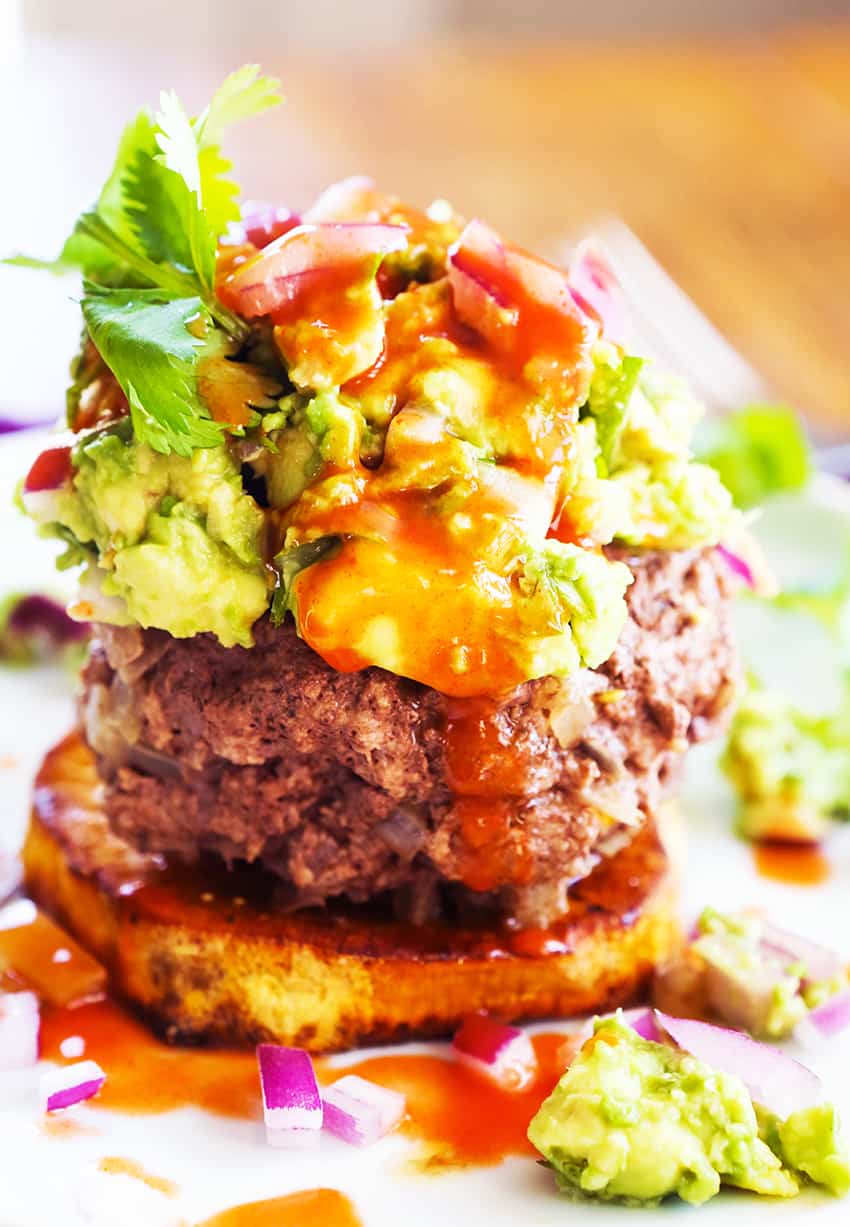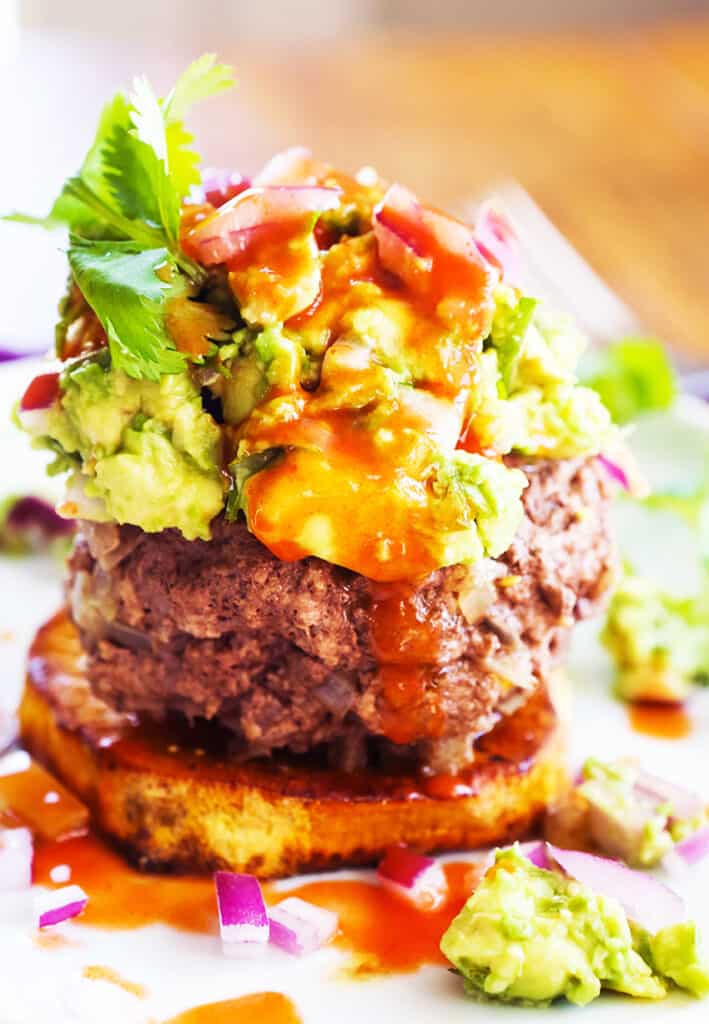 Healthy Burgers with Sweet Potato Buns – These delicious burgers are made healthy by using sweet potatoes instead of buns! They are Whole30 compliant and will satisfy your every dinner-table desire.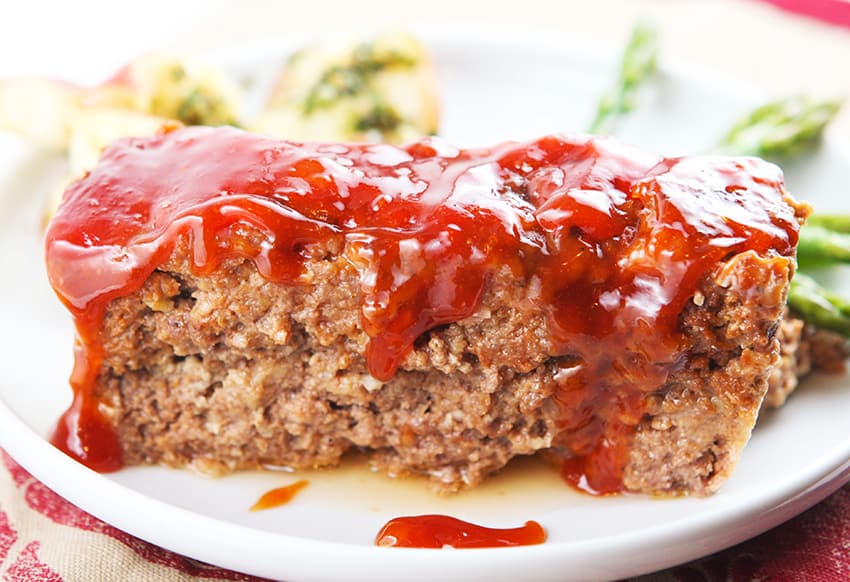 Best Meatloaf – This is such an easy classic meal. This is my mother's delicious recipe with an added touch of delicious sauce. Add this to your dinner rotation. I promise it'll quickly become a favorite family meal!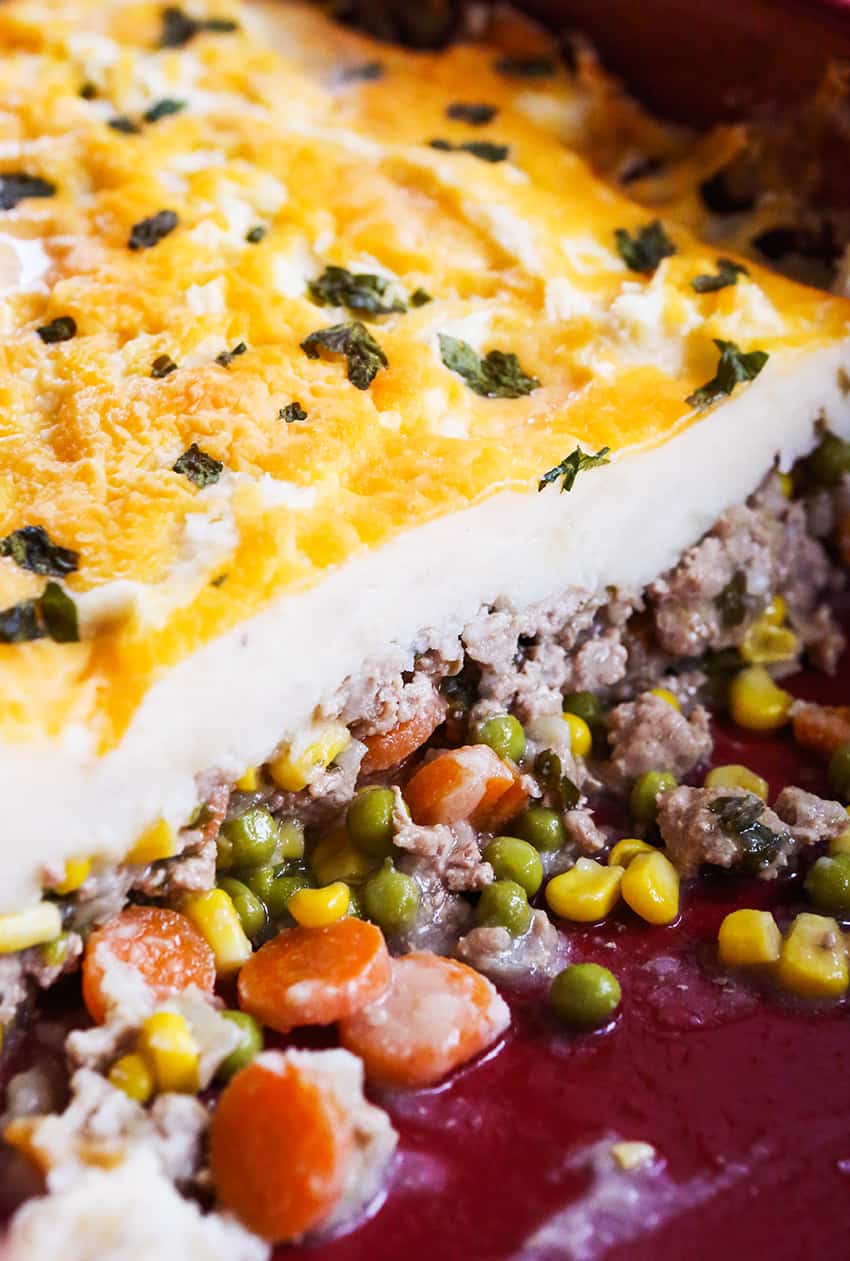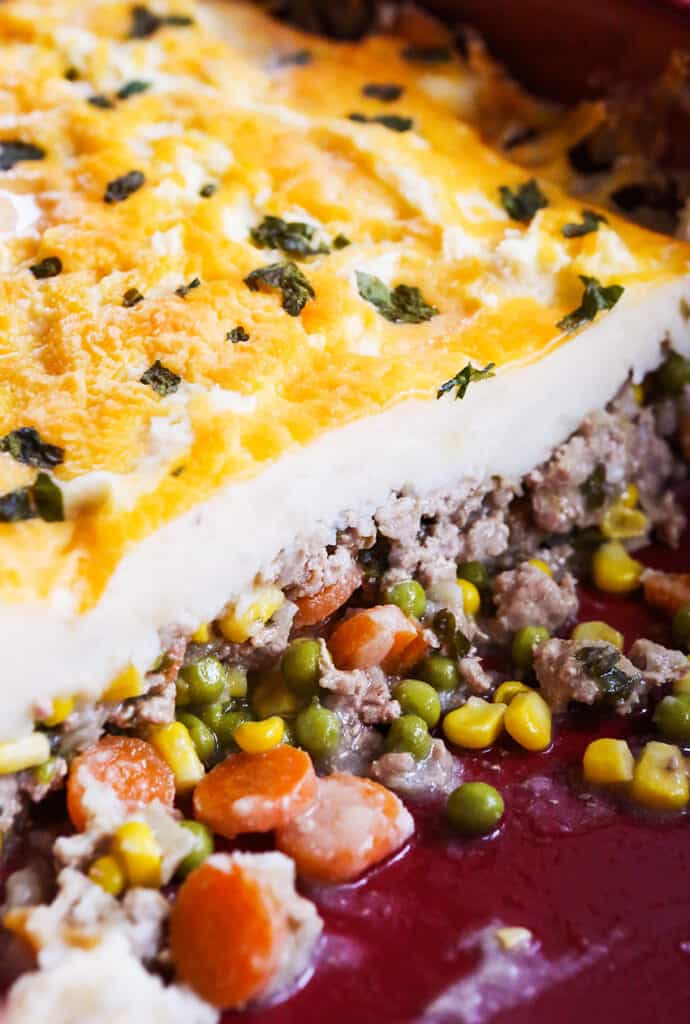 Best Classic Shepherd's Pie – This classic, comforting Shepherd's Pie recipe will leave everyone, big and small, wanting more. A ground beef, veggie-packed layer is covered by creamy, dreamy mashed potatoes and topped with melty cheese for good measure! This is a great weeknight dinner and also perfect party fare!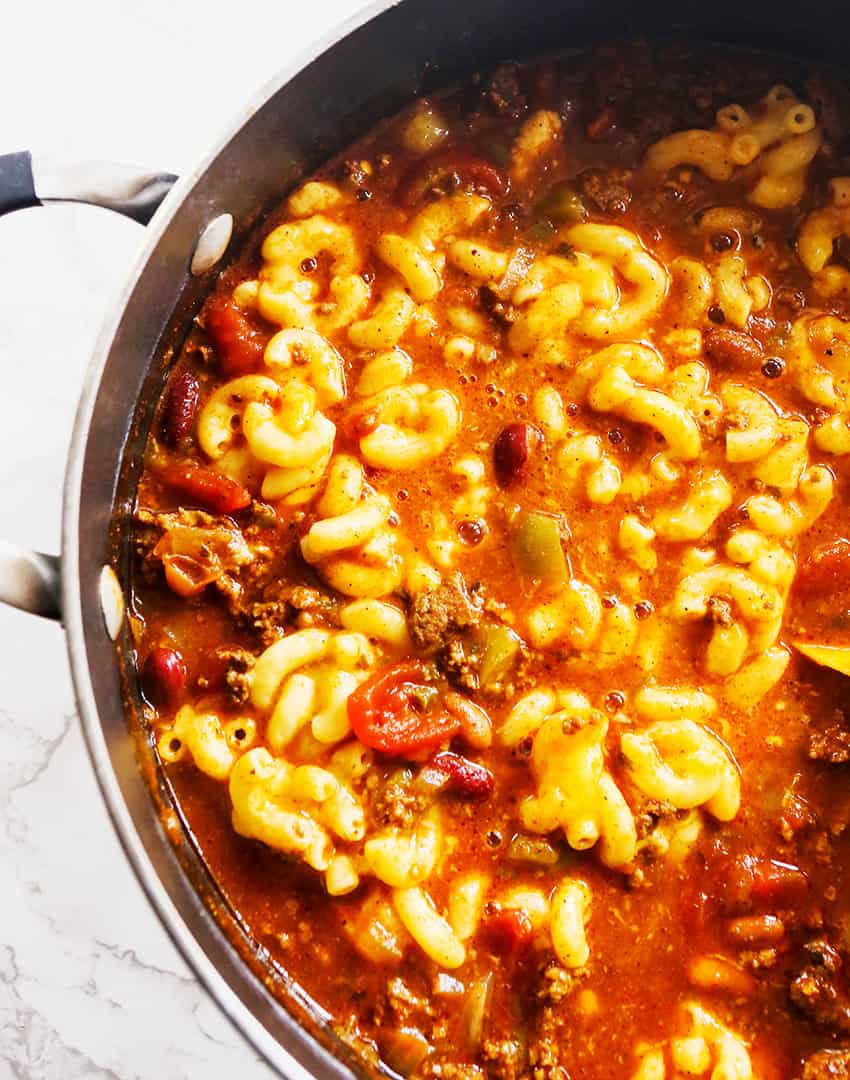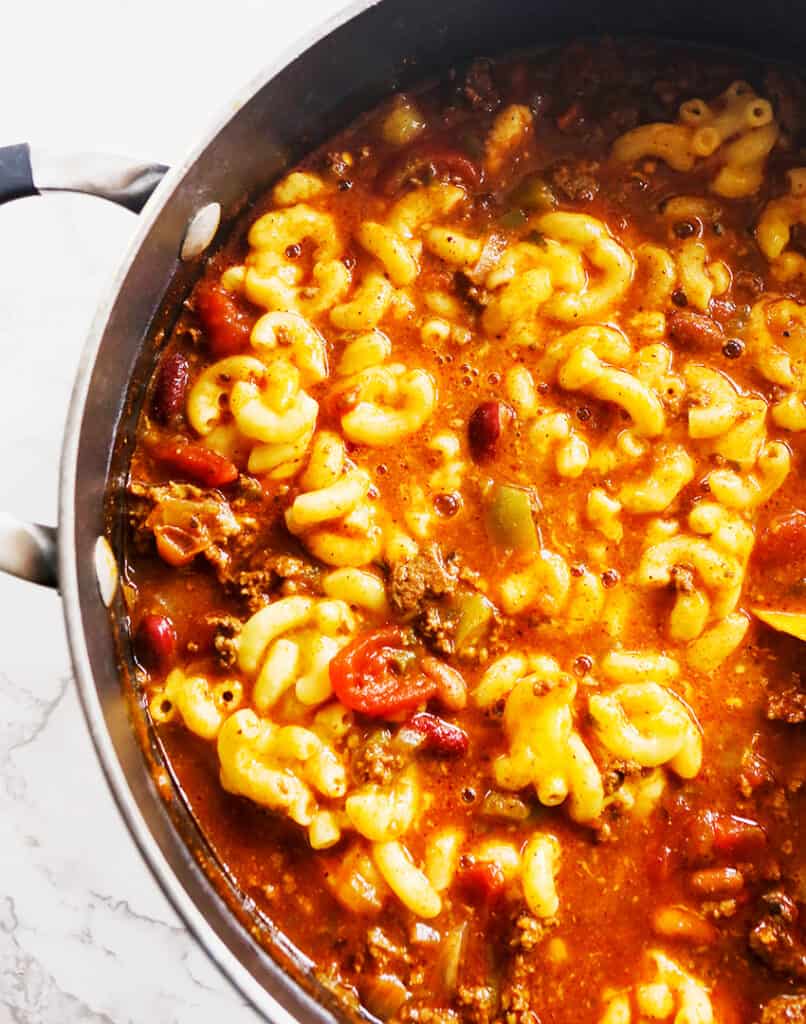 Chili Macaroni and Cheese – The marriage of two of the most comforting comfort foods of all time! This Chili Macaroni and Cheese Recipe combo is a great dinner and a delicious way to use up leftover Chili in a one-pan recipe.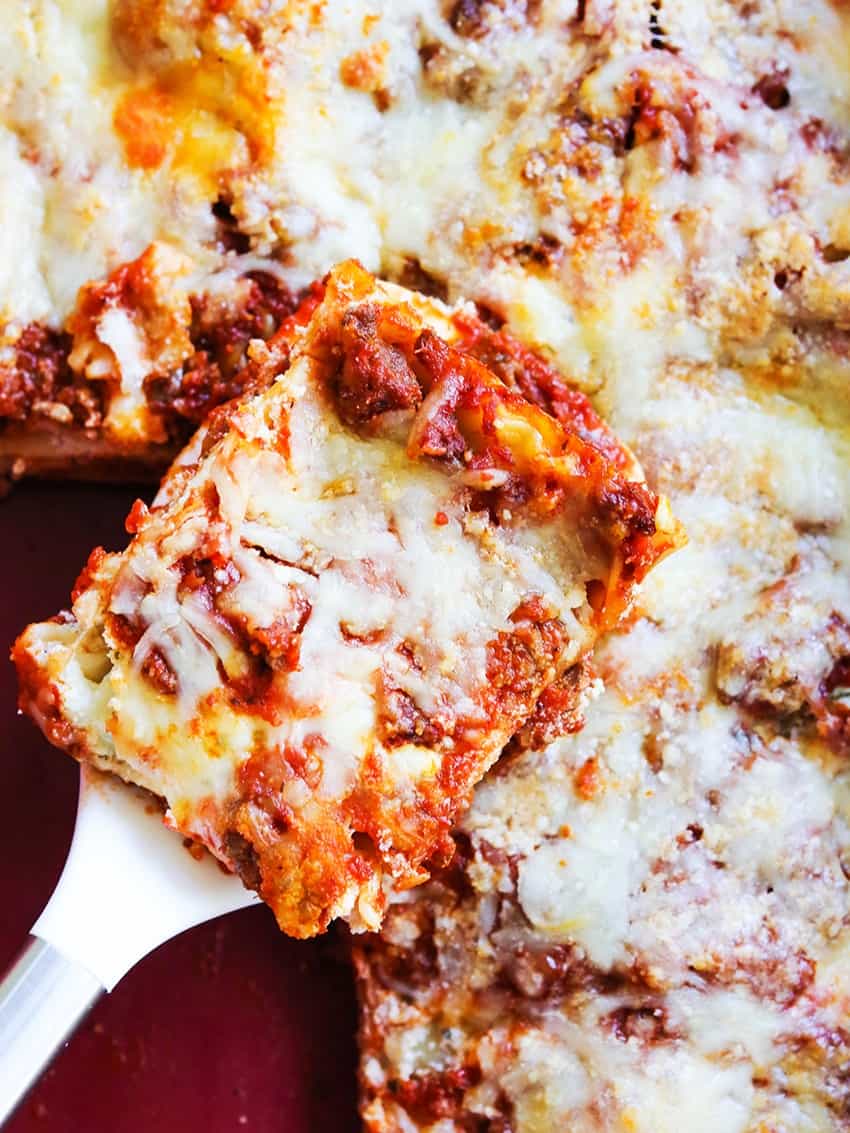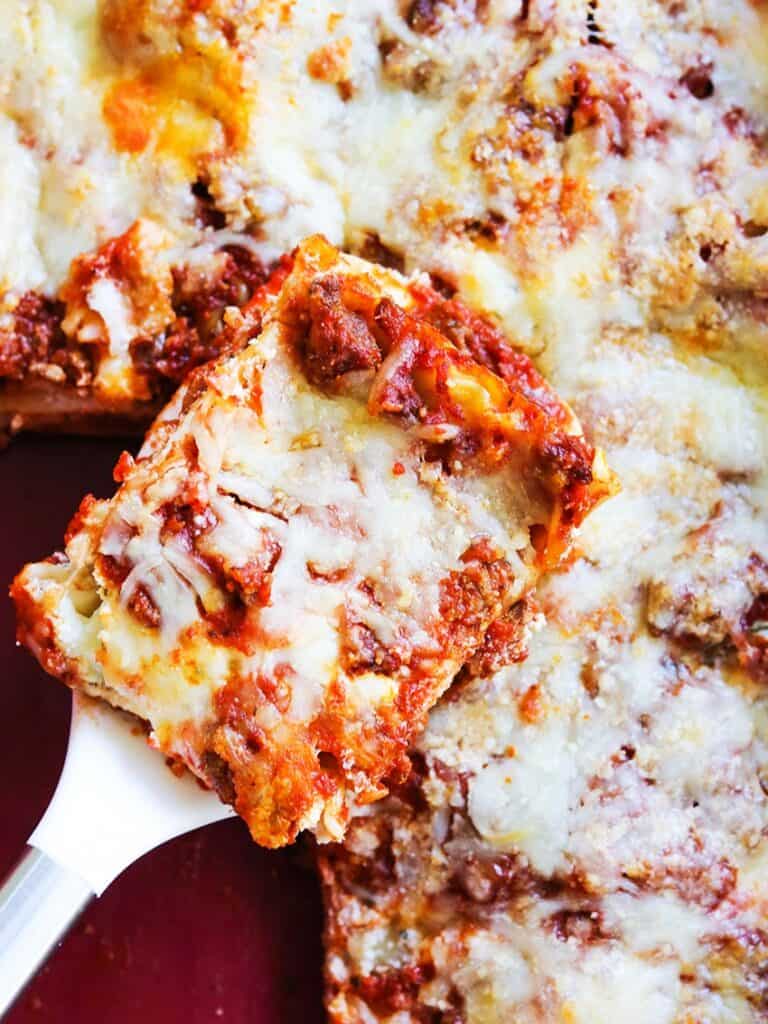 How To Make Homemade Classic Lasagna – Meet your new favorite Classic Lasagna recipe! This truly is the most delicious lasagna. The hearty layers of meat, cheese and pasta are filling and so flavorful. Make one pan for tonight and freeze one for next week!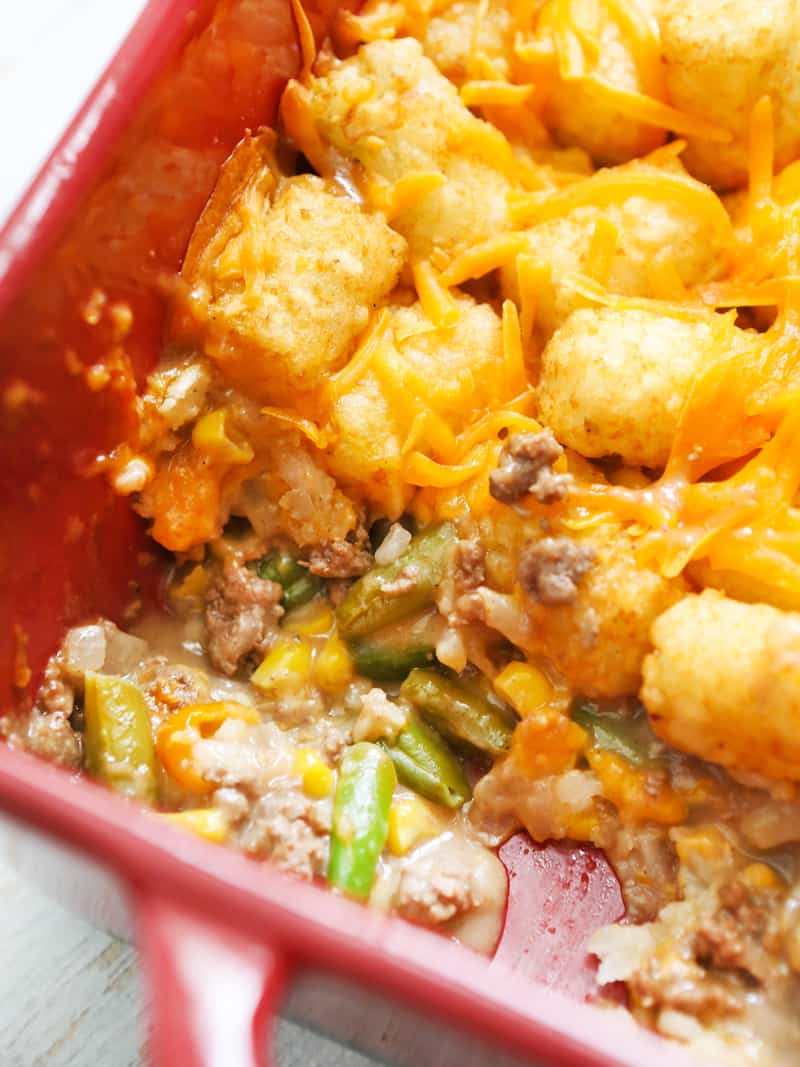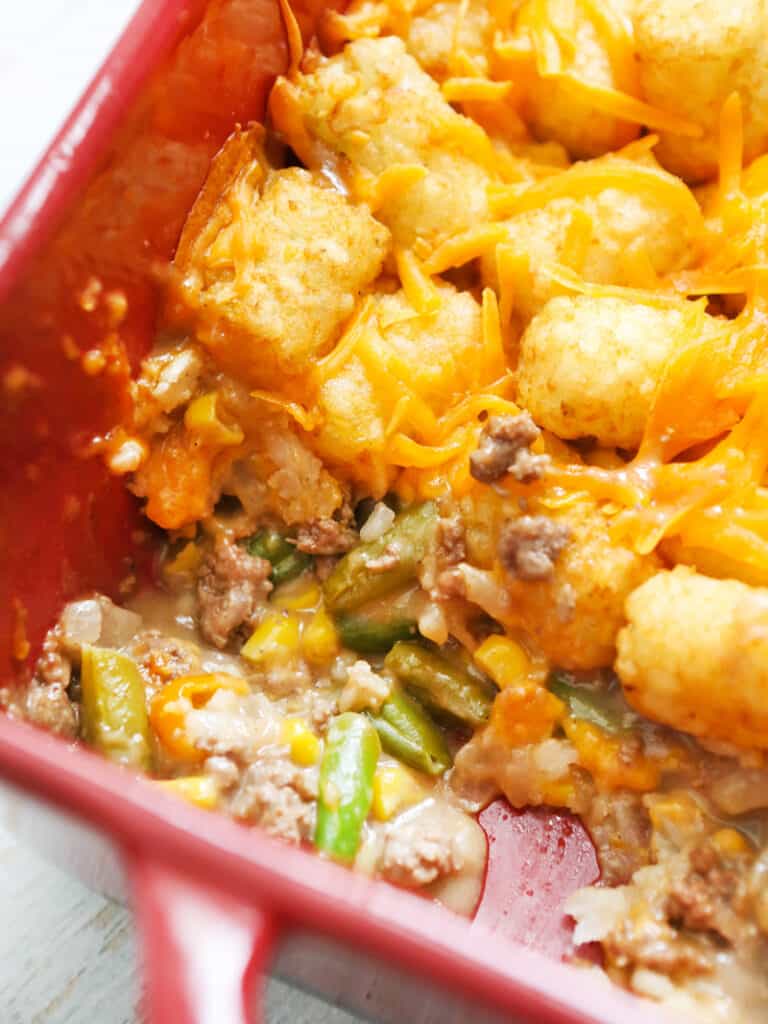 Classic Tater Tot Hotdish – This casserole is a classic Midwestern comfort food. Whether it's the main dish or a side, everyone at the table will be satisfied. This Minnesota staple recipe is easy to make and fills everyone up. Great for your Thanksgiving table or any time of the year!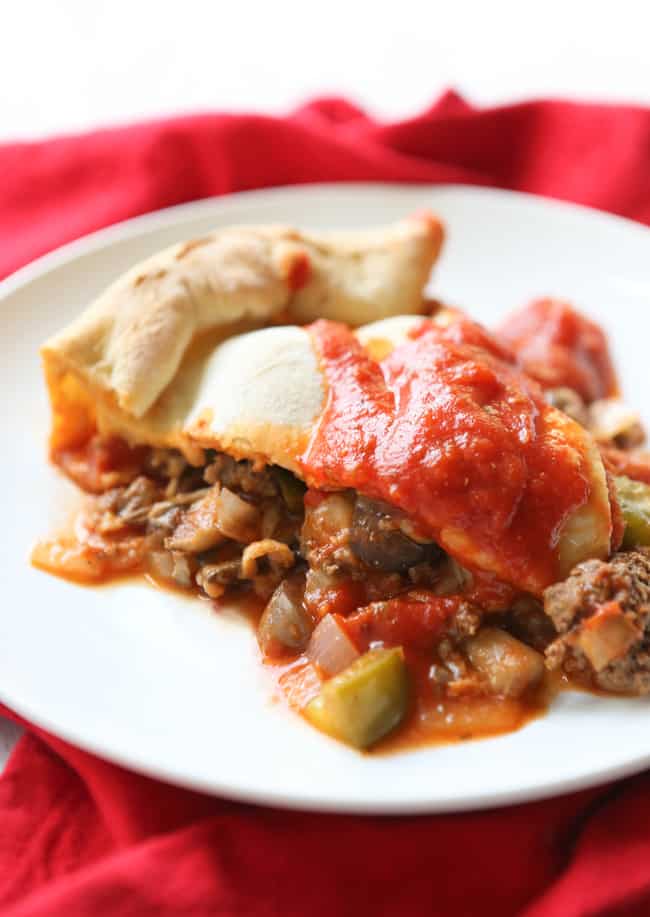 Meaty Cast-Iron Calzone – This hearty meal takes less than an hour of your time to make. Adding your favorite pizza ingredients and lots of cheese is DELICIOUS and your entire family will love it. Cater the filling ingredients to those eating is easy and makes for the perfect meal!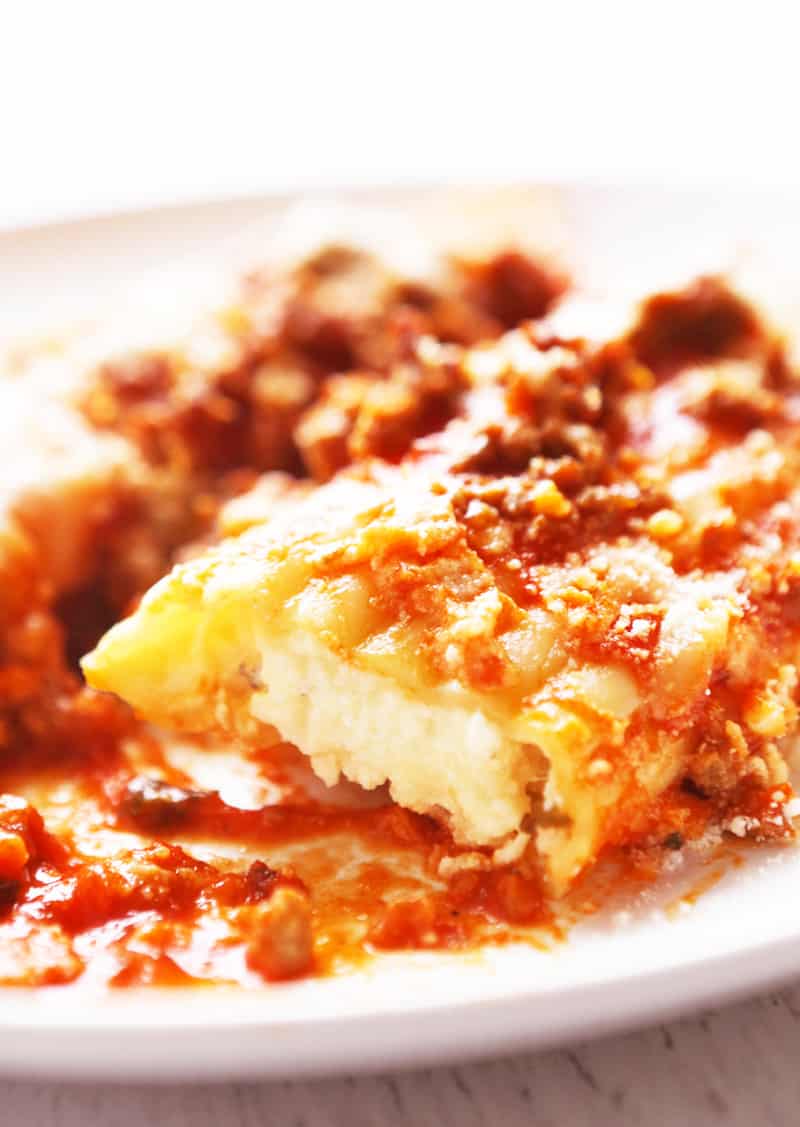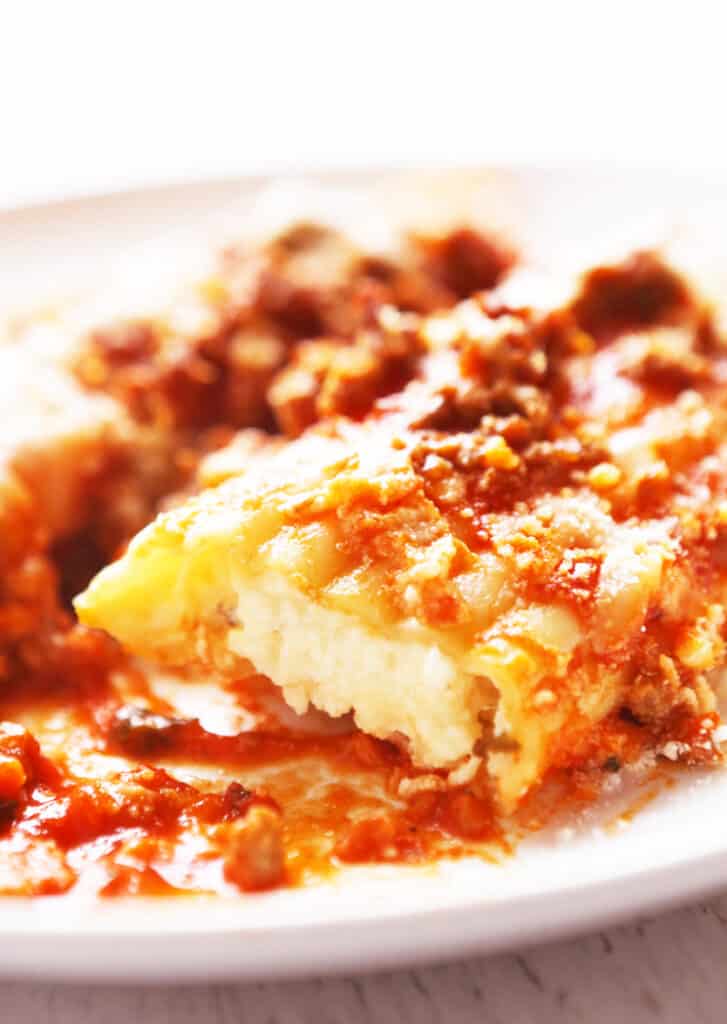 Easy Three Cheese Manicotti – This is a GREAT easy weeknight dinner! Stuff your favorite Italian flavors and three kinds of cheese into a large piece of pasta for a comforting and delicious meal. It is perfect for large gatherings because it's creamy and rich and it's easy to prepare. You can't go wrong with cheesy, delicious pasta!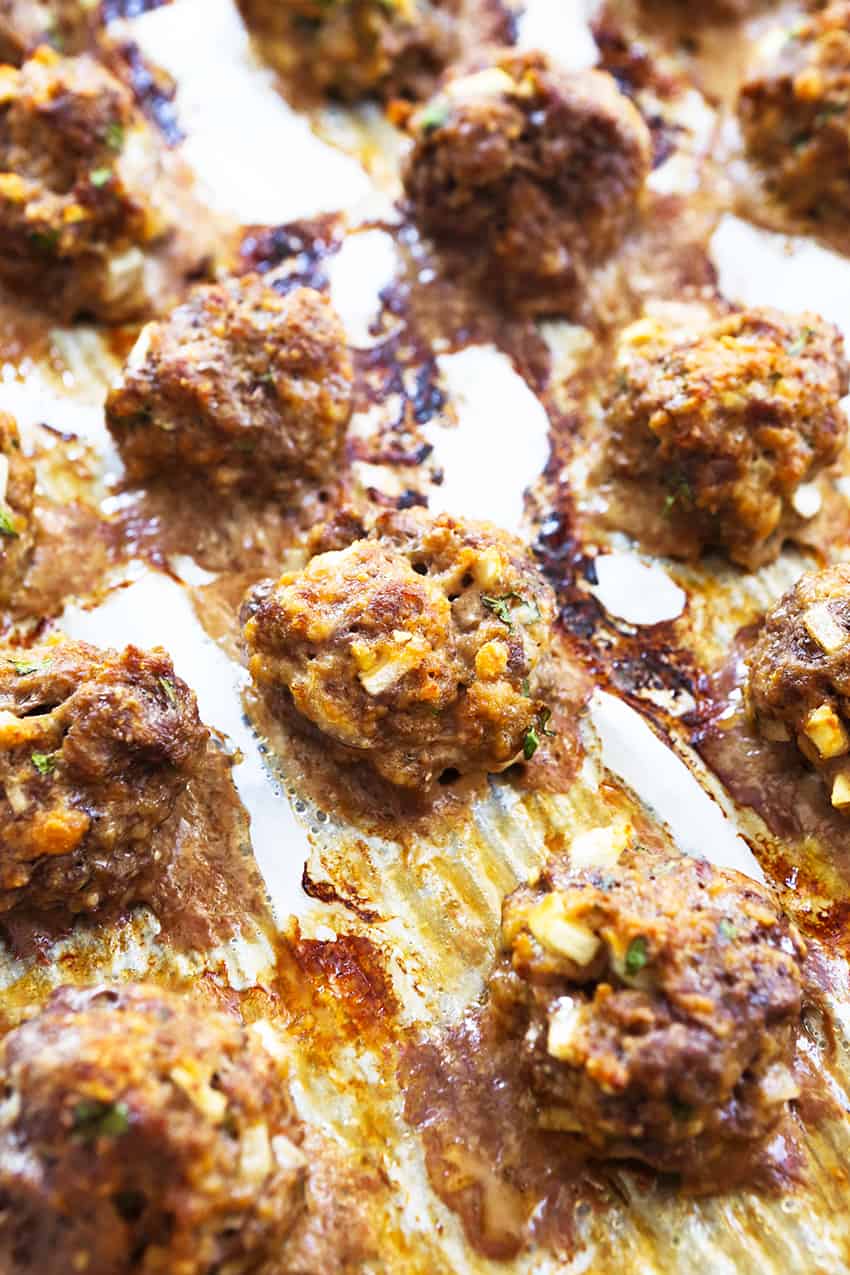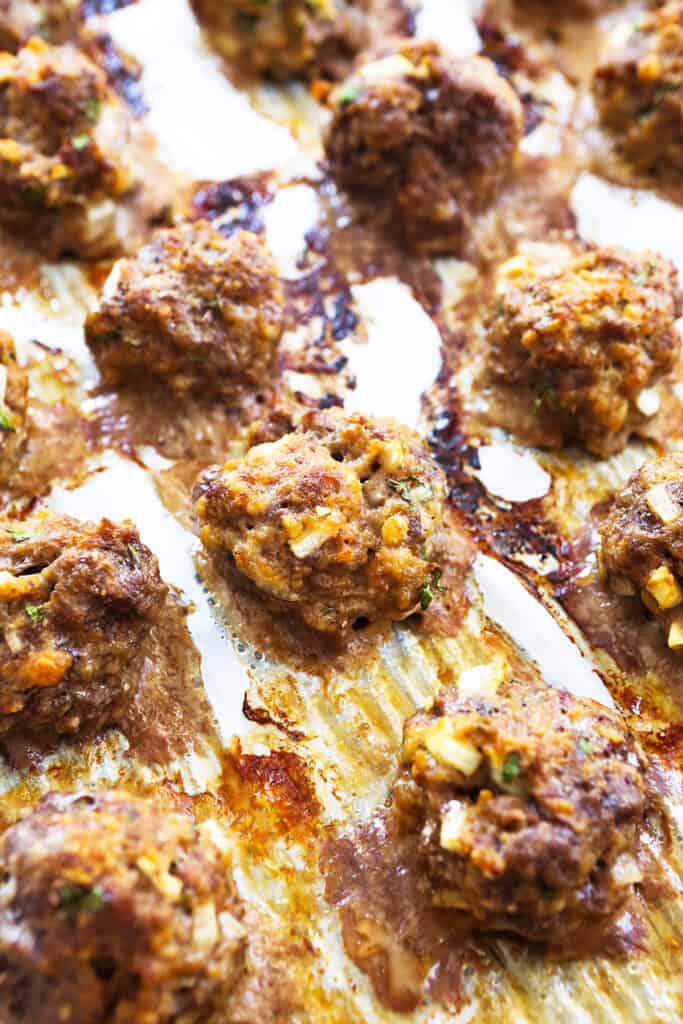 Easy Baked Meatballs – These meatballs are super easy to make and extremely delicious. Serve them as a main dish or set them atop a heaping plate of spaghetti!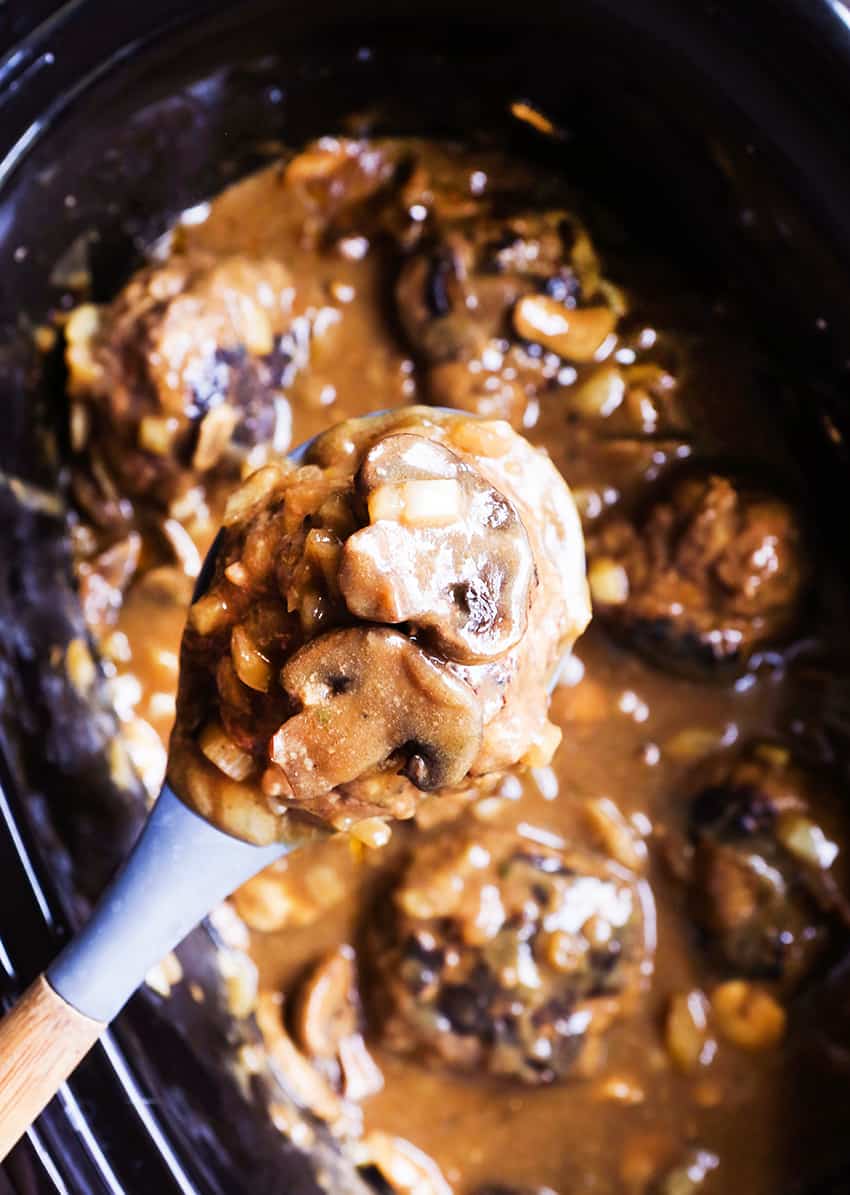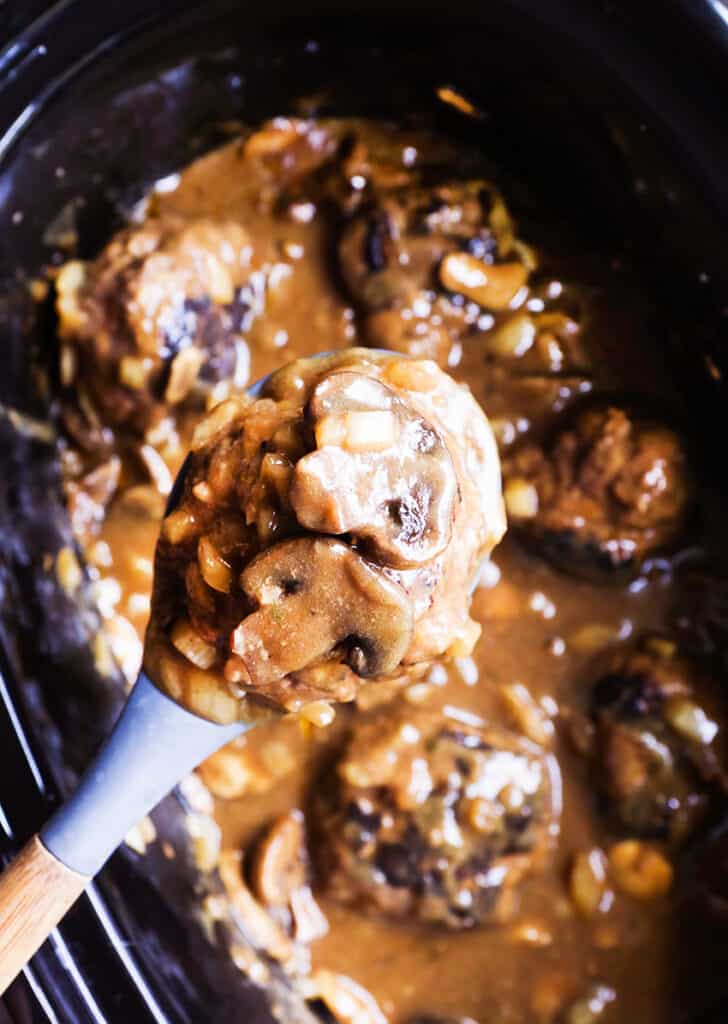 Salisbury Steak – This is the perfect meal to throw into your crock pot! Tender beef patties and mushrooms are smothered in a flavorful and comforting brown gravy. Serve this beef recipe over a pile of mashed potatoes for an added bit of comfort!