Simplify dinner tonight! Create an easy, affordable and delicious meal using two hearty main ingredients. Keep reading for a handful of ground beef and cream of mushroom soup recipes!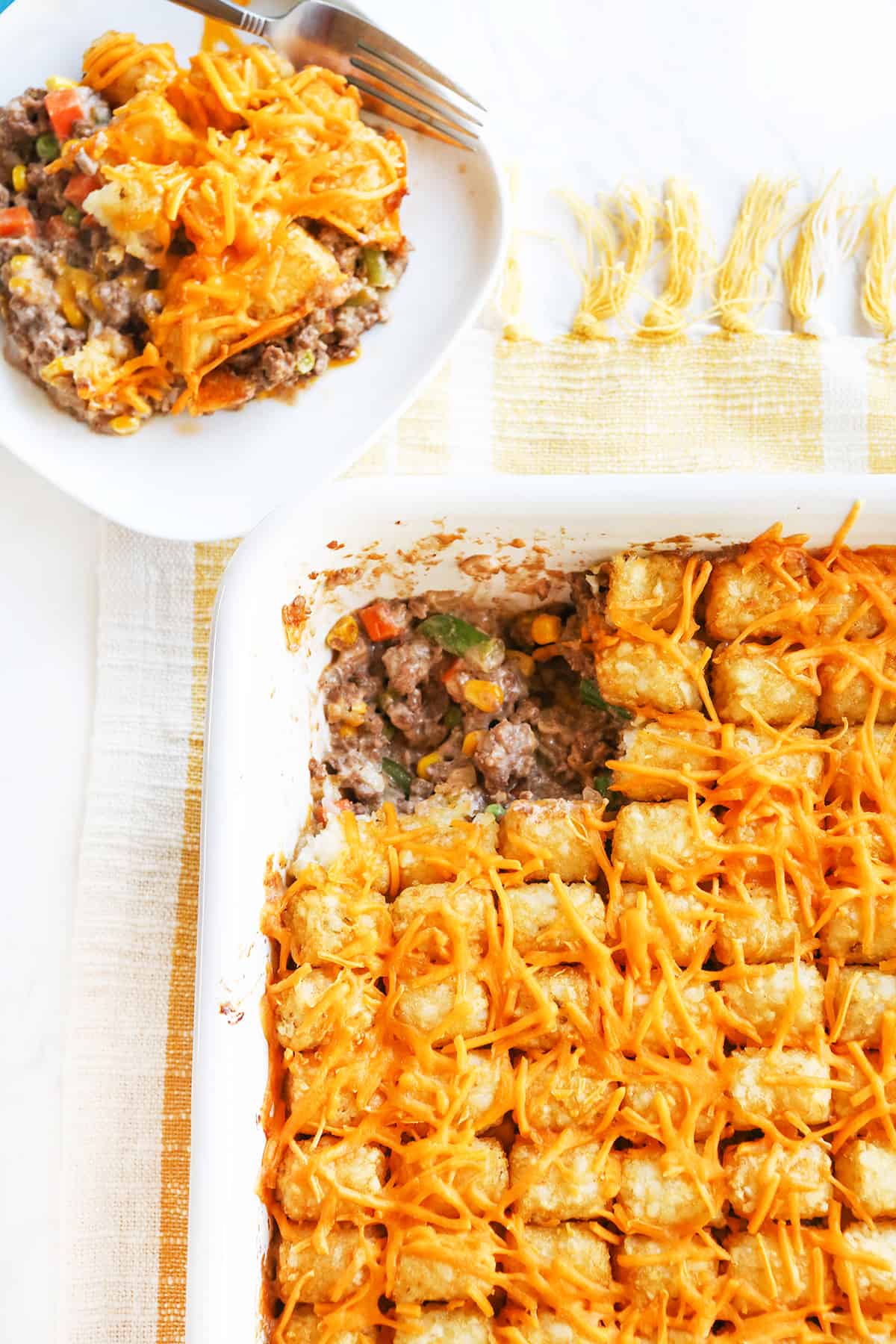 Dinner absolutely does not need to be complicated and overwhelming like I thought it did for so long. You can massively simplify tonight's dinner by creating a meal using two basic staples: ground beef and cream of mushroom soup.
These two ingredients are comforting, hearty, filling, delicious and affordable. Keep reading for some delicious ideas and dinner recipe for meals using ground beef and cream of mushroom soup!
FAQ About Ground Beef
What ground beef is best for burgers?
The best ground beef to use when making burgers is 80/20 or 90/10 ground chuck, which is 80% lean meat and 20% fat. The more fat, the more flavorful and juicy the end result will be.
Can ground beef be refrozen?
Ground beef can be refrozen if it has been frozen once and thawed in the fridge. It is not recommended to do this more than one time.
What ground beef for tacos?
80/20 or 90/10 ground chuck is best when making tacos. The more fat, the more flavorful and juicy the end result will be.
What ground beef is best for meatloaf?
70/30 or 80/20 ground chuck is best when making meatloaf. An even leaner meat such as ground turkey, ground chicken or venison can even be used to make this dish. Too much grease can ruin meatloaf and flavor will not diminish when a leaner variety is used.
Why does ground beef turn brown?
Ground beef can turn brown when it has been exposed to air for an extended period of time, whether in the fridge or at room temperature. This does not necessarily mean the meat has gone bad, but can reduce the shelf life. Store ground beef properly in the fridge in airtight containers to reduce air exposure.
How To Add Flavor to Recipes
Flavor in any recipe is important, but what do you do if you find yourself with a bland dish that has already been cooked?
Check out this post for some tips about how to enhance the flavor in any type of food or dish!
Add garlic powder or onion powder.
Chicken broth or beef broth are great flavor-boosters, either in addition to or in place of water in the recipe.
At times recipes made with a super lean meat such as ground turkey or a lean ground beef can lack moisture and flavor, In this case, cook ground meat that has a higher fat content and add it to the recipe.
Worcestershire sauce or soy sauce!
Spice it up using red pepper flakes, cayenne pepper or diced jalapenos.
Any fresh ingredients such as herbs like fresh parsley or basil will enhance the flavor profile.
Top with cheddar cheese, mozzarella cheese or any shredded cheese that melts well.
Add chopped green pepper, onion, green onions or carrots that have been sauteed in olive oil or vegetable oil.
Salt and black pepper are simple ways to boost flavor.
If you're looking for added crunch, green beans, asparagus or cauliflower will do the trick.
Heavy whipping cream added to creamy dishes adds a delicious texture and flavor.
Sprinkle bread crumbs over the top and bake in the oven for a few minutes.
Affordable Dinner Ideas Using Ground Beef as a Main Ingredient
Make dinner and affordable with this delicious list of dinner ideas using ground beef. Ground beef does not need to be boring!
Ground Beef and Cream of Mushroom Recipes
Below is an extensive roundup of easy recipes using both cream of mushroom soup and ground beef!
Note: The mushroom variety can easily replaced with cream of chicken or cream of celery soup.
Create a delicious casserole with ground beef and soup as a base. Add vegetables of your choice, hash browns or other potatoes, cheese or rice.
Beef stroganoff. Replace beef round steak with cooked ground beef, cook egg noodles and pour the beef mixture over top of them!
Sloppy Joes. Add the creamy soup to your next batch of savory sandwiches.
Gravy. Combine these ingredients with a flour or cornstarch slurry to create a savory, easy gravy.
Homemade Hamburger Helper. Add cooked pasta of your choice to soup and ground meat to create a super easy hamburger helper meal from scratch.
Meaty macaroni and cheese. Stir these ingredients into your next batch of creamy mac and cheese.
Use as a topping. Combine the beef and soup in a saucepan and cook over medium heat until smooth. Pour over cooked noodles, white or brown rice, mashed potatoes, baked sweet potatoes or even burgers. Add seasonings as desired. Throw in some sauteed fresh mushrooms for added flavor and texture.
Tater Tot Hotdish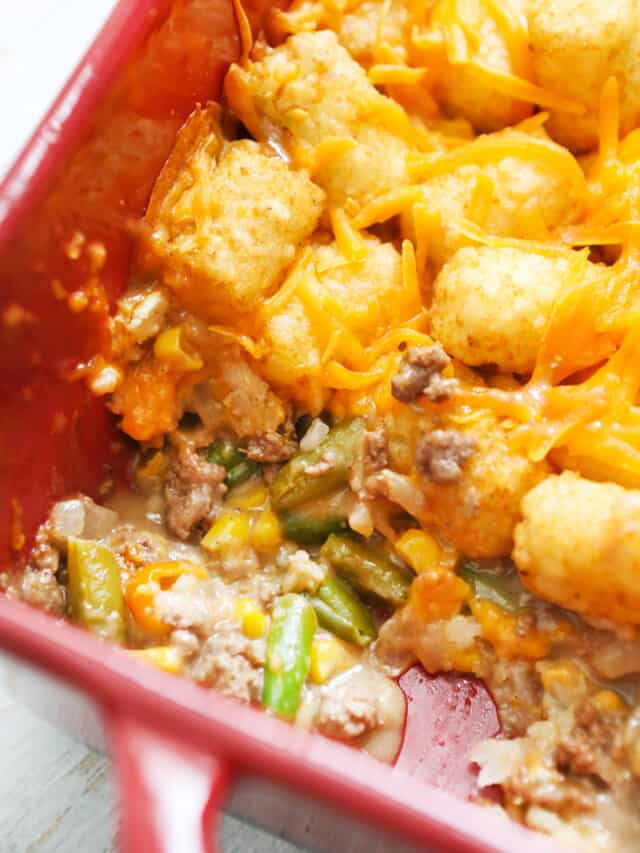 This Tater Tot Hotdish recipe is a family favorite and a classic Midwestern staple. Whether as a main or side, everyone at the table will be satisfied. This is one of those comforting meals that is great for Thanksgiving or any time!
Easy Ground Beef Stroganoff Recipe with Hamburger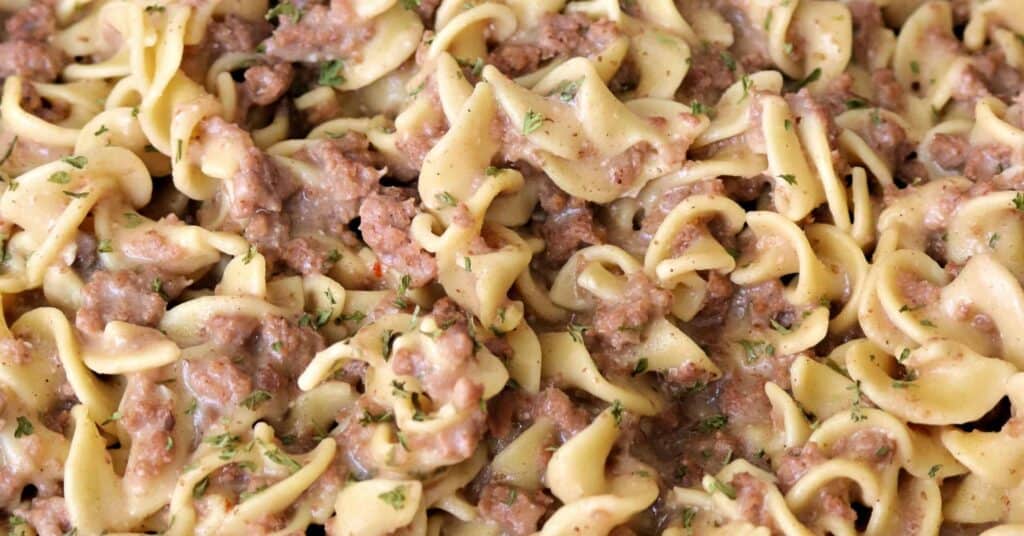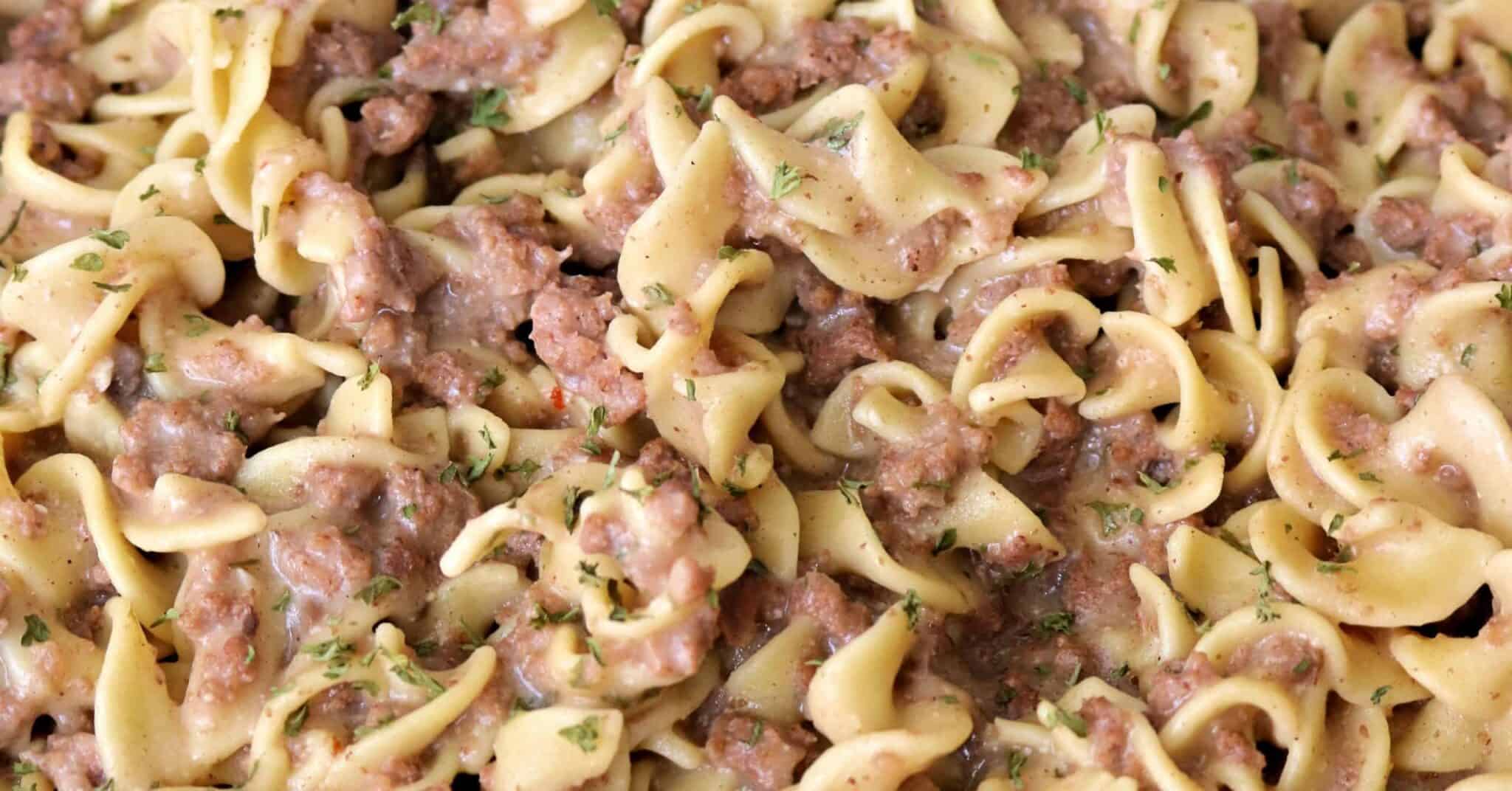 This Easy Ground Beef Stroganoff Recipe with Hamburger (from Kindly Unspoken) is creamy, delicious, and made with a delicious stroganoff sauce including light sour cream, cream of mushroom soup, beef broth, ground beef, and tender egg noodles. Even better this hamburger beef stroganoff takes less than 25 minutes to make and the whole family will love it!
Hamburger Gravy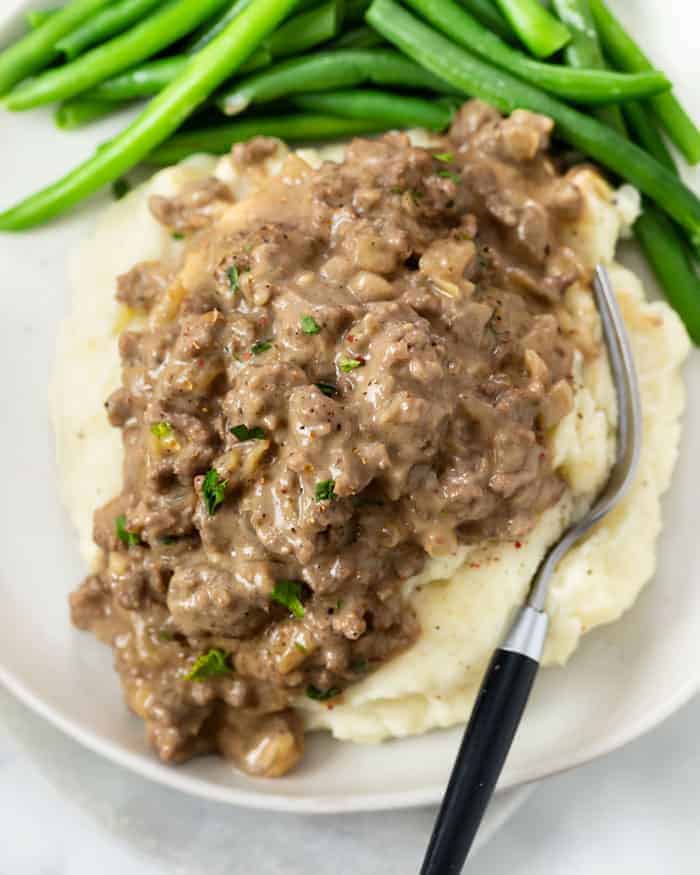 This Hamburger Gravy recipe (from The Cozy Cook) is SO easy to make with ground beef. Cream of mushroom soup can be added or left out! Serve this creamy sauce over noodles, mashed potatoes, or biscuits for a classic comfort food that your family will love.
Minnesota Sloppy Joe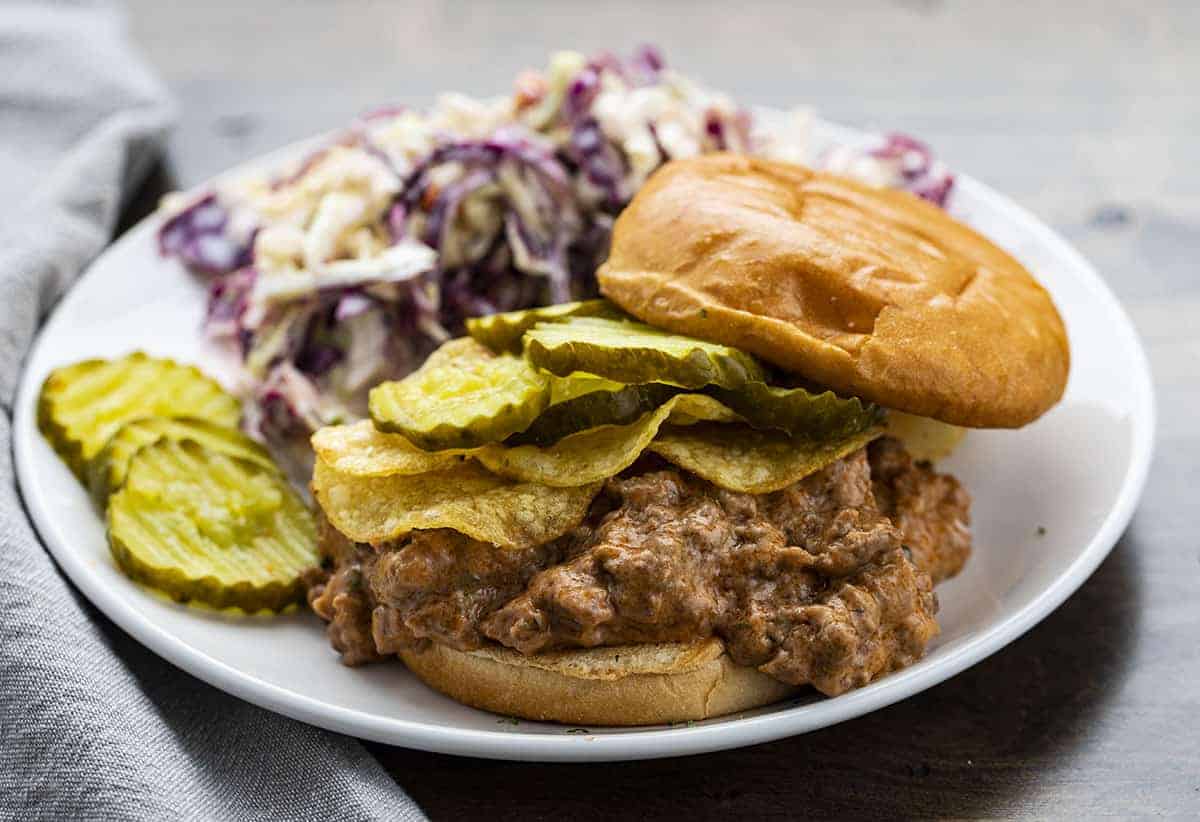 Minnesota Sloppy Joes (from I Am Homesteader) are made with cream of mushroom soup and defined by the potato chips and dill pickles that go on top of the sloppy joe, inside the bun. Forget about just having potato chips on the side to go with the sloppy joe; crunch right into the chips and pickles as you take your bites of the sandwich.
Homemade Hamburger Helper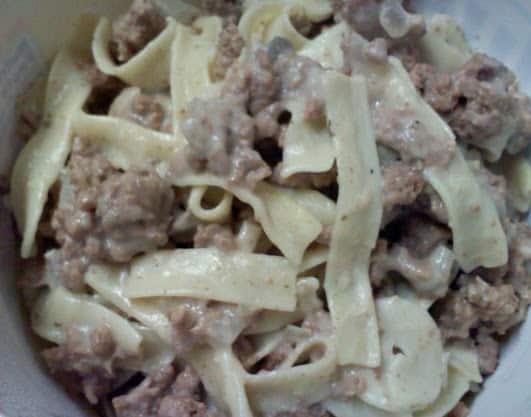 I had thought how to make hamburger helper (from Just A Pinch) and this recipe was belonged to my husband's mom and she cooked them for her whole family. It is so easy to fix it and it is so good and tasty.
Old-Country Style Slow Cooker Creamy Ground Beef and Shells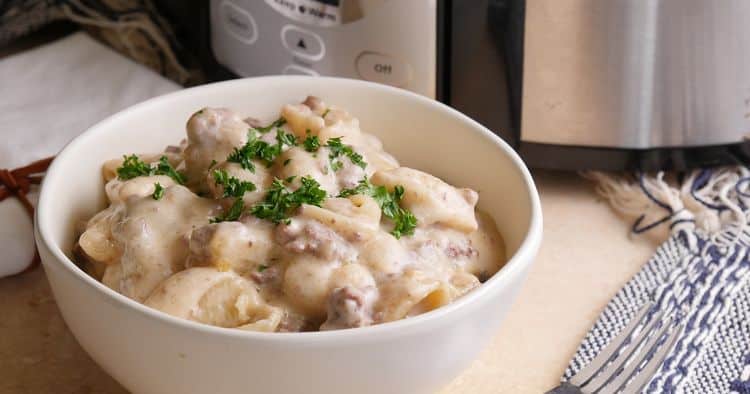 Put your slow cooker to good use tonight when you make this creamy and hearty ground beef and shells dish (from Cooktop Cove). Seasoned and browned ground beef is stewed into a cream of mushroom soup base, along with al dente shell pasta, to make a delightfully comforting dish reminiscent of beef stroganoff. It's the ideal meal to make on a cold winter's night or even for a large party where you're serving many people.
5 Ingredient Ground Beef Casserole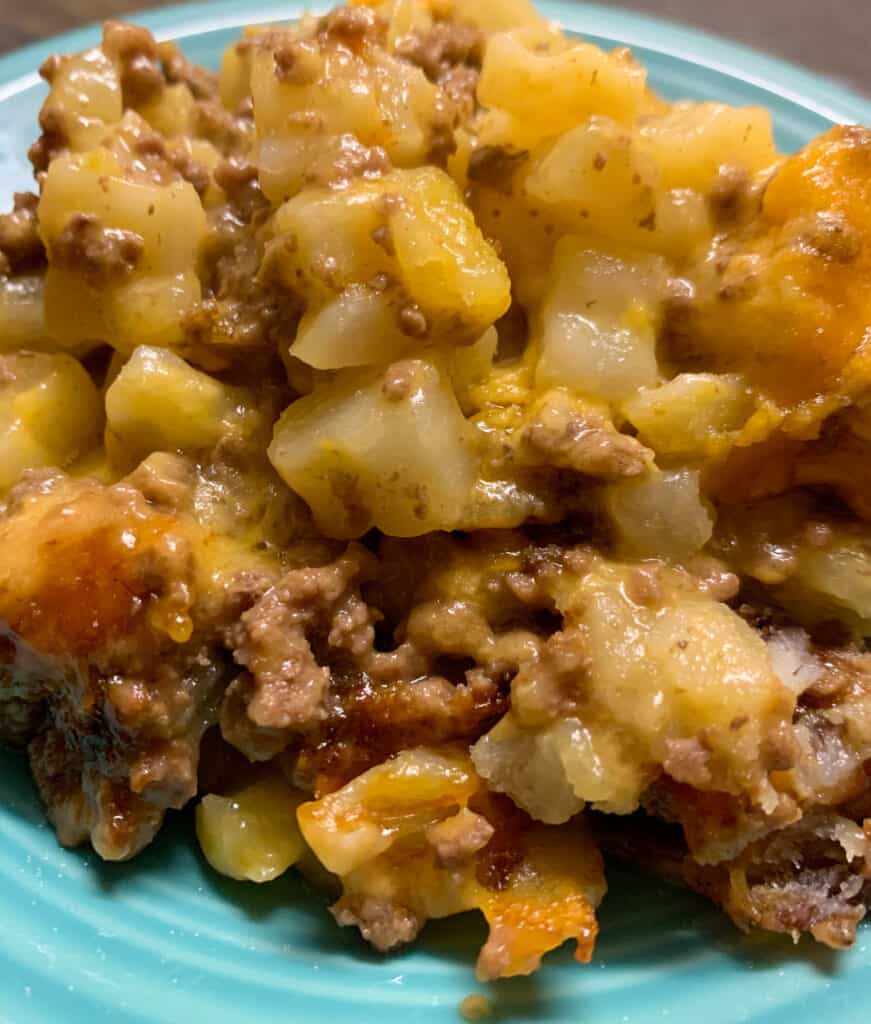 5-Ingredient Ground Beef Casserole (from Back To My Southern Roots) is a budget-friendly and easy dinner recipe for the entire family.