Delicious way to use up Thanksgiving leftovers! This Thanksgiving Leftovers Stromboli is easy and it allows you to relive your Thanksgiving feast but in a single bite without having to do much at all!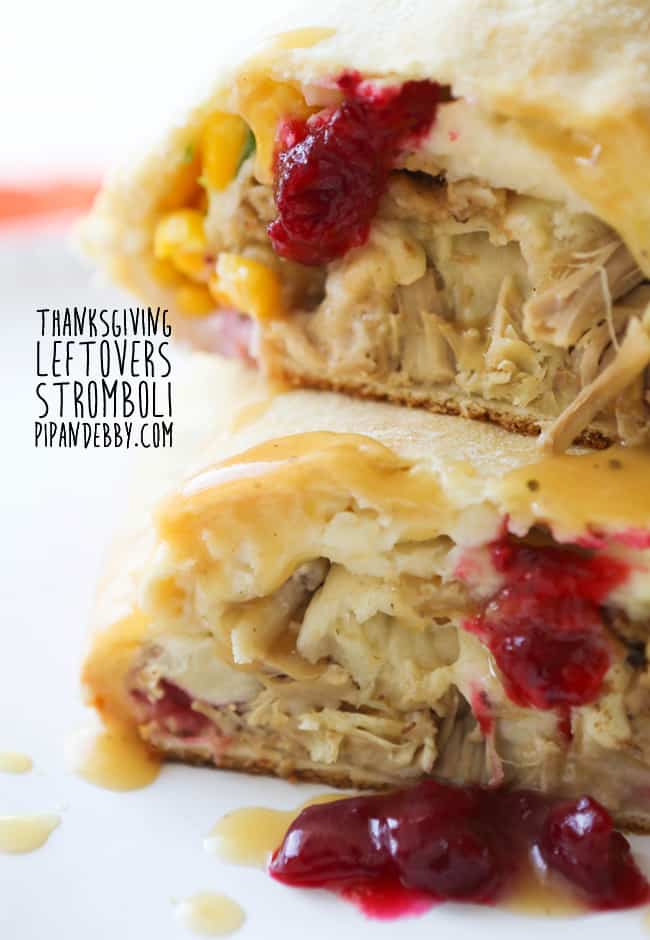 Why This Recipe Works
Did you have a nice Thanksgiving? We spent time with family and did our typical gorging on delicious food.
As always, we came home with containers packed with leftovers. I wanted to try something extra creative this year, so I wrapped the leftovers in dough to create a yummy Stromboli.
I will be making this every year. If you still have leftovers in your fridge, give it a try. If not, bookmark it for next year because it makes the next day(s) meal soooo easy! It's a great way to make sure you enjoy every bite made from this holiday meal.
By the way, just a quick note about leaving comments. Not just on this website, but on any website. Remember what your mom always told you? If you don't have something nice to say, don't say it? If you feel compelled to write a comment about a recipe you made that didn't turn out or that you didn't enjoy, please be kind. And an FYI: If you leave a comment on my website that contains the word "disgusting" or is written entirely in caps, it will get deleted. Thanks.
Recipe Ingredients
Pizza dough – Buy this dough frozen or in the refrigerator section. Or make a no yeast dough that can be made quickly.
Turkey – If there is leftover turkey from the big day, dark or white meat will work great. Just shred some up and add it to the dough.
Stuffing – This will add great flavor and texture with the other ingredients.
Mashed potatoes – Garlic mashed potatoes or just plain will both work!
Corn – Who doesn't love a little corn topping all the Thanksgiving foods heaped on a plate? This can be sweet corn or creamed corn.
Cranberries – Whether they are cranberries from a can or they are prepared in the Instant Pot with fresh berries, this will add sweetness to the savory meal.
Gravy – There are many flavors of gravy and none are a bad choice here.
Check Out Our Web Story On Using Leftovers!
Enjoy using up Thanskgiving leftovers in a stromboli for a simple dinner.
How To Make Thanksgiving Leftovers Stromboli
Step 1
Thaw a 1-pound frozen round of pizza dough according to the package directions. Throw a bit of flour onto a flat surface and, using a rolling pin, roll the dough into a rectangle approximately the size of 14×10 inches.
Step 2
Working parallel to the shortest sides, place rows of Thanksgiving leftovers onto the dough, keeping a 1-inch border on all sides.
Stuffing, turkey, Creamed Corn, Mashed Potatoes, Sweet Potatoes, Cranberries and gravy…go crazy!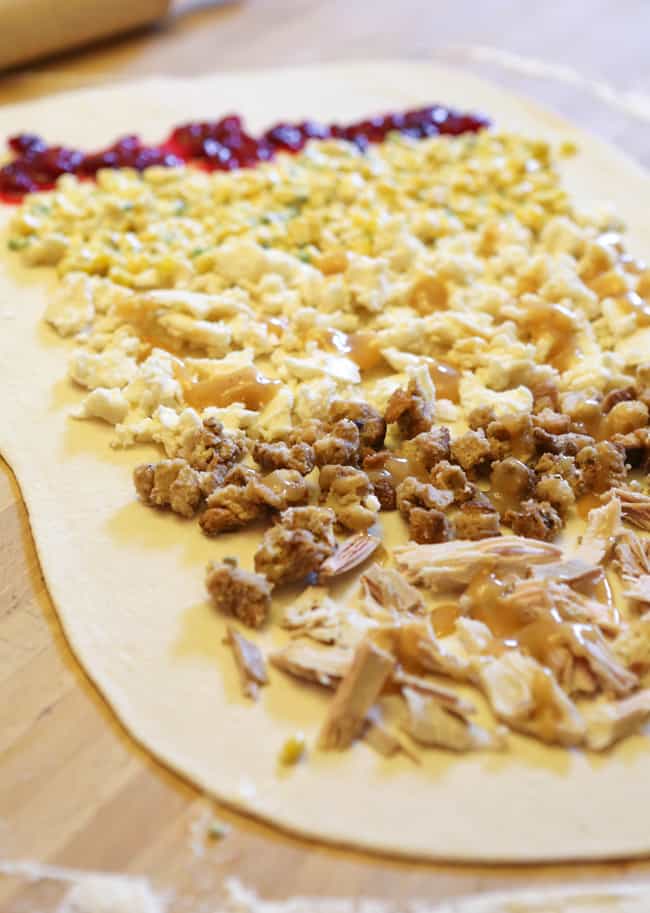 Step 3
Fold the short ends over, followed by the long ends.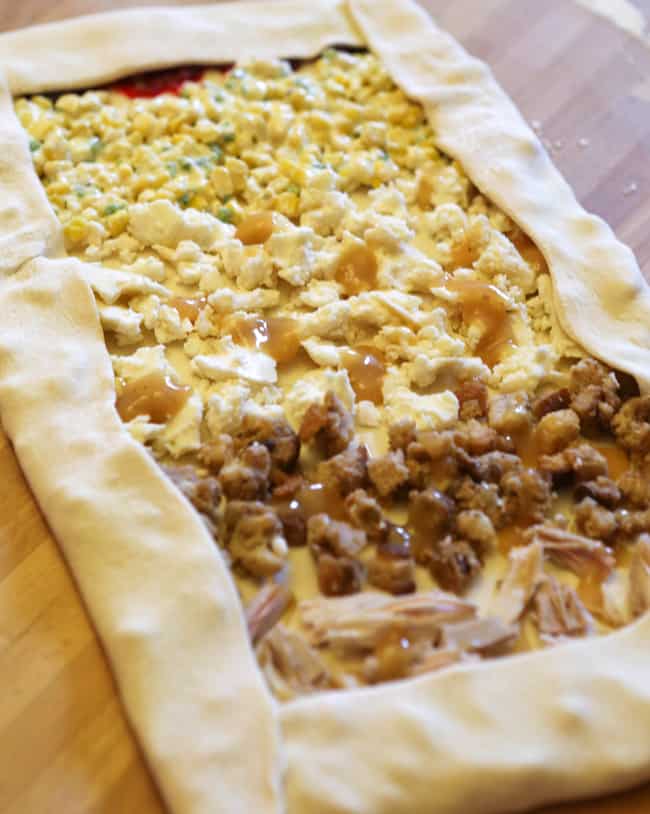 Starting at a short end, carefully roll into a log. Place the log onto a lightly oiled, parchment-lined baking sheet, seam side down. Brush melted butter over the dough.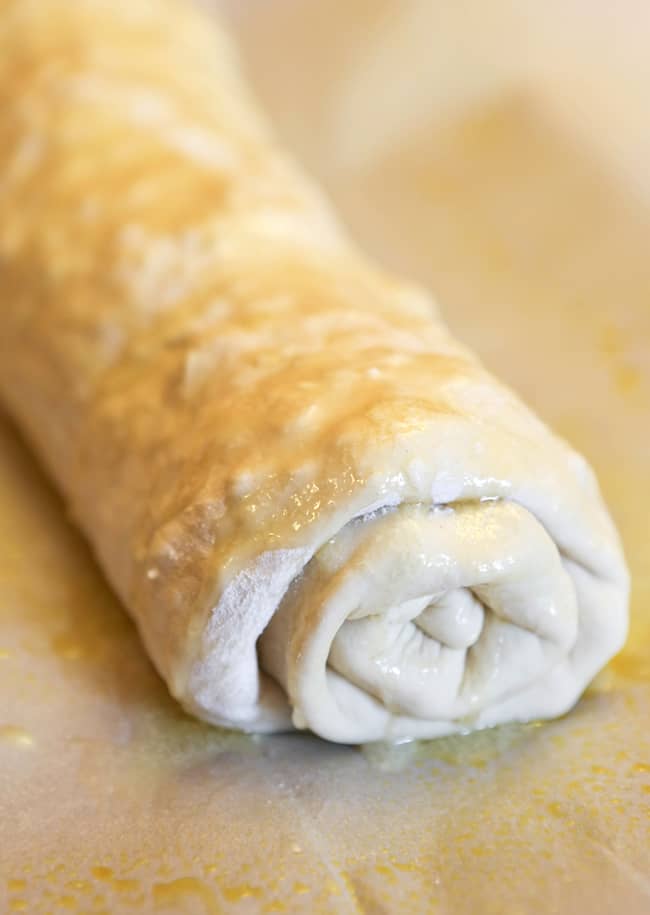 Step 4
Bake for 30 minutes at 400 degrees F. Let cool for 5 minutes.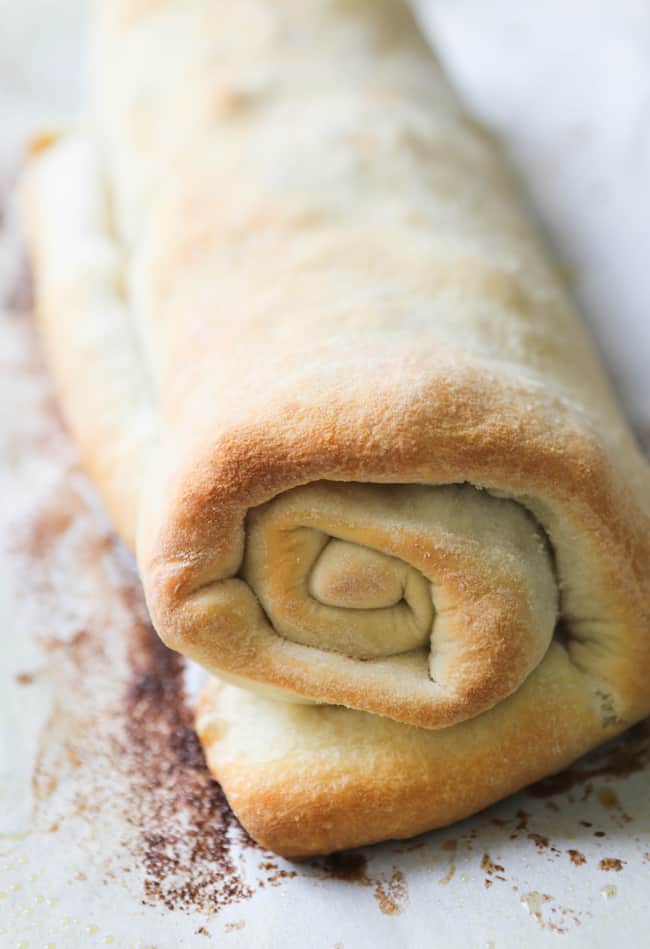 Cut into thick slices and serve! This is so yummy!
Now scroll down to the comments and tell me something GOOD! How did you celebrate Thanksgiving? What was the favorite dish on your table? What are you adding to your Thanksgiving leftovers stromboli that I didn't add?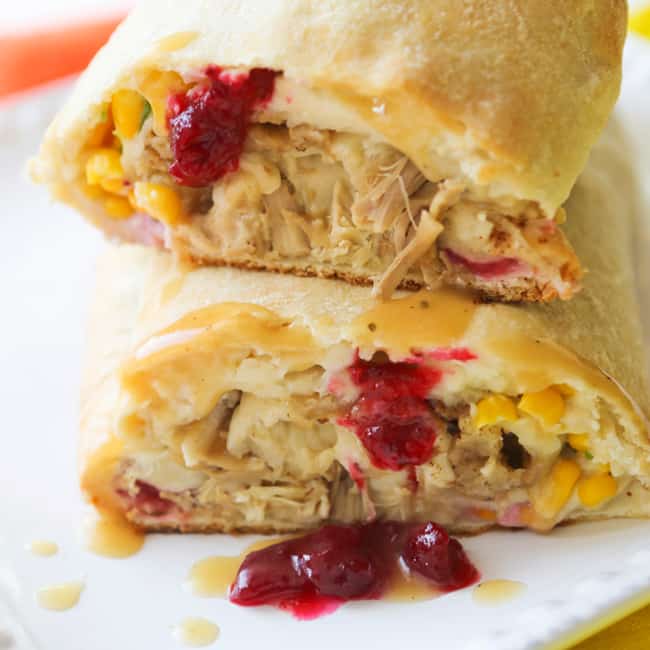 Thanksgiving Day Desserts Inspiration
Related Recipes
Will you help add value to Pip and Ebby?
If you make this recipe and love it, stop back and give it a 5-star rating ⭐️⭐️⭐️⭐️⭐️ and leave a comment. THANK YOU!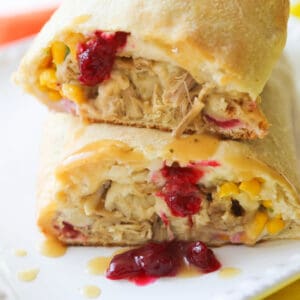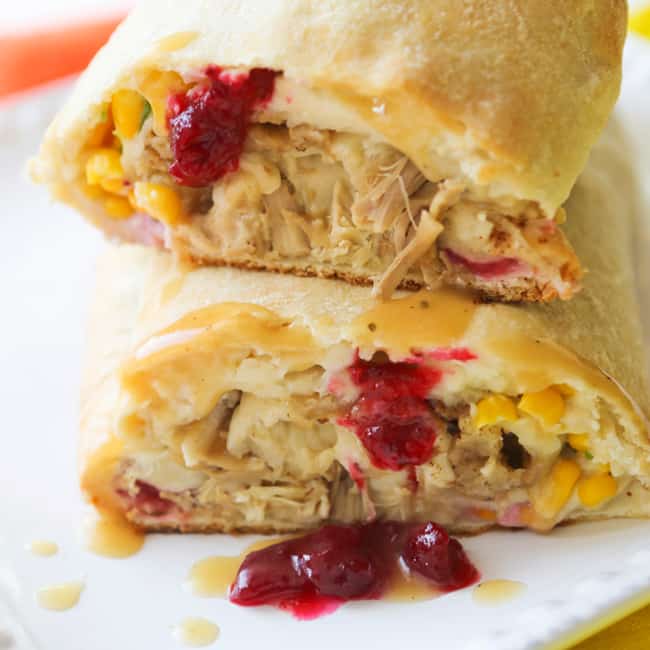 Thanksgiving Leftovers Stromboli Recipe
Delicious way to use up Thanksgiving leftovers! This Thanksgiving Leftovers Stromboli is easy and it allows you to relive your Thanksgiving feast but in a single bite without having to do much at all!
Print
Pin
Rate
Ingredients
1

lb

frozen pizza dough

thawed

3/4

cup

cooked turkey

shredded

3/4

cup

stuffing

prepared

3/4

cup

mashed potatoes

3/4

cup

corn

1/4

cup

cranberries

1/4

cup

gravy

prepared

2

tbsp

butter

melted
Instructions
Preheat oven to 400 degrees F. Line a baking sheet with parchment paper and coat with cooking spray.

Lightly flour a work surface and using a rolling pin, roll dough into a 14×10-inch rectangle. Going parallel to one of the short sides, spread out rows of leftovers in 2-inch rows, leaving a 1-inch border around the dough edges on all sides. Drizzle with gravy.

Fold 1 inch of dough over the filling on the short sides of the rectangle. Fold the long ends over the filling, pinching the dough together at the corners. Start rolling as tightly as possible into a log, starting at one of the short sides. Carefully place the log onto the prepared baking sheet, seam side down. Brush the dough with melted butter.

Bake for 30 minutes in the preheated oven until the bread is golden. Loosen the bottom of Stromboli from the parchment paper with a spatula. Transfer to a cutting board and let cool. Cut into slices and serve.
Nutrition
Calories:
334
kcal
|
Carbohydrates:
53
g
|
Protein:
11
g
|
Fat:
10
g
|
Saturated Fat:
4
g
|
Cholesterol:
20
mg
|
Sodium:
769
mg
|
Potassium:
171
mg
|
Fiber:
3
g
|
Sugar:
7
g
|
Vitamin A:
252
IU
|
Vitamin C:
8
mg
|
Calcium:
10
mg
|
Iron:
3
mg
Did you make this recipe?
If you loved this recipe, please rate the recipe and leave a comment below!