Chicken pot pie is the ultimate comfort food to serve for family dinner or for a large gathering! But what do you serve alongside this main dish? Read on for 19 ideas about what to serve with chicken pot pie.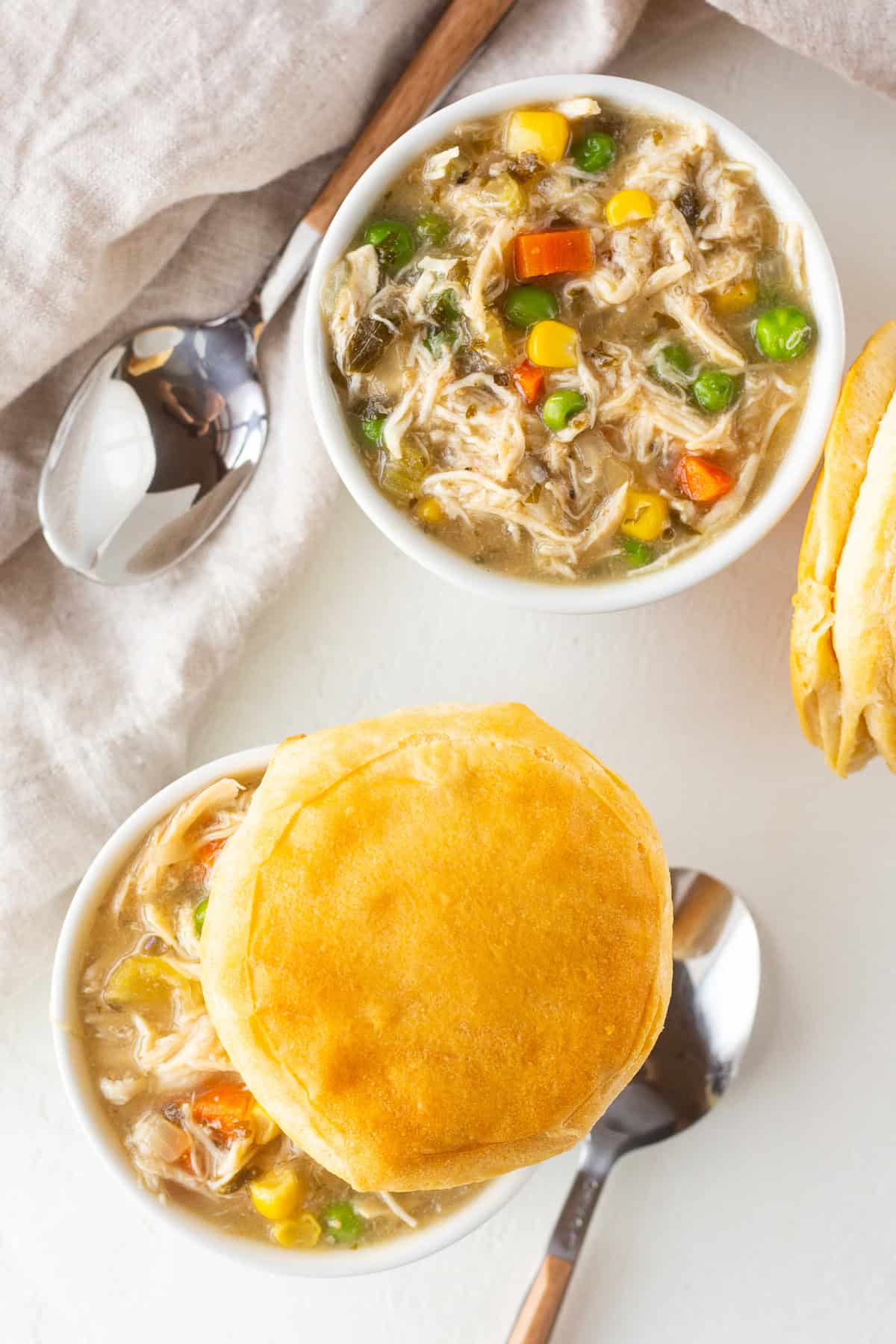 Is there a single human on planet Earth who does not love pot pie? Whether you include meat in the dish or not, it is such a delicious meal that makes taste buds sing. The veggies, swimming in a creamy sauce and rich flavors, encased in a buttery crust.. It is the best hearty meal.
This classic dish is one of those meals that is hard to pair with other foods because everything you could ever dream of is already packed inside that cute little pie. There are times, however, when you might want to consider serving a side dish alongside this recipe.
Whether you are making dinner for a family of four or hosting a dinner party or serving this as the star of the show at a potluck or birthday party, you'll need to know what to serve with chicken pot pie.
I've got your back! Read on for some great side dish recommendations, as well as perfect pot pie recipes for you to start with!
FAQ About Chicken Pot Pie
How to freeze chicken pot pie?
You can freeze unbaked chicken pot pie that has been pre-assembled in a baking dish. Wrap tightly and freeze for up to 4 months. Or you can freeze it after it has been baked and cooled, as well.
Is chicken pot pie good for you?
Whether chicken pot pie is good for you depends on which version you are consuming. Store-bought varieties are loaded with fat, calories and sodium. Other pot pie recipe options are much healthier when they reduce the amount of cream and calories.
How to reheat chicken pot pie?
If you want to reheat chicken pot pie leftovers, you can do so right in the crock pot. Cook on low heat for 30 minutes, or until completely heated through. Stir once halfway through! Another option would be to scoop individual servings into a bowl and reheat for 1 to 2 minutes in the microwave until heated through.There are so many side dishes that pair well with chicken pot pie, such as vegetables of an variety, bread, rolls, potatoes or a leafy salad.
Chicken Pot Pie Recipes
Simplify pot pie by using your crockpot! Make this slow cooker creamy chicken pot pie with minimal effort. No pie crust required! Great for any dinner table, any night of the week.
Introducing this easy chicken pot pie recipe, the easiest complete meal you'll ever make! With refrigerated biscuits and frozen vegetables, you'll be able to drastically reduce prep time for this easy recipe.
Chicken pot pie casserole is a super easy and delicious dinner that comes together quickly. It resembles the traditional pot pie we all know and love and will quickly become a meal the entire family loves!
Recipe Notes
Optional vegetables to use: carrots, celery, peas, onions, mushrooms, green beans, potatoes.
Place the pie crust out on a pastry board or a cutting board and cut long strips of crust about an inch thick. Elevate the meal by creating a lattice crust!
Crescent rolls laid on top of your pot pie will work in place of a traditional pie crust. This will create a super easy, flaky crust that requires very little effort.
Consider purchasing store-bought pie crusts to simplify this classic comfort food.
Use shredded Rotisserie chicken for an easy way to include perfectly cooked, tender chicken.
Turkey is a great alternative meat if you have it on hand.
Steak bites are delicious when added to this pie.
What To Serve With Chicken Pot Pie – Best Side Dishes
Roasted vegetables such as broccoli, Brussel sprouts, bell peppers or carrots
Baked potatoes, creamy mashed potatoes, mashed sweet potatoes or roasted sweet potatoes tossed in olive oil (savory flavor) or brown sugar (add sweetness)
Baked beans
Chopped salad or spinach salad drizzled with a simple balsamic vinaigrette
Hash browns or hashbrown casserole
Rice or stuffing
Mac and cheese, cauliflower mac or other cooked pasta
Applesauce
Cranberry sauce
Traditional or German potato salad
Fruit salad with berries, melon and other fresh fruit
Corn on the cob
Dinner rolls or garlic bread
Corn bread
Grilled Cabbage Steaks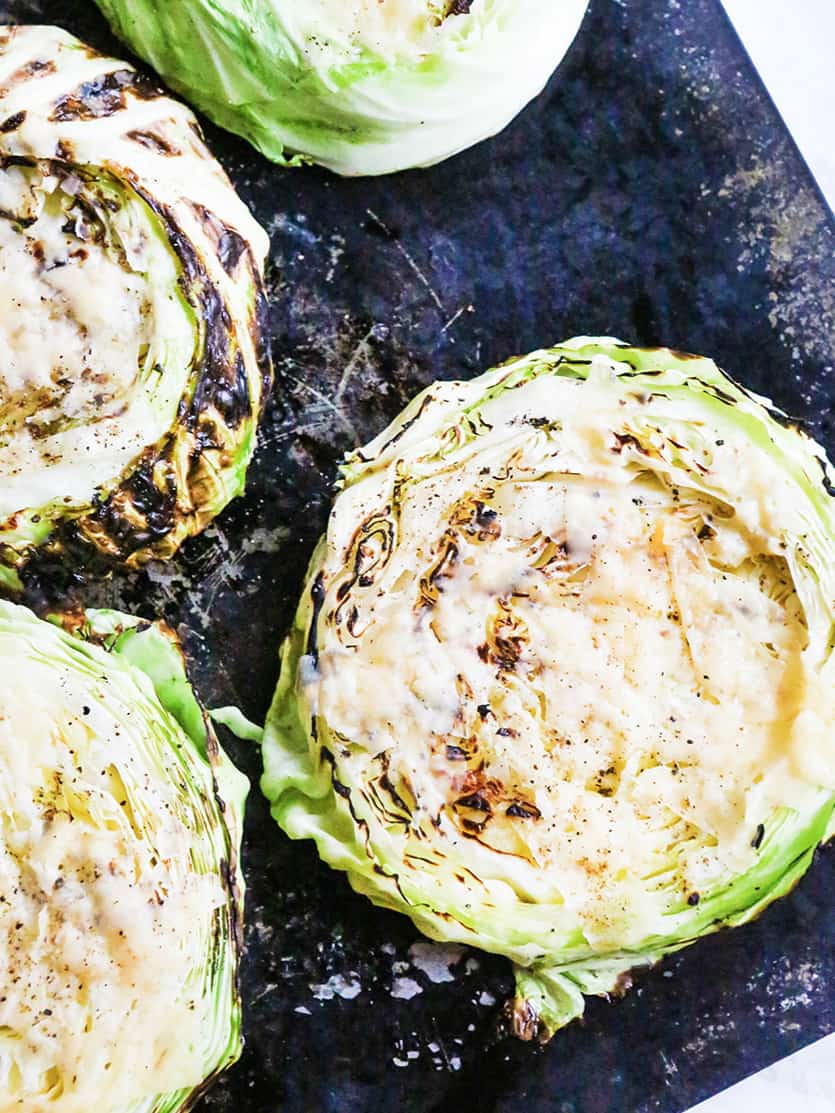 Take grilled cabbage to the next level by making cabbage steaks! This simple side dish is topped with shaved Parmesan cheese, bbq sauce, a squirt of lemon juice and a simple pat of butter!
Hash Brown Casserole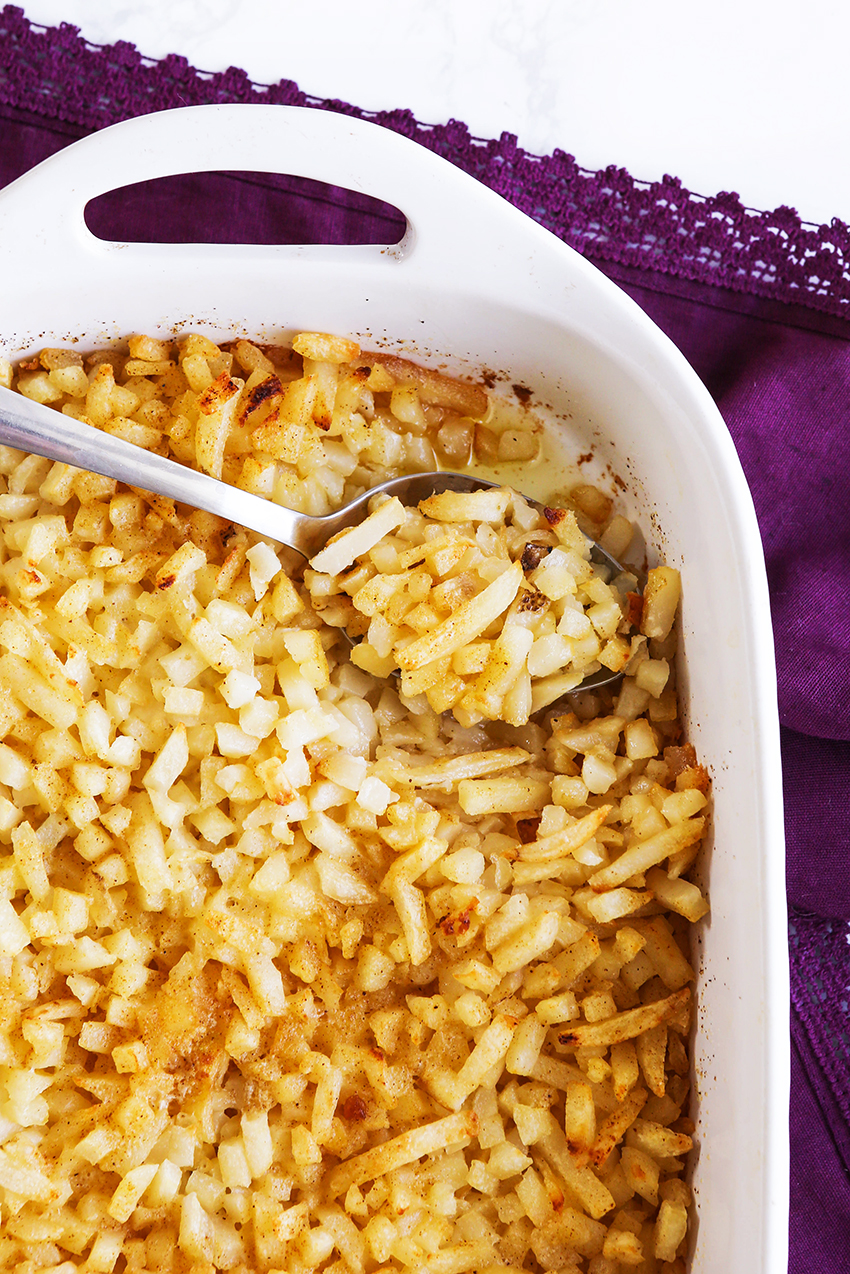 This is the best hash brown casserole recipe and it only requires 4 ingredients, 1 dish and 1 hour in the oven. Great for breakfast or a super easy side dish!
Roasted Vegetables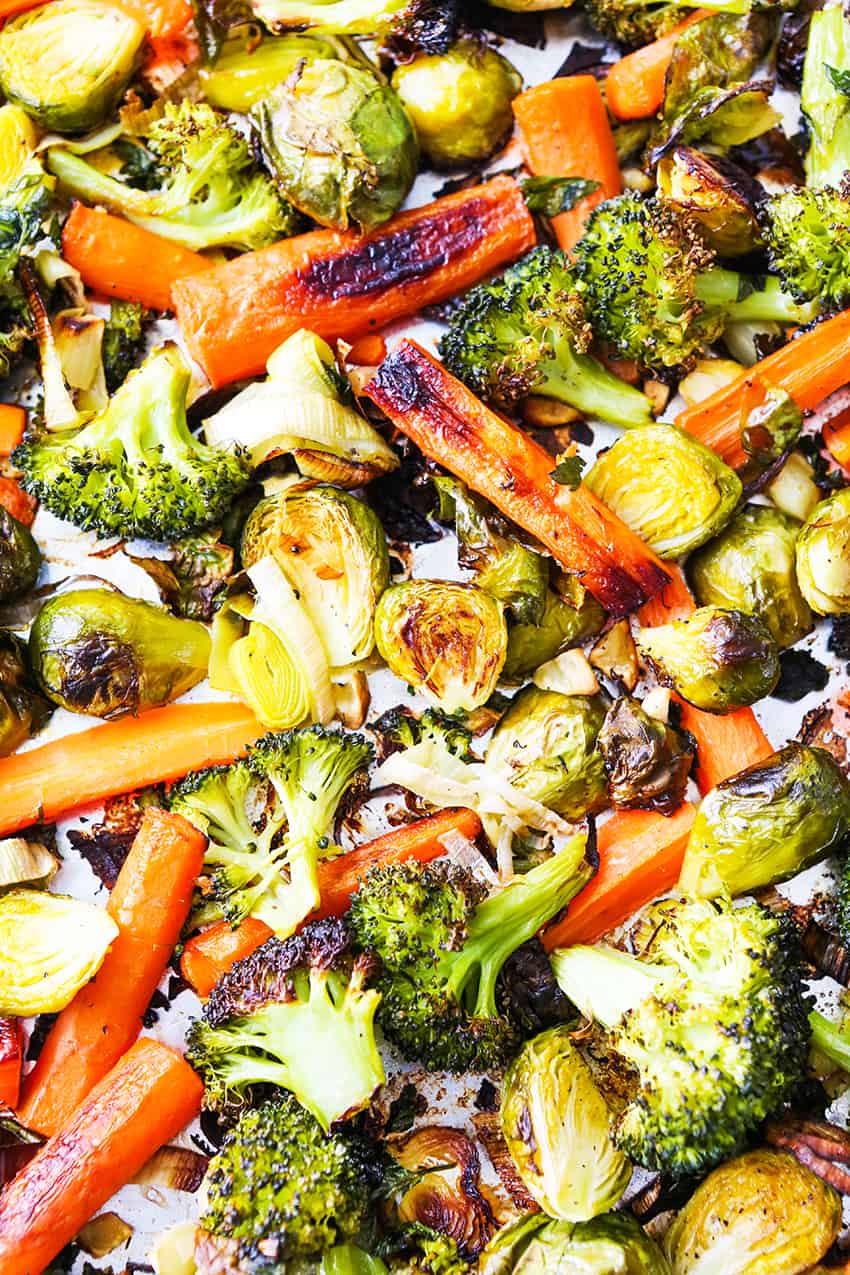 Roasted Brussels sprouts, roasted broccoli and carrots will turn veggie haters into veggie lovers in this perfect side dish! Swap out vegetables in this recipe for any you might have on hand, such as cauliflower, zucchini, mushrooms or onions.
Oven Roasted Sweet Potatoes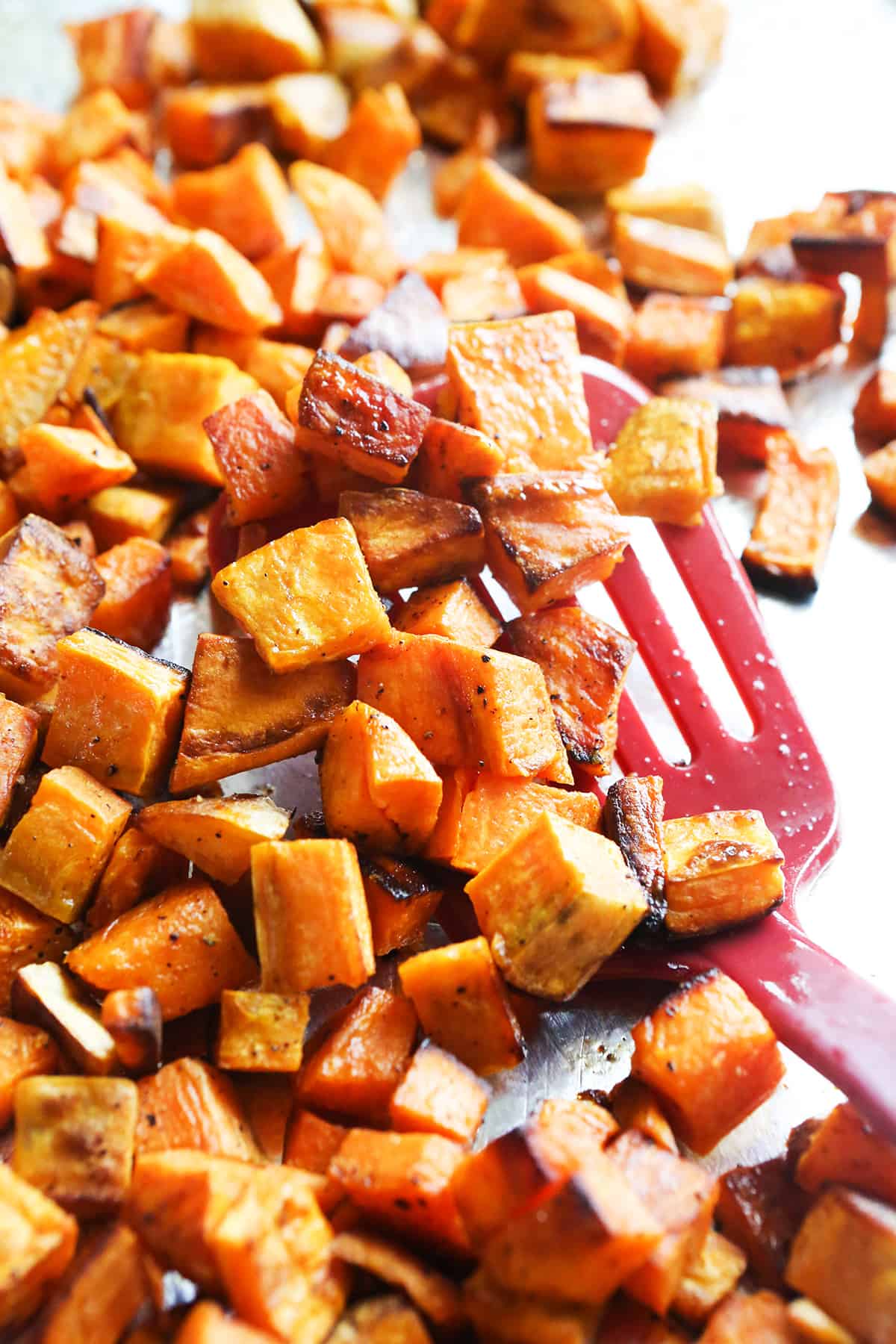 Roasted Sweet Potatoes are such a great choice to accompany any meal! More delicious than regular French fries and are a great healthy lunch, snack or side.
Whole30 Cauliflower Rice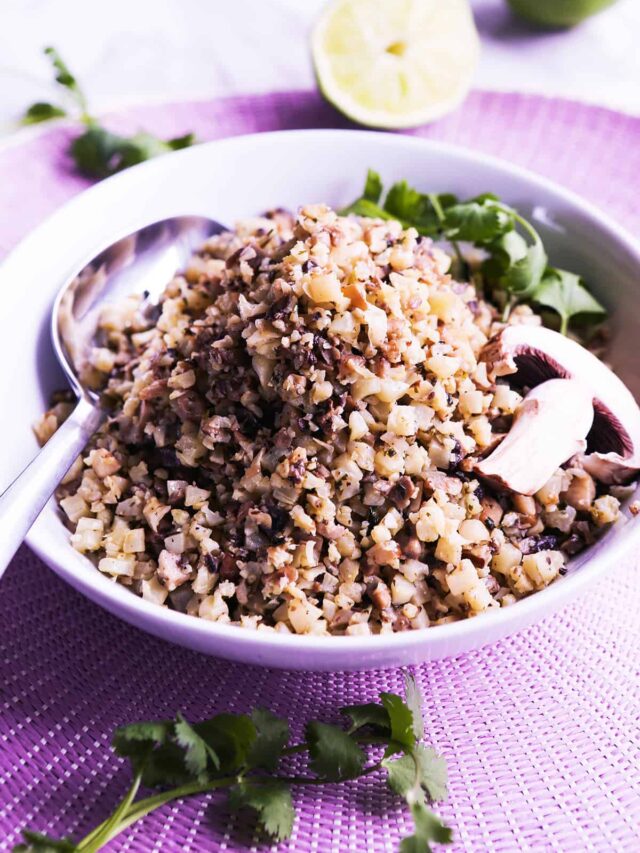 Replace rice with this veggie-packed Whole30 cauliflower rice side dish. It's easy to make and prepared in 15 minutes. Packed with flavor and texture from mushrooms and herbs, this recipe combines with many meals to complete a healthy dinner!
Butternut Squash and Apples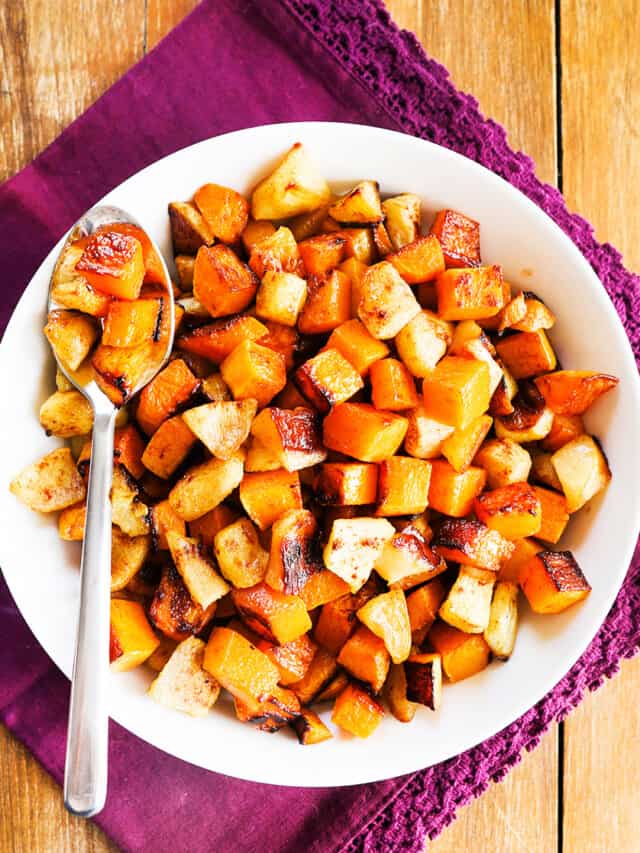 Butternut Squash and Apples is a great addition to any table. This delicious dish is versatile and is the perfect accompaniment for any main course!
Instant Pot Applesauce
Make this Instant Pot applesauce recipe because it requires only a handful of ingredients and it is the perfect snack for kids.
Instant Pot Potato Salad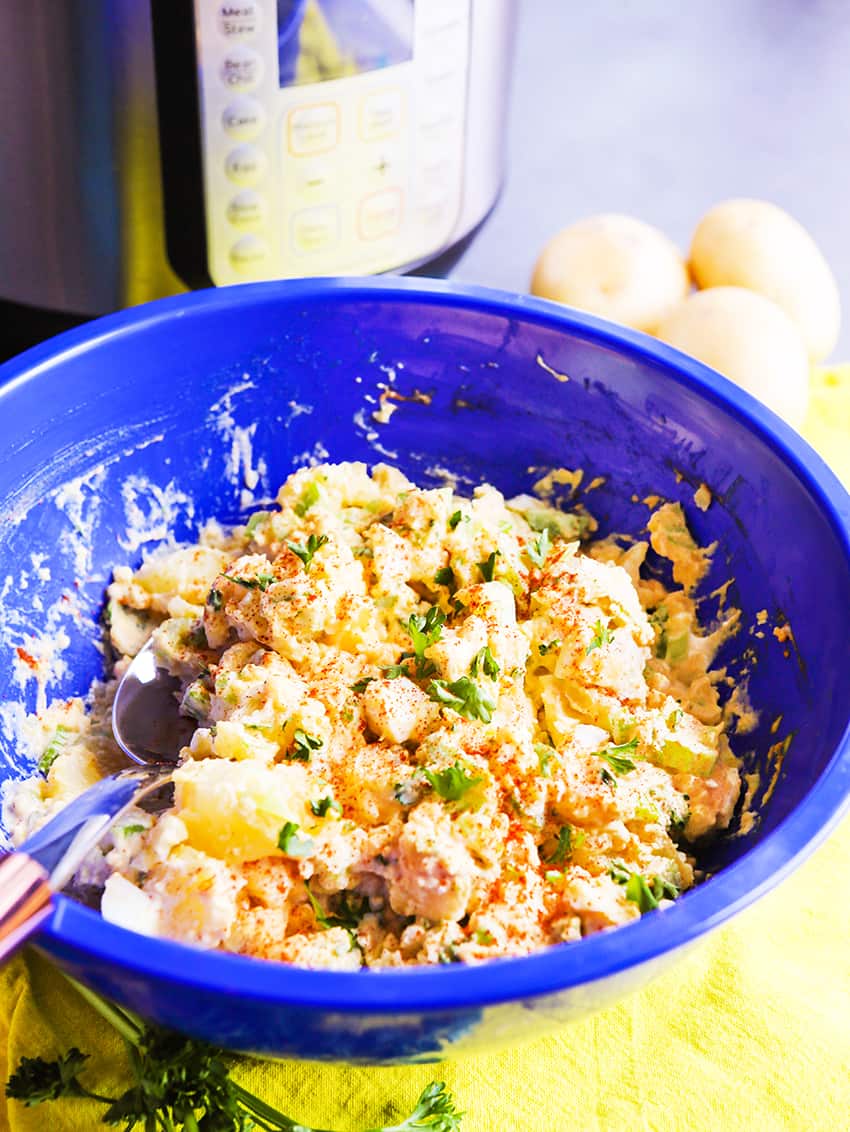 Cook potatoes and eggs together in a single pot to make Instant Pot Potato Salad with Eggs. Done in less than 30 minutes and requires minimal clean-up. This is the perfect party food or summer side dish!
Refrigerator Sweet Pickles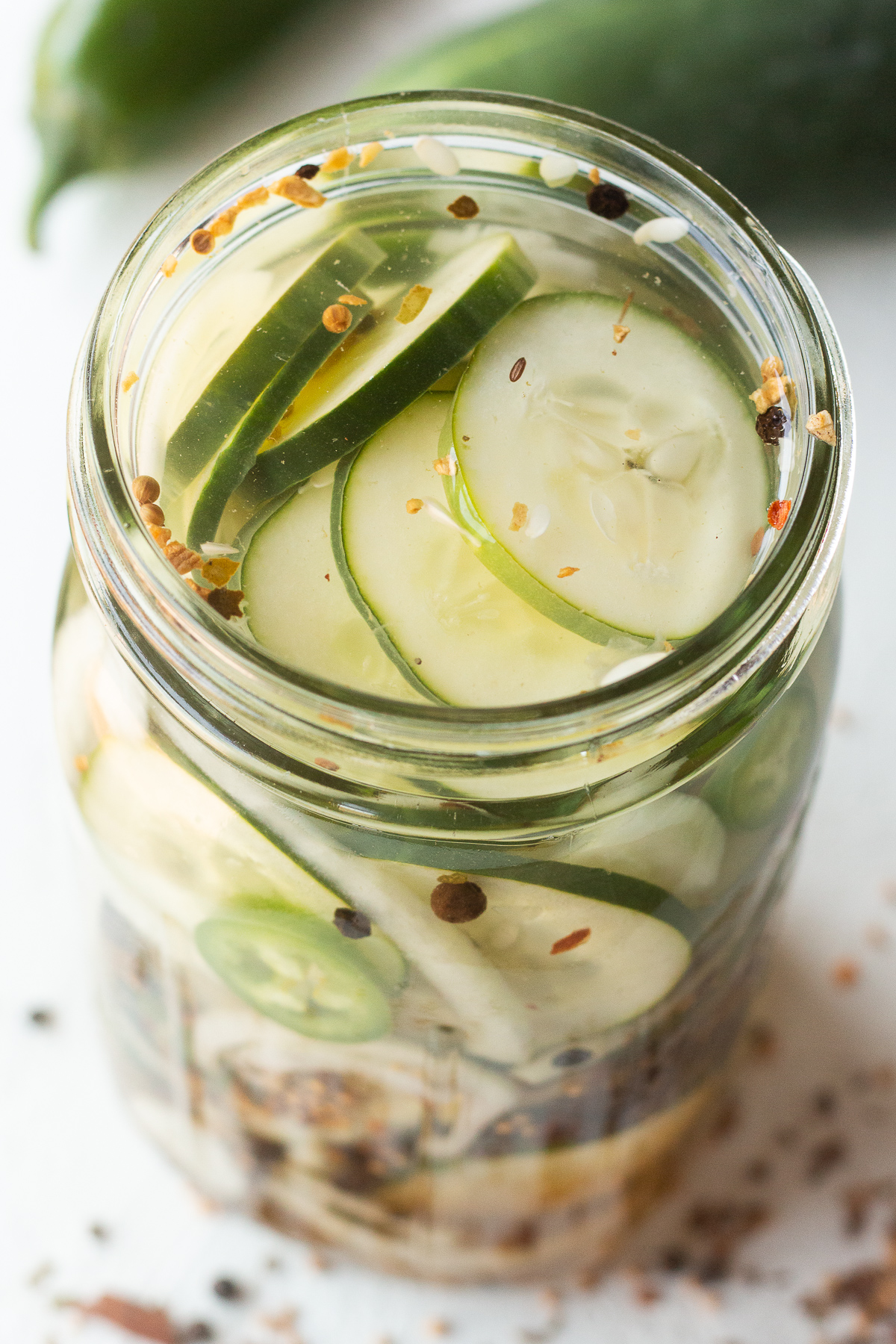 Do not let the pickle-making process intimidate you! These refrigerator sweet pickles come together quickly and you will not even believe how delicious they are in the end!
Corn on the Cob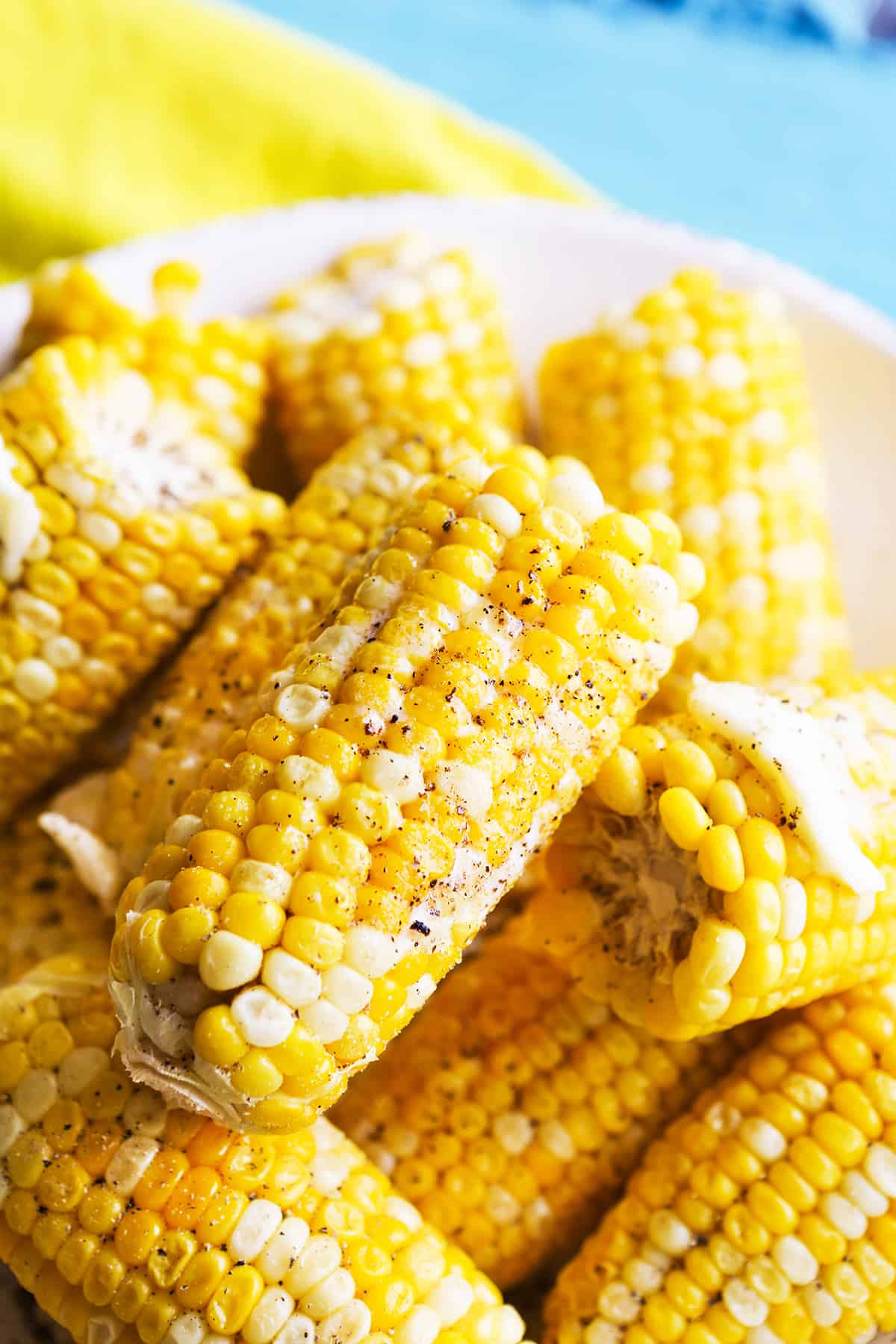 The best part about Instant Pot corn on the cob is that it allows you to simplify meal-time so you can enjoy every morsel of this season.
Air Fryer Broccolini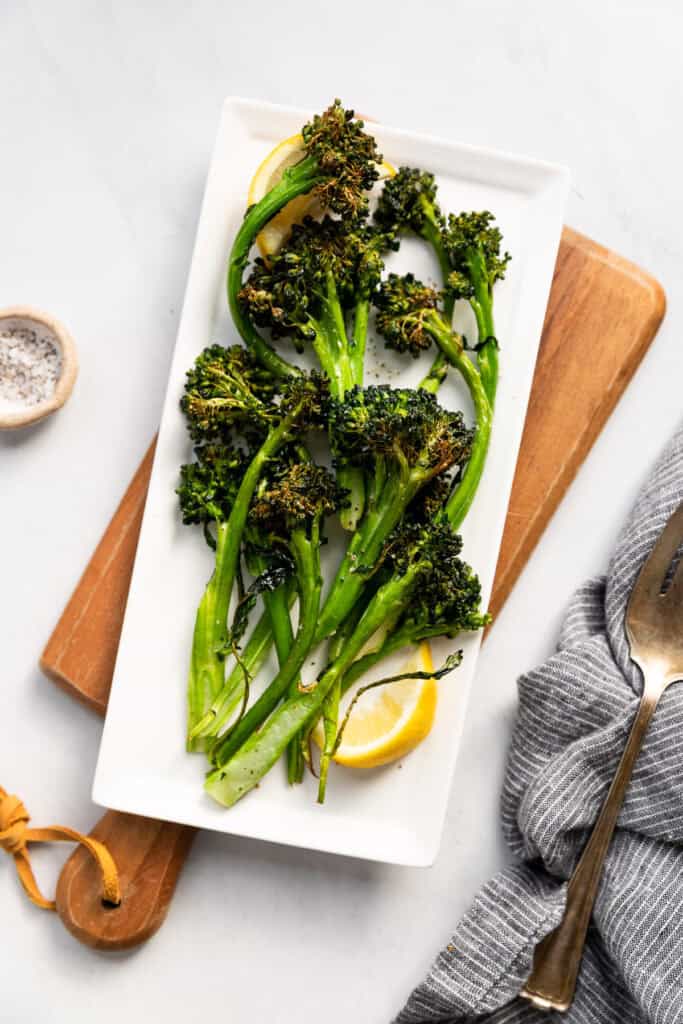 Making broccolini in the air fryer (from Fork in the Kitchen) is a go-to method when you need a green veggie side dish and you're short on time and don't want to turn on the oven. It takes only 10 minutes and can be flavored in a variety of ways!
Mediterranean Roasted Eggplant Bruschetta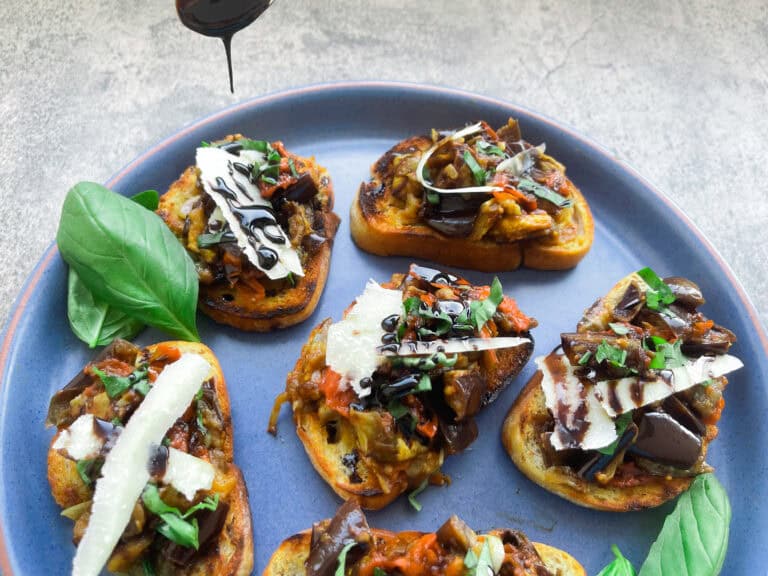 Crunchy grilled toasts topped with garlicky Mediterranean roasted eggplant and tomatoes, dressed with salty cheese shards and sweet balsamic glaze. Hello, world! Meet your new favorite appetizer (from Weekday Pescatarian).
Cranberry Sauce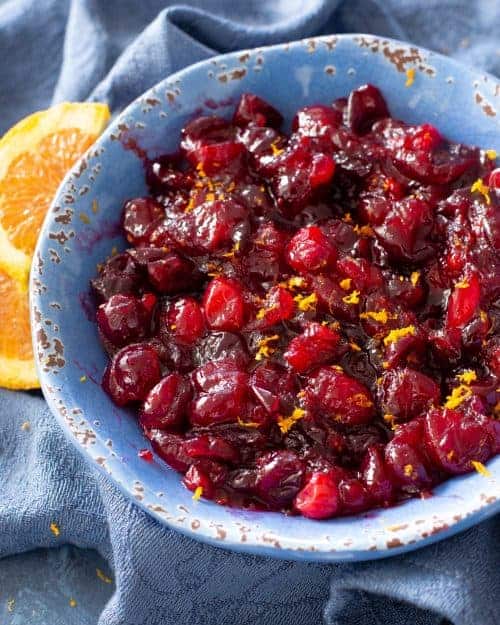 This fresh Cranberry Sauce recipe (from The Girl Who Ate Everything) is made with just a few ingredients and so good! Fresh cranberries, orange juice, sugar, vanilla, and orange zest. This easy recipes takes 10 minutes!
Ultra Crispy Air Fryer Tofu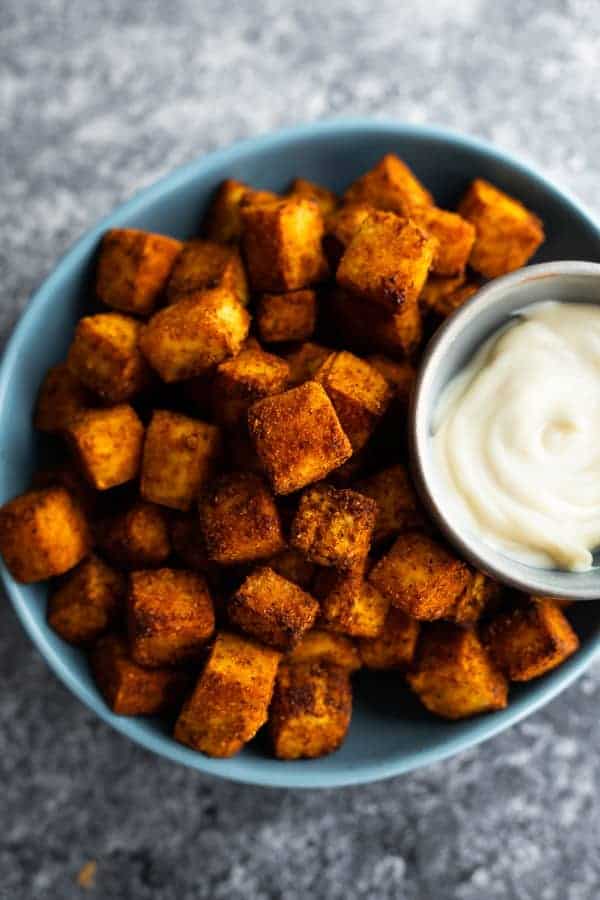 This ultra crispy air fryer tofu (from Sweet Peas and Saffron) is seasoned with a delicious spice rub and cooked through in just 13 minutes! Golden and crisp on the edges while soft on the inside.
Southern Cornbread
This Easy Cornbread Recipe without Buttermilk (from Sweetly Splendid) is moist, delicious, and easy to make with simple ingredients. It has the right balance of sweet and savory.
Baked Brie with Fig Jam and Pistachios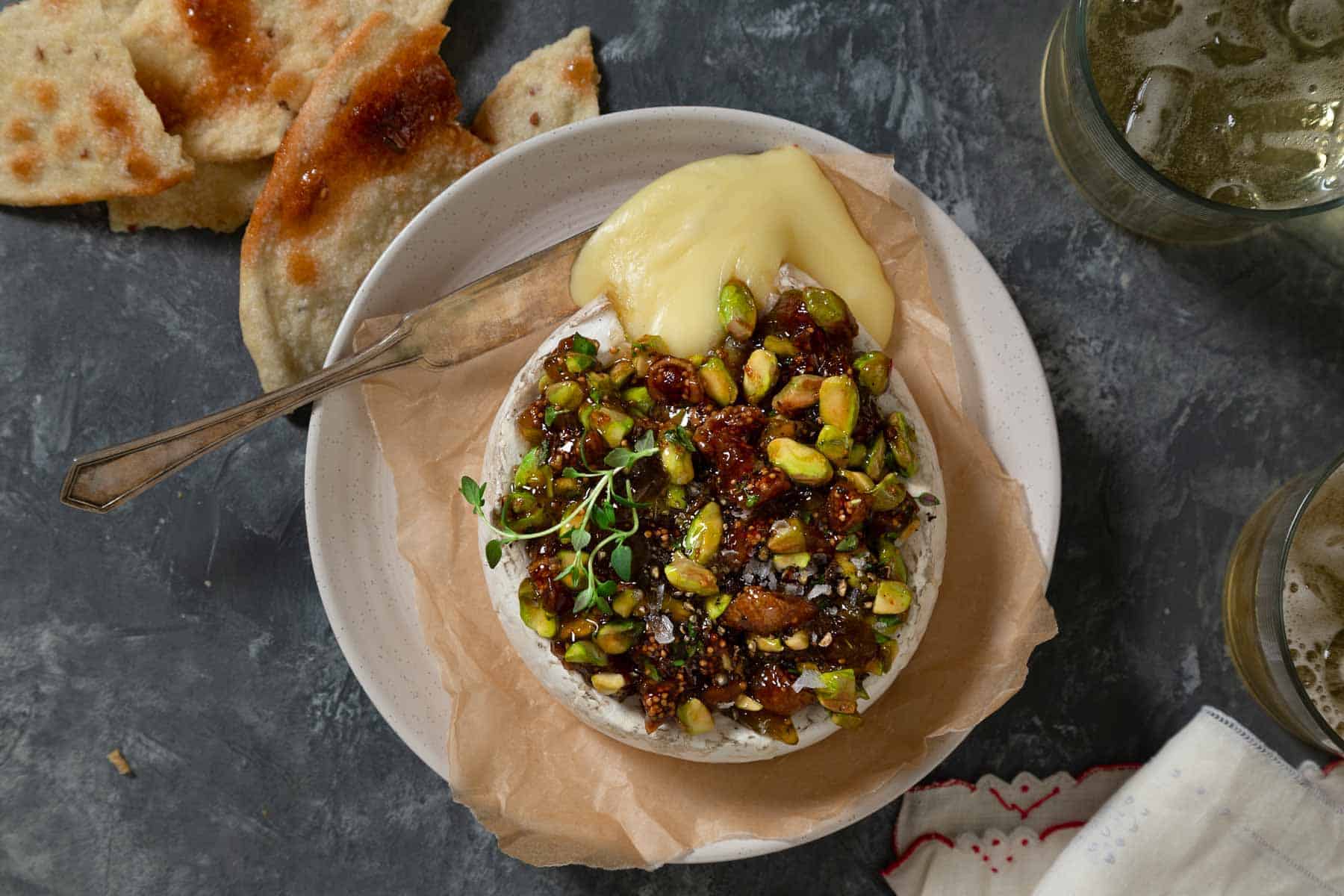 This Baked Brie with Fig Jam and Pistachios (from Cup of Zest) is guaranteed to be a hit at any fall or winter get-together. Ooey gooey baked brie is topped with a homemade fig jam and nuts, leaving you with a delectable, creamy, and sweet appetizer.
Apple Cinnamon Bread with Oatmeal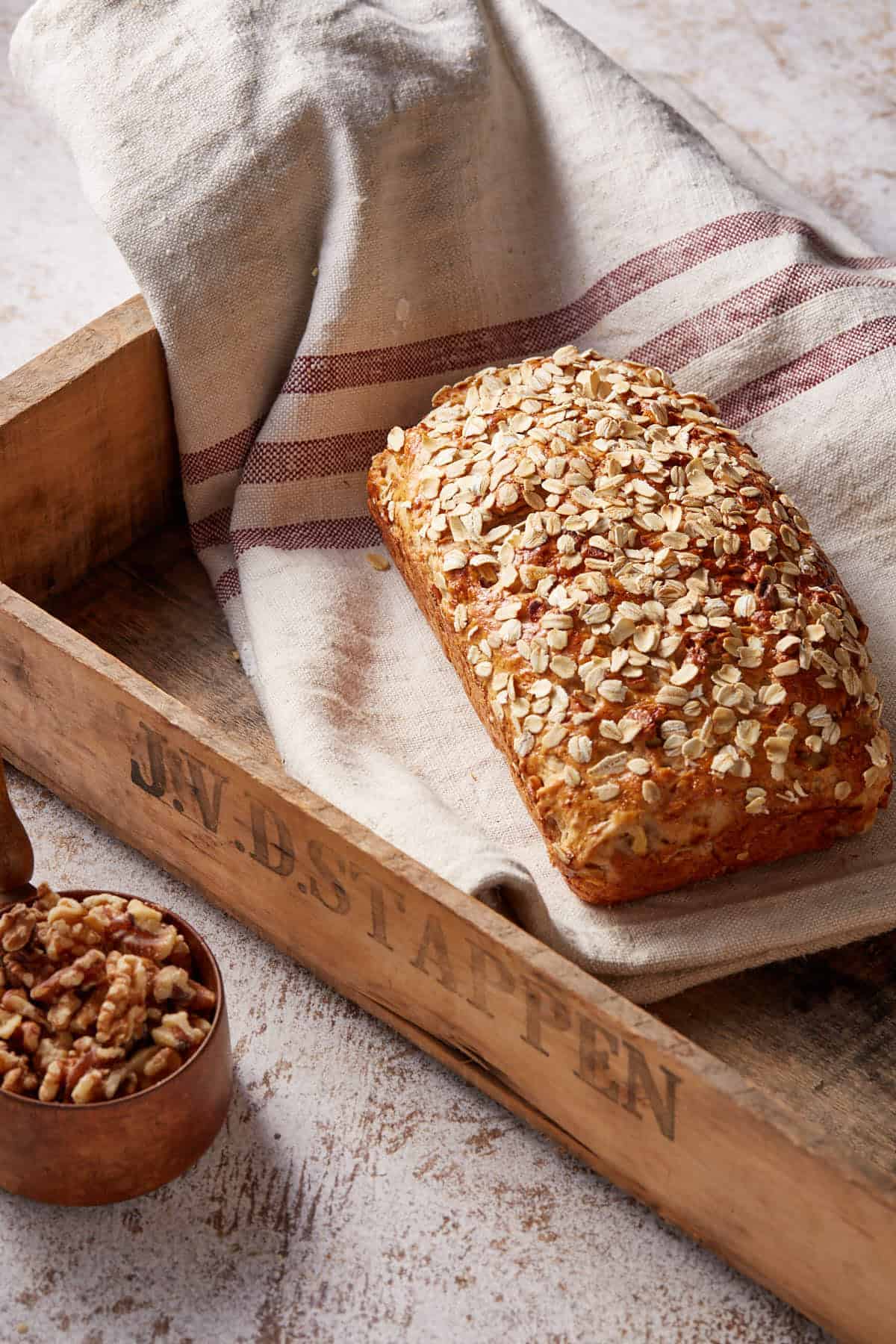 Filled with apples and walnuts you'll love Apple Cinnamon Bread with Oatmeal (from Butter and Baggage) on cool fall mornings. A delicious yeast dough slightly sweetened with honey and apples will make this bread a family favorite.
Baked Spice Beef Empanadas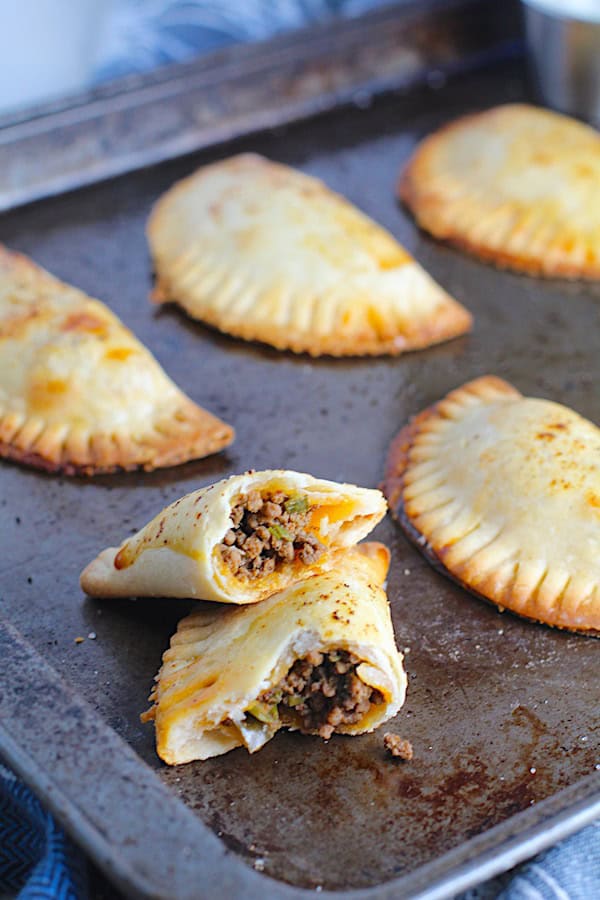 Spiced Beef Empanadas (from Talking Meals) using pie crust are so easy to make! The crust is filled with a savory ground beef filling, then baked to perfection! Fun for dinner and great for parties!
Marinated Mozzarella Balls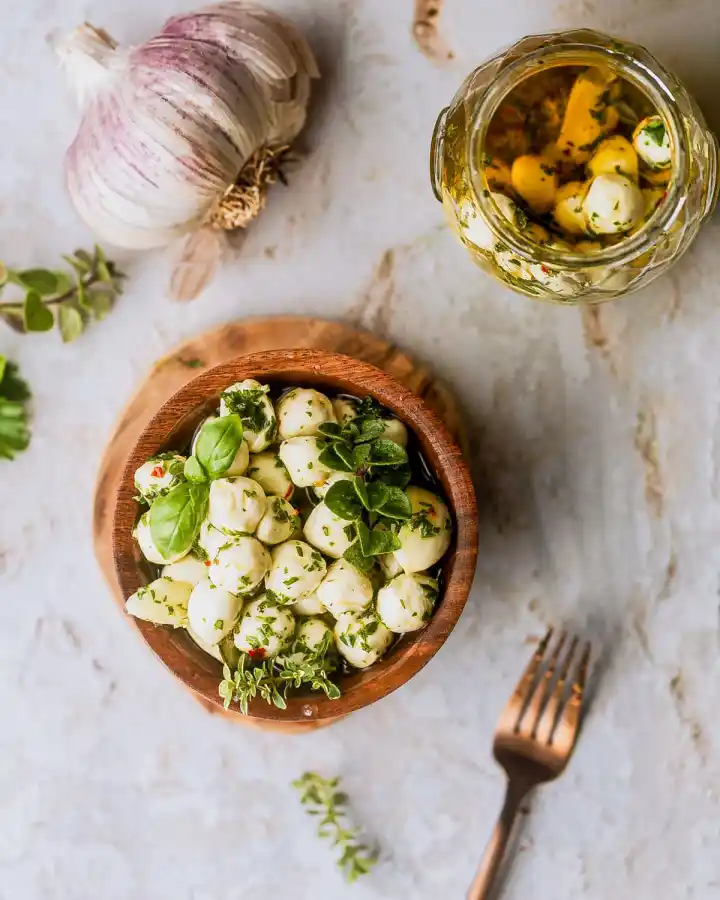 Need an easy, dependable appetizer that is both simple to make and a complete crowd pleaser? This herbaceous olive oil-marinated mozzarella recipe (from Sweet Tea and Thyme) is exactly what you're looking for!
It takes less than 5 minutes of your time to put together, then the creamy mozzarella soaks up all that delicious robust flavor as it marinates. Serve in a charcuterie board, with crostini, tossed with cherry tomatoes, or even on top of pizza!