Hash browns are one of the most versatile foods on the planet. They can be served across all meals throughout the day. Check out this roundup of ideas for what to serve with hash brown casserole so you can make your next breakfast, brunch or dinner complete!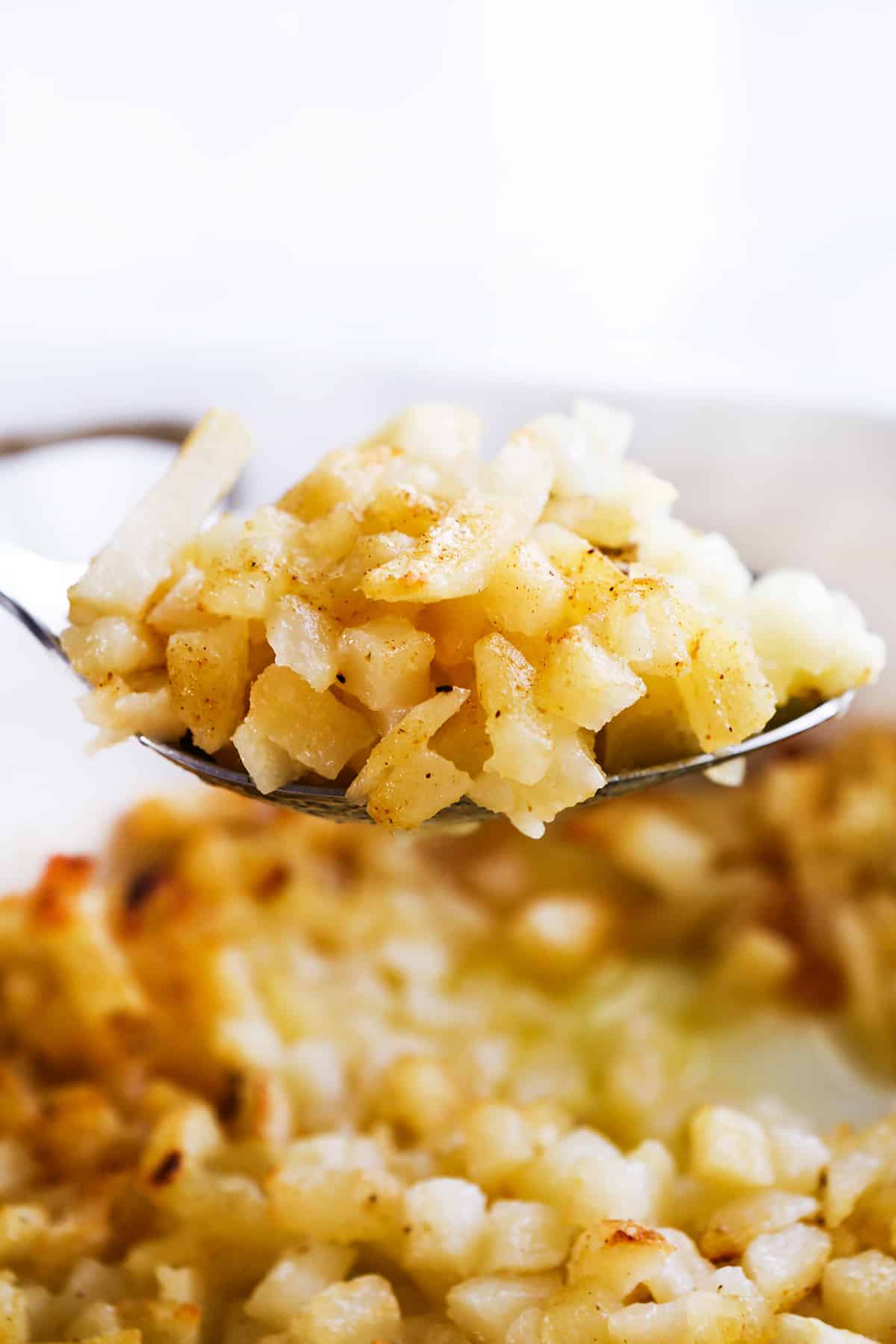 I always talk about how versatile potatoes are, but one type that is especially versatile is the delicious little comfort food called the hash brown. This is one of my favorite foods in the entire world!
It goes without saying that they are DELICIOUS, with that crispy, perfect little crunch. The best part about this great side dish is that it is so yummy that it's acceptable to serve it for any meal, any time of the day!
One of my favorite ways to enjoy this magical food is to throw together an easy hash brown casserole (aka funeral potatoes), with minimal effort and a ton of flavor.
We've established that this is a go-to recipe, but what exactly goes along with it? What tastes good alongside it? If these questions are running through your hungry little head, you are in luck!
This roundup provides many great ideas about what to serve with hash brown casserole. Read on and enjoy!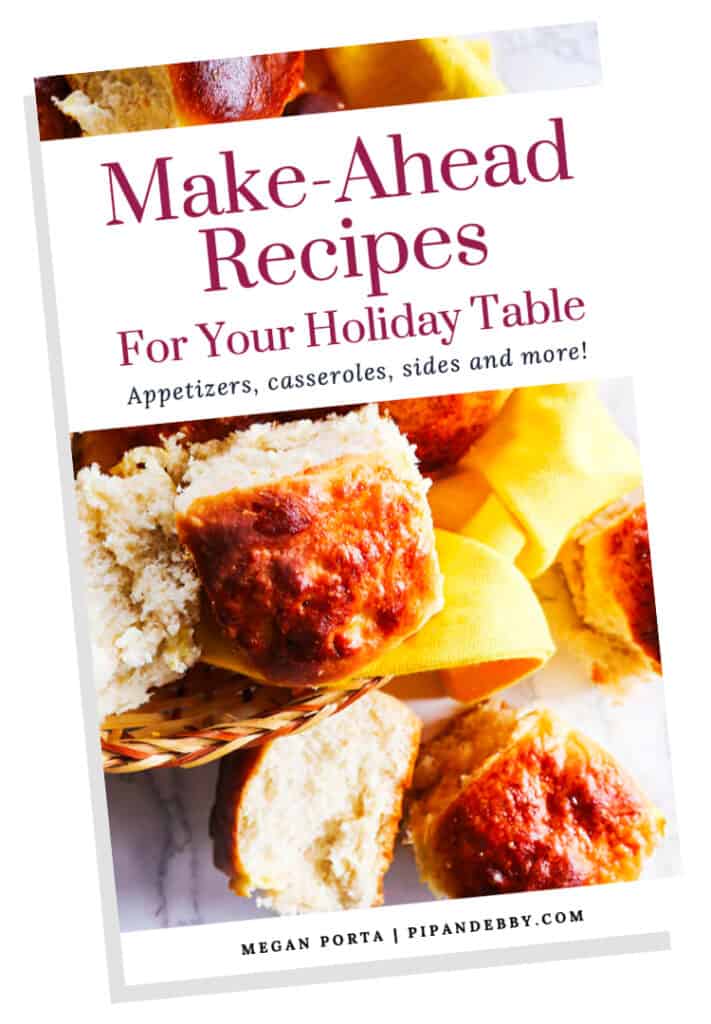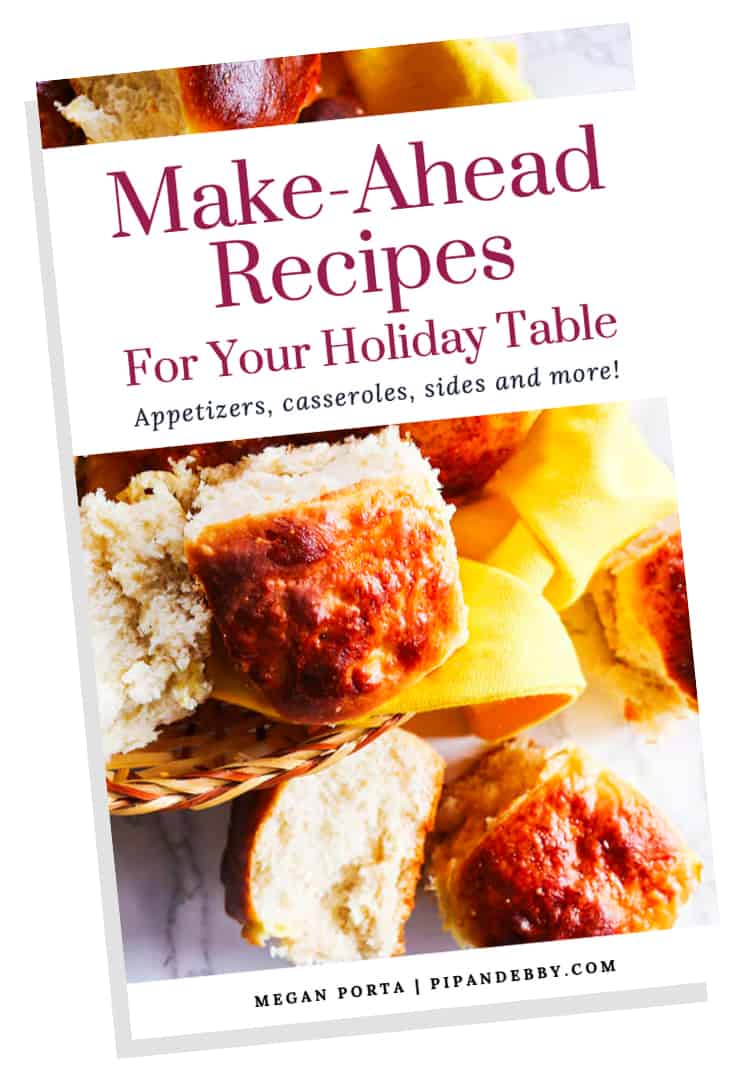 Do you feel overwhelmed just thinking about planning a holiday menu? Then you anticipate the exhaustion that comes after the meal has been eaten?
Within each recipe in this ebook are tips for making the recipe ahead of time to open up space for the people you're excited to spend the holiday with. Sample menus included, along with mouth-watering photos and tried-and-tested recipes!
FAQ About Hash Browns
Are hash browns gluten free?
Potatoes are naturally gluten free and they are the main ingredient in hash browns. However, some varieties may contain wheat, so check the nutritional label before purchasing.
Are hash browns vegan?
Hash browns are a food that aligns with a vegan diet, typically containing potatoes, onions and spices.
Are hash browns healthy?
Hash browns typically only contain potatoes, onions and spices, making them a healthy food as long as they are not fried or doused in oil.
Can hash browns be air fryed?
Yes, hashbrowns can definitely be cooked in an air fryer. Add a layer of hash browns to an air fryer basket or the inner pot of a pressure air fryer. Cook at 375 degrees F for 6 minutes. Toss and cook for an additional 5-7 minutes.
Can hash browns be refrozen?
Hashbrowns may be safely refrozen after thawing. They should not be left at room temperature for more than a few hours or in the fridge for more than 2 days.
How To Make Hash Brown Casserole Recipe
This versatile is super easy to make! Learn how to make hash brown casserole here for your next perfect easy side dish, potluck dish or to accompany a holiday meal.
Step 1
Preheat oven to 350 degrees F. Coat a 9×13 casserole dish with cooking spray. Distribute frozen hash browns evenly in prepared baking dish. Spread out the pats of butter evenly over top of the hash browns, and pour whipping cream evenly over the top.
Step 2
Sprinkle evenly with seasoning salt. Cover pan with aluminum foil and bake in preheated oven for 1 hour.
Related Recipes
Toppings/Additions for Hash Brown Potatoes for Extra Flavor
Sharp cheddar cheese
Cojack or colby cheese
Sour cream
Cream cheese
Crushed potato chips or corn flakes
Sliced green onions
Cream of celery soup
Chili powder or cayenne pepper
Creamy cheese sauce
Garlic powder
Cream of mushroom soup
Cream of chicken soup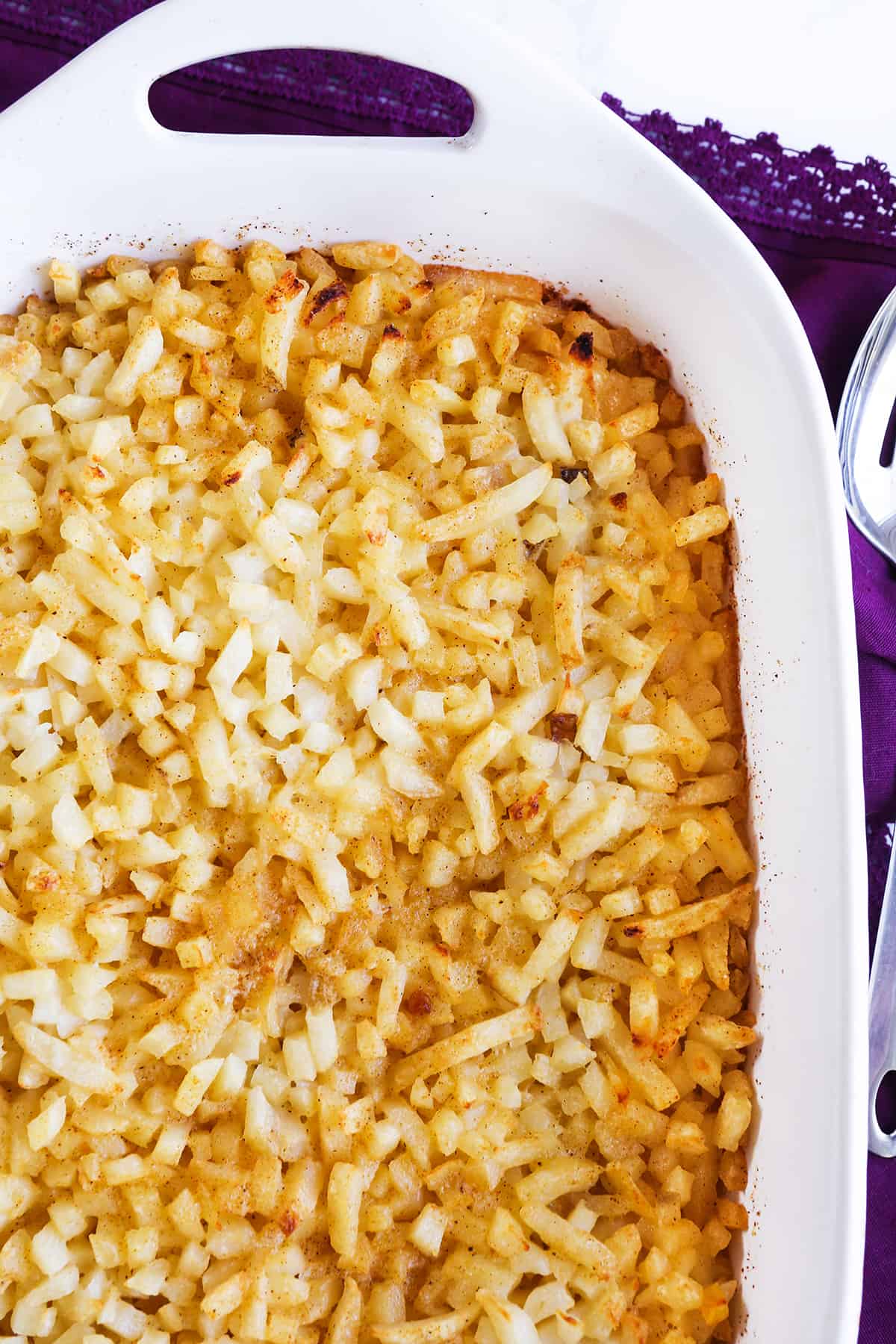 What to Serve With Hash Brown Casserole
This versatile casserole pairs well with many different types of food, spanning the course of breakfast, brunch and dinner. Below are just a few delicious options.
Breakfast and Brunch
Eggs – Eggs, cooked any way you desire, are the perfect food to hang out with your next potato casserole.
Bacon, sausage or ham – Breakfast meats such as bacon, sausage and ham taste great alongside this casserole.
Breakfast sandwiches – Breakfast sammies are the quintessential breakfast food and are a great option to go with this potato side.
Quiche – Any type of quiche pairs well with this recipe!
Breakfast burritos – Either toss a few scoops INTO your next breakfast burrito or serve alongside it.
Dinner Time
Steak – Potato casserole brings out the incredible flavor of a good steak!
Burgers – Hashbrown casserole is a humble food and tastes sooo good after a bite of a humble hamburger.
Pork chops – Pork and potatoes go perfectly together!
Grilled chicken or chicken tenders – Chicken tastes great with everything, right? This dish is no exception.
Salmon – This filling side dish tastes perfectly when paired with cooked salmon (grilled is my fave!).
Vegetables – Just about any veggie on the planet accompanies this side dish perfectly. Brussels sprouts, mushrooms, broccoli, zucchini, cauliflower, green beans and bell peppers are great choices.
Soup – Any type of soup will be a great addition!
Healthy Breakfast Pizza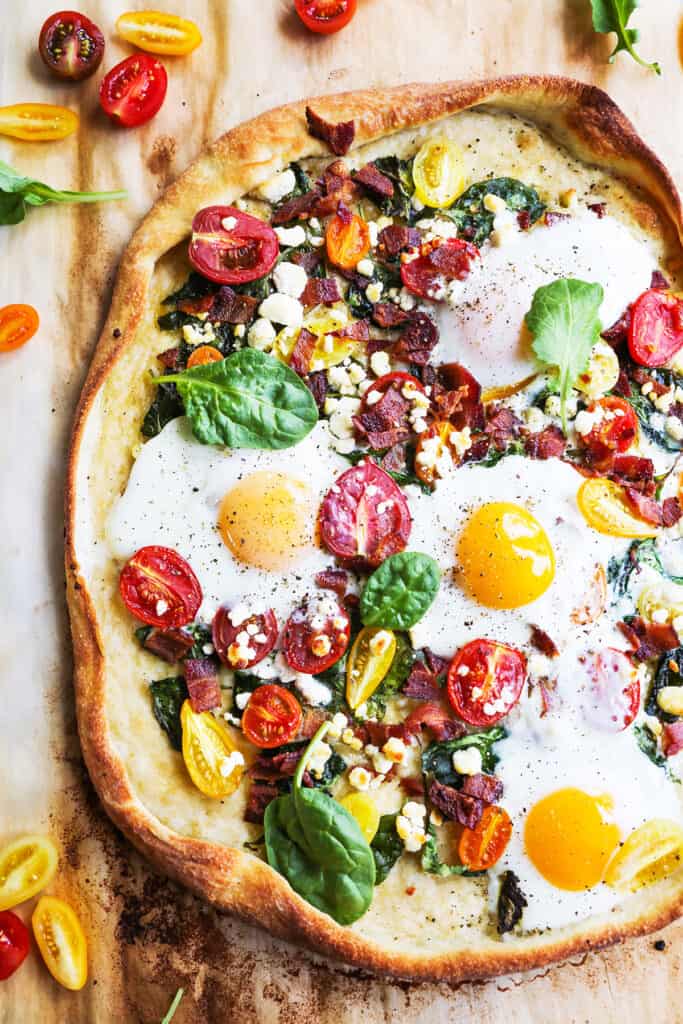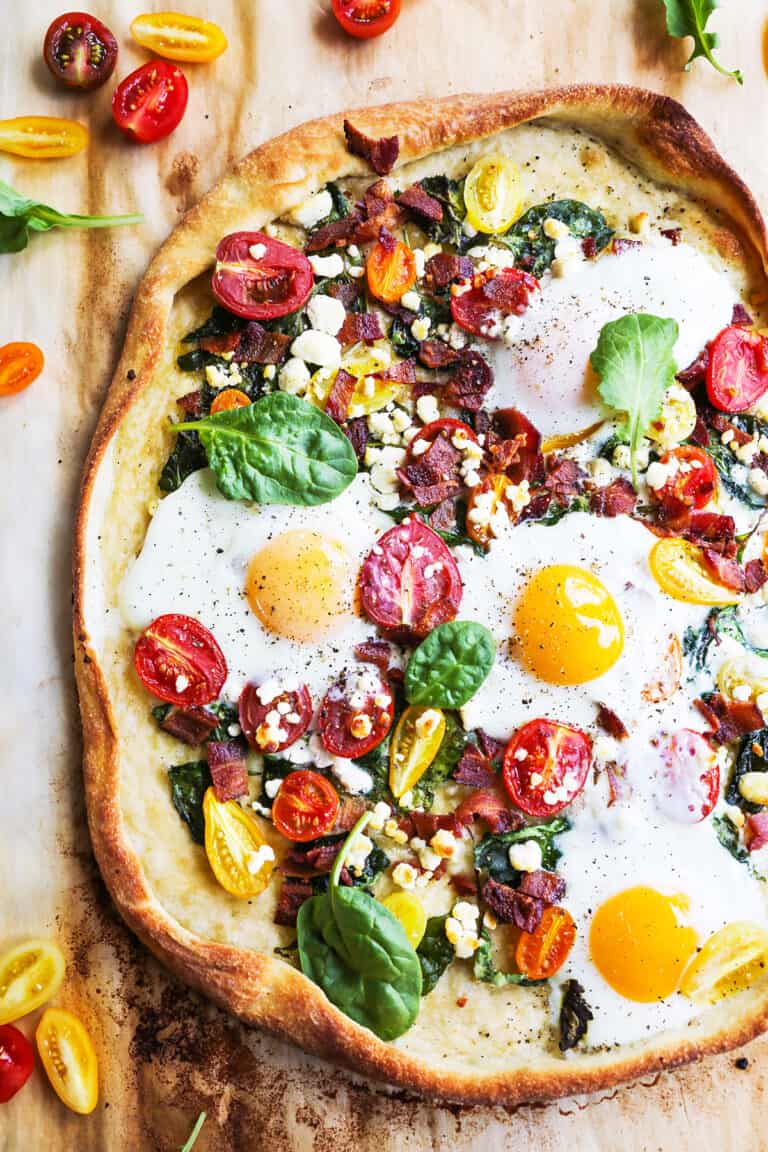 Enjoy breakfast in pizza form in just 20 minutes! Eggs, bacon, spinach and goat cheese are supremely delicious atop this healthy breakfast pizza recipe. This is a super fun way to start your day!
Chicken in White Wine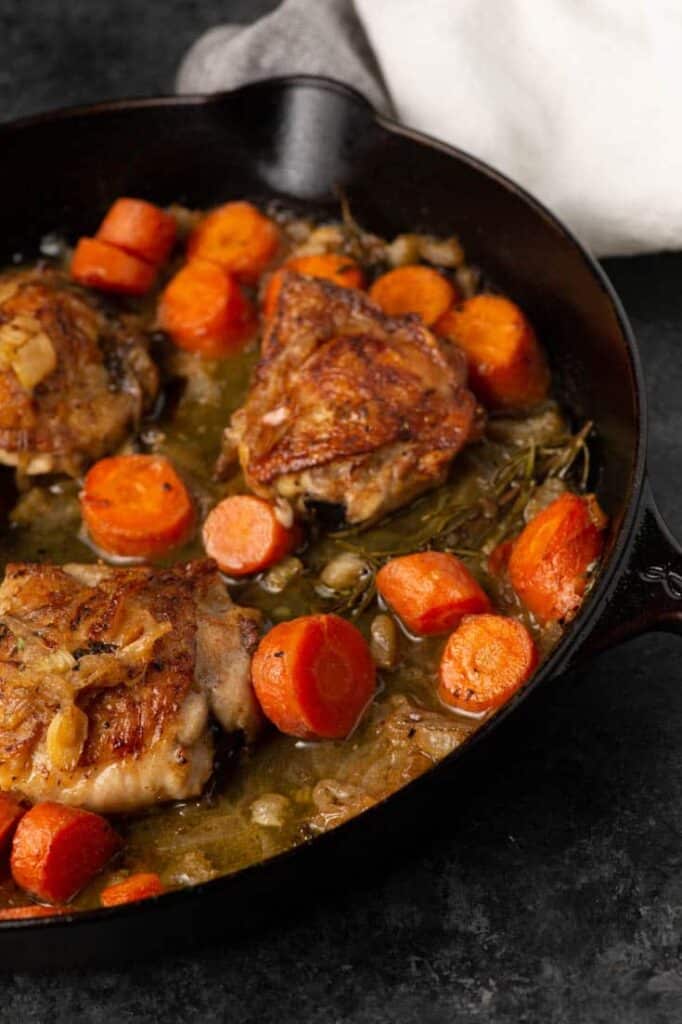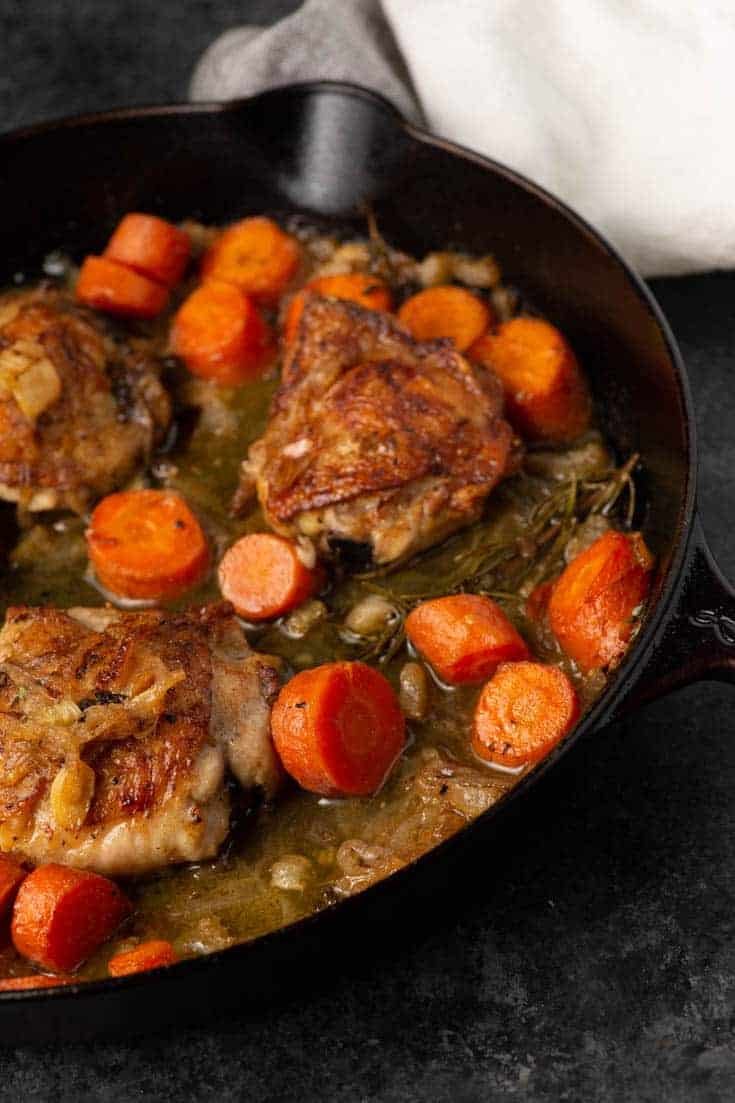 Weeknight chicken in white wine (from Butter and Baggage) is a one skillet meal you can throw together with just a few ingredients. Simple enough for a weeknight but too good not to share with friends.
Crockpot Ham with Pineapple Juice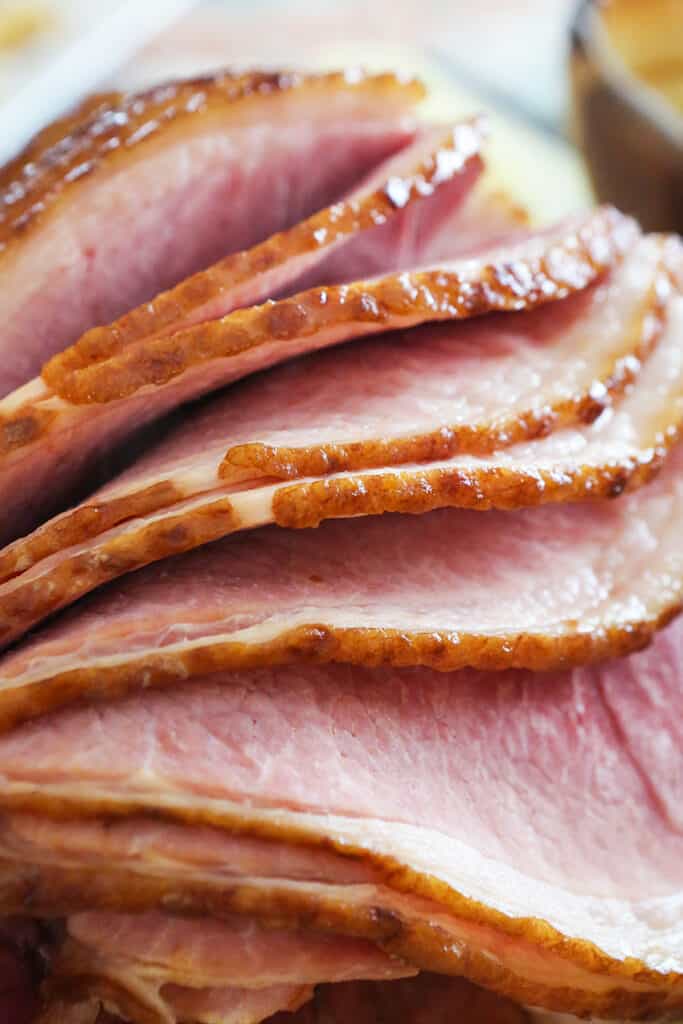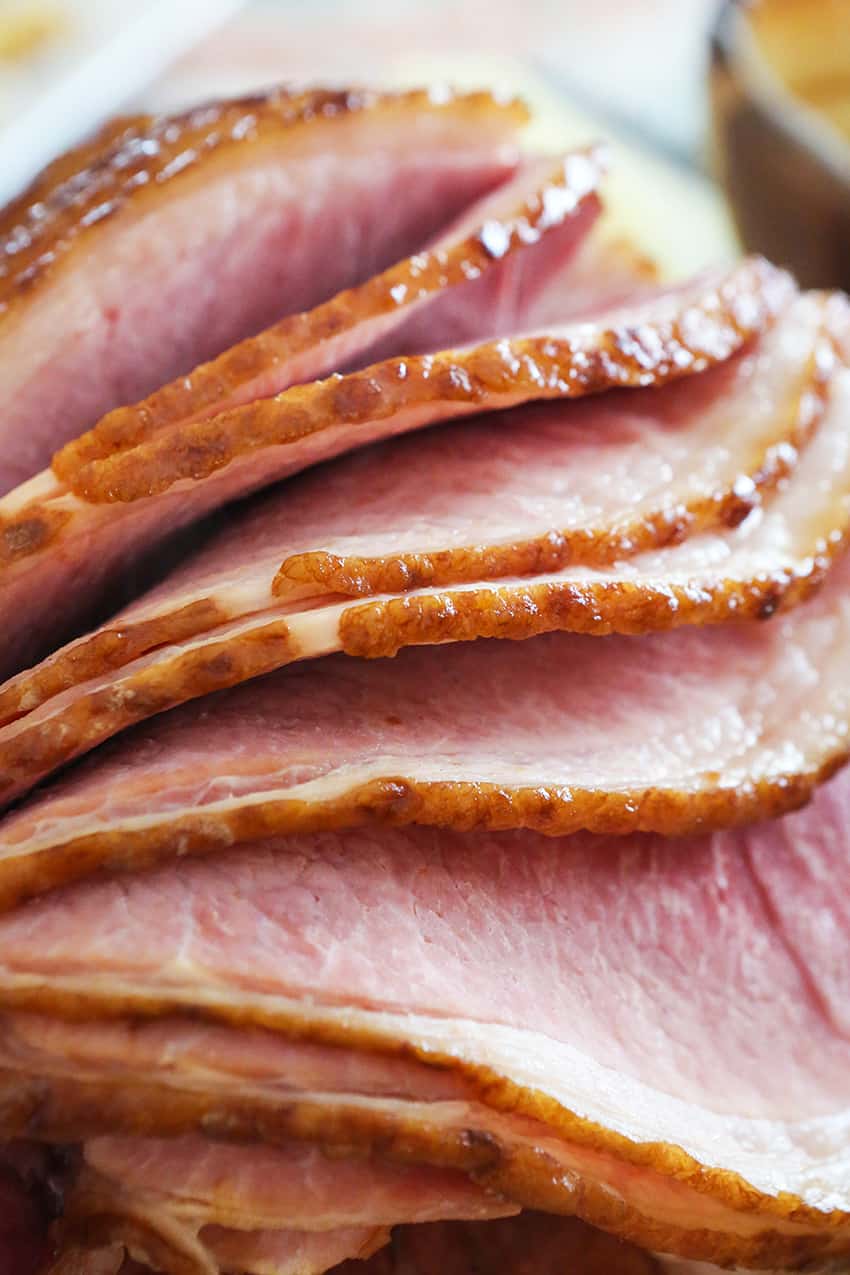 Crockpot Ham with pineapple juice is an easy way to throw together a holiday dinner or easy any-time meal. This recipe requires almost no effort on your end and turns out wonderful for dinner with the perfect glaze and all!
Oven Fried Chicken Breasts with Bacon Crumbs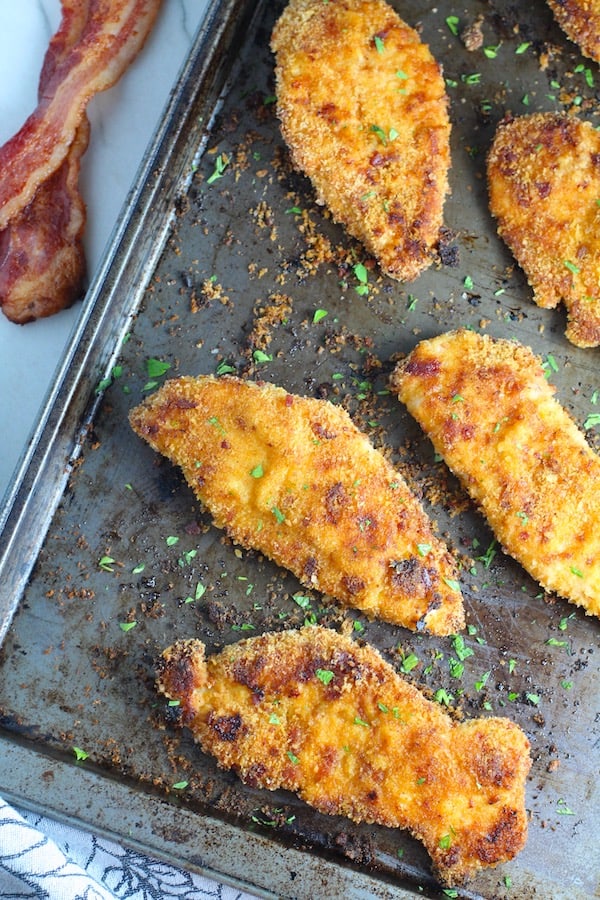 This is the ULTIMATE Family dinner that turns an ordinary chicken breast into an AWESOME treat! Easy to make and amazingly delicious, it's my Awesome Oven Fried Chicken Breast with Bacon Crumbs and Honey (from Talking Meals)! I mean, c'mon it sounds pretty fantastic, right? It's healthier because it's baked, not fried, but still gives you all of the crispy, crunchy goodness!
Soft Pretzel Bites Recipe with Ham and Cheese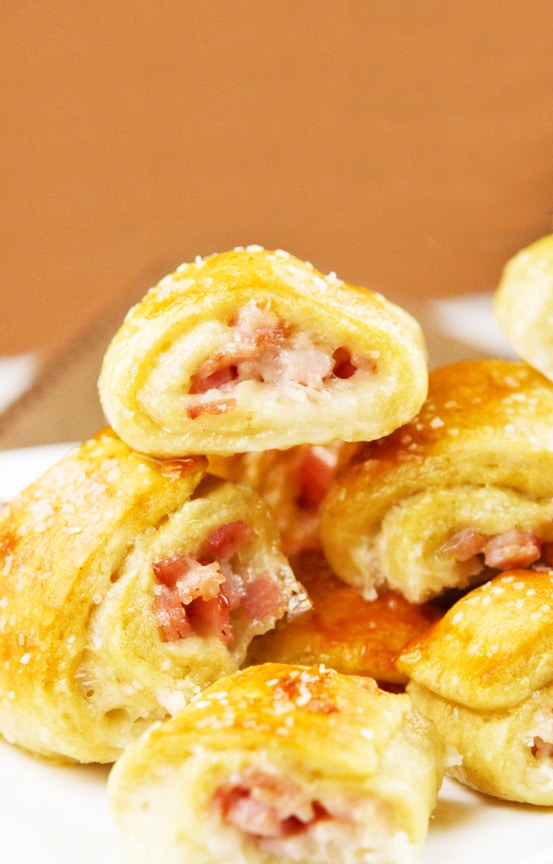 This delicious soft pretzel bites recipe is the PERFECT party or game day food! Don't be intimidated by the cooking process. It's way easier than it looks! You will not be disappointed.
Cheesy Keto Ground Beef Casserole with Spinach and Mushrooms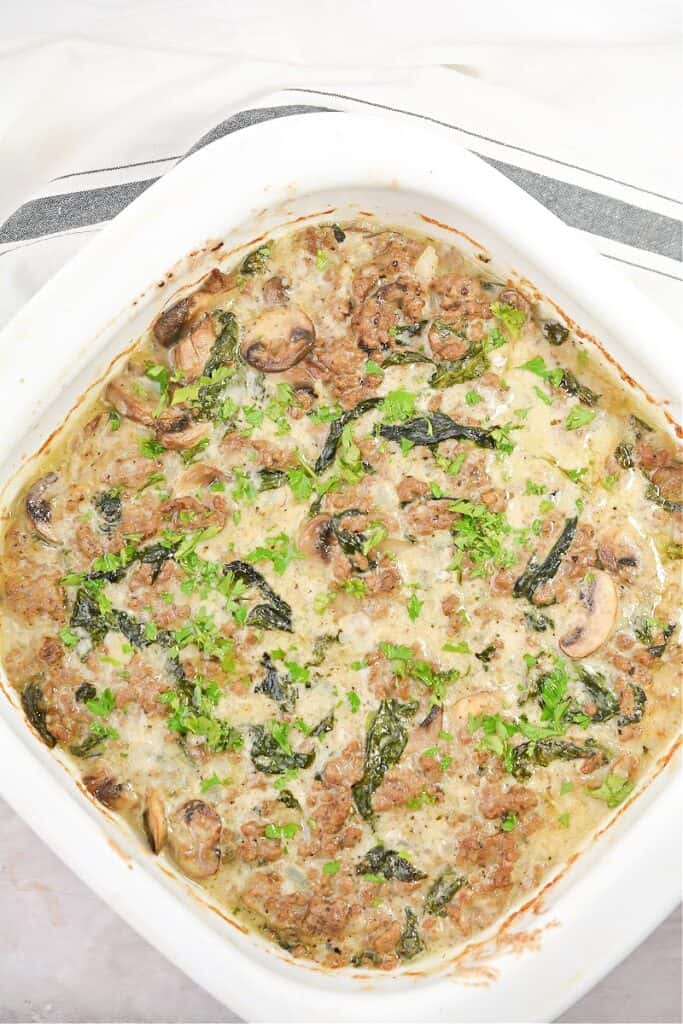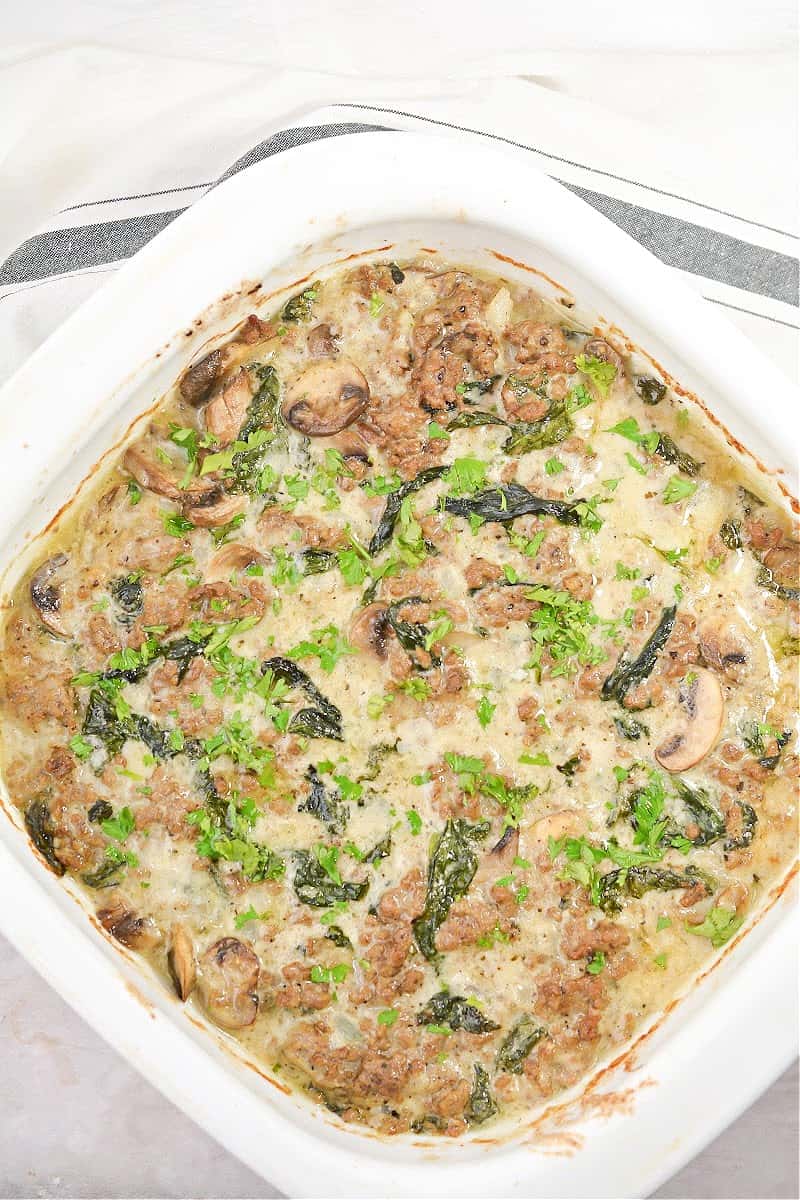 This cheesy keto ground beef casserole (from Stylist Cravings) is perfect for your family dinner! It is full of healthy spinach and mushrooms and kids love it.
Best Pulled Pork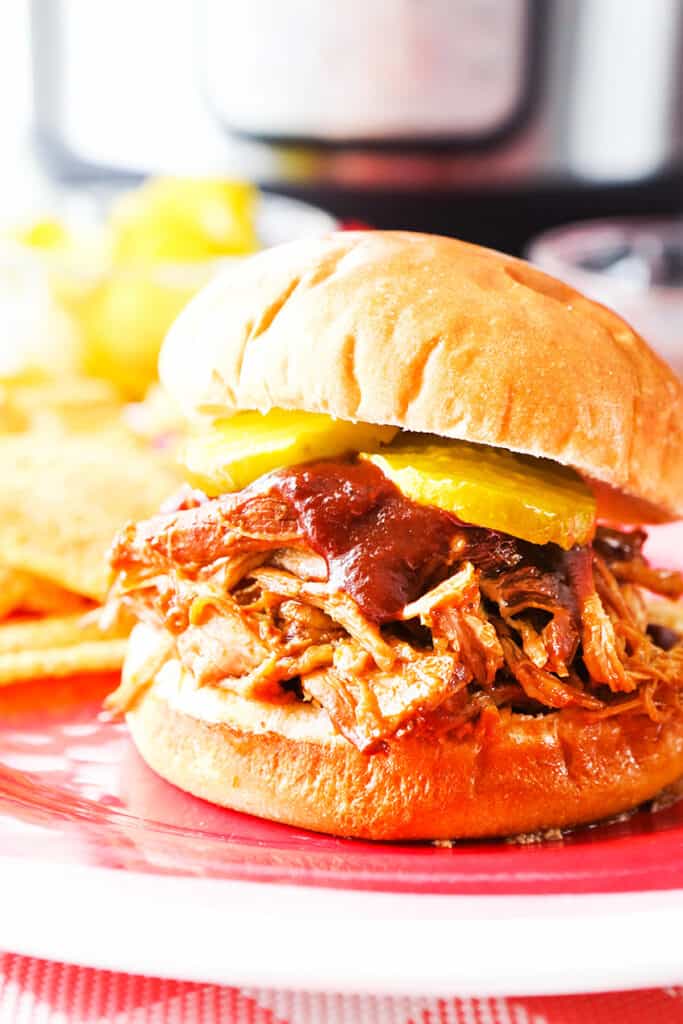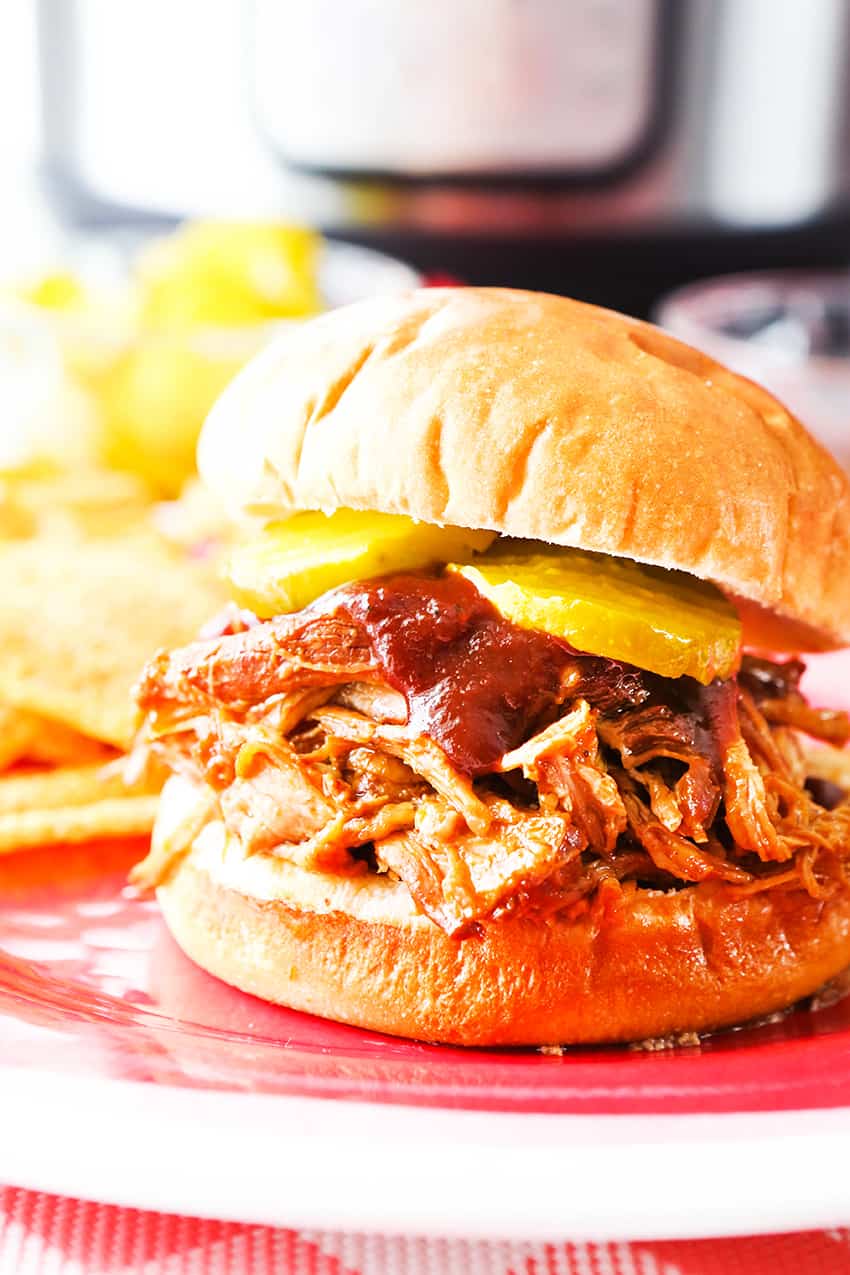 This is the best pulled pork crock pot recipe and it requires only 4 ingredients minimal effort. Dinner could not get any easier than this! Spoon into hamburger buns and serve at your next gathering or for family dinner this week.
Lemon Basil Chicken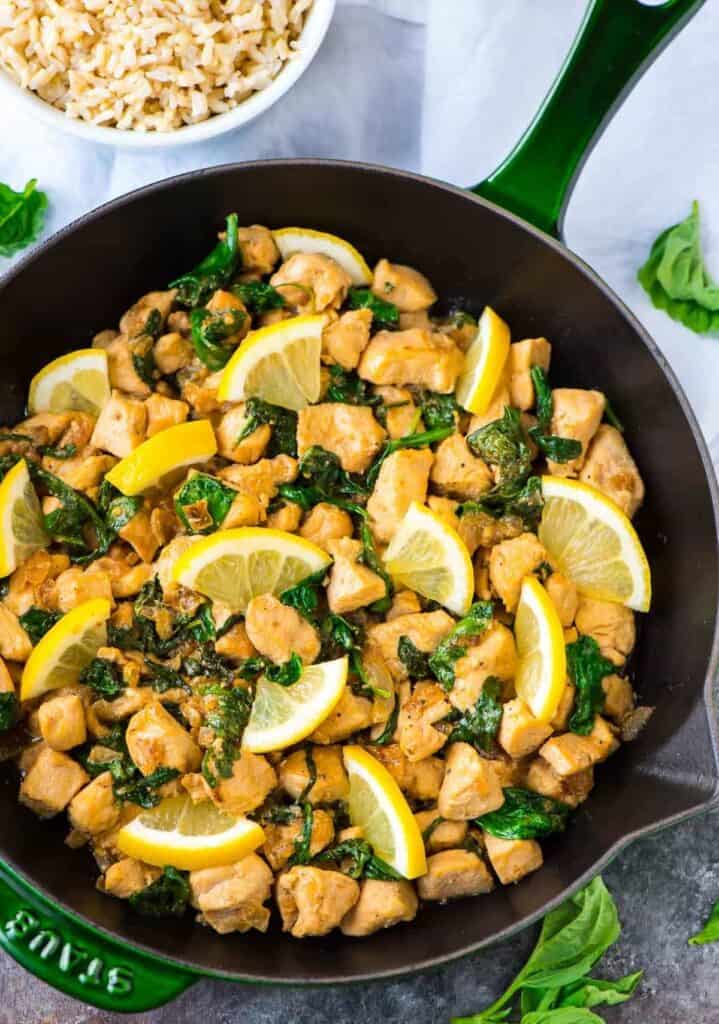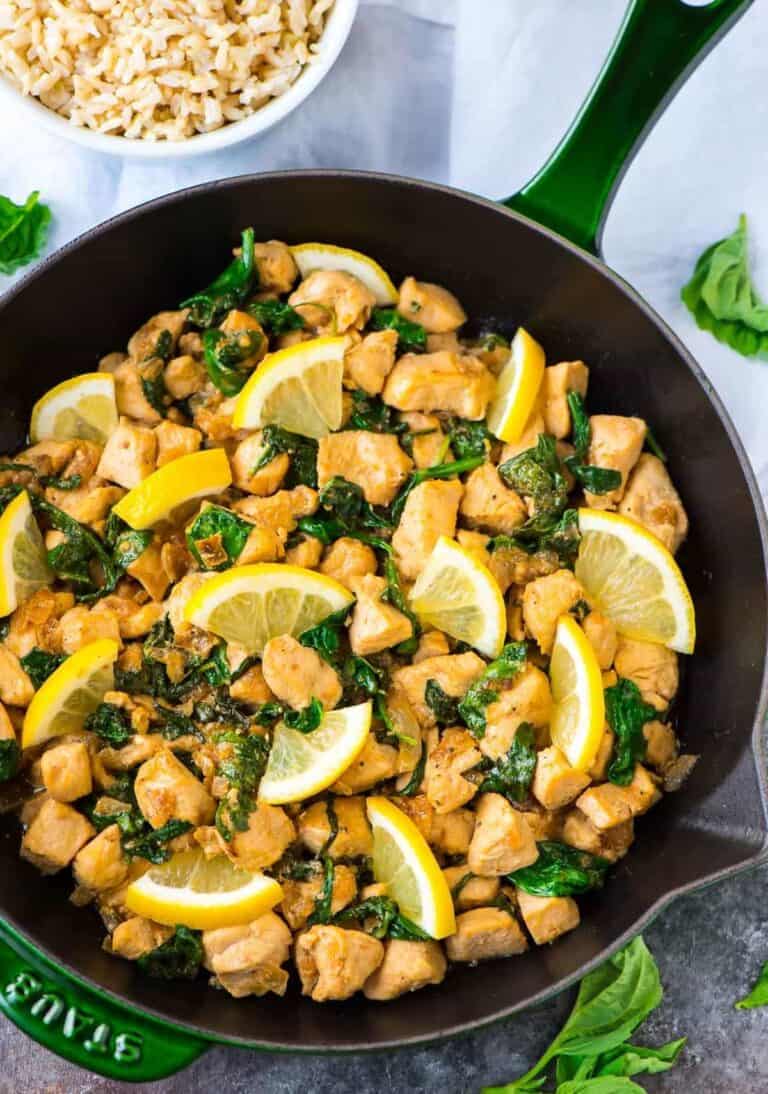 Busy families appreciate quick and easy dinners like this Lemon Basil Chicken (from Well Plated) even more so than usual. Chunks of juicy chicken stir-fried with garlic, fresh lemon, and basil, this recipe requires hardly 5 minutes of prep and can be on your plate in 20.
Best Instant Pot Ribs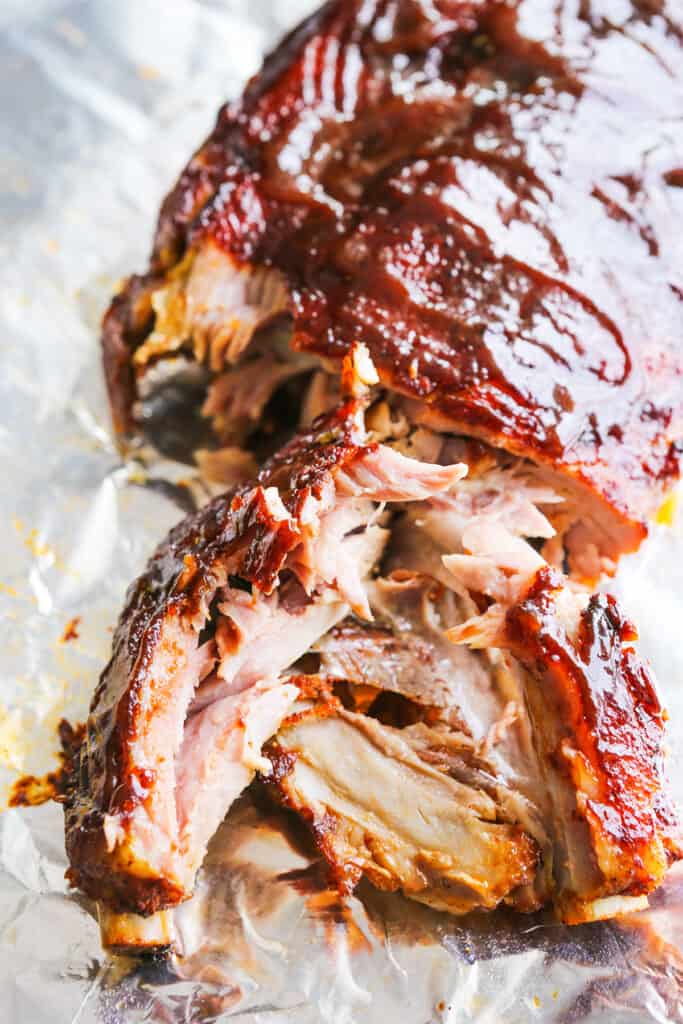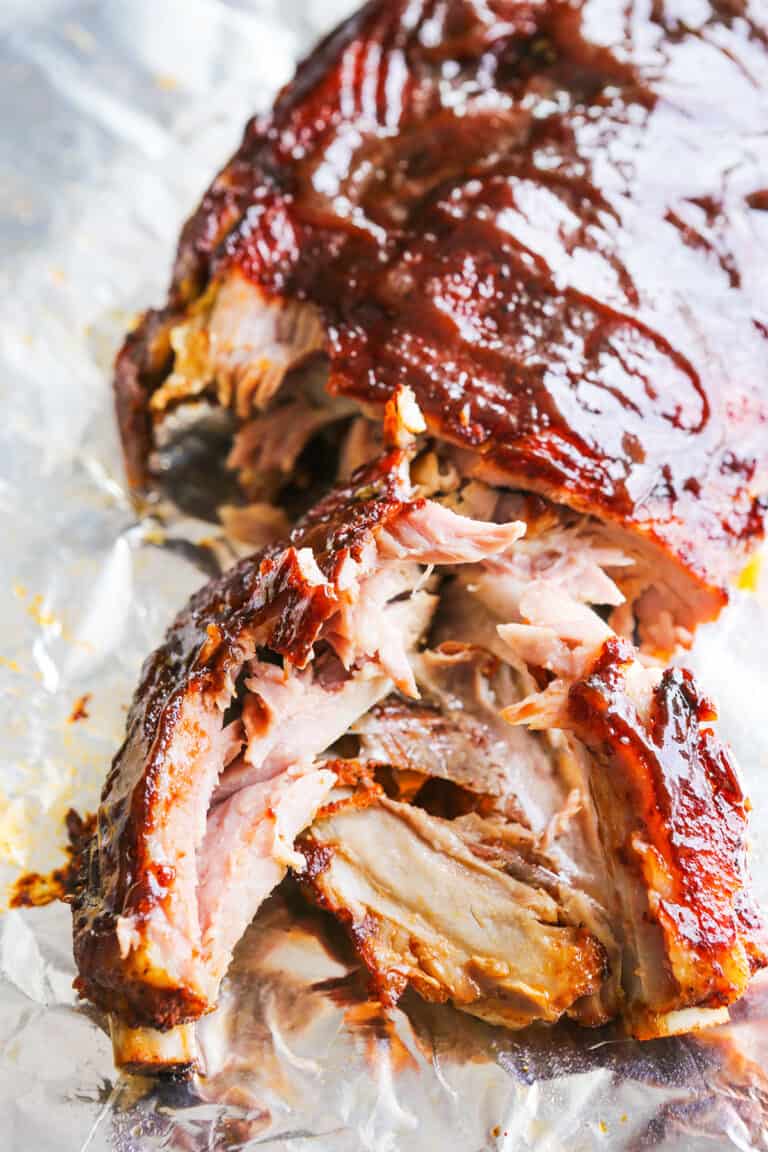 These are the best Instant Pot ribs and they make for an easy, meaty meal! The meat is fall off the bone tender. Makes a super, easy weeknight meal or a fun summer bbq addition!
Pavochon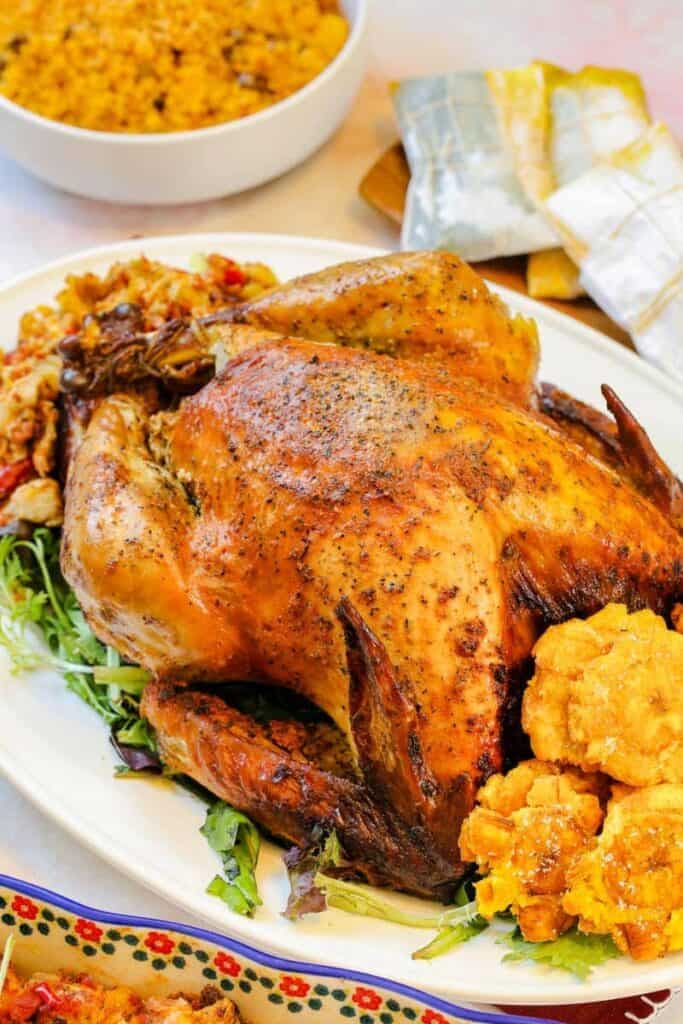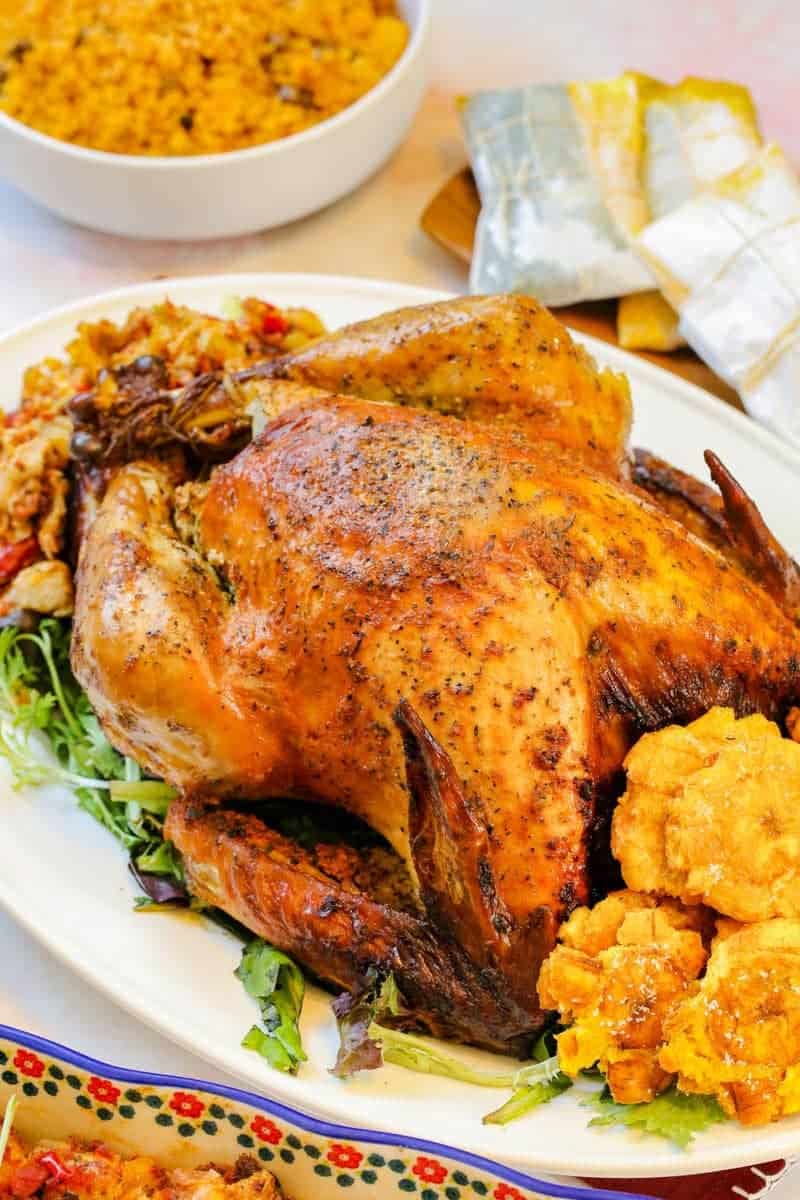 Pavochon (from Latina Mom Meals) is the star dish on any Puerto Rican Thanksgiving menu. Zesty, vibrant, and slightly crispy, pavochon is a great alternative to traditional turkey if you're looking for juicy turkey recipes!
Five Guys Burger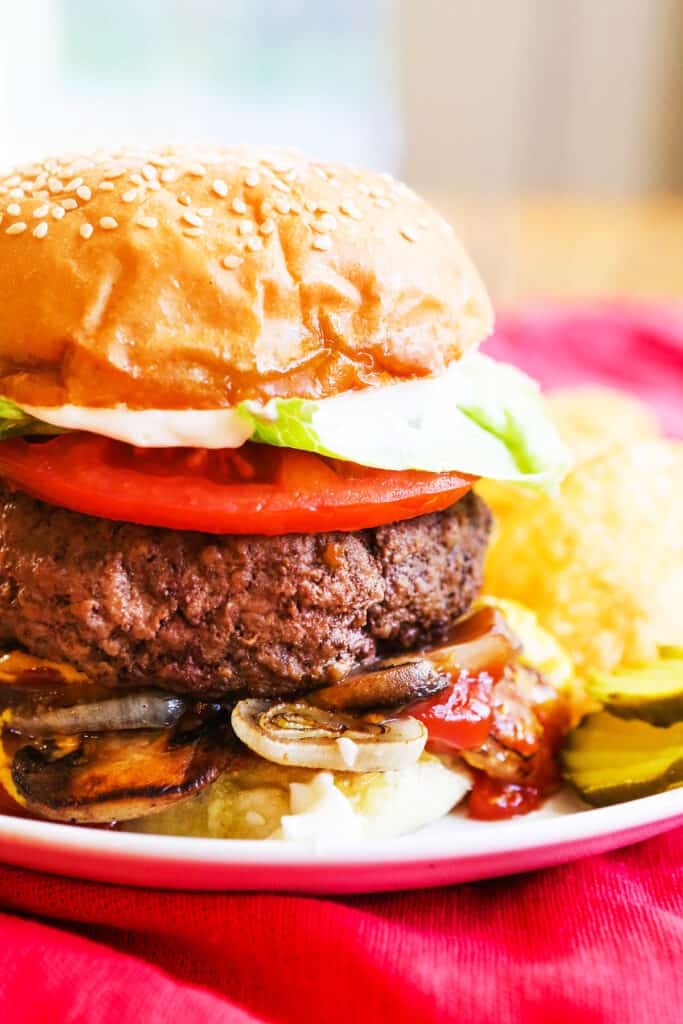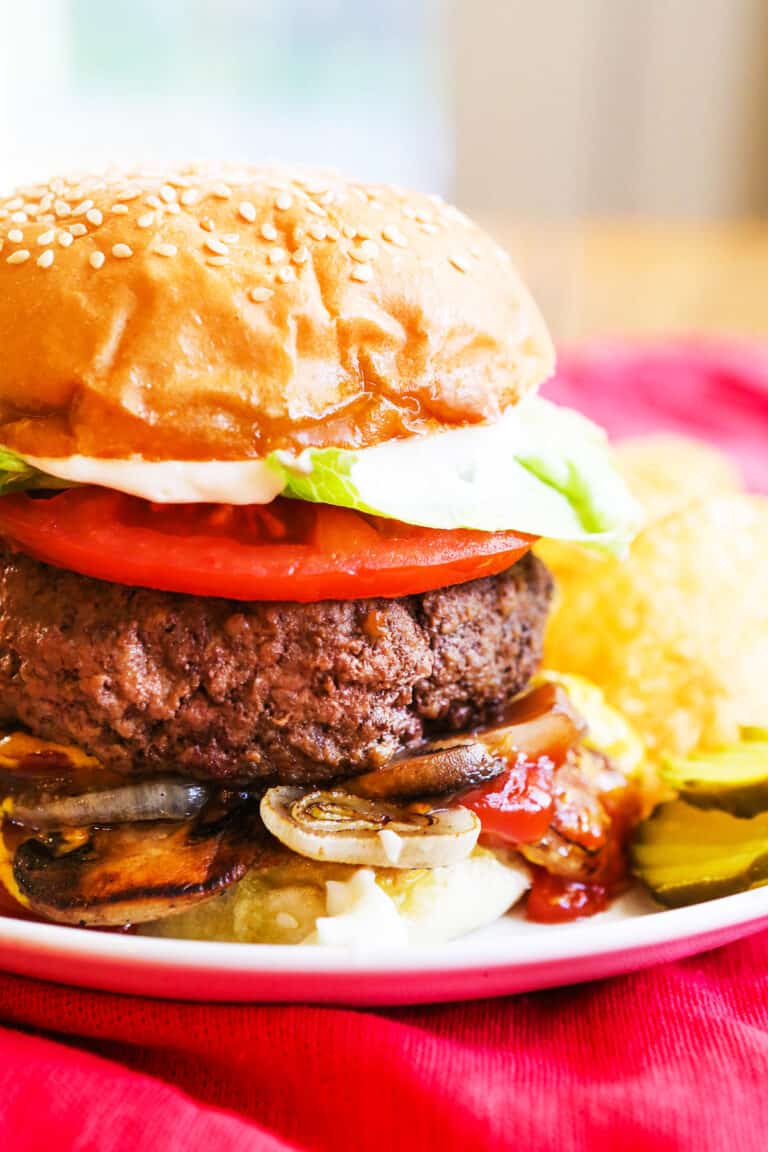 Enjoy the famous Five Guys burger recipe in the comfort of your own home in just 20 minutes. This copycat recipe is the real thing and requires just a few simple ingredients.
Sausage Egg Cheese Breakfast Sandwich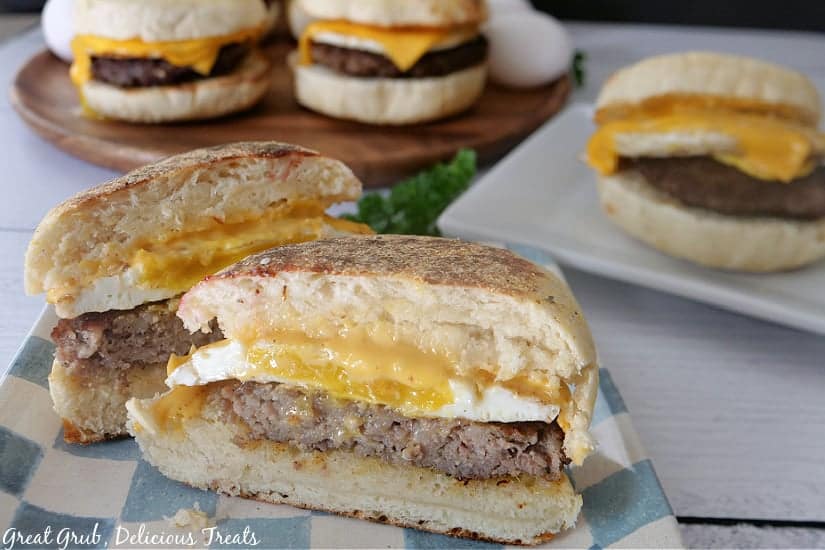 Breakfast sandwiches are a great way to start the day. Loaded with meat, eggs, and cheese, these sandwiches get your day started right with a huge punch of protein to carry you through the morning. Today, I'm showing you how to make the best sausage, egg, and cheese breakfast sandwich (from Great Grub, Delicious Treats) you'll ever eat.
Instant Pot Grilled Chicken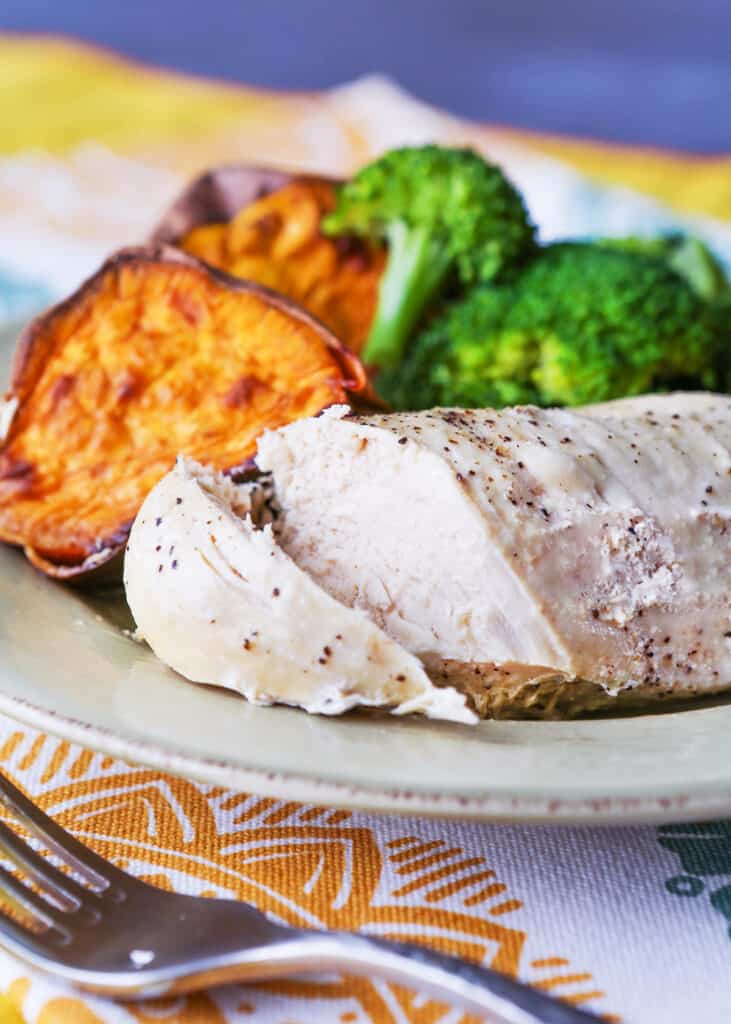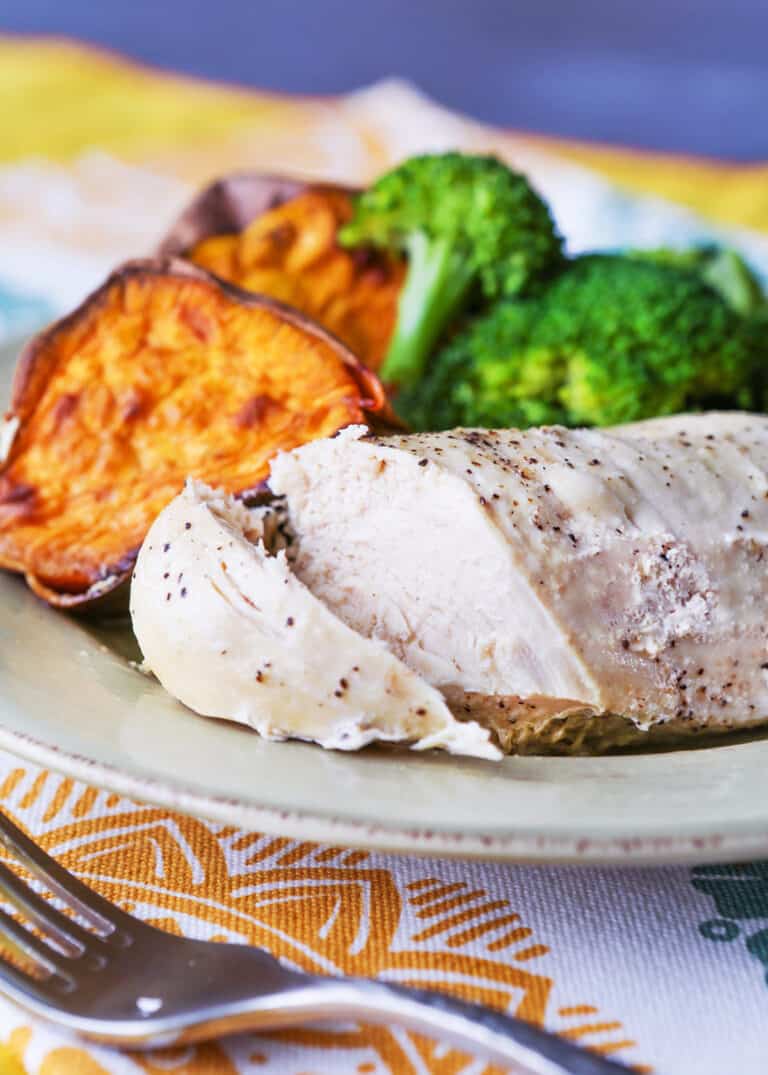 You can cook Instant Pot grilled chicken to simulate the tender, perfect chicken that comes from the grill. Start with thawed or frozen to create the most delicious chicken you will ever make.
Apple Cider Vinegar Caramelized Onion Grilled Cheese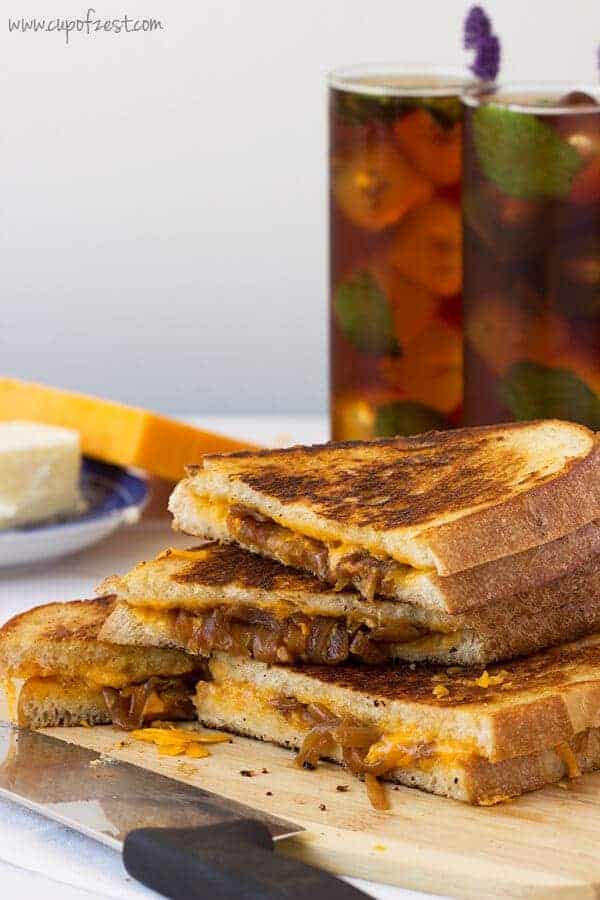 This apple cider vinegar caramelized onion grilled cheese (from Cup of Zest) is packed with melt in your mouth onions and tons of flavor…make it now and pop it into your mouth!
Veggie Stromboli Calzone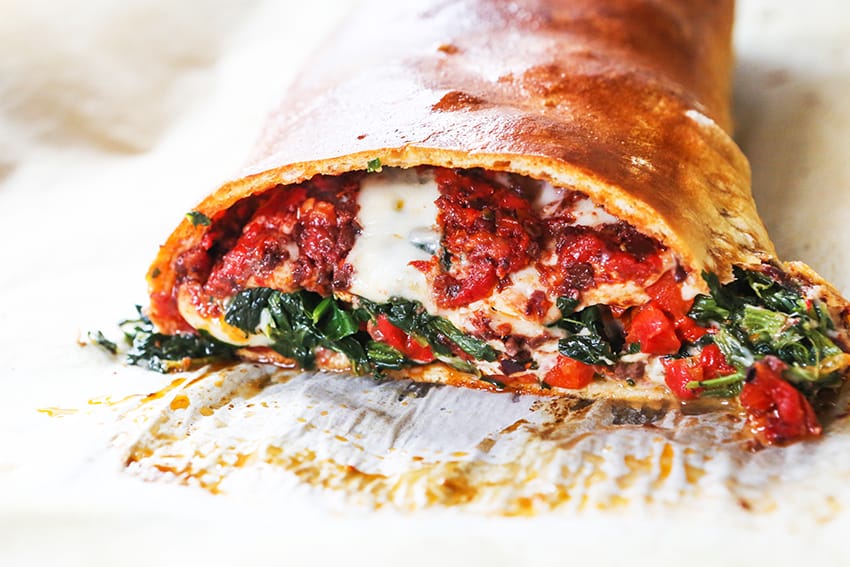 Veggie stromboli calzone will make guests rave, or make it for family dinner! Tuck your favorite pizza ingredients into yummy pizza dough.
Yoshoku: Beef Tongue Stew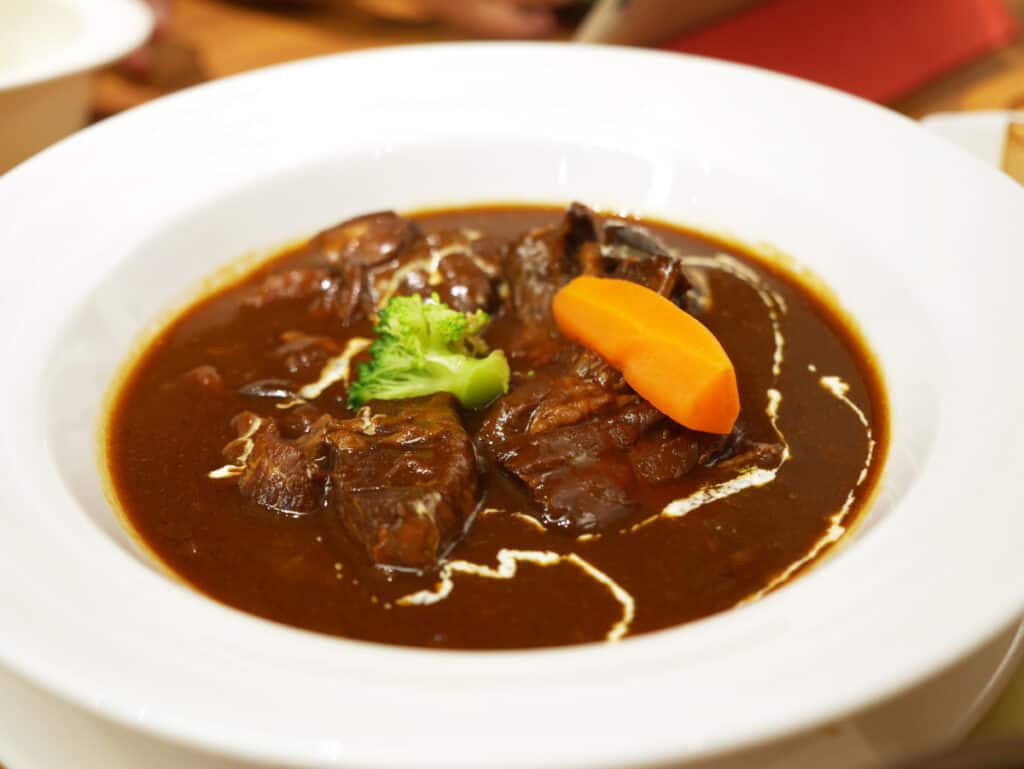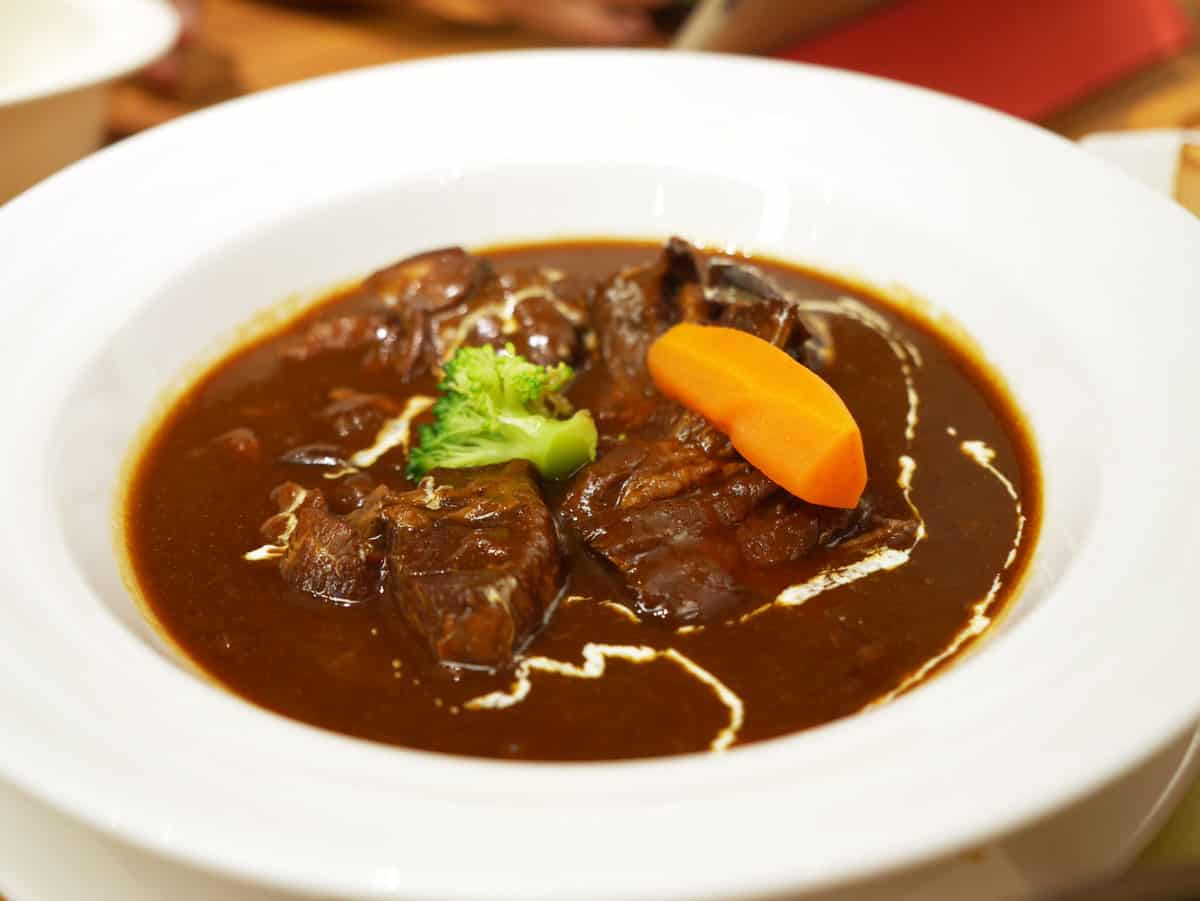 When Japan opened its doors to the outside world at the advent of the Meiji period in 1868, it also opened its doors to the outside world and its kitchens. As all things Western became the rage, a unique (and lasting) food trend emerged.
Known as yoshoku, it comprised Western dishes with a Japanese twist, often served with silverware, linen tablecloths, and napkins. Up to the mid-twentieth century, yoshoku was defined by such dishes as omelettes, breaded beef cutlets, crab croquettes, hayashi (hashed beef) rice, and a few classier dishes such as tongue stew (from Thanks For The Meal).