Meatloaf is such an American classic comfort food and a delicious meal that the whole family will love. If you aren't sure which side dishes to serve alongside your meatloaf dinner, we have put together a roundup of 51 delicious options to choose from for those busy weeknights!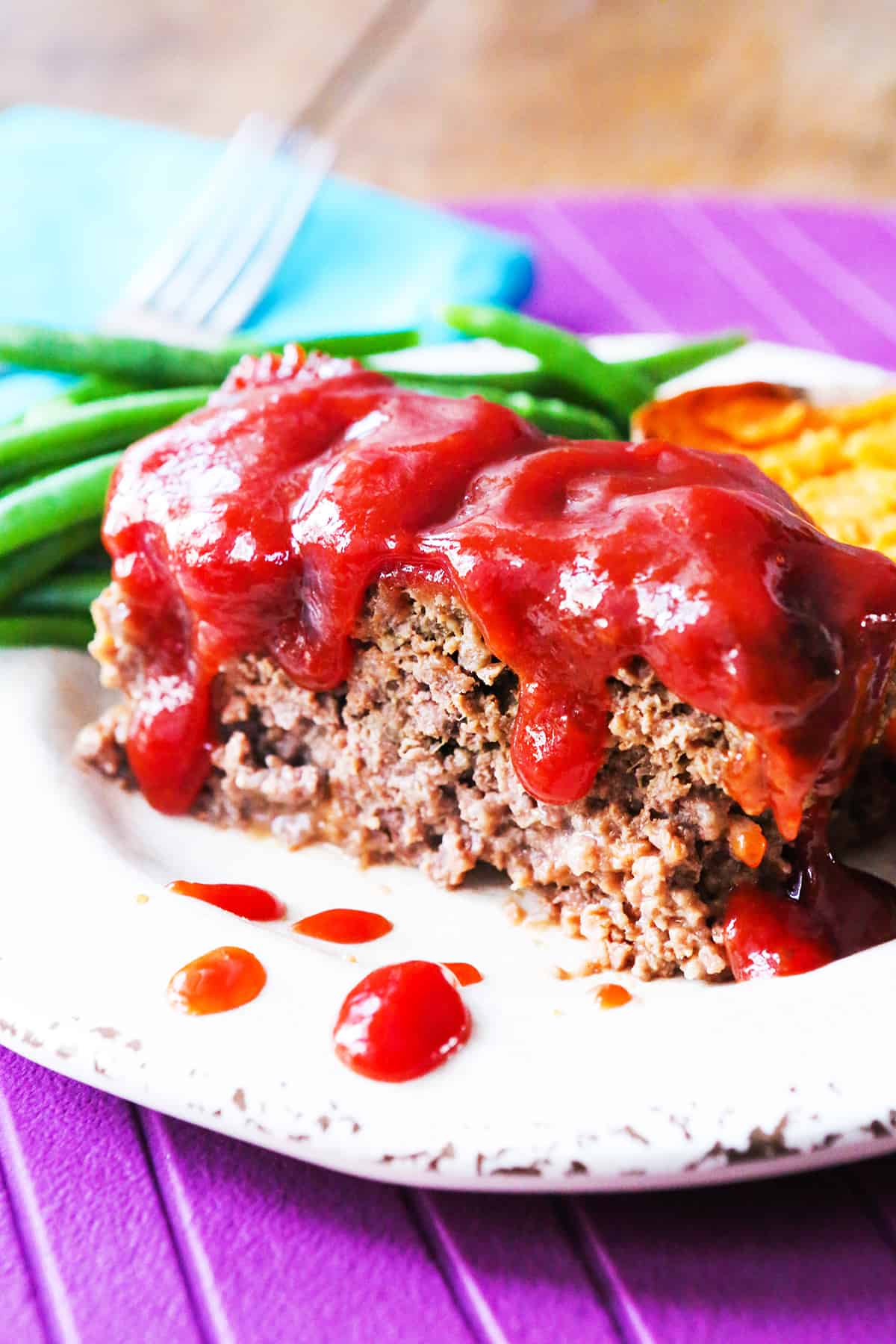 Growing up, my mom's meatloaf recipe was one of my favorite meals of all time. It has since become a favorite dish for my own family and one of the most popular recipes on this blog (and all for very good reason).
It does tend to be one of those dishes that leads to the question, "What to serve WITH meatloaf?!" Read on for an ultimate roundup of meatloaf side dishes that will answer this question for you, so you can serve a well-rounded and delicious meal to your loved ones.
FAQ About Meatloaf
Why does my meatloaf fall apart?
Letting it sit for at least 15 minutes after pulling it out of the oven is a vital step if you wish to keep your meal intact. The egg and crackers will work their magic and hold the meatloaf together, but it may fall apart if you slice too soon.
Meatloaf cook time?
If you are wondering about cooking times for cooking meatloaf all the way through, it takes an entire hour and a half. Make sure to place the pan on a rimmed baking sheet before putting it into the oven!
What should meatloaf internal temp be?
To ensure your meatloaf is fully cooked, stick a meat thermometer into the center. You will want to achieve an internal temperature of 160 degrees F.
What meat is best for meatloaf?
Meatloaf turns out great when any variety of ground meat is used. Keep in mind that the fattier the meat (beef or sausage), the more grease will hang out in the bottom of the pan. Leaner meats such as ground turkey or even venison still produce a delicious end result!
Why put crackers in meatloaf?
The purpose of adding crackers to meatloaf is to help the mixture stick together (along with eggs!). They also add flavor to the final dish. Just be sure not to add too many cracker crumbs or the opposite problem can happen: your meatloaf may fall apart.
Can I use crackers instead of breadcrumbs for meatloaf?
You can use equal parts cracker crumbs to replace bread crumbs in just about any meatloaf recipe. Be sure the cracker crumbs are finely ground or the meatloaf may have issues with falling apart.
Best Meatloaf Recipes
What To Do With Leftovers
Make meatloaf tacos.
Add to a batch of chili, yum!
Create leftover meatloaf sandwiches, obviously!
Crumble it up and throw into spaghetti sauce to create leftover meatloaf spaghetti.
Break into pieces and add it to your next batch of nachos.
Build a few meatball subs, substituting meatballs for chunks of meatloaf.
Substitute for Bread Crumbs in Meatloaf
Whether you are looking for a gluten-free replacement or you just don't have bread crumbs on hand, learn what to substitute for bread crumbs in this dish!
How To Make The Best Homemade Meatloaf
Use my mom's meatloaf recipe as your guide. This is THE BEST recipe out there, hands down.
Be absolutely sure to place the loaf pan with meatloaf inside on a rimmed baking sheet before you put it in the oven. At times it can bubble over and I really don't want to be the reason your oven caught on fire.
To save yourself from having to clean an extra dish, place parchment paper on top of the baking tray.
Be careful not to over mix! Mix until all ingredients are just combined. Over-mixing can create a different, denser texture.
To avoid an extra greasy meatloaf, use a leaner meat like ground turkey or even venison! Ground beef meat loaf is incredible, but I promise the flavor is still super amazing no matter which type of meat you use in the recipe.
Top with this red sauce recipe made with jam, brown sugar and ketchup to transform your next loaf.
Let the meatloaf rest for a minimum of 15 minutes after it comes out of the oven. If you slice into it too soon, it will fall apart. Heed this important warning!
The most accurate way to determine if chicken is done cooking is by using a Thermapen. (<—-affiliate link) Insert the thermometer into the center of the loaf to get a good reading. The internal temp should read 160 degrees F when it is done.
Use leftover meatloaf to make next-day sandwiches! Use any remaining sauce, ketchup or barbecue sauce as a spread.
---
What To Serve With Meatloaf – Perfect Side Dish Options
Leafy green or chopped salad
Mashed potatoes or potato casserole
Cooked pasta or pasta salad
White or brown rice
Potato chips, French fries, potato wedges, tater tots or sweet potato fries
Baked Russet or sweet potatoes
Riced or mashed cauliflower
Roasted potatoes or sweet potatoes
Fresh vegetables of any variety such as broccoli, green beans, carrots, Brussels sprouts, asparagus, cauliflower or creamed spinach
Potato salad
Any savory soup
Edamame or quinoa salad
Cucumber and tomato salad
Any variety of cheesy pasta such as Crockpot Mac and Cheese
Feta Cheese Mashed Potatoes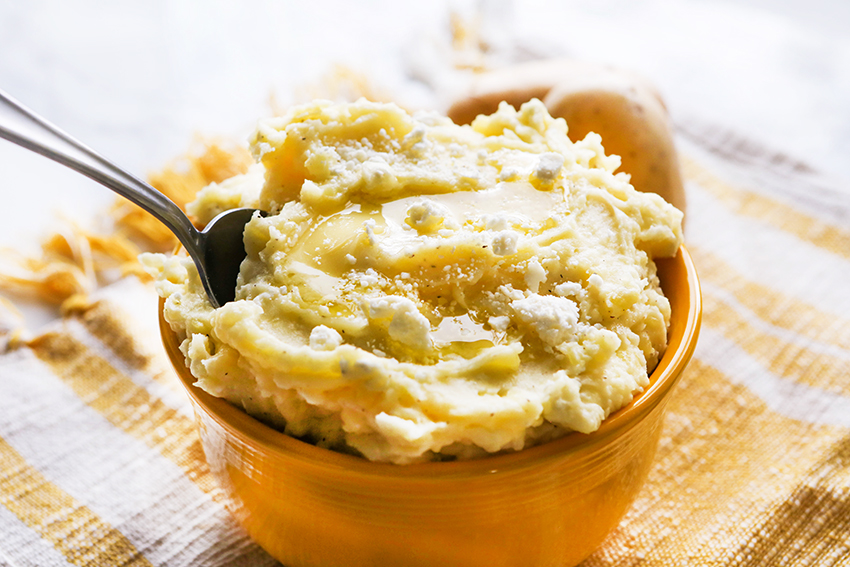 Mashed potatoes are a holiday staple, but also a delicious, classic side dish option for any meal any time of the year. I love a good standard mashed potato recipe, but adding feta cheese allows you to change up the flavors of this comforting side dish. Make this Feta Cheese Mashed Potato recipe for your next meal!
Loaded Potato Casserole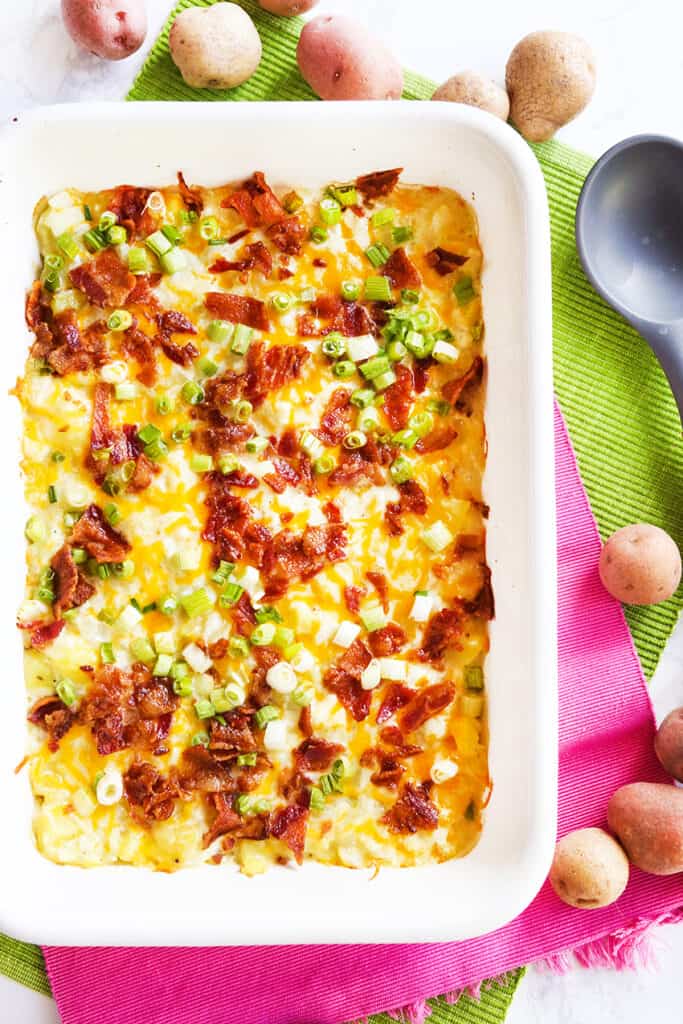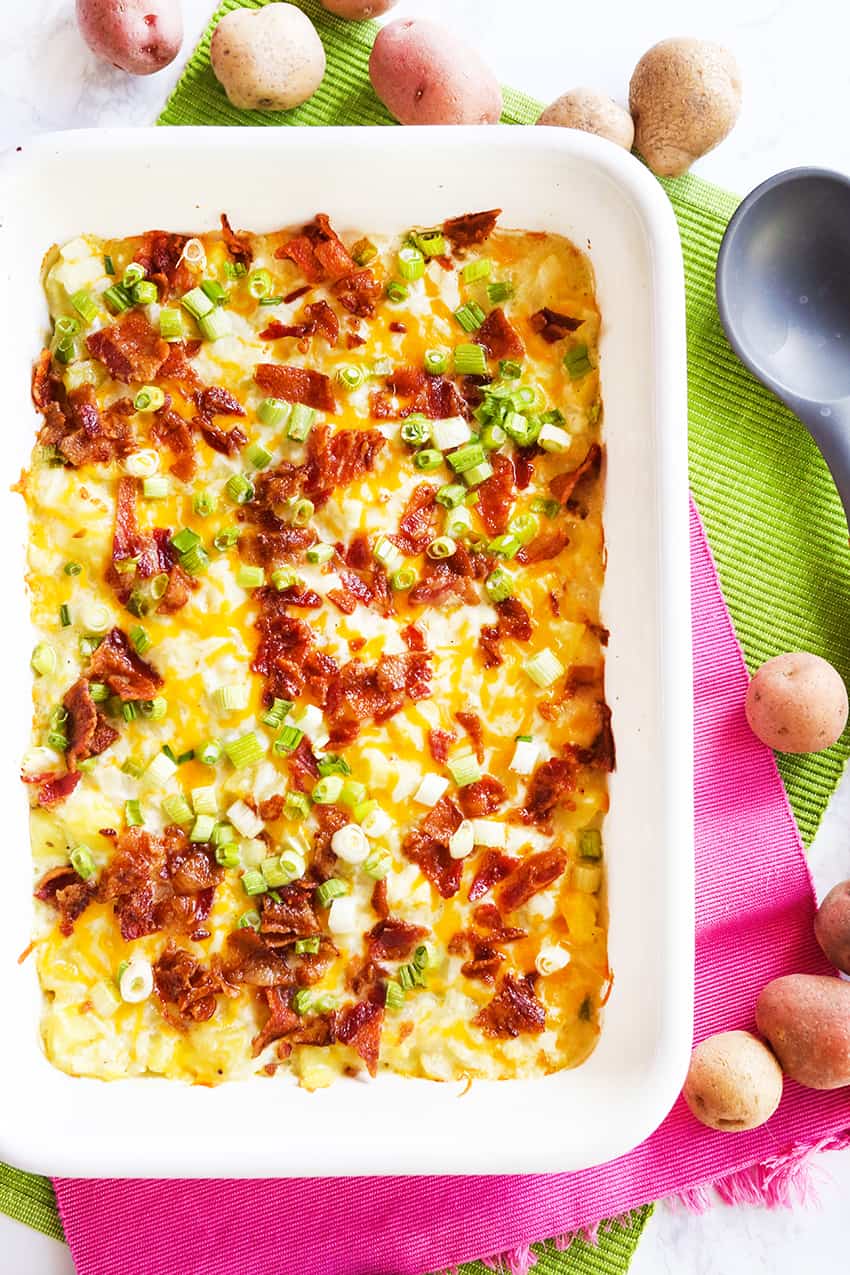 This easy, cheesy potato casserole is loaded with all the savory goodies! Make this side dish any night of the week. Top with baked potato toppings of your choice!
Cauliflower Fried Rice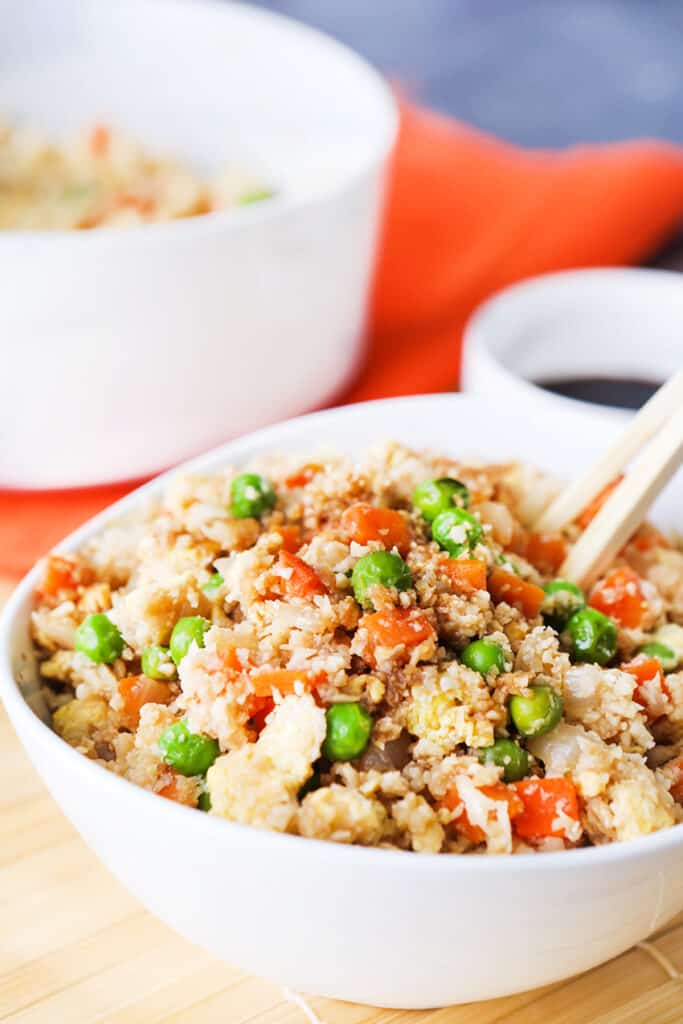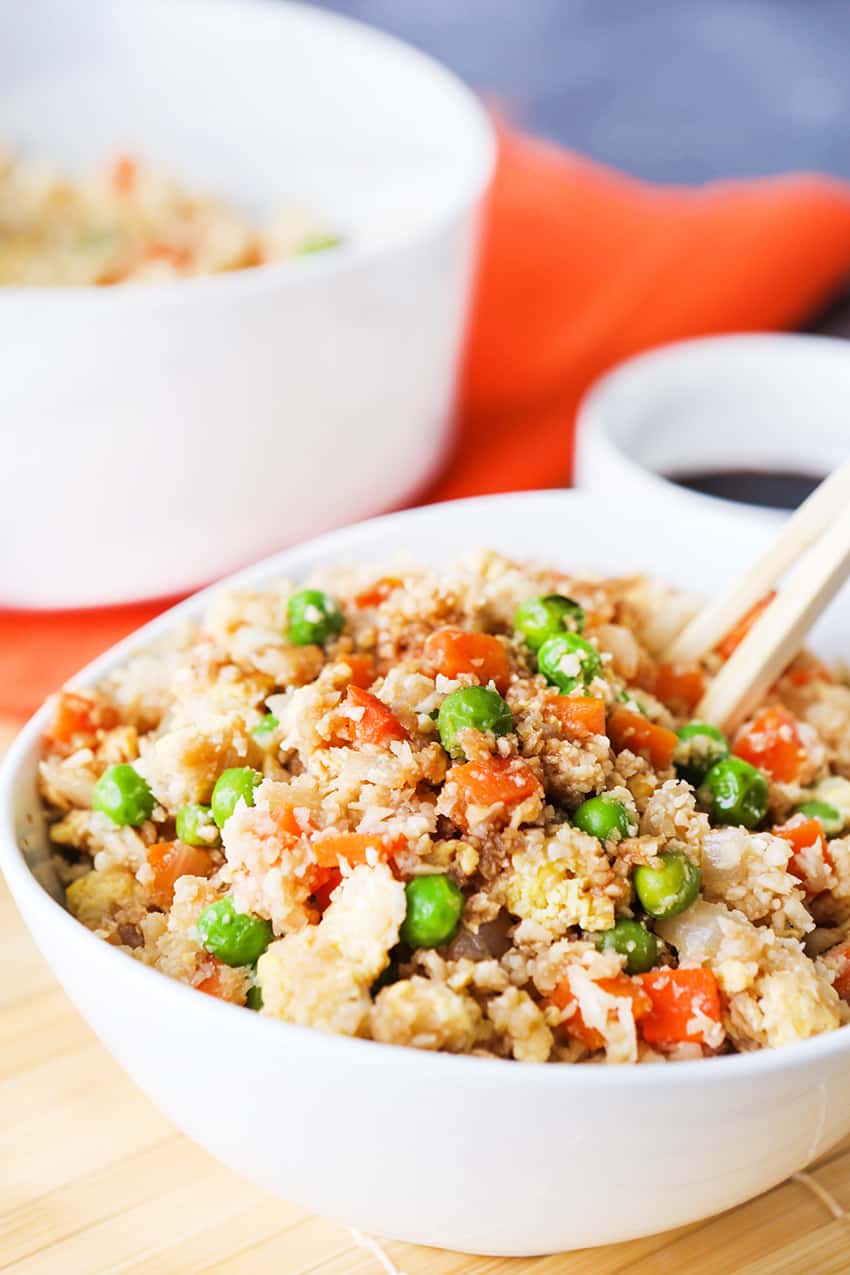 Cauliflower Fried Rice is a low carb version of the classic Chinese take-out favorite. Serve as a side with any meal and no one will know cauliflower is involved! This tasty little side dish is done in less than 30 minutes and is packed with flavor. Tastes great solo with a splash of soy sauce or as a side dish to any meal.
Chopped Salad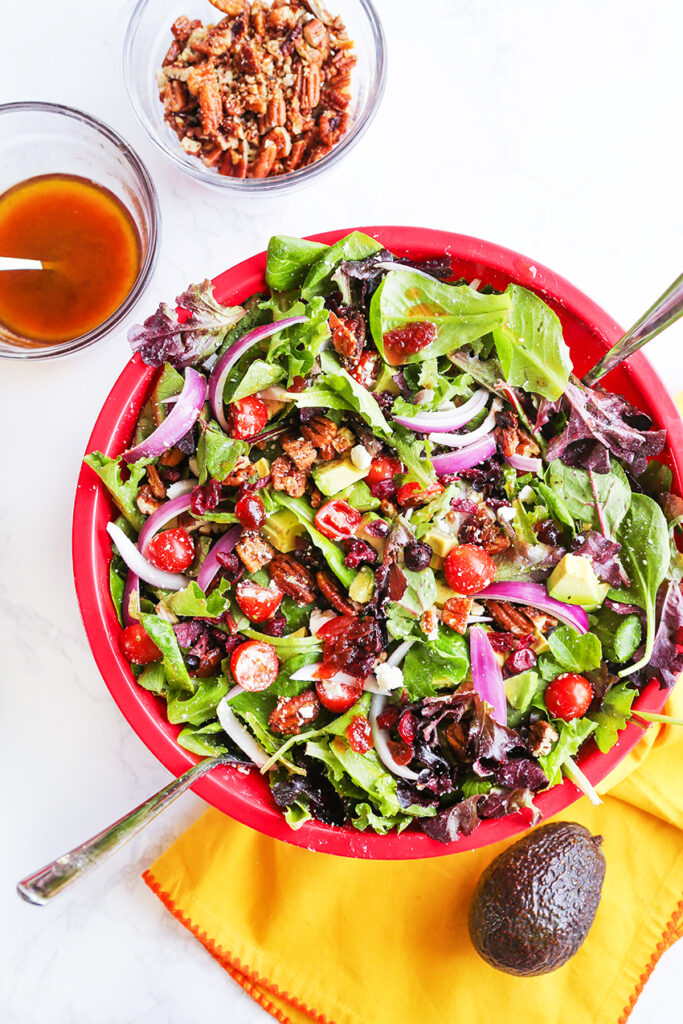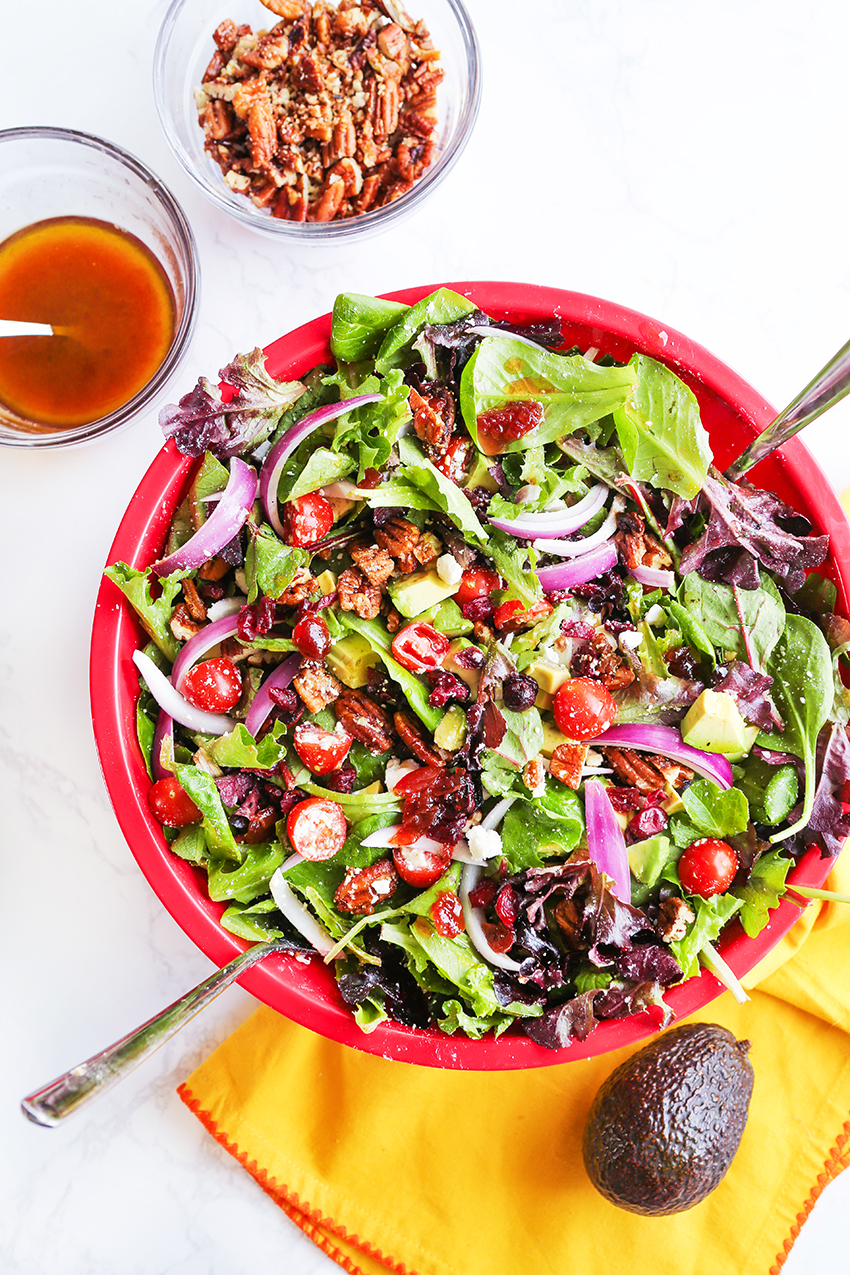 This is the best chopped salad recipe you'll find. It makes a large batch to enjoy for lunch throughout the week or serve at your next gathering. Top the salad with lemon zest or lemon juice for an extra dose of freshness!
Instant Pot Steamed Green Beans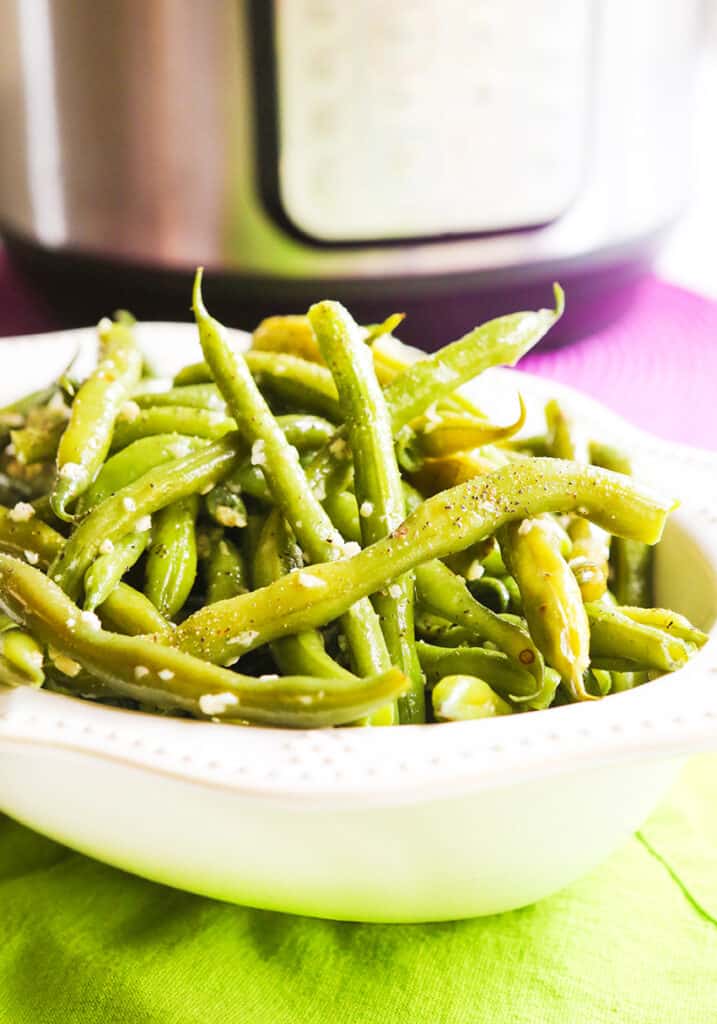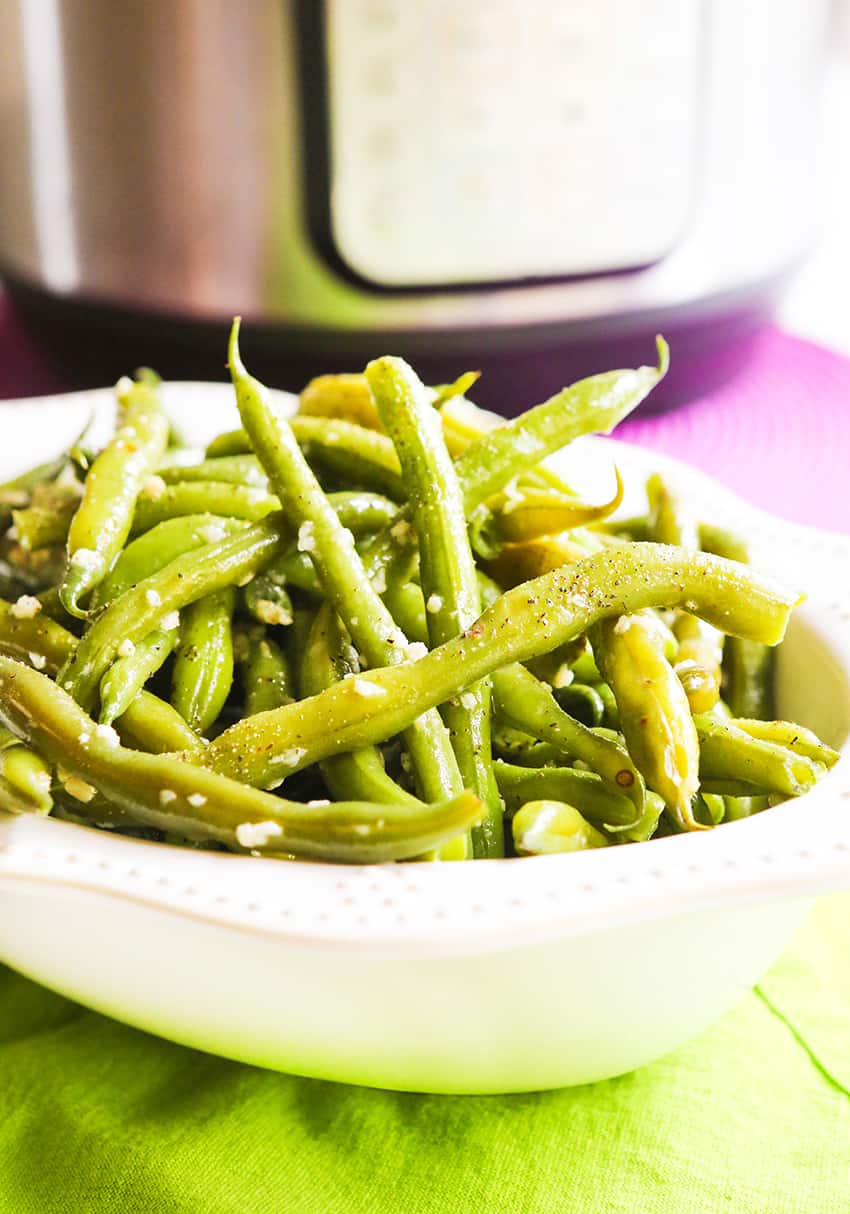 Free up space on your stove top by preparing Instant Pot steamed green beans quickly and perfectly! Enjoy these crunchy-tender, healthy beans as a side dish for any meal. They cook perfectly every single time!
Crockpot Green Bean Casserole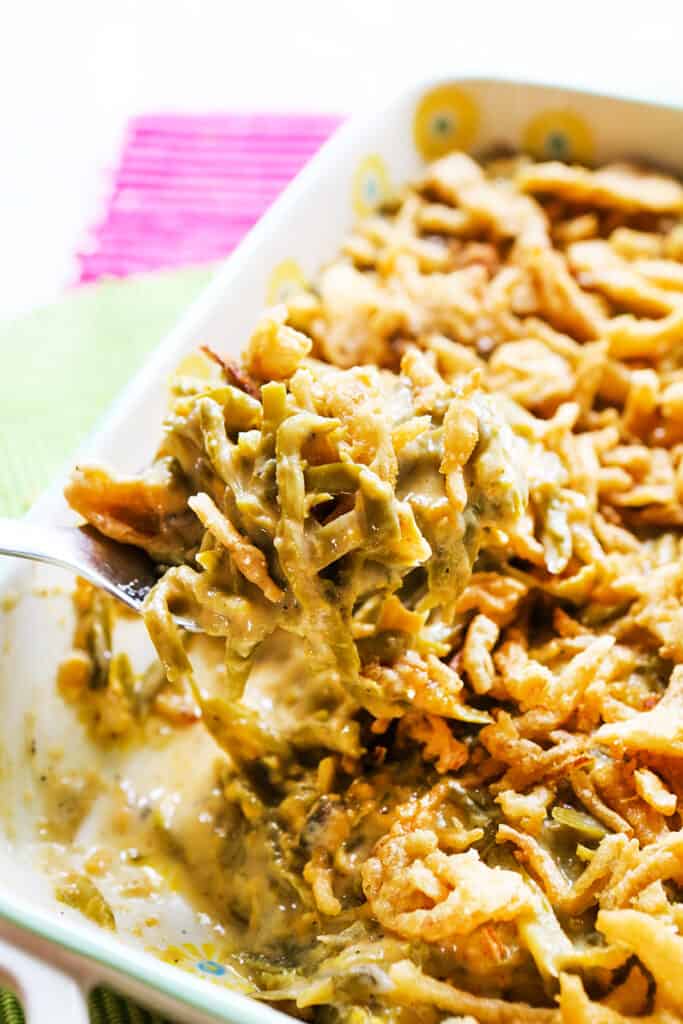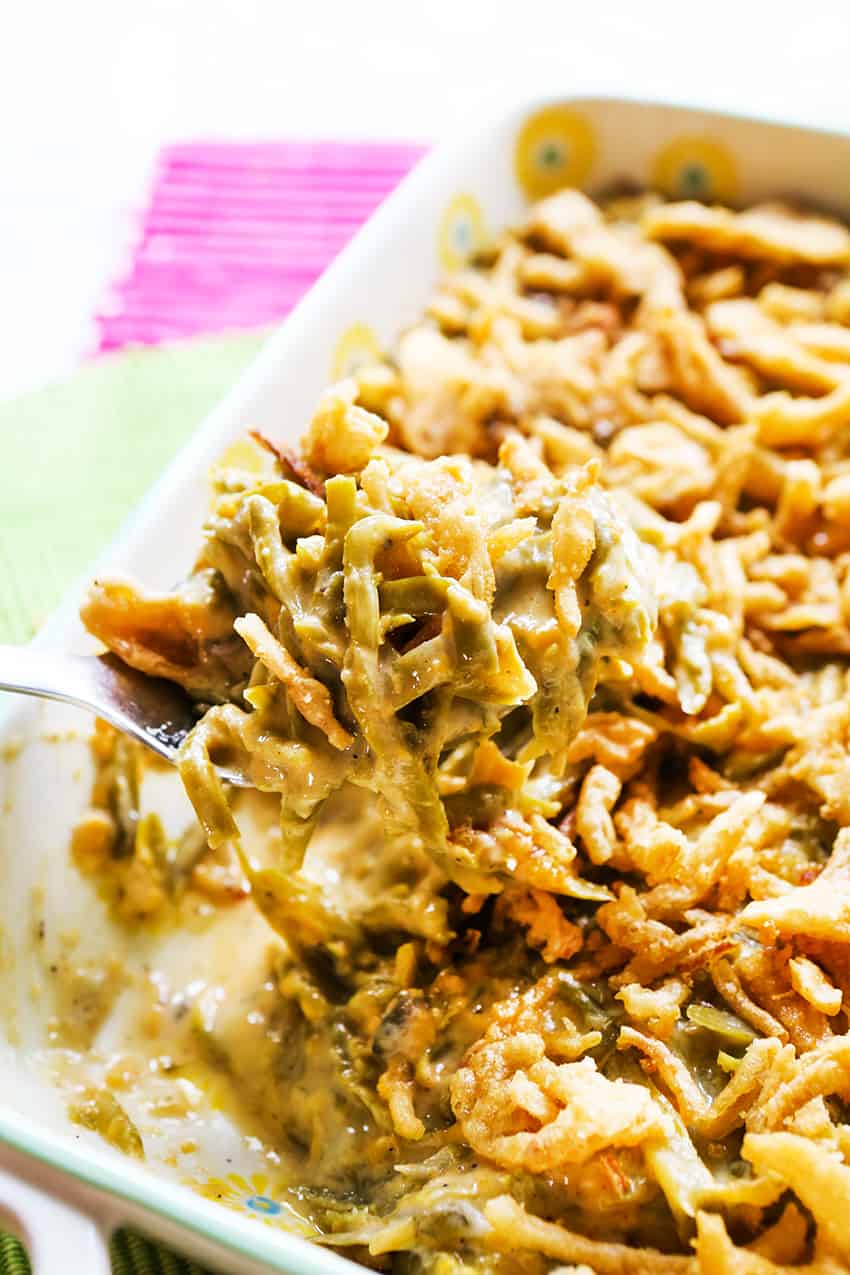 Throw just a few ingredients in your slow cooker to create Crockpot Green Bean Casserole. Great Thanksgiving or any-time classic dish!
Instant Pot Red Potato Dish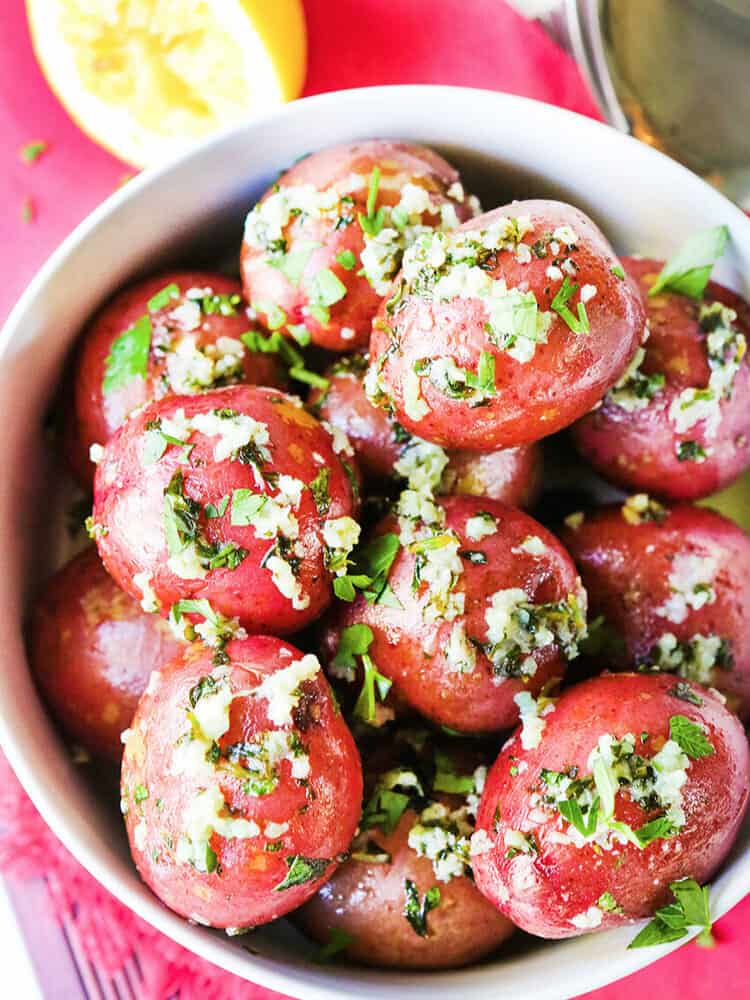 Delicious Instant Pot red potatoes are covered in a garlic lemon sauce. They cook quickly in your Instant Pot, freeing up space on your stove top. Great side dish recipe for your next holiday meal or intimate weeknight dinner!
Instant Pot Mushrooms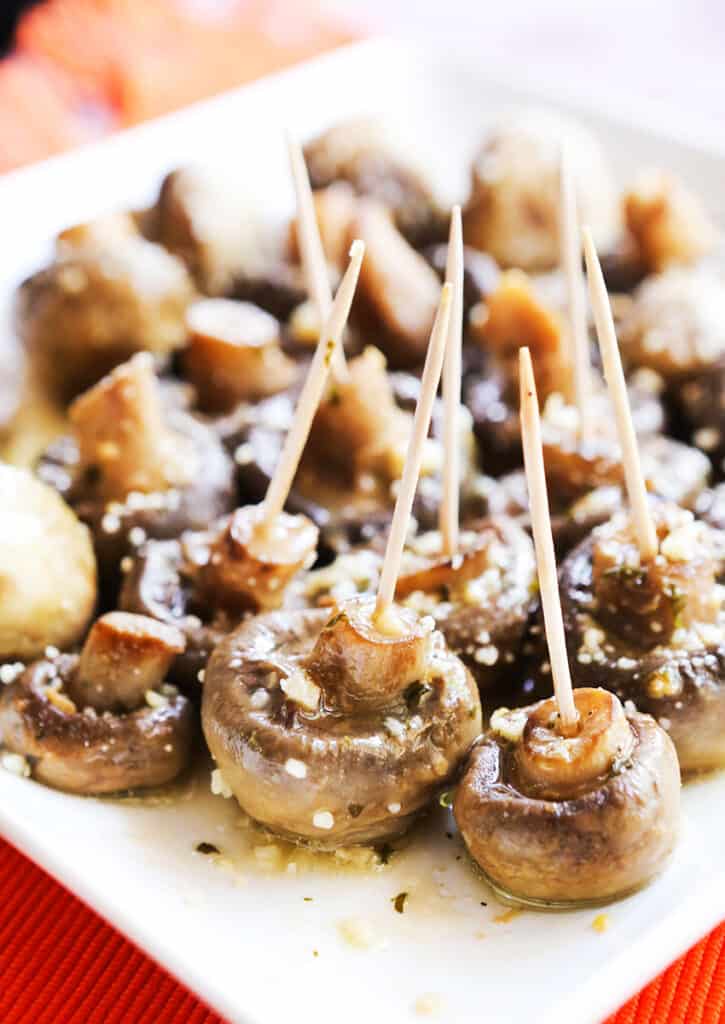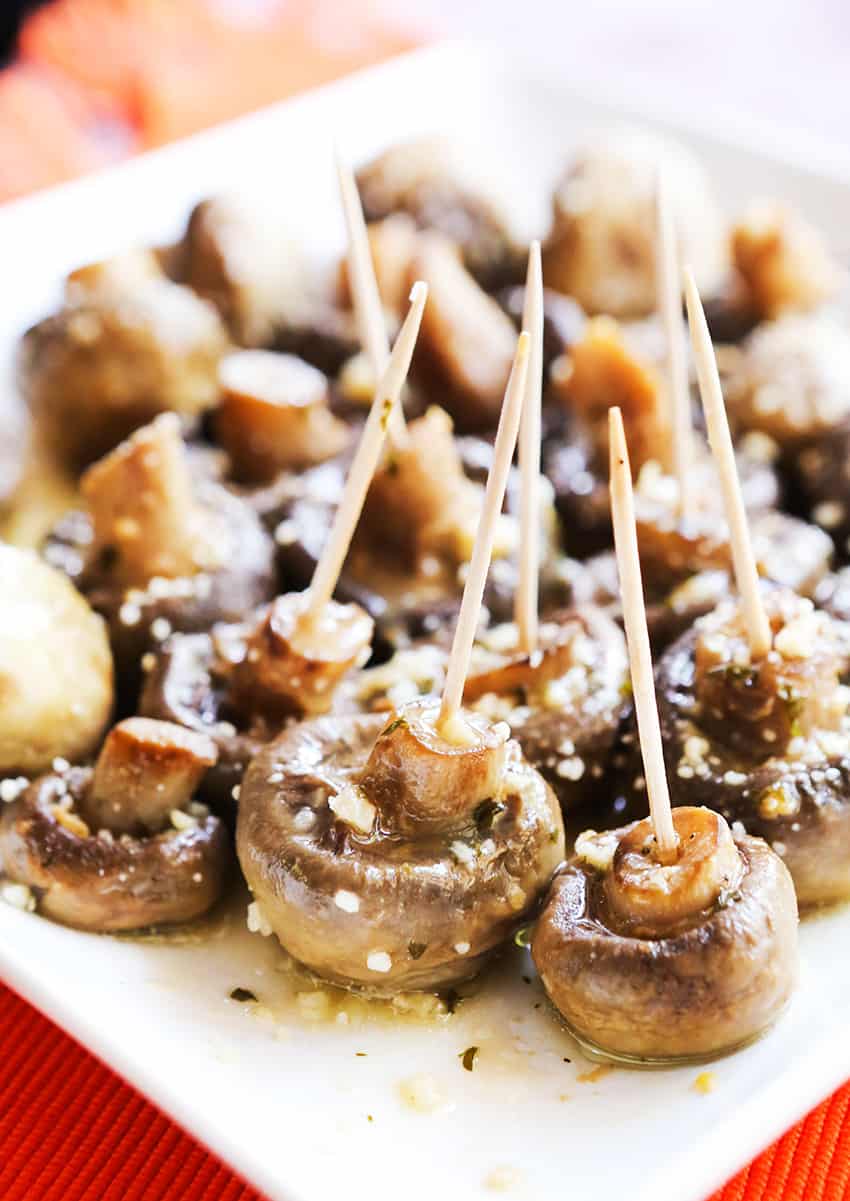 These buttery, ranch-flavored Instant Pot Mushrooms are a great side dish and also the perfect party food. They cook them perfectly every single time. Sprinkle with Parmesan cheese before serving!
Baked Mac and Cheese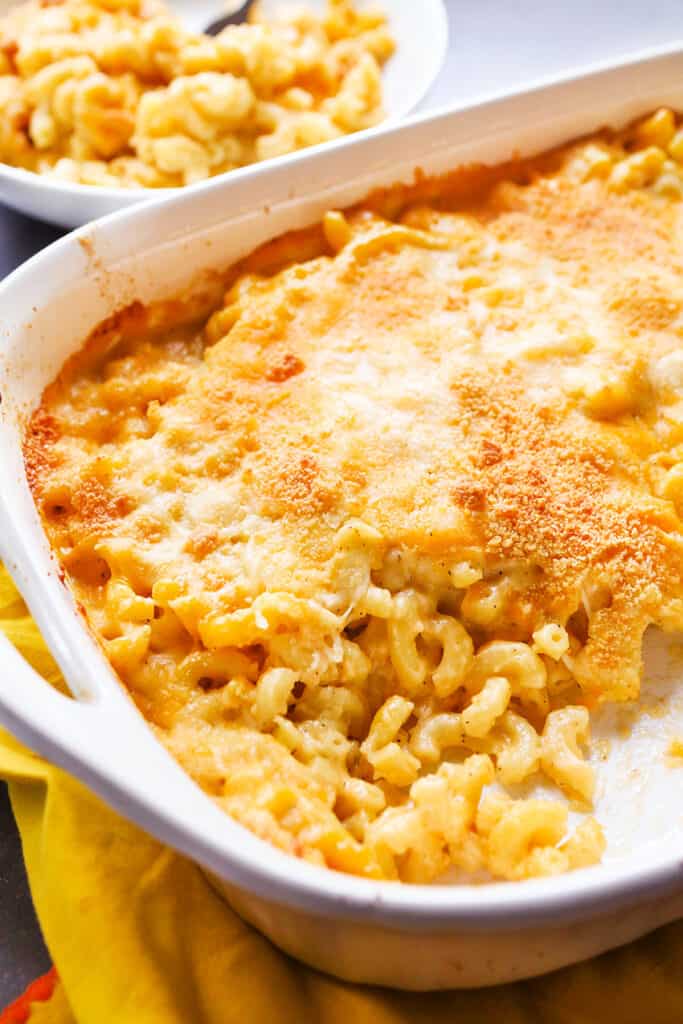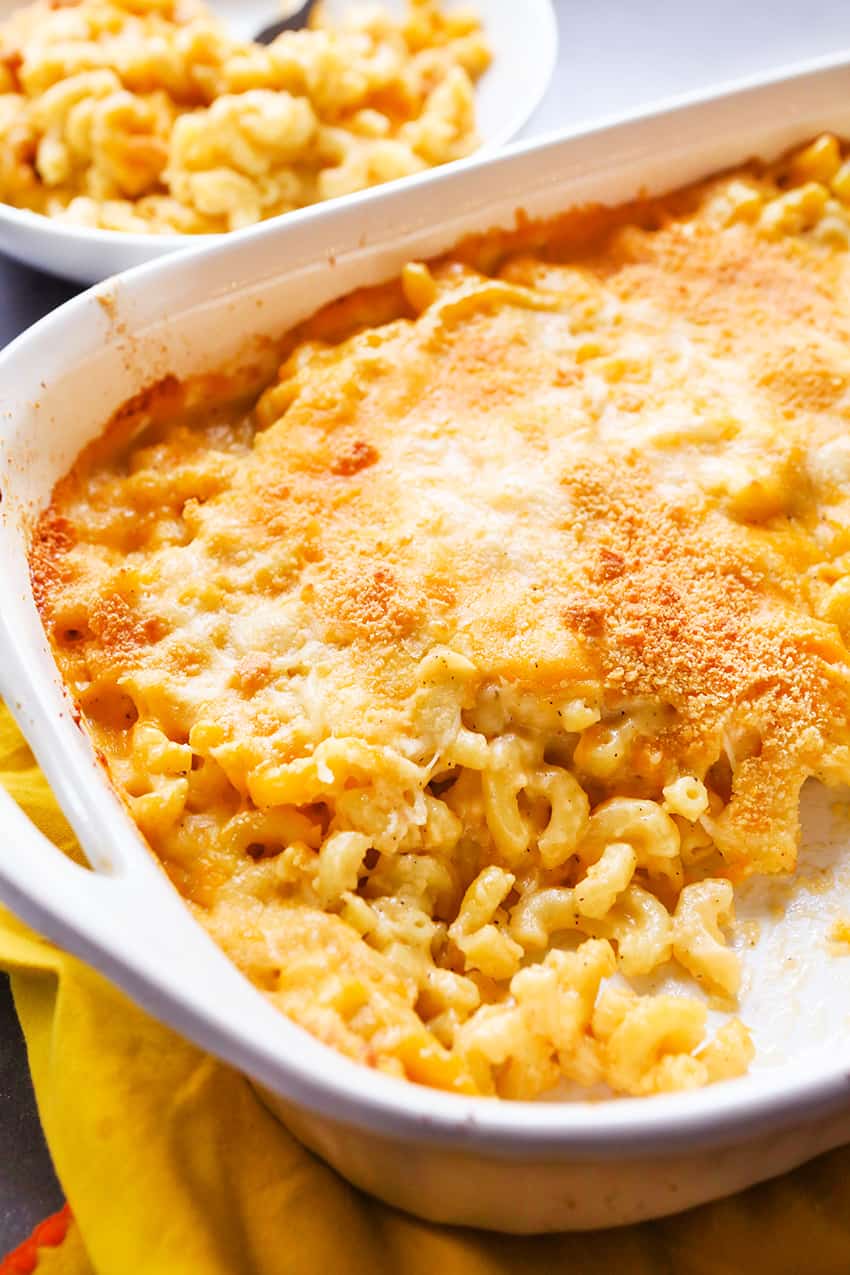 Baked mac and cheese cooks perfectly every time. This creamy dish is perfect when served as a holiday side or weekday main dish. Made using three types of cheese, including Parmesan, mozzarella and cheddar cheese. Kids and adults alike with devour it!
Roasted Butternut Squash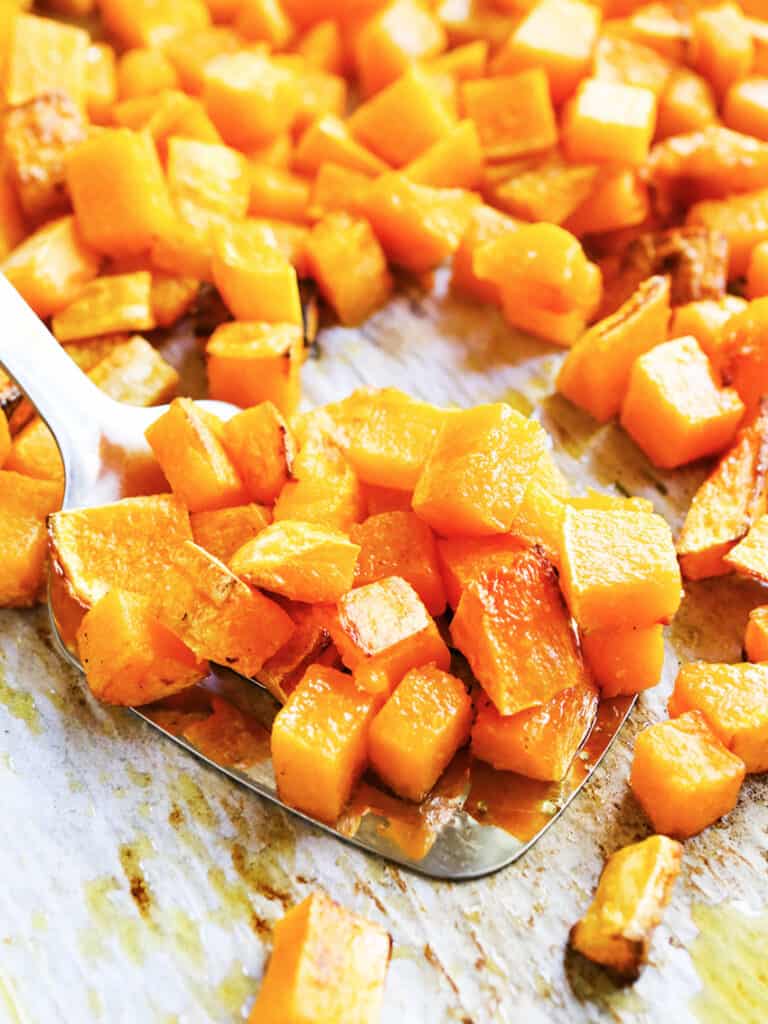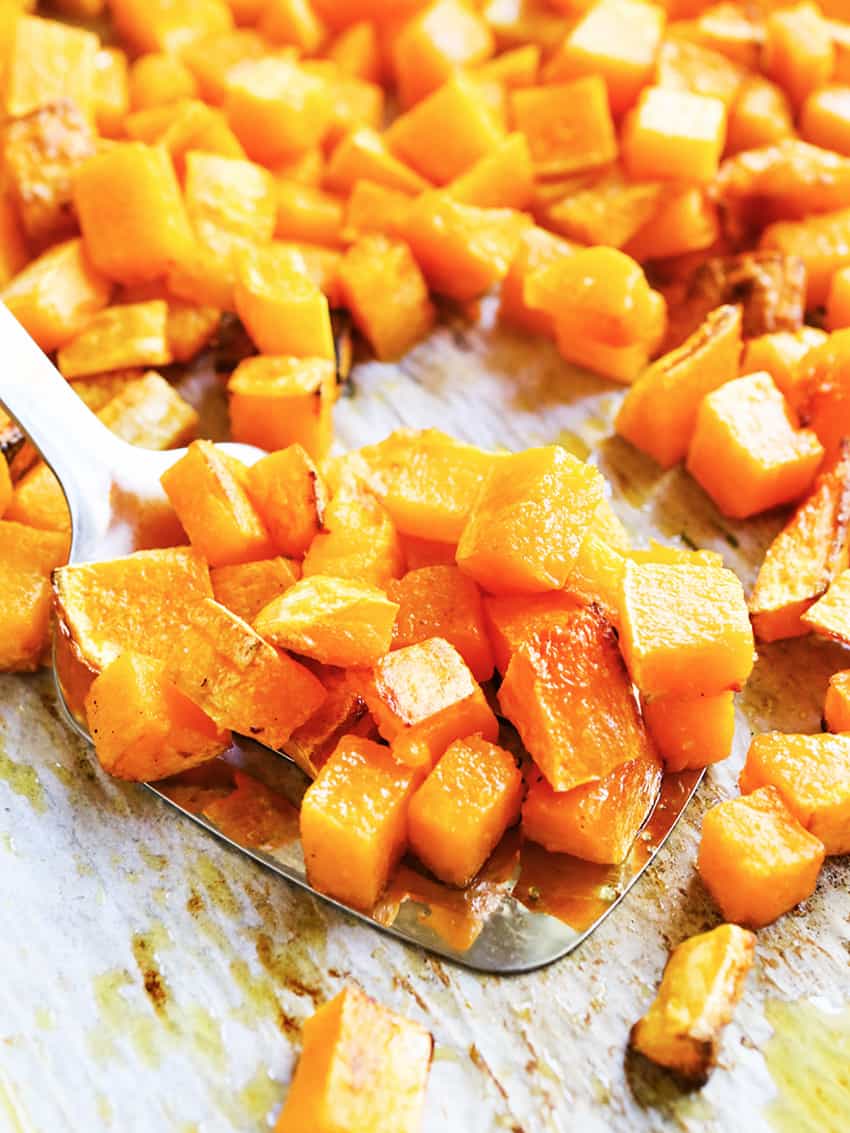 Oven Roasted Butternut Squash is super easy to make. Delicious side dish for any meal. This delicious fall staple is versatile!
Instant Pot Stuffing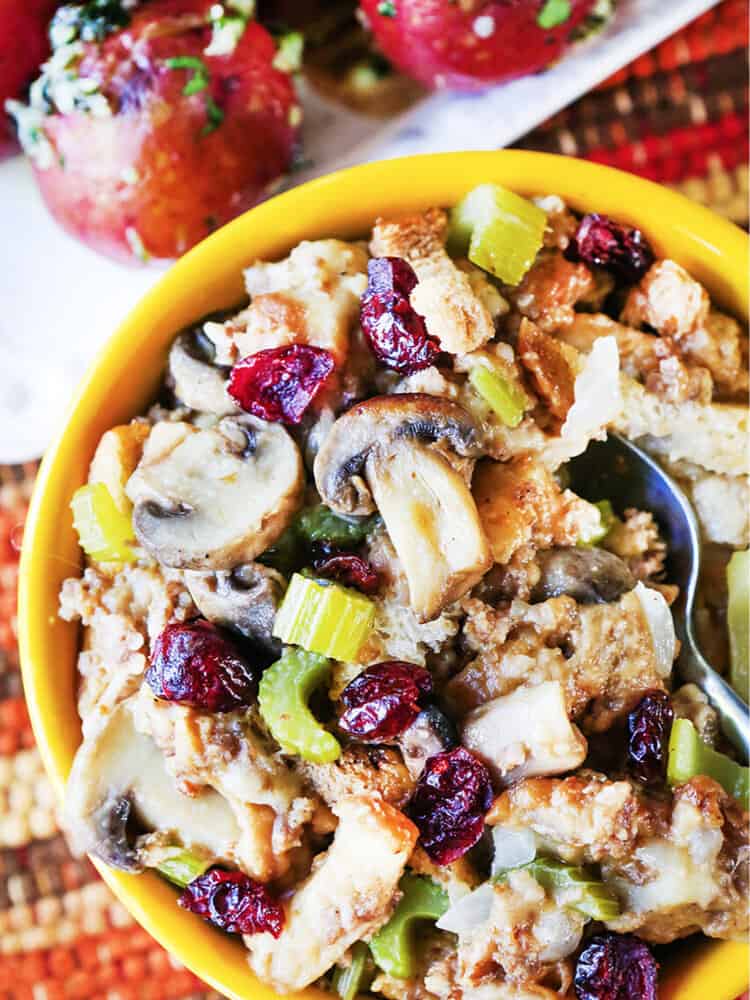 Instant Pot Stuffing comes together quickly and easily. This traditional side dish is savory and packed with flavor and texture.
Roasted Sweet Potatoes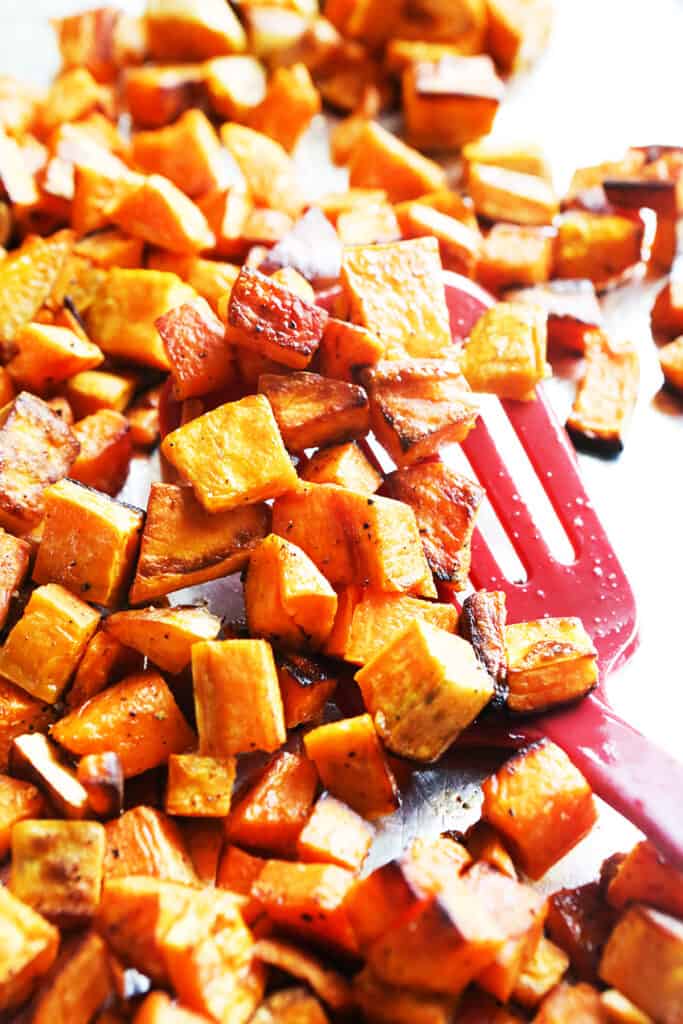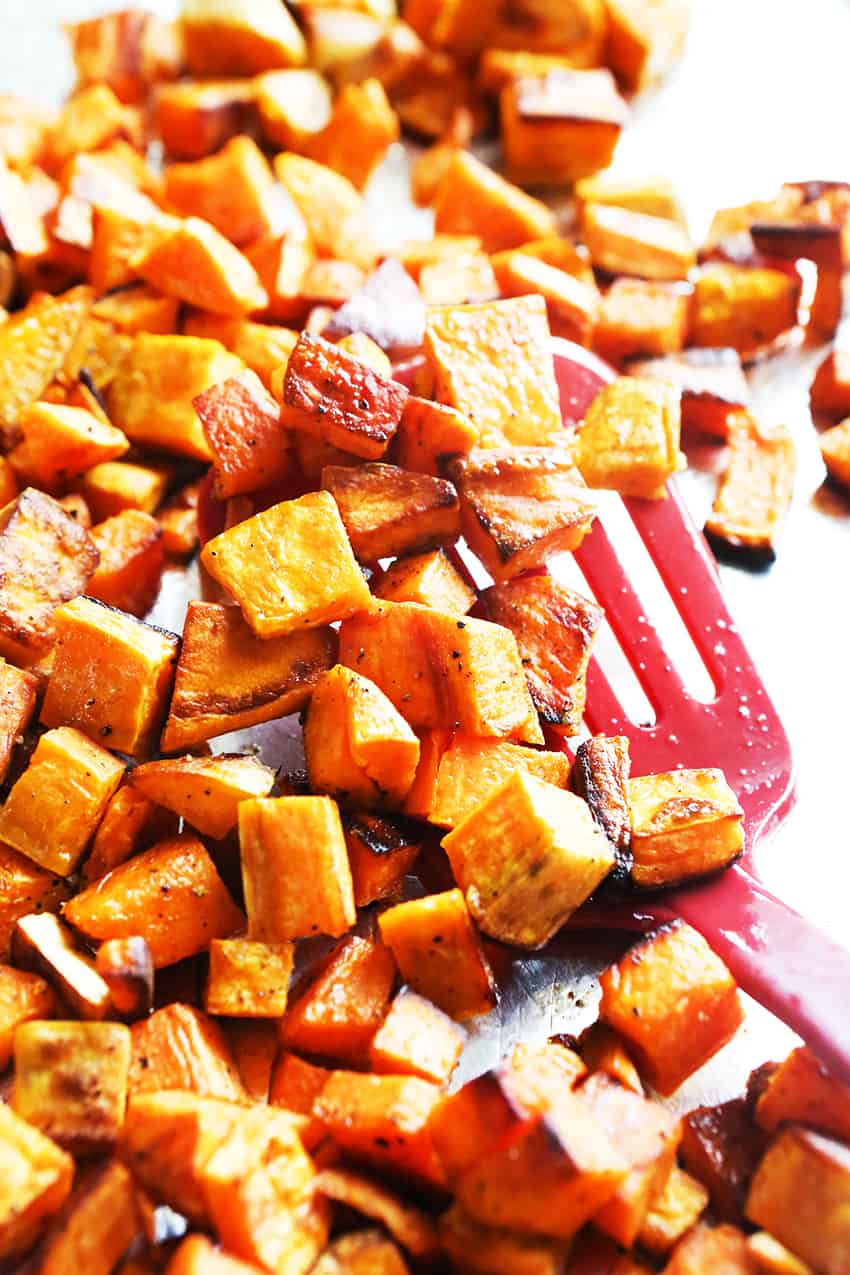 Roasted Sweet Potatoes are an easy and delicious side for any meal! More delicious than regular French fries and are a great healthy lunch, snack or side.
Hashbrown Casserole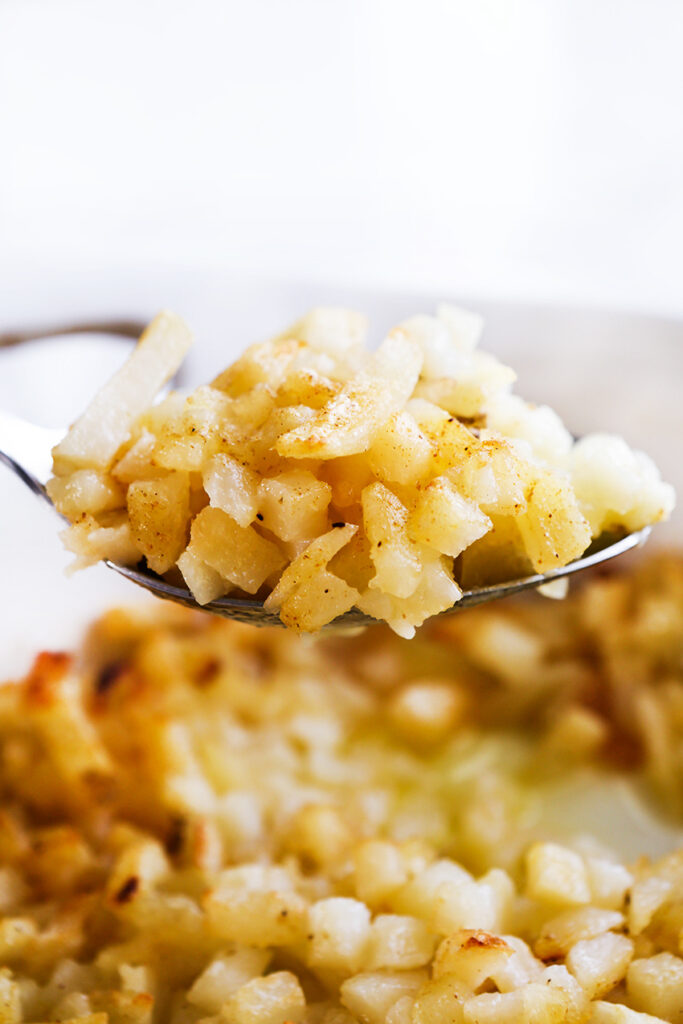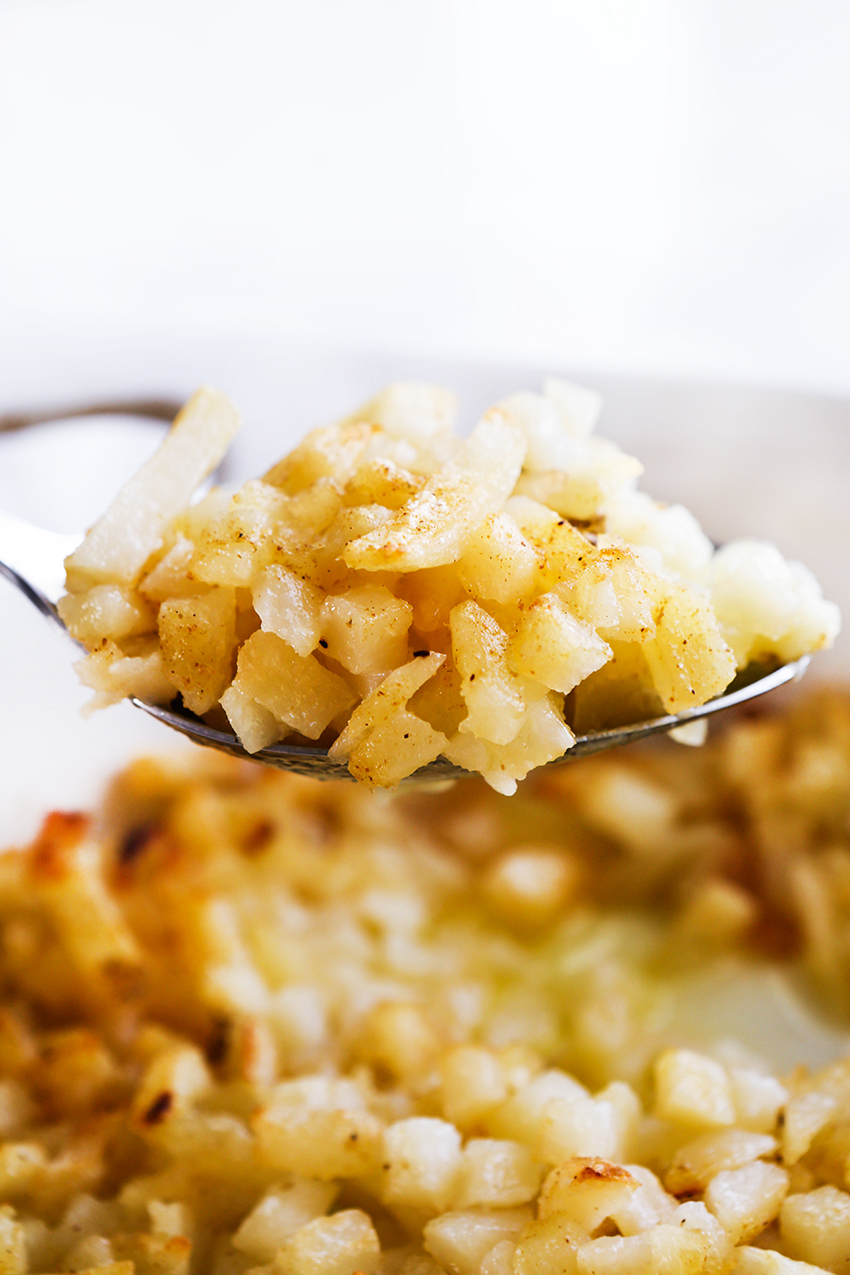 This super simple side dish requires only 4 ingredients, 1 dish and 1 hour in the oven. Great for breakfast or a dinner side!
Homemade Potato Chips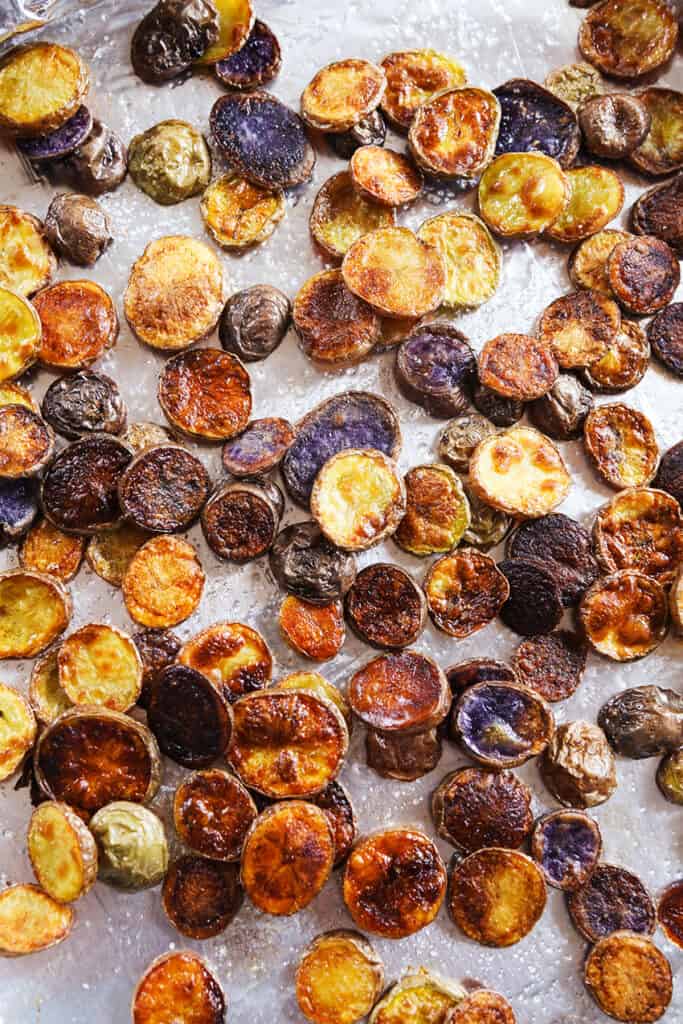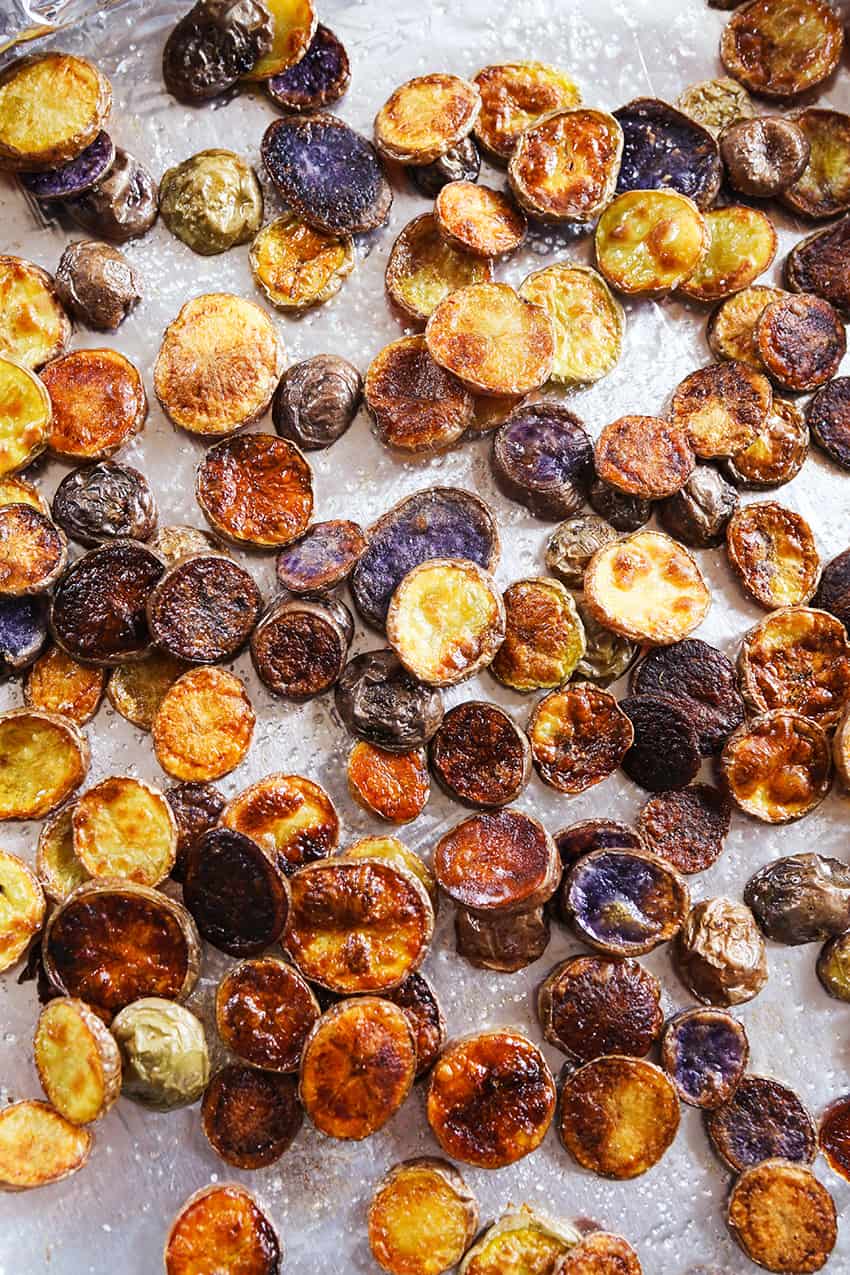 Make potato chips the healthy way! Whole 30 chips are yummy and great as a side dish or snack. So much better than store bought!
Steamed Artichokes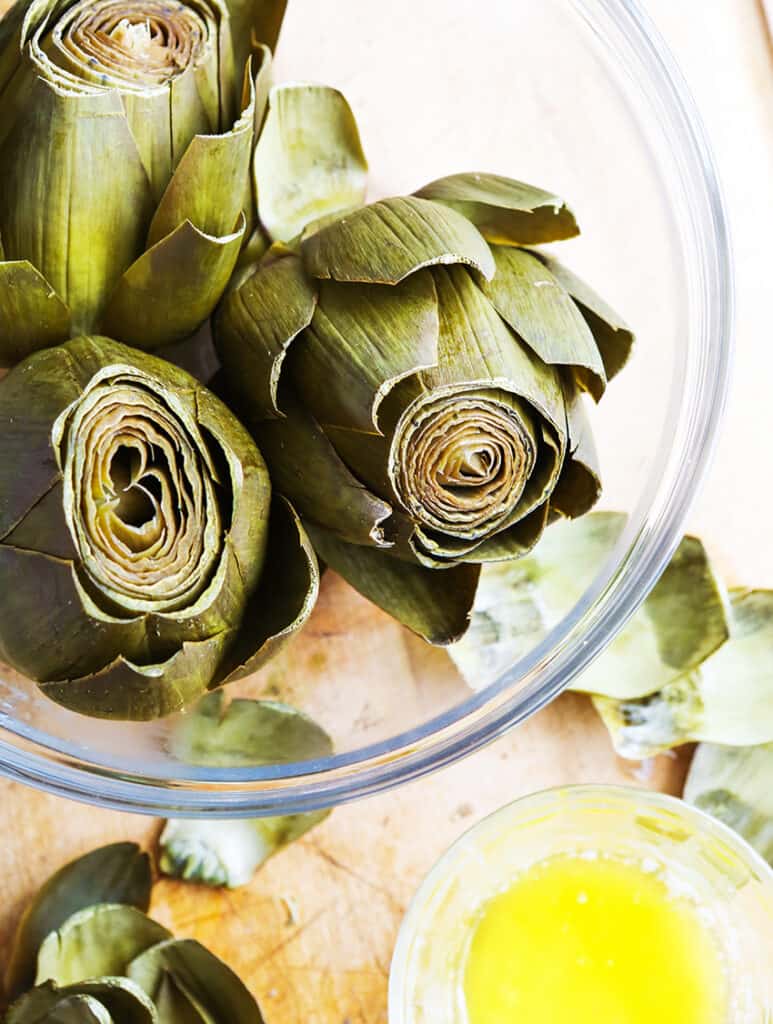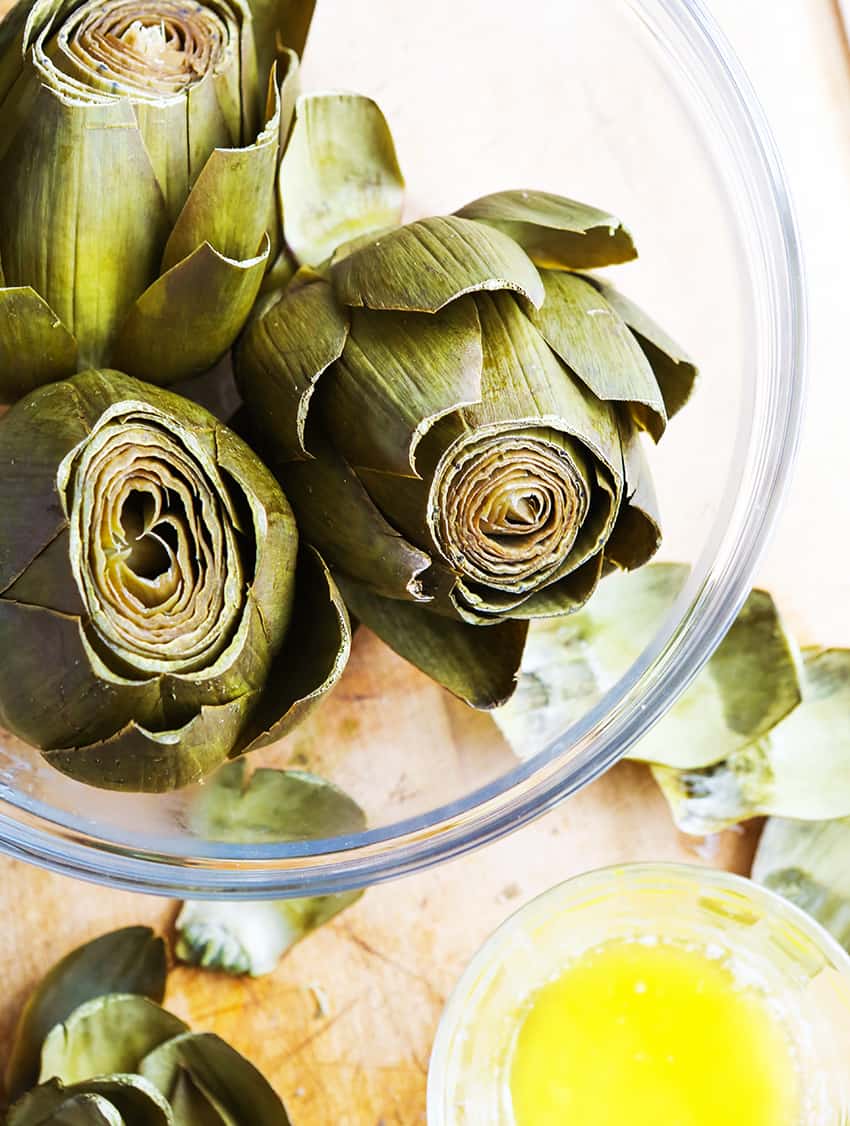 Learn how to cook artichokes (and eat them, too!). Don't let this green veggie intimidate you! Artichokes are easy to prepare and beyond delicious.
Creamed Corn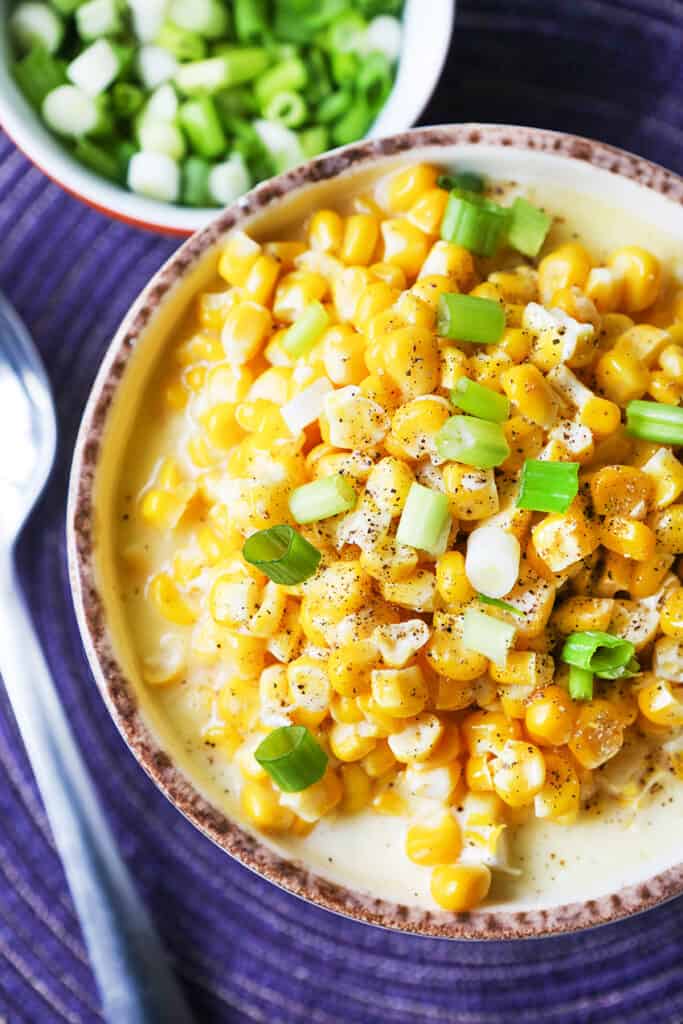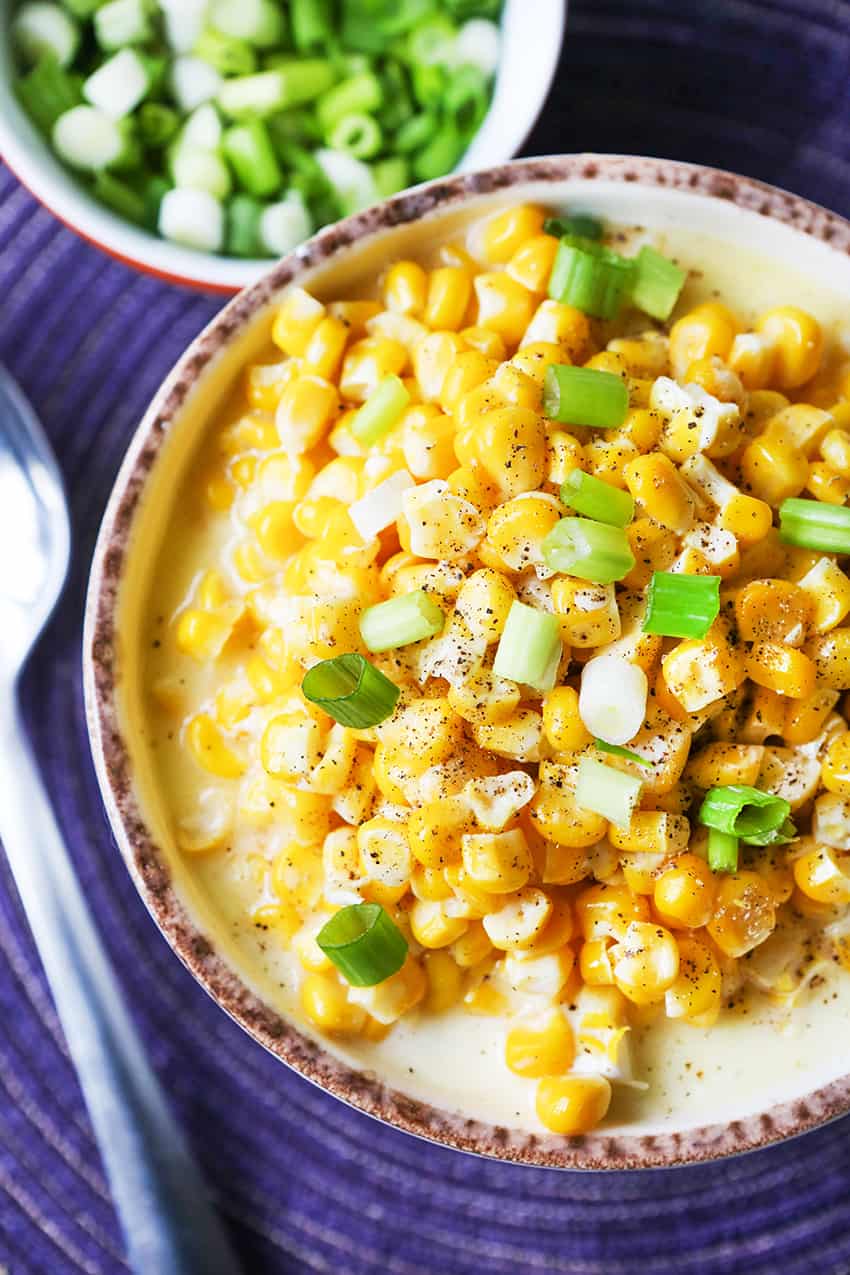 Four ingredients, five minutes of time and your slow cooker will make this delicious, flavorful Crock Pot Creamed Corn side dish for you!
Vegetable Rice Salad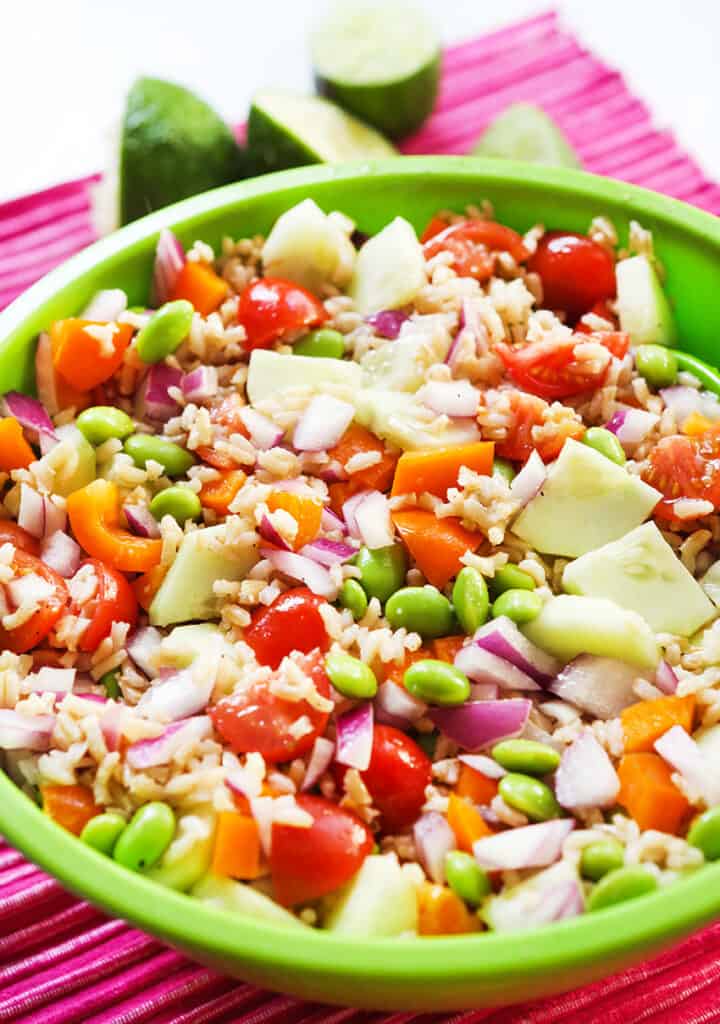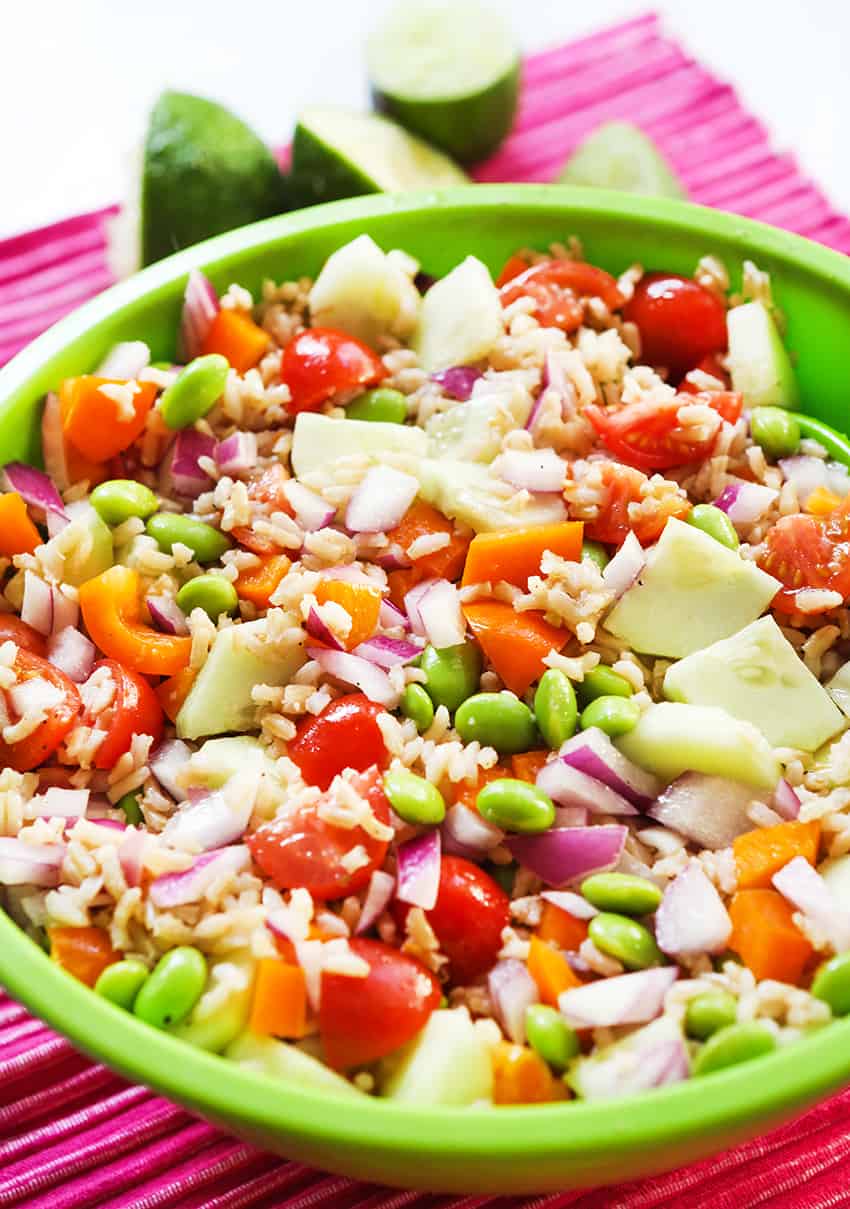 Vegetable Rice Salad is absolutely perfect for small or large gatherings. Great as lunch, a party food or a side to dinner. It is colorful and packed with delicious flavor and textures and perfect for any occasion, summer or otherwise!
Baked Asparagus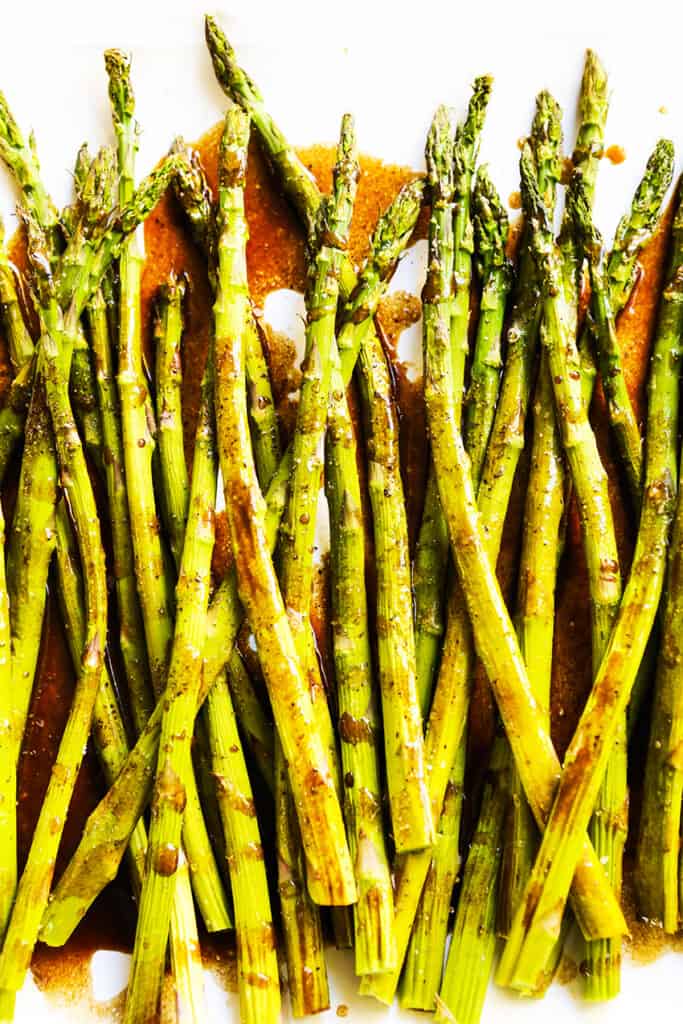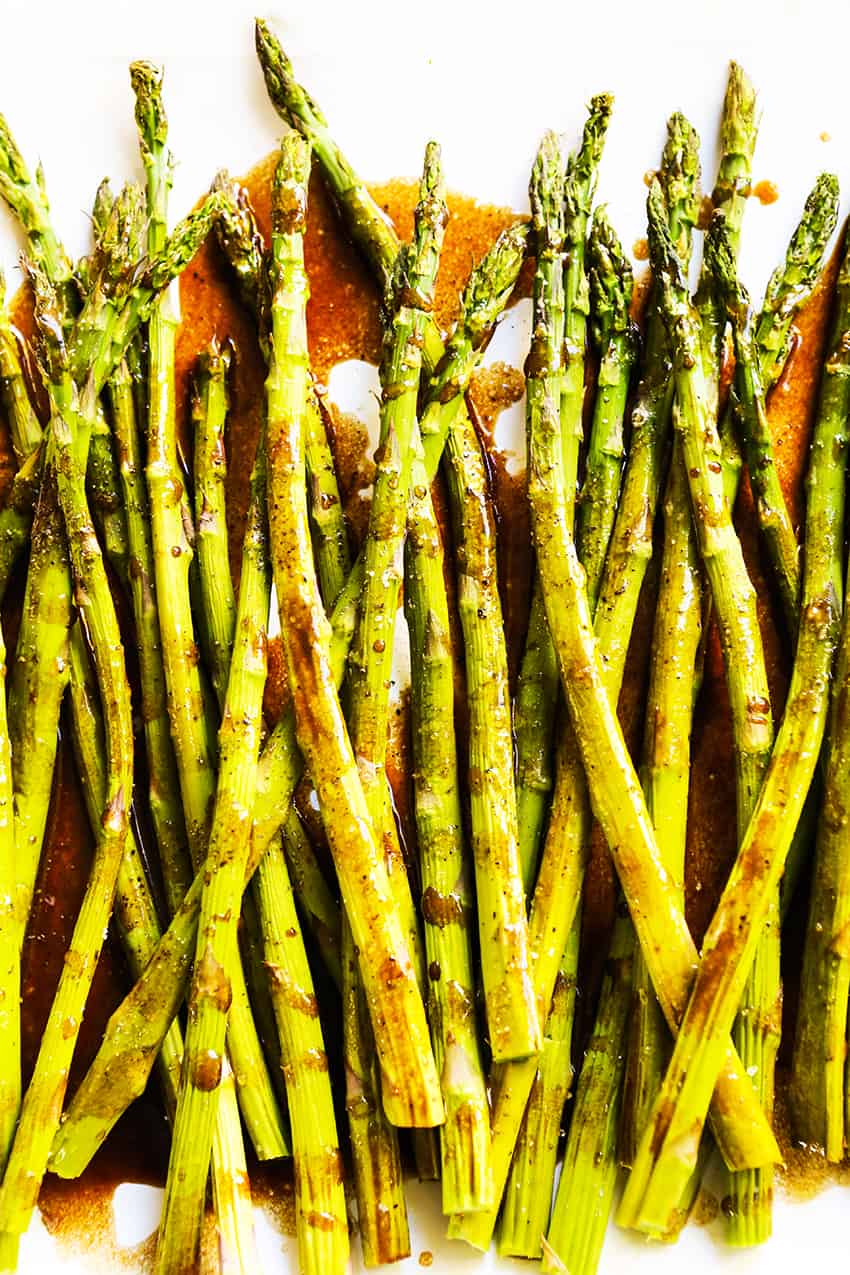 Baked Asparagus is topped with a delicious, savory balsamic butter sauce. It cooks to perfection every time and makes the perfect side to any meal. Sprinkle black pepper over the top for good measure!
Garlic Bread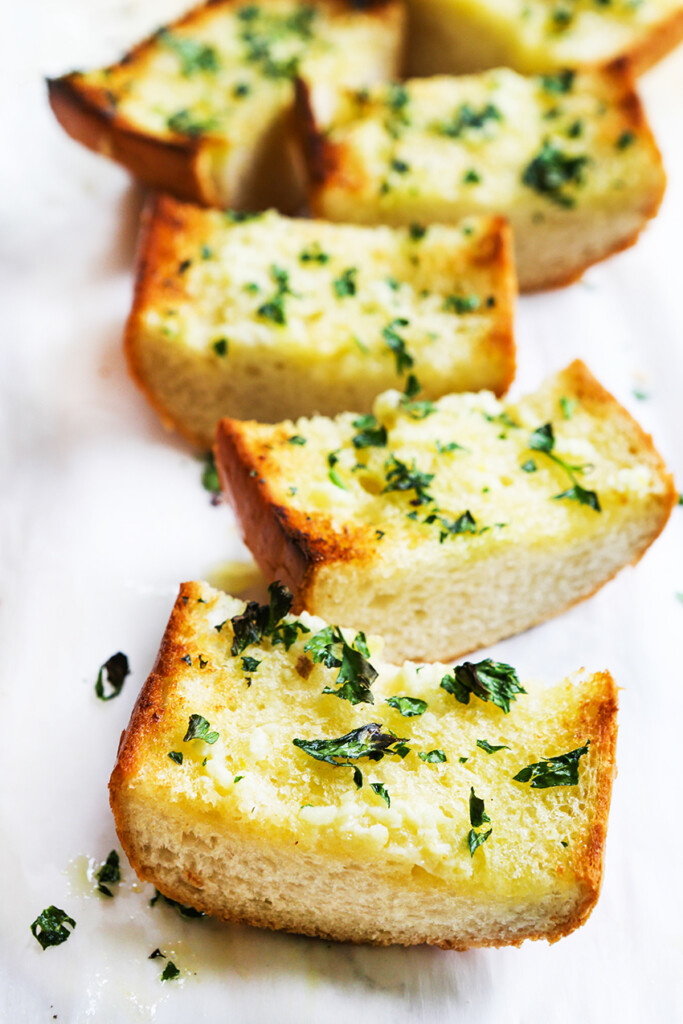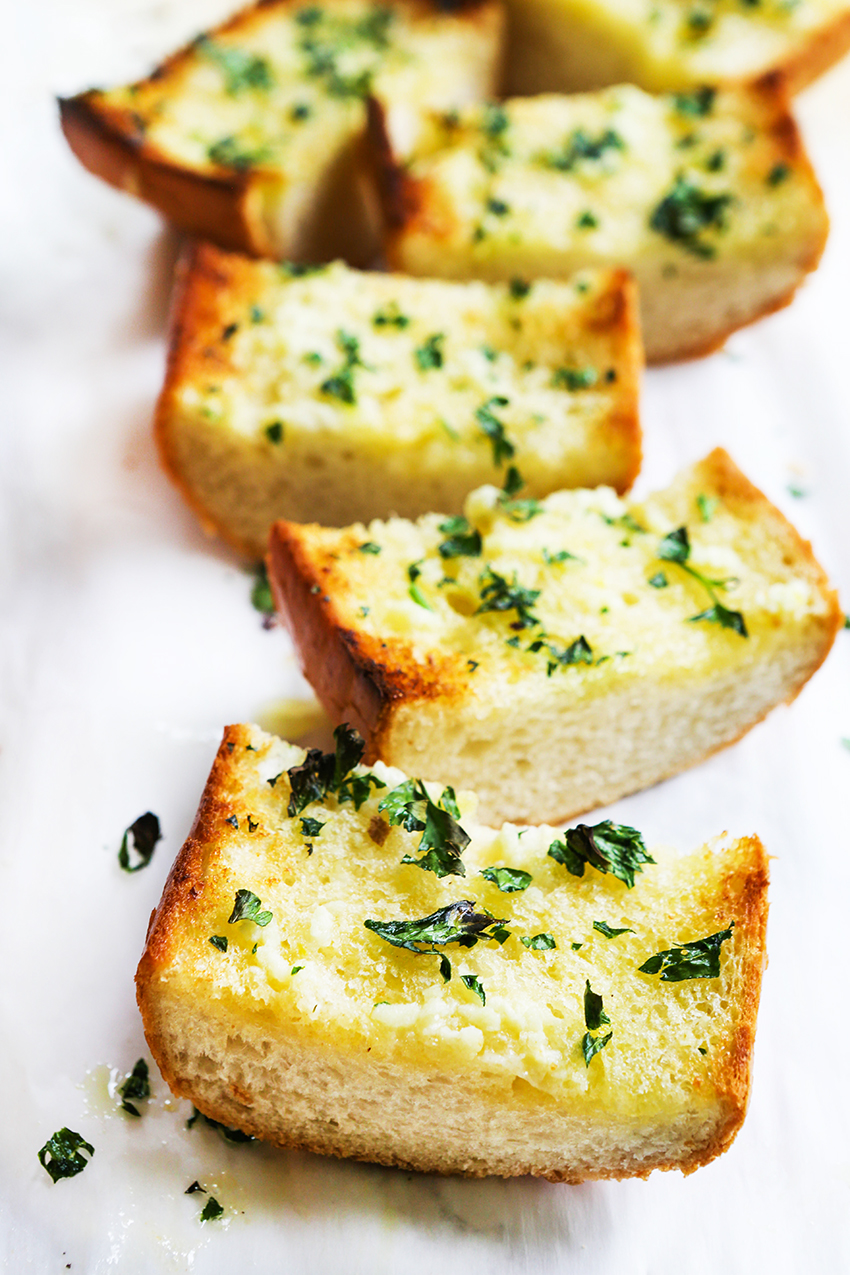 Garlic bread is super easy to make, requiring only a few simple ingredients and 10 minutes of your time!
Bok Choy Salad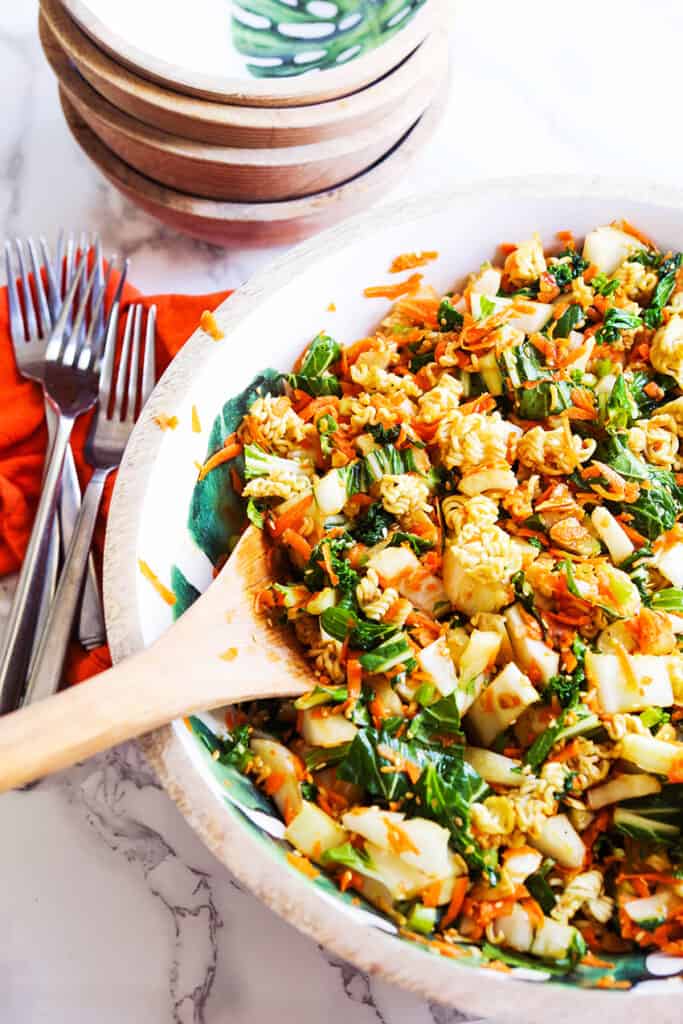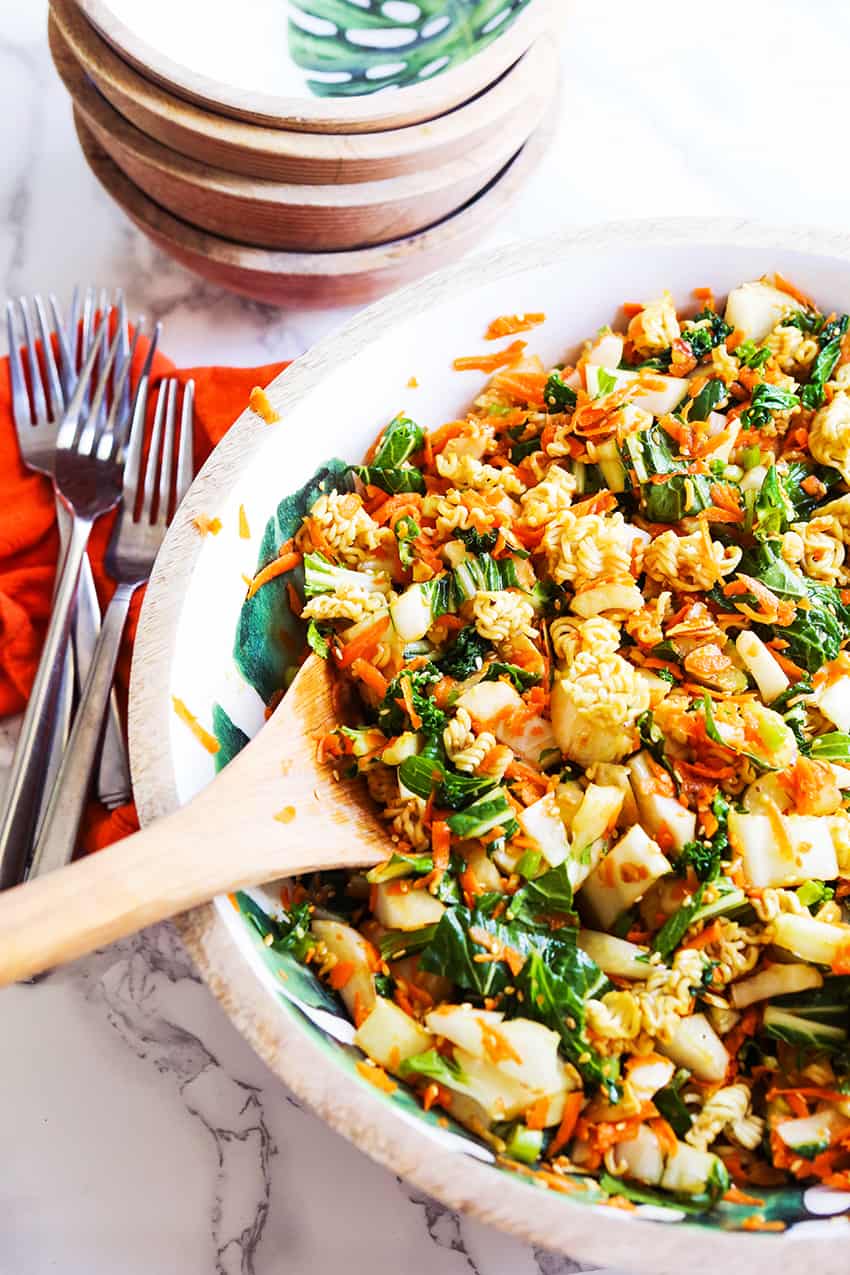 This crunchy, veggie-packed bok choy salad is a great dish to bring to parties. Prepare just before serving. It will quickly become a salad favorite!
Minestrone Soup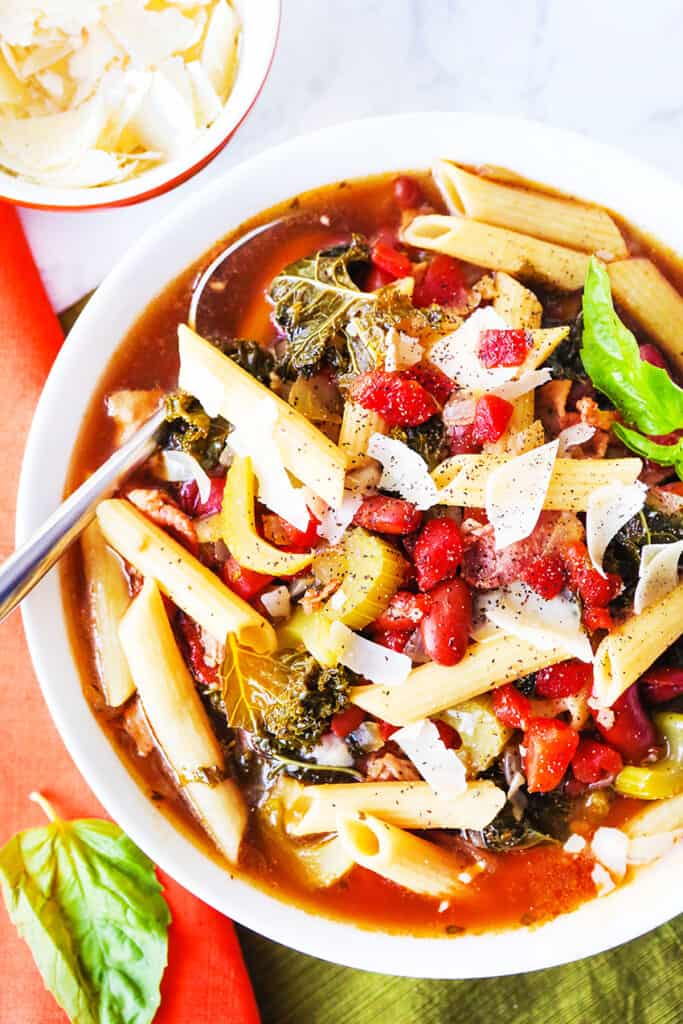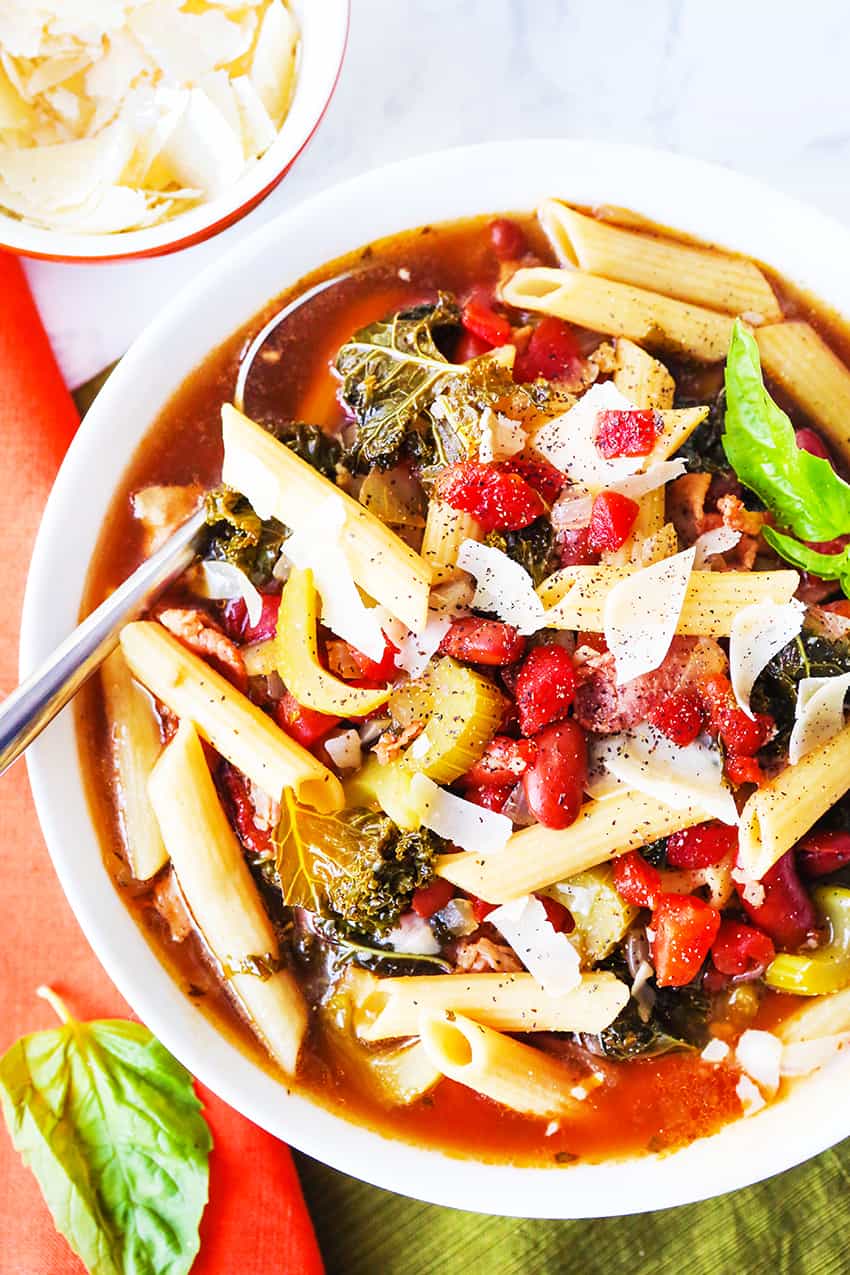 This classic minestrone soup is hearty and jam-packed with vegetables and pasta. Use the veggies you have on hand for this super easy dinner. You will find the absolute perfect combination of ingredients in this yummy soup!
Crockpot Vegetables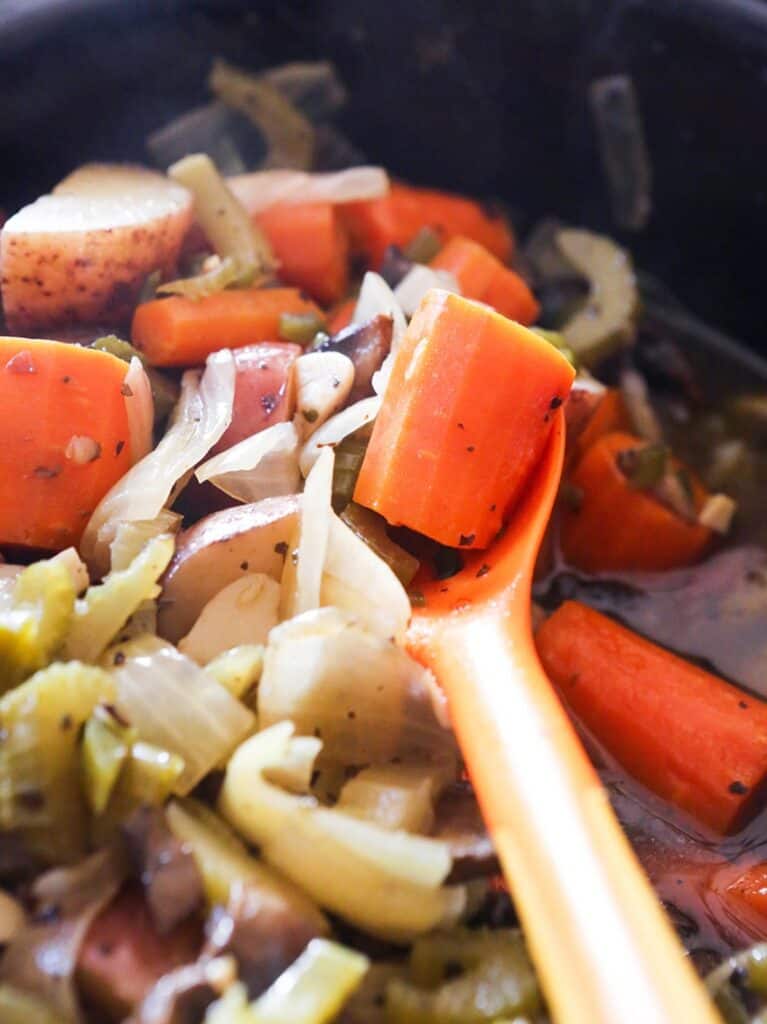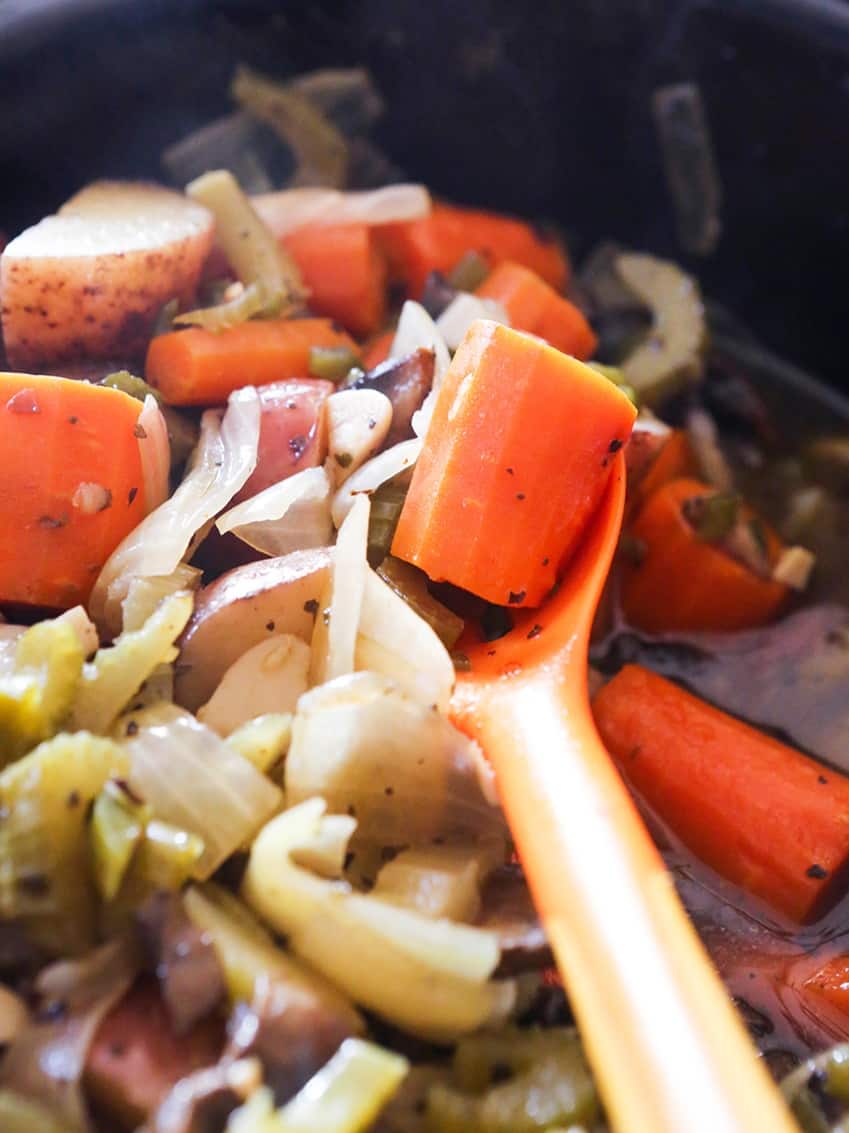 These Slow Cooker Vegetables are the perfect side dish for any meal and a great way to use up extra veggies! Enjoy them now or freeze for another time. Feel free to swap out vegetables from the recipe with whatever you have on hand.
Roasted Tomato Soup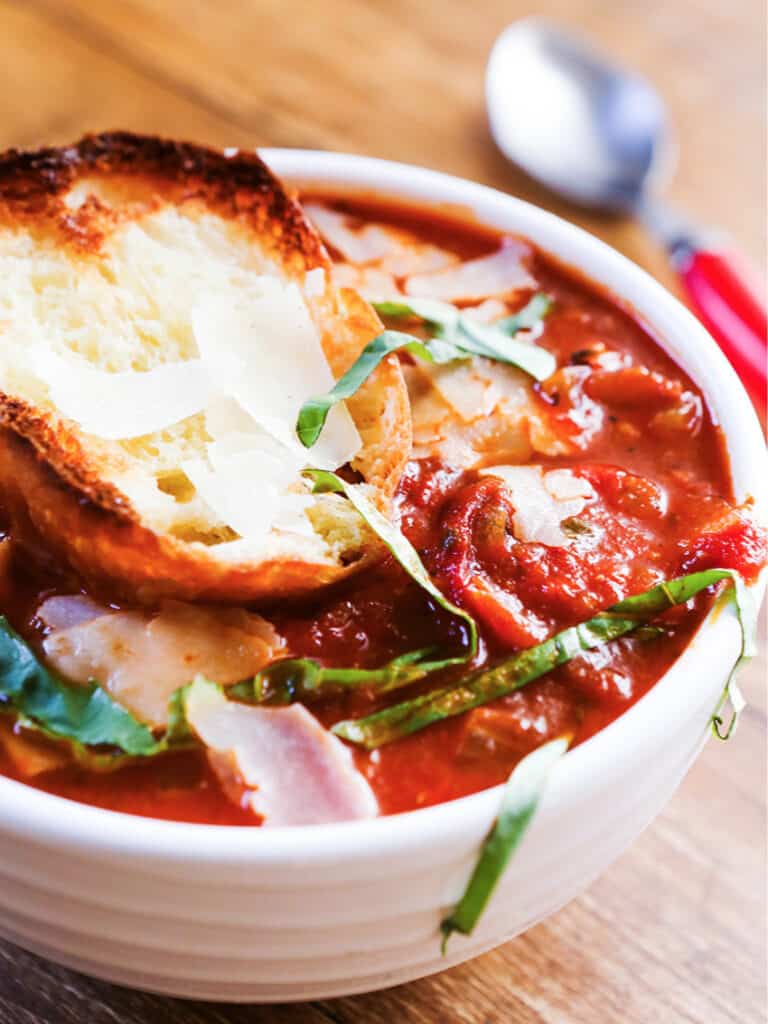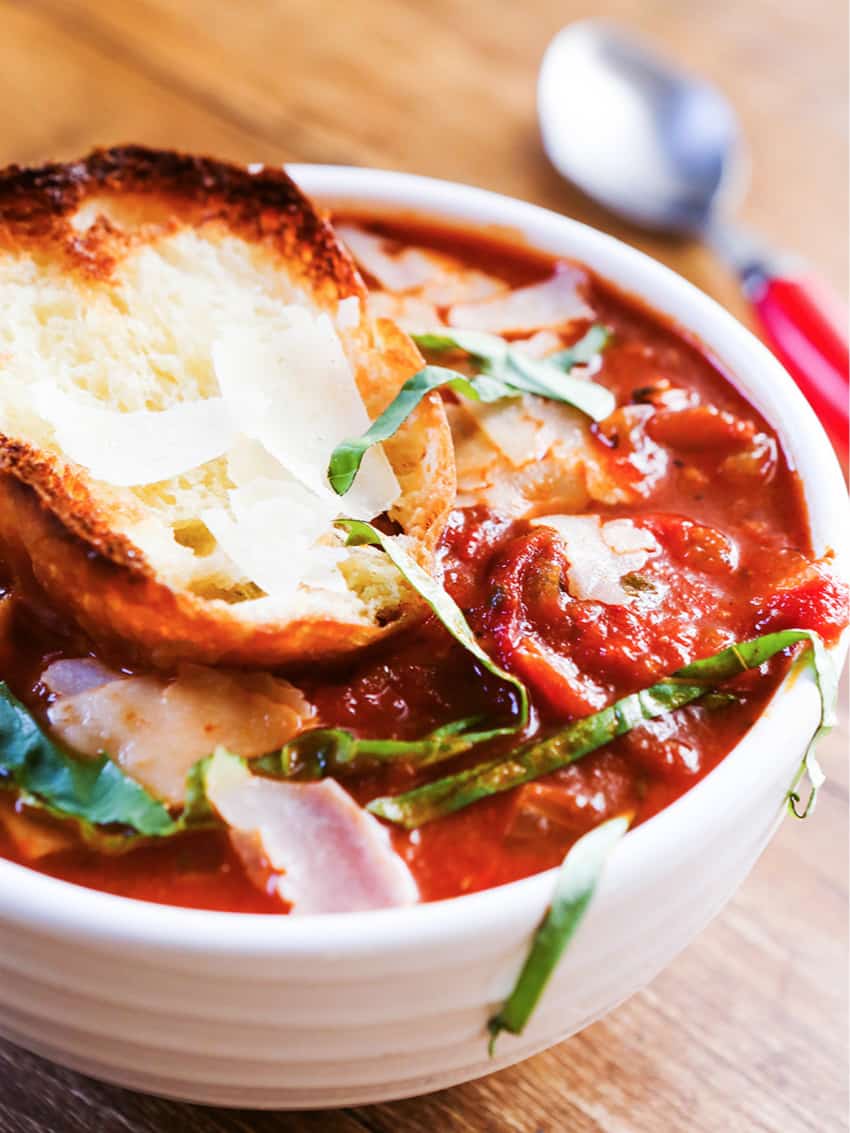 This Roasted Tomato Soup is bold, flavorful and comforting. You will never want to make another tomato soup again! Great for entertaining or family dinner.
Roasted Brussels Sprouts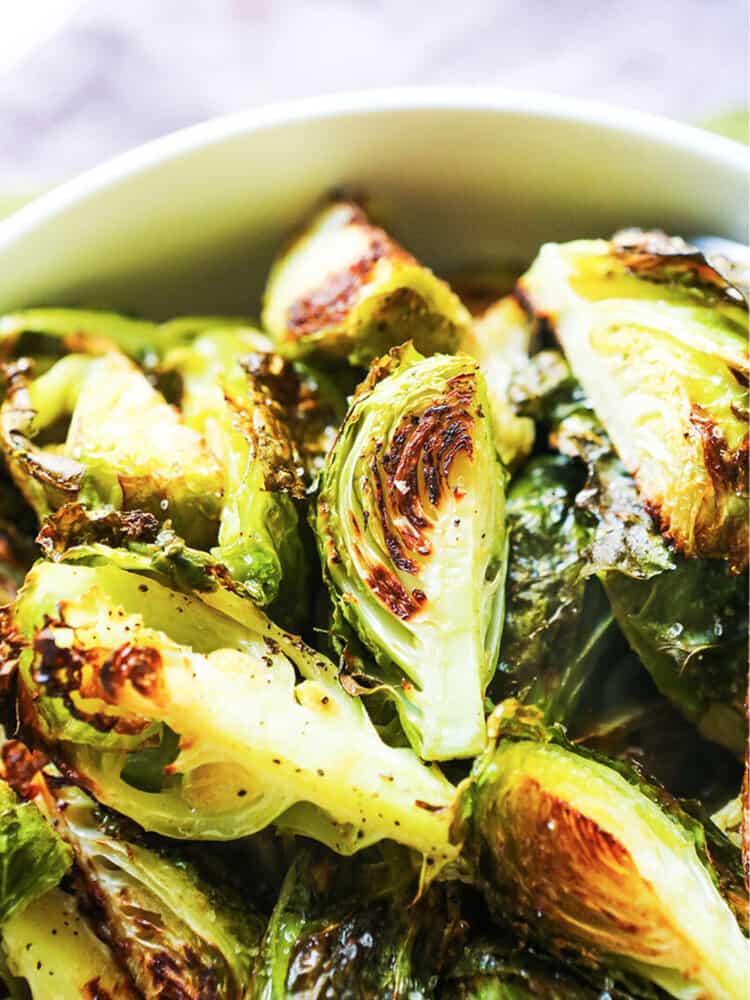 Make delicious, perfectly crispy Roasted Brussel Sprouts easily and in under 30 minutes. This side dish pairs perfectly with any meal, whether big or small. Perfect part of a holiday spread and also a great part of any simple weeknight dinner.
Roasted Broccoli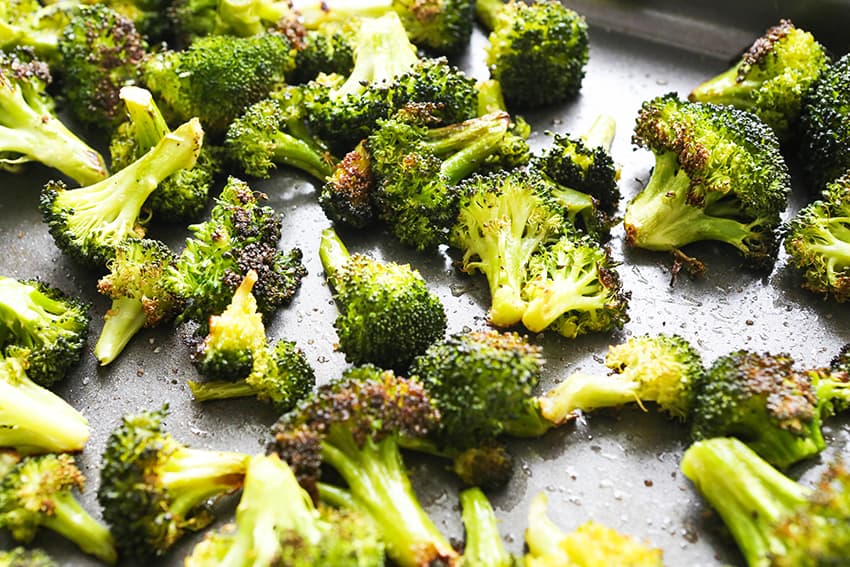 Make this roasted broccoli recipe to accompany your next meal. Roasting broccoli is super easy and it is so good it tastes like candy!
Twice Baked Potatoes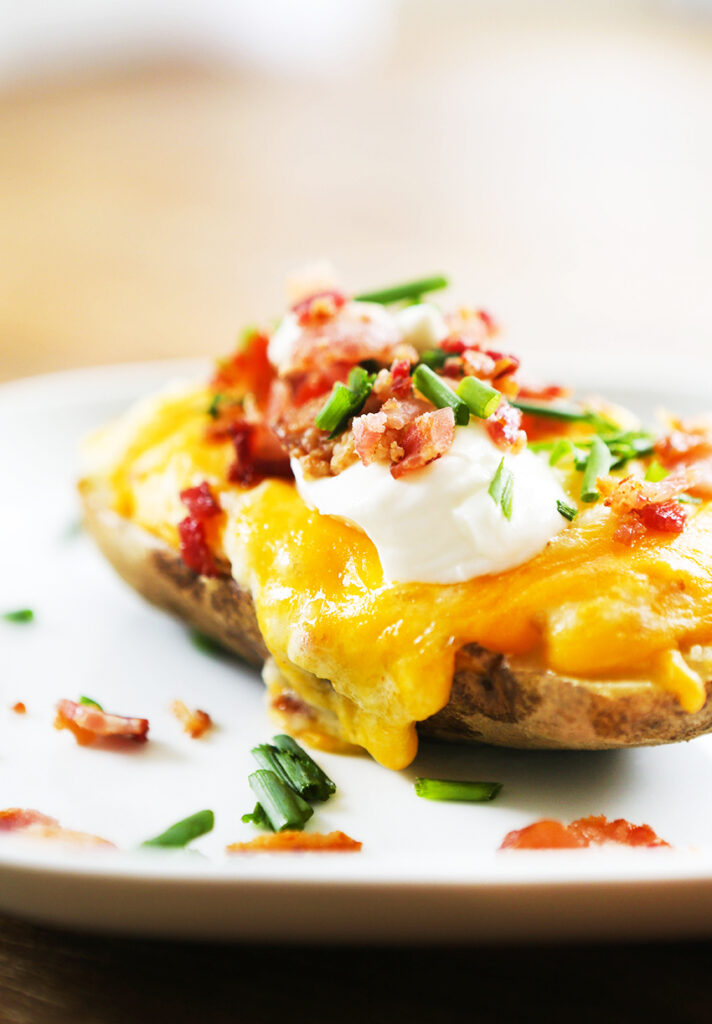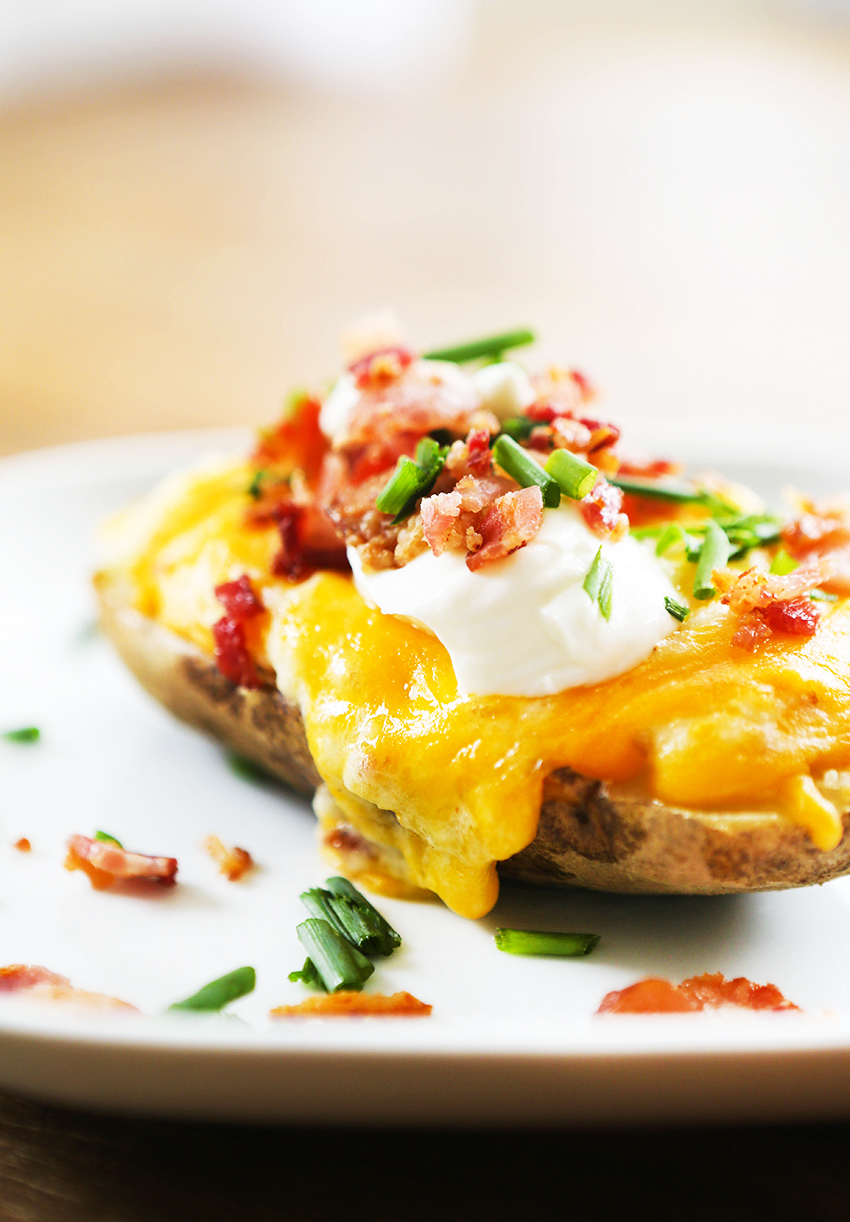 These Twice Baked Potatoes are a delicious main or side dish. Comfort food at its best! Top with sour cream, bacon crumbles, chives and extra cheese!
Mom's Mashed Potatoes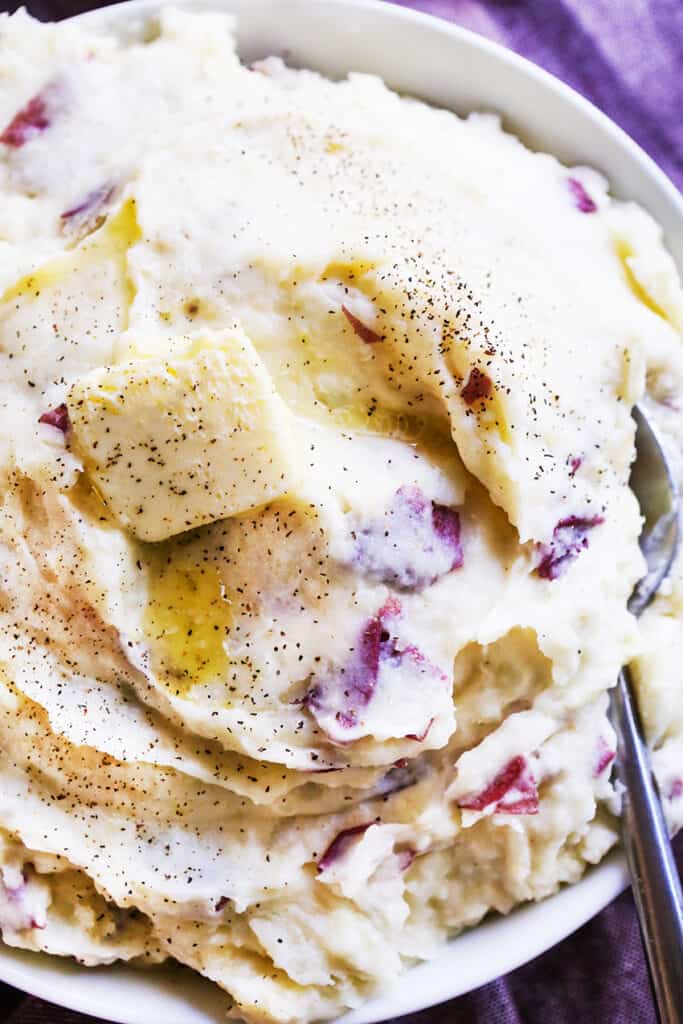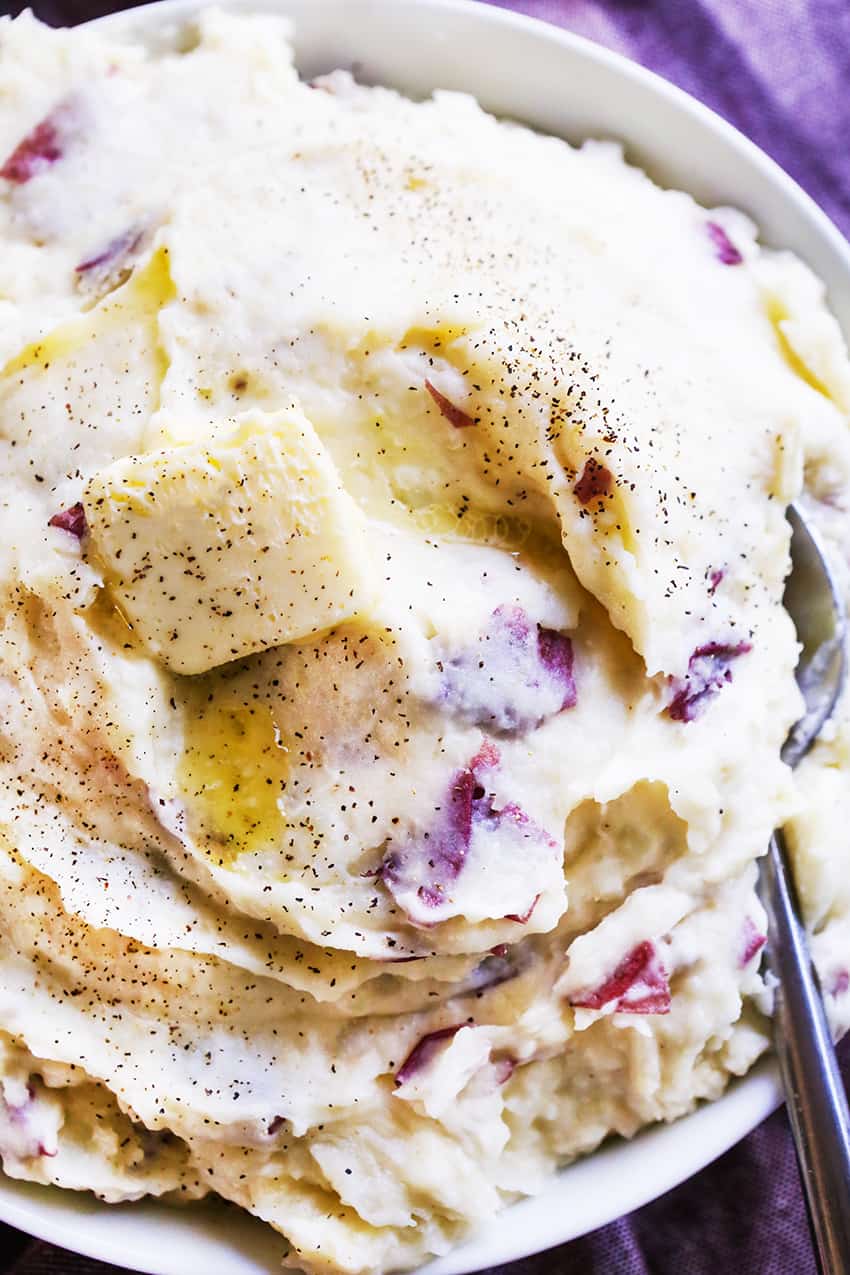 This is my mom's PERFECT Mashed Potatoes recipe. It is the BEST side dish you'll ever meet and it goes great with any meal, any time of the year.
Instant Pot Asparagus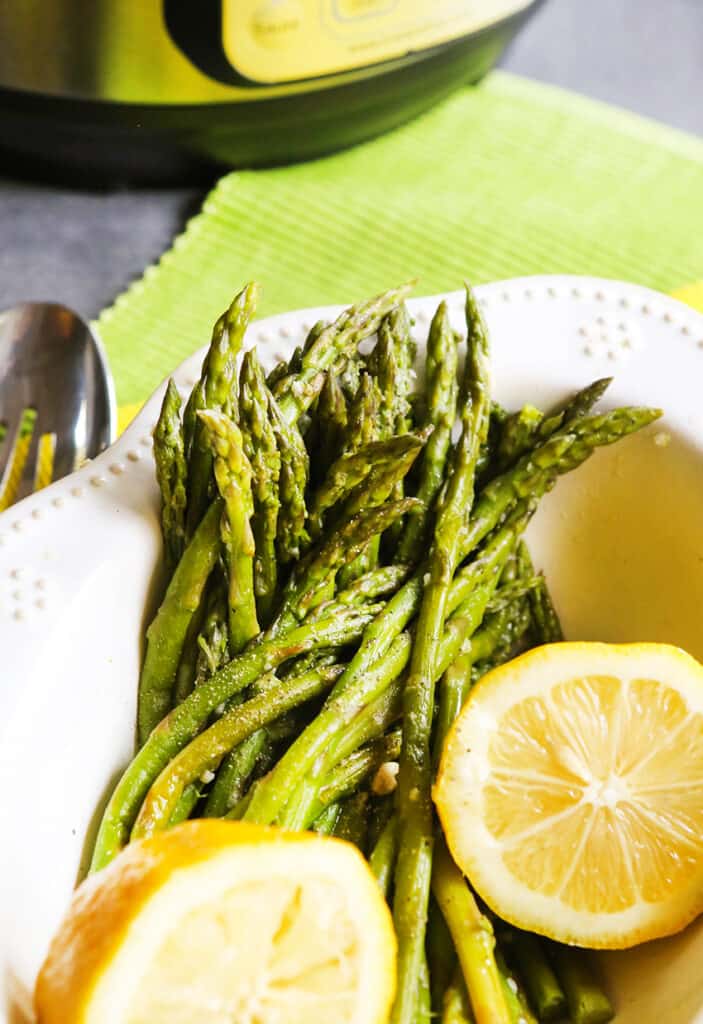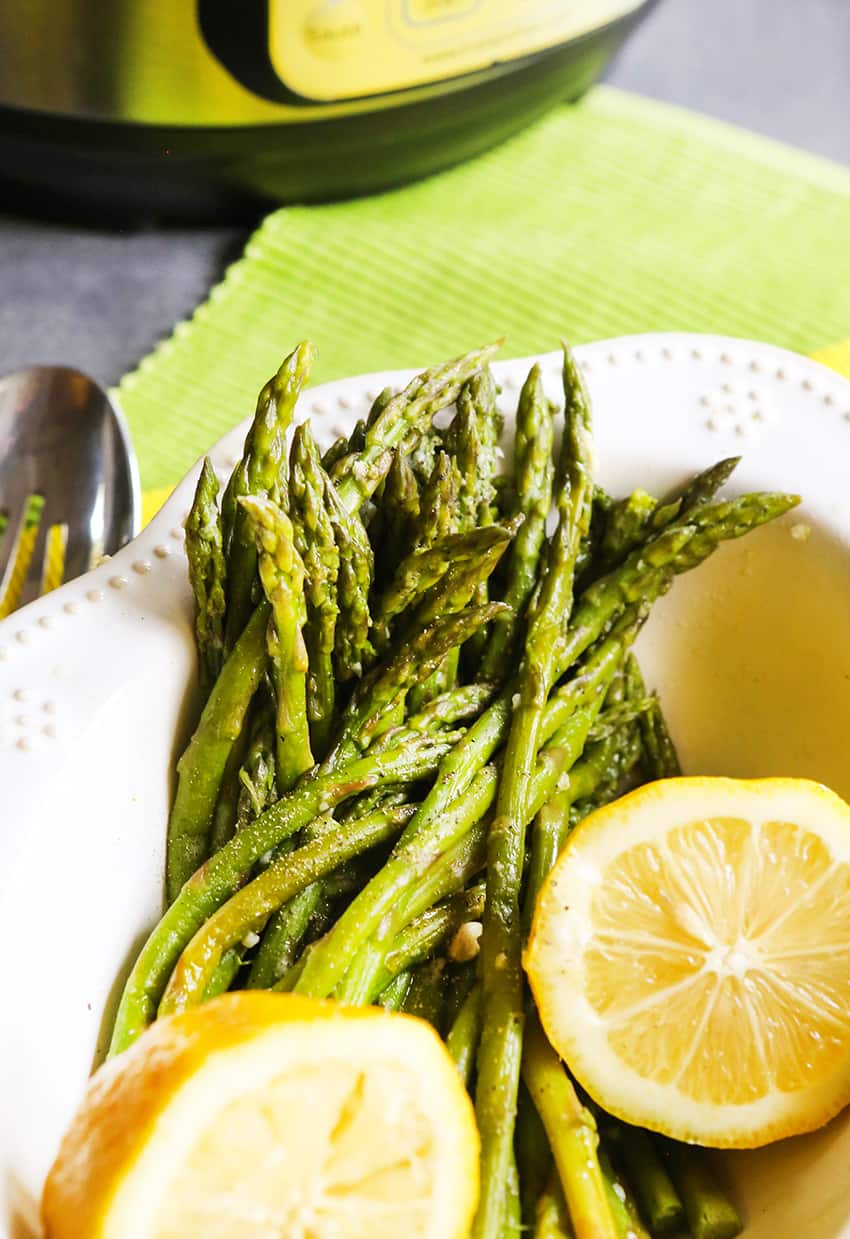 Instant Pot Asparagus is easy to make and makes a great side dish for any meal. Cooks perfectly every time and tastes amazing with sauteed garlic.
French Onion Soup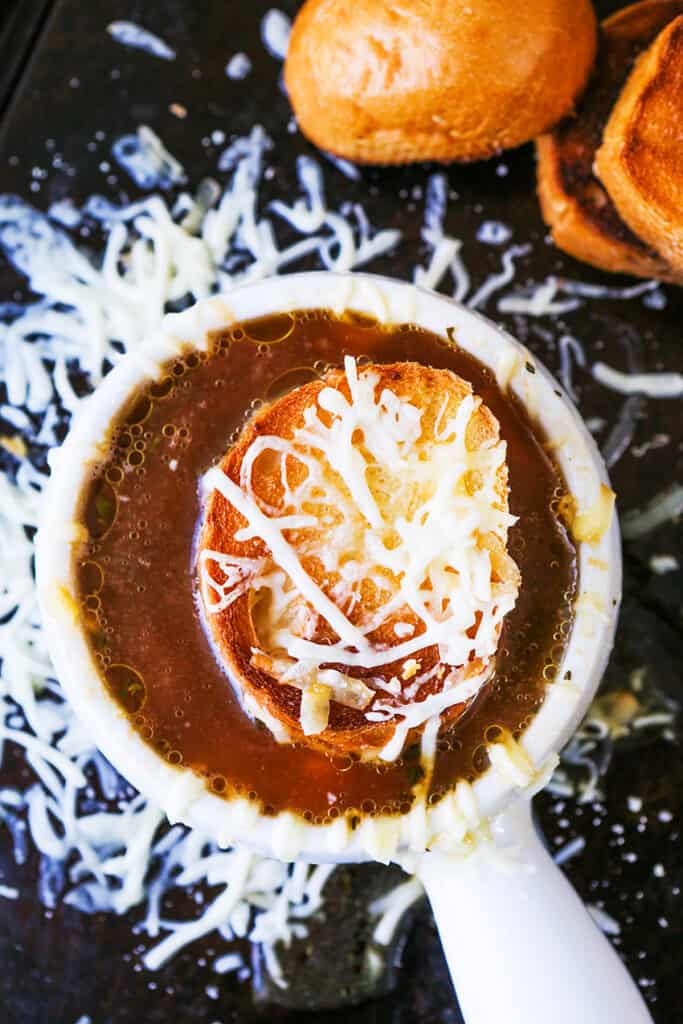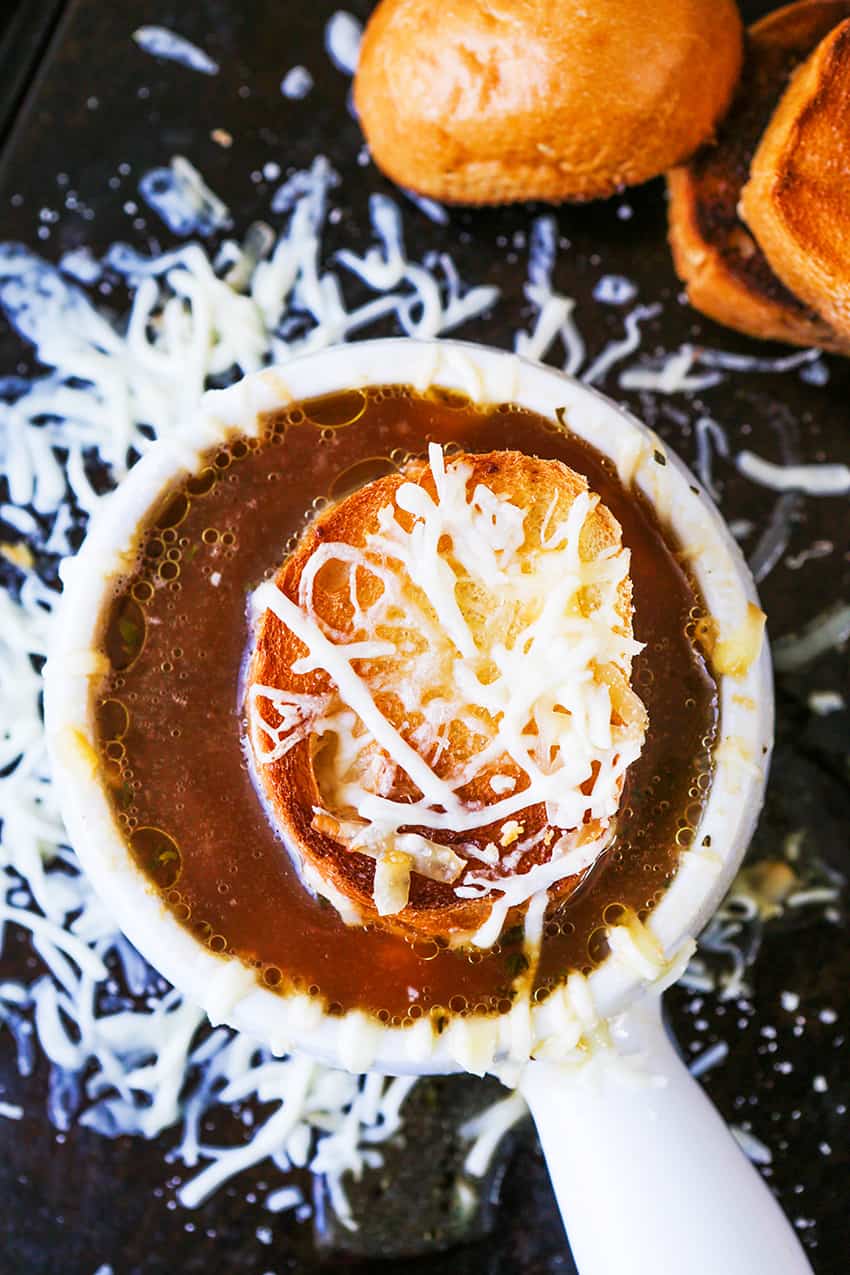 Add this classic French Onion Soup to your recipe arsenal. It is rich, hearty, flavorful and super easy to make. The presentation is impressive and will make people believe you've slaved over a hot stove all day long.
Sauteed Asparagus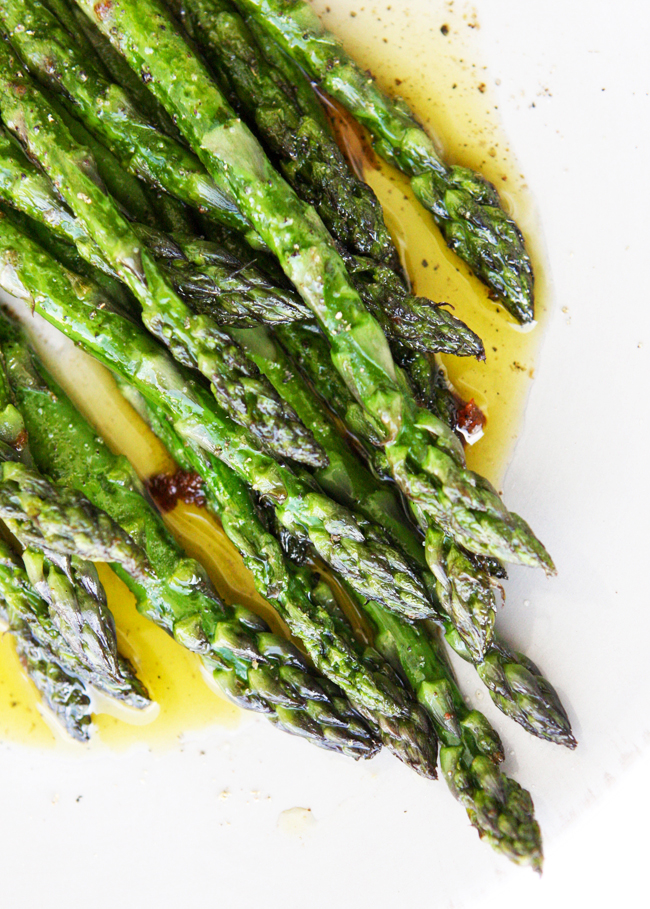 Asparagus is a super simple veggie to prepare. Make this delicious side dish to go along with any meal. You'll enjoy every bite of this sauteed asparagus!
Baked Potatoes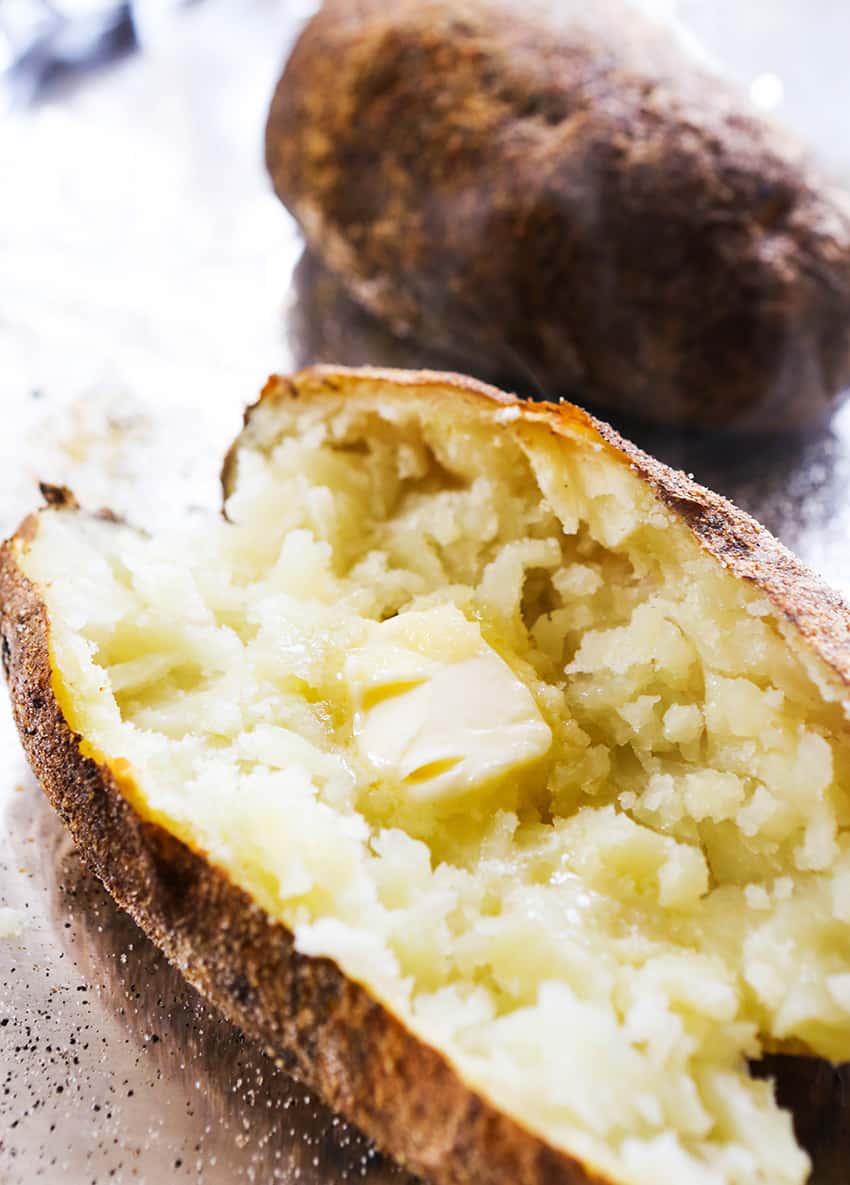 Introducing the most Perfect Baked Potato Recipe that can easily be baked in your oven with no fuss! There's a yummy, simple, secret ingredient that makes these potatoes even more perfect.
Use this same method to create a baked sweet potato instead, if desired!
Potato Soup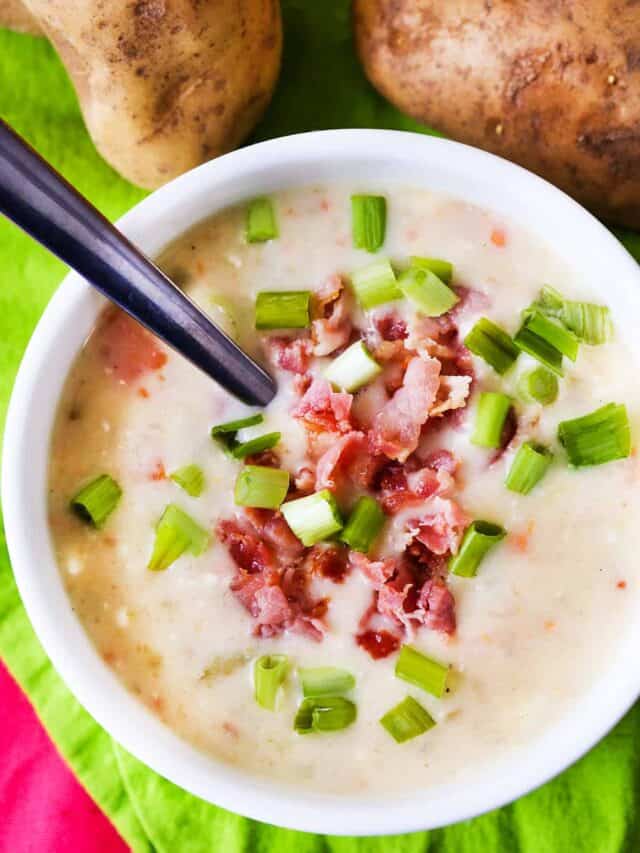 This delicious and creamy Instant Pot Potato Soup is made even more delicious when made in a pressure cooker. Russet potatoes, carrots, celery and cream cheese transform this into a comforting and dreamy meal to enjoy on a chilly day!
Roasted Vegetables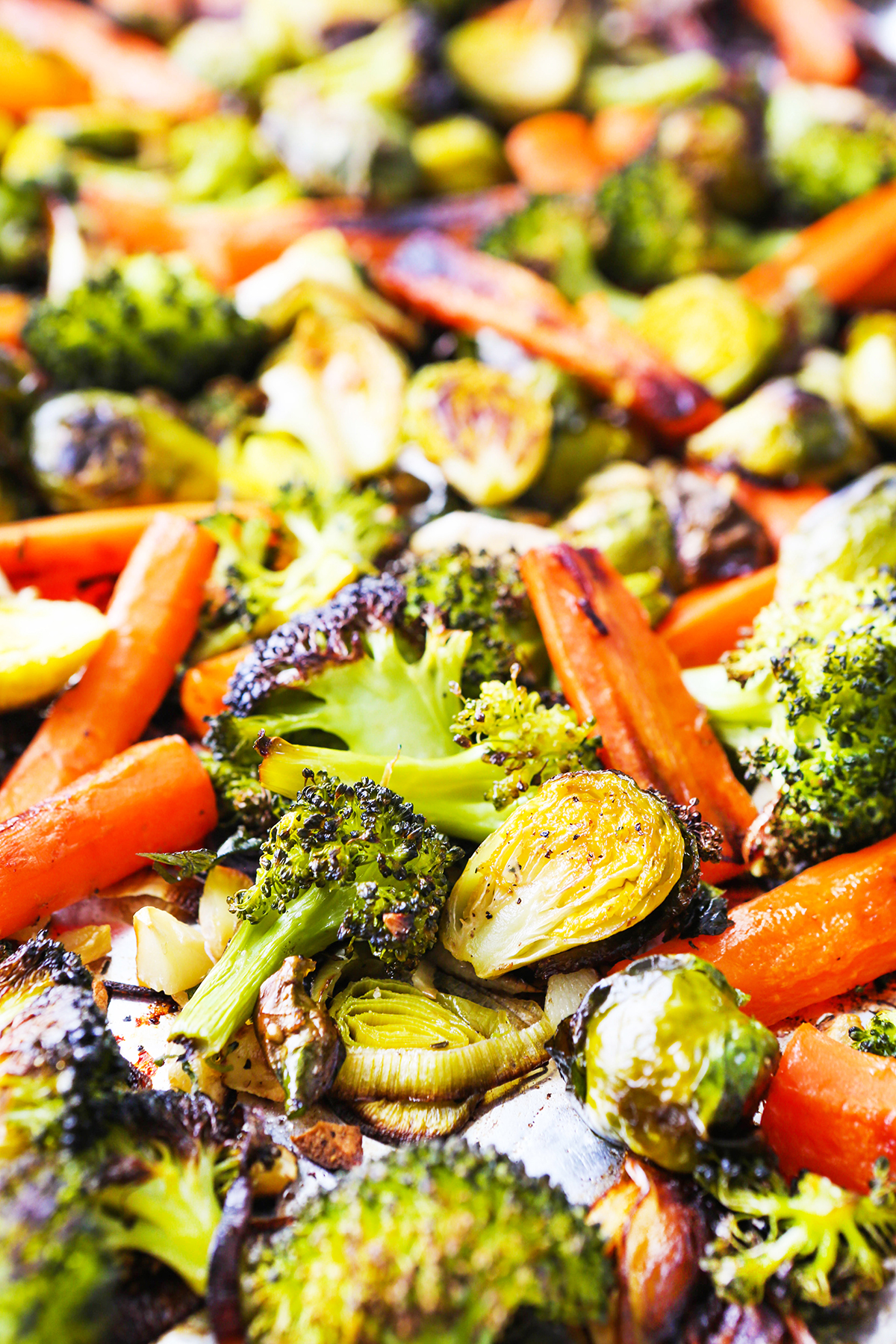 You can be sure that these are the best roasted vegetables recipe you will make. Roasted broccoli and carrots will turn veggie haters into veggie lovers! Swap out vegetables in this recipe for any you might have on hand, such as cauliflower, zucchini, mushrooms or onions.
Mushroom Soup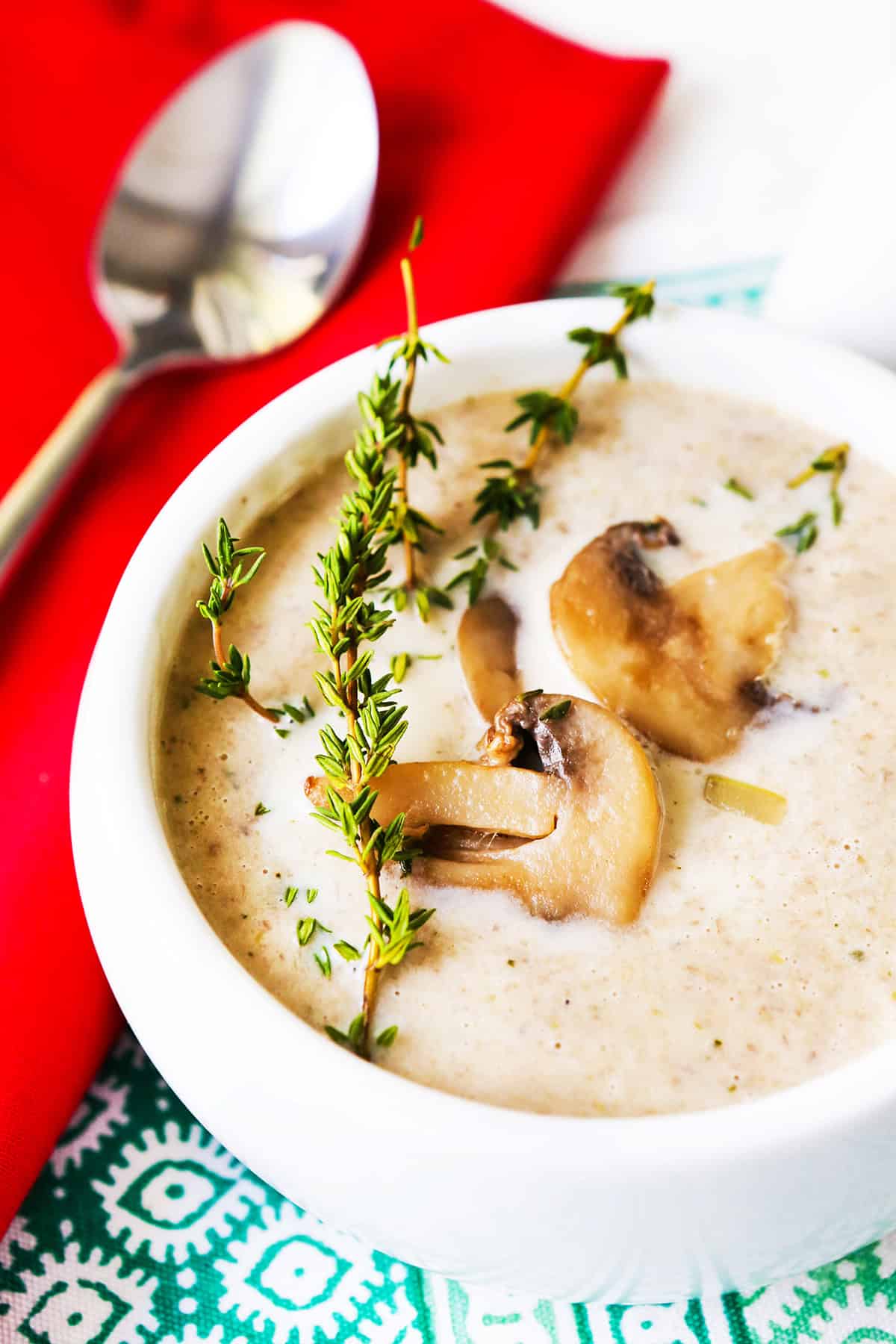 This creamy mushroom soup recipe is packed with delicious shrooms and a ton of flavor. A super affordable meal to make, this will fill everyone up! Dunk bread sticks or garlic bread into it or serve with a delicious side salad for a complete hearty meal.
Dinner Rolls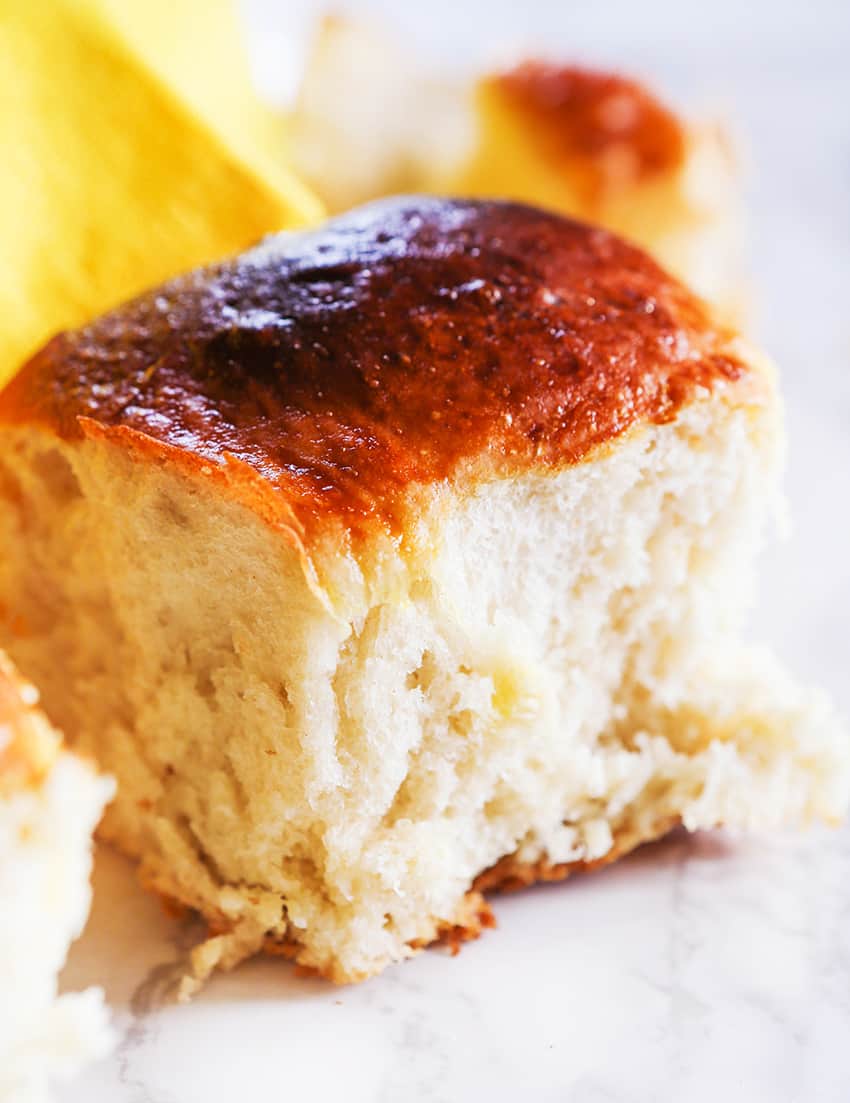 These are the best dinner rolls for Thanksgiving that you'll find! They are fluffy, slightly sweet and delicious and they go great with any meal, whether it is a large turkey dinner or a simple weeknight meal.
Chicken and Dumplings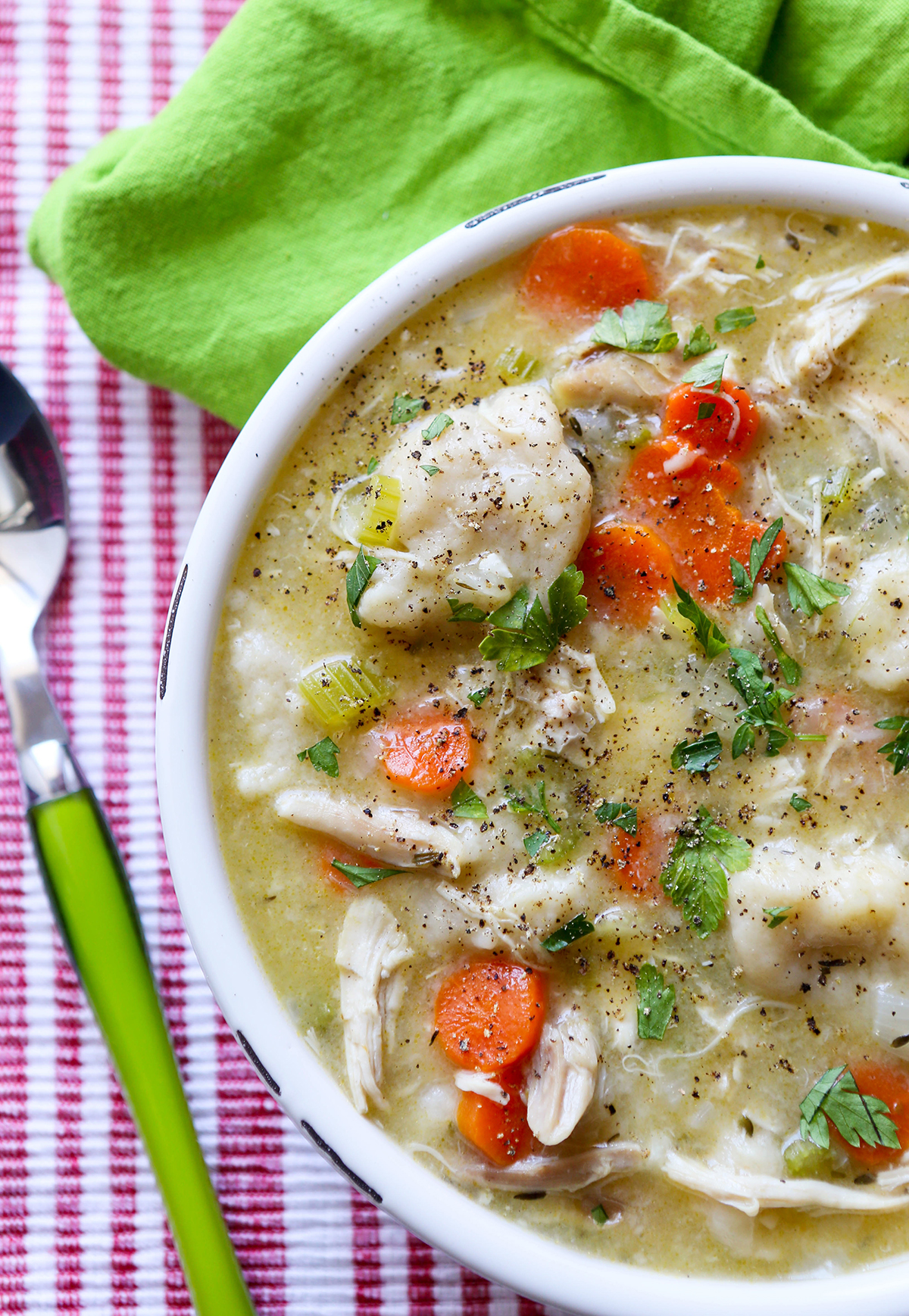 This chicken and dumplings recipe made with canned biscuits is super easy to throw together. Make a batch of this creamy soup to serve today, then freeze some for later!
Broccoli Cheese Soup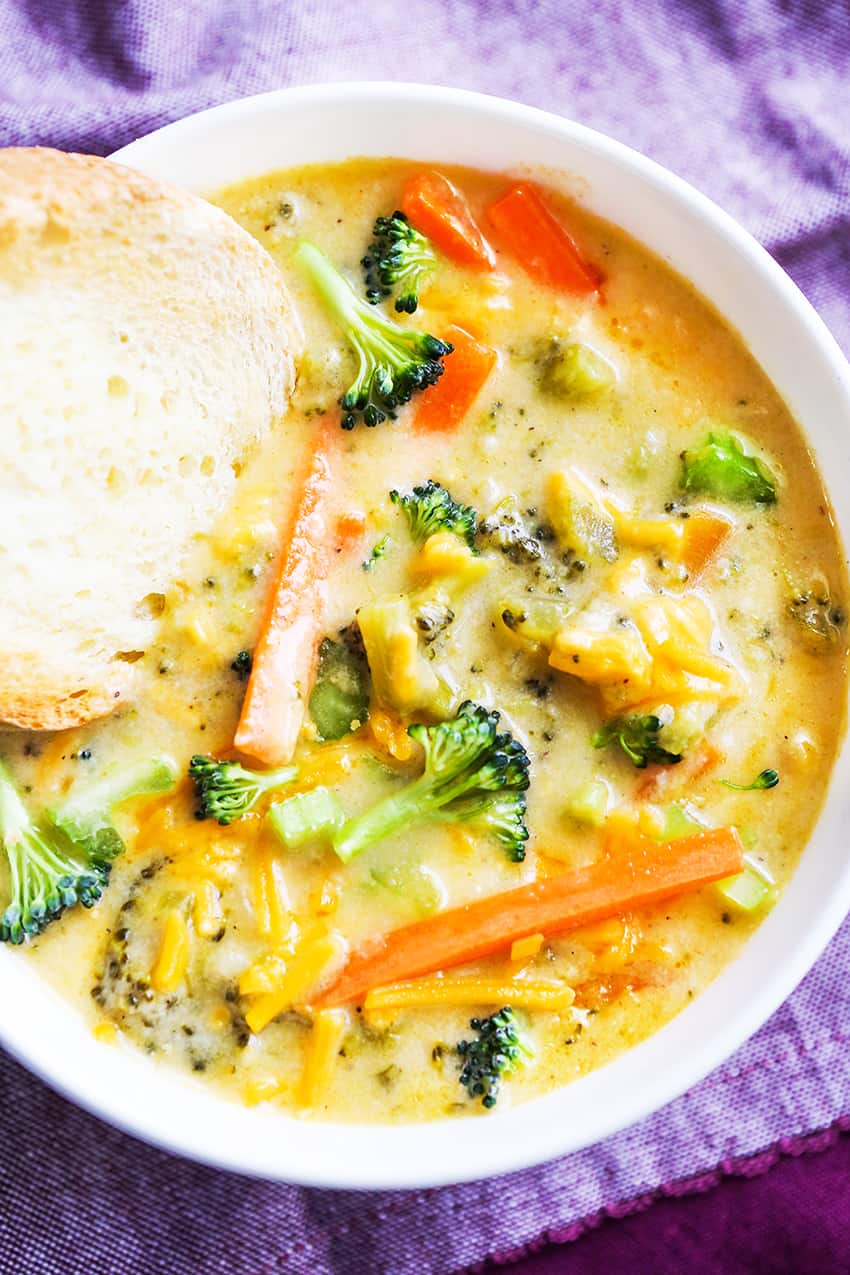 This is the BEST Broccoli Cheese Soup recipe you will ever taste. Let your Instant Pot create a veggie-packed, cheesy, hearty and comforting dinner that everyone at the table will love. Instant Pot Broccoli Cheese Soup is done in just 20 minutes!
Cream Cheese Mashed Potatoes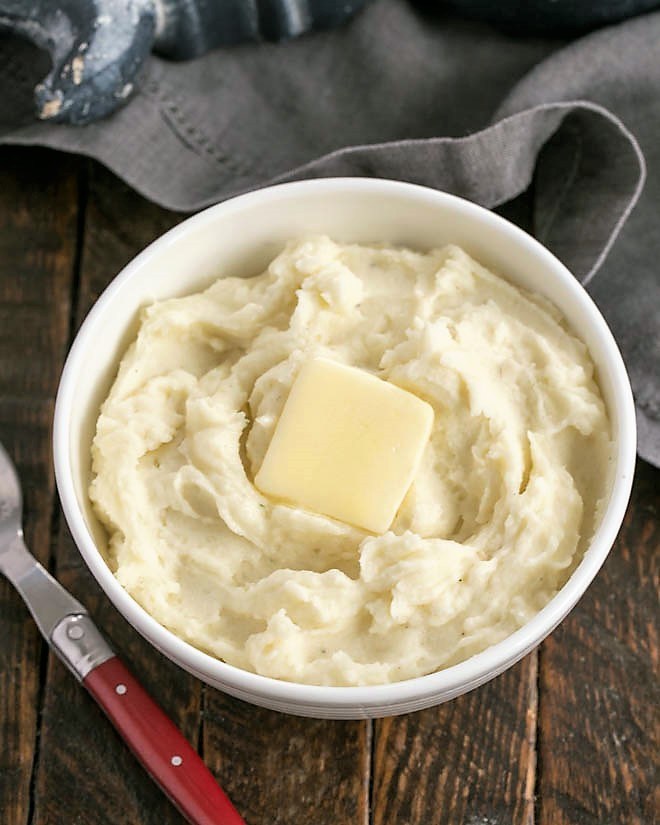 Instead of my usual winging the potatoes on Thanksgiving, I tweaked these buttery Cream Cheese Mashed Potatoes (from That Skinny Chicken Can Bake) a la Martha Stewart.
Marinated Carrot Salad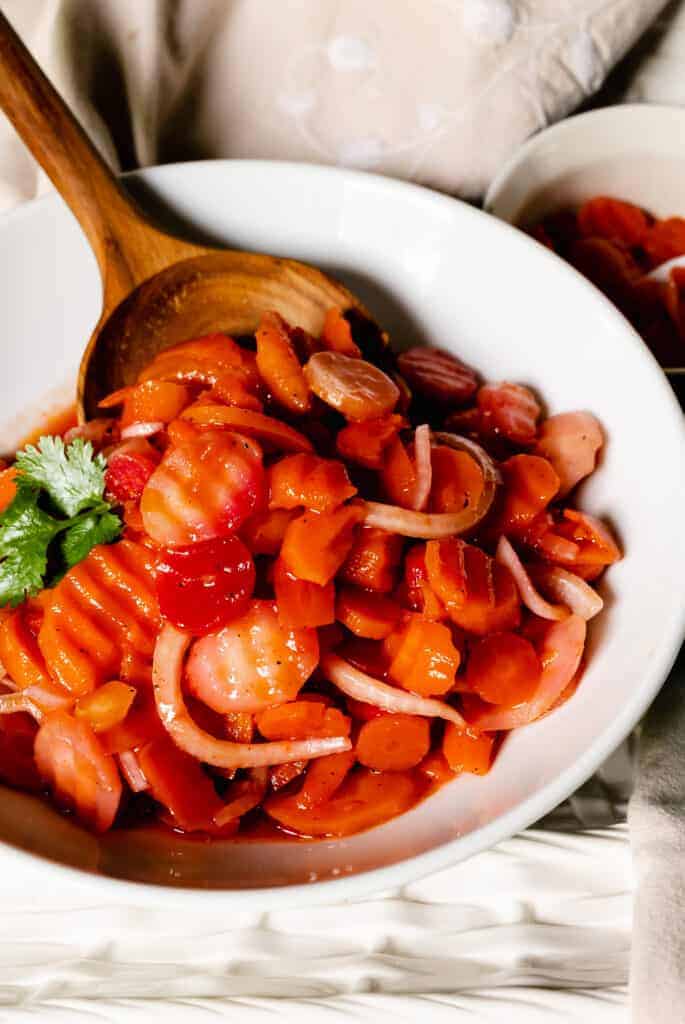 Sometimes called Copper Pennies Salad, this Marinated Carrot Salad (from Josie and Nina) is big on color and flavor. The perfect bbq side dish in the summer or an easy side dish recipe any holiday table, Marinated Carrot Salad salad is made without mayo making it a fresh vegetable salad.
Turmeric Roasted Cauliflower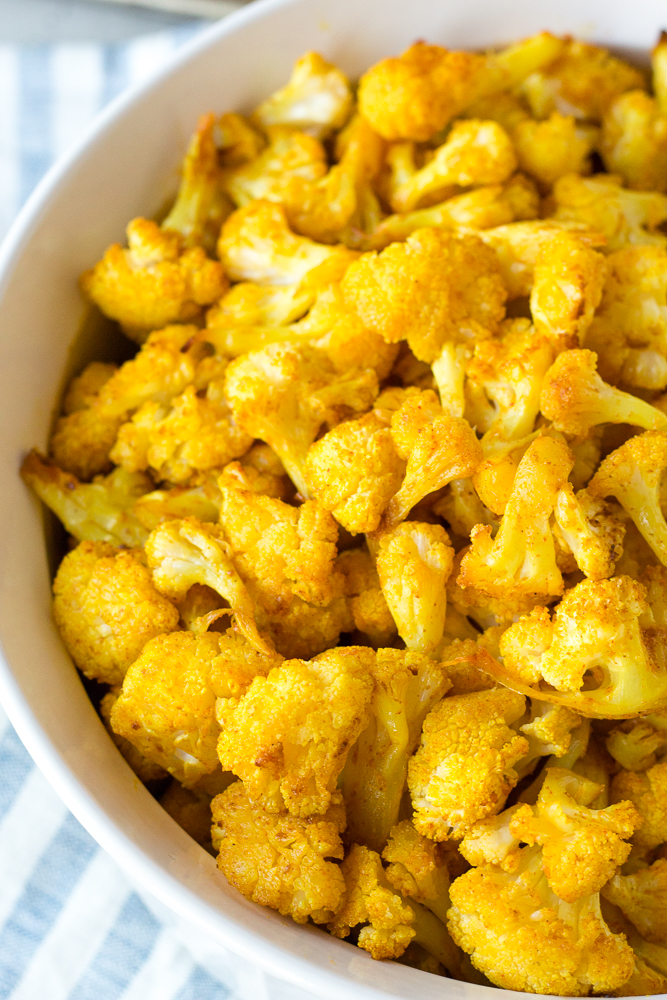 This Turmeric Roasted Cauliflower (from Hot Pan Kitchen) is a perfect side dish for your next Whole30. It's got rich and warm flavors and is easily cooked up in the oven with a simple spice blend and some oil. Try this recipe as a side dish to your next weeknight dinner!
Instant Pot Mashed Potatoes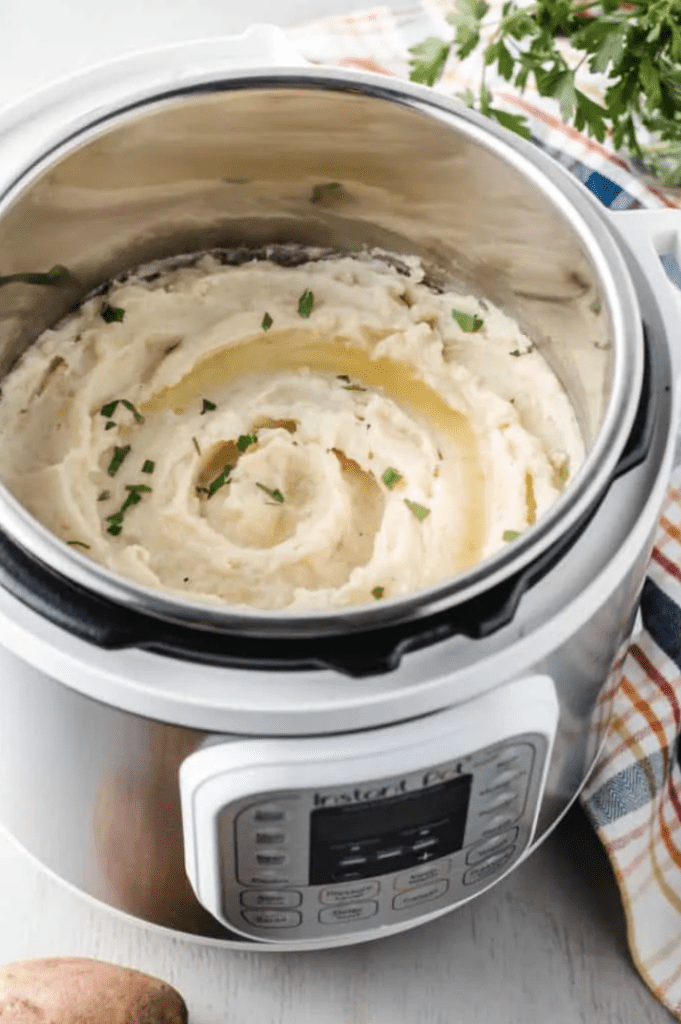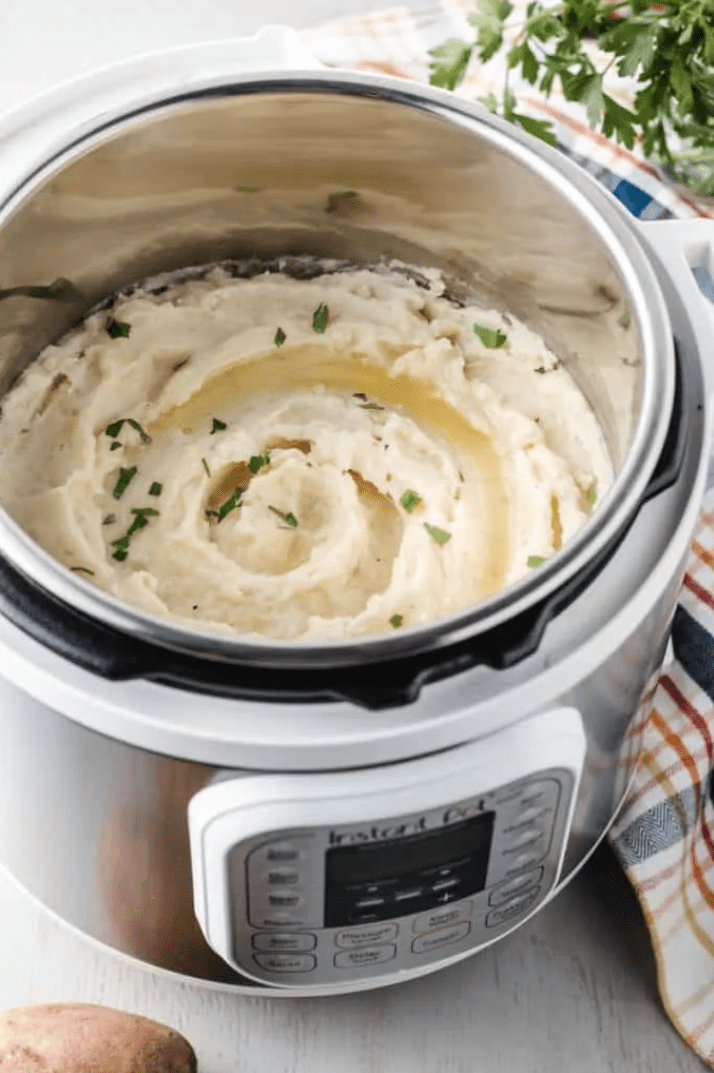 Instant Pot Mashed Potatoes (from Wheat by the Wayside) – The Instant Pot will revolutionize your opinion of an already easy task. Make mashed potatoes without the mess in the instant pot and you'll never make them in a pot of boiling water again!
Veggie Wild Rice Pilaf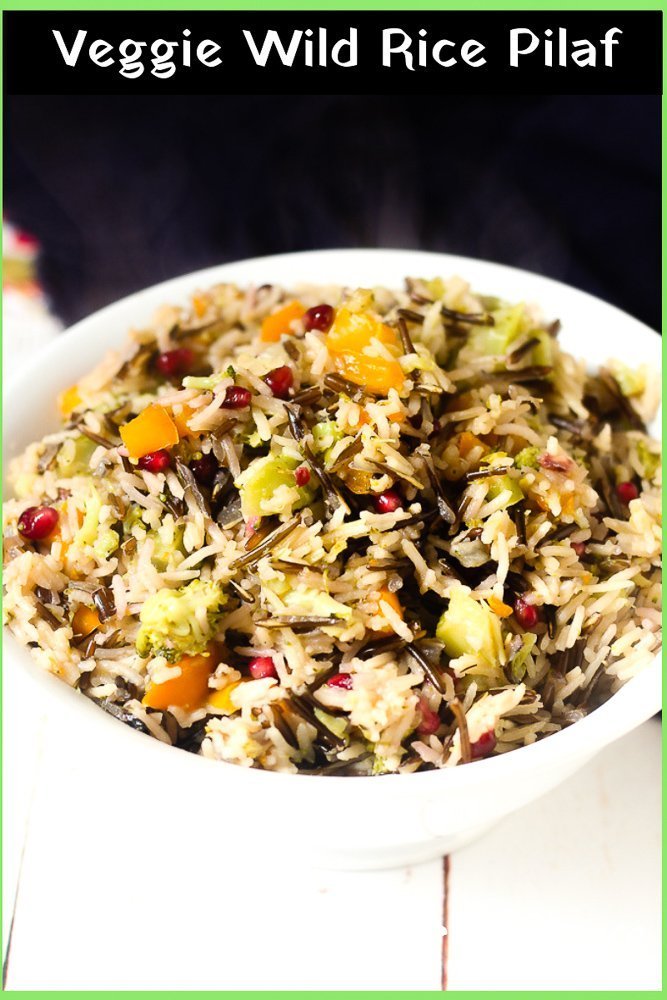 Veggie Wild Rice Pilaf (from Global Kitchen Travels) is an easy side dish that makes a tasty alternative to boring steamed rice or roasted potatoes.
Cheesy Spinach Rice Casserole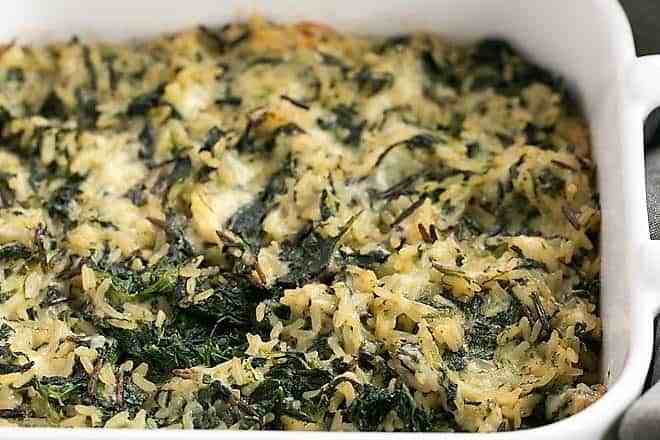 This Cheesy Spinach Rice Casserole (from That Skinny Chick Can Bake) is an easy, flavorful side dish with spinach, long grain and wild rice, and loads of Monterey jack cheese!
Sauteed Green Beans with Mushrooms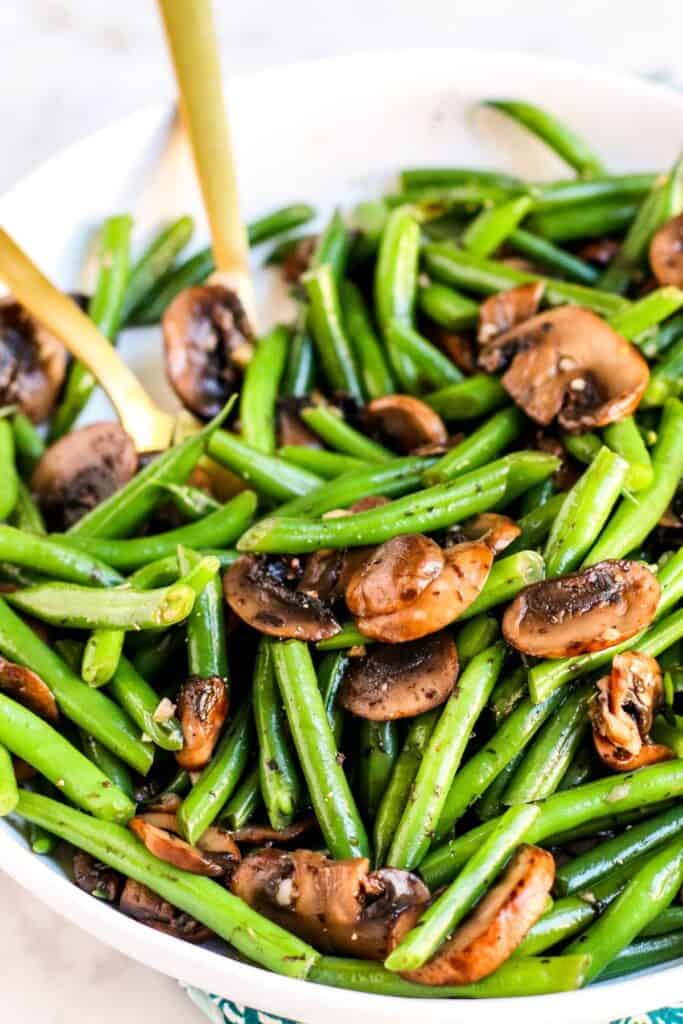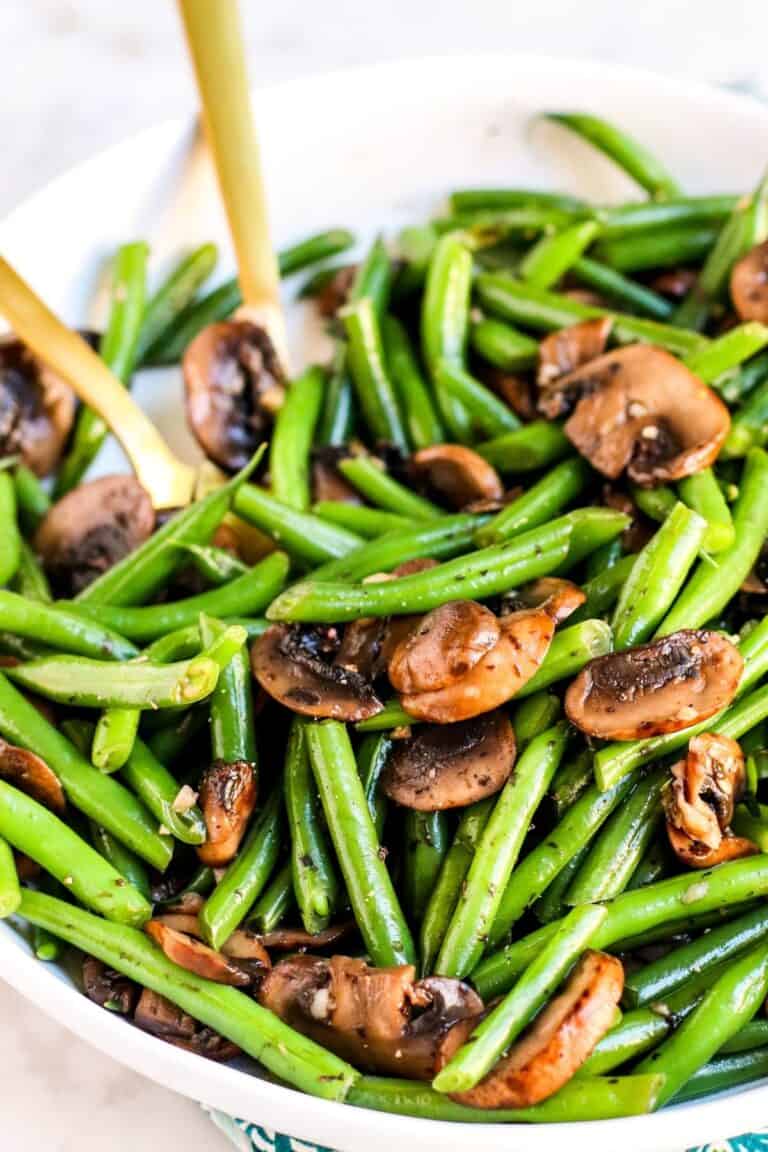 Sauteed Green Beans with Mushrooms (from Veggies Save the Day) is a delicious and healthy side dish. This easy vegan and gluten-free recipe is perfect for both weeknights and holidays. If you're looking for an alternative to the traditional green bean casserole, this fresh string bean recipe is for you!
Roasted Carrots with Honey Butter Glaze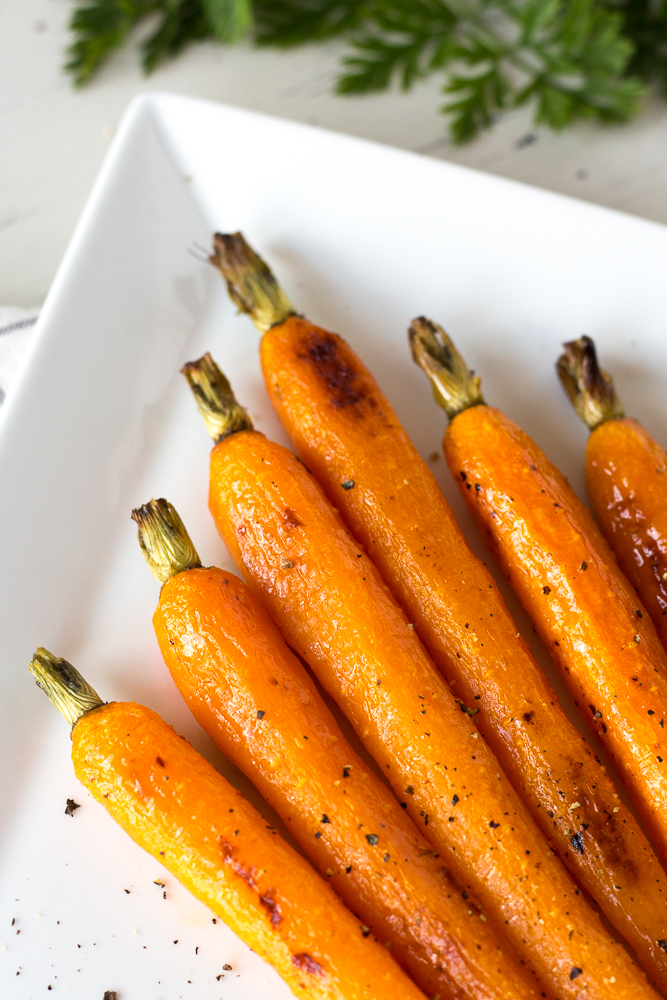 These Roasted Honey Glazed Carrots (from Hot Pan Kitchen) are so simple to make and taste amazing. Cooked on a pan in the oven then brushed with melted honey butter, they're slightly sweet but still healthy. This recipe is perfect for special meals like Thanksgiving or as an easy addition to your weeknight dinner.
Gluten Free Scalloped Potatoes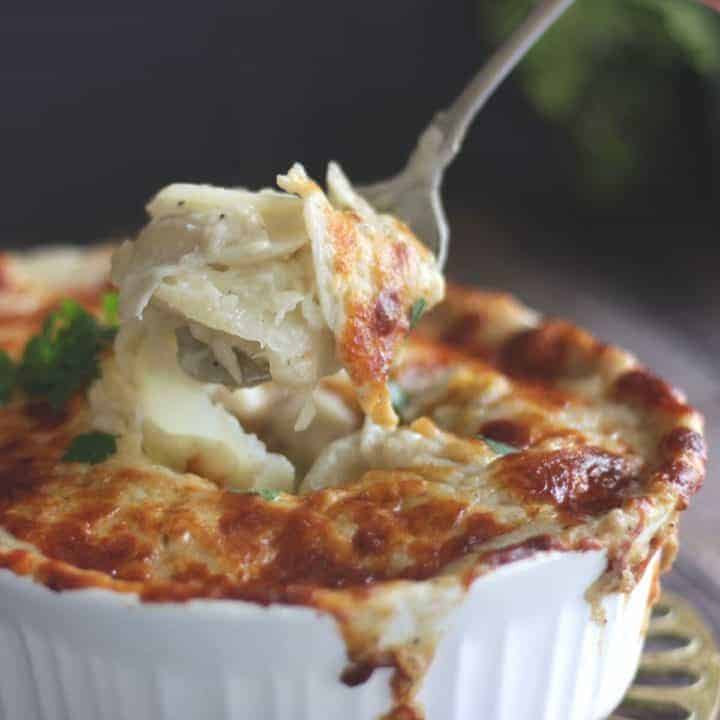 Enjoy smooth, creamy Gluten Free Scalloped Potatoes (from Cathy's Gluten Free)! Well-seasoned white sauce flows between soft, thin layers of cooked potato and onion. Top the whole thing with lots of gooey, melted cheese and a sprinkling of paprika.
Garlic Yuca Mash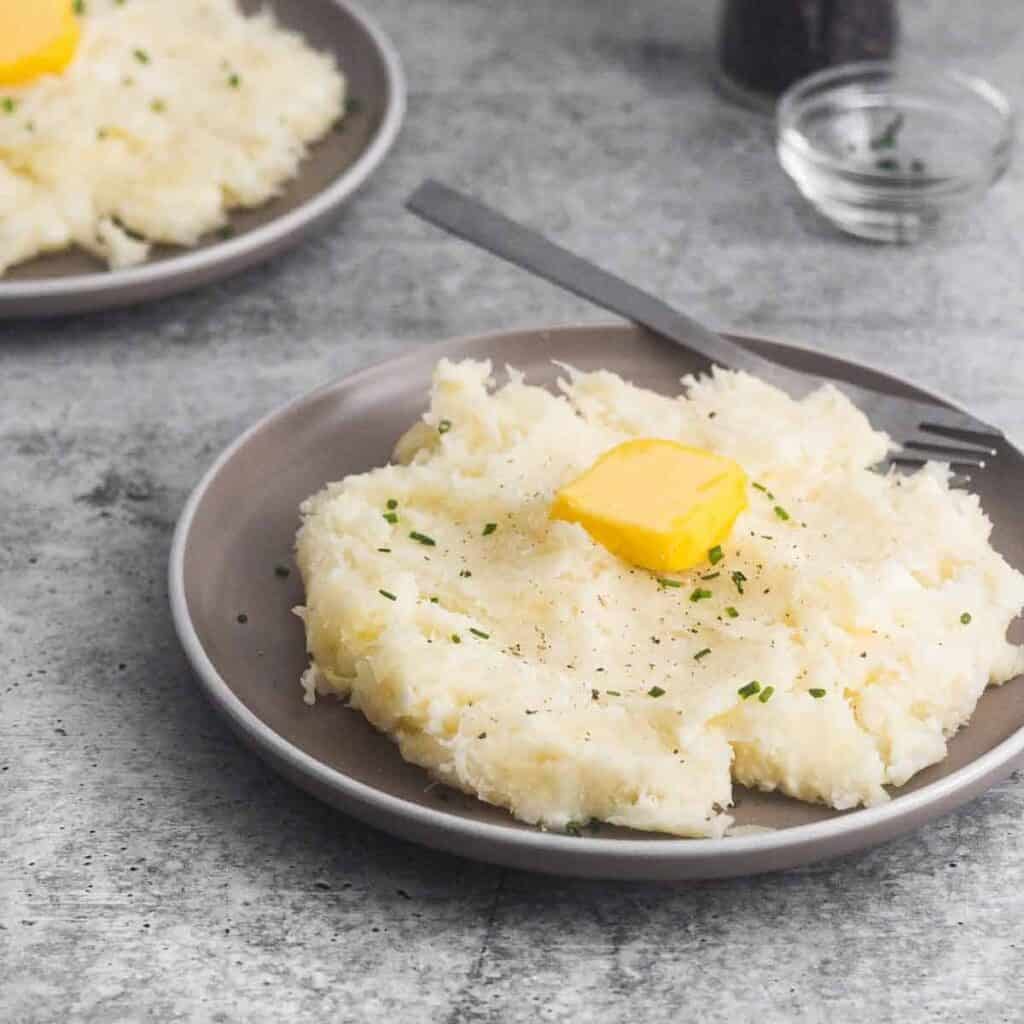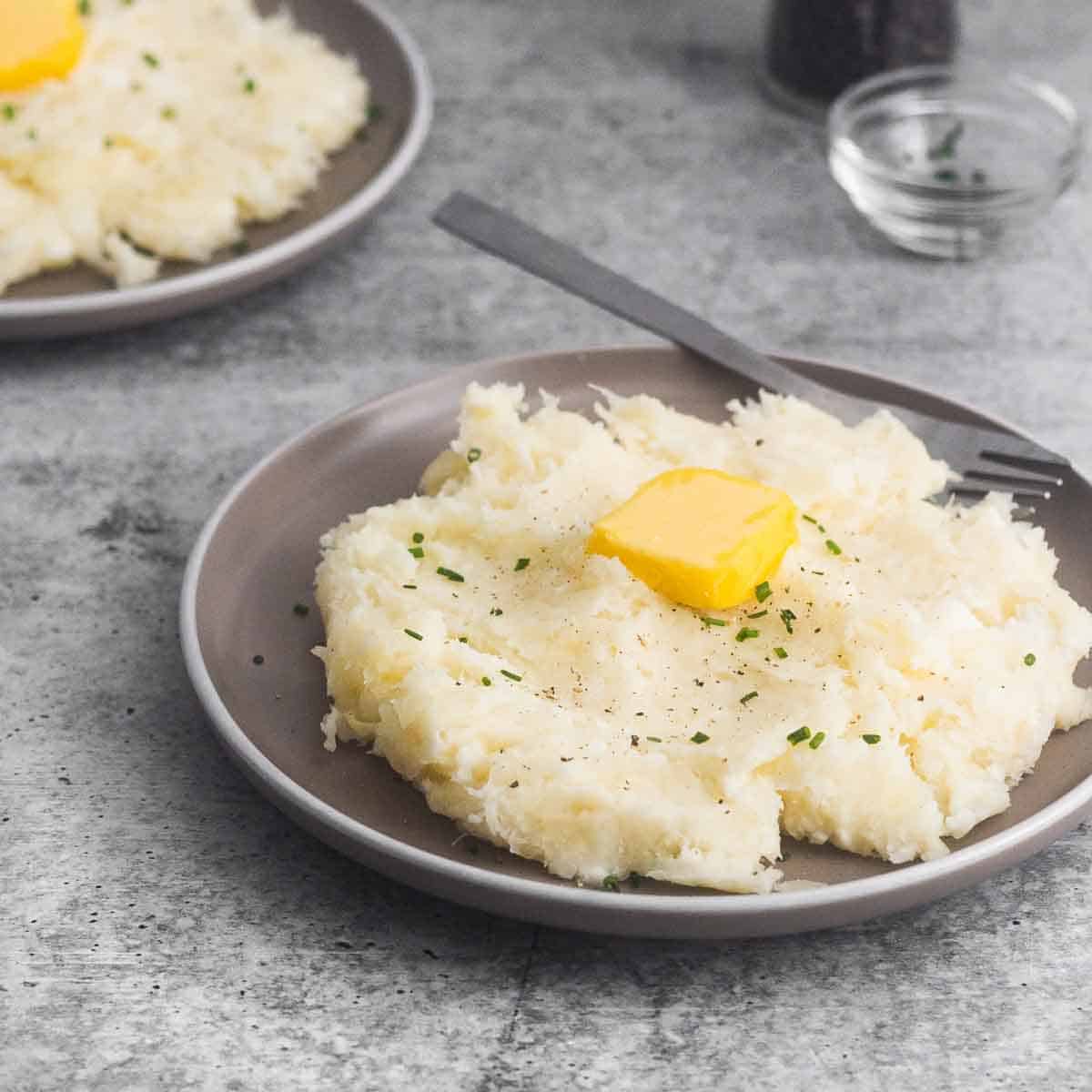 Garlic Yuca mash (from Nashi Food) perfect side dish for your meals, made with few ingredients and easy to make, boil, mash, and enjoy. And it's gluten-free!
Sauteed Green Beans with Shallots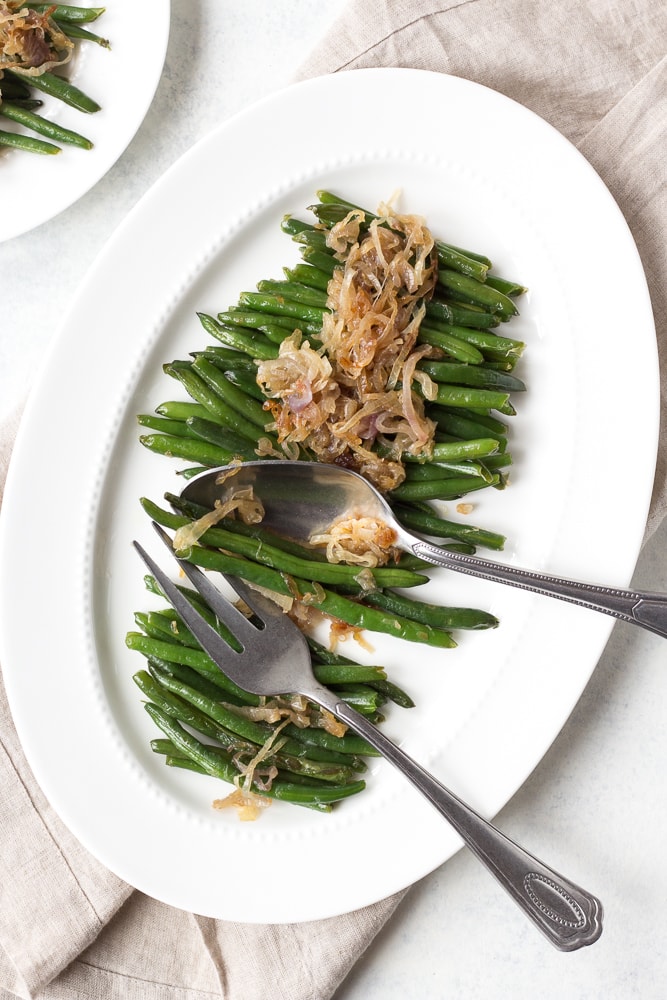 These Sauteed Green Beans with Shallots (from Hot Pan Kitchen) are so delicious and easy to make. This is a healthy & simple recipe that goes perfectly with Thanksgiving dinner, or can be kept casual for a weeknight meal. Using fresh green beans (also called string beans) gives this dish the best flavor. Add them to your table and prepare to see just how flavorful these are!
Instant Pot Corn on the Cob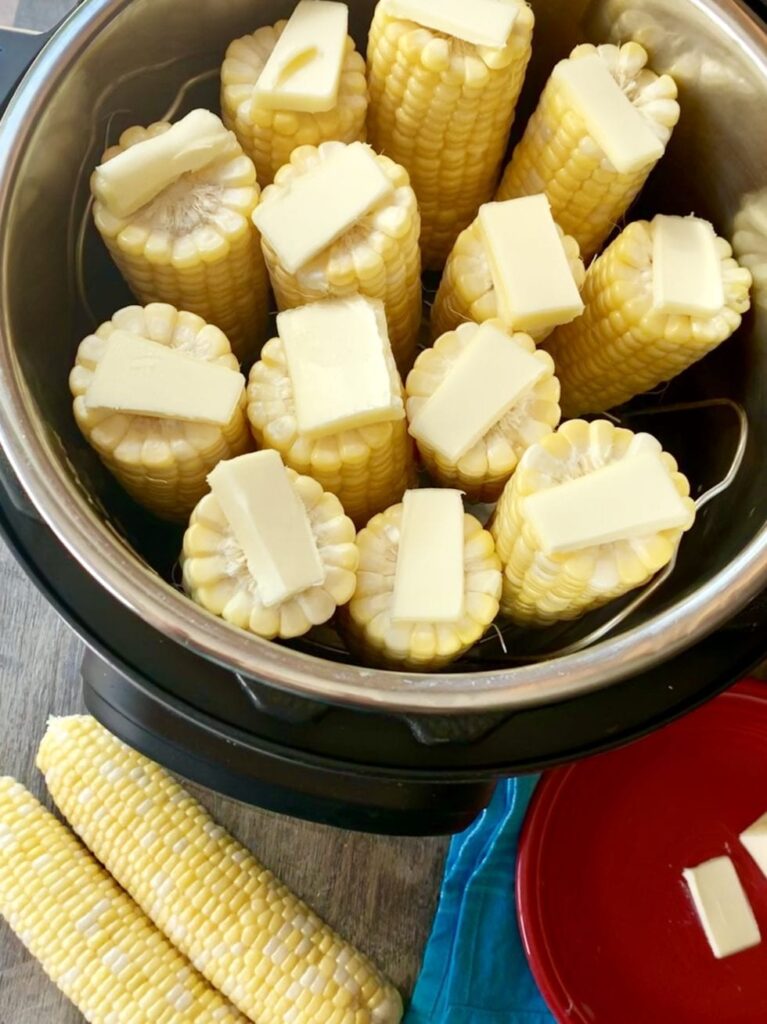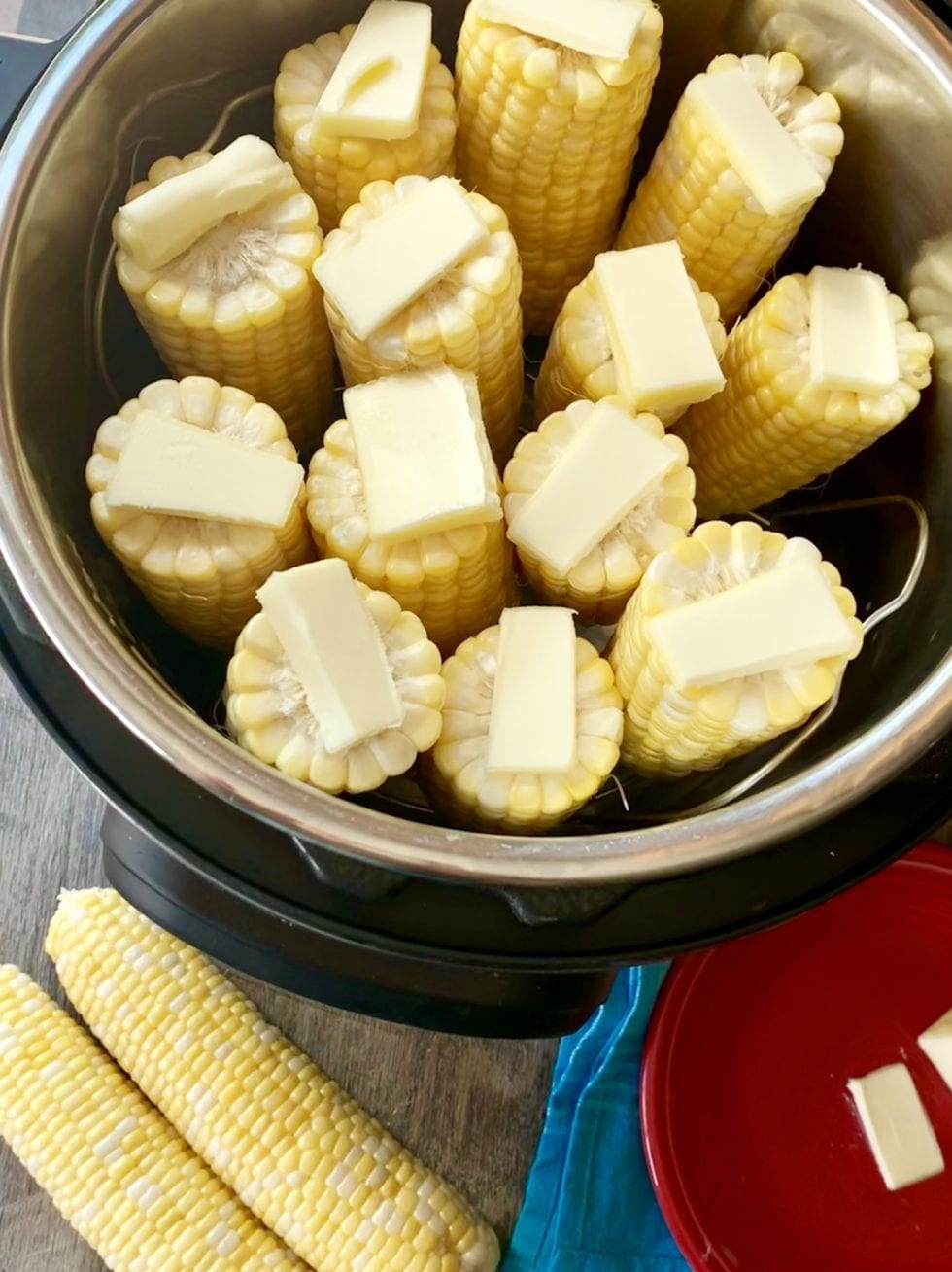 Instant Pot Corn On The Cob (from Hollis Homestead) is the easiest and most efficient way to cook fresh sweet corn. In the middle of summer with temps reach 100° I avoid using my stove and oven completely. If it can't be cooked in the Instant Pot or grilled on the BBQ it's probably not on my menu plan. Using the Instant Pot is far more energy-efficient, it's faster and there is no boiling pot of water to babysit on the stove.
Air Fryer Acorn Squash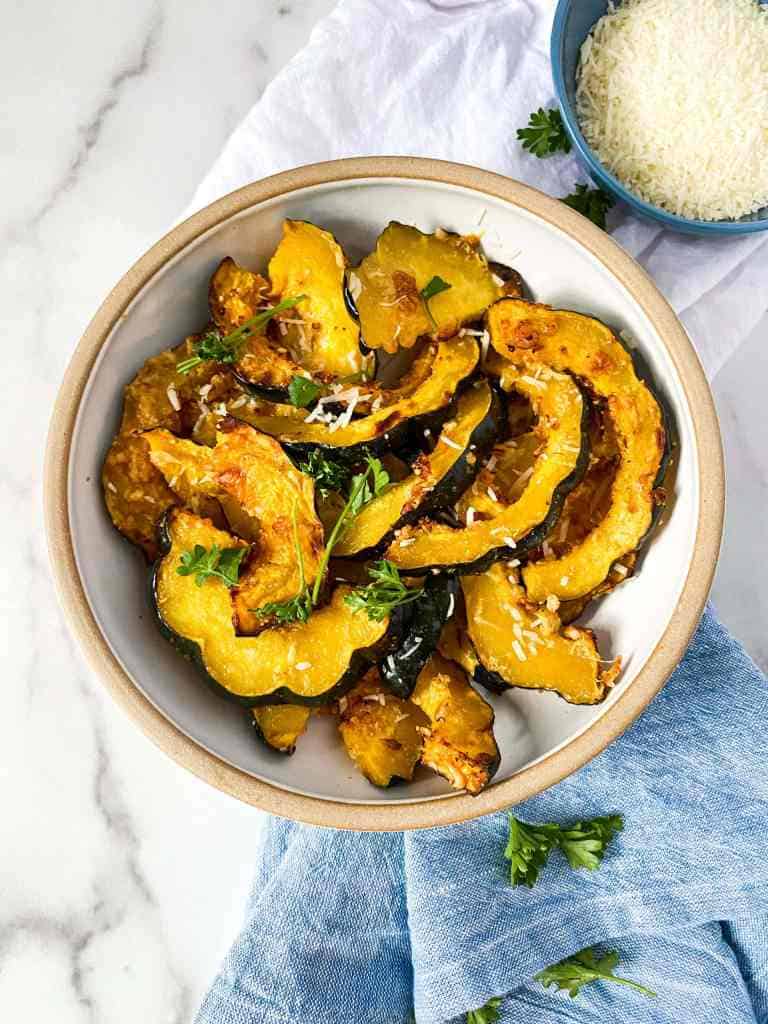 This Air Fryer Acorn Squash (from Over the Spoon for) recipe is a garlic parmesan flavor but you could season it however you like! Some people prefer a sweeter acorn squash and could drizzle with honey or maple syrup after frying rather than using garlic parmesan.
Asian Broccoli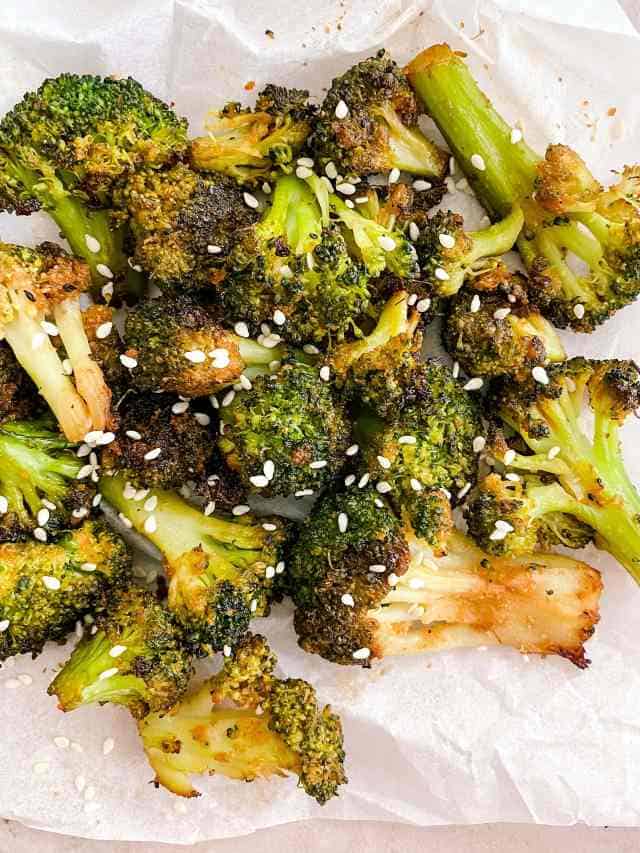 This healthy Asian Broccoli side dish (from Over the Spoon for) is inspired by some of my favorite Asian flavors and condiments such as sesame oil and soy sauce.