If you don't have time to make a healthy breakfast every morning, try these make-ahead eggs and veggies! Cater vegetables to your liking!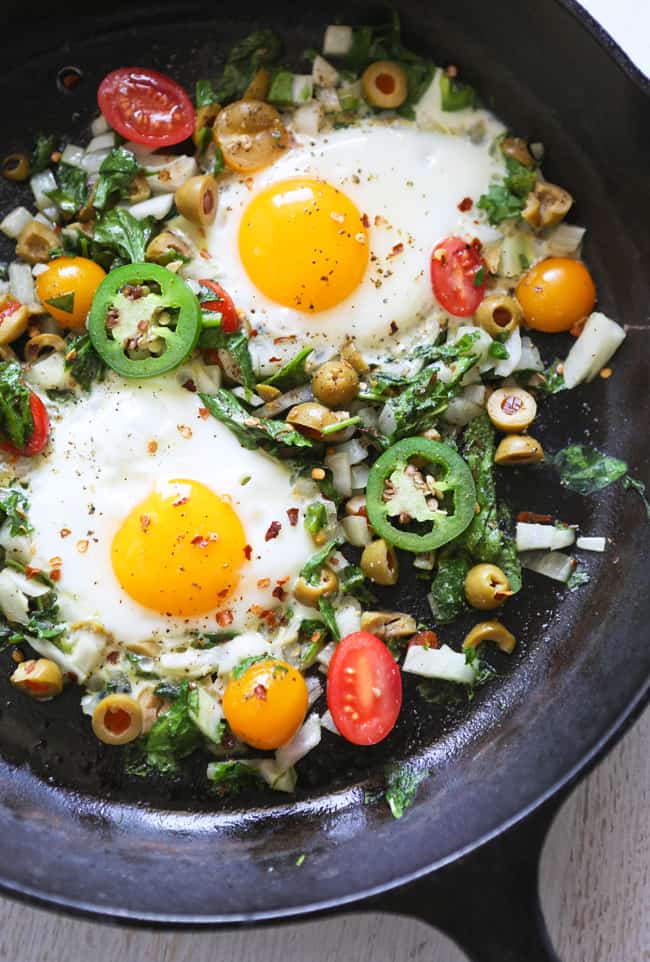 Dan is constantly telling me that I need to be better about eating breakfast. Most of the time I just forget! I get caught up in getting food in the boys' bellies and filling up Elijah's lunch box and putting dishes away and keeping an eye out for the bus. Then I hurry to get a bit of work done before Sammy and I head out for errands or the gym. At that point I remember. Oops. Tummy is empty.
Last week I came up with a breakfast plan that requires minimal effort each morning. On Sunday I throw a few ingredients into 7 ziploc bags and put them in the fridge. Then, each morning as I'm pulling out the milk for the boys, I see the bags and remember. Oh yeah. Breakfast. I toss the contents of the bag in a skillet and it does its thing while I run around the kitchen. Ten minutes later…I EAT. It is so easy, GOOD, healthy and customizable and I can't believe I haven't thought of doing something like this before now.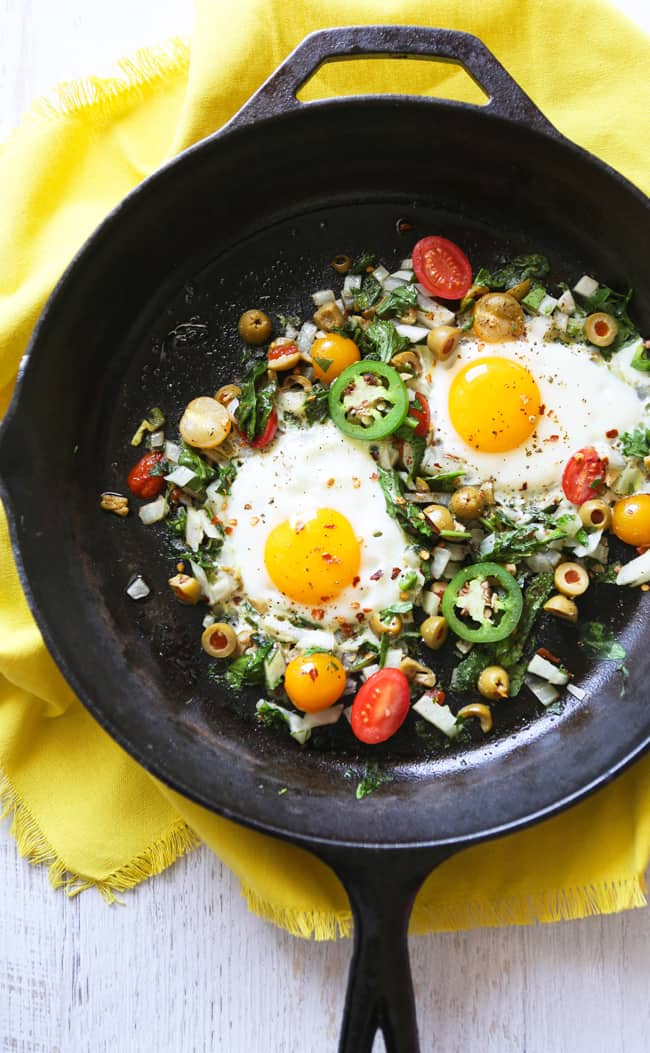 I'll tell you what ingredients I used this first week, but this recipe is totally customizable. Really, you could add any vegetable or herb to the mix.
I used: 1 onion (chopped), 2 jalapeños (finely chopped), 3-4 cups chopped spinach, 10.5-oz. container cherry tomatoes (halved) and 1 cup of chopped green olives.
I divided the ingredients between the seven bags, putting the heaviest, juiciest ones at the bottom (tomatoes and olives).
Other good options: mushrooms, bell peppers, green onions, garlic, chives, parsley.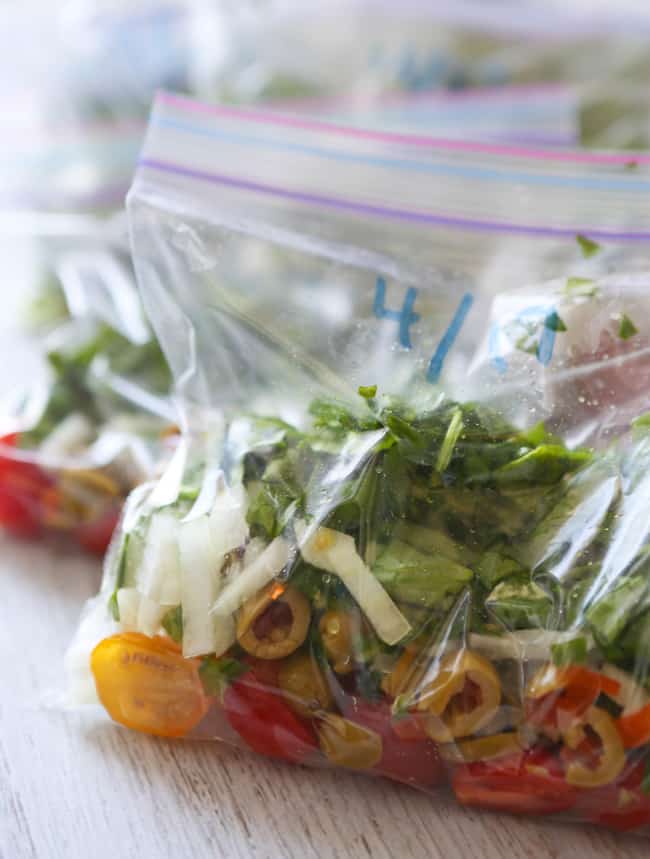 Toss the bags into the fridge. When you're ready for breakfast, heat a bit of olive oil in a skillet over medium heat. Empty the contents of one bag into the skillet.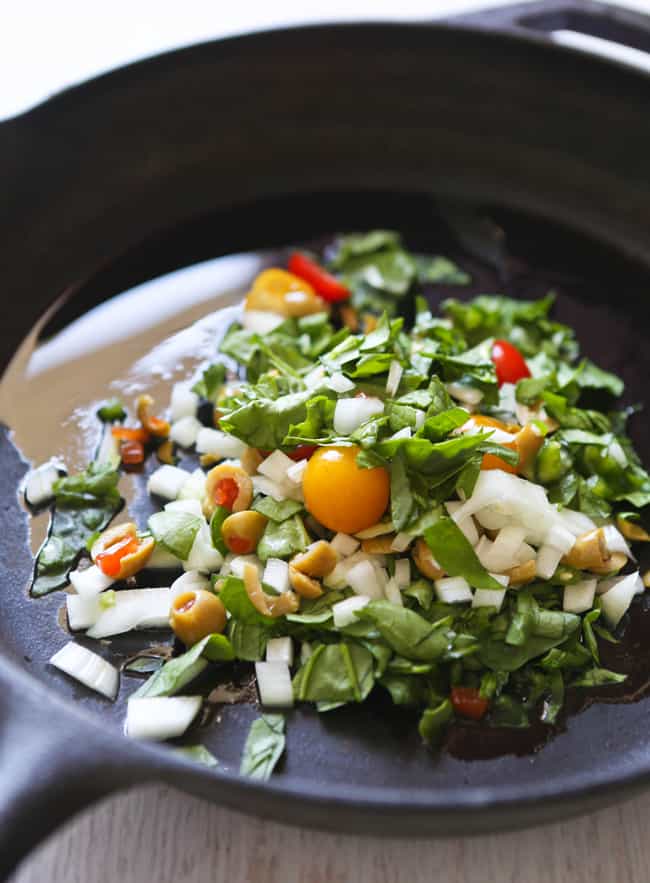 Cook for about 3 minutes and add meat, if desired. Cooked bacon, turkey or chicken would be great options.
Create two "holes" in the center of the mixture for the eggs!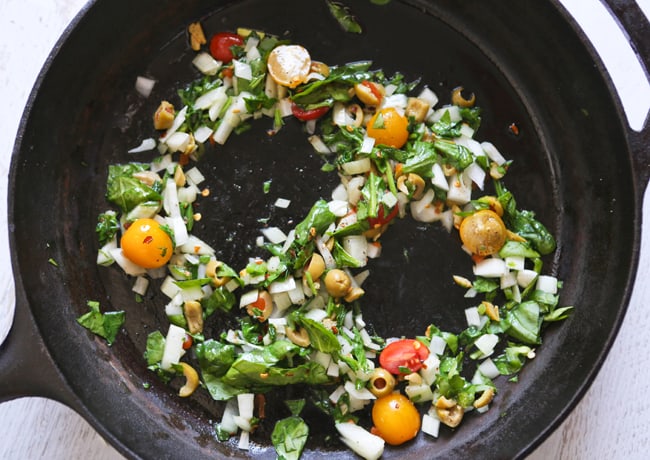 Crack an egg into each hole.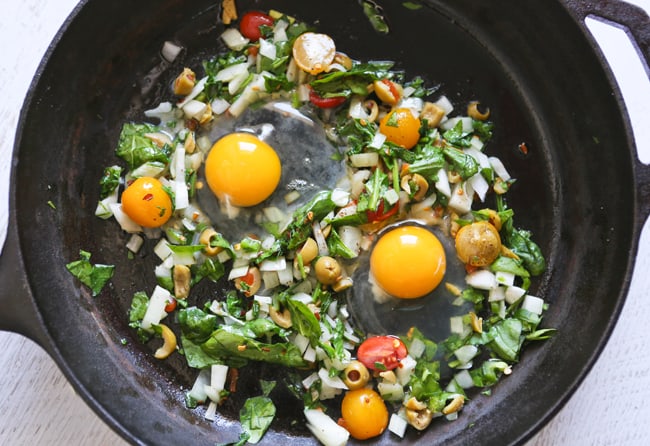 Cover with a baking sheet or lid and cook for 4-5 minutes, or until the whites of the eggs are cooked through.
Another option for the eggs is cracking them into the skillet after the veggies have cooked a bit and just stirring them until they are scrambled.
Top with salt, pepper and red pepper flakes, or seasonings of choice. Maybe some avocado slices or salsa, too?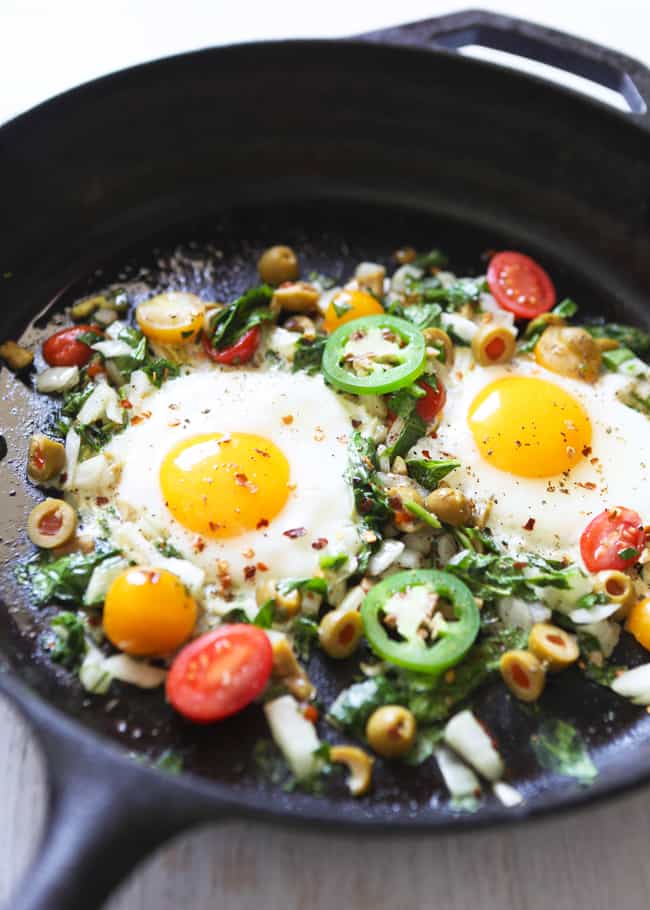 Enjoy! I'm seriously in love with this breakfast. I am doing this every week!
For other easy and yummy breakfast ideas, check out this Fried Egg and Tomato Breakfast Stack and also these Loaded Bagel Breakfast Sandwiches!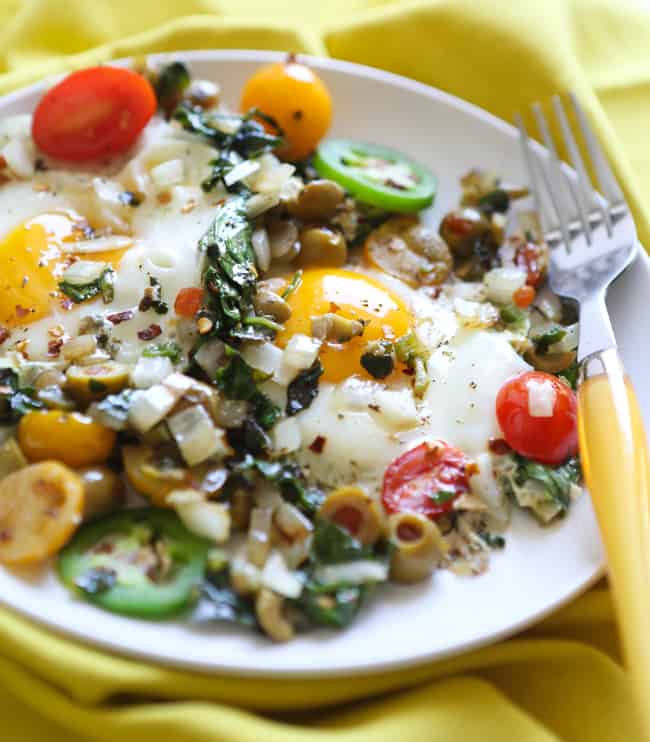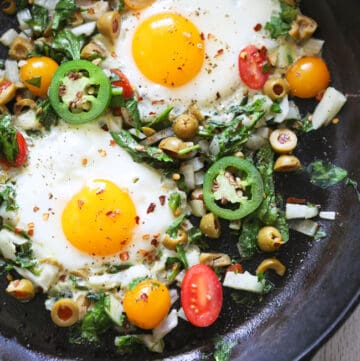 Make Ahead Breakfast: Easy Eggs and Veggies
Hot, customizable breakfasts for an entire week with minimal effort!
Print
Pin
Rate
Servings:
7
(One Week's Worth Of Breakfast For One Person)
Ingredients
1

onion

chopped

2

jalapeno peppers

finely chopped (optional)

3

cups

spinach

chopped

10.5

oz.

container cherry or grape tomatoes

halved

1

cup

chopped green or black olives
Other ingredient options:
chopped mushrooms

minced garlic

chopped bell peppers

sliced green onions

chopped chives or parsley

2

tbsp.

extra-virgin olive oil

Chopped, cooked turkey

chicken or bacon (optional)

Salt, pepper, red pepper flakes and/or other seasonings of choice

14

large

eggs

Avocado slices or salsa

for topping (optional)
Instructions
Divide the onion, jalapeños (if using), spinach, tomatoes, olives (and/or any "extras") between 7 quart-size ziploc bags. Add the heaviest ingredients (tomatoes/olives) first and the lightest ones (spinach) last. Store bags in the refrigerator until ready for use.

Heat olive oil in a skillet over medium heat. Add contents of one bag into skillet and cook for 3 minutes, or until veggies are soft and onions are fragrant. Add meat, if using. Create two holes in the center of the veggies and crack an egg into each hole. Cover with a lid or baking sheet and let sit for 4-5 minutes, or until whites of eggs are cooked through. An alternate option for the eggs is to add them after the veggies have cooked for 3 minutes and stir constantly, scrambling them until they care cooked through.

Sprinkle seasonings evenly over top. Top with avocado slices or salsa (both optional) and serve warm. Repeat above steps every day for one week!
Nutrition
Calories:
373.7
kcal
|
Carbohydrates:
17.3
g
|
Protein:
25.71
g
|
Fat:
23.38
g
|
Saturated Fat:
5.81
g
|
Cholesterol:
405.95
mg
|
Sodium:
569.12
mg
|
Fiber:
5.57
g
|
Sugar:
7.9
g