This homemade pizza sauce takes less than 25 minutes to make and tastes way better than anything you can buy from the store. It is loaded with flavor and goes well with any toppings. The recipe makes enough to cover two 12-inch pizzas!
There are certain foods that should never be bought from a store because it is SO easy, affordable and delicious to replicate a homemade version, such as Taco Seasoning and Whipped Cream and Buttercream Frosting. I am officially adding this Easy Homemade Pizza Sauce recipe to my list of Never Buy Again because it takes nearly zero effort to throw a batch together and the flavor! Oh my goodness, the flavor is out of this world. I've topped a handful of pizzas with this sauce recently and I've used a variety of toppings. It has tasted great with every single one.
Watch this quick video to see how easy it is to make Pizza Sauce!
How do you make homemade pizza sauce?
To make this delicious homemade version of pizza sauce, you will throw all of the ingredients (see recipe card below for ingredient list) into a saucepan and let them simmer for a few minutes. That's it! To simplify the process further, skip simmering and simply mix everything together really well in a bowl.
Is pizza sauce the same as tomato sauce?
Pizza sauce is made using tomato sauce as a base (along with tomato paste) and with a few delicious spices added, as well. Tomato sauce is the main ingredient in pizza sauce, but needs a little help from the other ingredients in order to get that super tasty pizza sauce flavor.
Is pizza sauce gluten free?
Read the label on your tomato paste! If you purchase a variety that has added ingredients (such as extra Italian seasoning), there is a chance you'll find "wheat" on the ingredient list. You'll be safe sticking to the plain variety of tomato sauce with no added ingredients. Everything else in the ingredient list is gluten-free, so you're good to go!
Can I turn pizza sauce into marinara sauce?
Yes! Simmer the sauce for 90 minutes, stirring occasionally to avoid scorching, and you'll have made homemade marinara sauce. You can still use it on pizza, although it'll be thicker than most pizza sauces, or you can use it for dipping your crust or bread sticks!
A few notes to ensure you make the best homemade pizza possible:
As long as you're going homemade for the sauce, you may as well make your own No Yeast Homemade Pizza Dough, too! It is super easy and is totally worth the tiny bit of effort required!

When it comes to toppings, the world really is your oyster. I like to get a bit crazy with my pizza creations (proof: Pickle Pizza and Olive Pizza), but feel free to keep it simple. Or go nuts! A few topping options to choose from: sausage, bacon crumbles, pepperoni, green peppers, onions, mushrooms and black olives, just to name a few!

The best cheeses to use on homemade pizza are mozzarella, provolone and cheddar.

Baking time for pizzas will vary by a bit, depending on how many toppings you throw on. Make use of your oven light and start peeking in around the 15-minute mark. The crust will be a golden brown color when the pizza is done and the cheese will be melted uniformly all over the surface.
Which variety of homemade pizza is next on your list? Do you like to go crazy like I do, or do you keep it simple? Whatever your pizza preference, enjoy and have fun with it!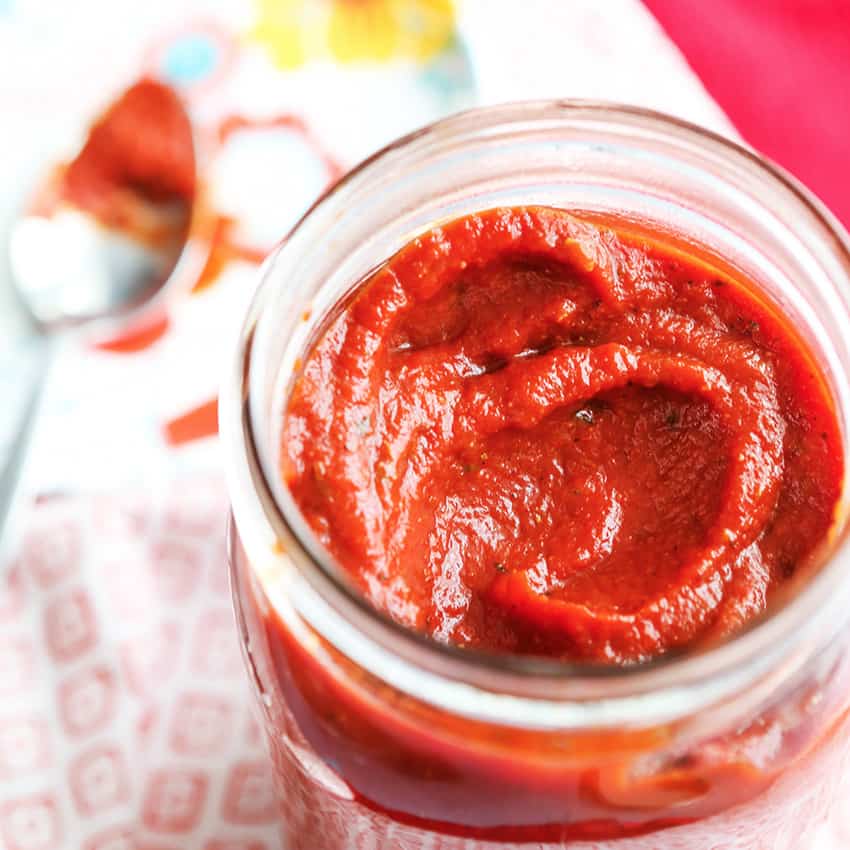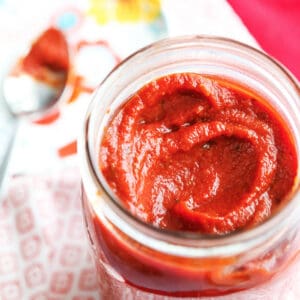 Easy Homemade Pizza Sauce
This homemade pizza sauce takes less than 25 minutes to make and tastes way better than anything you can buy from the store. It is loaded with flavor and goes well with any toppings. Makes enough to cover two 12-inch pizzas!
Print
Pin
Rate
Servings:
16
Makes Two 12-Inch Pizzas
Ingredients
2

15 oz. cans

tomato sauce

12

oz.

tomato paste

can

1

tbsp

olive oil

1

tbsp

Italian seasoning

2

tsp

fennel seed

1

tsp

onion powder

1

tsp

garlic powder

2

tsp

granulated sugar

1

tsp

salt

1

tsp

pepper
Instructions
Combine all ingredients in a saucepan. Bring to a boil over medium-high heat, then reduce to a simmer over medium-low. Simmer uncovered for 15 minutes. Let cool and pour into jars. Store in air-tight containers in the refrigerator. Spread in an even layer over pizza dough when ready to use and bake as directed.
Nutrition
Calories:
483
kcal
|
Carbohydrates:
83
g
|
Protein:
17
g
|
Fat:
17
g
|
Saturated Fat:
2
g
|
Sodium:
5032
mg
|
Potassium:
3616
mg
|
Fiber:
19
g
|
Sugar:
50
g
|
Vitamin A:
5273
IU
|
Vitamin C:
75
mg
|
Calcium:
250
mg
|
Iron:
13
mg
Did you make this recipe?
If you loved this recipe, please rate the recipe and leave a comment below!