How long does coleslaw last in the fridge? If you are unsure about how to store leftover coleslaw or whether your batch of this popular side dish is still fresh, read on!
How Long Does Coleslaw Last In The Fridge
When stored properly, coleslaw will stay fresh in the fridge for up to five days. Store it in an airtight container and keep it in the coldest part of the refrigerator, preferably pressed toward the very back.
If you see signs of spoilage such as a sour or off smell or visible mold, discard the mixture immediately. Don't take any risks with spoiled coleslaw, as it can lead to illness.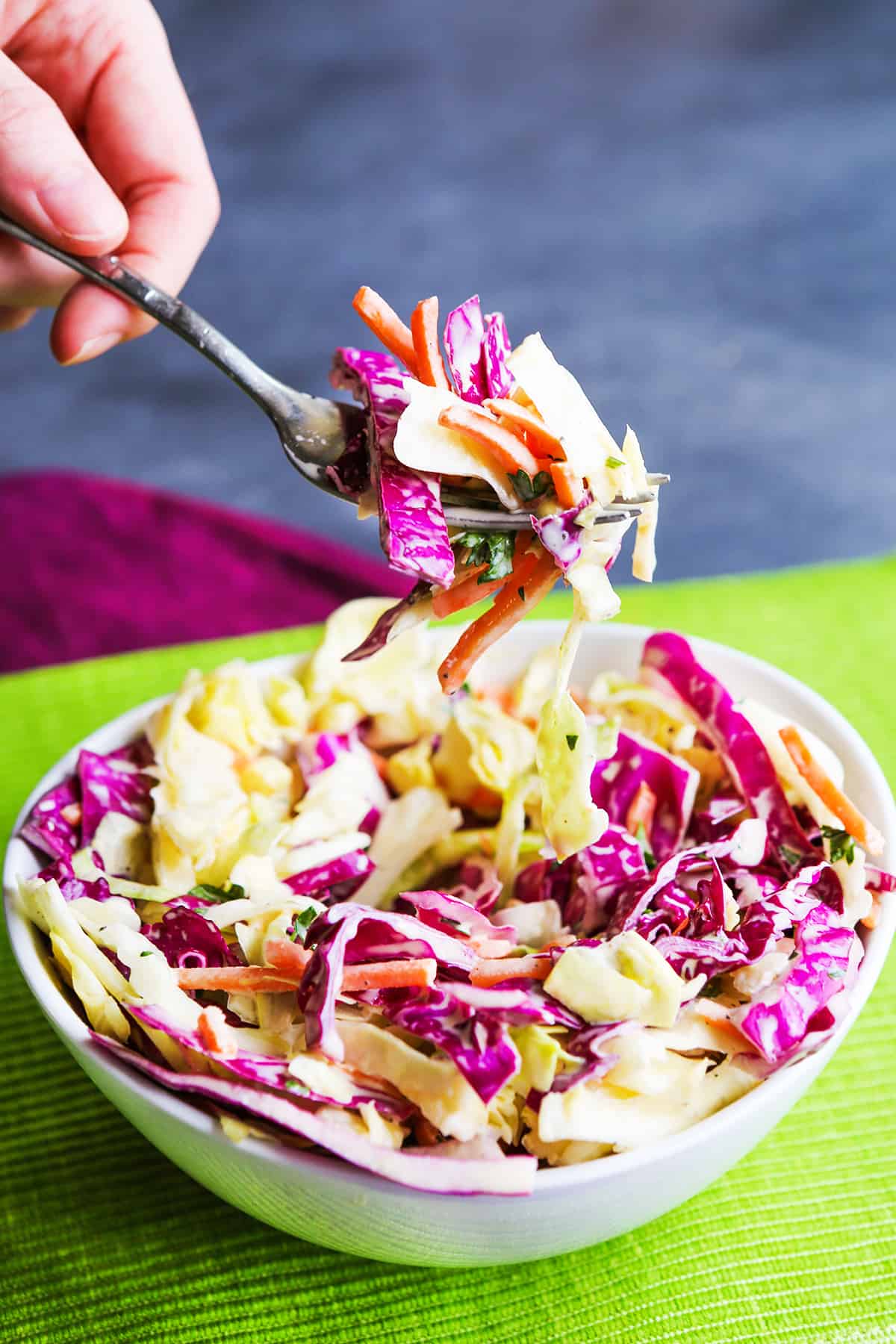 How To Freeze Coleslaw
Coleslaw can be frozen! Freezing coleslaw will change the texture a bit, as the cabbage will become softer. However, it is still perfectly safe to eat after it has thawed.
To freeze coleslaw, transfer to airtight containers or large freezer bags. Press out any excess air and seal tightly. Place the freezer-safe container in the freezer for up to four months for best results and to avoid freezer burn.
When you're ready to enjoy the frozen coleslaw, pull it from the freezer and allow it to thaw it in the fridge overnight. Drain off any excess water that has accumulated during the defrosting process and give the coleslaw a good stir before serving.
Watery coleslaw can be easily fixed by simply draining some of the liquids from this summer dish, so do not fret! If there is still excess liquid in the serving dish, gently blot with paper towels to absorb some of the moisture.
How To Keep Coleslaw Fresh
There are a few things that can be done that will extend the shelf life of coleslaw. Here are a few of my best tips:
Use fresh ingredients. Choose firm green cabbage, red cabbage or whichever variety of raw cabbage you use and use a sharp knife for shredding. Alternatively, you may use the shredding attachment on a food processor to get the job done more quickly.
Sprinkle in some fresh lemon juice, as this will act as a natural preservative.
Also use a vinegar-based dressing (vs a creamy coleslaw) to extend the shelf life. Vinegar acts as a natural preservative and will retain freshness for a longer period.
Store coleslaw in a sealed container at all times, when it's not being served.
If serving coleslaw outdoors, keep it in a shaded area and serve over ice whenever possible. Coleslaw can quickly spoil if left in the hot sun for too long and may cause food poisoning.
Note: When making coleslaw ahead of time, storing the dressing and shredded cabbage separately and mixing just before serving is a great way to ensure the cabbage doesn't wilt.
How To Tell If Coleslaw Is Bad
If you find yourself inspecting a container of leftover coleslaw while trying to decide whether or not it has been sitting in the refrigerator for too long, there are various methods you can use to determine whether you should eat it or toss it!
Smell test. Remove the lid and smell it. Fresh coleslaw has a distinct, strong, acidic aroma. If you detect a sour or foul odor, the batch is most likely in the danger zone and past its prime.
Note appearance. If the color unusual or if it develops dark spots, mold or has a slimy texture, these are signs that bacterial growth has taken place and it should not be eaten.
Taste test. If steps one and two have passed the test, grab a forkful and give it a try. You already know its familiar taste, so use common sense to determine if the taste is off.
Best Homemade Coleslaw Recipe
Throwing together a delicious coleslaw recipe should be easy and simple. This is the best coleslaw recipe containing shredded cabbage and a vinegar dressing containing apple cider vinegar and it is not loaded down with mayonnaise!
This easy coleslaw recipe will be your go-to slaw for a dinner side, picnic fare and fish tacos!
Summer Side Dishes
What To Serve With Coleslaw
Here are a few delicious ideas for what to serve with coleslaw:
Fish and chips: Coleslaw and fish and chips are made for each other! The tangy flavor from the coleslaw complements the rich flavor of the fish.
Meat: Coleslaw pairs perfectly with grilled meats such as burgers, hot dogs, and grilled chicken.
Tacos: Pile a forkful of coleslaw on top of your next shrimp tacos!
Sandwiches: Coleslaw is the absolute perfect topping for sandwiches, particularly pulled pork sandwiches, sloppy joes, sliders and grilled cheese sandwiches.
What To Do With Leftover Coleslaw
If you have leftover coleslaw and you'd rather not freeze it, get creative! Here are a few ideas for using up leftovers:
Use as a taco or taco cup topping.
Any sandwich with a pile of slaw on top will thank you.
Acts as a delicious wrap filling.
Serve alongside bbq ribs or a pile of pulled pork.
Add it to your favorite salad for the perfect lunch.
Can Dogs Eat Coleslaw
Most dogs can eat cabbage, but should avoid some of the ingredients that many coleslaw recipes have inside such as onions and garlic.
These ingredients can cause digestive problems in dogs. If you wish to feed coleslaw to your dog, prepare it without seasonings, garlic or onion.