How long does spinach artichoke dip last in the fridge? If you have a container of this savory dip staring back at you and you're not sure if it is safe to eat, read on!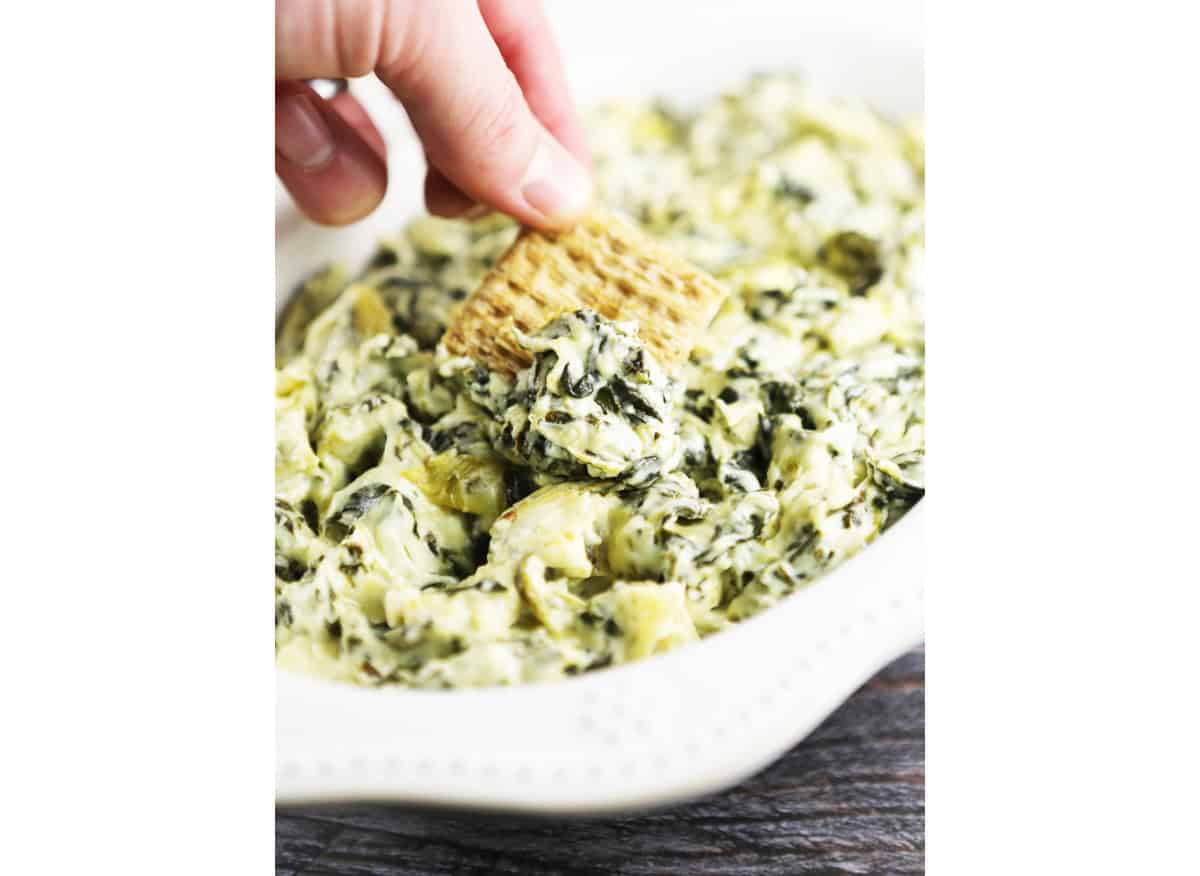 As a true foodie, I have many food loves. One of the foods nearest and dearest to my heart is the good ol' savory and delicious spinach artichoke dip. It is literally one of the first recipes I perfected as a young adult.
I have made it hundreds of times over the years and have tweaked it many times along the way. It's a recipe I have to be very careful with, though, because I will eat an entire batch in a single sitting if no one is watching.
Occasionally I do have leftovers that need to be stored in the fridge, so I understand you might be in a similar situation. If you're not sure whether to eat or throw your dip, read on for my best recommendations!
Easy Spinach Artichoke Dip Recipe
This Crockpot Spinach Artichoke Dip is a party staple! This is such a simple recipe and it's the perfect appetizer for football season, new year's eve or any gathering throughout the year. Let your crock pot do the work for you!
Recipe Notes
Squeeze excess liquid from the frozen spinach to avoid having a watery dip. Dab with paper towels or press through a cheese cloth if there is too much water.
Fresh spinach may be used in place of frozen.
To make baked spinach artichoke dip, mix the ingredients in a large bowl and add to a greased baking dish. Bake at 350 degrees F for 20 minutes, or until heated through.
Double the Parmesan cheese for an extra cheesy recipe.
Spice up the dip by adding red pepper flakes, cayenne pepper or hot sauce.
Replace mozzarella cheese with provolone, cheddar or cojack if desired.
A portion of the cream cheese can be replaced with sour cream or Greek yogurt.
Serve with chips, crackers or veggies.
What To Dip In Spinach Artichoke Dip
Can You Freeze Spinach Artichoke Dip
Spinach artichoke dip can be frozen! Allow the leftover spinach dip to cool completely, then transfer to a freezer-safe container. Cover tightly and freeze for up to three months for best results.
How To Reheat Spinach Artichoke Dip
Once the frozen dip has thawed overnight in the fridge, remove and allow it to come to room temperature. There are three different ways to reheat the mixture!
Transfer to an oven safe baking dish (9×13 pan or a cast iron skillet) and bake in the oven at 350 degrees F for 20 minutes, or until warmed through. Give the mixture a good stir about halfway through.
Place in a slow cooker and cook on low heat for 2 hours, stirring occasionally, until warm and gooey.
Place small portions of the dip in a microwave safe container and cover loosely. Heat for 30-second intervals, stirring after each, until warm and bubbly.
How Long Does Spinach Artichoke Dip Last In The Fridge
When properly stored in an airtight container, homemade spinach artichoke dip will stay fresh for up to five days in the fridge. Start checking for signs of spoilage at three or four days.
Store-bought spinach dip should have an expiration date printed on the side of the packaging, so be sure you are within the date range before eating.
Extend Shelf Life
Refrigerate it! Store in sealed airtight containers in the fridge at all times for best quality.
Keep at the same temp! Moisture can collect inside the container when temperature change occurs. Keep the temp of the sealed container as consistent as possible to avoid early spoilage.
Go glass! Use a covered glass storage container instead of a plastic container for best results.
Avoid cross contamination! Always be sure to use clean utensils when scooping this dip into bowls in order to avoid cross-contamination.
How To Tell If Artichoke Dip Is Bad
If you find yourself standing at the fridge inspecting a container of leftover dip, unsure whether or not it has been sitting in the refrigerator for too long, there are a few ways to tell whether you should eat it or toss it!
Smell test. Remove the lid and give it a good smell. Fresh artichoke dip has a cheesy, leafy aroma. An unpleasant aroma s the best way to determind it is no longer fresh. If you scrunch up your nose after performing this test, it is probably a sign that it has reached the end of its life.
Note appearance. If the color of the mixture seems unusual or if it has developed discolored splotches, these are signs that it should be tossed. If there are obvious signs of spoilage such as mold, it can cause food poisoning so toss immediately.
Taste test. If steps one and two have passed the test, dip a chip into it and give it a taste. You already know its familiar taste, so use common sense to determine if the taste is off. If you detect a sour taste or unusual flavor, you'll know it's time to toss!
How To Cook Artichokes
Learn how to cook fresh artichokes and eat them, too! Don't let this green veggie intimidate you. Artichokes are easy to prepare and beyond delicious.
What To Do With Canned Artichoke Hearts